What if you could take ChatGPT in your pocket? ChatGPT has been made available as an app on iOS and Android. Learn how to use this AI chatbot on the go with this ChatGPT for Android guide.
Is ChatGPT Free on Android?
Yes! You don't need to pay anything when downloading the AI app. Plus, you can use ChatGPT for free even when you're in the Free subscription.
Exploring ChatGPT for Android
Chat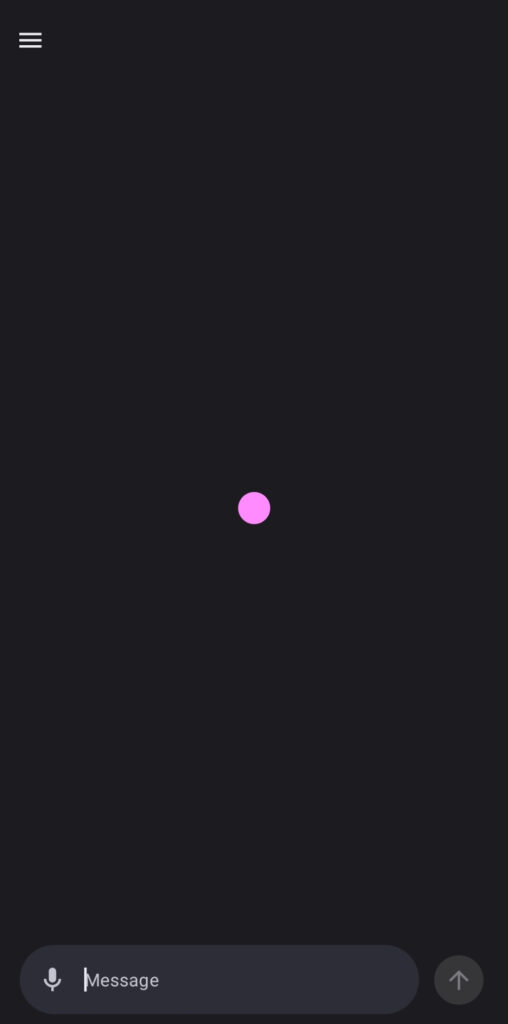 Once you sign in or register to ChatGPT for Android, you'll immediately see the chat box where you can talk with or submit a prompt to ChatGPT. One advantage of using ChatGPT on the Android app is asking, sending a prompt, or talking to ChatGPT via voice.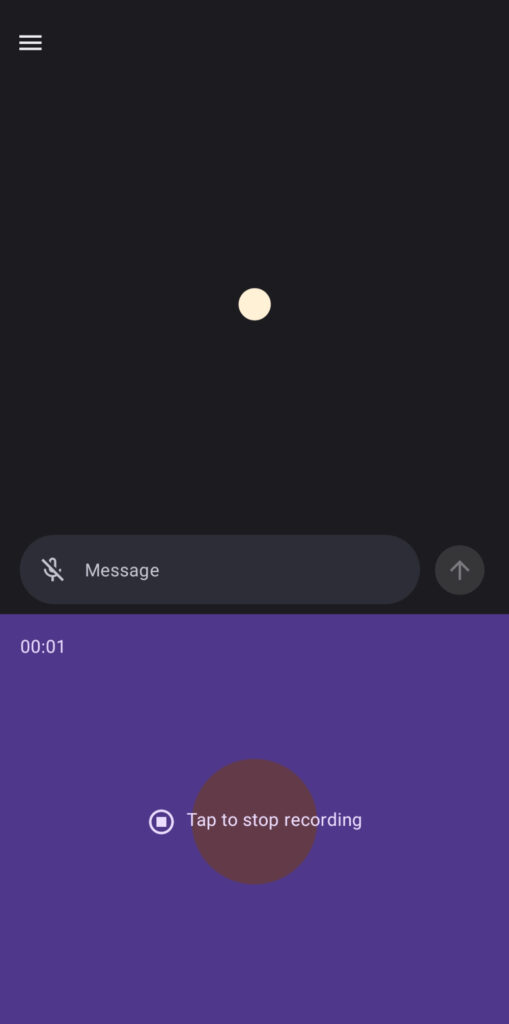 To talk to ChatGPT, click the microphone button and record your voice message. After that, ChatGPT transcribes your voice message. Make sure to check the transcription before sending it to ChatGPT to avoid any miscommunication.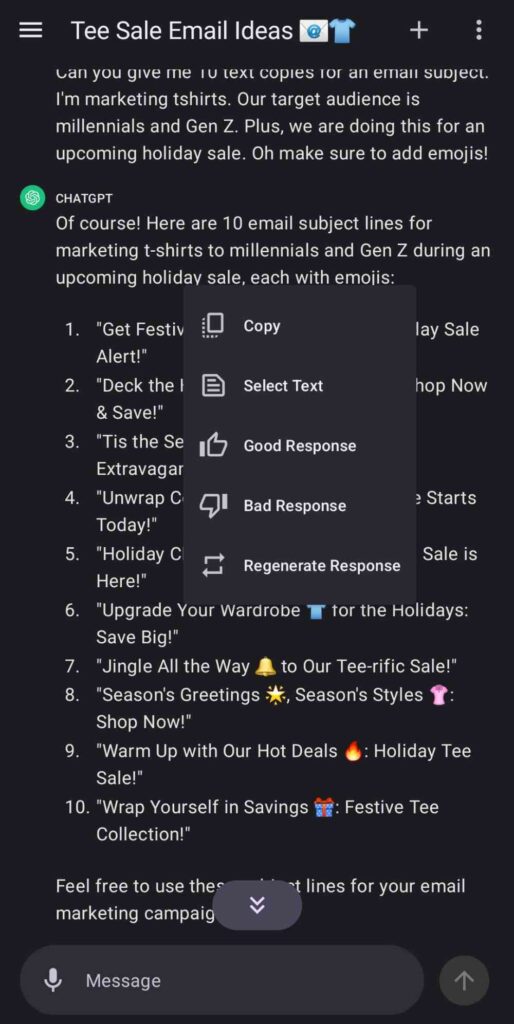 Another nifty app feature is you can do a long press on ChatGPT's response to your prompt. From there, you can select if the response was good or bad. Or, you can ask it to regenerate a new response.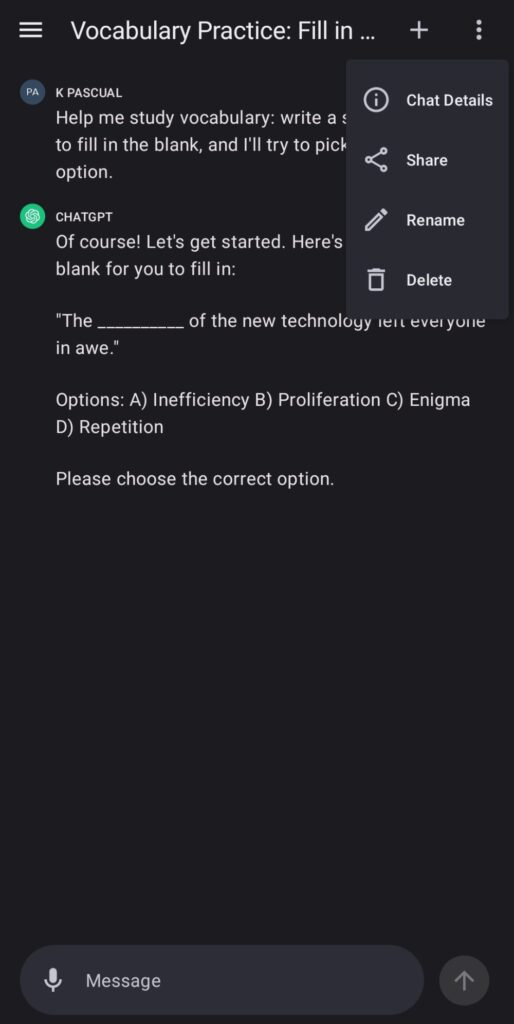 Finally, you can delete your chat by clicking the three-dot button (kebab menu) on the upper right side. From there, click "Delete," and this conversation will be deleted.
History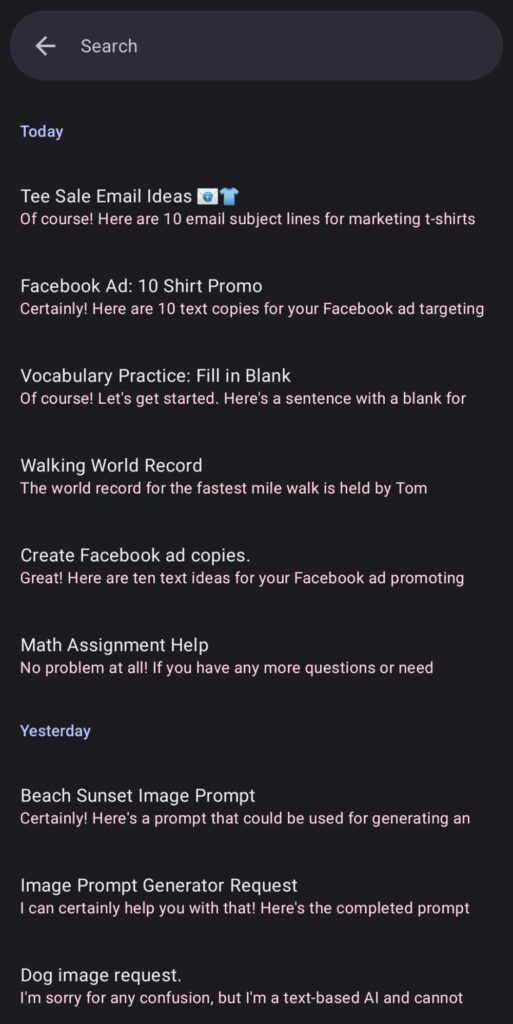 ChatGPT lets users view previous conversations with the History tab. You can select a previous conversation and take it from there. You can access History by clicking the three horizontal lines on the upper left side and selecting History.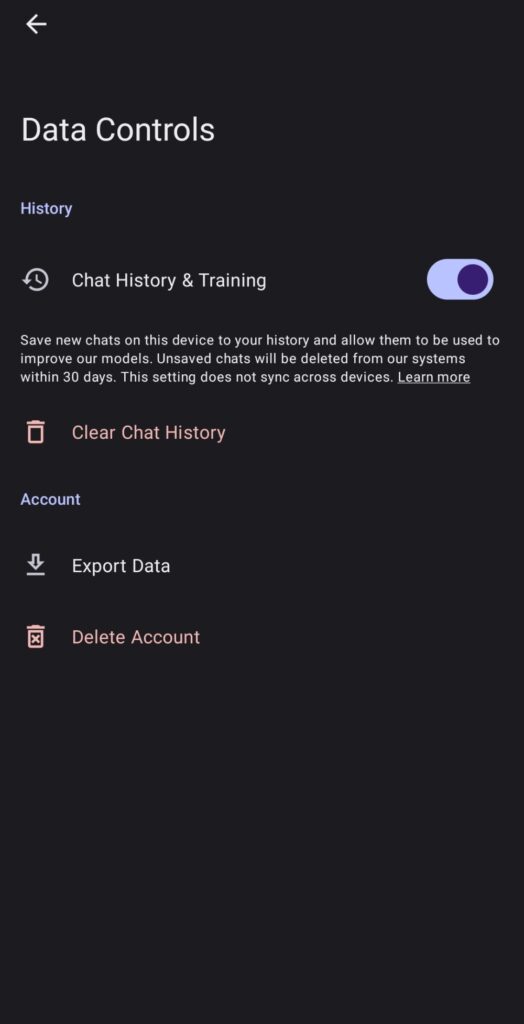 However, if you turn off Chat History & Training, chats from your Android account will not be synced with the desktop. You can do this by going to Settings > Data Controls. From there, click the Chat History & Training toggle.
Settings
Data Controls
Although ChatGPT your chat history, you can control if it should these chats on your device. Additionally, you can clear your history or export your data.
Custom Instructions
You can further customize your conversations with ChatGPT with custom instructions. You can input guidelines that will make ChatGPT a well-trained or personalized chatbot for you, your business, or your brand. The custom instructions feature is available on desktop, Android, and iOS.
User interface
ChatGPT for Android has a sleek and minimalist user interface. The menu is available when you click the hamburger menu button or the three horizontal lines on the upper left side. From there, navigate to the page you want to go to next. You can start a new chat on the menu or a blank chat upon sign-up or launch.
You can also switch between light or dark modes. But the theme will depend on your phone's default.
Data Export
Do you need a copy of your data before deleting your ChatGPT account? You can download your data on ChatGPT to know what data was stored in your account. You can do this by going to Settings and clicking "Export Data." Do note that you'll only receive your data 24 hours after requesting it.
Security and Safety
One pressing concern about using ChatGPT, whether on your desktop or device, is security and safety. OpenAI assures its users that it doesn't save audio clicks from speech-to-text and your location.
According to OpenAI, your data is stored, and chats are saved if Chat History is on. However, you can opt out of data collection but retain your chat history by filling out this form. If you opt out, OpenAI will not use your data for training and model improvement.
Is ChatGPT for Android the Same as iOS?

One major point of comparison between the Android and iOS versions is the user interface (UI). The iOS version adopts the buttons from the desktop and provides sample prompts. However, OpenAI developers have said that ChatGPT for Android and iOS share a full feature parity. This means you'll find the same features on both operating systems. However, there would be tweaks in the UI, depending on the operating systems, to give users a seamless experience.
Can You Delete Your Account on ChatGPT on Android?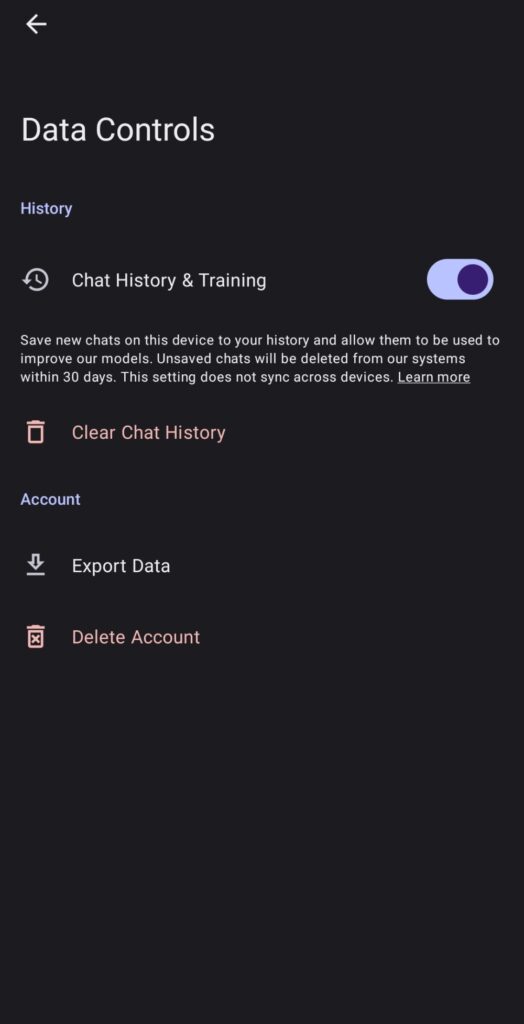 Yes, you can. You can delete it by going to Settings > Data Controls. From there, click the Delete Account button. Note that when you delete your ChatGPT account on this device, you can't access it on other devices anymore. Plus, according to OpenAI, you won't be able to open an account with the same email.
Best Practices of Using ChatGPT on Android
1. Use the Speech-to-Text Feature
Typing can be tedious, especially if you want a full-blown conversation with artificial intelligence. With the voice messaging or speech-to-text feature, you can converse with ChatGPT the whole day without using your thumbs to type the whole time. Like other artificial intelligence models, ChatGPT or WhisperAI won't precisely transcribe your speech. But it's still worth it if typing is tiring.
2. Submit Clear and Comprehensive Prompts
This isn't an Android-only best practice. ChatGPT requires users to be specific, especially when you send a generic prompt. For example, if you're a marketer, and need need copies for digital ads. If it's your first chat with ChatGPT, provide context like your product or service, the reason for promoting, and the target audience. This way, you can train ChatGPT about your brand or business for future chats.
3. Personalize with Custom Instructions
Custom instructions help ChatGPT learn more about you as you converse with it. OpenAI asks you to fill out what should ChatGPT know to provide better responses. Here's a guide on what to answer (OpenAI suggested the first five).
Where are you from?
What is your work?
What are your hobbies and interests?
Which subjects do you love talking about?
What are your life goals?
What is your business name, and what is it about?
Who is your target audience?
What are your business goals?
Plus, they have another instruction on how should ChatGPT respond. Answer the following suggested questions by OpenAI:
Tone – Do you want ChatGPT to be casual or professional?
Length – How long should ChatGPT respond?
Address – What should ChatGPT call you or your pronouns?
Stance – Should ChatGPT be neutral or take a side?
You can add more information like language or purpose (e.g., business, education).
Future Features
OpenAI plans on rolling out its new voice feature, letting ChatGPT talk to you and chat about images! The organization mentioned in the blog post that it can tell you a bedtime story and change its voice settings. Moreover, you can converse with the AI through images, helping you understand how things work or provide solutions. These features will be available for Plus and Enterprise users.