Catering businesses in the City of Brotherly Love may be in demand since events are popping up left and right. But if you are a new catering business in Philly, you need a solid branding identity to become the new go-to caterer for special occasions. If you need a catering logo, here are ten examples! Plus, scroll down below to see what our designers produced below! Finally, watch this demo video to see what else Penji can do for your business!
1. Catering By Design

Catering By Design or CBD Events considers food and design down to the event's last-minute details. Every element like the decor, menu, facilities and entertainment should be tailor-fit for the event. The company treats flavors like people, which means interaction is of the essence.
Logo design:
Catering By Design's logo is one of the unique catering logos on this list. It fuses function and form by using the knife's blade as one of the letter A's lines. The continuity of the design shows in the symbols to the text.
2. Jerry's Kitchen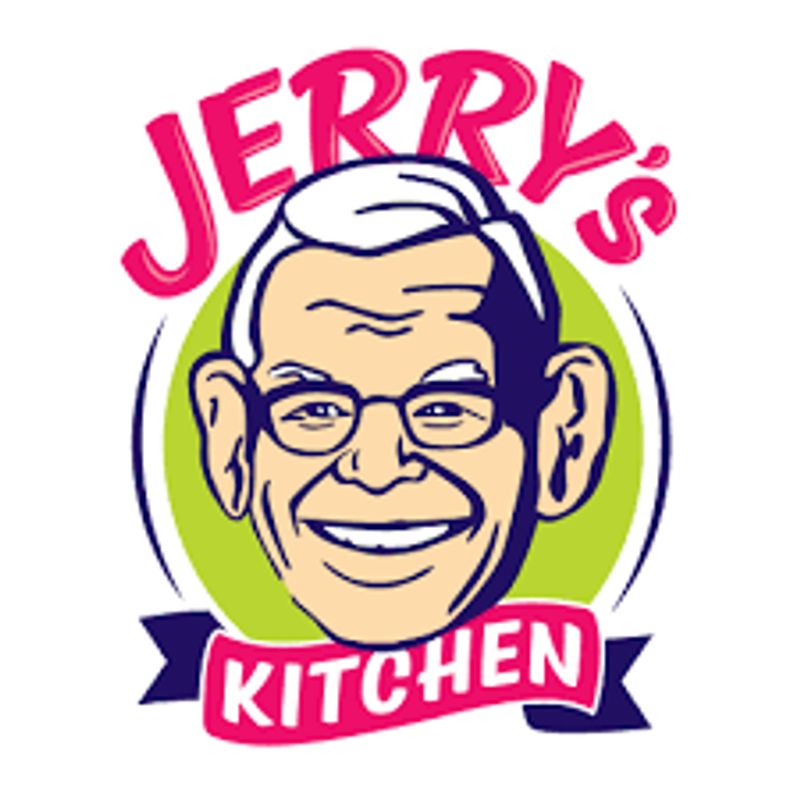 If you're one of those Philadelphians who love their cheesesteaks, then Jerry's Kitchen will deliver. They serve modern American dishes and classics like tacos, burgers, sandwiches, and cheesesteaks. Also, it's a food truck service that offers seasonal rotating menu items.
Logo design:
Featured in Jerry's Kitchen's logo is the grandfather of Jerry's Kitchen's GM, Scott Kaplan. Plastering Jerry's face on the logo tells your brand story, which is suitable for establishing a connection with consumers. The font choice and the bright colors are also suitable for the food truck service as it's versatile and casual.
3. 12 St. Catering
This catering company believes that consumers eat with their eyes first, then their mouths. That said, 12 St. Catering presents their delicious food viands with impressive decor that comes with your package. The company consists of culinary artists who offer impressive food displays that will indeed WOW your guests.
Logo design:
12 St. Catering's logo is simple yet exudes elegance and authority in the catering hemisphere. The soft script font paired with the serif typeface depicts modern and traditional class.
Become a professional catering business with a logo
Start a logo project with us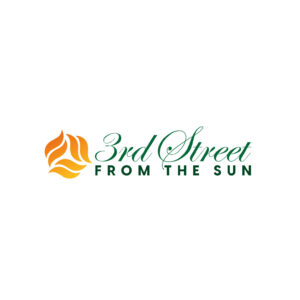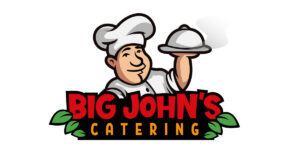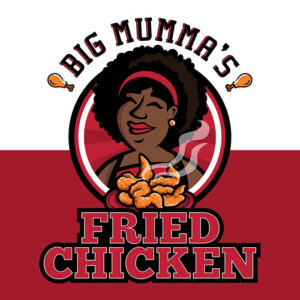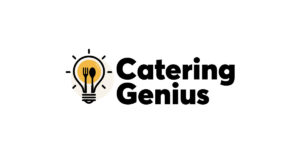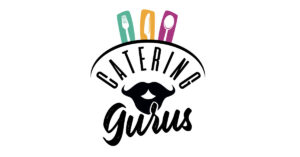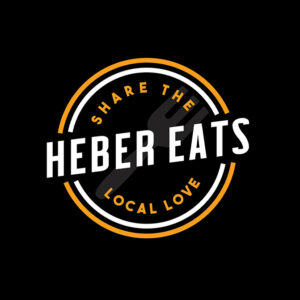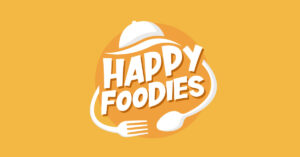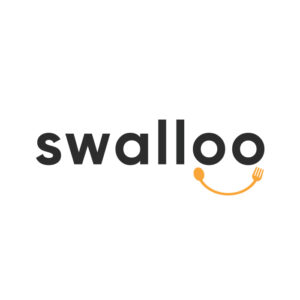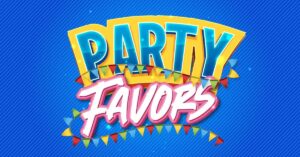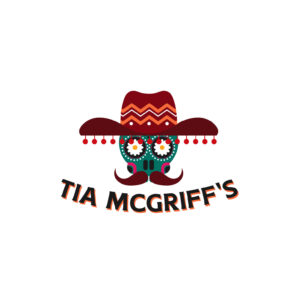 4. Feast Your Eyes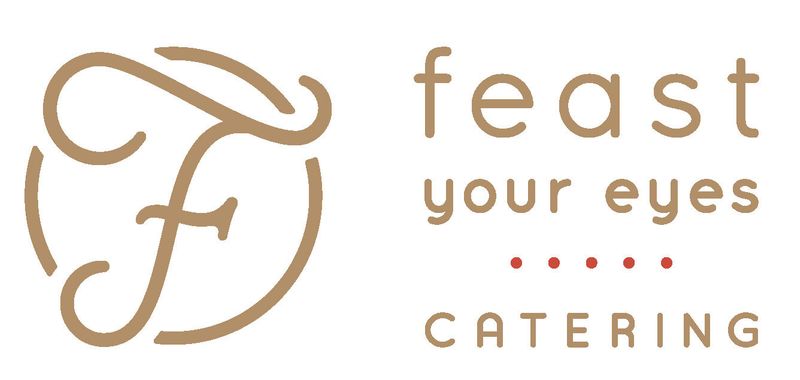 If you're looking for a one-stop-shop catering service in Philadelphia, call Feast Your Eyes. The company doesn't only handle the food but also provides other services such as tent installations, temporary bathrooms, decor, valet parking, event permits, and more. They can cater to an intimate dinner for six or large-scale events of a thousand!
Logo design:
Another simple yet communicative catering logo design is Feast Your Eyes's logo. Here, you'll see the letter mark logo symbol with a sophisticated letter "F" to represent the company name. A sans serif font compliments the symbol with its simplicity and uncomplex nature.
5. Brûlée Catering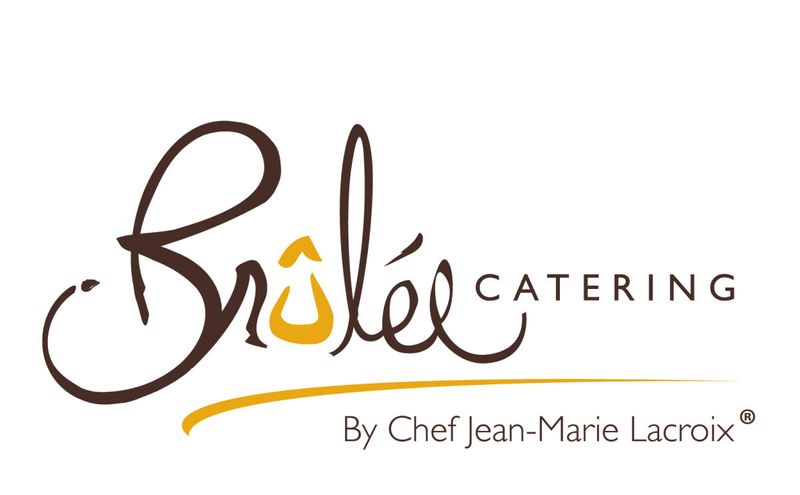 At Brûlée Catering, they treat their clients as family, and food is the passion that fires up their service. The company takes pride in its innovative dishes and exquisite cuisine that looks "as good as it tastes."
Logo design:
Brûlée Catering's logo is another unique catering logo design that you must emulate. The word "brûlée" in an elegant font displays an atmosphere of reliability, which is what you want from your catering company. The letter "û" also looks like a small pot with a lid, indicating a soup of sorts.
6. Philadelphia Catering Co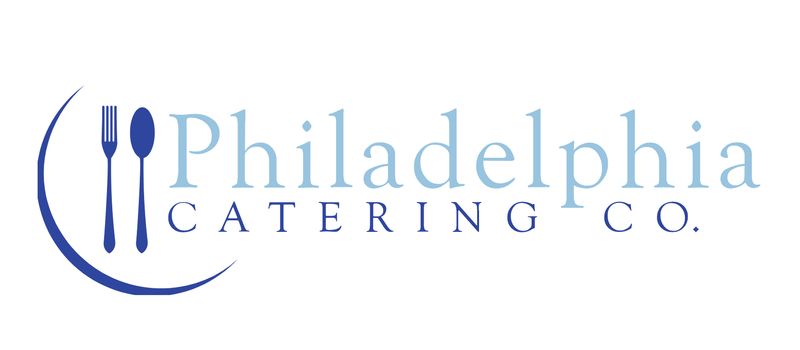 The Philadelphia Catering Company blossomed into a full-blown catering business after 15 years of whipping up the most delicious pizzas for university students. The owners, Alan and Time, operated Powelton Pizza and decided to shift to catering. Although the service and menu items have changed, their passion for providing fresh food and impressive service that people can rely on remains the same.
Logo design:
This catering company's logo design is pretty straightforward, with simple elements. The typeface is a serif font that emanates elegance. And the symbols of a fork and spoon on top of an abstract half plate make it visually attractive.
7. Village Catering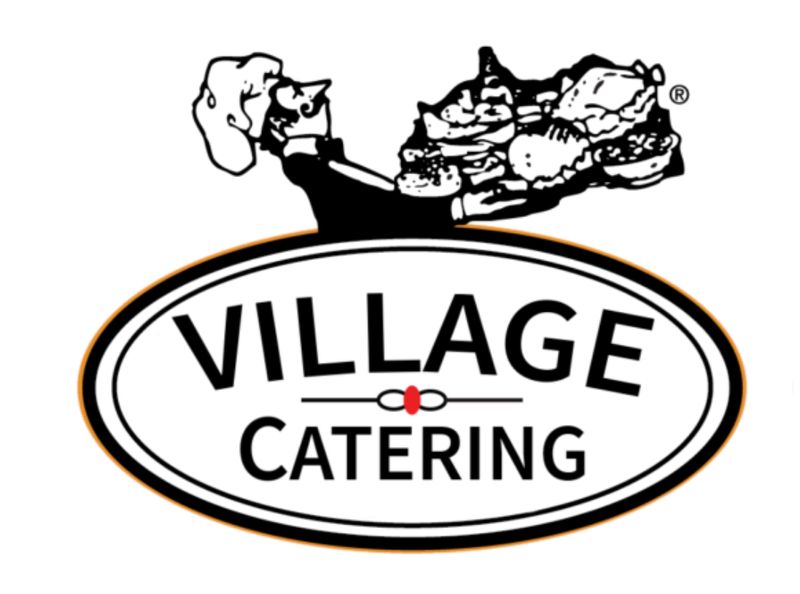 With over 30 years in the catering business, Village Catering takes pride in its people's attention to detail. They also ensure appropriate customization that suits your event and the latest trends to make it more memorable. The company offers corporate catering, event catering, and wedding catering at their own Cottage Green venue in Philly.
Logo design:
Village Catering's logo design has a vintage feel, apt for the company's decades-long foundation in the industry. An image of a server carrying a platter of food is just a fitting symbol for a catering business. This logo also provides a good hierarchical structure that guides the onlooker's eyes.
8. Chef's Table Catering

Chef's Table Catering considers every client's vision for their event. Whether it's casual, intimate, or an extravagant party of a hundred, the company ensures that guests are delighted. They also source local, seasonal, and organic ingredients for the freshest food possible.
Logo design:
The combination of serif and script font makes this catering logo stand out. Both texts are properly distanced and structured so that it doesn't seem too complicated. The word "Catering" in the middle of the company name also creates visual cohesion.
9. Birchtree Catering

If you want to emulate a catering company that prioritizes sustainability, Birchtree Catering is the right company. They ensure that every event produces low waste and that their waste is recycled and composted in their kitchens and at events. Plus, this catering company is also woman-owned!
Logo design:
Due to overwhelming environmental concerns, more brands are steering into the sustainability route. And Birchtree Catering shows that in their simple yet impactful logo design with a leaf in the middle. The leaf doubles as a herb or a symbol for the environment, one of the company's great advocacies.
10. J. Scott Catering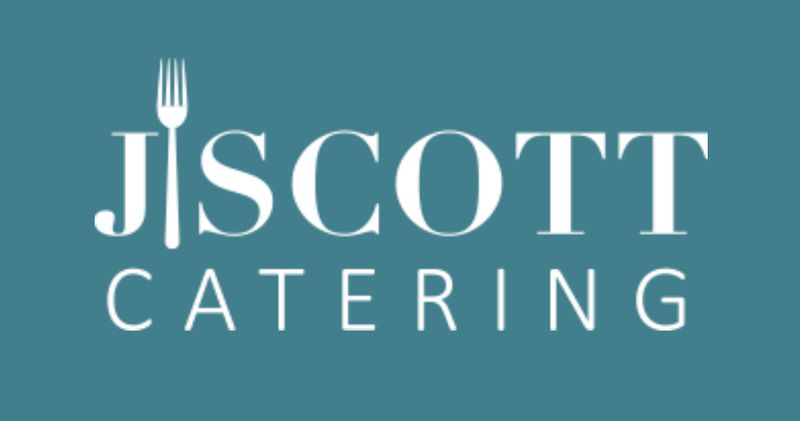 J. Scott Catering provides the most distinct dishes with consideration of aesthetics to reflect any occasion. The catering company takes pride in its highest "farm-to-table" cuisine. They offer fresh-from-the-earth ingredients and a culinary style that's solely their own.
Logo design:
This catering logo design shows a good play on kerning in both texts. Combining modern and classic font styles is a way to cater to a diverse demographic. The fork icon between the letters "J" and "S" shows what this company is all about.
Request Catering Logo Designs from Penji
Your company logo must look unique and professional. Therefore, you must only entrust logo design to professional logo designers because they know proper techniques and industry trends.
Penji is an on-demand graphic design service that provides unlimited graphic design for a fixed monthly rate. Whether you're requesting logo designs, marketing visuals, or billboard illustrations, Penji can deliver in just under 24 hours.
Here are some of Penji's catering logo examples:
Big John's Catering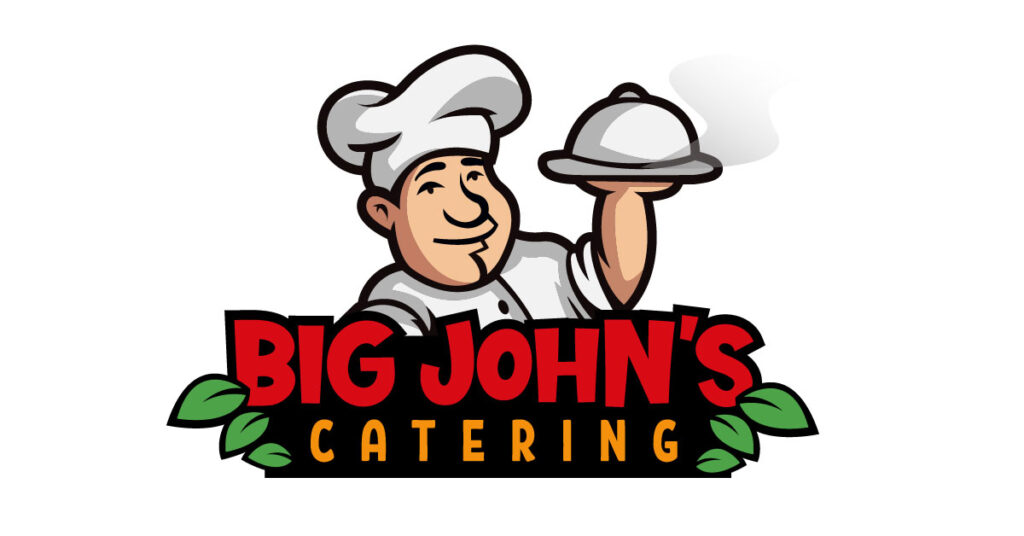 A catering logo should be uncomplicated, which means the target audience must be able to understand what the brand offers at first glance. Big John's Catering's logo does just that. There's a beautiful illustration of a chef carrying a steaming hot plate. The typography also catches your eye with its bold and colorful appearance.
Catering Genius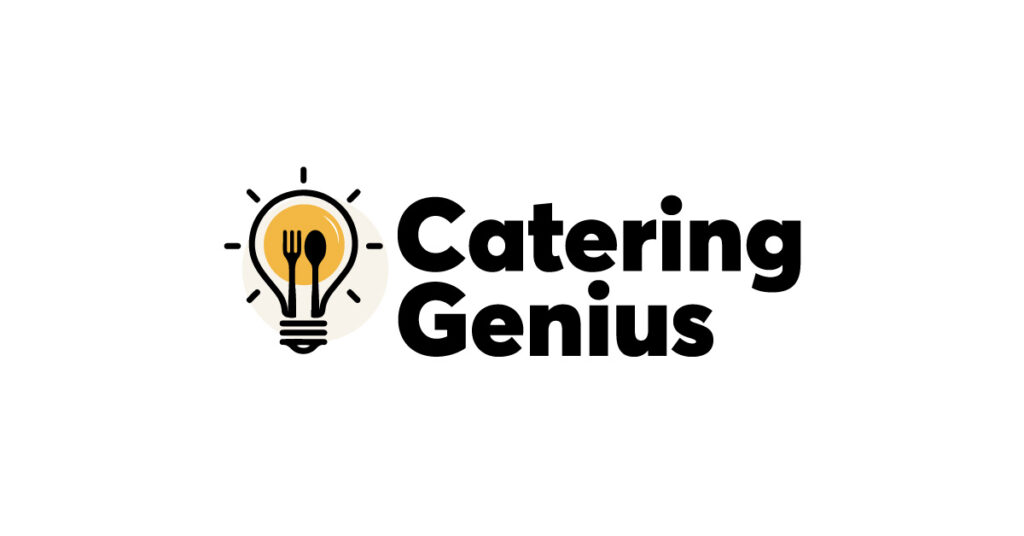 The icon or symbol on your logo must also depict your brand name. In this example, Catering Genius shows off a lightbulb with a fork and spoon. The yellow background, which seemingly looks like the illumination from the bulb, also doubles as a plate. Overall, this is a unique take on catering logos.
Catering Gurus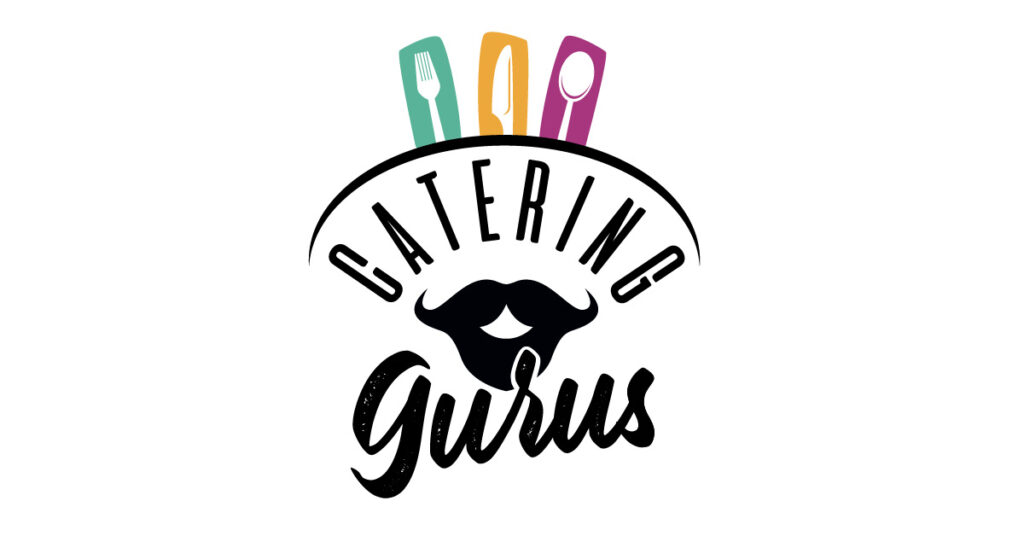 The impressive design structure in this logo helps viewers' eyes scroll information quickly from top to bottom. From the utensils at the topmost part, the curve underneath that separates the drawing and text, down to the brand name and mustache, this logo has a harmonious design flow.
Happy Foodies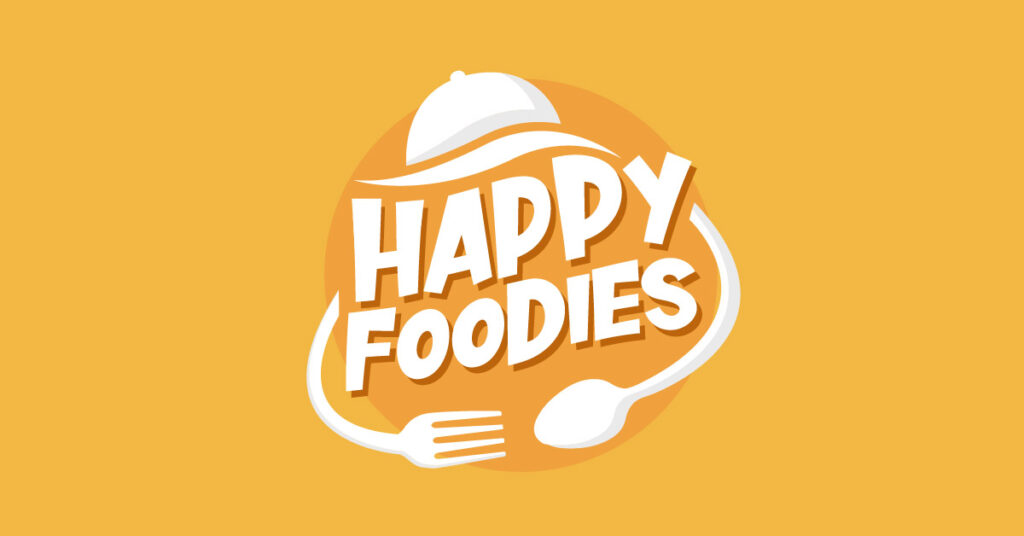 This is another fantastic catering logo for Happy Foodies. It looks like a person's arms wrapping around the text "Happy Foodies." However, the arms are represented by a fork and spoon, which gives this logo a unique twist. The hat at the top is also a nice touch.
Party Favors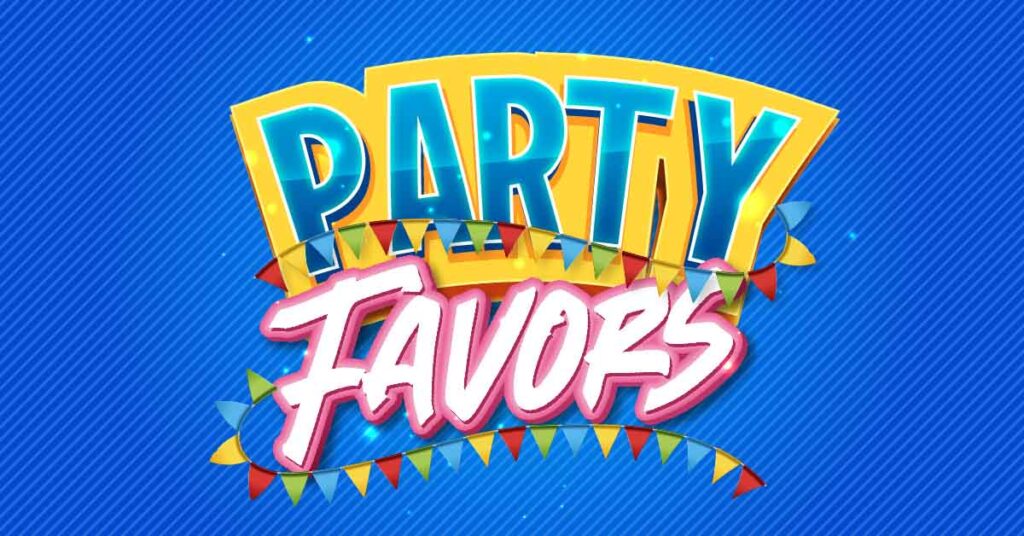 Penji designed this vibrant and fun Party Favors logo. The bunting flags that wrap around the text from top to bottom are an excellent way to tie the design together. The typography also consists of a bold and suitable font for the brand name.
Send Your First Catering Logo Request to Penji
Subscribing to Penji means having access to a bespoke platform that also serves as your communication tool with the designers and your internal team. Penji allows you to add up to 10 of your team members working on any design project. This way, they can monitor the project and give feedback as it goes.
Plus, Penji guarantees a fast turnaround for most designs! You can get your logos and other branding assets within 1 to 2 days! And as a subscriber, you can request revisions too until you're 100% happy with the designs.
If you want to know the full Penji experience, sign up here and get a 15% discount! But if you want to give Penji a test run before subscribing, our Marketplace is open for one-off designs! Visit here and see which designs you can request!