A bridal shower may not be as important as the wedding itself, but it's just as exciting, especially for the bride. Everything from the theme to the venue must be planned carefully to make the occasion more memorable. Even the wording for the invitation needs to be perfect to set the mood for the upcoming grand event.
There are probably a thousand and one ways to word your invitation. However, here are 10 wording ideas you can get inspiration from for your bridal shower invitations.
What to Include in Your Invitations
Before we take a closer look at the ideas, let's get to know what you need to include to make your invites as clear and complete as it can be.
The host's name
A bridal shower is usually organized by the maid of honor, but it can also be thrown by the mother of the bride, a sister, a cousin, or an aunt. Make sure that whoever is hosting the event will have their name on the invite so that guests will know who to get information from.
The bride's name
Actually, a no-brainer. But hey, in the frenzy of all that's happening, it could be very easy to forget this.
The date of the event
A few months before the wedding day is the ideal date to hold a bridal shower. Make sure it is clearly indicated to avoid misunderstandings.
The time
Whether it's a brunch or a lunch party, always make it a point to add inclusive times. Brunch usually starts at 10 am and ends at 2 pm, lunch is from 11 am to 3 pm, and dinner can be anytime between 5 and 7 pm.
The venue
Add the exact address of the venue. Choose a location that's preferably near the bride's location. Plus, you may want to include a map especially if it's somewhere unfamiliar for some of the bride's friends.
The RSVP
Anytime between two to four weeks before the party is a safe time to have the shower. So let everyone know about this and who to contact in case they won't make it.
Registry Information
If the bride is registered, have this information included in the invites. Or you may choose to create a separate card or sheet of paper for this.
The theme
If there is a theme for the party, let your guests know about it so they can prepare for it and bring whatever gifts are appropriate.
These are mere suggestions, and everything is still up to you. You can add more or delete some of these as long as all the information that your guests need will be covered. The key is to make it easier for everyone to attend and create a party that will be remembered by all the attendees.
Bridal Shower Invitations Wording Ideas and Samples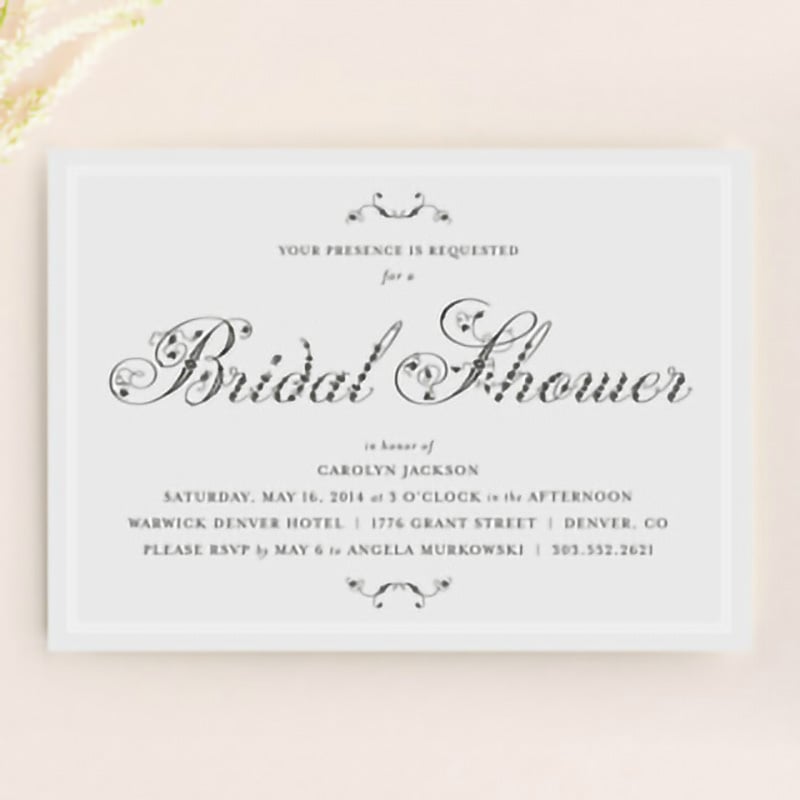 You are cordially invited to attend a
Bridal Shower and Luncheon in honor of
Elizabeth Martin
Sunday, the 20th of January, 2019
From 11:00 am to 3:00 pm
At The New City Restaurant
23 Crossover Street, Cohasset, MA
Hosted by Judy Martin
RSVP by January 11 to 415-888-1214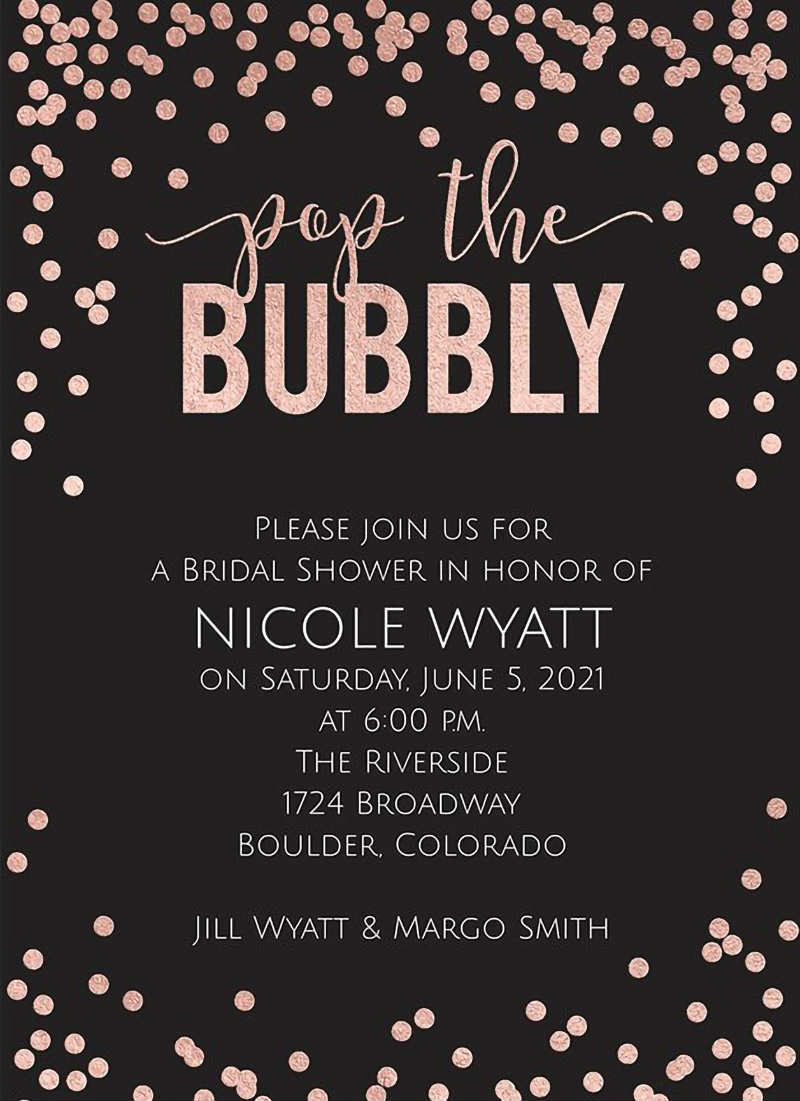 Let's Shower the Bride and Prepare Her for Her Happily Ever After
Karen Whitman
On Sunday, September 22, 2019
At 10 in the morning 'til 2 in the afternoon
4458 Covington Road, Seattle, Washington
Hosted by Alicia Morgan
RSVP to Alicia at 143-5256 by August 10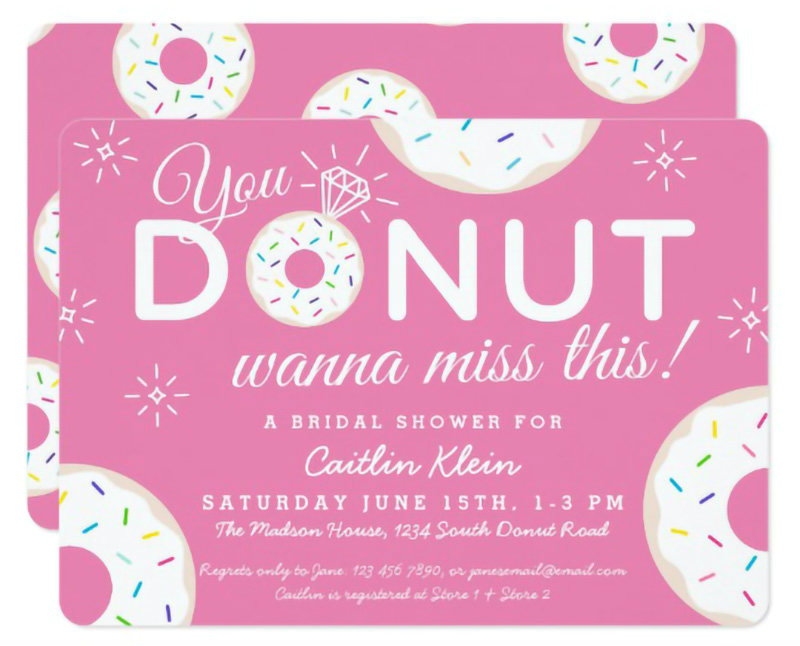 Join Us as We Shower
Katie Harris
With love, gifts, and laughter!
At a brunch, shower to be held on Saturday, June 9, 2019
10 am to 2 pm
At The Lodge in 451 Wilson St., Greenhills, St. John, MS
Come in your casual best as we play games and have fun!
Katie would love gifts for the cake baker in her.
Send your regrets to Pamela at 444-528-1263 before June 1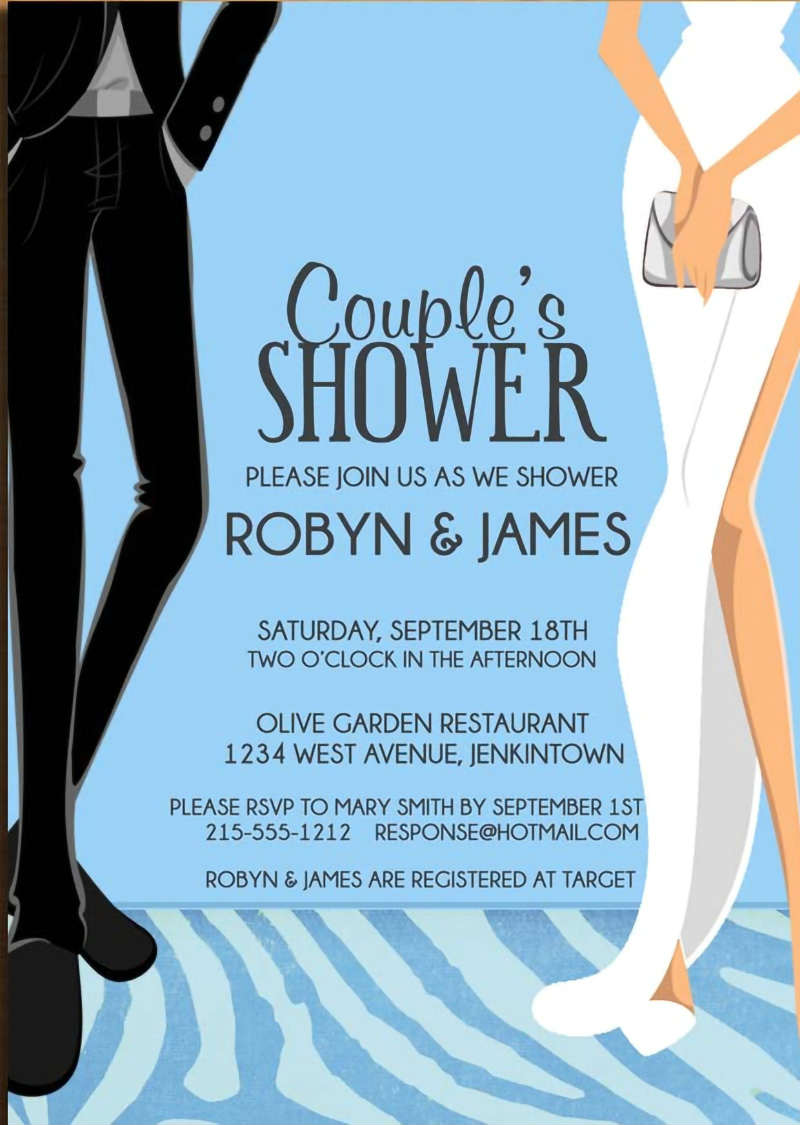 A Wedding Shower for
Emma & Harry
Saturday, February 7, 2019, at 11 in the morning
253 Coconut Street, San Mathilda, CA
Hosted by Jasmine
RSVP Jazz at 289-888-0922 before January 31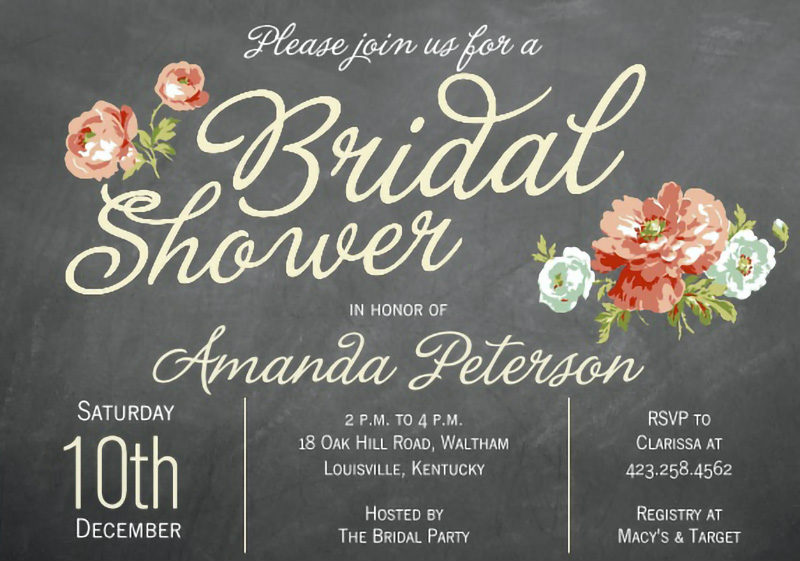 Please Join Us for a Bridal Shower in honor of
Nicole Smith
Saturday, December 13, 2019
From 11:00 am to 2:00 pm
New Caledonia restaurant
458 North Diversion Road, San Francisco del Monte
Hosted by Charlotte Perez
RSVP to Charlotte at 178-333-1254 by December 1st
Nicole is registered at SM North Bridal Boutique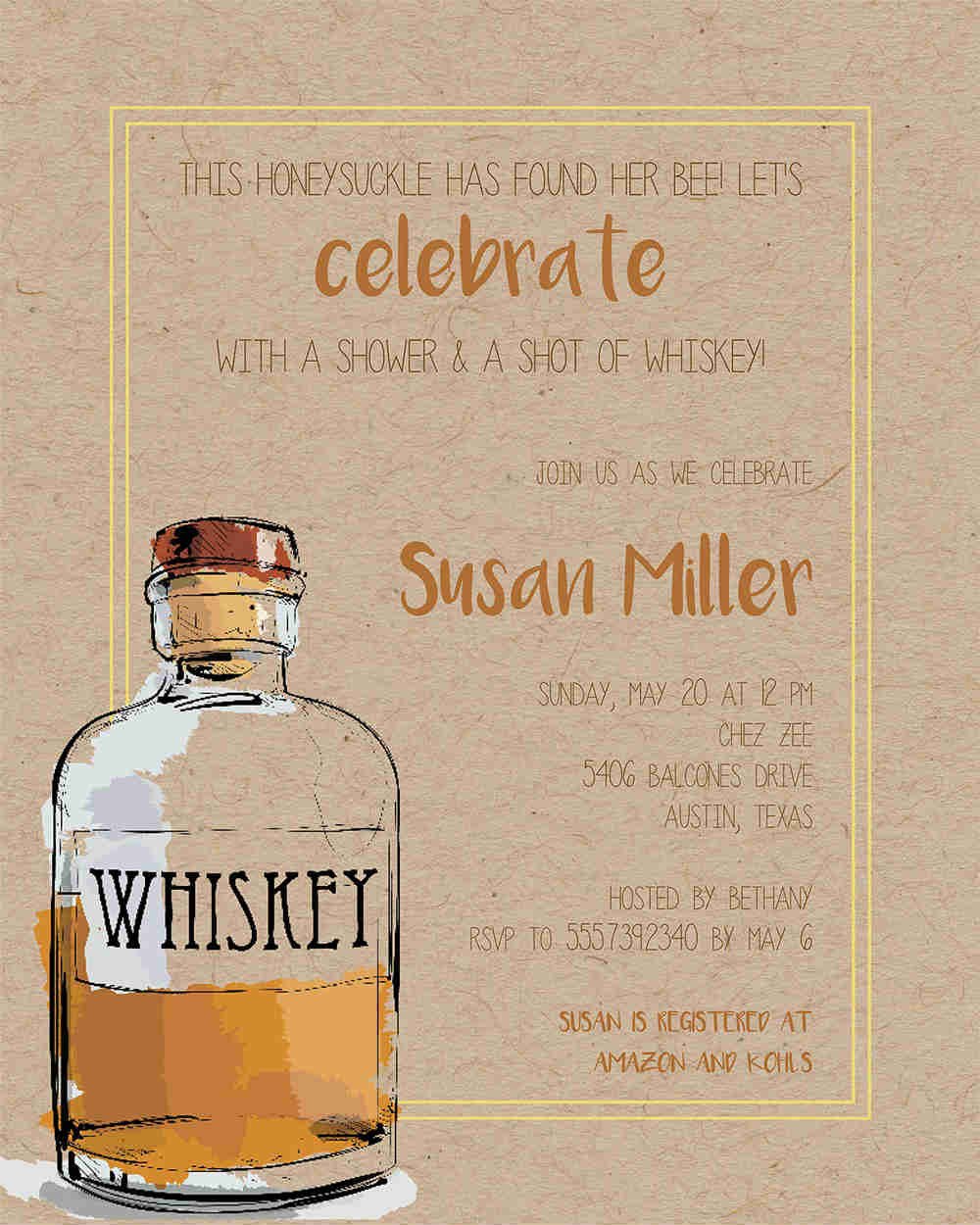 Strap on your boots and layer on the bling
Let's have a shower to remember before the ring!
Amanda Petersen
On Sunday, March 20 at 12 noon until 2 pm
2546 Willow Tree Drive, Chicago, IL
Hosted by Angelica Burns
RSVP to Angelica at 456-888-9567 by May 6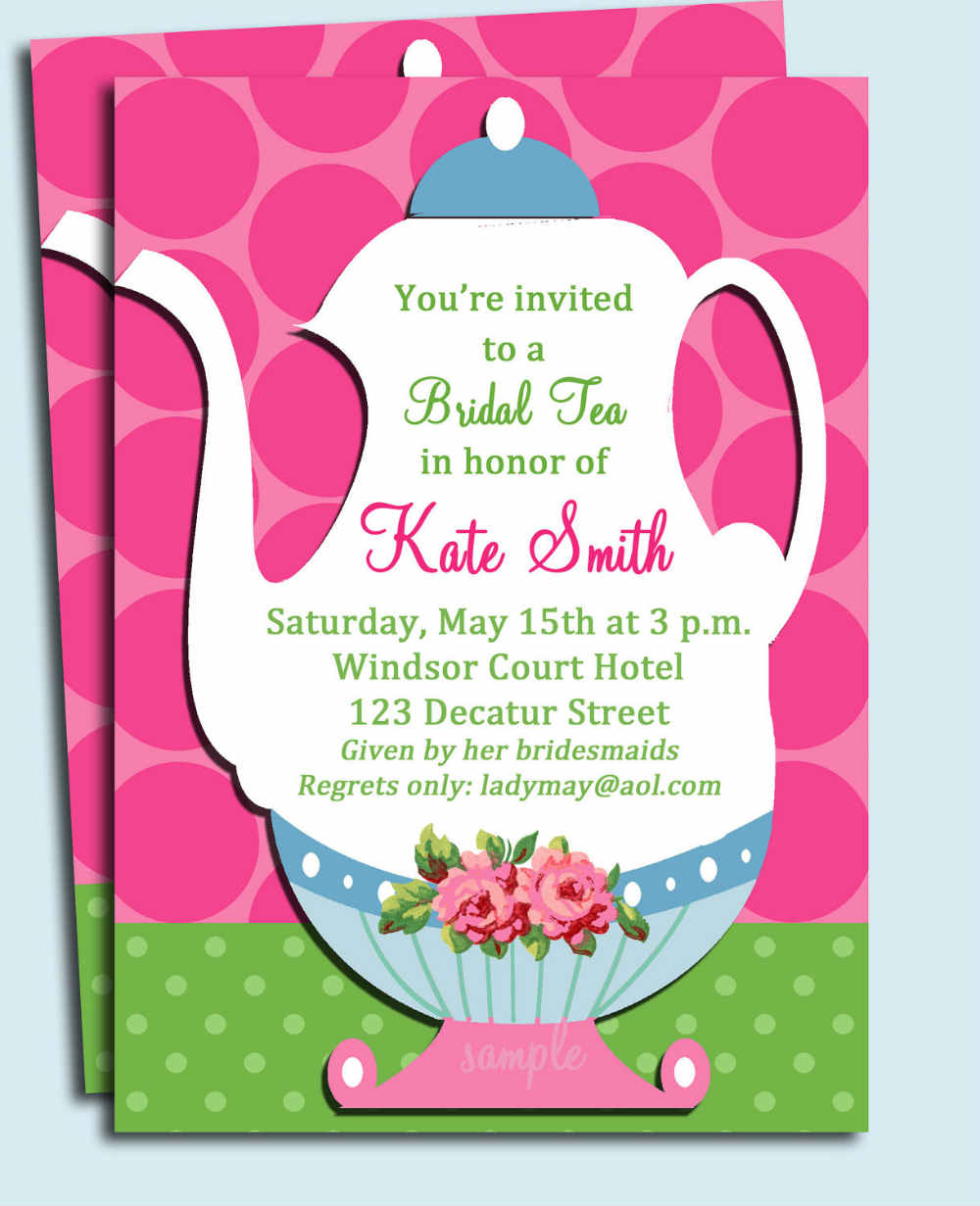 Let's Come Together for a Cup of Tea in Honor of
Melissa Andrews
January 10 at 2 pm to 4 pm
Bethany Garden Lodge
312 Bethany Road, Austin, TX
Hosted by Susan Adams
RSVP Sue to 777-485-9125 by January 1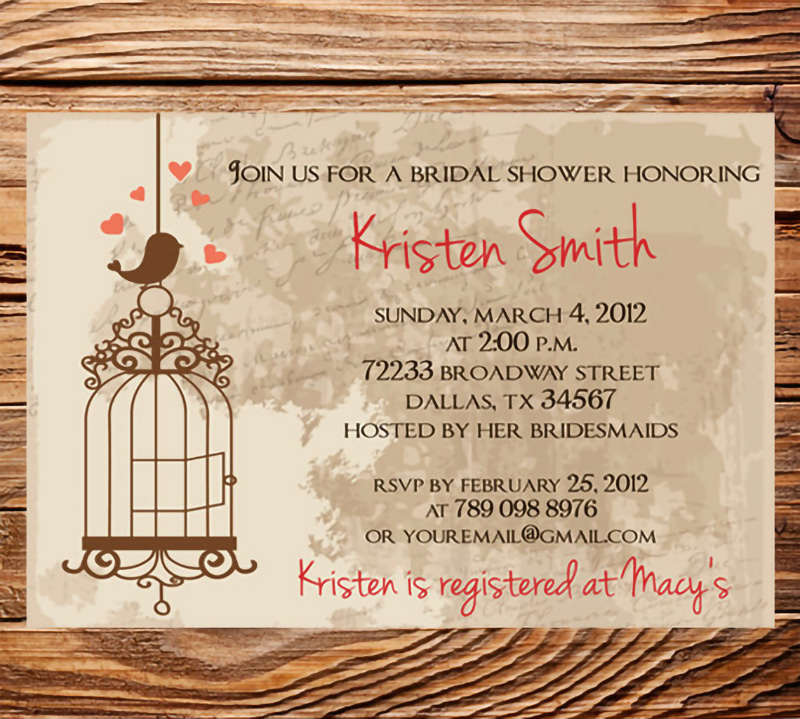 Please join us for a bridal shower to honor
Catherine McArthur
on Sunday, April 17, 2019, at 5 pm
at the home of Alex and Kristy Brooks
548 West Drive, Springfield, OH
Please RSVP by April 10 to Kristy at 214-333-3789
Catherine is registered at Shangri-La House and Home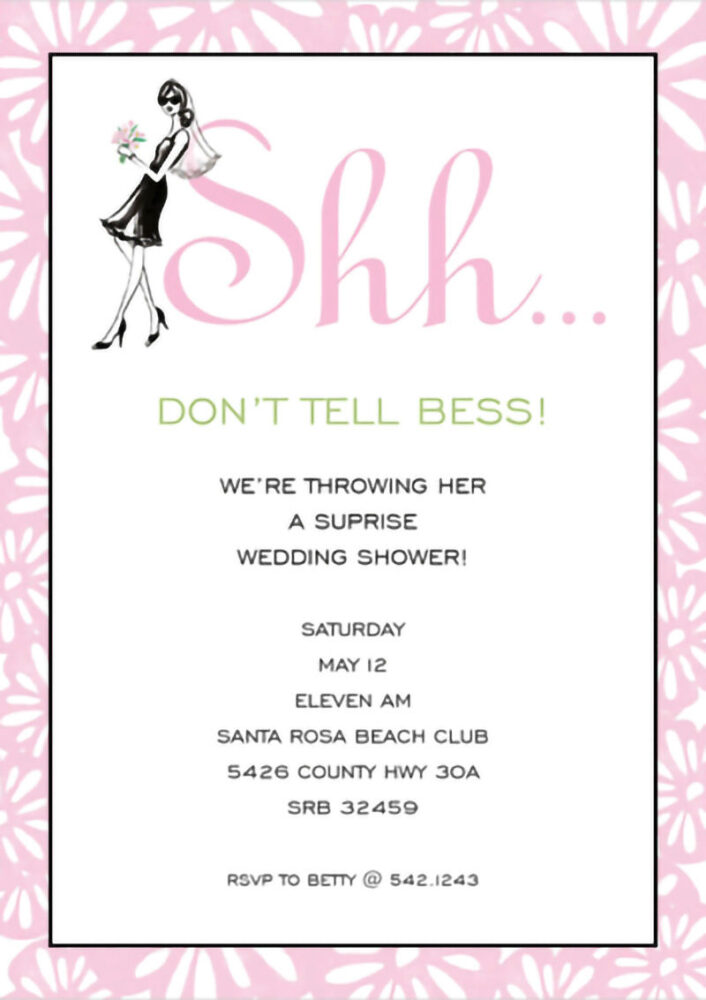 Shh! Don't Tell
Amy Goldberg
That We're Throwing a Surprise Bridal Shower for Her
This Coming November, 25
4 to 7 pm
At Misty Park Restaurant, 56 Yellow Grove Street
Hosted by Beth
Send regrets only to Beth at 185-999-5789 by November 15
Amy is registered at The Town Peaks Boutique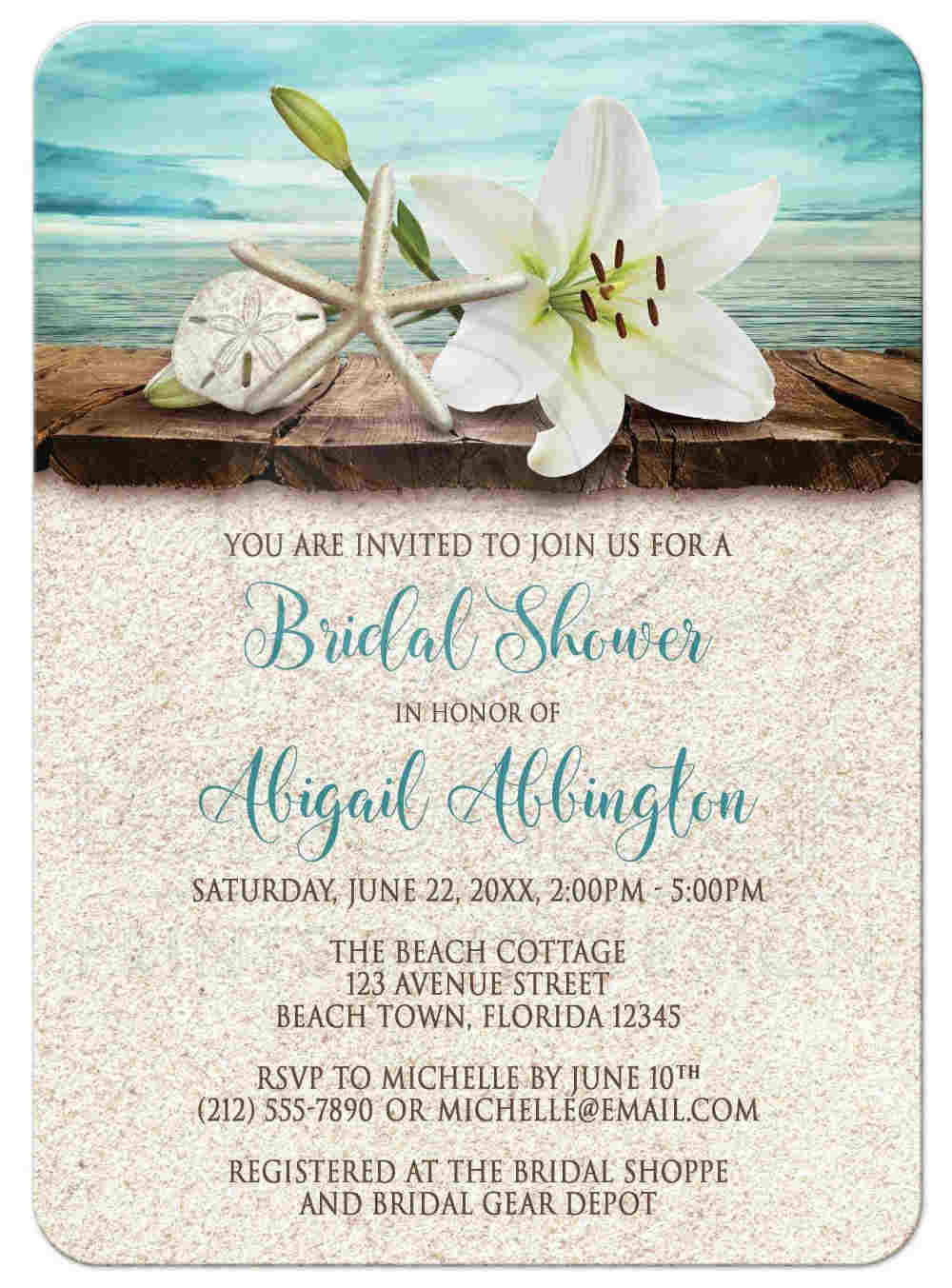 Please Join Us for a Bridal Shower honoring
Lindsey Norwood
Sunday, the 20th of November
at 12 noon
Swan Coach Restaurant
251 Main Street, North Beach, CA
Hosted by
Anna McGovern
Please RSVP Anna by November 15
145-555-6892
Lindsey is registered at the Bridal Shoppe at North Beach Mall