As an aspiring blogger, you are always curious about how bloggers make money. You also want to know the best types of blogs that are more financially rewarding. This article will present the popular blog types that make money.
Below are the top blogs that can inspire you to create your blog monetization strategy:
1. Finance Blog
Finance blogs give practical advice to almost anyone online. Whether they are a college student, young adult, or parent, everyone could benefit from learning how to handle their finances.
Take a look at a successful finance blog, Smart Passive Income.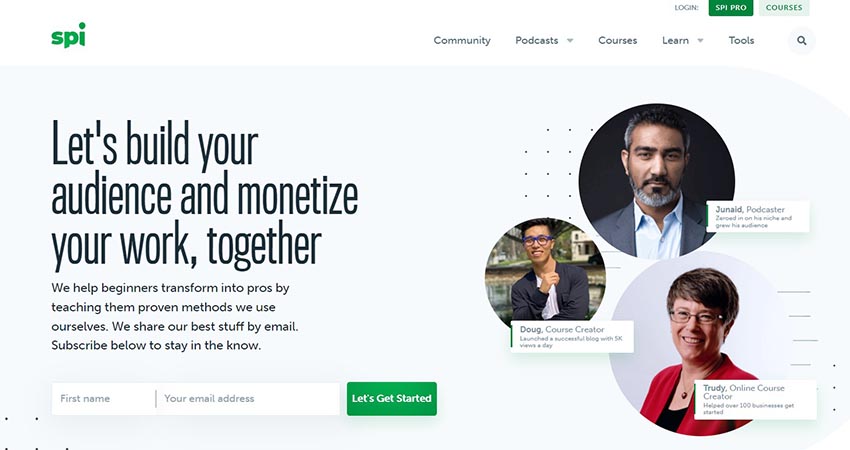 Pat Flynn is famous among many aspiring bloggers. He has been the epitome of constant dedication. He has been sharing his journey for over 13 years on his blog smartpassiveincome.com.
Pat Flynn's blog teaches people easy-to-use techniques for running an online business as passive income. So, if you want to start a passive income blog, you'll learn a lot of proven strategies from him.
Finance is one of the best blog types that make money. Aside from being useful for everyone, there are myriad topics you can cover. Here are the different finance blog niches:
Frugal spending
Early retirement
Passive income
Side-hustles
Investing
2. Fashion Blog
Have you ever dreamed of launching your clothing brand? If yes, then start a fashion blog. A fashion blog effectively expresses your unique style through clothing, photos, and beauty products.
Fashion bloggers earn from adding affiliate links, selling products, or becoming an influencer on Instagram or TikTok.
One example of a fashion blog is Business Of Fashion.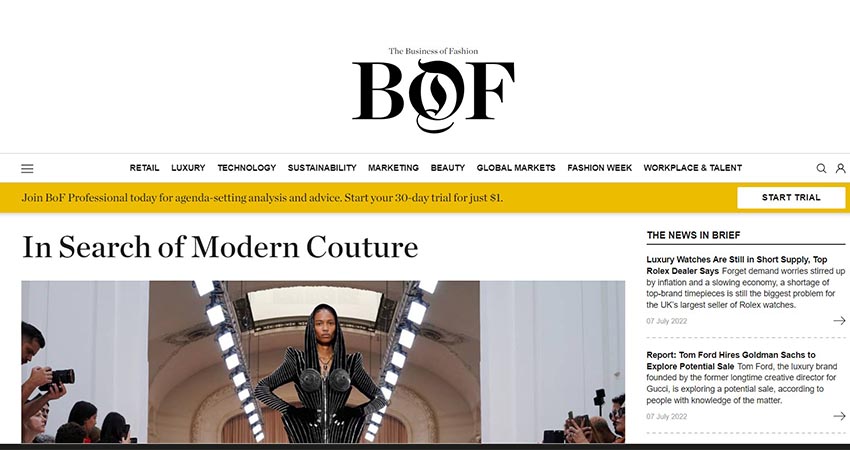 Business of Fashion has become a leading blog focusing on many business aspects. It is an excellent resource for information, trends, industry experts, and the like.
Some specific fashion blog niches you can write about include:
Fashion reviews
Fashion for a particular event (such as Weddings)
Eco-friendly fashion
Affordable fashion
DIY fashion
3. Travel Blog
A travel blog showcases different places and inspires readers for their next getaway. Typically, this type of blog has beautiful images, comprehensive lists, and guides on the things to do on a trip.
Kara and Nate blog is one of the best examples of travel blogs that earn money. This blog is making more than $40,000 per month.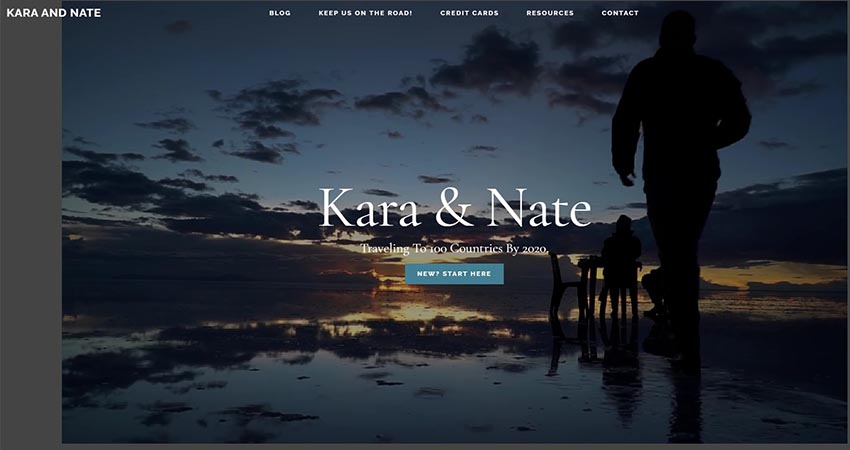 Kara and Nate are a couple who have achieved their dream of long-term travel. They document their daily adventures on their blog and YouTube channel.
Most travel bloggers earn from affiliate links. Meanwhile, these are the topics you can write about on your travel blog:
Travel itineraries
Things to do and see
Local travels
Road trips
Food in different countries
Digital nomad life
4. Marketing Blog
A marketing blog is one of the best blog types that make money. It helps readers learn and monetize online marketing skills. Frequently, marketing blogs focus on blogging, email marketing, SEO, and eCommerce.
One example of a marketing blog is WPBeginner.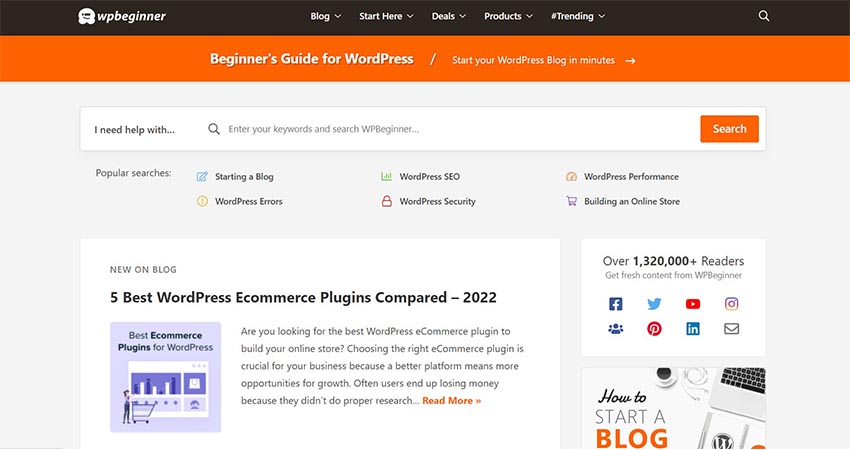 WPBeginner is a popular blog for WordPress-related topics. They help their readers create and eventually monetize their WordPress site for blogging and eCommerce shops.
Here are the marketing blog niches you can try:
Small business marketing
Business news and trends
Marketing yourself as a [insert your profession here]
How to start an online business
Digital marketing strategies
5. Health and Fitness Blog
Many people continuously look for ways to improve their physical health and well-being. This makes health and fitness blogs have higher income potential.
Health and fitness blogs enable readers to maintain a healthy lifestyle while improving fitness and strength.
Let's look at the Born Fitness blog.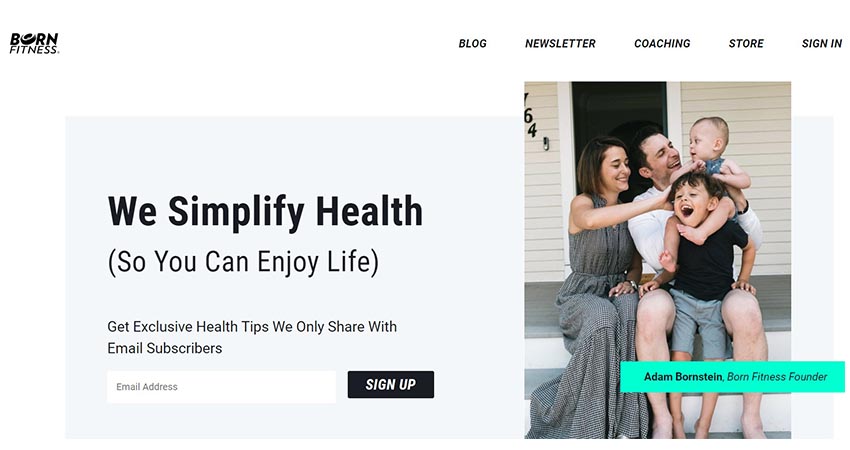 Established by Adam Bornstein, Born Fitness' mission is to debunk myths and answer questions about nutrition and exercise. They monetize their blog with health coaching.
There is a wide range of topics you can write on health and fitness blogs, such as:
Body empowerment
Eating healthy on a budget
Nutrition and exercise for kids
Niche workout blog ( like Yoga, running, or weight lifting)
Mindfulness
6. Parenting Blog
Parenting blogs are sometimes known as mom blogs because they are often written by mothers sharing their first-hand experiences. Dads have started to blog, too, so we'll call these parenting blogs.
Mommy on Purpose is an example of a parenting blog that makes money. Carly, the author, shares mommy tips, life with kids, life at home, and family finance.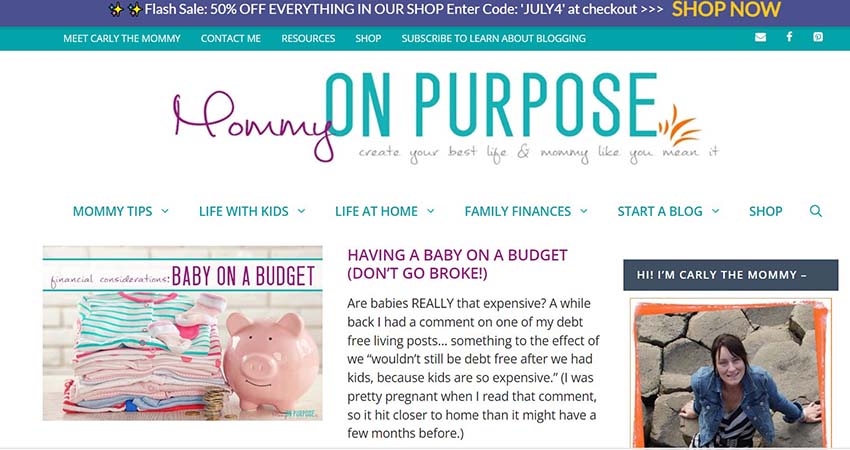 Parenting blogs cover several topics, including:
Homeschooling
Raising teenagers
Handling work and kids
Traveling with children
Affordable parenting
Children's nutrition
7. Beauty Blog
A moderate amount of crossover between beauty blogs, fashion blogs, lifestyle blogs, and travel blogs is inevitable. For example, beauty bloggers naturally write about wardrobe, while fashion bloggers often cover makeup tips.
Wendy Rowe is one of the most popular beauty blogs today. Wendy writes about makeup, skincare, and wellness. Likewise, she has also created her edition of eco-friendly lipsticks with La Bouche Rouge.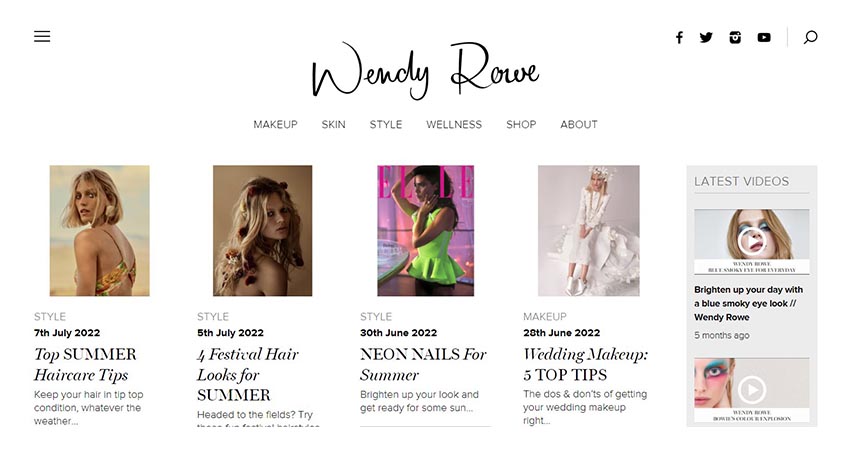 There are plenty of scopes to earn money with a beauty blog:
Styling tips
Makeup tutorials
Product recommendations
DIY beauty products
Skincare
8. Food Blog
Food blogs are like a recipe book. You teach readers how to make tasty dishes. And of course, you take lovely photos.
A Sassy Spoon is an excellent example of a food blog.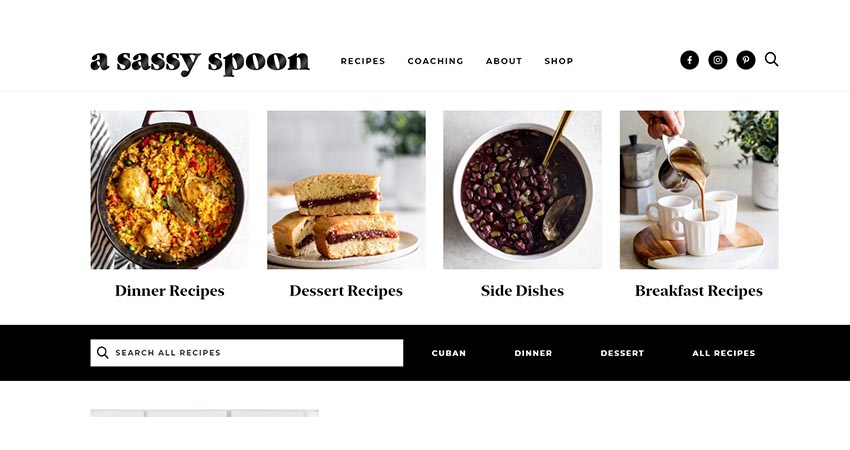 Created by Cuban-American chef Jamie Silva, A Sassy Spoon features classic Cuban recipes, Cuban-inspired dishes, and some Latin-inspired recipes influenced by her hometown Miami.
Some other areas of food blogs you can start are:
Restaurant reviews
Homemade recipes
Eating and traveling
Affordable eating
DIY drinks
9. Lifestyle Blog
The types of blogs that earn money have been about one particular topic. But a lifestyle blog is entirely different. Lifestyle bloggers cover many issues such as personal experiences, culture, and relationships.
Advice From a Twenty-Something is a lifestyle blog for the average 20-year-old. They write about dating, fashion, and fitness and earn from affiliate links and guest posting.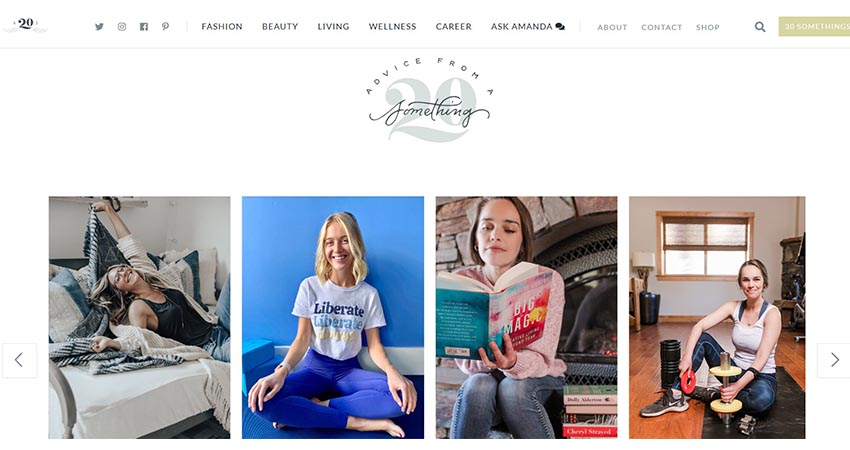 Some topics on lifestyle blog niches are:
Dating and relationships
Self-improvement
Productivity
Learning a hobby
Music
10. Finance Blog
If you love crafts, you can start a DIY blog. A DIY blog teaches readers how to make crafts, clothing, home decor, and many more.
P.S I Made This is a well-known DIY blog. The blog teaches readers about crafting all sorts of things. These include clothing, beauty products, and home decor.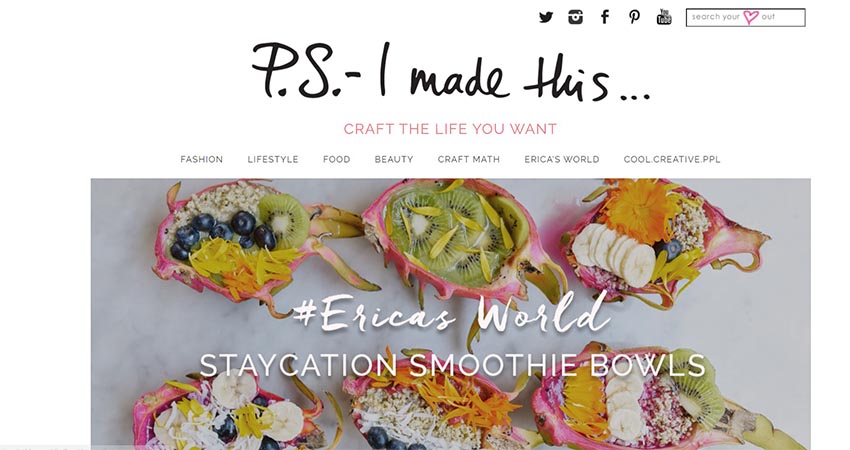 Some other DIY blog niches are:
Arts and crafts
Home renovations
Gifts
Beauty products
DIY for teachers
11. Pet Blog
A pets blog is perfect for anyone looking for DIY pet treats, training tips, and activities. So if you own pets or know a lot about a specific breed, a pet blog might be for you.
PuppyLeaks is a pet blog for dog lovers. They have topics on puppy training, treats, and games.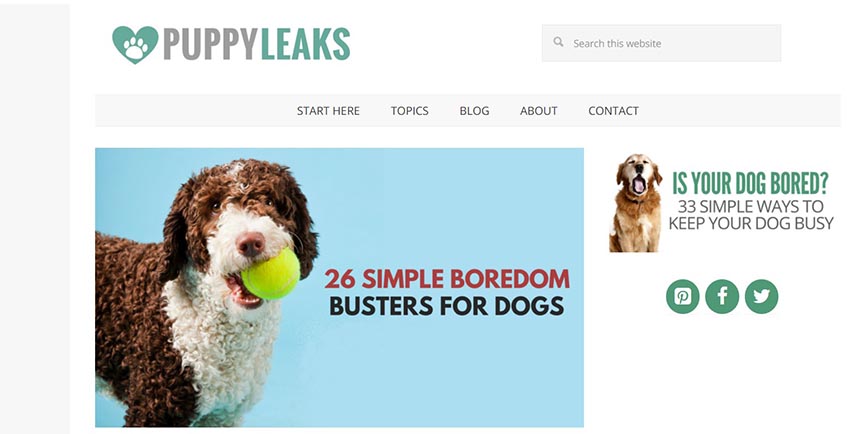 The best way to make money from a pet blog is by adding affiliate links to your favorite pet-related products. Stuck about the specific topic to write about? Here are some pet blog ideas you can try:
Your pet breed
Pet adoption
Farm animals
Reptiles
Exotic animals
Conclusion
Now that you know the blog types that make money, you might have a clearer vision of what area you'll focus on. If you are ready to create your blog, work with a talented designer at Penji to help you with blog and website design. Visit this page for pricing plans.