A Black Friday banner is an effective way to target more prospects this season. However, don't make just any banner. Create a Black Friday banner that pops out of users' screens. Hire the help of professional graphic designers like Penji.
Plus, you're in luck because we have exclusive FREE Black Friday graphics perfect for your banners. There are character illustrations, patterns, and banner templates to use on your promotional banner. Get your copy here!
Meanwhile, read these tips on how to create a banner that makes users click this coming Black Friday.
Black Friday Banner: Importance of Graphic Design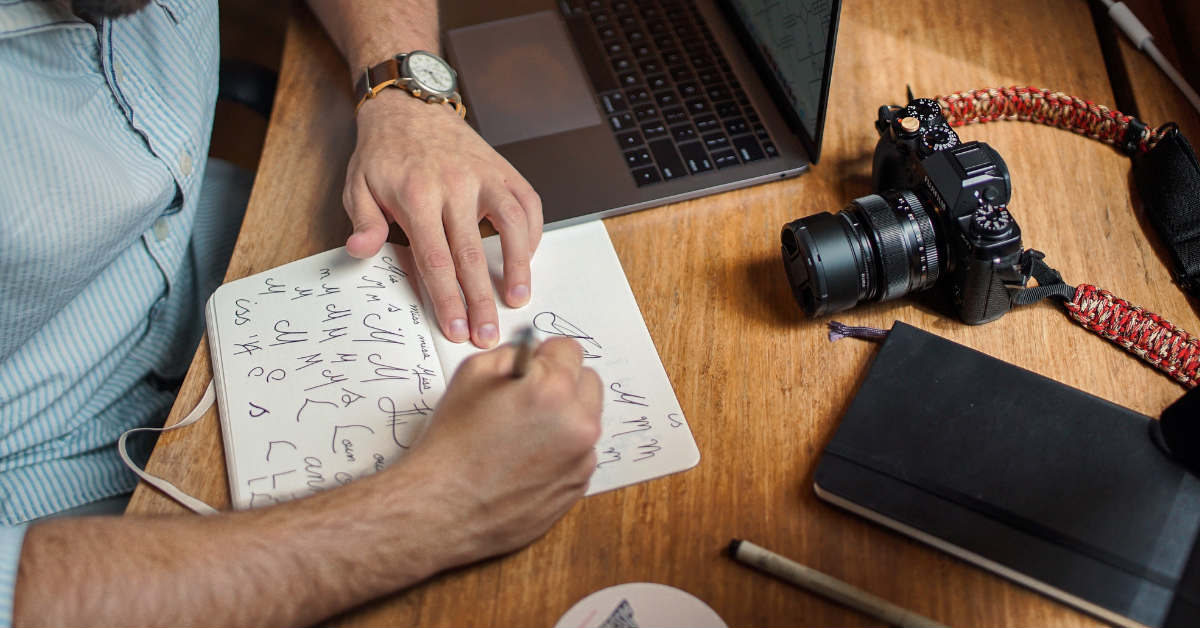 First and foremost, we are living in a digitally advanced world. Graphic design has evolved from the 1960s until the present day. From black and white images to interactive GIFs, design has become a significant selling point for businesses.
That's why businesses should focus on graphic design when creating their Black Friday banner ideas. You want to focus on the right typography, colors, white space, layout, and whatnot to grab people's attention.
Whether you're creating a Black Friday homepage banner or banner ad, you want to make people click on your banner. The easiest way to do that is to include the right Black Friday banner elements that captivate.
Black Friday Banner Ideas: What to Include
While you're browsing online, do you ever notice those banners displayed on top or below the website? Has any of them ever stopped whatever you were doing and urged you to click? That's what your Black Friday ad should do. Make sure to include these components on your banner:
Prominent Headline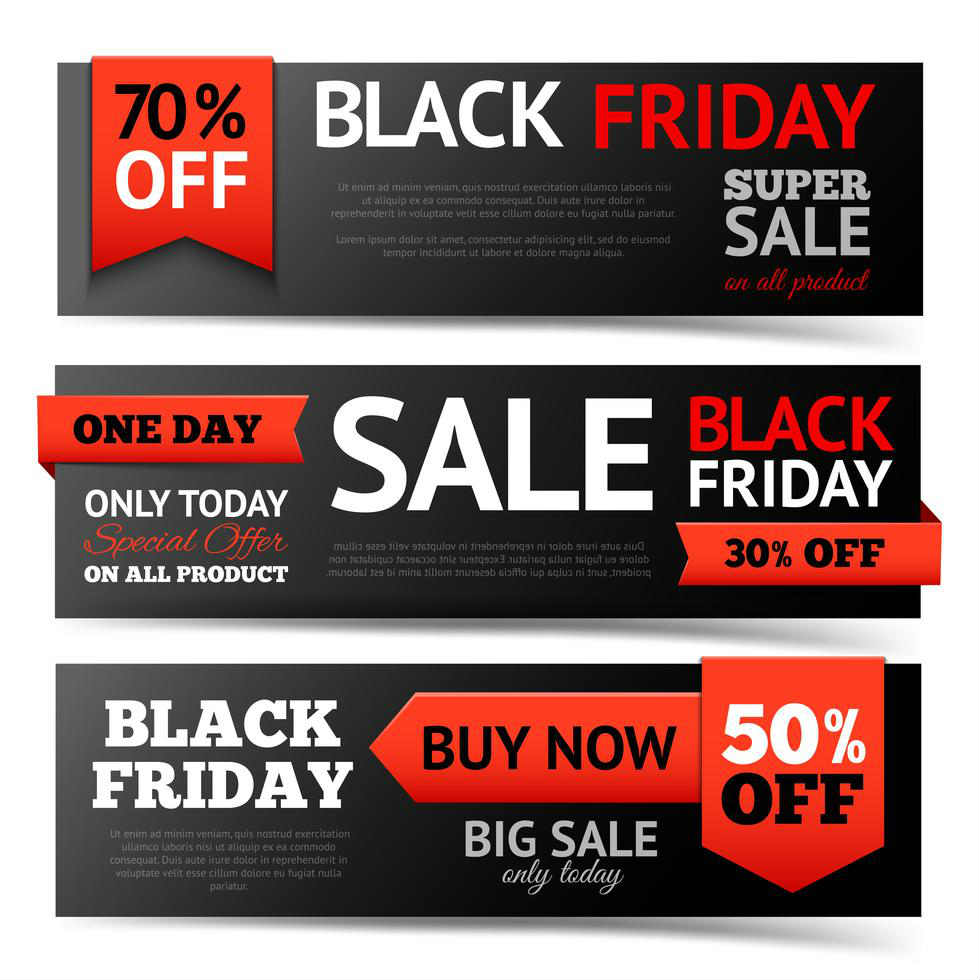 Nothing could be more important than a clear and compelling headline — or a clear message for that matter. Include the right words that draw people's eyes to your banner. Here are some you can use:
Black Friday

Sale

Discount

Exclusive

Deals

VIP

Limited

Hurry

Special Offer

Up to % off
These words are sure to capture your audience's attention. The typography choice matters as well. Although not a fixed rule, most Black Friday banners choose a bold, print font style. Take this template from Vecteezy for example.
Uncluttered Layout
The layout is fundamentally as important as the headline because a banner might differ in sizing. Since you're only working on a small area, the layout is critical.
You don't want a cluttered design. Pick the most important details only so the eyes can focus on those to make it easier to digest.
Don't worry about not being able to maximize the entire space. The most important thing is the impact of the banner.
Dominant Call to Action

Never underestimate the power of call-to-action words and phrases. They are there to play tricks on the consumers' minds and eyes, and they have a visceral effect on a person.
A strong call to action should not be buried among all the other components on your Black Friday banner. They should stick out like a sore thumb.
Check out this example. The call to action is cleverly displayed here. The tag, ribbon, headline, and the message in the background complement the call to action without overpowering it.
Color Palettes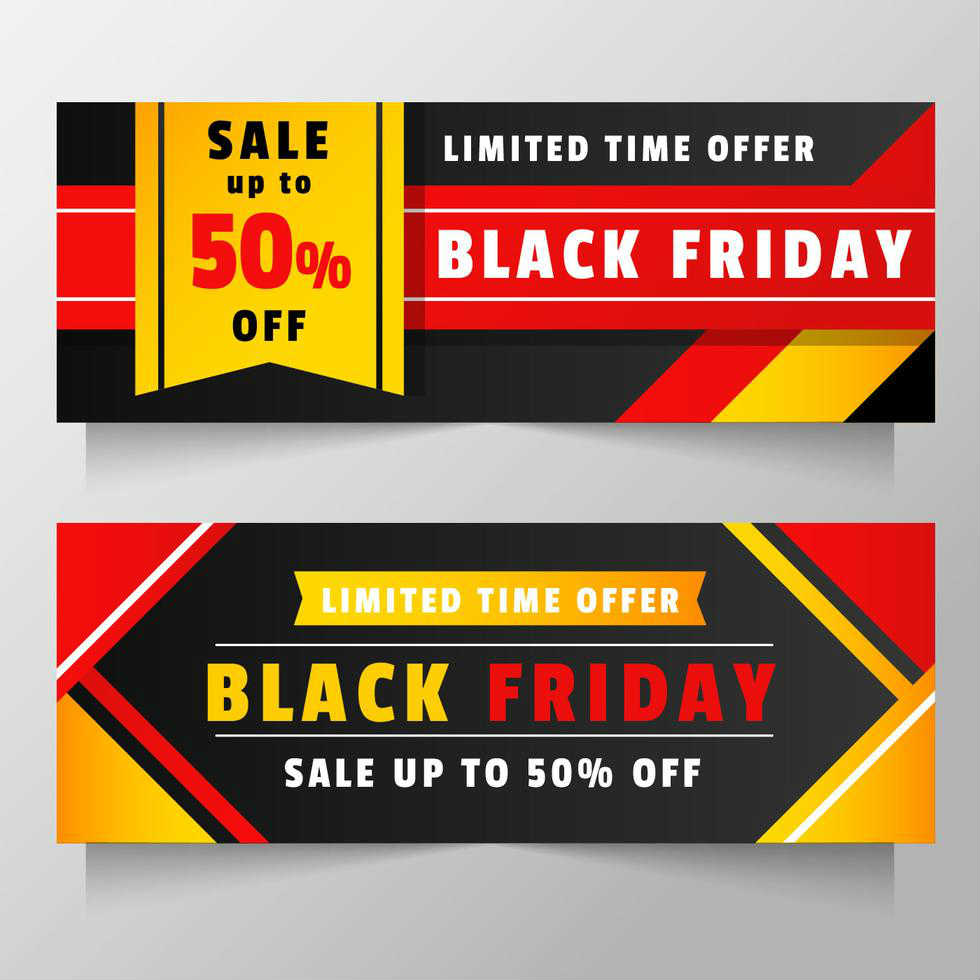 You'll have to take into account color psychology when making your Black Friday banner ads.
If you scout online for Black Friday banner designs and ideas, you'll notice one prominent color — black (duh). Black denotes authority, power, and elegance, which is an excellent color to choose for your banner.
So it doesn't come out too strong, white balances everything out. You may also incorporate splashes of red onto your banner as red symbolizes energy and enthusiasm. This is perfect for the entire Thanksgiving weekend as people will be in a state of frenzy during this time.
Or you may also include other colors that denote happiness and joy like yellow or orange. You must make your holiday banner ads pop out, so thinking of bright colors might be more eye-catching.
Exclusive Discounts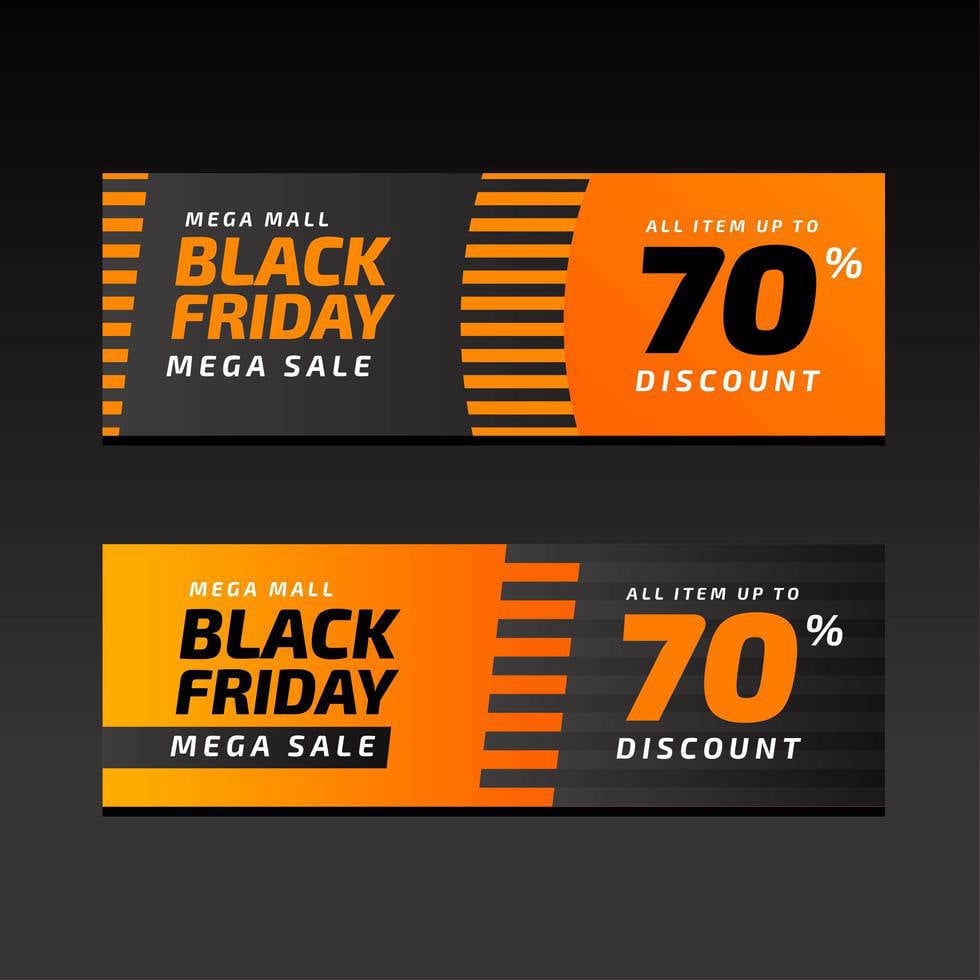 Once consumers are riveted on your headline, the next thing they'll look for is how much the special offers are. It's not a marketing rule nor a banner standard — it's just human instinct.
That said, ensure that you include the highest markdown percentage on your banner. However, take note that transparency is important too. You don't want to give consumers false promises as this might turn them off.
Sense of Urgency
When brands think of holiday marketing campaigns, one way to get consumers to act is ingraining a sense of urgency. A shoppers' mindset during Thanksgiving and Black Friday weekend is already hellbent on getting more for less. Yes, FOMO is real, people!
Whatever urgency you throw in will give them that extra nudge to make them act ASAP. Here are some words and phrases you can try:
Limited

Now

Hurry

Expires

Never again

Final

Last chance

Running out

Quick

Fast
Additional Catchy Components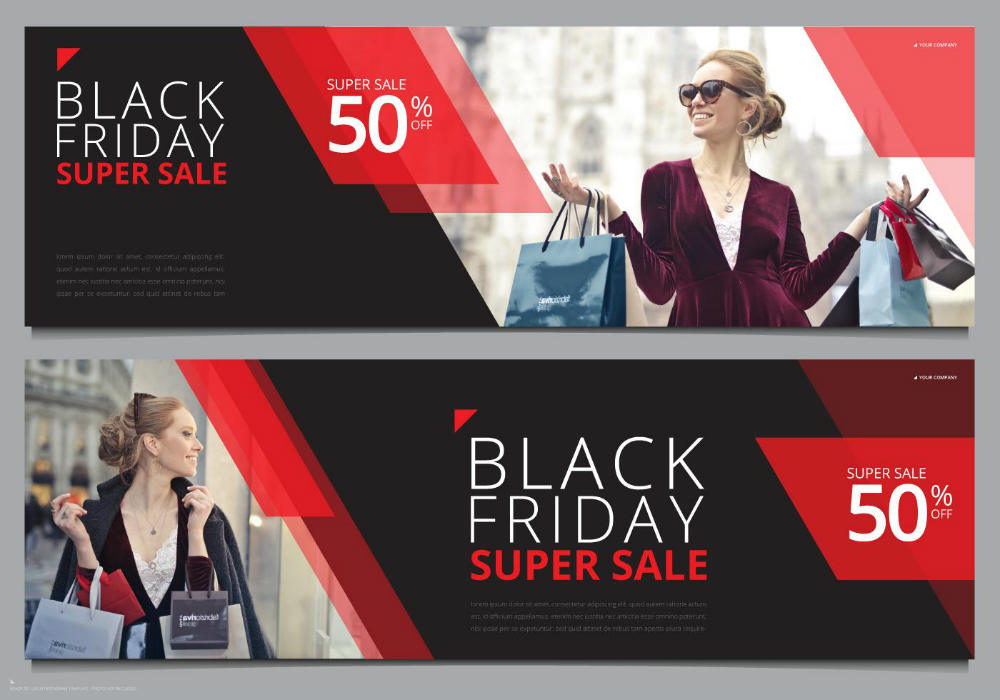 Make your Black Friday banner ideas unique by adding some appealing features like GIFs or images. Take this example from Vecteezy with a picture of a shopper. This banner subliminally implicates a vision to any audience that they could be that happy shopper if they buy from your store.
Another way to make your Black Friday ads more interactive is through GIFs. They're fun, modern, and can resonate with any audience.
Black Friday Banner Ideas: Hiring Professionals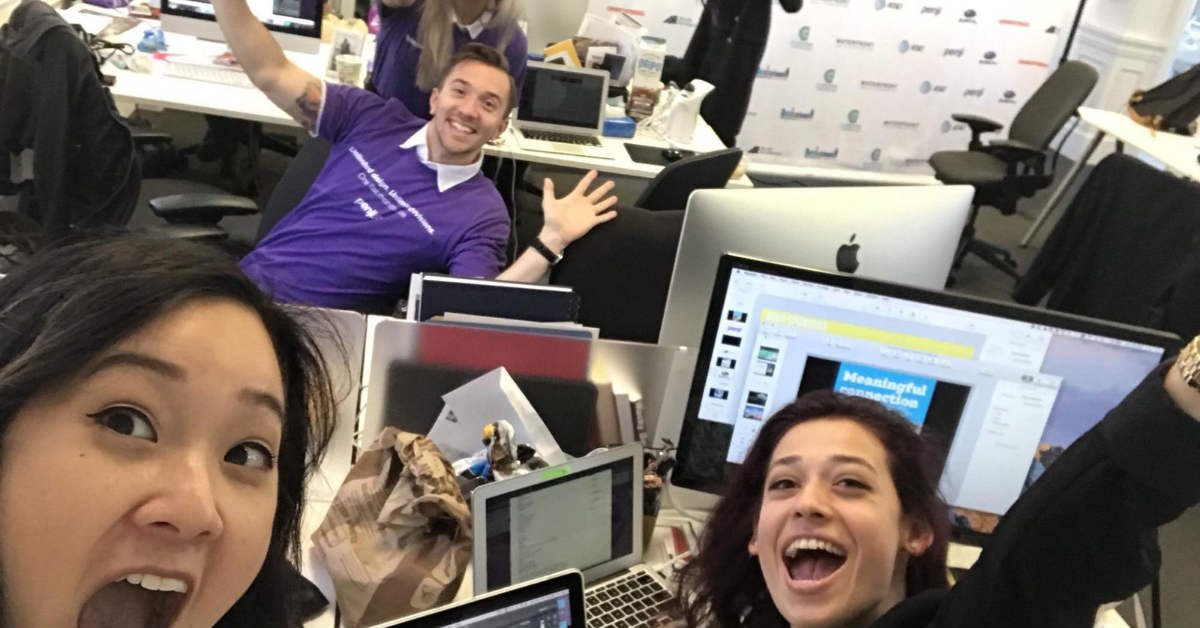 Hiring professionals is always a worthy investment when it comes to your holiday marketing campaigns. The meager fee you spend on letting professionals create the most competent Black Friday banners will return a hundredfold.
Penji is one of the leading graphic design services that take the load off your shoulders when it comes to designing banners, posters, flyers, and any marketing medium.
How to Use Penji for Your Black Friday Banner
Here's how the Penji team can make your life easier with their platform. You just have to undergo three steps and you can have your banner. Sign up now and experience what our clients enjoy.
Request for a Design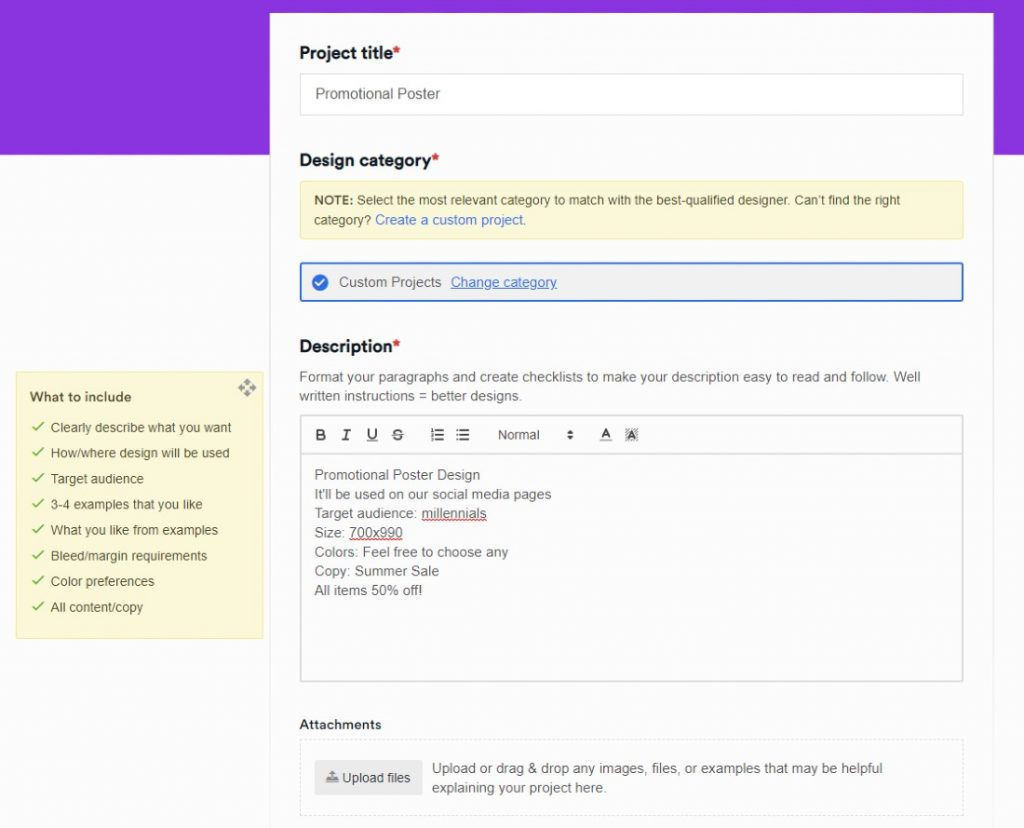 Once you sign up with them, you can already request for a banner design from the platform. The good thing about Penji's app is that everything is straightforward. In just one look, you'd know how to navigate through it. Even if it will be your first time to request a design, it will be a breeze.
If you are already on the platform, look for the New Project button. It is located on the right portion of your screen. It would be impossible to miss. Click that and you will be routed to a new page.
On this new page, you will supply all the necessary information about your project. For you to not miss anything important, the team made guidelines and questions for you. You can also attach images and add links to give your designer a better idea of what you want for your banner.
Review and Revise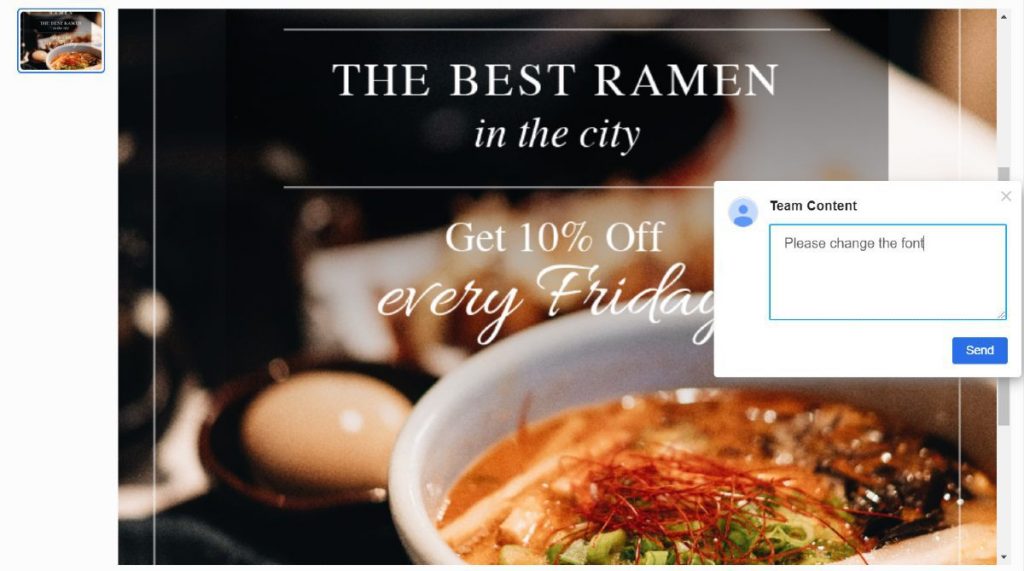 Penji's turnaround time is fast and you can get the initial draft within 24 – 48 hours. Of course, you should consider if your request is simple or complex.
Once you have the initial output, you can now enlarge the photo and see if there are areas that do not sit well with your preference. Click that specific area and you will see a comment box. Just type in your feedback and hit send so that your designer can work on it right away.
Download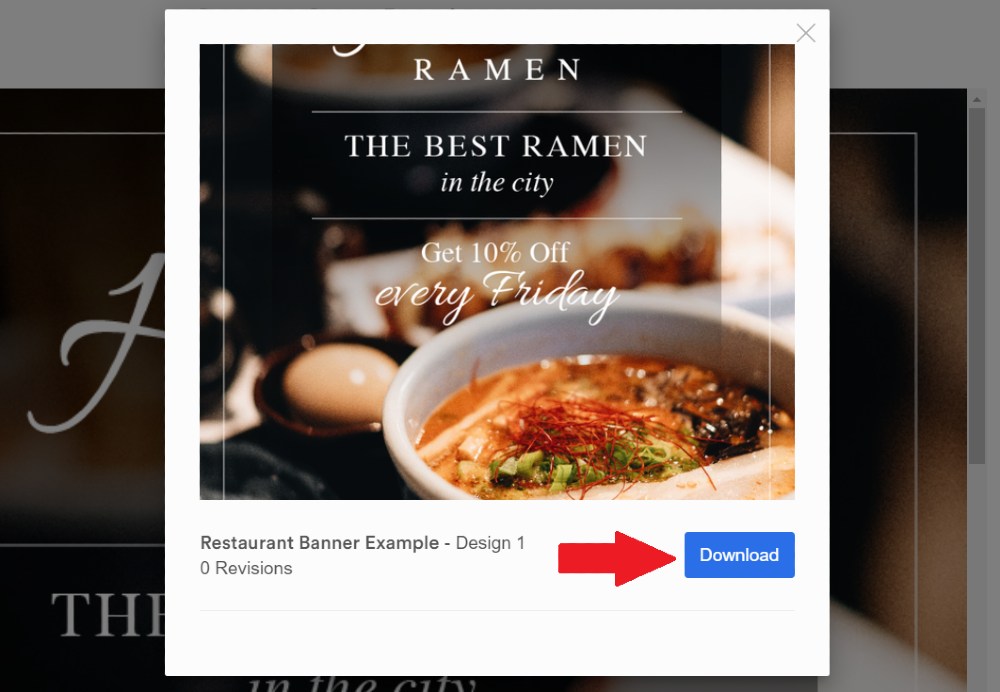 If you are now 100% satisfied with the design, go ahead and download it whenever you are convenient. You don't have to make a separate request to your designer. Penji has eliminated these steps from their entire process.
There you have it. A perfectly-made banner for this Black Friday.
For a flat monthly rate, you get a designated graphic designer who ensures quality work and a 72-hour turnaround. Check out the company's portfolio here. And if you're ready to try the service for 15 days risk-free, sign up here.