Thanksgiving is one of the busiest holidays in the United States. And for marketers, this means more opportunities to rake in revenue. If you want to lure more followers, subscriptions, or sales this season, these best Thanksgiving social media posts should compel you to start your own.
For your Thanksgiving social media visuals, subscribe to Penji, an on-demand design service that offers unlimited graphic design and illustrations at VERY AFFORDABLE RATES! Also, if you're in need of Thanksgiving social media visuals right away, here's a treat from Penji. Download these FREE Thanksgiving-themed designs you can use on your marketing campaigns.
REI's #OptOutside Campaign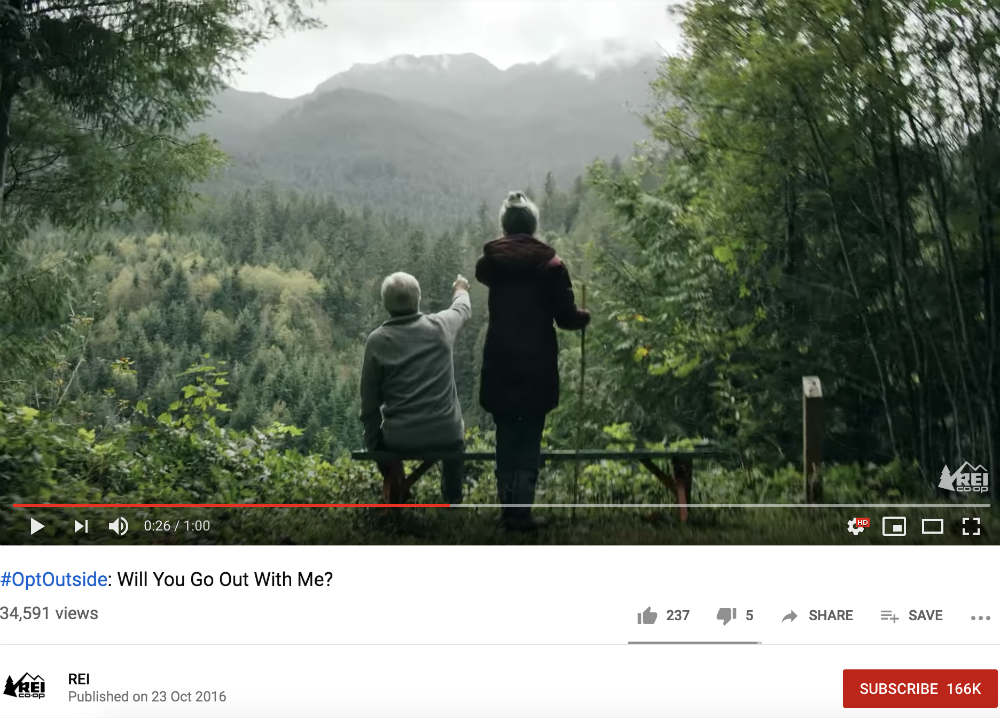 REI (Recreational Equipment, Inc.) is every adrenaline junkie's one-stop-shop for all things outdoors. Not only do they have everything from men's, women's, and kid's apparel and gear, they also have brilliant brains behind their marketing department.
REI is the epitome of what staying true to a company's branding is all about. They created a Thanksgiving social media campaign called #OptOutside. Thanksgiving is supposed to be a time to be grateful for the little things, and not get caught in crass consumerism. And one thing REI, its employees, and its target audience are thankful for is being able to relish the beauty of the outdoors.
The adventure-loving brand boycotted the Black Friday frenzy and encouraged everyone to spend time outdoors instead — including their employees. To show that they don't want any part of the Black Friday shenanigans, they closed all their stores right after Thanksgiving.
They also encouraged everyone to share their outdoor adventure by using #OptOutside on social media channels. And this has gained ultimate accolade from people worldwide. Indeed a more powerful way to gain new patrons than promoting your products.
Coca Cola's "Share A Coke" Place Cards Campaign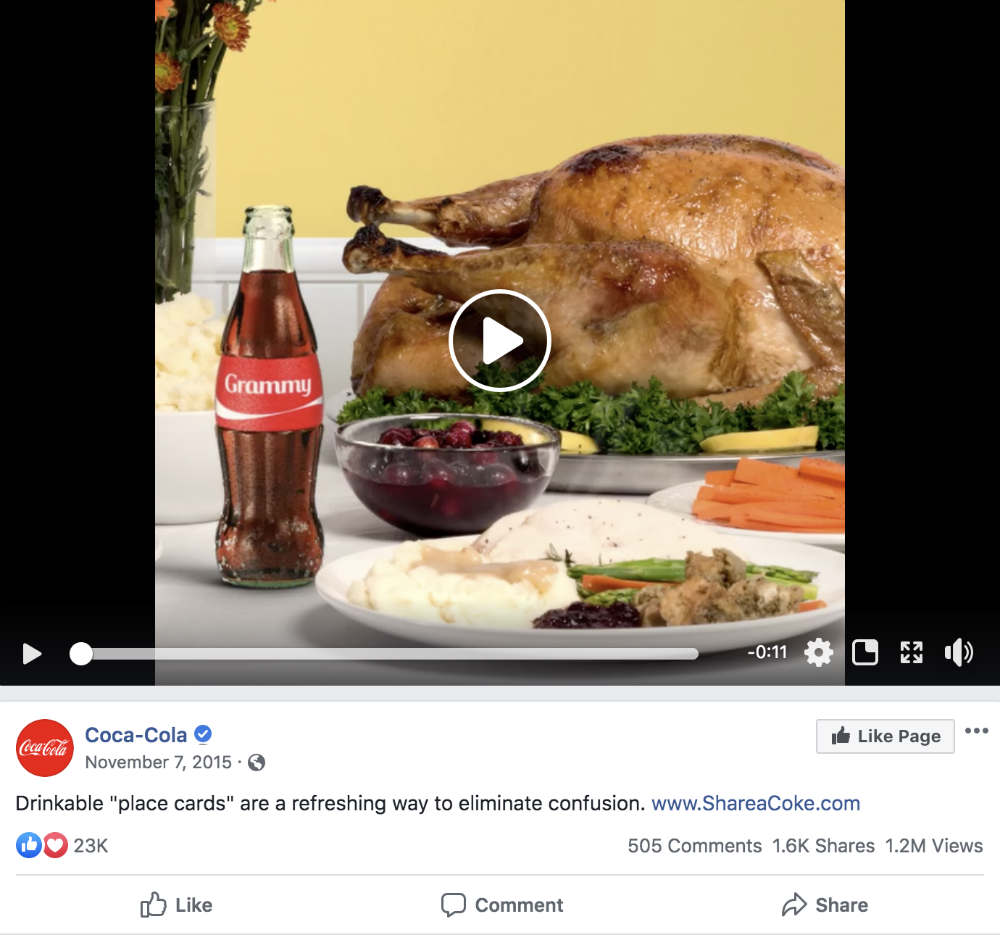 Coca Cola has always created the most well-played marketing tactics on any event or occasion. And this time, they decided to heighten the "Share A Coke" campaign by giving it a fun and useful Thanksgiving twist.
The "Share A Coke" campaign gives consumers a personalized buying experience. By customizing any Coke can or bottle with their names, they can proudly call it their own.
And the Thanksgiving twist? Consumers can use these customized bottles as table place cards. By promoting this campaign on Twitter, Facebook, and Instagram, no one ever has to sit next to their least favorite relative!
Ave40's UGC Thanksgiving Giveaway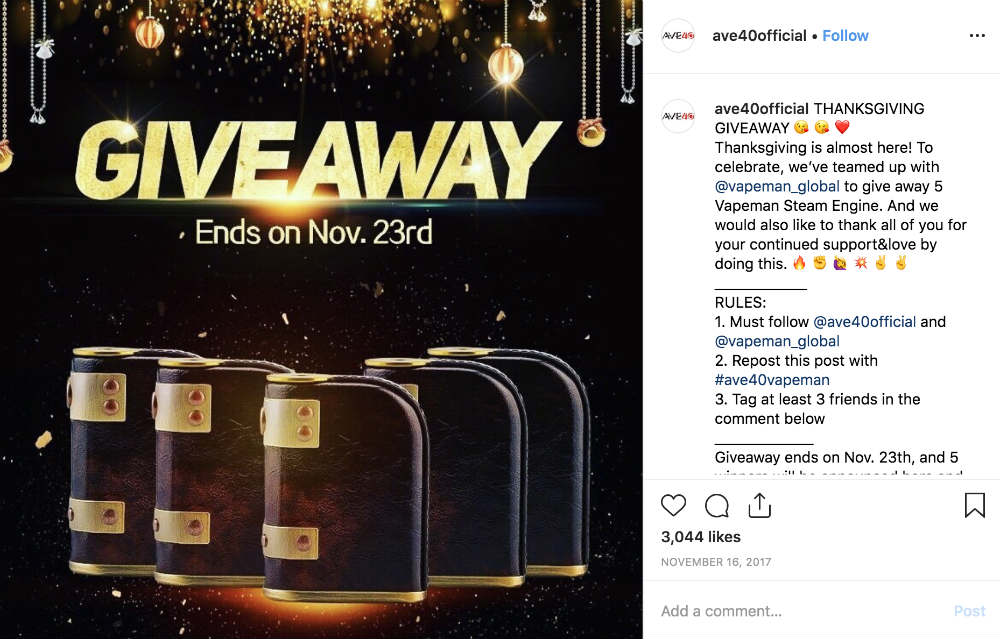 A user-generated social media campaign works like a charm, and Ave40 agrees. They partnered with Vapeman Global to give away five Vapeman Steam Engines. To enter, the participants only need to do three steps:
This type of content is gaining popularity in two of the biggest social media platforms — Facebook and Instagram. It's a great way to promote brand awareness, increase a company's social media following, and possibly earn more conversions.
Zappos' Baggage Claim Game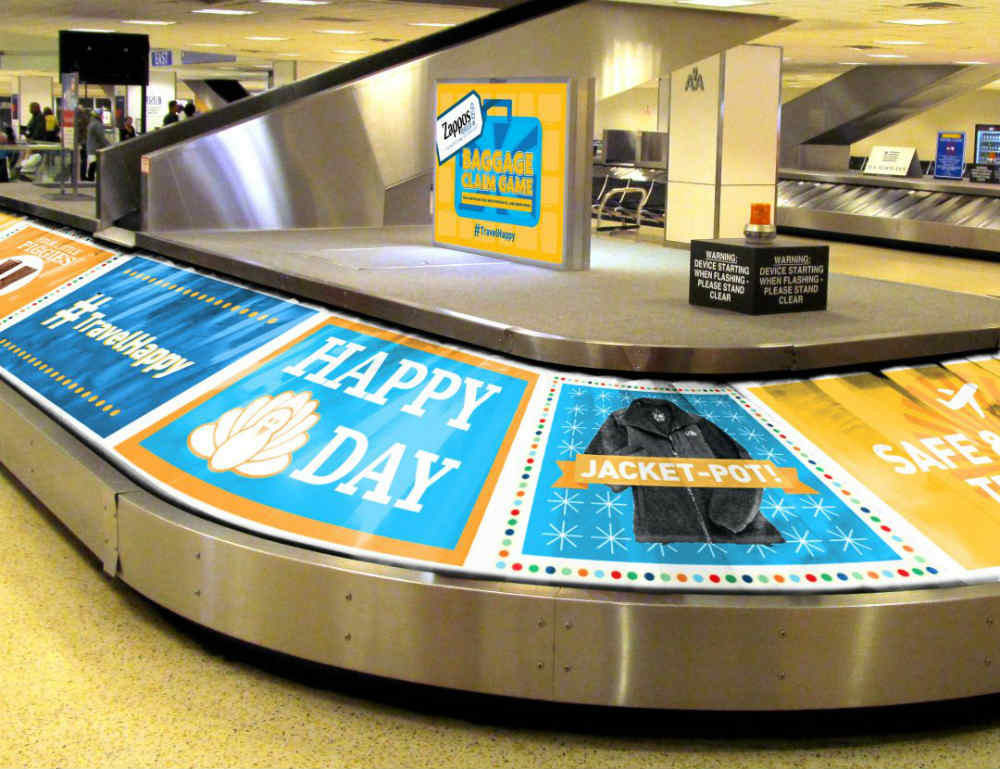 Sometimes, the best Thanksgiving social media posts that will win the hearts of your audience don't involve exclusive deals and discounts. It's when big brands return the favor through fun games and exciting prizes.
And although this particular game from Zappos happened outside the virtual space, the company garnered 2.4 million social impressions across popular social media channels by using the hashtag #TravelHappy.
Traveling on holidays can be quite daunting. But with Zappos' and American Airlines' tandem, they've managed to turn a baggage conveyor belt into a "Wheel of Fortune" extravaganza. A passenger won if their luggage landed on a conveyor belt block with a prize. In the end, all 1,000 participants took home giveaways such as oven mitts, Thanksgiving magnets, and more.
Realtor.com's "Which Thanksgiving Dish Are You?" Quiz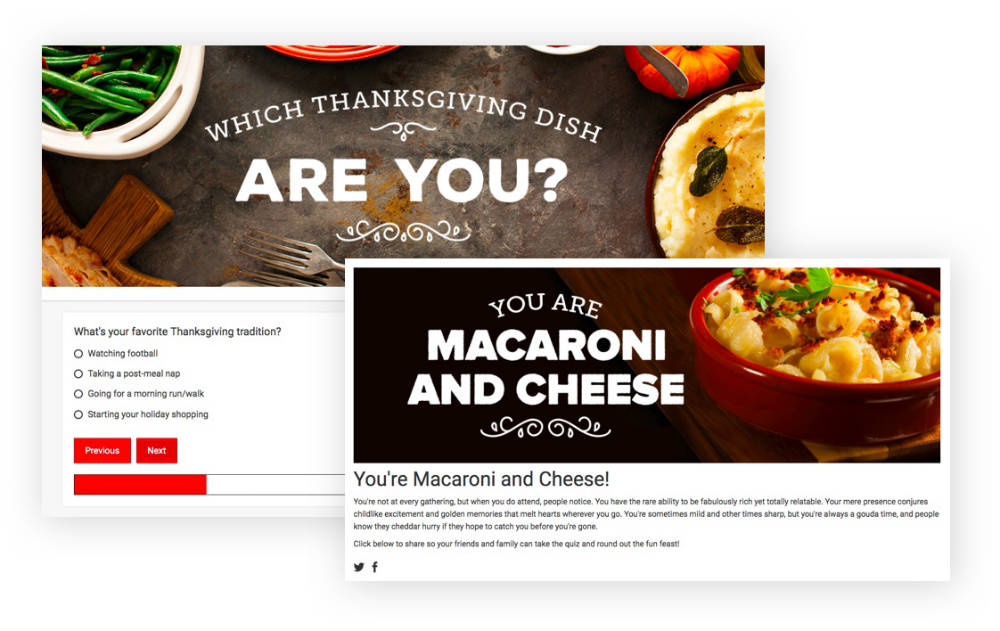 Quizzes and polls are foolproof ways to gain more engagement from your audience. If they're well-thought-out and engaging enough, businesses will undoubtedly receive more than comments. Social media users will most likely share the best Thanksgiving social media posts such as amusing quizzes and polls. Not only will you be successful with engagement, but you'll also create an infinite form of digital marketing through virtual word of mouth.
Realtor.com's "Which Thanksgiving Dish Are You?" quiz was a big hit. Participants take the quiz and answer Thanksgiving-related sets of questions. And like how the stars and planets line up to determine a horoscope, the dish choices reveal their participants' personalities.
While this was done on a landing page, the final result had sharable Twitter and Facebook icons. It was truly a smart way to bring traffic to a company website while boosting social media presence.
PETA's "Grace" Video Campaign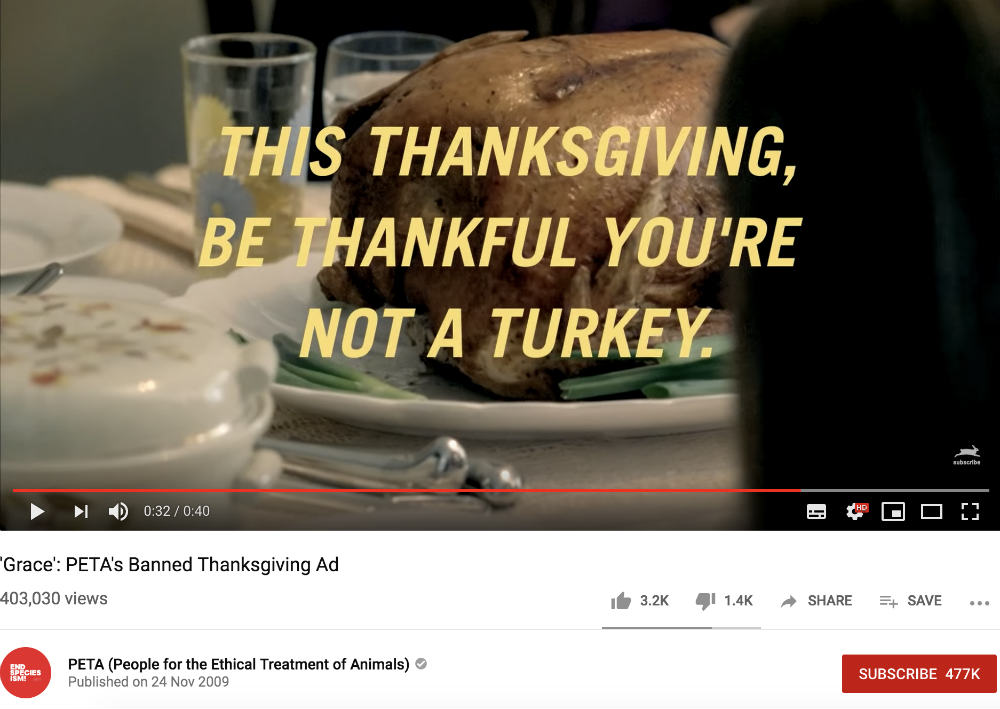 When you put a little wit and humor on your social media post, it's going to gain traction online. And PETA knows how to play the guilt-trip card when preaching for their advocacy.
Thanksgiving enthusiasts eat around 46 million turkeys every year. According to PETA, turkeys have the same affectionate feeling, such as dogs and cats. They would much rather want to build nests and preen themselves instead of being on a plate during Thanksgiving.
In this video, an honest little girl says "Grace" by recounting a blow-by-blow process of how turkeys are killed in farms. And while NBC refused to air this ad, it has since become a YouTube sensation with over 400,000 views!
Unilever's #ShareAMeal Campaign

While many children devour scrumptious turkey meals and pumpkin pies on Thanksgiving, more than 12 million American children are left hungry. In an effort to raise awareness to the public and promote a philanthropic program, Unilever partnered with Feeding America for the #ShareAMeal campaign.
This campaign aimed at donating a million meals so starving children can enjoy a lap of luxury on Thanksgiving. And Unilever made it extremely easy for kind-hearted participants to join. Users can post a throwback photo of them enjoying a feast with the hashtag #ShareAMeal. One post equals one meal to Feeding America.
Using Penji for Creating Your Best Social Media Posts
Before you sign an agreement with an expensive agency or close a deal with a freelancer, you might want to subscribe to Penji. Their team offers unlimited graphic design and you just need to pay a fixed fee every month. Now, if you believe your business does not need the services anymore, you can always pause your subscription and just go back if you need them again. No contract! No hassle! Just outstanding and professionally-made design. Here's how easy it is to work with them.
Request for a Social Media Post Design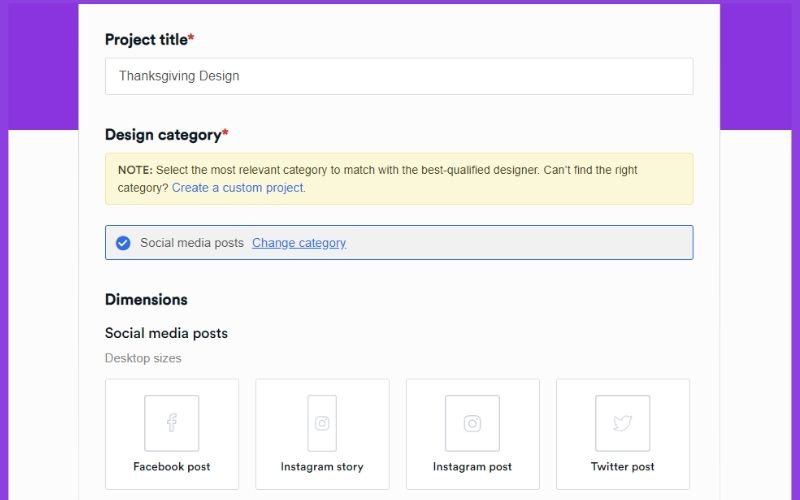 Sign up with Penji to have access to their easy-to-use app. This app is where you can directly request for the design.
Once you are on the dashboard, just look for the New project where you will be taken to the next page. This page will also give you a complete guideline on the information needed to finish the design. Supply all the details and add materials that might help the designer. For example, you can send your previous marketing materials. Or maybe you can send a link to your website.
Check for Revision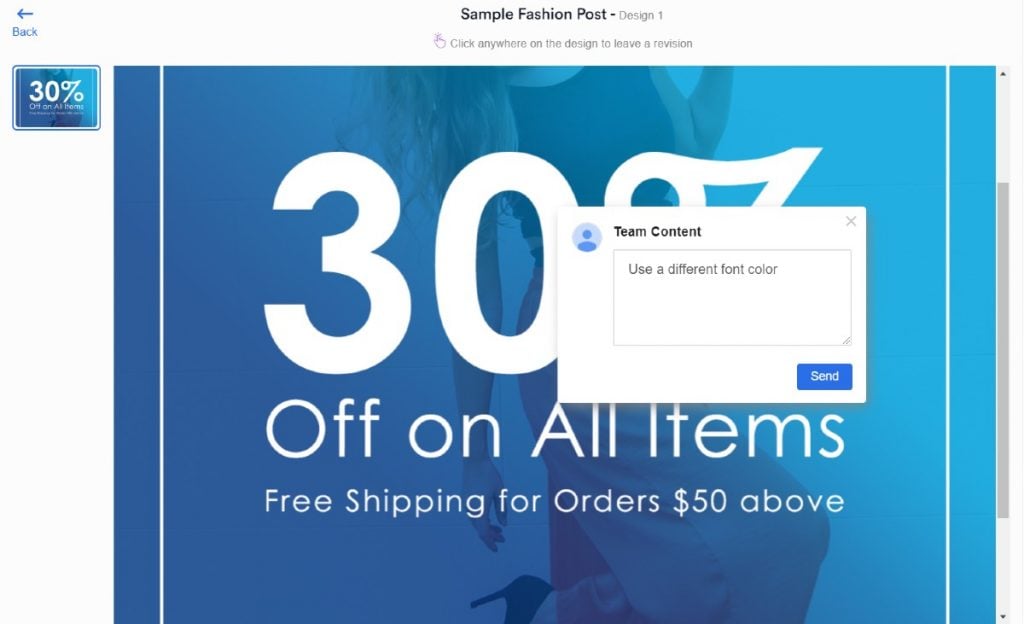 After submission of your request, a designer will acknowledge your message and they will work on it as soon as possible. If they have further questions, they will reach out to you using the same platform. You see, Penji made it possible to make the entire transaction seamless.
Your first draft will be submitted within 24 to 48 hours, and the designer will provide updates when necessary. Upon receiving the output, check if there is a need to revise. If yes, click on the image, and type your feedback. Send it and wait for the final output.
Download and Start Posting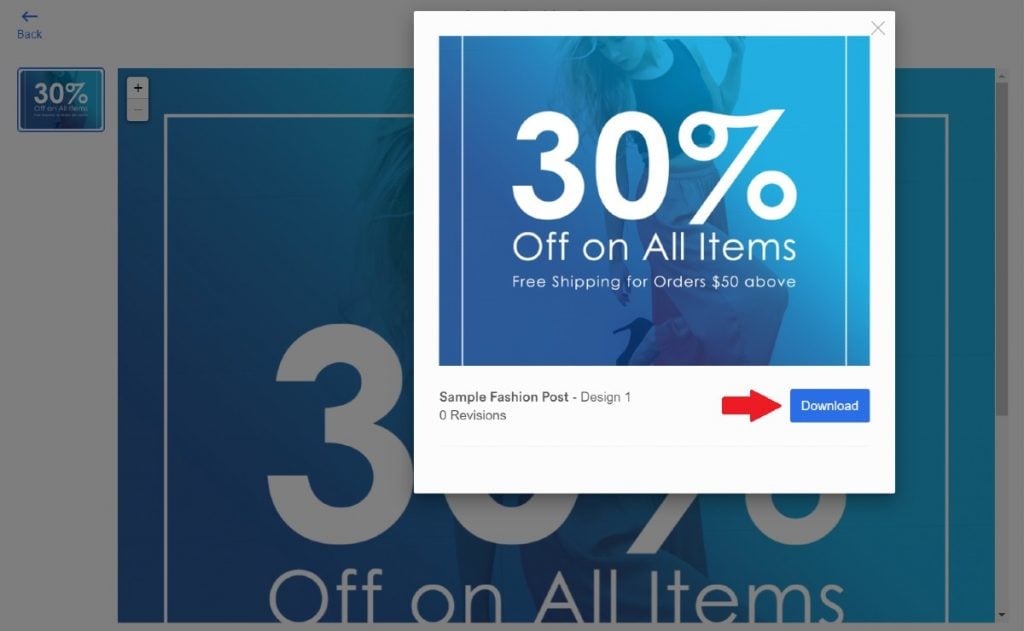 Satisfied already? If you are, then the last step is to download the source files from that same platform. You don't have to wait for your designer to send it to you. You can even get the designs late at night or early morning – whenever you are available.
There you go! Start posting compelling Thanksgiving social media ads and you'd be surprised how fast you'll gain traction this year.
We believe that Penji is the best team that can provide you with unlimited graphic designs that work. You can get the best plans from them if you check out their website today.
Final Thoughts
Companies that believe in the power of social media are those that unceasingly corner the market. By putting together the best Thanksgiving social media posts, coupled with digital solutions like audience behavioral tracking and analytics, reaching success will never seem like a tall order. And for the most beautiful and professional Thanksgiving posts, subscribe to Penji to make it in time for the holiday season!