ChatGPT is the most successful OpenAI product. Since its launching in November 2022, the AI chatbot has reached a groundbreaking 100-million follower mark. The AI software is also free to use, but there is an option to upgrade to ChatGPT Plus. This AI chatbot is a powerful and reliable tool using the most recent GPT-4 technology. It can provide human-like conversations, injecting subtle humor in some prompts. However, ChatGPT does have its limitations, such as not having the data before September 2021 and providing false information. This is the reason why users look for other AI chatbots. And here are the best ChatGPT app alternatives and rates.
1. Jasper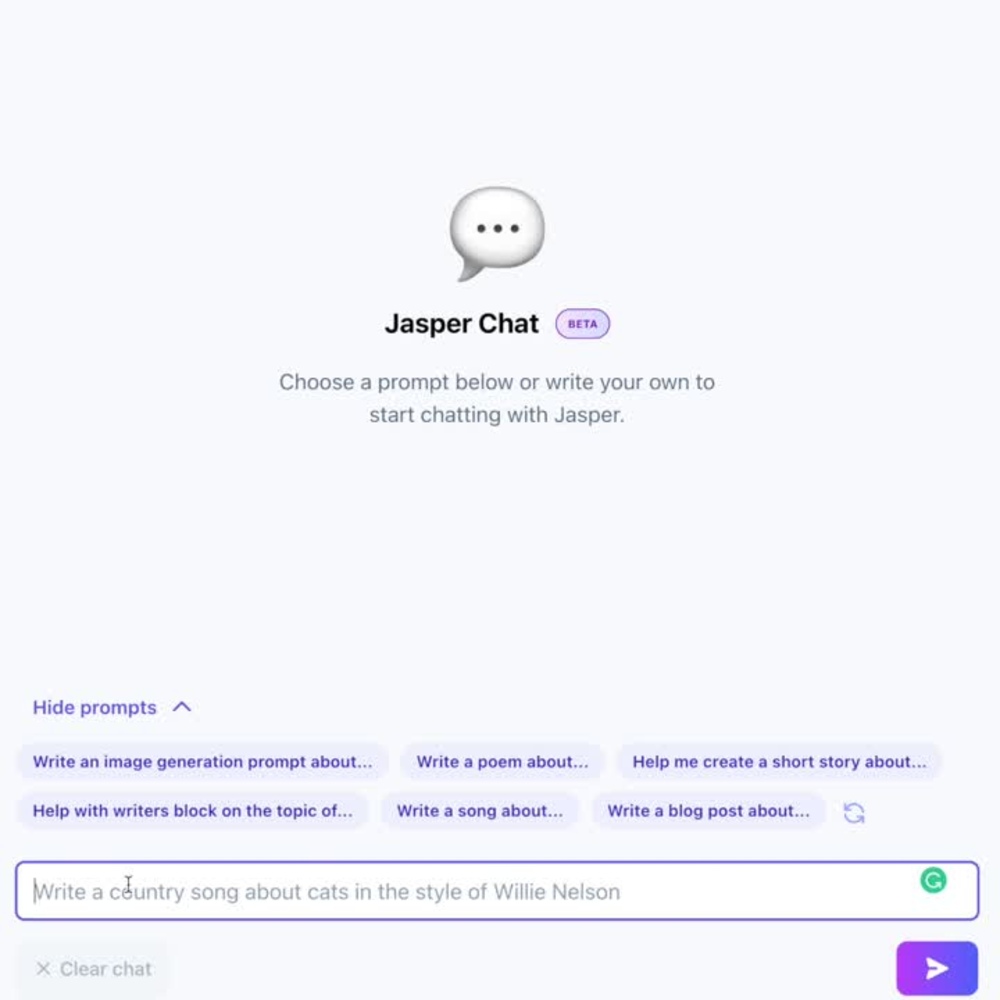 Jasper is one of the most well-known AI chatbots to date. Anyone can use Jasper due to its straightforward interface. Like some other AI writing platforms, Jasper requires you to enter some information about your article idea, and the AI will take care of the heavy lifting. Jasper is excellent for brief copy perfect for product descriptions, social media captions, or meta descriptions. You will also enjoy Jasper's over 50 templates, such as Facebook headlines, email subject lines, product descriptions, etc. On top of the short copy, Jasper can also help you with blog post ideas and engaging outlines.
Pricing:
Teams – $99 per month
Creator – $39 per month
Business – Talk with sales
2. Chatsonic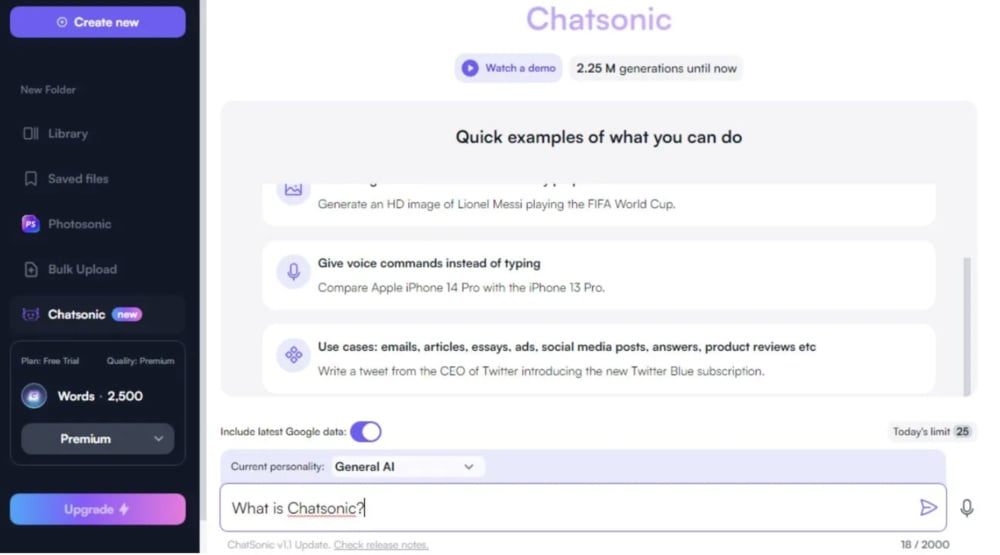 Chatsonic delivers the most recent information with up-to-date factual responses. Though you may still need to research, some answers come with complete references. One of its valuable features is dropping any file onto the chatbox and letting Chatsonic do its magic. You can ask questions, collaborate on the document, or get summaries. Chatsonic is best known for its collaborative interface, which is excellent for teams. The variety of templates and web browsing features are better than ChatGPT.
Pricing:
Free version
Small team – $13 per month
Enterprise – $500+ per month
Freelancer – $16 per month
3. Copy.ai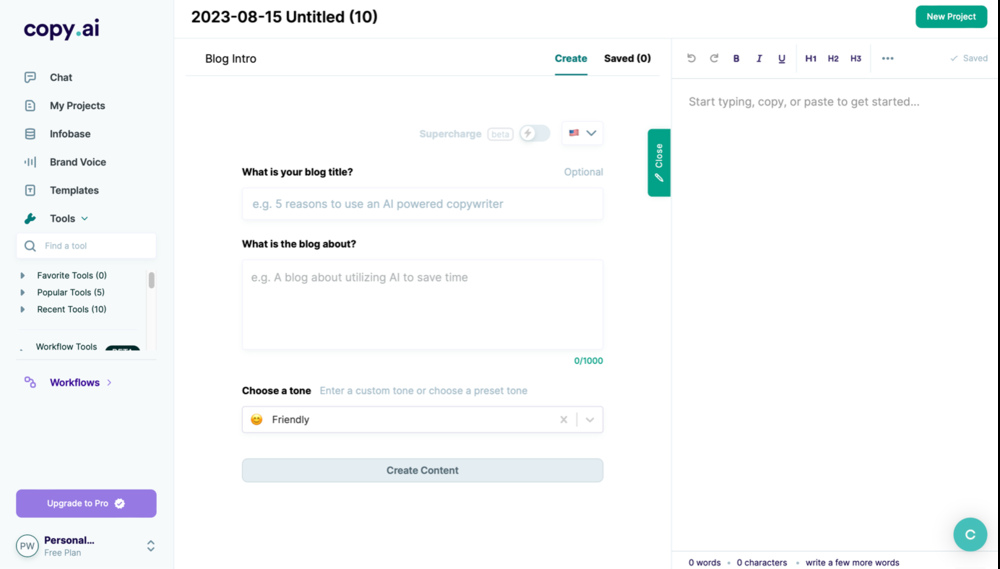 Deemed as a better and faster alternative to ChatGPT, Copy.ai delivers smarter writing solutions for every personal and professional project. You can use this ChatGPT app alternative to help you write long-form content for your whitepaper, blog posts, or manuals. Copy.ai's best feature is Workflows, which is built for team collaboration. This feature helps you streamline workflows by typing the desired workflow, verifying results, and running them in bulk. Copy.ai will also deliver social media captions, ad copy, sales copy, product descriptions, content briefs, etc.
Pricing:
Free version
Pro – $36 per month
Team – $186 per month
Growth – $1,000 per month
Scale – $3,000 per month
4. Frank AI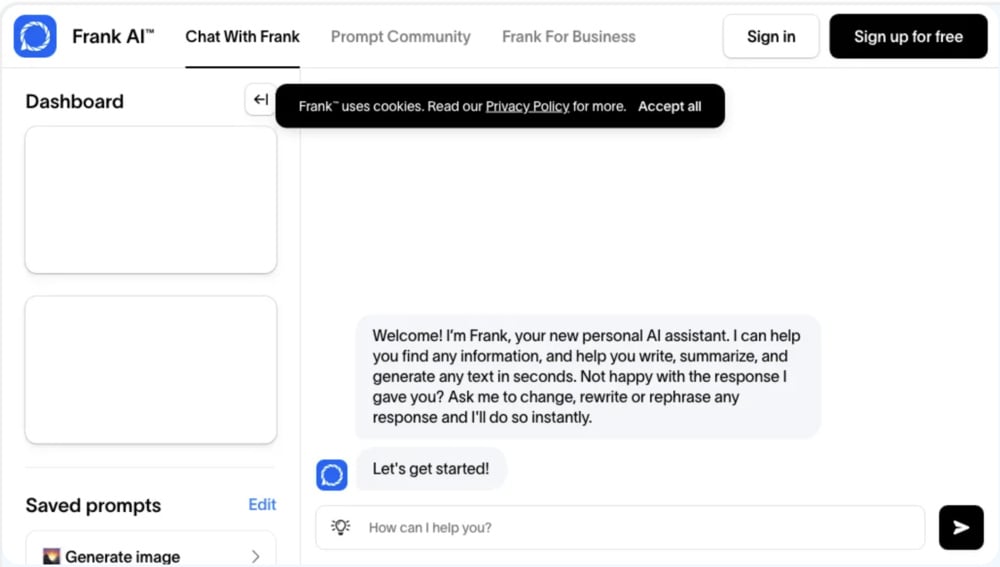 One of the best ChatGPT app alternatives, Frank AI lives up to the hype by constructing better conversational responses. It can provide ads-free search, brainstorming, text, and more. Frank AI is also convenient to use on your phone or iOS keyboard, even with a single subscription. Use Frank AI for work emails, programming, blog posts, school exams, book summaries, legal advice, and more! Frank AI's incredible features include convo reset, Show Smart chat, and night mode.
Pricing:
Frank AI for business – Contact for pricing
5. AicoAI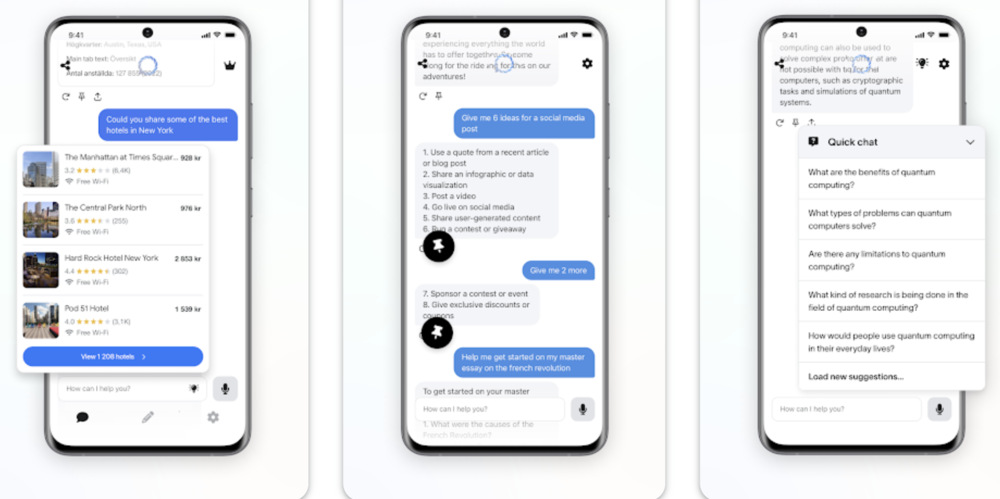 Another top ChatGPT alternative is AicoAI. This advanced AI chatbot quickly gets the information you need from the internet. This AI writing tool is the best platform for all your accounting needs. Since AicoAI isn't connected to the internet, it may deliver inaccurate information or biased responses. That said, it's recommended always to fact-check when using this AI chatbot. AicoAI can help you with record-to-report (R2R) processes, such as accounting reconciliation, closing task management, journal entries, intercompany invoicing, financial requests, and manual payments. The tool integrates with multiple ERP systems to help automate and minimize the complexity of the IT system.
Pricing
6. Genie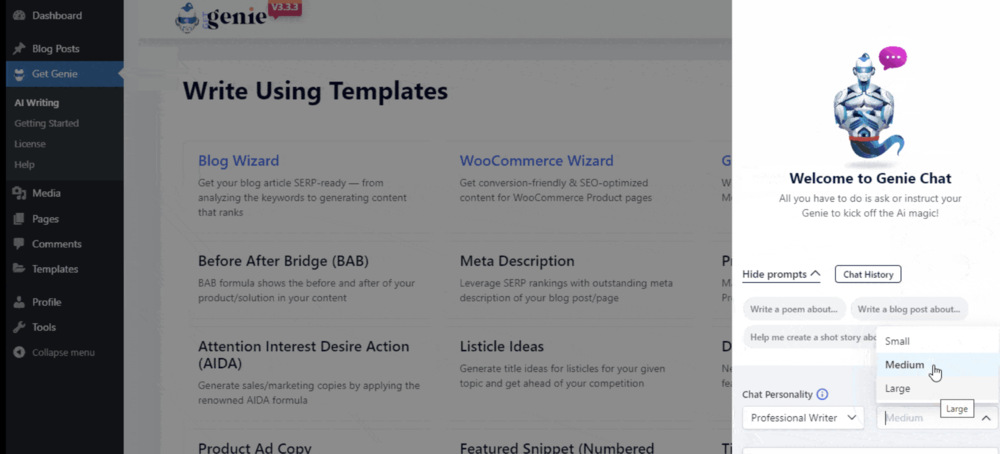 If you're searching for a robust and reliable ChatGPT app alternative for legal needs, Genie is the best choice. It's your AI-powered legal assistant that can understand, customize, and negotiate any legal document. You can ask Genie legal questions since it's trained on more than 100,000 legal documents. You may also choose from 4,700 regularly updated legal templates and 500+ clauses in its contextual clause library. Genie covers all sectors, from manufacturing to technology. It also offers valuable tips and community comments to improve its overall quality.
Pricing:
Do it Yourself – Free
AI assistant – £80 per AI-assisted document
7. Nova AI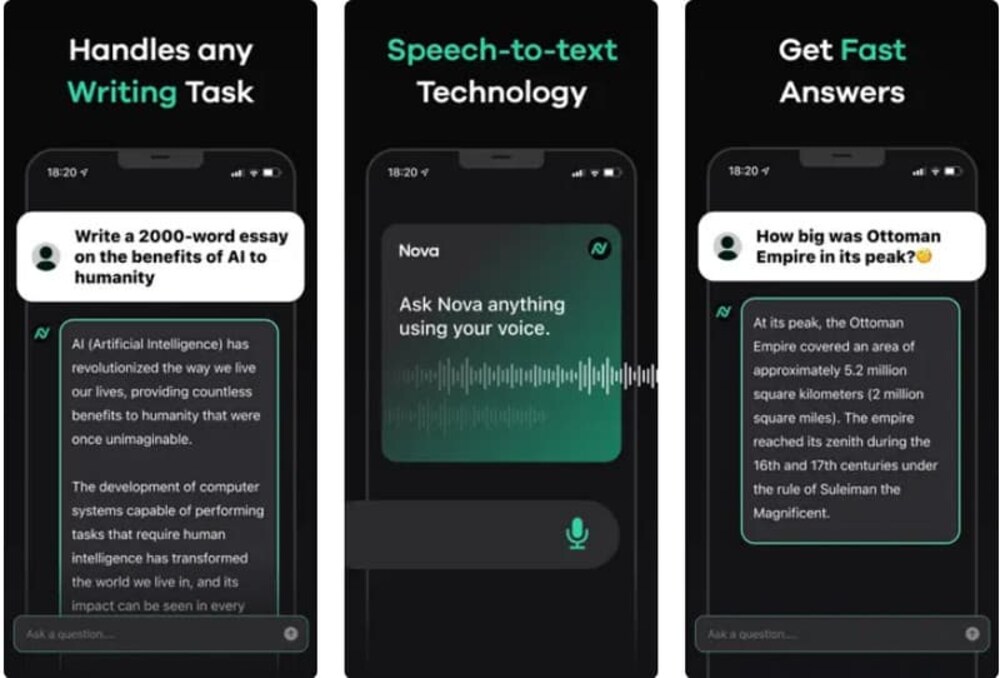 If you're looking for the best ChatGPT app alternative, use Nova AI. This AI chatbot is powered by ChatGPT and GPT-4 technology. Like ChatGPT, Nova AI delivers human-like responses, making you feel like you're chatting with a friend. It even recommends a movie to watch or a book to read. Nova AI is also a top-of-the-line proofreader that can analyze written work to help create professional-level documents. With Nova AI, you will enjoy speech-to-text technology, more than 140 language support, and using multiple devices under one account. It's available on both Android and iOS portable devices.
Pricing:
Free version
Basic – $8 per month
Pro – $14.41 per month
8. Alissu

Alissu is powered by OpenAI's GPT-3 and GPT-3.5 technologies. This AI chatbot is fast and efficient, promising barely any delays between responses. You can use its voice-to-text conversion and model customization features. Moreover, Alissu does the heavy lifting by creating a code or SQL request after your prompts. This AI writing software is one of the most popular apps on the Google Play Store, and for a good reason. Finally, this is undoubtedly the app to use to get responses from your voice prompts.
Pricing
Conclusion
Whether you're creating ad copy or writing blog posts, using AI writing tools makes your job easier and quicker. However, it's always recommended to fact-check, research, cite sources, and edit to make the writing your own. It's always best to inject your own creativity and writing style.
Additionally, accompanying images make your ad copy or blog posts more compelling. Need help with images? Penji offers unlimited designs and revisions at affordable fixed rates. Sign up and use this promo code GETPENJI25 to get a 25 percent discount or watch our demo video now!