Nowadays, AI can do a lot of things, so why not AI website design? As advancements in technology expand AI's capabilities, companies are wondering just how many tasks they can automate with the help of AI.
If the idea of hitting a button and cranking out a landing page intrigues you, that's exactly what these website generators do. Stay tuned as we walk you through the best AI website builders out right now.
The Best AI Website Builders
If you're not too concerned with detailed customization, the AI website of your dreams is within reach. These platforms aren't as sophisticated as full websites builders such as Squarespace, but for many projects, they get the job done. If you're tired of hiring designers or don't have time for complex coding, try out one of AI website builders below.
1. Wix ADI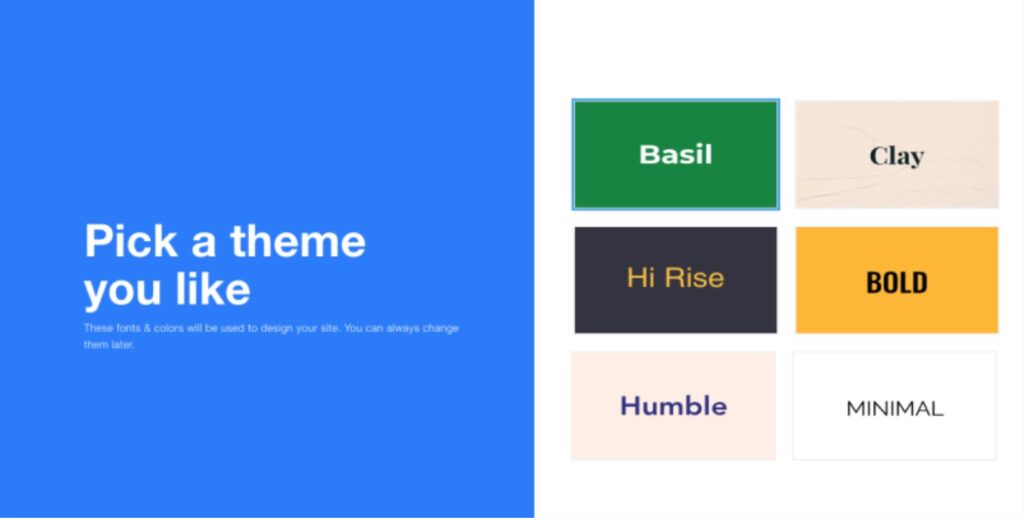 Wix ADI is one of the most popular AI website generators, and for good reason. ADI stands for (Artificial Design Intelligence). Wix ADI asks you a series of questions about your business, and then creates a customized design and layout for you. Wix Editor is clearly more robust, offering more apps and features, but ADI is good if you need a fast website built.
2. Hocoos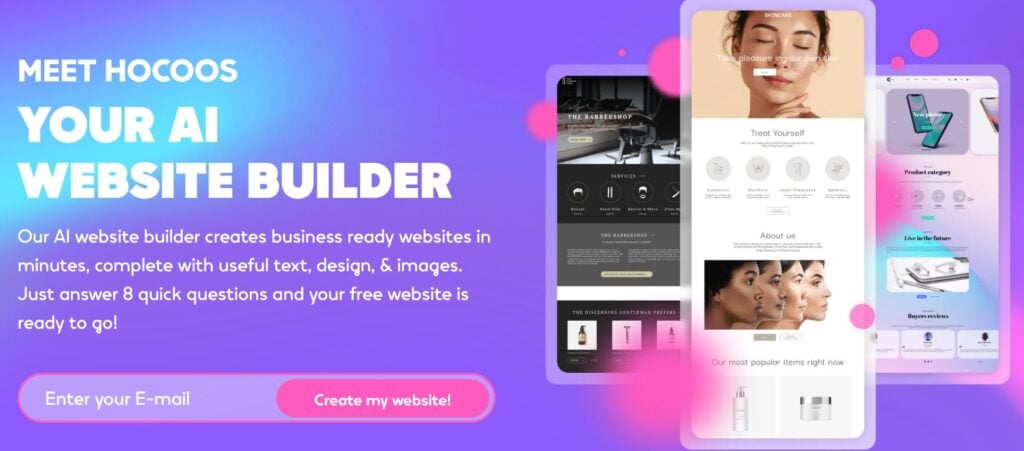 Hocoos is an AI website builder for personal and business website designs. They specialize in beauty, fitness, finance, and a few industries. Hocoos includes online stores, booking, and blogs to help users grow their business. The platform integrates with Paypal and Stripe.
3. AppyPie

AppyPie is a cloud-based, no-code app development platform that lets you create and publish mobile apps and websites. It offers a range of templates and tools that enable users to build custom apps for various purposes, including e-commerce, social networking, booking, and more. The platform has nice drag-and-drop functionality, a simple interface, and a payment gateway.
4. Bookmark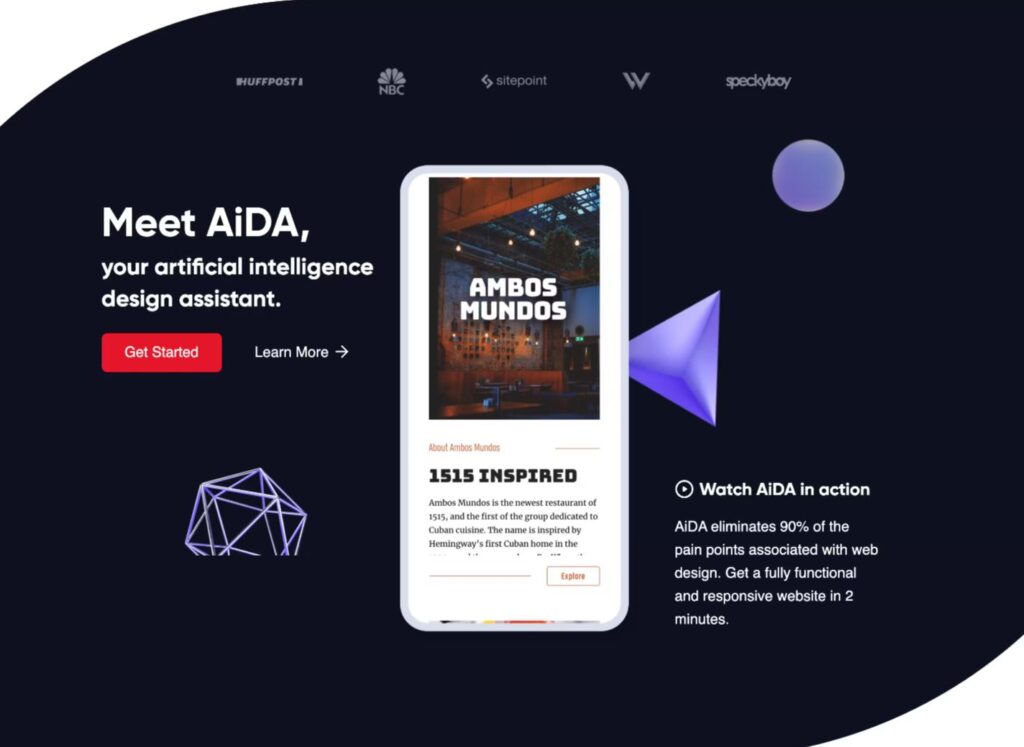 Bookmark is an AI-powered website builder that can create a website for you in minutes. These websites are SEO and mobile-optimized. Bookmark rivals Wix as an eCommerce software provider, but doesn't offer custom domains or reporting and analytics like Wix does.
5. Durable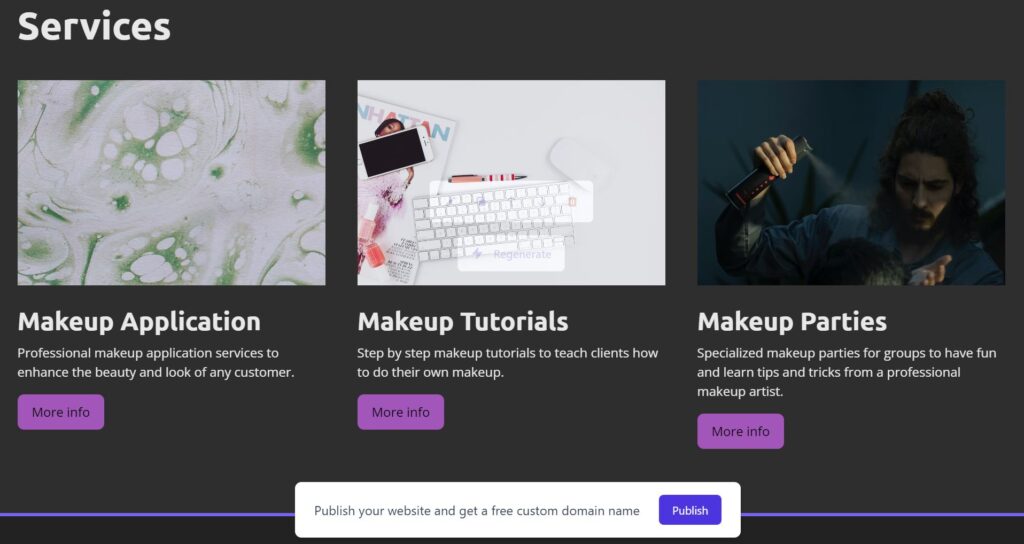 Durable spits out a landing page section by section. When finished generating, you have the option to regenerate individual sections if you don't like them. If you click Customize, you're prompted to make an account with Durable. Once you're logged in, the platform gives you a 90-day free trial. Simple customizations are available, but the builder is relatively limited. The app provides copy, imagery, and a contact form – all of which can be changed around to suite your brand.
6. Jimdo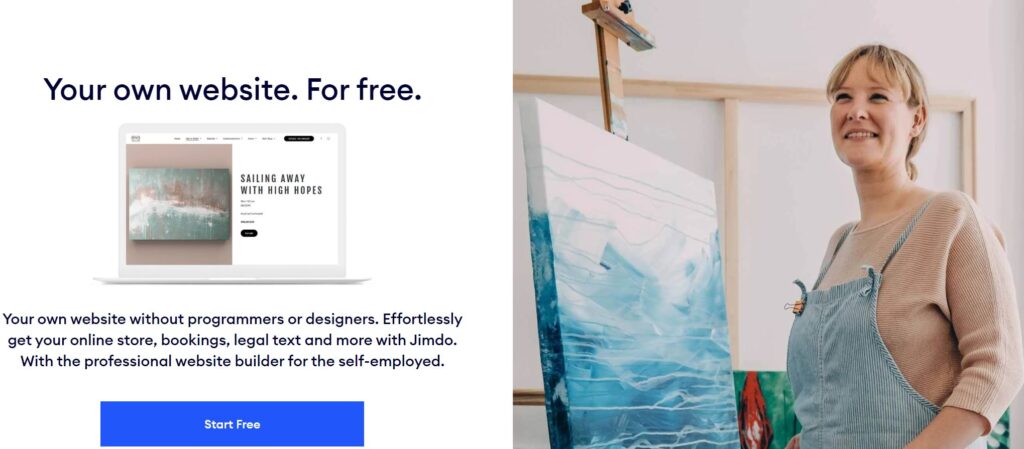 Jimdo is an AI website builder that also offers an AI-powered tool called Jimdo Dolphin. Once registered, users can choose between the basic Jimdo Creator and the AI tool (originally called Dolphin). Like the other platforms, Jimdo asks you questions about your business and creates a customized website for you
Get a new website without hiring a full-time designer
AI website builders are the perfect option if you want something quick and simple. But what about if you need a lot of customization? Or you need a landing page.. plus website graphics plus social posts, plus product packaging, etc. etc?
That's where we come in. Penji is a subscription service that gets you unlimited designs for any purpose. That means you get access to a robust design team you can talk to directly within our platform – put in your design requests, get unlimited revisions, and manage your brand/your clients' brands all in one place.
It's truly an all-in-one design solution for anything you need – year-round. Wanna hear more? Check out our demo and see how it works.