Effective presentations play a crucial role in driving impactful communication. Traditional methods of slide creation, like PowerPoint, often require significant time and design expertise. It leaves busy professionals searching for innovative solutions to streamline the process. This is where AI slide generators come into play. To start your journey, here are the top ten AI slides makers that recently garnered recognition.
1. Presentations.AI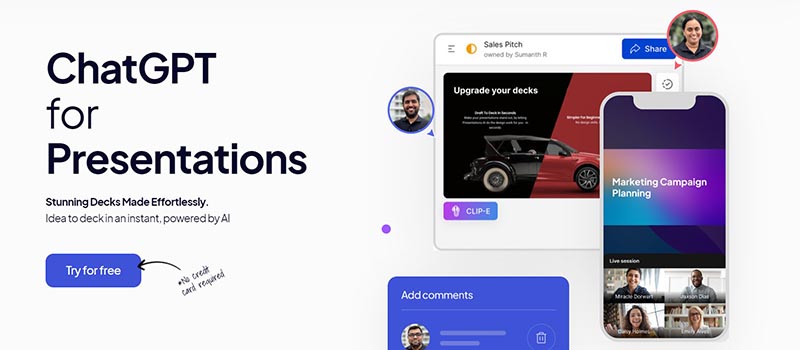 Presentations.AI runs under India-based parent company Infographfx Technologies. It is a presentation creator tool that empowers users to create visually appealing presentations quickly. Presentations.AI uses AI predictions to recommend the best-fit layout and design aesthetic for your slide decks. Fortunately, there's no design knowledge required to navigate the software.
Pricing:
Starter – $0 (any number of users)
Pro – $399 (for up to 10 users per year)
Enterprise- Contact sales
2. Pitcherific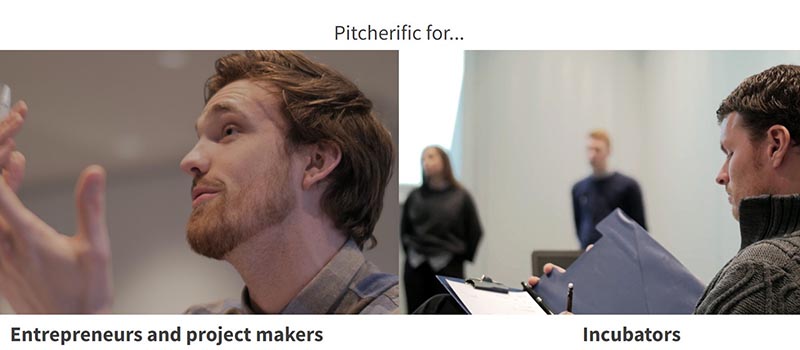 Pitcherific is an online pitch preparation tool for businesses and students to create presentations and practice. Individuals can pick from various best-practice templates to structure and create their slideshow. It also provides helpful hints to guide users throughout the building process. With the training mode, users can record themselves to see how their presentation is. Pitcherific provides a seven-day free trial for those wanting to try its services.
Pricing:
Incubator membership – $5/month
Entrepreneurs and project makers membership-19/month
3. Beautiful.AI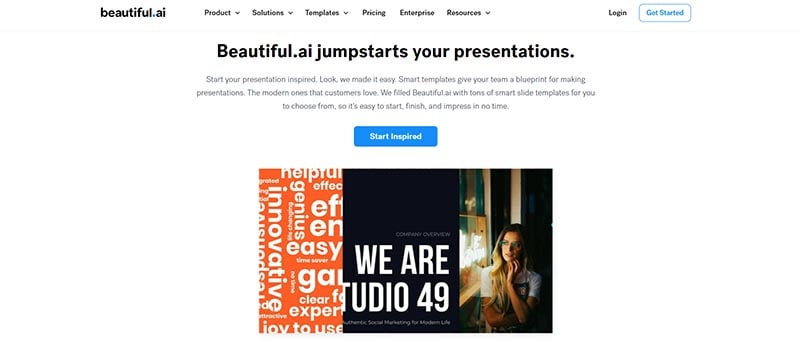 Beautiful.ai is an online AI slides maker that uses artificial intelligence (AI) to help design slideshows. When a user drags an item onto a slide, the program automatically drops it into place for them. Beaufiful.ai provides ten themes, 40 fully designed templates, and 23 color palettes to help customize your presentation to match your company's brand.
Pricing:
Free Basic membership
Pro – $12/month
Team -$38/month
4. Slidebean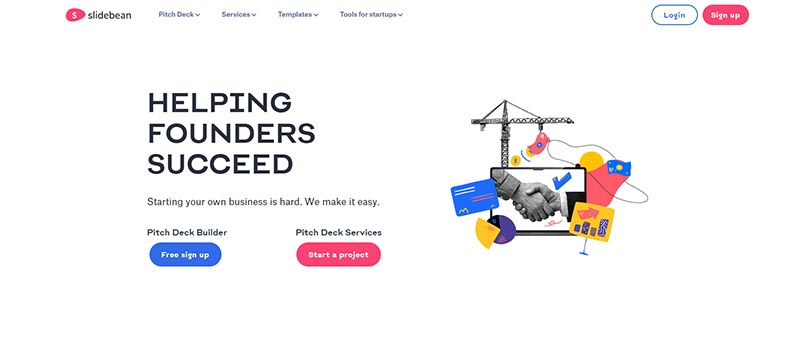 SlideBean is an AI-based platform that converts raw content into visually appealing slides. They have hundreds of presentation templates and a list of their most used ones. This AI slides generator uses AI to design your presentation based on a selected theme. Users can use the Presentation Design to present their project specs to a design team and receive finished slides in less than 24 hours.
Pricing:
Free basic membership
Starter – $8/month
Premium – $19/month
Founder's Edition -$149/month
5. Prezi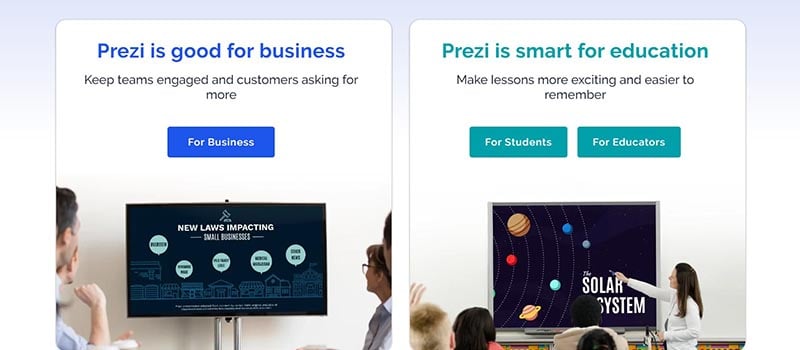 The cloud-based video and visual communications software Prezi helps create presentations, videos, interactive charts, and infographics. Prezi lets users develop moving displays to engage and maintain audience member attention. Individuals can choose from various templates, drag-and-drop customizable images and charts, and review analytics to see what components resonate with viewers.
Pricing:
Free basic membership
Plus – $15/month
Premium – $19/month
6. Slidesgo AI Presentation Maker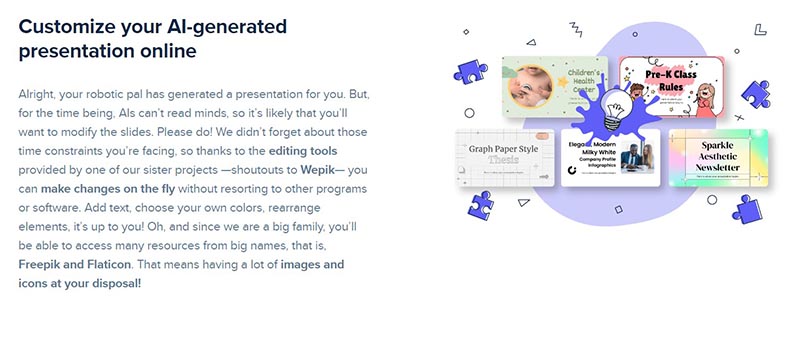 If you need inspiration for your presentation and are facing time constraints, the AI slide generators come to the rescue. Slidesgo, a website that offers Google Slides and PowerPoint templates, introduces the AI Presentation Maker. With a few clicks, you'll have beautiful slideshows that suit your needs.
Pricing:
Free basic members
Individual premium – 1.67€/month
Team premium- 57.00€
7. Haiku Deck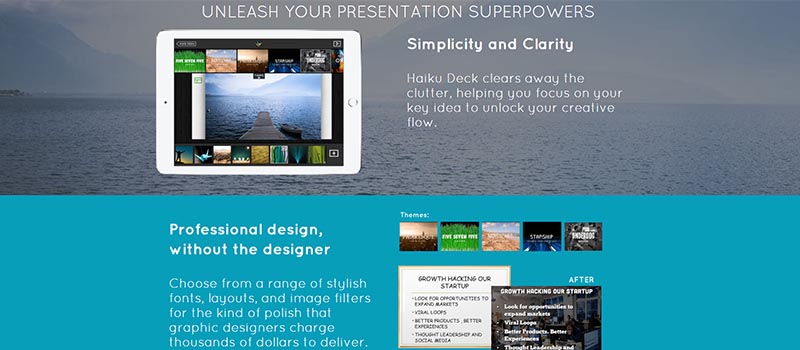 Haiku Deck is presentation software on PCs, smartphones, and tablet computers. This software has an excellent reputation for its ease of use, allowing people and businesses to build presentations from a blank template. It tries to keep things as simple as possible so that organizations can focus on their most important concepts. Haiku Desk features various templates, including business pitches and social media reports, which the end user can use.
Pricing:
Free Basic membership
Pro -$9.99/month
Premium $29.99/month
8. Powtoon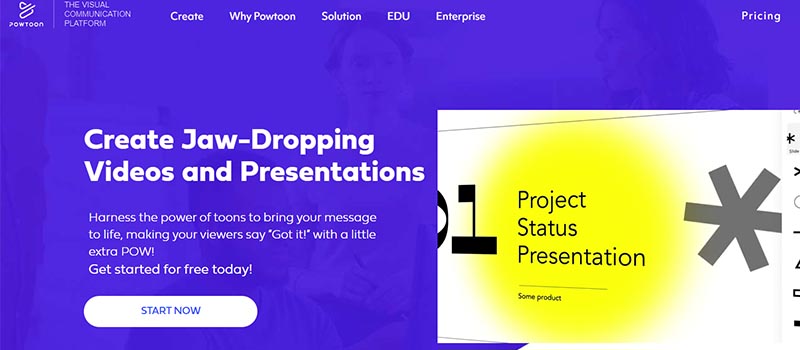 Powtoon enables users to create animated videos, presentations, and slideshows. It allows individuals and businesses to produce engaging visual content without requiring advanced design skills or technical expertise.
With Powtoon, you can produce cartoon animated videos using cloud-based ISO-certified software. You can make presentations with this simple program, and you can also distribute them. Businesses can create animated characters that reflect their brand and personality. Powtoon also allows teams to interact with shared libraries and spread their final projects by downloading or sharing them on social media.
Pricing:
Free Basic membership
Pro -$19/month
Pro+ – $59/month
Agency – $99/month
9. Emaze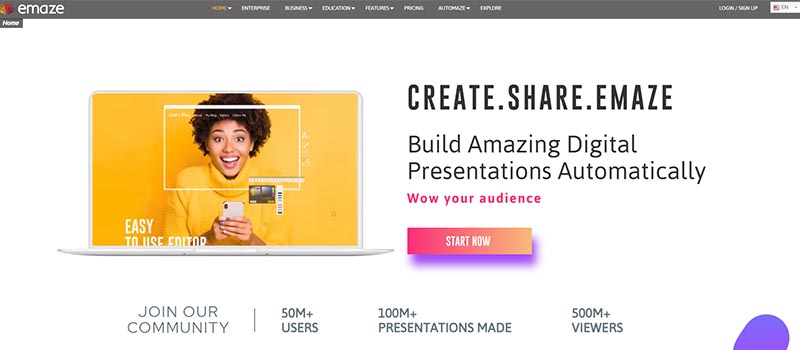 Emaze is an online presentation and website builder that allows users to create a slideshow using one of their hundreds of template designs. Users can build from a 2D and 3D template or personalize it by adding their material. Emaze also offers features such as analytics to see how viewers react to content and branding to match content to your company's image.
Pricing:
Free Basic membership
Pro – $13/month
Executive – $40/month
Business – $125/month
10. Canva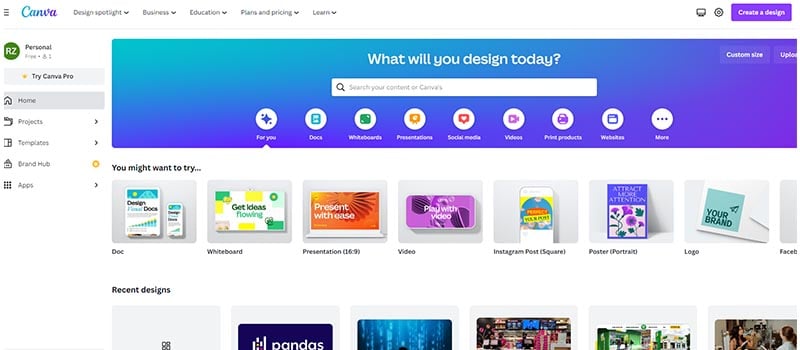 A lot of professionally designed presentation templates are available on the Canva website. Each brand and message can have its presentation templates, in which users can choose their preferences. They can use one of Canva's stock images or submit photos to add visual components.
Canva Pro users can invite other users to collaborate on presentations with them. Likewise, it includes team folders and built-in comments about working collaboratively on projects.
Pricing:
Free Basic membership
Pro -: $12.95/month
Enterprise – $30/month
How to Create Presentation Graphics with Penji
Are you still trying to figure out how to come up with high-quality presentations using AI slides? Fret not! Our dependable design team is here to help.
Creating presentation graphics with Penji is a simple process. Its competent design team produces only the best designs for your presentations. Here are the simple steps for creating presentation graphics with Penji:
Sign up and select your plan: Visit the Penji website and create an account. We offer three subscription plans with varying levels of design services.
Submit your design request: Once signed in, you can submit a design request for your presentation graphics. Provide detailed instructions, including the type of graphics you need, branding guidelines, and any supporting materials, such as images.
Collaborate with the Penji team: After submitting your request, you'll be assigned a dedicated designer from the Penji team. You can communicate with them directly through the platform to discuss your requirements, provide feedback, and ask questions.
Review and revise: Once your designer delivers the initial design concepts, review them and provide feedback. Penji typically offers unlimited revisions until you're satisfied with the final result.
Download and use the graphics: Once you've approved the final design, you can download the presentation graphics in the appropriate file format, such as PNG or PDF. Insert the graphics into your presentation software of choice and use them to enhance your slides.
Penji offers a streamlined and collaborative approach to creating presentation graphics, allowing you to leverage the expertise of their design team. These steps ensure your presentation graphics are professionally designed and tailored to your needs. Learn more>>