Professionally designed posters are beneficial to businesses, organizations, and individuals. They are a creative asset that captures everybody's attention by sharing information concisely and effectively. Posters can be effective anytime, whether a sales promotion, a brand-new business opening, a virtual conference, or a classroom presentation. Explore the ten best AI poster maker apps to help you leave a lasting impression on your audience.
1. Canva AI Magic Design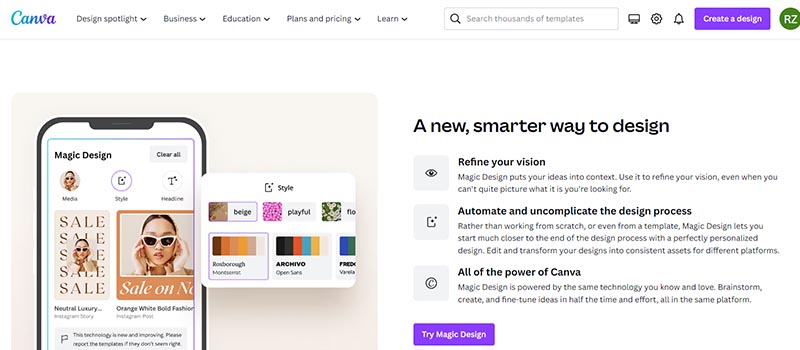 If you're an avid Canva user, you've heard about the platform's recently-added features. Given its customizable template and user-friendly interface, Canva has always made the design process convenient for designers and non-designers. Now, with Canva's AI Magic Tools, anyone can conceptualize an idea and create visual materials in a few minutes.
Magic Design is the best poster design tool of the 12 AI Magic Tools that Canva introduced. Magic Design (Beta) is a free AI design tool that allows you to visualize design ideas with refined templates available. There are no coding or advanced skills needed to use this application.
2. Adobe Express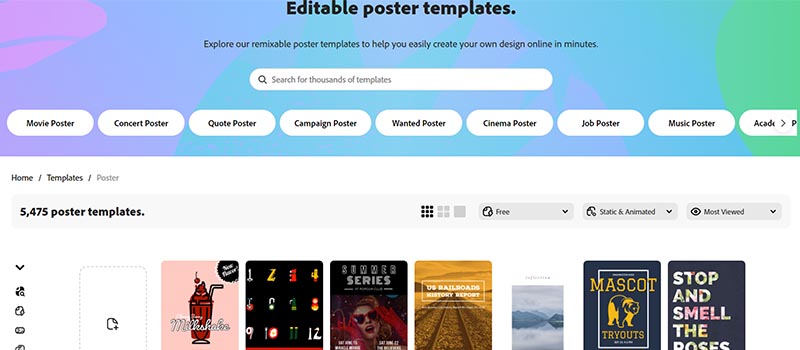 Adobe Creative Cloud Express, formerly Adobe Spark, simplifies generating and distributing captivating multimedia content. Whether it's crafting social media posts, compelling stories, elegant invitations, or marketing materials like logos, flyers, and posters, Creative Cloud Express has a solution. The app enables drag-and-drop content creation, allowing users to design posters and other materials with just a few clicks.
Say goodbye to subpar AI designs for good – Use code SUPER25 at checkout for 25% off your first month of unlimited design with Penji!
3. PosterMyWall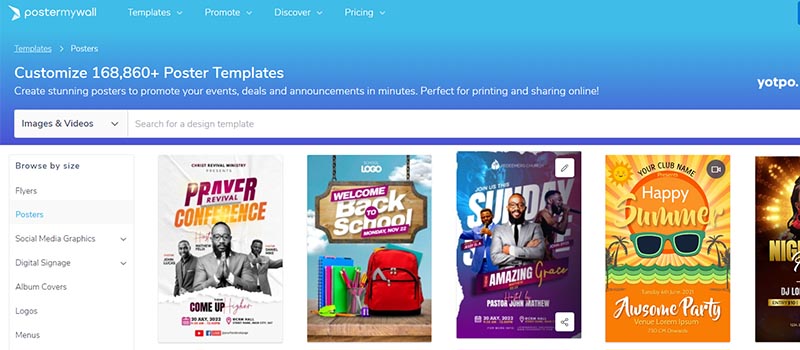 This online tool enables users to create custom posters with AI-powered design assistance and various templates. PosterMyWall is a cloud-based graphic design solution that helps enterprises create custom content, headers, and posters for social media platforms and marketing campaigns. It lets users import custom fonts into the system and download image and video templates from the built-in library.
4. DesignCap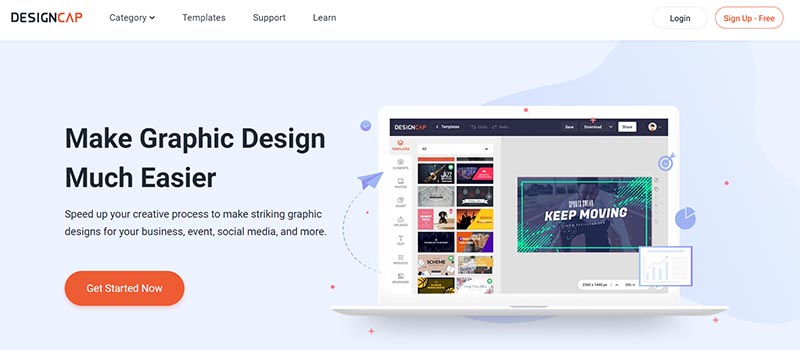 DesignCap is a free online graphic design platform that helps create posters and flyers effortlessly. Developed by PearlMountain, the company aims to help make professional photo editing and visual design capability accessible to everyone.
If you're looking for a web-based AI poster maker, DesignCap is a good choice. Even a beginner can create an excellent poster in just minutes with DesignCap.
5. Designs.ai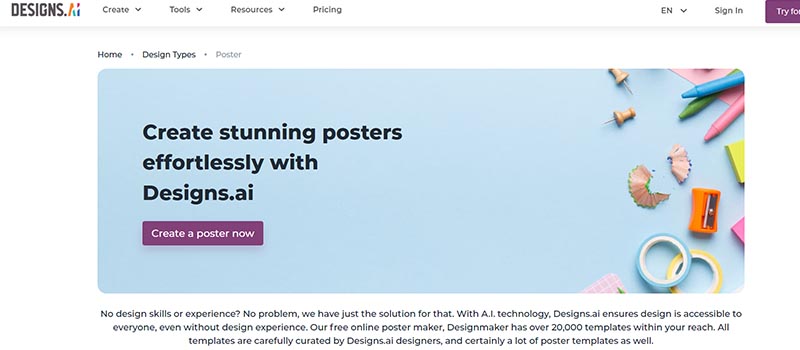 Designs.ai is an AI-powered online creative platform that aims to make design accessible to everyone. It features four main tools: Logomaker, Videomaker, and Designmaker, each equipped with various assistive tools to complement your designs. With an extensive design library, you can design anything, from design templates, logos, videos, posters, and more.
6. Appypie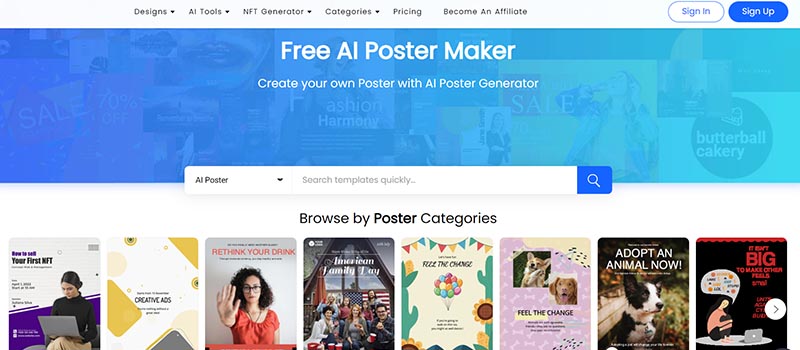 Appypie.com is a website that incorporates AI tools and features, including an innovative AI Poster Maker. This tool simplifies creating stunning posters with its user-friendly interface and powerful artificial intelligence capabilities. Additionally, its drag-and-drop interface enables users to create stunning designs in just a few clicks.
7. Desygner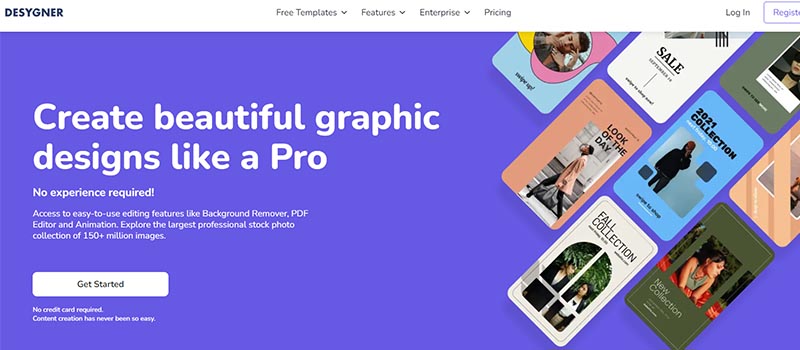 This platform offers AI poster makers and other design tools to cater to creative needs. Desygner graphic design tools help businesses design marketing and advertising materials. This includes social media posts, presentations, advertisements, flyers, and other content using predefined templates.
Desygner has a drag-and-drop interface that helps users change images, colors, text, and fonts across effects, layers, and multi-page files. Likewise, the PDF editor allows teams to import files and edit content or text formats according to requirements.
8. Fotor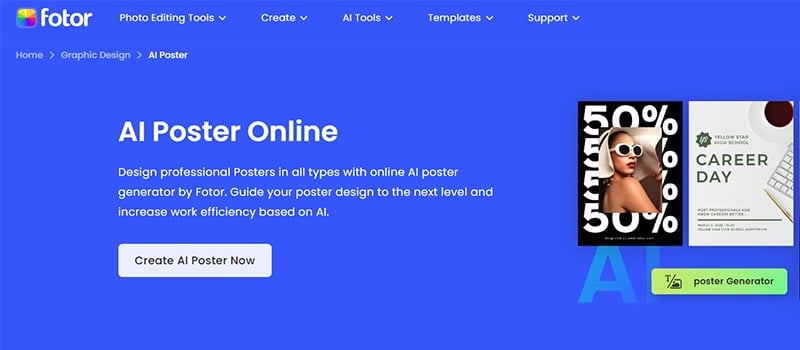 Fotor AI Poster Generator is a powerful online tool that combines AI capabilities with intuitive design features to revolutionize the process of creating visually striking posters. With AI technology, users can effortlessly transform their ideas into captivating poster designs.
9. Wepik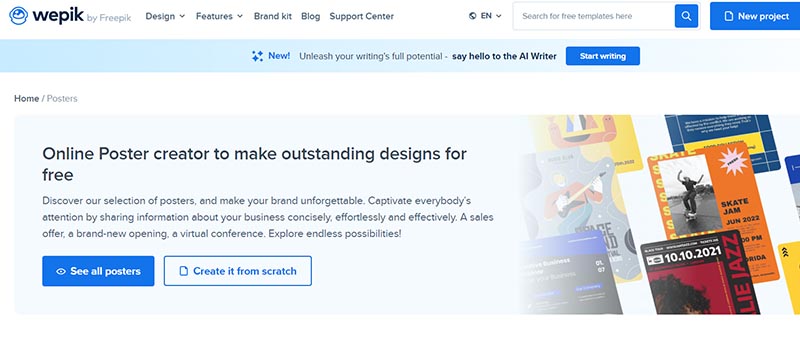 Explore Wepik's editable templates to make professional graphics and visual content for your small business. The platform's user-friendly interface with a drag-and-drop feature allows users to design custom graphics for marketing materials, logos, posters, and presentations.
Wepik also provides a library of templates, illustrations, images, and other elements that users can use as a starting point for their creative projects.
10. iMyFone MagicPic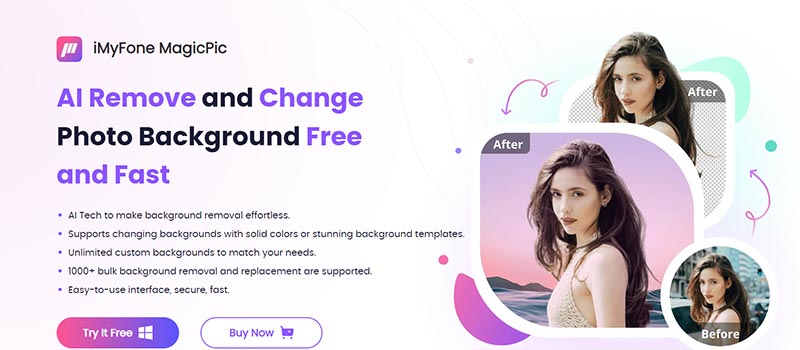 AI poster makers are great tools for you to design posters effortlessly. Apart from them, here is another powerful AI tool for you.
iMyFone MagicPic is an AI photo editing tool, and its current feature is to remove backgrounds with artificial intelligence. The AI algorithm lets you get a transparent background with a single click. The app supports replacing existing backgrounds with solid colors, templates, or with your creation to turn your images into stunning art or catchy posters.
3 Reasons Why Posters Are Still An Effective Marketing Tool
Businesses are highly competitive nowadays. So, instead of abandoning this marketing tool, companies that use them can benefit from opportunities that otherwise wouldn't come their way.
Using posters to promote your business is a quick and effective way to get your message to your target audience. It's a great choice to increase your brand awareness and can give you the edge over a competitor.
Cost-Effectiveness
A significant advantage of using posters is that they are cheaper than other forms of advertisement, like television or radio. You could buy them in bulk (or in large sizes and with high-quality graphics), saving you more money than an ad in a magazine would.
Visibility
Posters can accommodate a large amount of information and pictures, which makes them easy to spot and read, so they're helpful to call attention to an event or product. They can also be placed anywhere you want (where permitted!) and even moved to a different location at will.
If you use multiple posters, you have a higher chance of people remembering your message – the repetition can increase the number of converts since you have more chance of your content being read.
Consistent Exposure
One of the posters' biggest advantages is that, as long as you leave them up, more people will see your message, which can increase customers. Unlike other forms of advertisement, posters have a longer life while they remain in the same spot. Choosing a high-traffic area, or places with a high degree of exposure, can help you reach more people. And if you want to have your posters up for an extended period.
Conclusion
AI poster maker apps equip users with the tools to craft impactful visual communications. Their ability to save time, effort, and costs and impressive outcomes makes them invaluable assets in today's fast-paced digital world.
And if you need a professionally-made poster that integrates your AI-generated design, you can request it by subscribing to Penji. You can also request other designs like advertisements, animations, branding assets, illustrations, and more. Sign-up today and let our professional designers create stunning poster designs for your next marketing campaign.