A non-fungible token (NFT) can represent real-world objects like artwork. NFTs may be traded on many exchanges, forming a decentralized global market for digital assets. Surprisingly, auction houses and galleries have been selling NFT paintings for exorbitant prices. Because of this, artists and creators are thinking about making, buying, and selling NFTs in the so-called NFT marketplace.
The technical expertise necessary to create NFT artwork can be daunting to those unfamiliar. But, the process can be simple and stress-free thanks to the AI NFT generator. These tools allow anyone to create NFTs, even those without coding skills. We've compiled 10 AI NFT generators to help you turn your creations into unique NFT artworks.
1. NFT Art Generator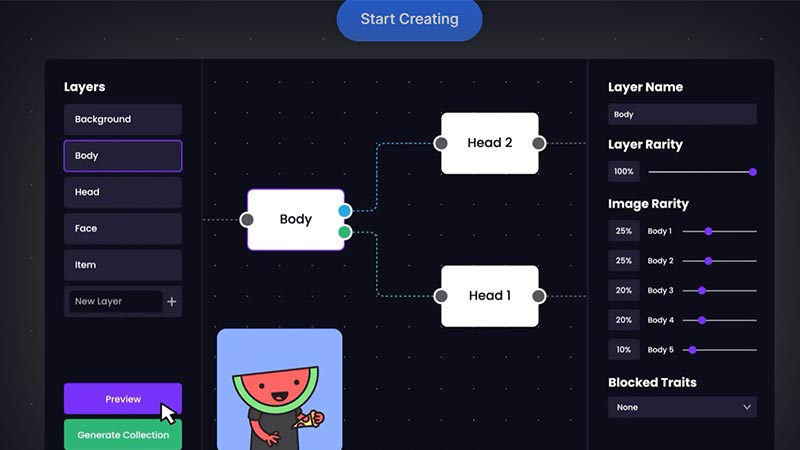 The NFT Art Generator creates and stores your NFT collection on blockchains like Solan and Ethereum. The tool supports images, videos, and GIFs. Good news! No coding experience is needed, allowing you to devote your time to your creations. With NFT Art Generator, you can create layers and import your art references and materials. In addition, the tool can help you generate smart contracts for your NFT portfolio.
2. Hotpot AI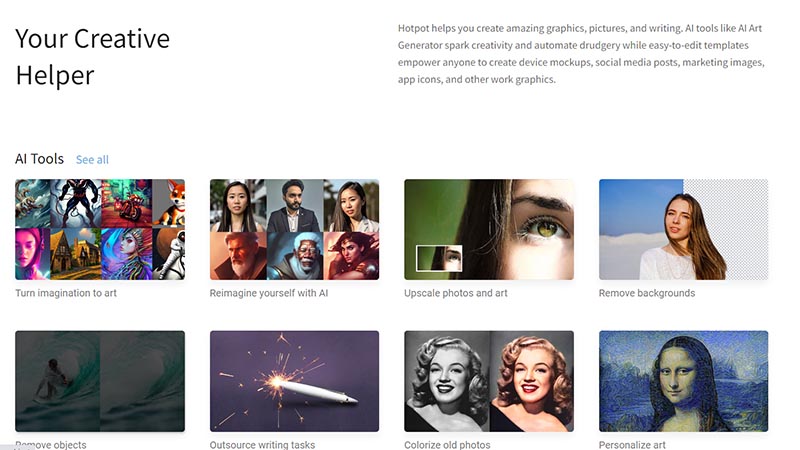 Hotpot AI is an AI-powered software that assists artists in creating custom NFT art. It offers various automated features covering the entire creative process, from idea development to transforming concepts into visually stunning artwork. With Hotpot AI, artists can explore various styles, effects, and customizations to make their creations unique and captivating.
The software also provides tools for writing compelling descriptions and advertising NFT collections online. Additionally, Hotpot AI includes visual and color enhancement tools to enhance the lifelike appearance of the NFT artworks. Overall, Hotpot AI aims to simplify and streamline the NFT creation process, empowering artists to bring their visions to life in digital art.
3. NFT Creator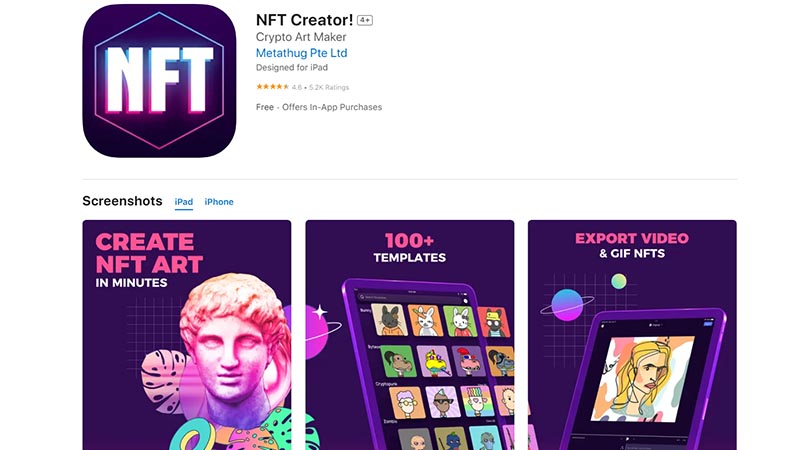 NFT Creator is a one-stop shop NFT generator available on Apple devices. You can transform your photos into non-fungible works of art in a few clicks. The app offers modern filters, fonts, graphics, and backdrops. The program has also created templates for art, doodles, and distorted sketches.
4. Appy Pie NFT Generator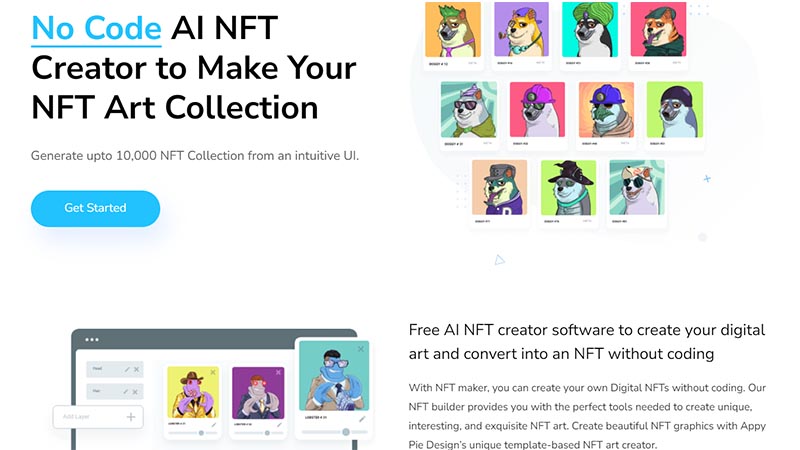 Appy Pie is an AI NFT generator designed to empower individuals to create digital art and convert it into NFTs without coding skills. With its intuitive interface, Appy Pie aims to make application development accessible to anyone, enabling them to meet their specific needs and unleash their creative potential.
The platform lets users create up to 1000 NFT collections, providing ample opportunities for artists and creators to promote their work and reach a wider audience. Appy Pie offers a range of functions to cater to diverse demands, ensuring that users have the flexibility to bring their artistic visions to life. In addition to premade themes, the program provides a variety of graphics and layers that can be incorporated into the NFT designs, allowing for customization and personalization.
5. Fotor NFT Creator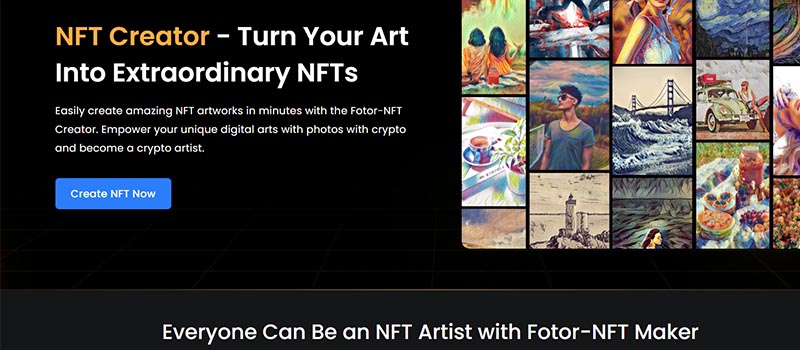 Fotor is an all-in-one photo editor, and with its NFT Creator, you can create your very own NFT digital art without a hassle. All you have to do is upload your image, add your favorite art effect style, and allow the NFT art generator to do the rest. Fotor also converts abstract art into NFT-style art.
6. SketchAR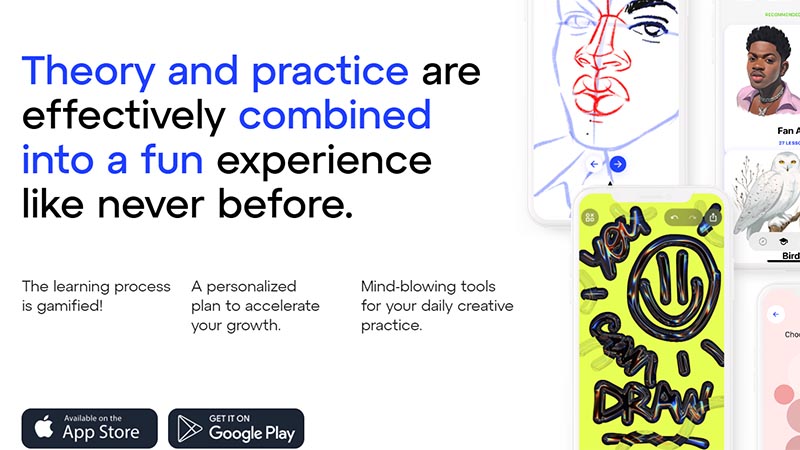 SketchAR is a user-friendly platform that enables you to create, sell, and explore extraordinary digital artworks. It is widely acknowledged as one of the top NFT art generators in the industry.
SketchAR encourages users to submit their artwork, allowing them to be featured. Every week, SketchAR selects a standout artist from the submissions and transforms their work into NFTs, all at no cost to the artist. If you want a rewarding AI NFT generator that showcases your artwork, you should try SketchAR!
7. NightCafe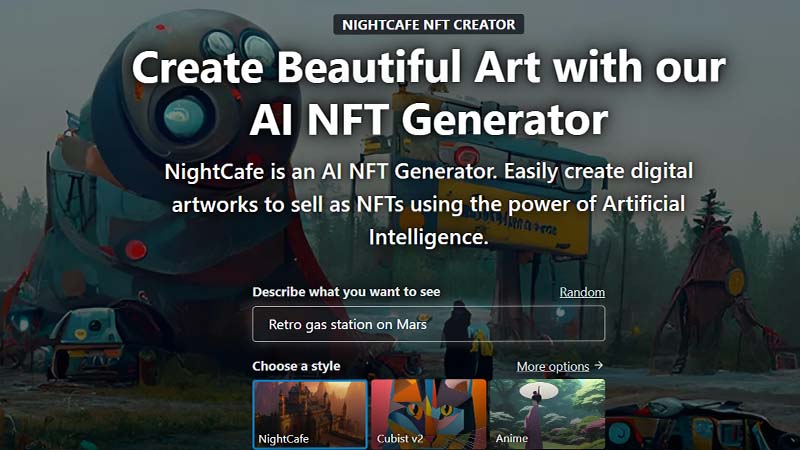 NightCafe offers an AI NFT generator and also helps you sell your artwork. This platform allows users to generate randomized NFT collections with minimal artistic skills. NightCafe has a "bulk create" feature to generate hundreds of art pieces in a few minutes. It converts text to images and videos with just a few clicks. Additionally, you can combine your works into one for a unique, rare piece.
8. Rarible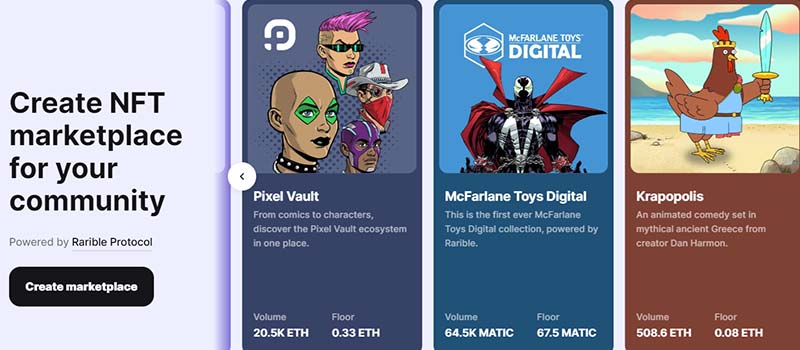 Rarible is a popular NFT generator and marketplace that empowers artists and creators to mint, sell, and collect NFTs. It provides a platform for artists to tokenize their digital creations and engage with a vibrant community of collectors and enthusiasts. The platform offers an integrated marketplace where artists can showcase and sell their NFTs, gaining exposure to a large and active user base.
9. GoArt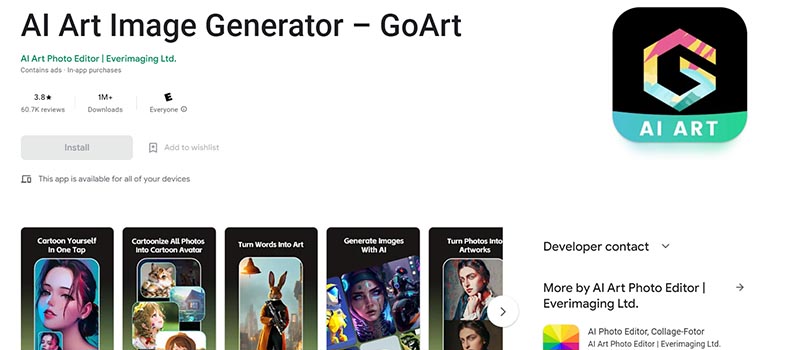 GoArt uses AI and visual categorization tools to help make the NFT artwork creation process easier. This mobile app for Android converts simple photos into sophisticated art. Likewise, the app provides high-resolution images ready for printing. GoArt enables users to export photos up to 8 megapixels. Then, you can print your artwork on T-shirts, wallpaper, and portfolios.
10. Async Art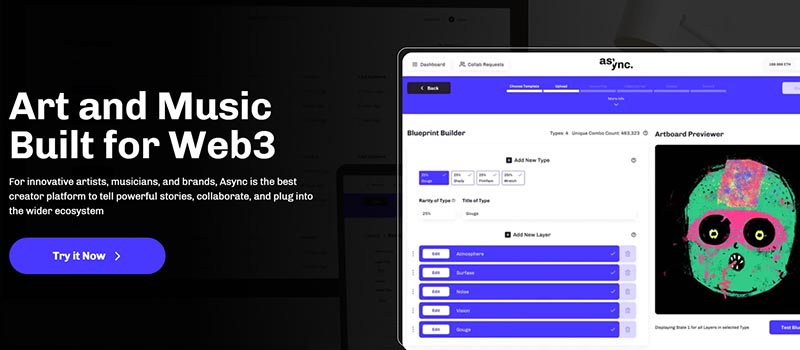 Async Art is a groundbreaking NFT generator that revolutionizes digital art. The platform merges AI and NFTs to enable the creation of programmable and dynamic artwork. Artists can utilize the platform's AI tools to generate modular components that collectors can rearrange and modify. This feature makes NFT creation a collaborative and ever-evolving art experience. Leverage the power of the platform and continue working on your dream to beat the world's most valuable NFTs.
Conclusion
Creating and entering the world of NFTs has become more accessible than ever, thanks to the emergence of user-friendly NFT makers, generators, and platforms. These tools empower artists, brands, and creators of all backgrounds to transform their creations into extraordinary NFT artworks without needing technical expertise or coding skills. From AI-powered art generators to intuitive interfaces and customizable templates, these platforms simplify the process and provide a stress-free experience.
For graphic design, the top and most reliable partner would be Penji. If you need to create NFT art, work with our talented designers and have them make some for you. Watch our demo video here and subscribe to get you started.