Creating and sharing memes have become popular on social media and online conversations. Compared with boring texts, a captioned meme has transformed communication in a fun and engaging way. After seeing countless memes online, you may be interested in making memes with your pictures. No need to search for apps everywhere. Here's a compilation of the ten best AI meme-creator apps for Android and iOS to help you create hilarious memes.
1. Mematic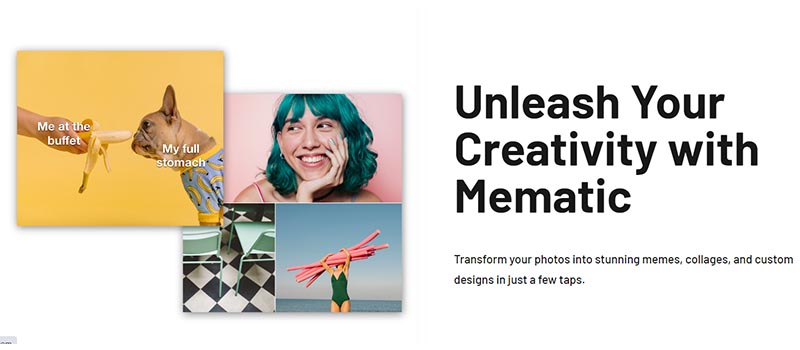 Mematic is a popular AI meme creator with thousands of meme templates. It's a versatile and easy-to-use app, making it trending among meme lovers and creative folks. You can easily add funny texts to any picture and share the meme with friends.
Mematic also allows you to create collages, postcards, and greeting cards. The intuitive interface enables you to create memes without problems, even if it's your first time using the app. However, the app offers only basic text formatting and no photo editing features.
Price: Free, $2.99 for the pro version
Compatibility: Android, iOS
2. GATM Meme Generator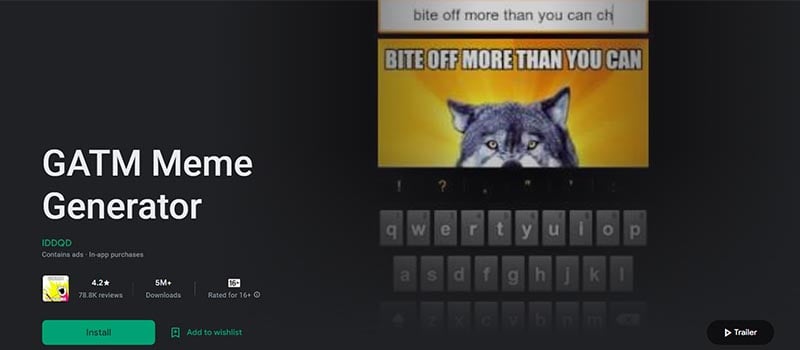 Stay entertained and share the laughs with your friends with this powerful online meme generator tool. GATM (Generate All the Memes) allows users to create custom memes by combining various images and adding captions or text overlays. With daily updates to its browseable content, you'll stay updated with the latest meme crazes effortlessly.
Packed with an extensive template library, the GATM Meme Generator offers boundless creative possibilities for meme creators. The app can be downloaded for free, but the text formatting tools offer only basic options. On the bright side, all generated memes are watermark-free. And you can share them on Facebook, Twitter, and other social media accounts directly from the app.
Price: Free, $1.95 for the pro version
Compatibility: Android
3. Memedroid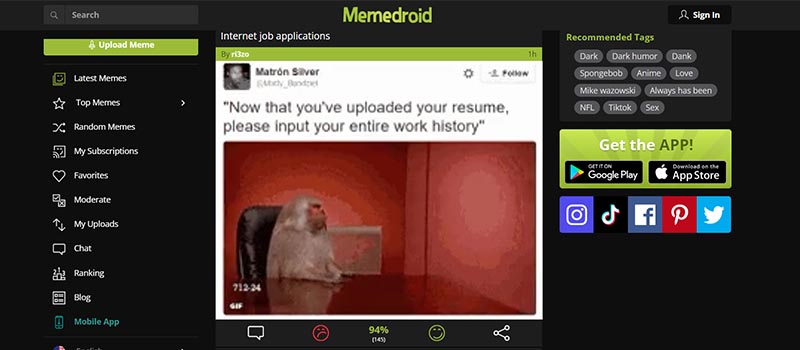 Memedroid is the best place for users who want to enjoy, rate, and share memes, funny pics, and animated GIFs. It features a rich meme template library and just essential text tools. There are limited extra features besides support for uploading your images and GIFs. Despite this, the
Memedroid app is an excellent source of new meme templates because the gallery is constantly updated.
Price: Free, $2.99 for the pro version
Compatibility: Android, iOS
4. YouCam Perfect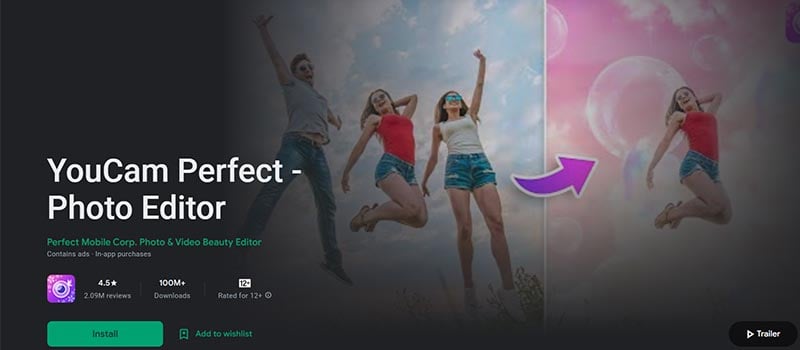 The following app can turn your pics into masterpieces. An all-in-one photo editor, YouCam Perfect features all the general bunch of making funny memes by adding texts, removing backgrounds, and changing color options. If you want to create memes using multiple photos, YouCam Perfect's image layering allows you to combine your meme with several pictures.
Price: Free
Compatibility: Android, iOS
5. ZomboDroid's Meme Generator Free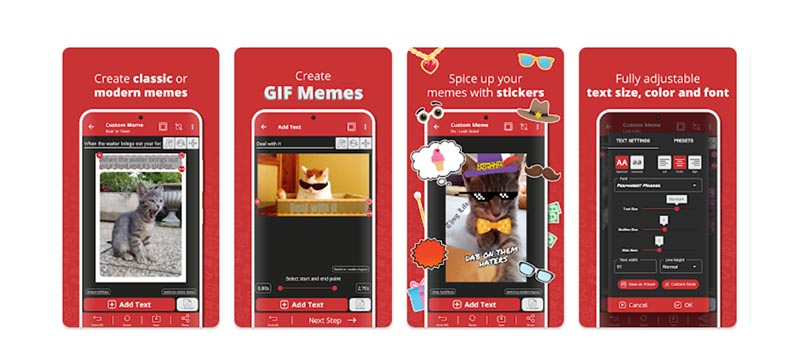 ZomboDroid's Meme Generator Free is another popular AI meme creator. With a user-friendly interface and thousands of meme templates, users can generate hilarious and personalized memes in minutes. The app has various customization options, including adding text, captions, and stickers to the memes. In addition, users can import their images and use the app to create unique and engaging memes.
Whether you want to share your memes online or need a good laugh, this app has all the features for enjoyable meme creation.
Price: Free, $1.99 for the pro version
Compatibility: Android
6. Imgur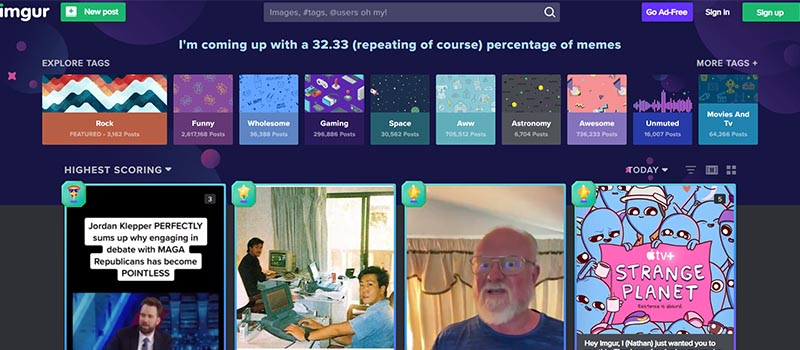 Imgur is a web-based image hosting and sharing platform that gained popularity as a go-to destination for sharing and discovering images, GIFs, and memes. It provides users with a simple way to upload and share images anonymously or through registered accounts.
One of Imgur's key features is its user-friendly interface, which allows users to easily browse and search through a vast collection of visual content. The platform also supports various image formats, including static images, animated GIFs, and short video clips.
With over 150 million monthly active users, Imgur is a community where you can join discussions, comment on posts, and vote on content. This encourages the discovery of popular, entertaining, and often humorous content, including memes.
Price: Not disclosed
Compatibility: Android
7. Meme Creator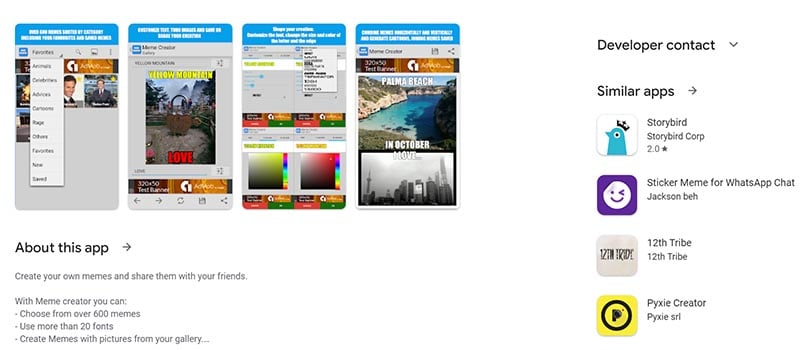 Curate your collection of memes or create new memes using the Meme Creator's rich library, which contains over 600 memes. The captions' color and size can be easily adjusted to meet your aesthetic demands. Likewise, more than 20 different fonts are available, and you can combine memes to create comics.
Meme Creator lets you share memes on all popular online destinations. It is a great choice for Android owners who post fresh content daily on multiple social media profiles.
Price: Free
Compatibility: Android
8. Meme Producer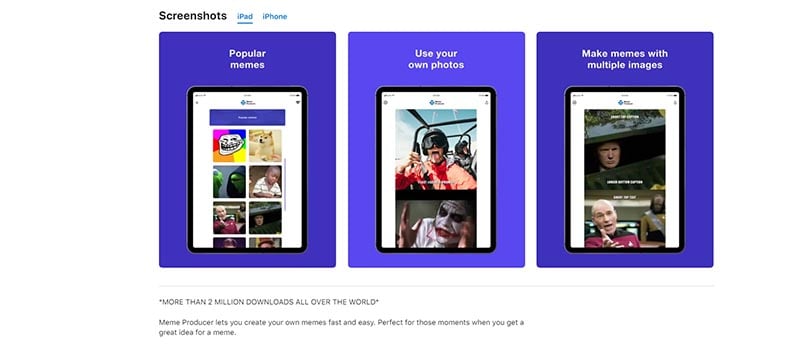 Share memes in three simple steps. Choose a picture, add a caption, and share a meme on any popular social media platform. Meme Producer lets you combine several images in a single meme and change a caption with a single tap.
Captions generated with this app can have multiple lines, which is great if the text you want to add contains more than two sentences. The app can be downloaded for free from the AppStore, and it contains no ads or watermarks.
Price: Free
Compatibility: iOS
9. Canva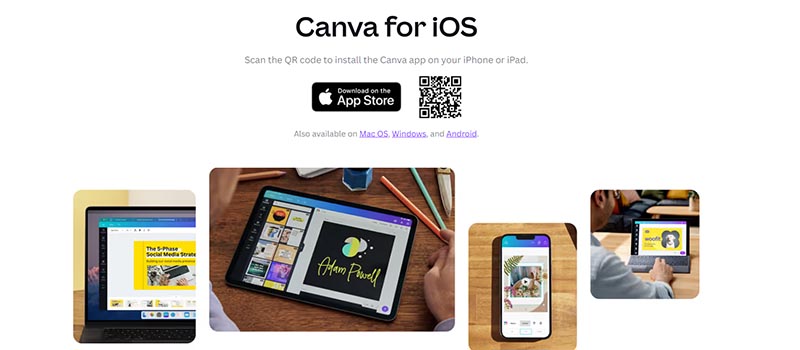 Most people know Canva as an excellent collage maker and editor, but it's also superior to making memes on iPhone. With 5000 + meme templates, it gives you various options to create trendy memes without restrictions. The most outstanding feature is the real-time collaboration with your friends, whether adding captions, editing fonts, or resolving suggestions. The only disadvantage of Canva is that you can't download your designs as raw files.
Price: Free. Canva Pro is $119.99/year
Compatibility: iOS
10. Byte Vine Creative Meme Maker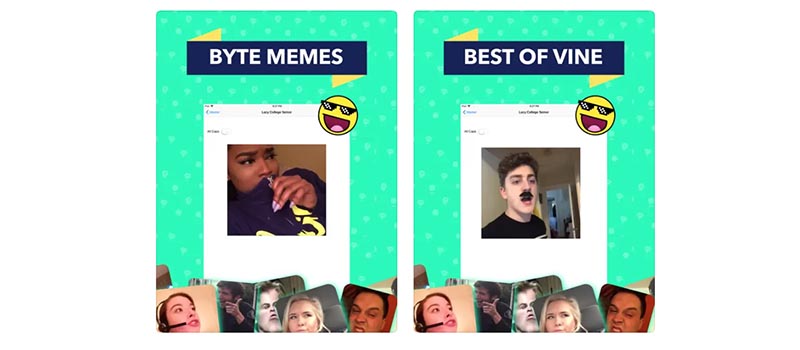 Byte Vine Creative Meme Maker, formerly called Make a Meme+, allows you to create memes on the go using your iOS device. With over 4 million users and an extensive list of memes, this app is among the best memes generators for iPhones. Changing the text requires you to tap on a meme you like. You can also add faces or hats to images you're editing.
The text formatting tools are less powerful than you'd expect from an app offering many other cool features. You can save the images to your phone or share them on Facebook, Instagram, and other popular online destinations.
Price: Free
Compatibility: iOS
How can Penji help you create unique memes?
Everything you post on social media should be personalized and authentic, even with memes. If, after trying out AI meme creators, you realize you want a meme created by experts, an unlimited graphic design service like Penji is the best way to boost your meme-sharing adventure.
You get unlimited access to a world-class graphic design team for a flat monthly rate. They can help you create memes, illustrations, digital ads, and more, with a fast turnaround of 1 to 2 days. If you want to try Penji's services, request a demo video or sign up today!