Keyword research is a tedious process. Most SEO experts or marketers find keywords using tools like Ahrefs or Google Keyword Planner. Some would go the extra mile by doing competitor research to one-up other businesses. But what if you can do keyword and competitor research on one platform in minutes? Here are our free and paid picks for the best AI keyword generator options.
1. ChatGPT
Price: Free
One of the best free AI keyword generator options is ChatGPT. If you want to get optimized results, you need to submit a specific prompt to let ChatGPT generate the keywords you need. For example, say, "Give me ten keywords for my website." However, it will not give you the cost-per-click rates and search difficulty. You have to use an actual keyword research tool for this purpose.
2. RyRob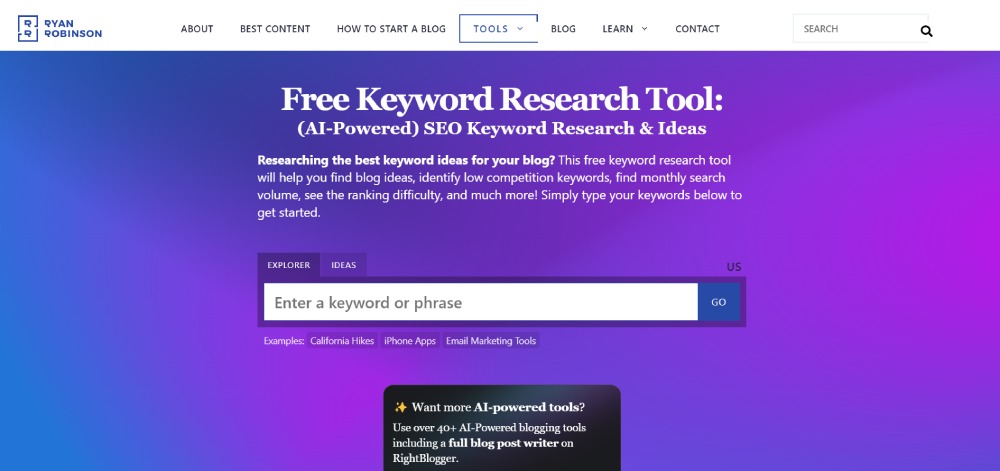 Price: Free
Marketed as an AI keyword research tool, the RyRob version allows you to explore related keywords. Or you can obtain ideas from your submitted keyword. Once you submit it, the AI generates various keywords with volume and difficulty! Additionally, you can choose a country to get targeted and localized keywords.
3. INK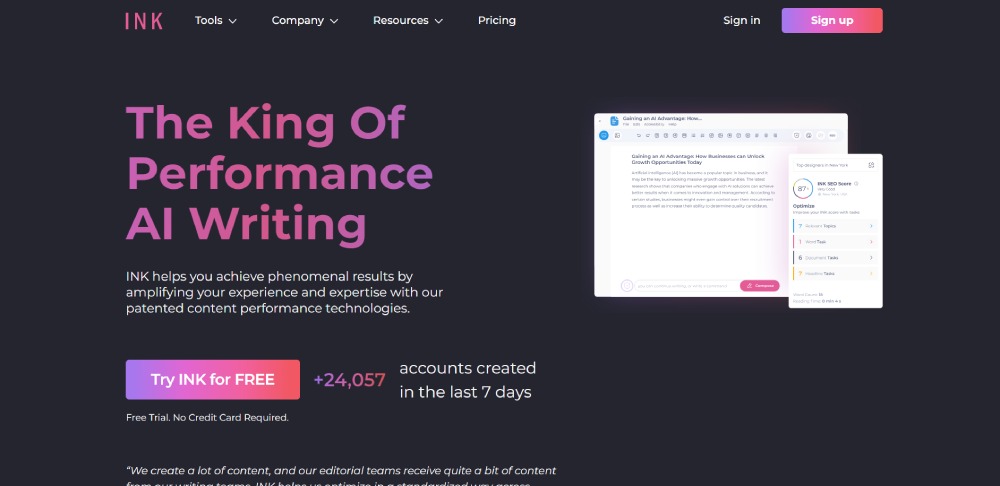 INK is one of the most popular AI writing tools. However, you can also use this to generate keywords for your content. The AI writer tool provided a step-by-step process on how to get keywords. It starts by entering your primary topic, audience, and objective. This will train the AI to learn more about your business. After that, the AI can analyze your input while you wait. Finally, you can view what it generated. They provide categories, such as:
Volume
Trend
Cost-per-click (CPC)
Difficulty
Action
Pricing:
Professional – $49/mo
Enterprise – $119/mo
4. GetGenie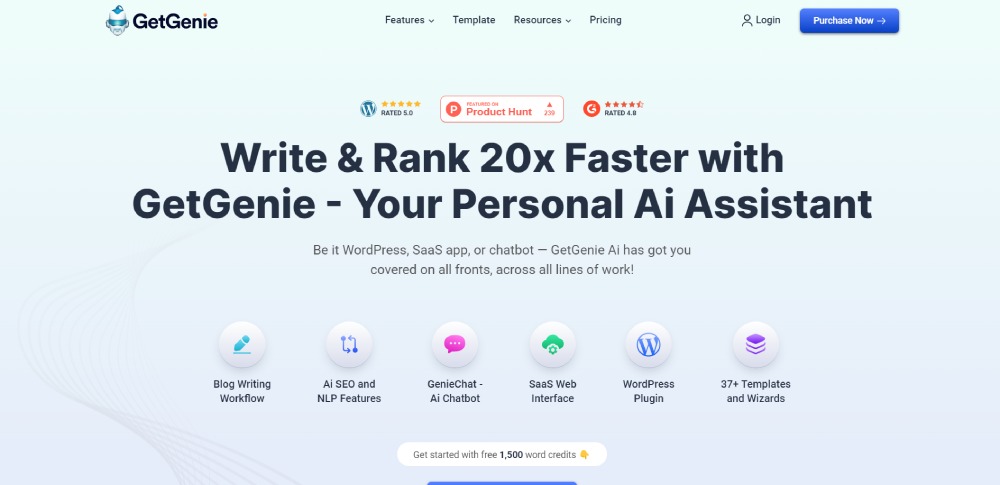 If you need an AI writer and keyword generator that you can use as a plug-in on WordPress, GetGenie is the best option. You can get keywords without leaving WordPress. With GetGenie, you can enter the "seed keyword" and choose the country you want to rank in. Then, click analyze, and GetGenie provides its results. Aside from the CPC, you get search volume and Google search trends. This allows you to choose the best keyword for your new blog!
Pricing:
Free
Writer – $19/mo
Pro – $49/mo
Agency – $99/mo
You can use credits for SEO keyword analysis and competitor SERP analysis. Credits vary per month per tier.
5. WriterZen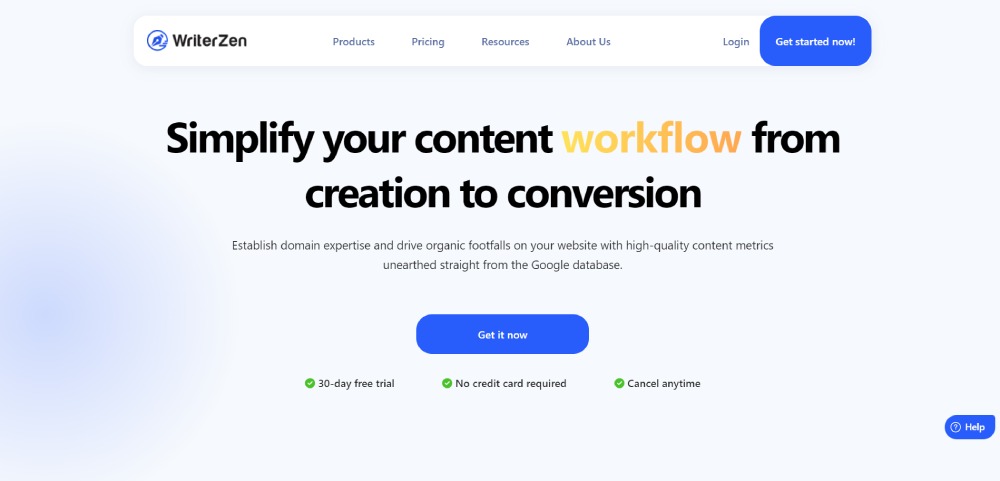 Do you need thousands of keyword ideas? WriterZen can generate around 20,000! Plus, you don't have to organize keywords; the WriterZen AI groups them and adds them into clusters. Additionally, WriterZen goes the extra mile with keyword intent, buying journey, and keyword insights! With these keywords, you can create content briefs and blogs in seconds!
Pricing:
Lite – $23/mo
Plus – $89/mo
Pro – $219/mo
Ultra – $399/mo
6. SurferSEO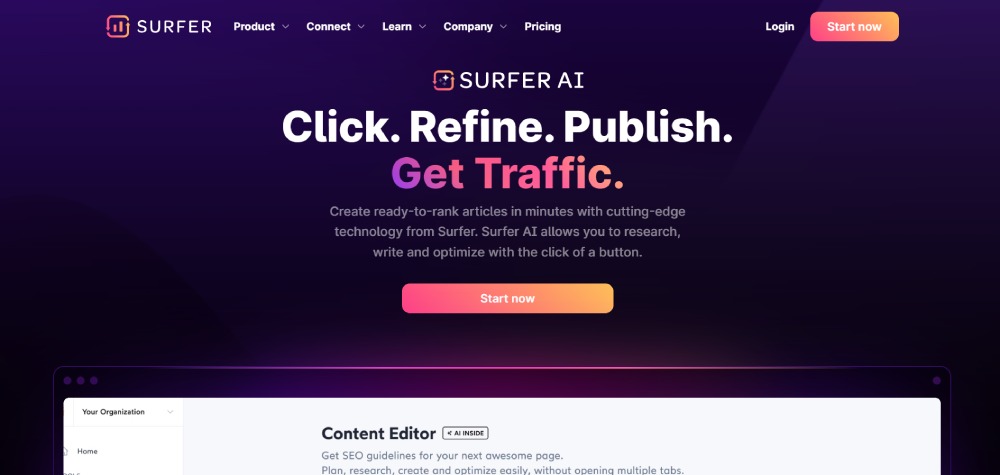 SurferSEO uses machine learning to generate keywords and content. According to SurferSEO, you can have content for months with the keywords they provide and groups them into clusters, so you don't have to. Plus, you can plan your content accordingly. Aside from the usual features of a keyword research tool, SurferSEO considers the following for search intent:
Local
Customer investigation
Informational
Shopping
Pricing:
Essential – $89/mo
Advanced – $179/mo
Max – $299/mo
Enterprise – Custom
7. MarketMuse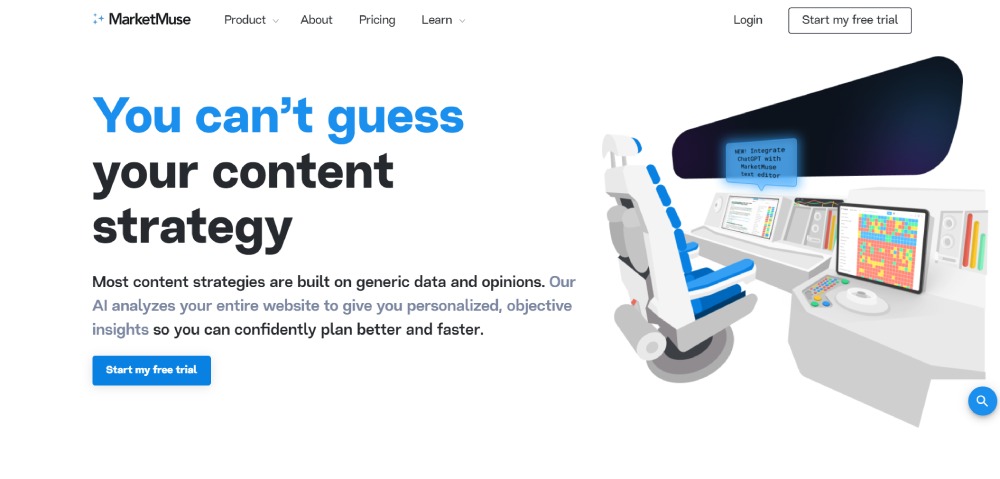 Do you want AI to handle content planning while you do the writing, MarketMuse is the best AI tool to use. This AI tool is the most extensive out of the list, considering they plan your content, group your keywords into clusters, and generate keywords all at once.
They ensure that you don't have your brand's cluster but your competitors' clusters too. Plus, they have a personalized difficulty score that checks how your content would rank with those keywords.
Pricing:
Free
Standard – $149/mo
Team – $399/mo
Custom
8. Optimo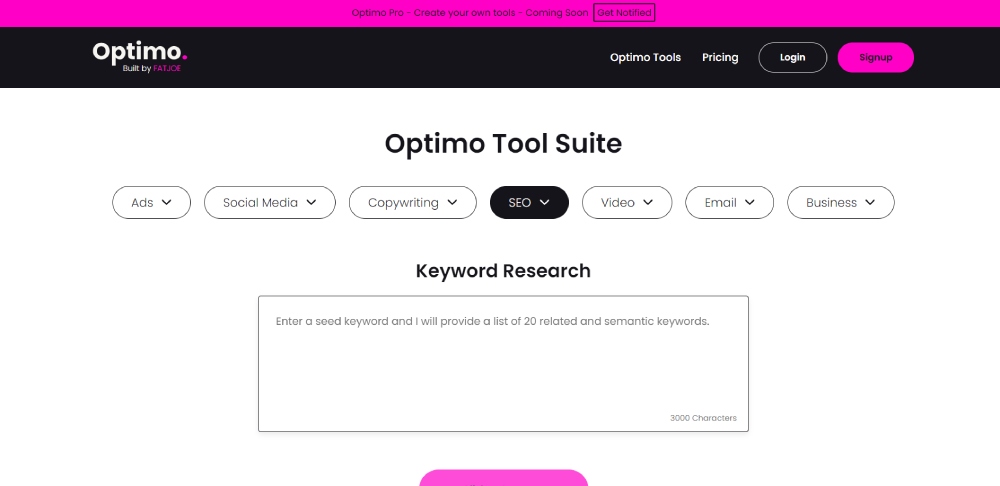 Price: Free
If you need content ideas based on random keywords, Optimo can help you out! You can submit a keyword, and the Optimo AI will generate 20 keyword ideas. It's a great tool to help you branch out your main keyword to other content ideas to input into other keyword tools.
9. WordKraft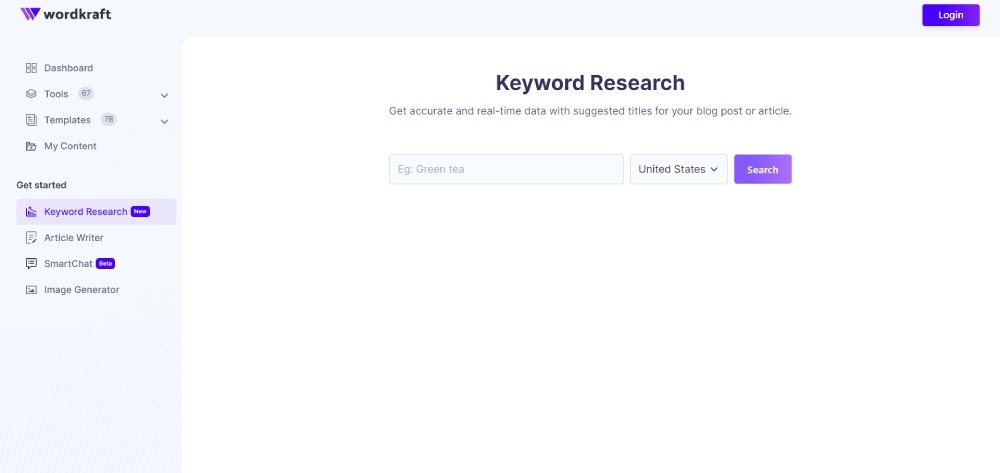 WordKraft promises that they simplify your keyword research process in minutes. With WordKraft's help, you'll know the high-performing keywords which will resonate with your audience. Additionally, you can get more readers with the ideal keyword. Finally, you can level with your competitors by using optimized keywords to write the best content.
Pricing:
Free
Pro Starter Plan – $9/mo
Pro Unlimited Plan – $29/mo
10. ChatSpot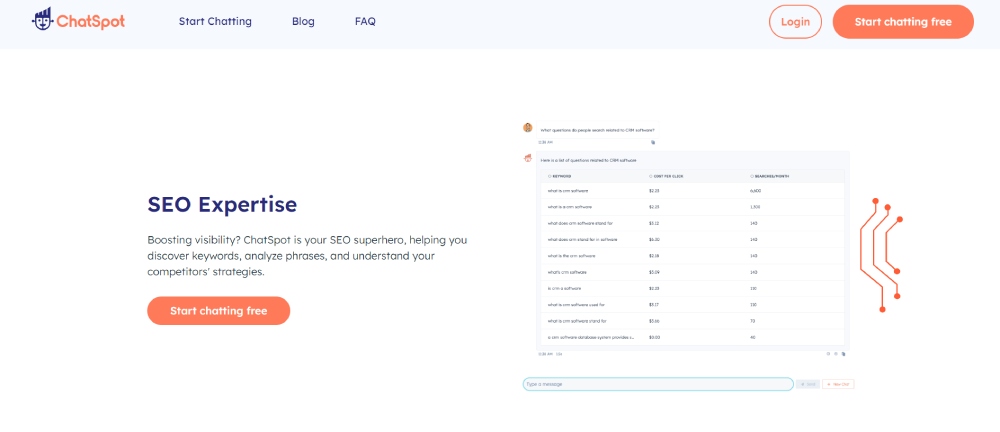 Price: Free
If you're looking for sales and marketing AI-powered software allowing you to talk with a chatbot, ChatSpot is the best option. You can type a question or prompt, and ChatSpot gives you keyword options. Aside from that, it also provides a CPC and search per month column. Plus, it can even give you an idea of your competitor's strategies.
11. Scalenut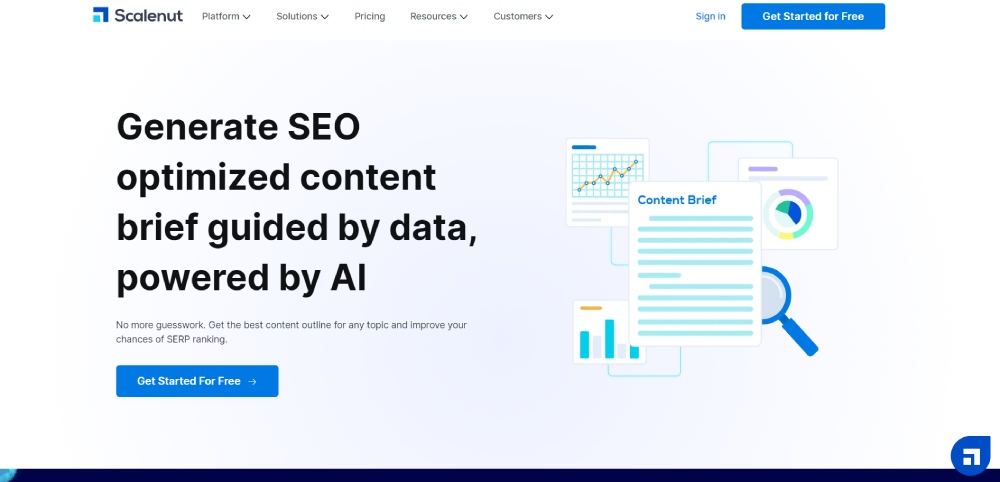 Like other AI keyword research tools on this list, Scalenut is primarily an AI writer. However, Scalenut has an AI-assisted model to generate keywords for your content. They ensure you reach the top of the searches and fight neck-and-neck with your competition.
It's all possible with their competitor and SERP analysis tools. Additionally, their keywords are optimized based on search intent and natural language processing. Finally, it's integrated with social listening tools to know what your target audience is talking about your brand and competitors.
Pricing:
Essential – $39/mo
Growth – $79/mo
Pro – $149/mo
12. SEO.ai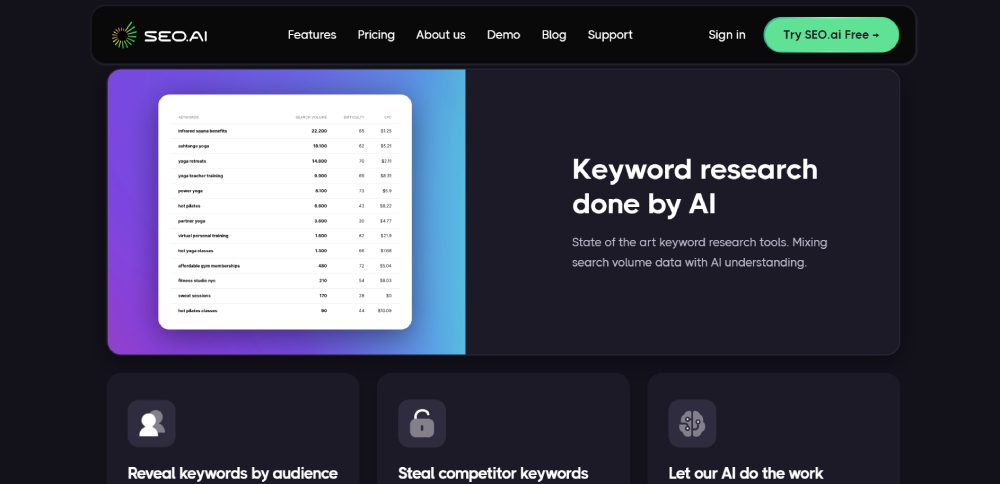 Our final AI keyword generator comes from SEO.ai. It comes with your basic keyword tool, but they list relevant keywords. Plus, you can even access keywords from your competitors. Finally, they have an extensive SERP analysis identifying any gaps you can rank for.
Pricing:
7-day free trial
Basic plan – $49/mo
Plus plan – $99/mo
Final Thoughts
AI keyword generators can streamline your keyword research process. You can submit your main keyword or a prompt and let the AI handle the rest. Some keyword generators can create keyword clusters. Meanwhile, others give you competitor insights and data and address content gaps. Regardless of the features provided by each AI tool, they are helpful to your SEO efforts and ensure you get the best keywords for your content.