Instagram is the perfect platform to unleash your creative juices. If your art has unique edge, it can garner thousands of followers overnight once it goes viral. And before you know it, you could be one of the most followed artists or graphic designers on Instagram, just like these 24 top graphic designers and artists.
From quirky to bold and minimalist artwork, these creatives are virtuosos in their field. Learn a thing or two from their different styles and showcase your artistry on the channel that can quickly make it viral. On top of that, make every social media post compelling, so users hit on "Follow." If you need help with social media profile pictures, posts, or cover images, Penji can deliver graphic design at affordable rates. Check out Penji's social media portfolio.
Create smart, effective campaigns efficiently

Meet your conversion goals using visuals that stand out

I need this!
Harrington has traveled to incredible places, but he has always been fond of his city, Los Angeles. He says the Easternmost part of Los Angeles is a melting pot of cultures. And that has a significant influence on his craft. He is known for his surreal and psychedelic work with various colors and iconography. Lacoste fashion, Nike sports, Converse footwear, and Coca-Cola are just a few of his satisfied clients.
Amassing over 800,000 followers on Instagram, Mike Kus is a successful graphic designer who also has mad web development and photography skills. Growing up in the United Kingdom, Kus had sent sneaker designs to Adidas. But what kick-started his graphic designing career was when he joined The Body Shop's visual merchandising team. From there, his interest in honing his skills in the digital world grew. That's when he started learning cascading style sheets and HTML for web and app design.
Sobierajski has been a graphic design freelancer since 2013. Her work is well-known for its diversity ranging from traditional characters to peculiar styles. Some of the clients that she worked with were Gucci, IBM, The New York Times, Target, Tate Modern, UNIQLO, and more. She also has a couple of recognitions under her belts such as the Art Directors Club Young Guns 15 and Print Magazine's New Visual Artist. When she's not doing killer designs, she trims her bangs, wears sunscreen, and learns Japanese.
Luke Choice is the creative genius behind Velvet Spectrum. This artist from Sydney, Australia has always been fond of comics growing up. He started to venture in demolition and bartending jobs but soon found a strong urge to pursue his creative aspirations. That's when he began to learn the ropes on design and made 21st invitations for friends. He kept these as an initial portfolio. He got into a marketing agency in Sydney as a junior designer, moved to New York to take another position at Vault 49, and the rest, they say, is history.
Born in Bregenz, Austria, Stefan Sagmeister is the co-founder of Sagmeister & Walsh. He went into a partnership with another talented graphic designer, Jessica Walsh. It's no surprise that Sagmeister's work shines through as it's known to be intriguing and provocative. His impressive designs earned a spot in The Rolling Stone's, Pat Metheny's, David Byrne's, and OK Go's album covers. Stefan's Instagram features the work of notable designers and artists from around the world.
Whether it's a breathtaking scenic panorama, family iPhone snapshots, or bold graphics, Clarke's passion for design emanates through any medium. He gets his inspiration from nature, beauty, color, and most especially – his growing family.
Marinovich, a lettering artist, and designer based in San Francisco, has offered his services to prestigious companies such as Nike, Google, Facebook, Sonos, Hilton, Sharpie, Gap, and Ford Motor Company. He is the co-founder of a famous sketch blog called Friends of Type.
An Emmy-winning artist, Perry is a household name in graphic design. He has ventured into animation, sculptures, books, public art installations, exhibitions, monographs, drawings, silkscreens, and more. He says he's forever curious about what life has to offer. This drive has opened up a few international exhibitions in Australia, Germany, China, Singapore, Japan, Holland, and there are more countries to come for this influential artist.
Rob Lowe is the graphic artist who coined "Supermundane." He liked the contrasting sound of the word, and it has helped him stand out in an industry with so many other amazing graphic artists.
David Schwen and Jessica Ekstrand spearhead Dschwen. Both believe that good design starts conversations. And through word of mouth, their design studio has kept people talking about it indeed. Their designs go beyond any mediums. According to them, it doesn't matter how simple the design is, how it delivers the message is what's important.
Lauren Hom is an eccentric designer, letterer, and copywriter. She was raised in Los Angeles, went to school in New York, and now lives in Detroit. Her bright color palettes and bold letterforms reflect her bubbly personality.
Walsh was Stefan Sagmeister's protégé. Sagmeister gave her a position in his design studio, and they established a strong partnership for the Sagmeister & Walsh design firm. Walsh loves to blend painting, photography, and handcraft. Her artistry shines through in her branding and typography works, website design, and art installations.
Reigning from Portland, Oregon, Larson is the founder of Steel Bison – a nature and American West art and designs. He draws in his studio whenever he's inspired which is basically – every day. Larson finds beauty in people, landscapes, and animals. So when he's not drawing, he's out hiking and camping.
Digann is a graphic designer from Manila, Philippines with an eye for all things creative. She has a substantial social media following, with over 90,000 followers on Instagram and counting. She is known for her comical watercolors and elaborate letterings.
Cyril Vouilloz aka Rylsee is a master of words and letters turned into creative compositions. Rylsee is well-known for his witty quips on slogans that transcend through smartphones. One thing that Rylsee always carries with him is his sketchbook. He says sketchbooks are hard to identify because they involve the process and result at the same time and I quote, "We should embrace the fact that people do something, rather than judge the final product. Well done doesn't mean interesting."
Typography is one crucial factor in graphic design. The typeface must be unlike any other computer-generated font style. And Orawan Siripin, a lettering and illustrations artist from Thailand, is an expert in this field. Her style is mostly in black and white on paper canvas — all done by hand in astounding precision.
With over 220,000 followers on Instagram, Gemma O'Brien surprises them with her beautiful artwork that plays with vivid colors and fun shapes and figures. The precision and intricate details are commendable as well. Overall, her artwork is like something straight out of a coloring book!
One of the top graphic designers who specializes in logo design and hand lettering, Will Paterson, ensures artistry in his pieces. Every piece is unique and has a depth that could make for a stunning overall cohesive look.
Deemed as the watercolor queen, Meera Lee Patel showcases her adeptness in writing and watercolor painting. Her best-selling book My Friend Fear: Finding Magic in the Unknown is just as compelling as her works of art.
Timothy Goodman is an "artist," even his Grandma says so. On top of that, he is also a talented illustrator, muralist, graphic designer, and author. His art banks more on heavy and bold typography that's unique and unlike all the others. Goodman's art has been displayed on almost any medium and material you can think of. Shoes, clothing, buildings, walls, packaging, cars, people, books, magazines, jackets, galleries, etc.
Some of his biggest clients are Airbnb, Uniqlo, Samsung, Target, The New York Times, and Google. Goodman also has a few awards from the most significant illustration publications under his belt.
As the name suggests, Mister Doodle's style is stellar doodles about inspiring quotes and unique typography. He showcases some handcrafted typography and lettering work on Instagram and his projects. He's also a skilled logo designer who has a long list of clientele. Some of his clients are Element Skateboards, Sullen Art Collective, The Sunday Times UK, Pointless Blog, SummerBreak, Melissa Polinar, Ollan Rogers, Cosmic Clothes, Solar City Corp, Front Apparel, Kinetic Global, Citizen Apparel, and the list goes on.
Although amassing only over 12,000 followers on Instagram, Mira Malhotra's art can grab anyone's attention instantly. Folk arts and Indian art history inspire her art, and this is why they have garnered more clients in their Mumbai-based design studio. Mira is the genius creative behind Studio Kohl. Her studio works closely with graphic designers, trendsetters, musicians, NGOs, activists, and game-changing lifestyle brands.
Any passerby won't miss Morag Myerscough's art in the streets. Her style is vivid, bold, playful, and colorful. This creative from London considers herself a city girl who is fascinated by words and colorful patterns. She says it can change people's perspectives on city-dwelling, environments, and spaces. She is also enthralled about Belonging, and this obsession is deeply rooted in her artwork.
This artist from Copenhagen, Denmark, has worked with prominent brands and publications worldwide. Andreas Hansen is well-known for his sleek and sharp style. The almost monochromatic photos on his Instagram feed would be a perfect diversion from other artists' colorful patterns and shapes. Some of his biggest clients are The Washington Post, Hermes Paris, HP, Elle, and more.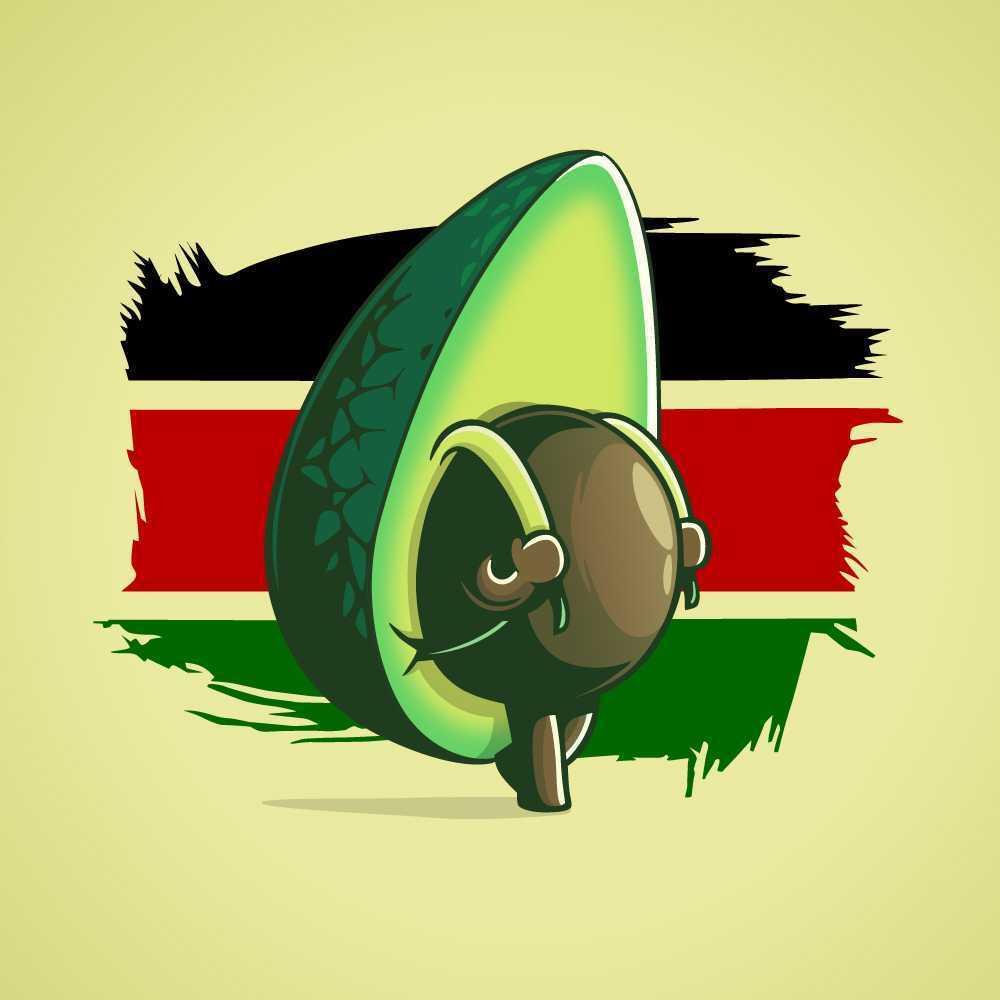 To inspire fellow graphic designers on Instagram, Graphic Designers Group sources the best design work from talented and skilled graphic designers all around the world. They also work and collaborate with different clients creating visuals like logos, packaging, and brand identity.
How to Request Illustrations on Penji
Amazed at how these graphic designers create illustrations? Let Penji designers show off their design chops when you request illustrations.
1: Create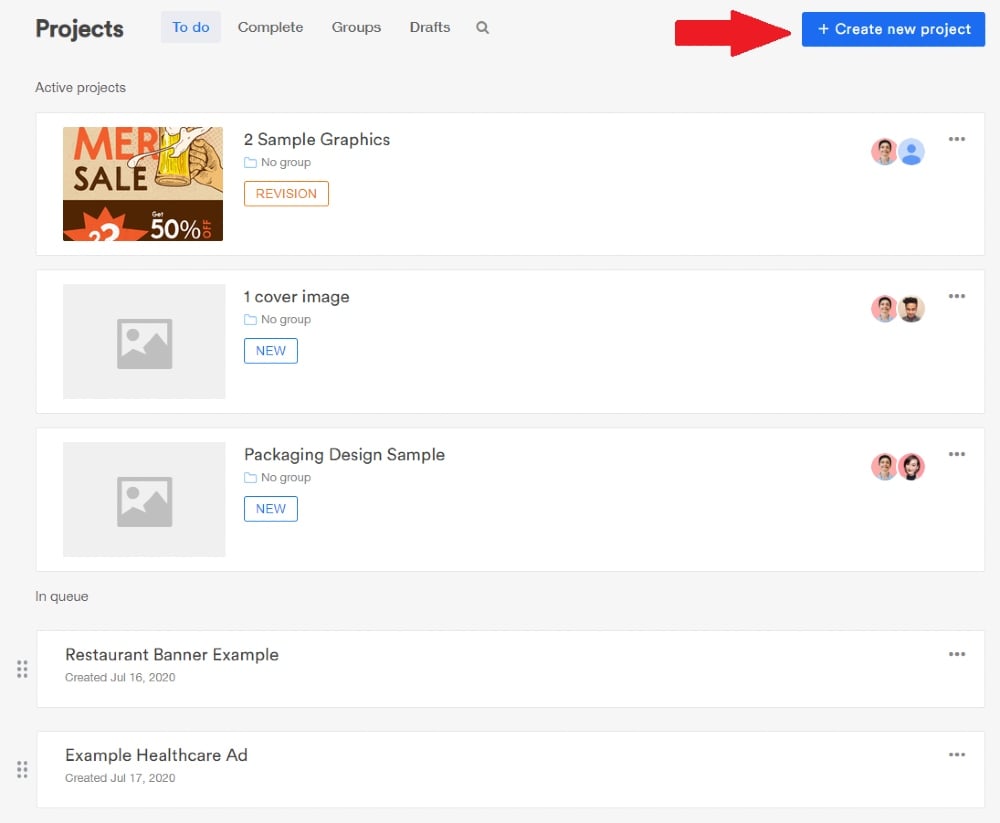 The first step is to request an illustration through the Penji dashboard. It takes three easy steps to submit your design brief.
One, click on Create a Project.
Two, scroll down and click Illustrations.
Three, provide details of your design brief.
Ensure that you'll make your illustration specific. This way, your designer would design it based on your preferences.
2: Connect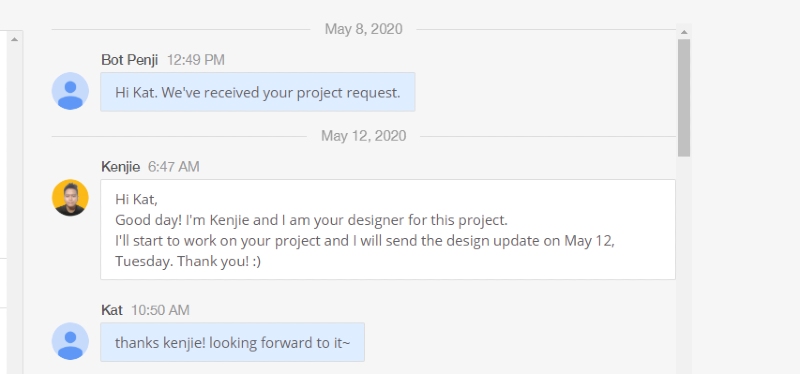 Once you submit your design brief, you'll be connected with a Penji designer. Your design is in good hands with Penji designers. We hire the best designers in the industry, so you receive high-quality and compelling designs.
Once you've connected with a designer, they'll update you that they'll work on your illustration.
3: Review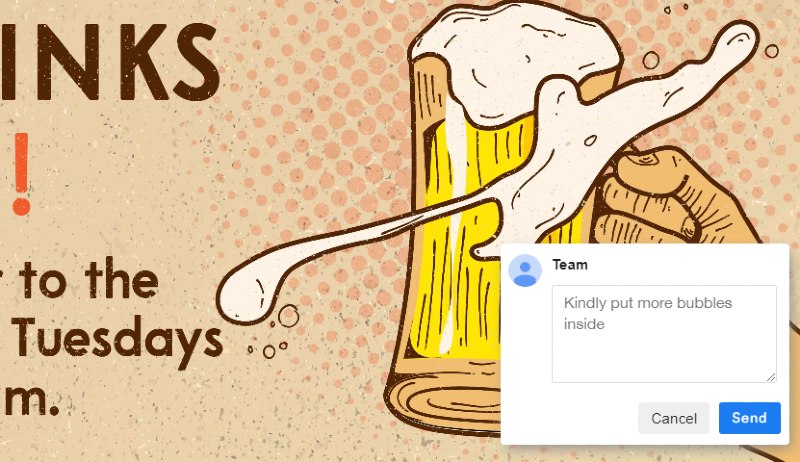 Between 24 to 48 hours, you'll receive the first draft. In most cases, the first drafts may not be what you envisioned. But that's fine.
The review process for any design project is crucial. This way, your designer will know how to improve your design.
To provide specific feedback, you can use the point-and-click feature where you can leave revision notes. This allows the designer to know which area to improve. You won't have to use an external tool. Point, click, and let the designer work on the revision until you're 100% satisfied.
4: Download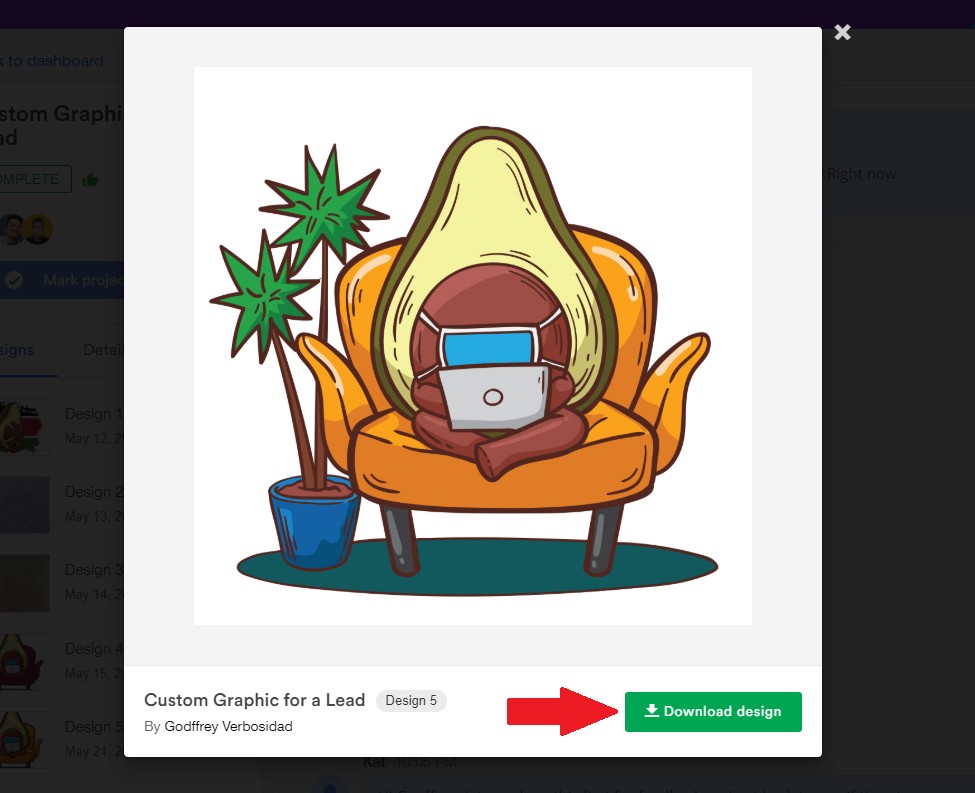 Love the illustration you received? Download it in two easy steps.
Click on the down button. A window will pop to let you review the design one more time. If you love it, download it, and the design is all yours.
You have full ownership of the designs you receive, use it any way you want it.
Plus, if you need to access your file again, log in to the Penji dashboard and download it once more.
Subscribe to a Penji Plan Now
Don't settle for second-rate and mediocre designs that could cost you customers and revenue. You might lose more resources when you hire freelancers or use DIY graphic design services.
That's why you should subscribe to Penji. Run your business while our designers produce the designs you need. For only $479/mo., request all the designs you need for your business to get traction. This plan includes website design and illustrations. You won't get this deal anywhere else.
Sign up to get exclusive access to all designs to stay ahead of the competition.