Email marketing is a foolproof way to boost revenue. That is if marketers and graphic designers take the time and effort in the subject line, message, and design elements altogether. Speaking of graphic designers, you can hire the best ones from Penji. They have already created the most effective email marketing designs that can guarantee that your message will be read – and will not go straight to the trash. Read on if you want to know how to make your Thanksgiving newsletters more compelling.
And as Penji feels thankful to you, our readers, we're giving away Thanksgiving patterns absolutely free! Just click this link to download them and start using them for your newsletters, emails, social media graphics, and anywhere you want to get into the spirit!
Tips to Create Effective Thanksgiving Newsletter Ideas
A marketing team can pull off the most strategic and creative Thanksgiving newsletter ideas. However, if they go straight to someone's trash bin, they won't do the company good. Before sending them out, make sure you take note of these four simple tips to increase your newsletter's impact:
Graphic design is everything. Remember that you only get one chance to entice your target audience, make the

graphics

count. High-quality

designs

get more engagement and conversions, and many companies can attest to this.

Personalize your newsletters. There's nothing duller than a general newsletter that doesn't even contain your name. Include your readers' names on the title or message or promote items akin to their previous shopping behaviors.

Create click-worthy subject lines. Your newsletter is fruitless when recipients don't click on them. The subject line must be striking and brief using less than 50 characters. Include urgency and a call to action. And use single-word subject lines that get them hooked.

Know when to send them. If you're promoting an event or limited-edition items, make sure you send them about two to four weeks before Thanksgiving. If you're offering a one-day Thanksgiving sale, you can send announcements a few days before Thanksgiving then send another email on the day itself.
Best Thanksgiving Newsletter Ideas
Simple greetings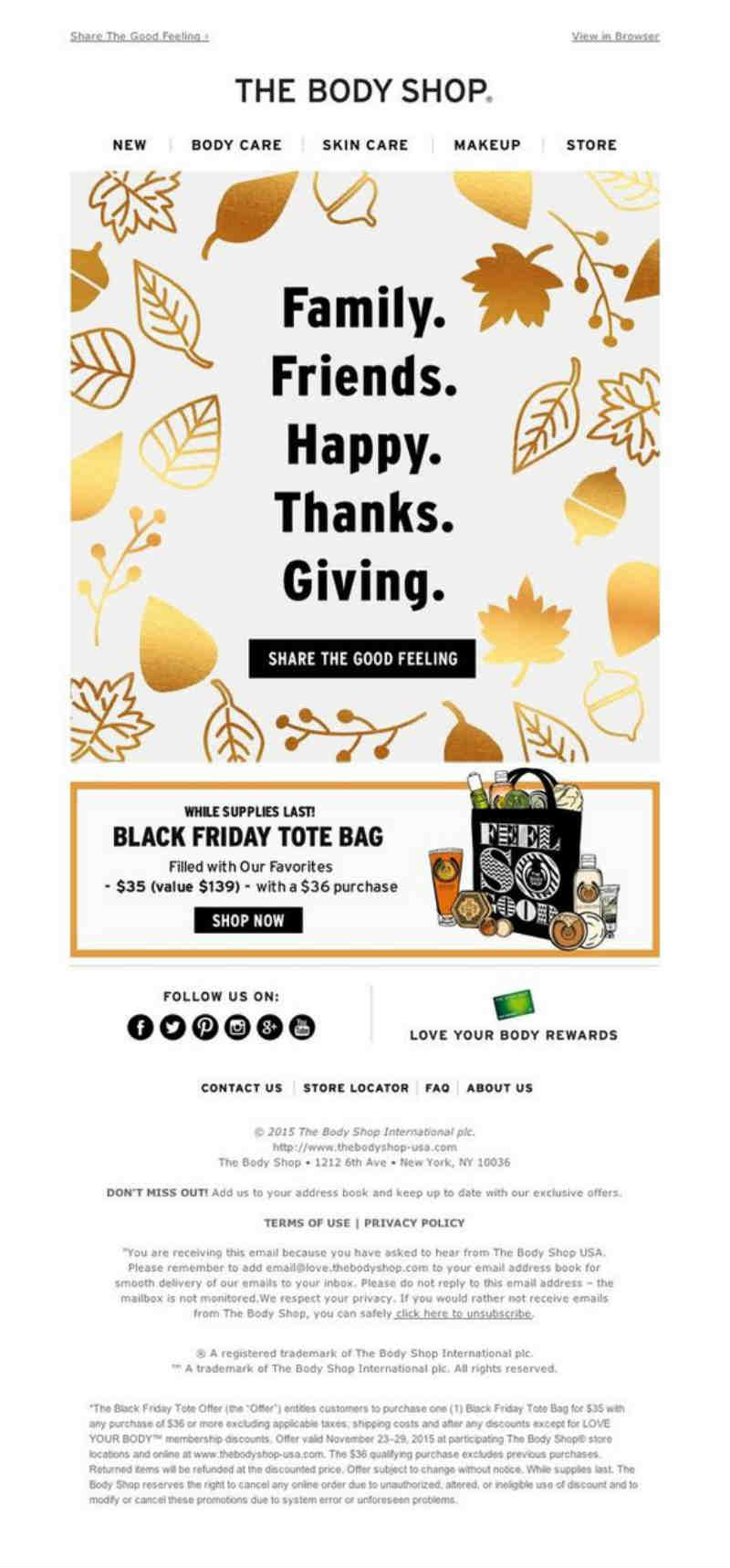 Make your readers feel special by letting them know you're thinking about them during this busy season. Send them a simple yet meaningful Thanksgiving greeting. The Body Shop played around with concise words and festive design. They incorporated various eye-catching shapes of fall leaves in beautiful hues of gold. These symbols are very appropriate for their branding, which promotes natural or of natural origin ingredients.
How-to guides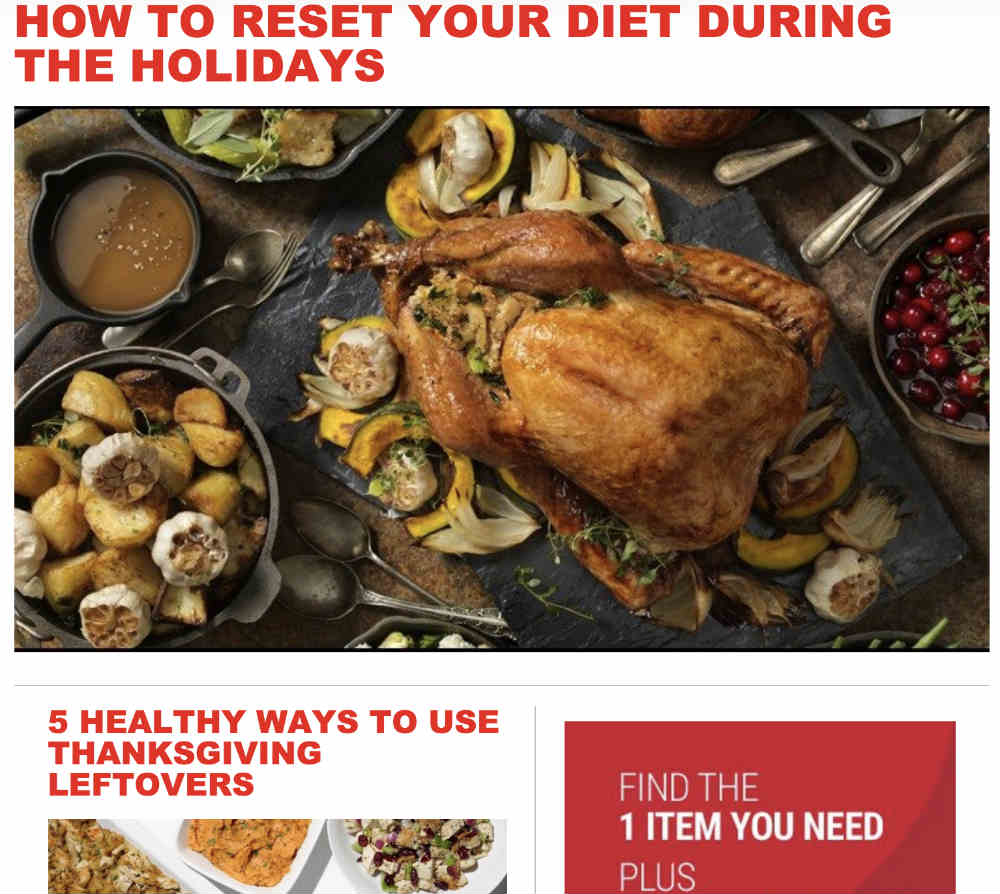 Thanksgiving season will bring out the inner chef in everybody. Even those who have never picked up a ladle and wok before will be rolling up their sleeves and prepping up a feast for twenty! Help hosts enjoy a stress-free Thanksgiving holiday by offering how-to articles. How to style the table on Thanksgiving, How to cook the Thanksgiving turkey perfectly, or How to reset your diet during the holidays could be fun ways to engage your readers.
Offer free products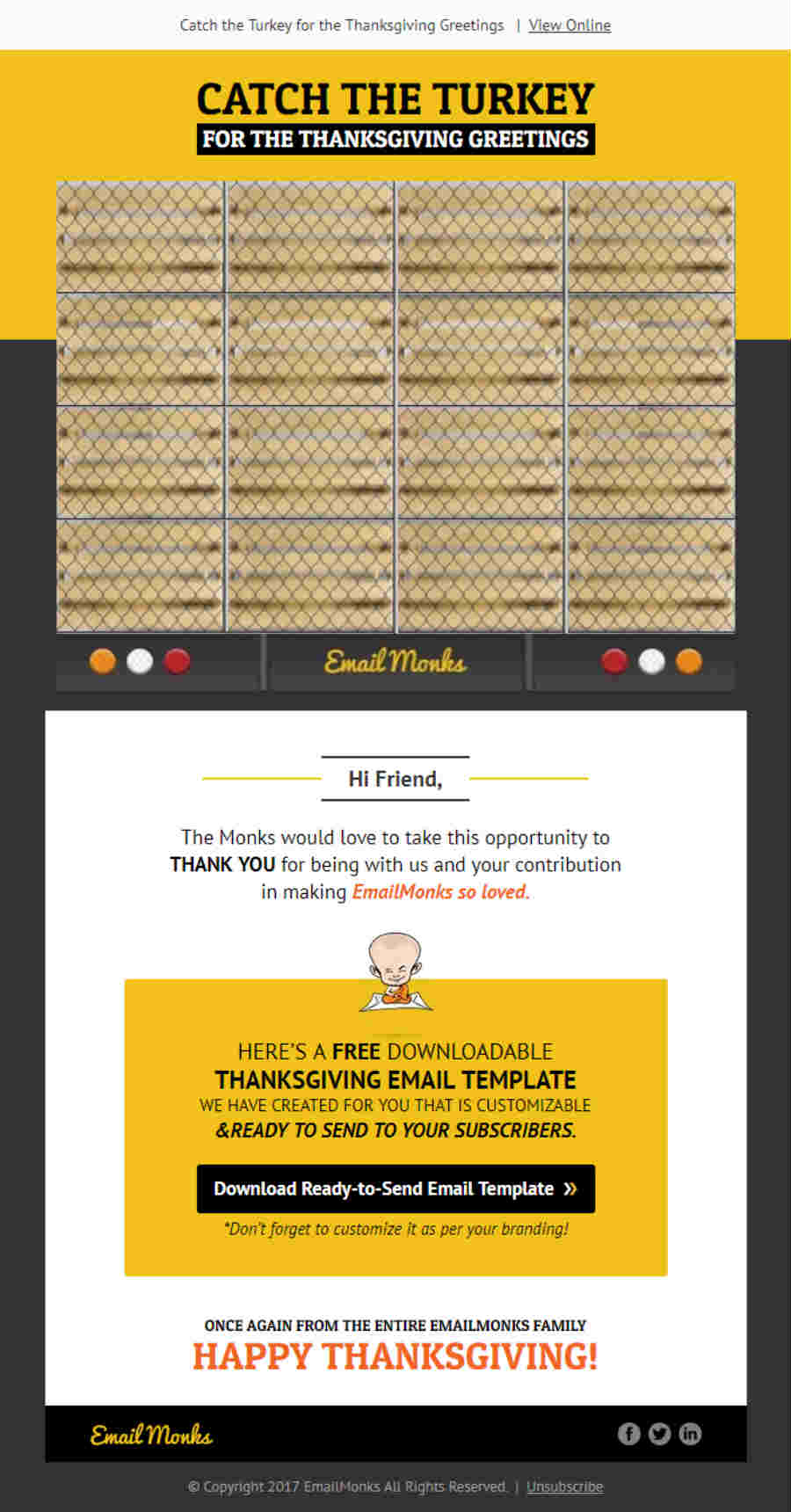 The most effective Thanksgiving newsletter ideas could all boil down to gratitude and appreciation. Take this opportunity to nurture your relationships with existing patrons. Send them a simple "Thank You" email and offer a free product just like how EmailMonks did it.
Share secret recipes from experts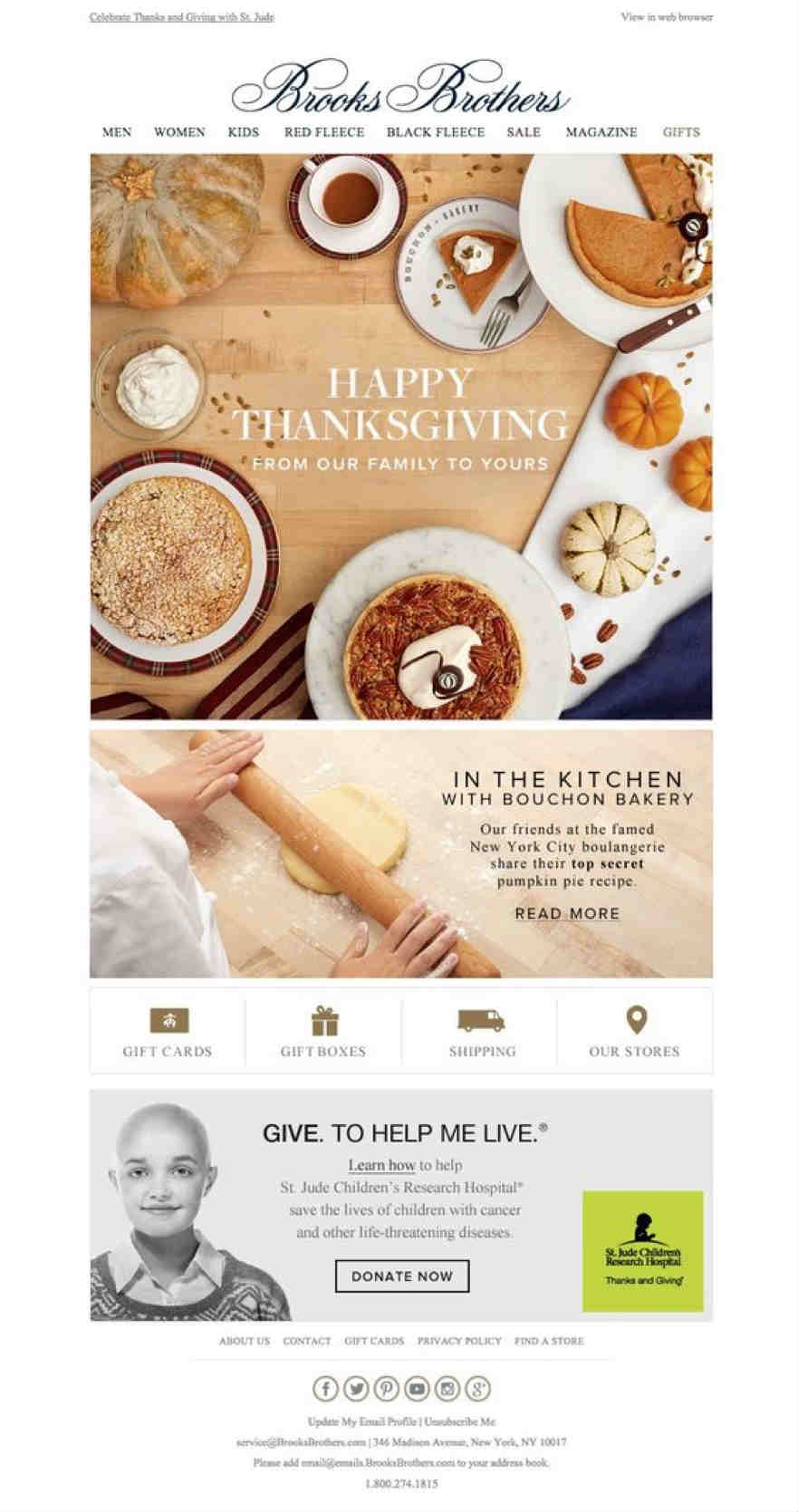 Brooks Brothers, an online apparel company, played smart with their Thanksgiving newsletter. They shared a top-secret pumpkin pie recipe from Bouchon Bakery, a bakery founded by a Michelin-star chef. But we can't help but give commendation for the tasteful and captivating design with a simple greeting, "Happy Thanksgiving. From our family to yours."
Provide step-by-step recipes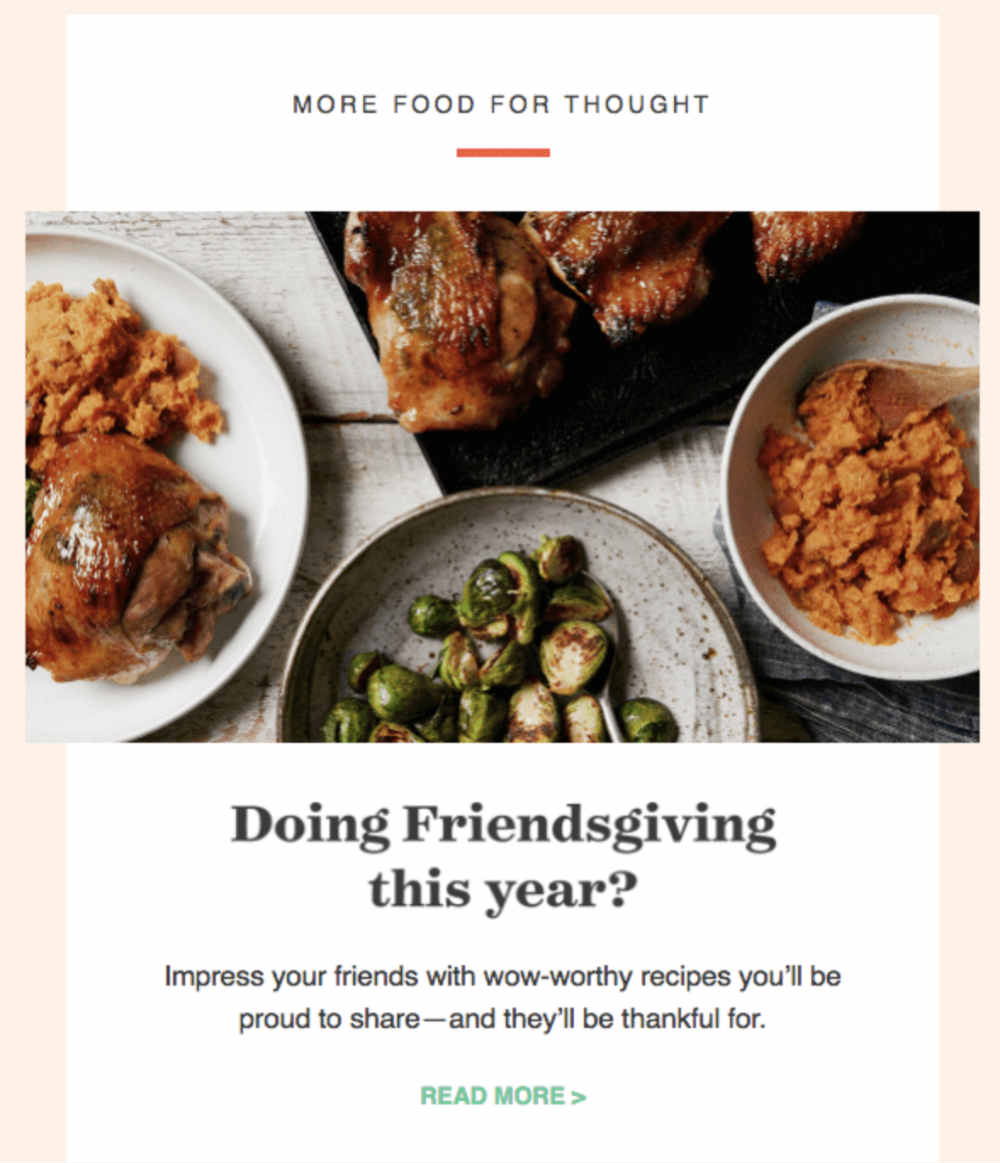 Most hosts will be preparing a feast for a lot of people during Thanksgiving. Aside from the traditional stuffed turkey recipe, a myriad of viands will also be served. This is the best time to offer a solution to resolve your customer's pain point. Useful Thanksgiving newsletter recipe ideas, like this example from Plated, will surely gain new supporters, especially if the subject line is well-thought-out.
Event invitations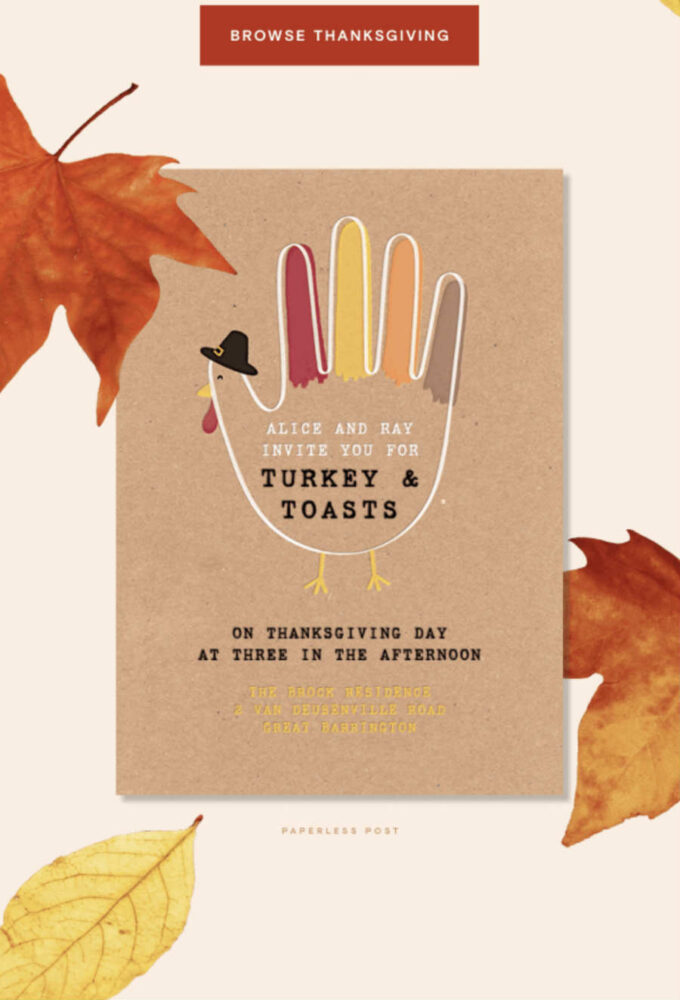 Whether you're organizing a charity drive or a food-tasting event, there's nothing more personalized than sending out email invitations. Make sure that you send out these invitations a few weeks before Thanksgiving to give your audience time to clear their schedules and prepare. Some people might not have plans on Thanksgiving, so your event invite will come at the most opportune moment. Here's one beautiful example of a Thanksgiving event invitation from Paperless Post.
Give special Thanksgiving deals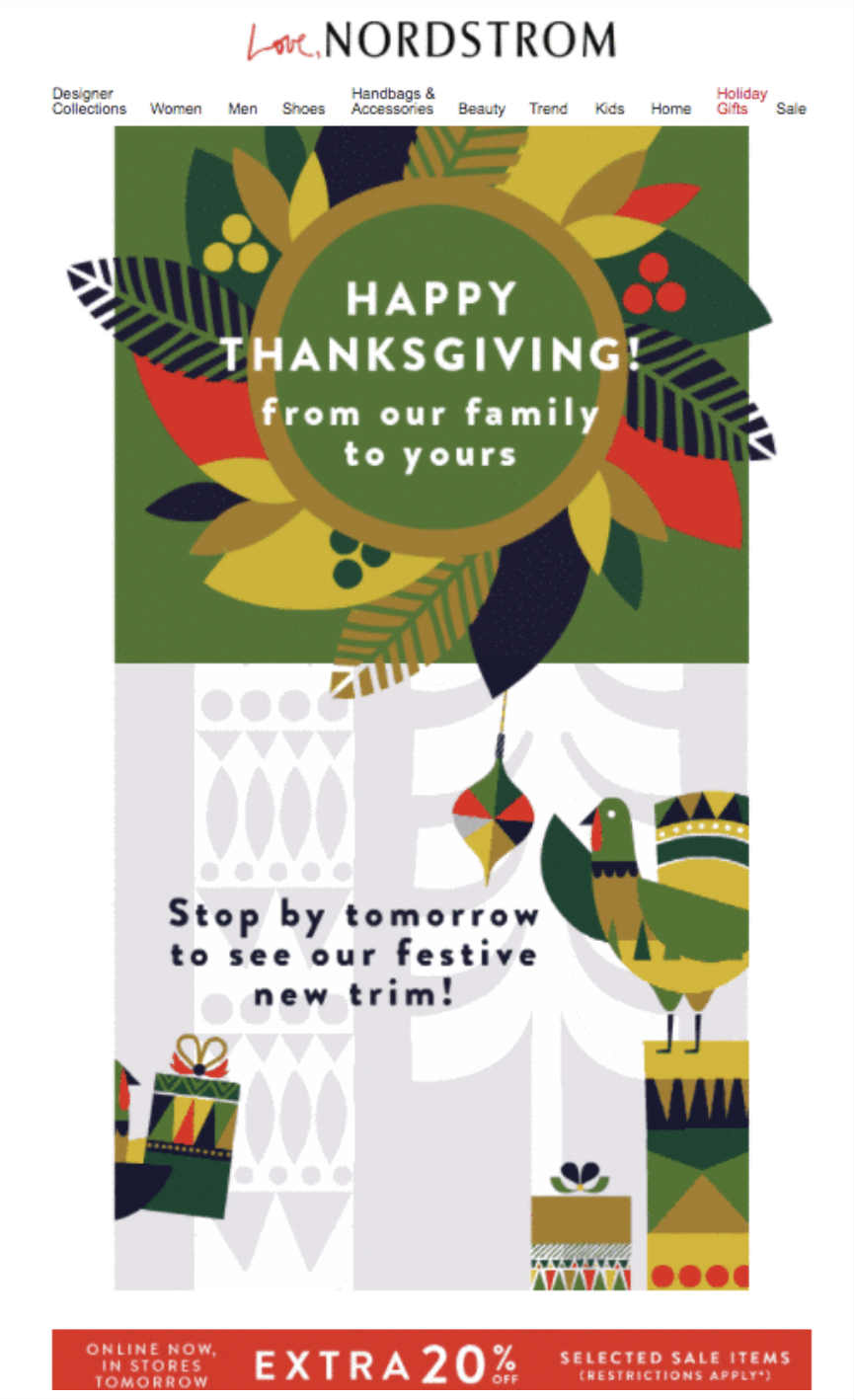 Americans will most likely spend more during the holiday seasons according to the National Retail Federation. This spending frenzy will give you a great headstart for promoting your products and services on Thanksgiving. Offer discounts, exclusive deals, or freebies that are irresistibly enticing like Nordstrom's.
Organize Thanksgiving contests and giveaways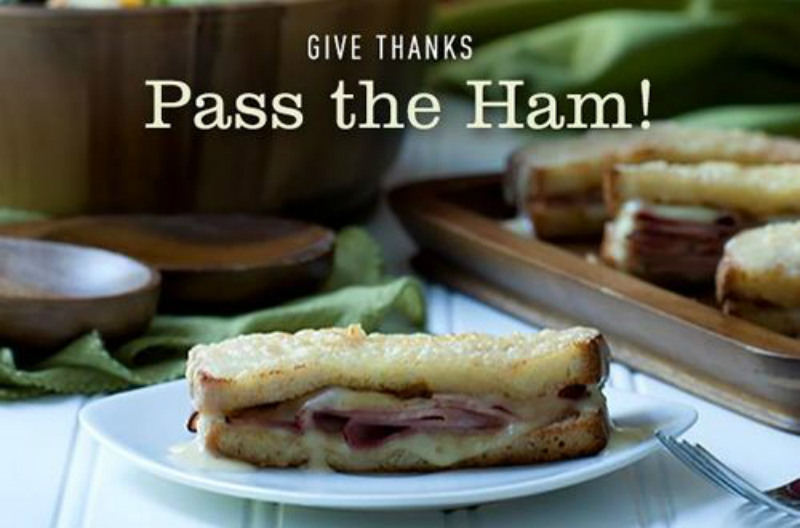 To get more engagement from your audience and gain new ones for that matter, create exciting contests and giveaways. Whether you take advantage of user-generated social media contests or in-store giveaways, everybody loves freebies nonetheless!
McAlister's Deli created the "Pass the Ham" contest where they asked supporters to nominate a person or an entire family by sharing their heartwarming stories. The company then selected three semi-finalists during Thanksgiving week and finally chose one grand prize winner. The winner took home a Baked Ham and Swiss Catering collection, a $500 deli gift card, and a $500 Visa gift card.
Limited offer coupon codes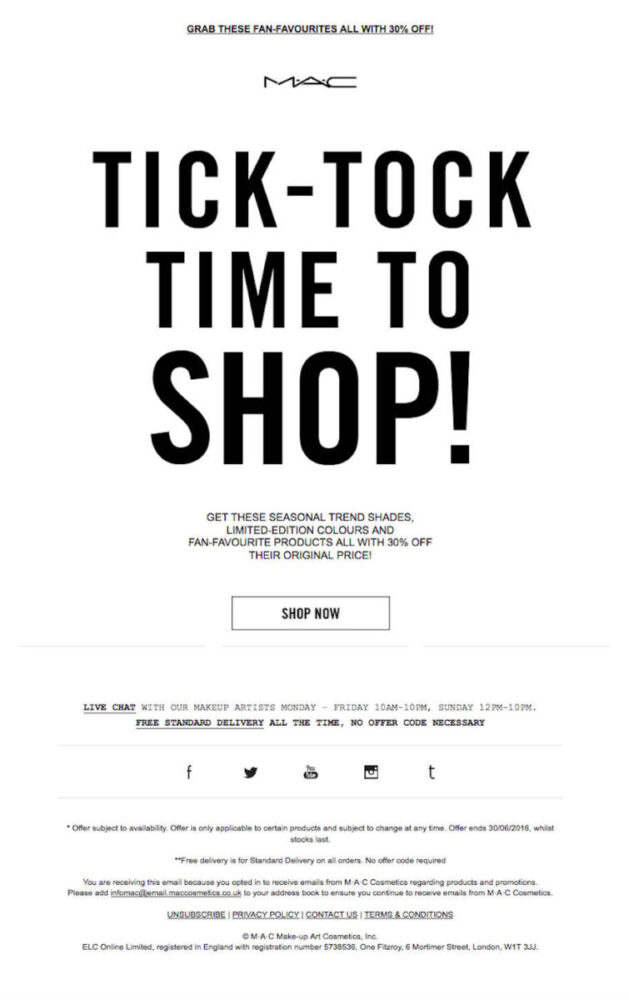 Create a sense of urgency so customers will scramble to get first dibs on any limited edition products or services within a limited time offer. Mac did it plain and simple for its seasonal trend shades. This is a GIF image with a creative countdown where the words "Tick-Tock" turn into numbers and Mac products intermittently.
Promote your products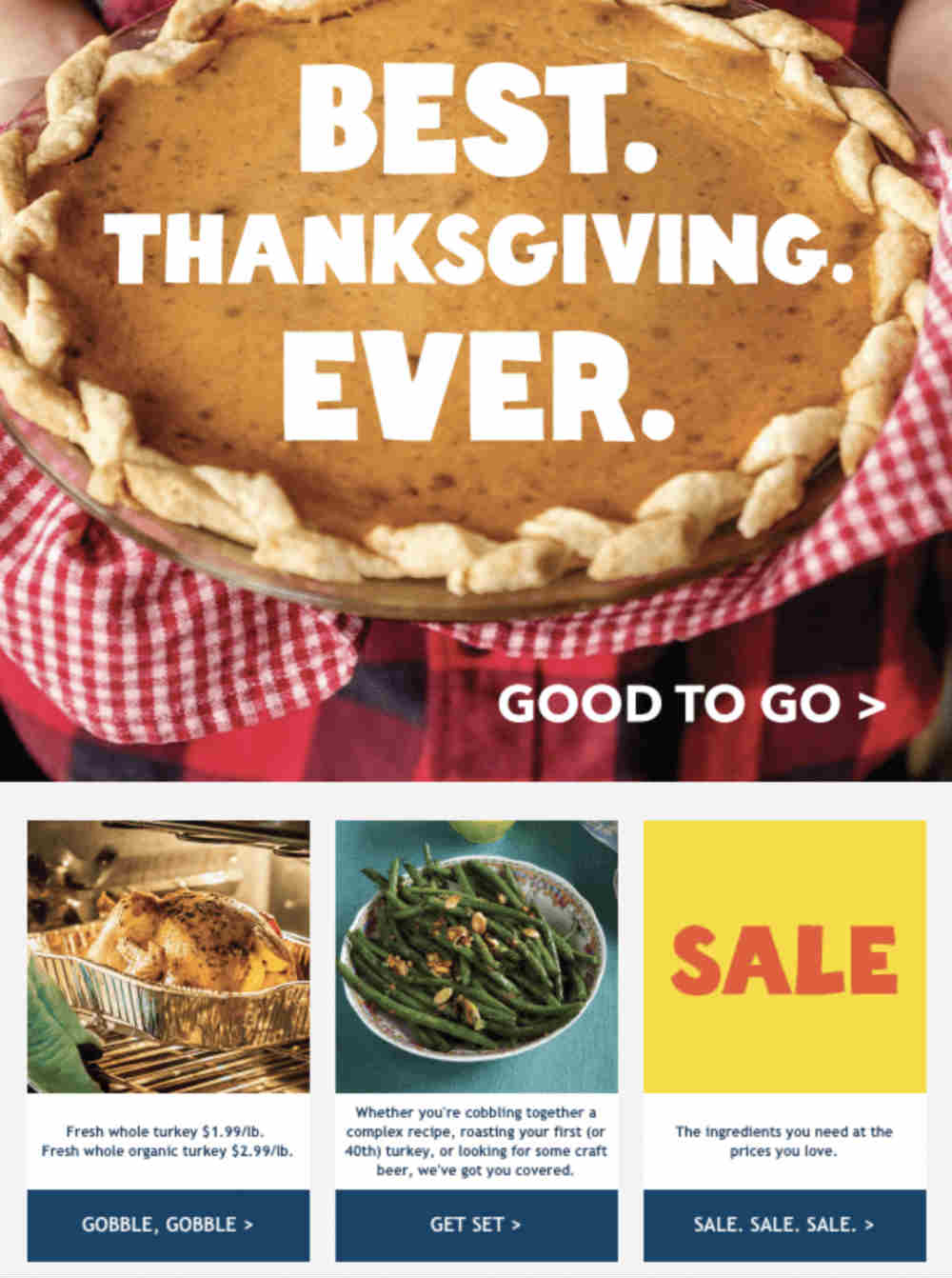 When creating persuasive Thanksgiving newsletter ideas, keeping it straightforward will work to your advantage. Promote your products and services straight-up but don't push it. Avoid being too "sales pitchy" by using puns, humor, and eye-catching designs like how Whole Foods Market did.
Use Penji for Your Thanksgiving Newsletter Design
We could not emphasize enough the importance of professional graphic designers for your Thanksgiving newsletter. If you are working on a strict budget, we recommend that you subscribe to Penji. They are a team of passionate creatives with impressive technical skills. That way, your graphic design is both visually pleasing and should lure your market to purchase from you. Here's how easy it is to use their app.
Request for a Newsletter Design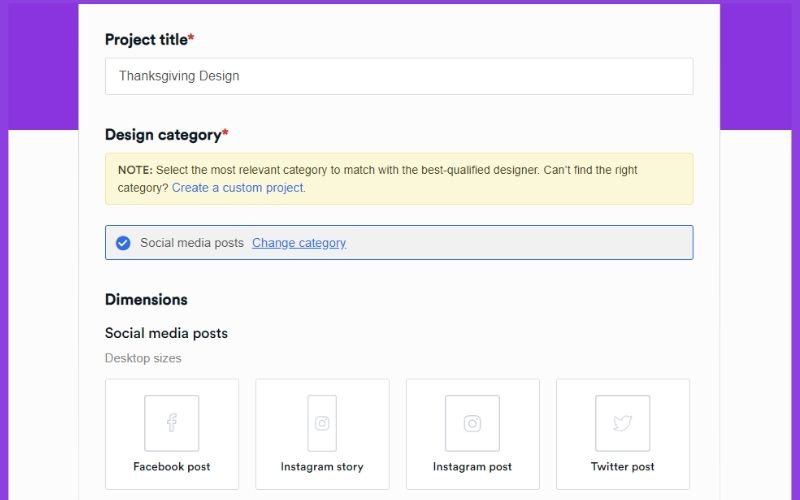 Once you are done signing in, you will be given access to their app. What's good about this platform is that you can easily figure out what to do. It's straightforward and you can use it without asking for help.
From your screen, click the New Project button where you can place all the information for your design. We encourage you to be as detailed as you can. That way, the designer can create the project as soon as possible.
Revision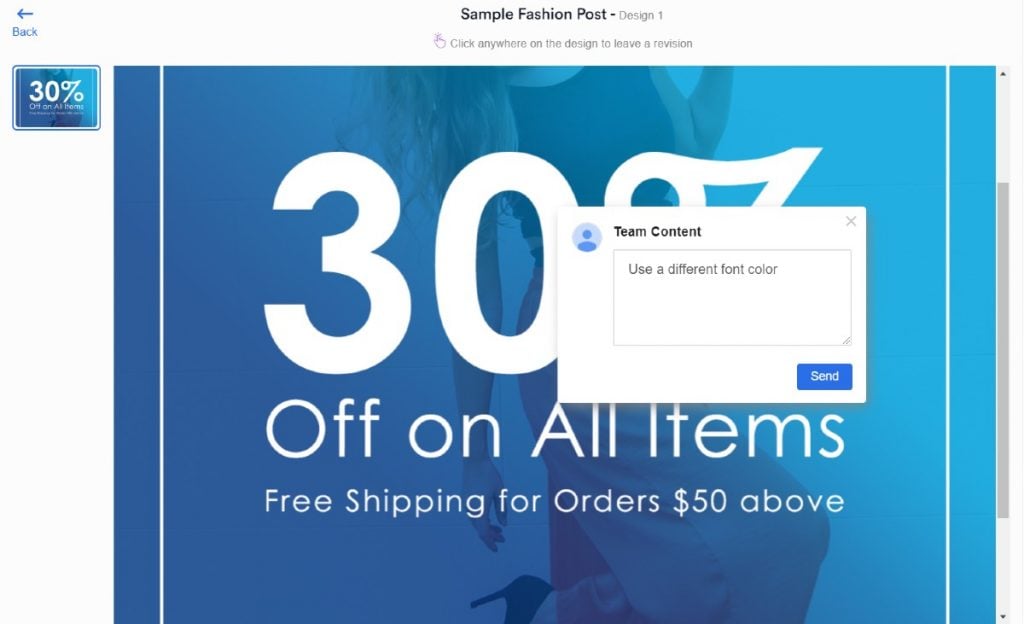 Next, wait for the initial draft where it is usually submitted between 24 to 48 hours. This largely depends on how simple or complicated your request is. If you are fully satisfied with the layout and all the design elements, go to the next step. If not, you can click the area in the image where it needs to be revised, type your comments, and send it back.
Download and Send the Newsletter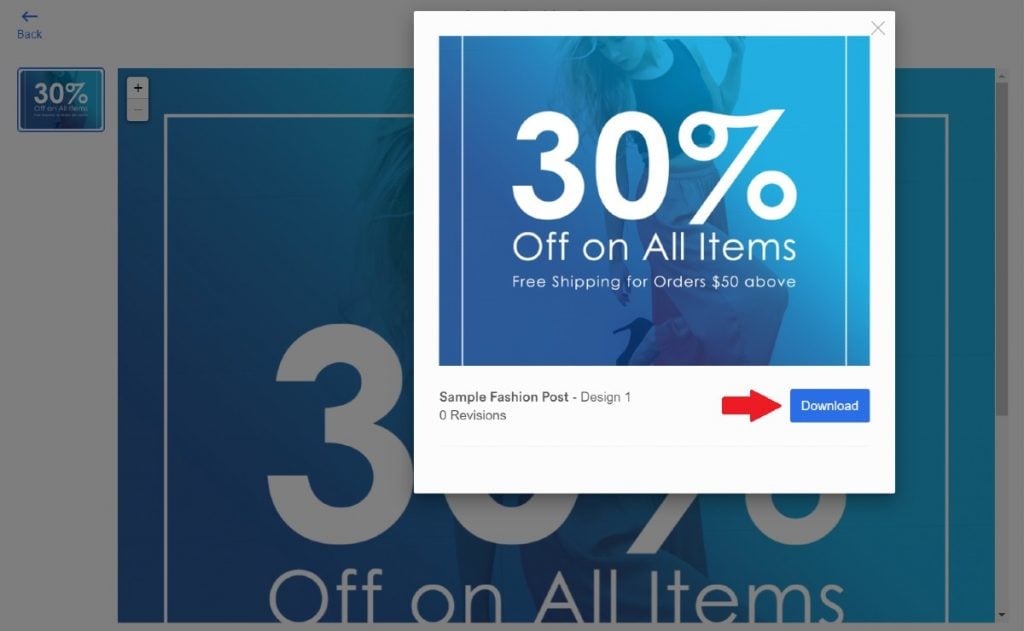 Happy with the final output? There's a download icon ready for you anytime. This eliminates doing another email to your designer. Cool feature, isn't it?
Once downloaded, you can just send it right away to your email list.
If you want to experience what other small businesses enjoy from Penji, choose your plan right now and start requesting unlimited graphic designs.