Starting a t-shirt business takes a lot of work! But, this is in hopes that it will all pay off in the end. When having a t-shirt business, your designs have to be of the best quality. If you're not designing your own t-shirts, you have to find the best t-shirt graphic design company that understands your brand. Whether you own an online shop, a brick and mortar store, or sell on print-on-demand websites like Merch by Amazon, your t-shirt designs come first.
And by subscribing to Penji, you can receive t-shirt designs within 24 to 48 hours. It's so you can sell them immediately on your online store or a platform. Plus, you can be sure that you receive high-quality and compelling designs that you and your customers will love! Before you get more information about how you can request designs from Penji, know what to consider when hiring a t-shirt graphic design company.
Design Quality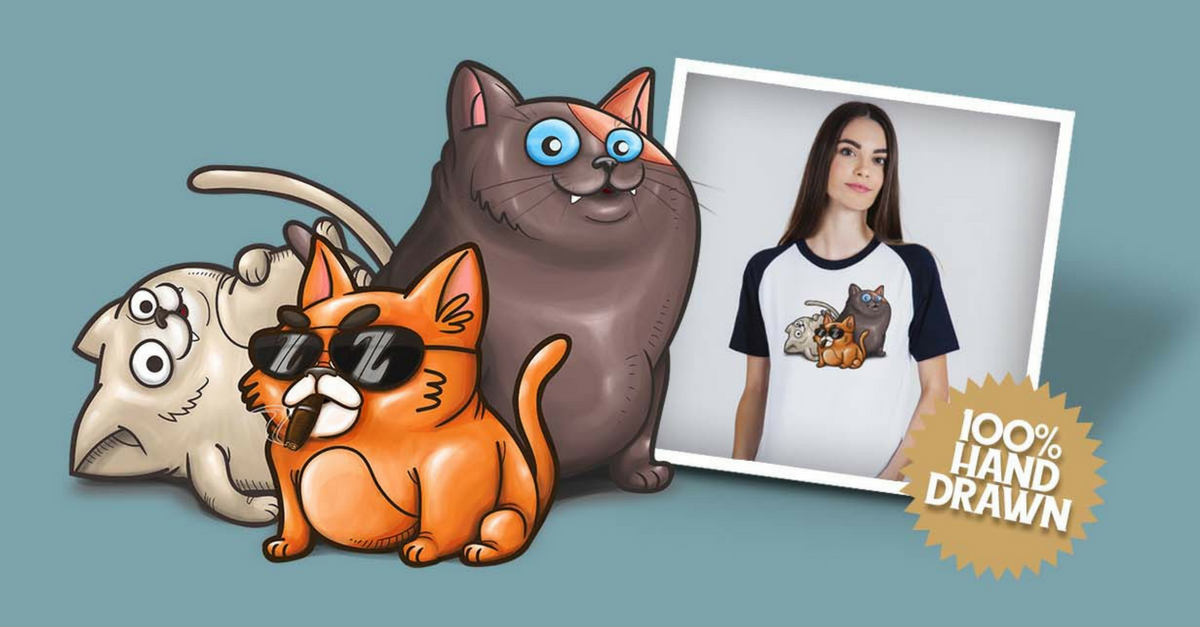 Of course, as a business, you want the best design quality that is available. That's where you come in with a t-shirt graphic design company. As your graphic design resource, they are able to provide you with t-shirt designs that fit your branding and sell well. What you need to do is provide as much information as possible on the details of your t-shirt graphic design company. This allows the designers to create something that is exactly as you imagined.
Color schemes matter. Some colors will work with dark t-shirts and some only with light t-shirts. The t-shirt graphic design company that you choose will be able to ensure that your graphic is visible against certain colored shirts. Working with Pantone colors is ideal but when designing, set the colors to RGB. Start the document at a resolution of 300 pixels per inch to maximize on the size options when printing. It's easy to scale down when needed but is not ideal to scale up a low-resolution image.
Design Quantity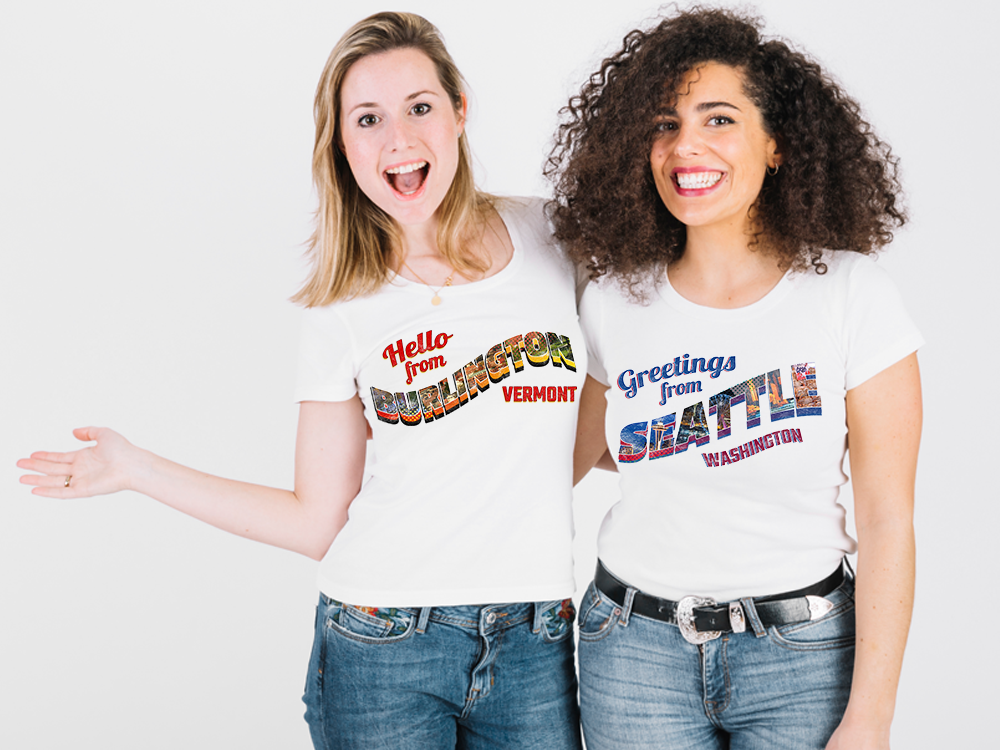 If you've ordered t-shirts before, you would have heard the word "minimums". T-shirt order minimums are in place to ensure that you are getting the best rate and the vendor is making a fair profit. Depending on the production process that you choose, you will be able to save money by ordering more units.
How your t-shirt graphic design company comes in though, is color. The more colors that are used in the design, the higher the cost. In this case, the designer will be able to make your order more cost-efficient by using colors in a more creative way. This will allow you to order t-shirts at a high minimum while staying cost-efficient.
T-Shirt Production Process
Make sure the t-shirt graphic design company you choose understands the production process. Many design agencies offer every service under the sun, but since t-shirt designs are printed on fabric, there are quite a few things to consider.
Transfer Paper
This printing method is great for the DIYer because it is so accessible. There are many different types of transfer paper with specifics like inkjet versus laser, black and white versus color, and even materials like vinyl. This method will not work for all fabrics. The recommended fabrics that work well include cotton, polyester, nylon, spandex, and lycra.
Screen Printing
When screen printing, an actual screen stencil is used and ink is applied directly on top. Because of the stencil, only certain areas on the shirt will be covered with ink, creating your t-shirt design. If you have multiple colors, you'll have to repeat this process over and over using different stencils until it's complete.
Direct To Garment (DTG)
DTG printing is like printing on paper, except it's on a t-shirt. With inkjet technology, DTG allows for delicate designs to be printed in great detail. Since it takes the same amount of time to print each shirt, DTG is great for if you want smaller batches. There are very few cost savings with minimums.
Sublimation Printing
With sublimation printing, you can get seam-to-seam printing. This means that your design can be all over the garment, without boundaries. The ink is directly merged with the fabric, making it long-lasting and does not have the peeling effect that some methods have with wear. Sublimation printing is great for purchasing in small batches, but there are very minimal discounts when purchasing in large batches.
Vinyl Printing
If you are looking for something a little different, vinyl printing has a great effect on t-shirts. This method is great for simple graphics, but not anything with too much detail. The process is similar to screen printing, however, each shirt needs its own setup. Because it is more time consuming, it's recommended to only do vinyl printing in small batches to be cost-efficient.
Niches

When choosing a t-shirt graphic design company, you want to find one that is familiar with the niche that you chose. For instance, if you want t-shirt designs that focus on sports, you want a t-shirt graphic design company that is well-seasoned in that field. There's nothing worse than having a designer who doesn't understand your brand and who your customer is.

But, if you use print-on-demand platforms like Merch by Amazon, Redbubble, Printful, etc., your design requests will most likely vary. In this case, find a t-shirt graphic design company that offers unlimited graphic design. This allows you to submit as many t-shirt design requests as you want and revise if needed, all while staying within your timeline.
Trust
It's not enough to just use any creative t-shirt graphic design company. You have to be able to trust that they are staying within your business's specific guidelines. If you are a Merch by Amazon seller, you know this all too well. Your t-shirt graphic design company must adhere to terms and conditions, which include strict copyright and trademark guidelines. You also have to trust that the t-shirt graphic design company will not be selling the same exact designs to someone else.

Having a t-shirt graphic design company that you trust will be a great asset to your business, big or small. When you work with a t-shirt graphic design company, you'll have time to work on your marketing and sales. The peace of mind that your t-shirt designs are being completed gives you the freedom to work on the technical side of your business, allowing you to achieve more.
How to Request T-Shirt Designs
You need a dependable graphic design company to provide the best designs for your online store. Penji can definitely become your official t-shirt graphic design company and partner. Don't worry about finding a graphic designer on a per-project basis. Penji has got you in every step of the way. But in the meantime, learn how you can use the Penji platform to submit your first t-shirt design request.
1: Submit a Design Request

Once you subscribe to the Penji platform, you can finally submit your first request. To start, you need to click the +New button.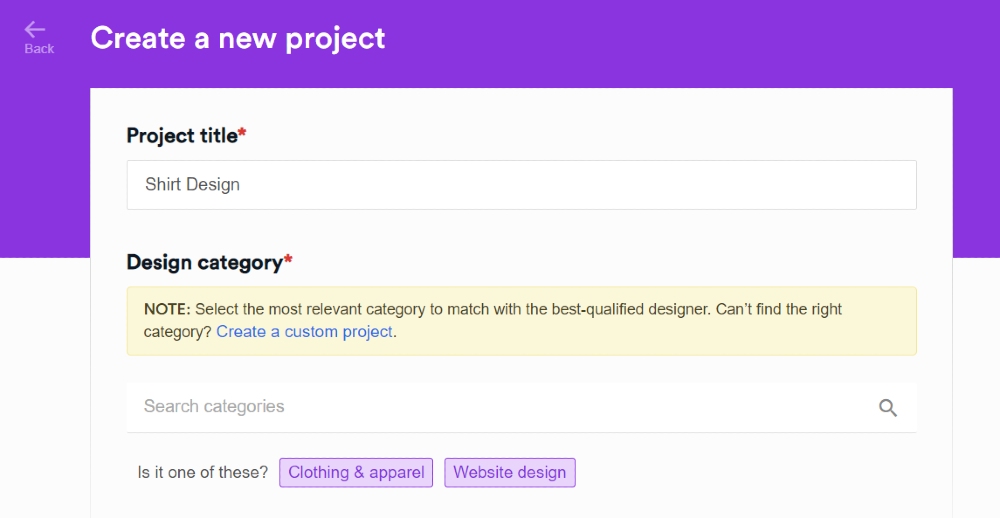 Then, after that, you have to supply a Design title and select a Design category. After providing the title, please choose Clothing & Apparel as the design category.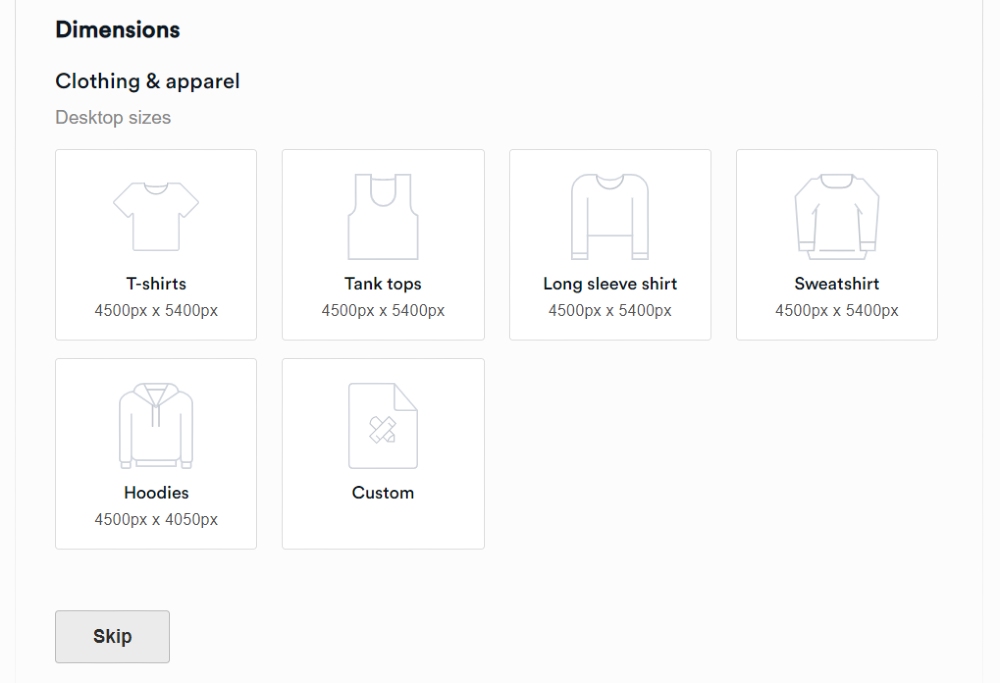 Then, choose T-shirts in the Dimensions section.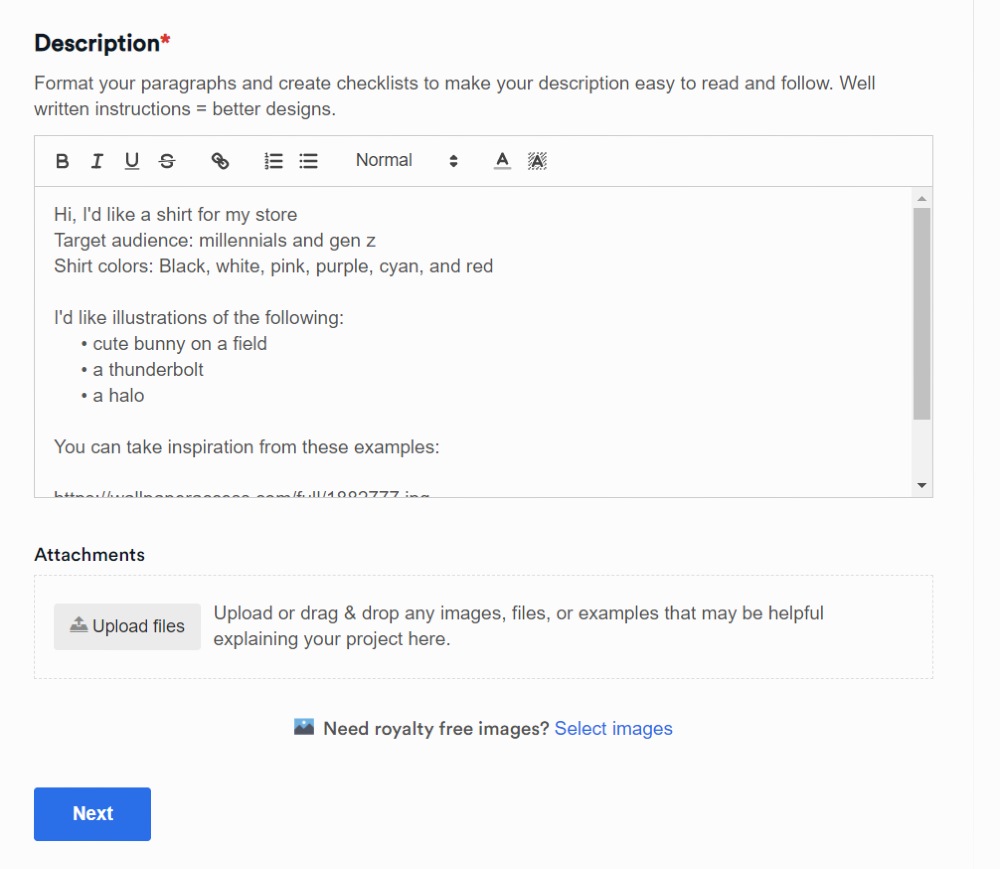 The Description section will appear, and you can finally write in details of your design.
Please make sure that you're specific to avoid miscommunication issues and many revisions. You can even add examples for reference. This way, the designer would get an idea of what you want on the shirt.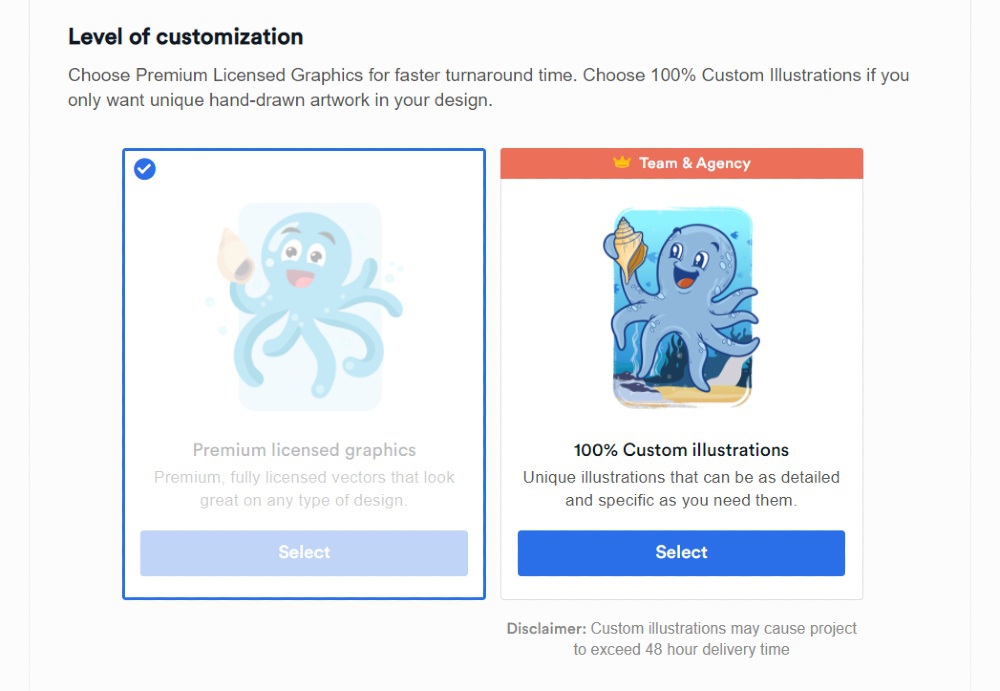 Once you've completed the details of your design, please choose the Level of customization, File deliverables, and Associated brand.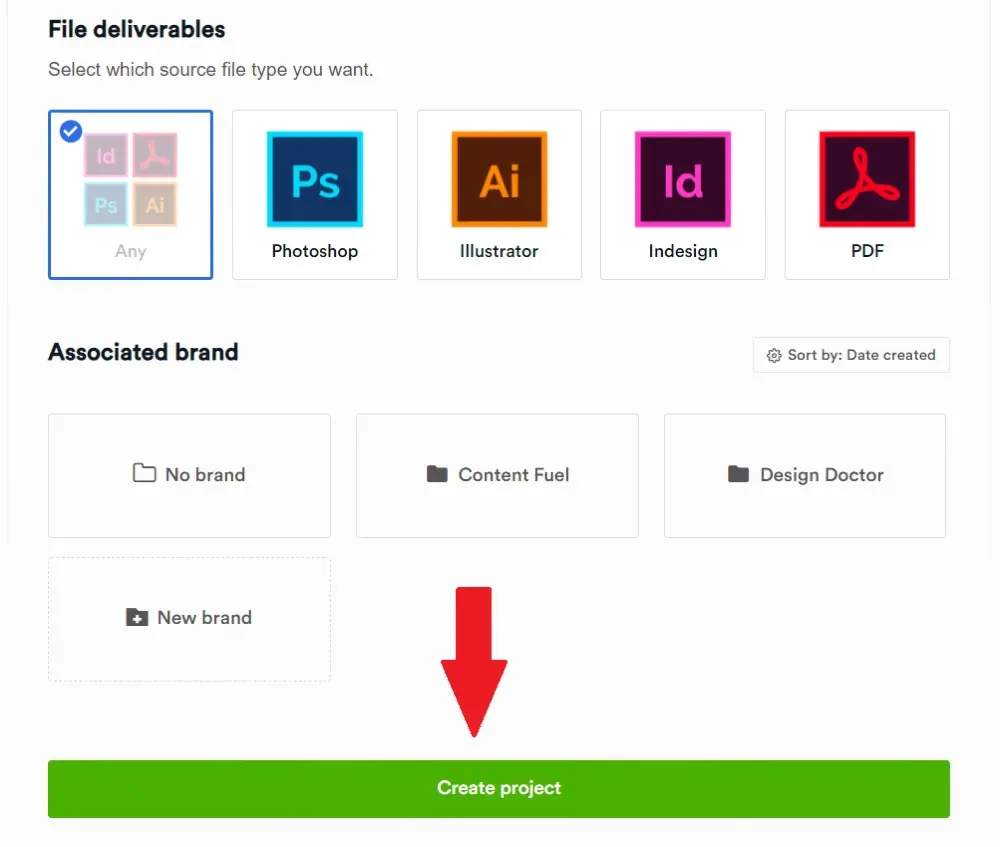 Once you select those, please click Create project, and you finally have your first project ready on Penji.
After this, a designer will review your description, and they'll submit the first draft within 24 to 48 hours.
2: Review the Design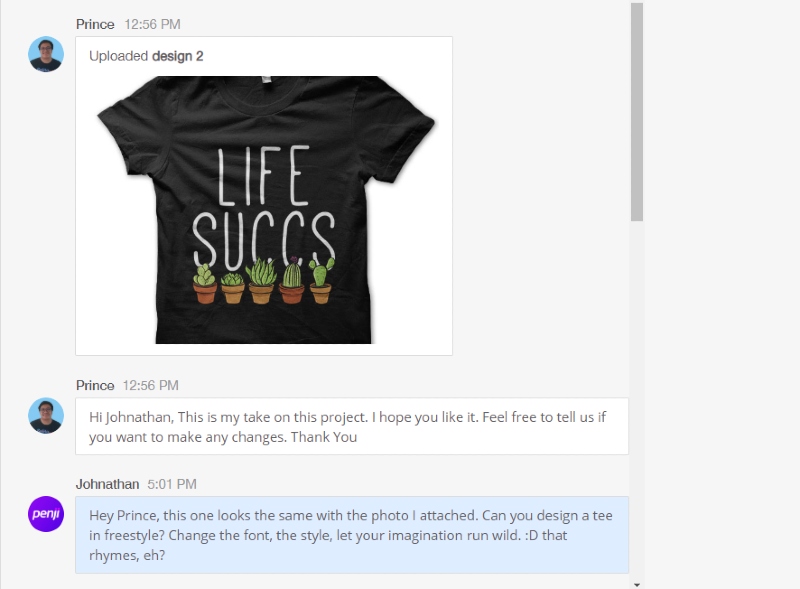 Once the designer uploads the first draft, you can finally review it and see if it needs more improvements. And if there's a need to enhance it further, you can use the chat room or the built-in revision tool. This way, your designer will know how they can edit your design. And they can submit a better version of your design.
Plus, for all Penji subscribers, you have unlimited revisions as well. This means you won't have to worry about paying extra. We want to make sure you're 100% satisfied with the design you receive.
3: Download the Design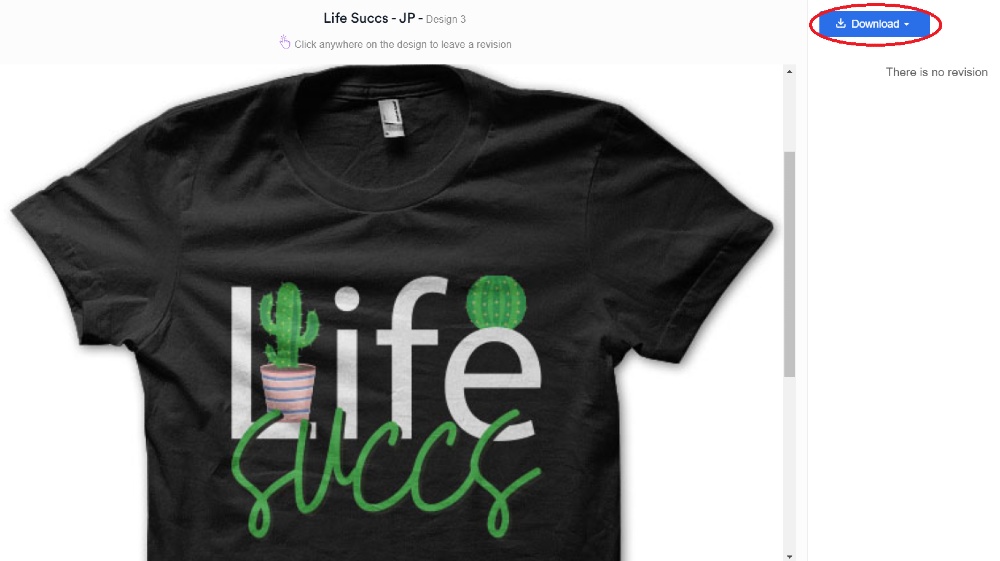 Are you satisfied with the design you receive? You can download it immediately. All you have to do is click the blue Download button. The files will then be saved to your computer.
One of the best things about Penji is that it stores your files in a cloud. So, you can access the designs once more anytime you need them.
Choose Penji As Your T-Shirt Graphic Design Company
Rest assured that when you subscribe to Penji, you'll get awesome designs. Not only that, you'll receive them instantly, so you could immediately publish them in your store. Plus, you might even receive new orders once you release a new design. Other than that, you won't have to worry about MIA designers either. A designer will always be available to produce outputs for you every time you make a request.
Subscribe to Penji today, and you'll save more. For only $499, not only can you request t-shirt designs, but you can also request social media graphics, email designs, and so much more! You won't get this deal anywhere else. Get started on a Penji plan now, and try the platform risk-free for 15 days!