Many universities operate as a business. Universities have their own business model, brand, target audience, and marketing plan. Although schools do not directly announce themselves as a business, they have many similar approaches to marketing and getting sales conversions.
Add compelling and engaging designs for your university marketing plan. Let Penji, an unlimited graphic design service, do that for you. This way, you can focus on crafting a solid plan to generate engagement and increase enrollment rates. Designs can elevate your marketing strategy. Penji can become your design partner for your marketing efforts. Discover why universities use Penji as their graphic design partner to make their institution stand out.
Each university offers different opportunities to one another. But also, they have a specific audience that they want to recruit. So, in order to reach a specific market, schools have to develop an effective marketing plan. There are a lot of complicated and specific materials to include in a marketing plan, and it is especially more complicated if it is a school marketing themselves. So, know what to consider in your plan. Here is what to include in a strategic university marketing plan:

Key questions to ask:
Before creating a strategic university marketing plan, there are specific questions to ask in order to better understand what you have to offer. Questions such as:

Who will benefit the most by what the school has to offer?

How does education play a role in their career and personal life?

Consider your consumer's goals, how would my university help them reach their dreams?

What are the potential questions the school will get asked?

Are there any potential concerns that my target audience will have about the education that is being offered?

These are the core questions to analyze before creating a strategic university marketing plan. Before you try to sell to your target audience, you have to first access what you do and what you can offer. Know beforehand your strengths and weaknesses in order to better sell your school.

Brand Distinction
Each school is different in a variety of ways. It is directly due to the location, specialization, student requirements, education, and a lot more. For example, Ivy League schools tend to already have a name for itself so marketing is not a main concern for them. But, they probably have a good public representative in order to conserve their reputation. On the other case, less known schools must push for more marketing, so they have to identify what makes them unique and the better option:

A professional research department and team

Your school's innovative programs that provides their own activities and concepts

The school's beliefs and philosophies – equality, religion, working, etc.

Your tuition cost
Create smart, effective campaigns efficiently

Meet your conversion goals using visuals that stand out

I need this!
Each school is specialized in one thing or the other. So, students just have to find the best fitting school for them and their goals.
Get branding materials from the Penji platform. Discover how the Penji platform works.

Consider What The Target Audience Is
Since every school has a different personality, universities are selective with who attends as well. There are certain credentials and ambitions that are taken into account when determining who belongs at the school. So, one of the most important feature to include in a strategic university marketing plan is your target audience. In order to convert sales, you have to determine what market to sell to. The reason you can't target everybody is because there will be a small return on investment. For the amount of time and money you put into your marketing plan, you should at least focus on one market to be effective with your marketing.

Have a Unique Sales Pitch
Every university will pitch the same thing to students: an education like no other. Instead of giving the same sales pitch as other schools, allow consumers to think that you're special. Advertise on the location of your school, the professors, majors and minors, or even alumnis. There are plenty of unique features that can make your school stand out. If you do not know where to start or how your school stands out, consider these things:

For what kind of student are you solving the problem?

List the benefits of graduating from your school

Have a list of people representing the school or name students that have benefited from your education

What are the students like once they graduate? How can future students compare?

How can students impact the world or community around them if they graduate?

Once you determine the things that makes your school stands out, include it as a pitch in your strategic university marketing plan. Consumers want to feel like they have gained from their purchase, not feel like they've wasted their money. So, make you target audience feel special out of your strategic university marketing plan.
Requesting Marketing Materials on the Penji platform
Upon sign up, you can finally use the Penji platform to request the designs you need. It's a three-step process from requesting to receiving your design. Here's how you can do it.
Step 1: Create a Project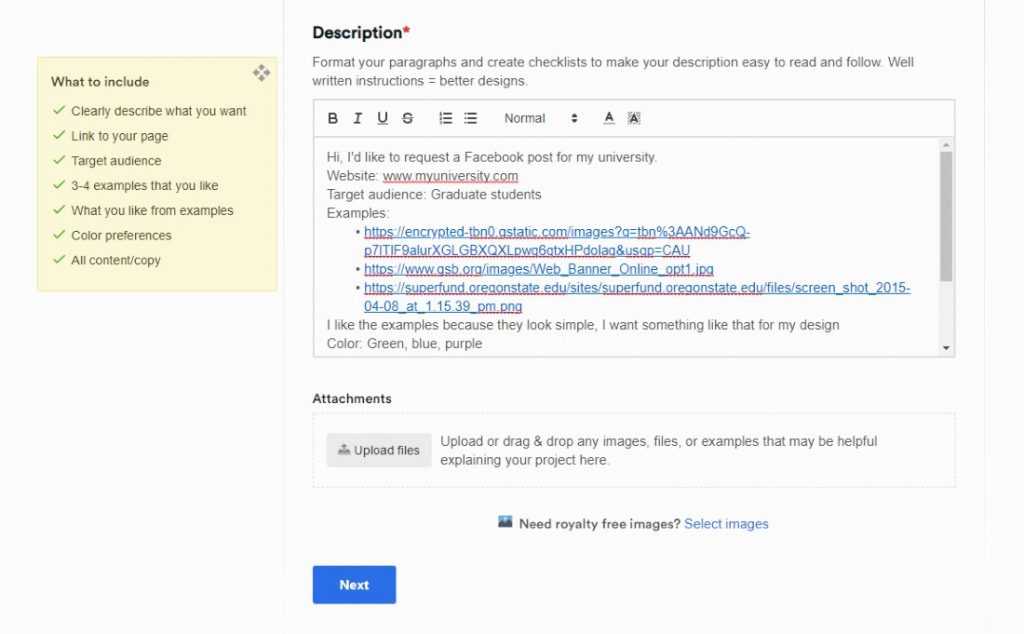 On the Penji platform, click New Project. From there, supply a project title and choose a design type on the Design Category. If you can't find the design type you want, click Create a Custom Project.
After that, provide a Description. Please follow the What to Include guidelines. This way, your designer can work on your design instantly based on your requirements. After this, you can select the Level of Customization and File Deliverables then Create project.
Once you submit your project, a designer can work on your design straight away. Please expect to receive the design within 24 to 48 hours. Not all graphic design services have this quick turnaround.
Step 2: Review Design
Once your designer submits the first draft, you can review it. If you think the design needs more improvement, use the point-and-click revision feature. This way, you can specify what needs revisions. You won't have to email your designer or download it and use any other software. The revision tool can pinpoint what needs improvement, and the designer can work on it in a snap.
Step 3: Download Design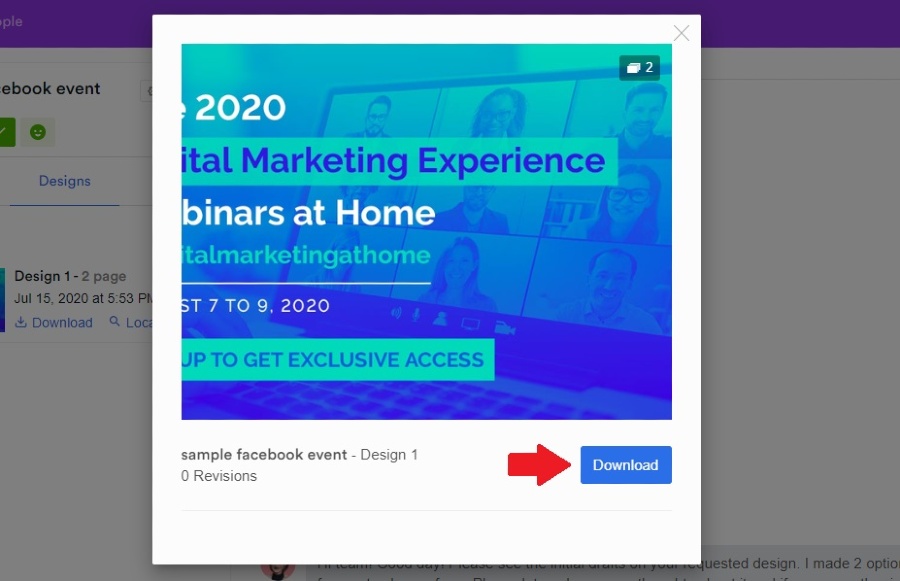 Are you happy with the design you received? All you have to do is download it.
Click the Download button, and the designs are all yours! Plus, access it anytime when you need it. We store your files on a cloud, so download them anytime and anywhere.
Tap Penji as Your Graphic Design Partner
Use Penji for all university-related designs or materials, not just marketing. Get the designs you need for your merchandise and products. Plus, request banners and other designs that will increase school spirit. For only $499/mo, you can get exclusive access to all design requests. Subscribe to the Team plan now and try the platform free for 15 days.