Fact Sumo is an educational website, with the mission to help everyone reach their full potential.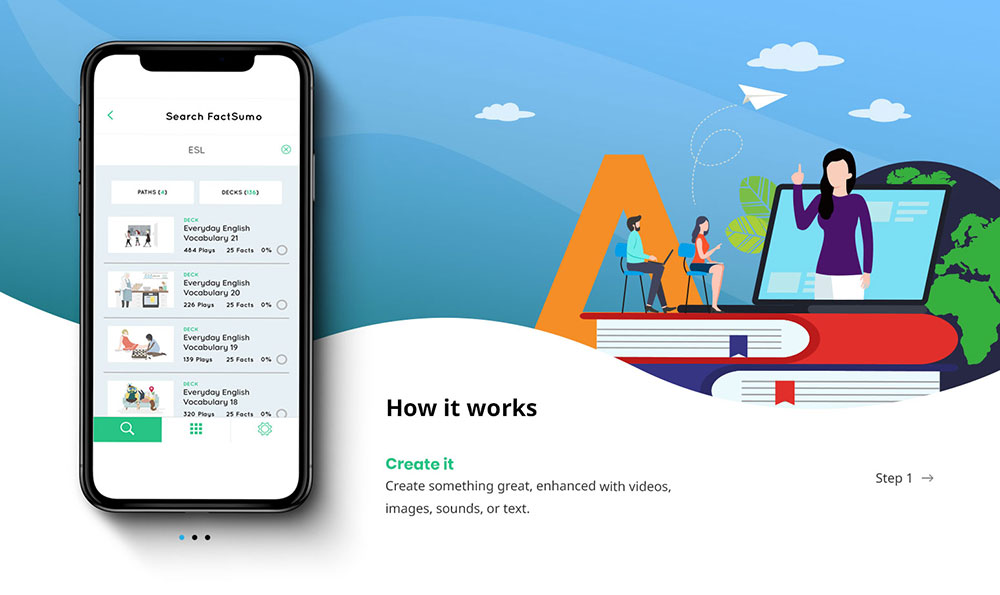 About Fact Sumo
Based out of Philadelphia, Fact Sumo is an educational website, with the mission to help everyone reach their full potential. The company posts lessons, covering all types of topics. From the U.S. Driving Exam to Mandarian, it's possible to learn a little of everything on Fact Sumo. Their tech-focused approach to education wants to inspire people to help learn in modern ways. Despite starting as a website, they now have apps on both Android and iOS devices with the same learning strategies. They prioritize their audience by combining effective lesson plans with consistent user experience.
Challenge

Kim Ramirez is the co-founder of Fact Sumo. She works hard with her team to ensure the lessons are clear and understandable. She knew design plays a large role in that. Her team is great at putting together lesson plans for users, but designing was never their forte. This meant finding a designer who could create the visuals she was looking for.
She needed designs for lesson-specific uses, such as syllable learning or plural word cards. However, she also needed a designer that could help with their reach. They still needed a landing page to encourage new users to join fact sumo. With two unique styles and needs, she wanted a designer who could do it all.
Solution

When Kim found out about Penji's on-demand design plan, she signed up and started requesting the projects she was looking for. One of the first projects requested other co-founder, Kevin Ramirez, was a set of custom learning cards. The challenge was not only having good design, but the copy had to be flawless. Text is always important in any design, but when the goal is to educate, it has to be perfect. Our team of designers got to work to make sure the copy was clean, and the designs flowed.
For this specific project, it was a set of 40 cards, each with its own information. All the cards needed special designs to match the grammatical rules of the card. For example, if the sample sentence on the card is "Stepping into puddles will make your shoes wet," then our designers created a boy stepping into a puddle covered in mud.
Results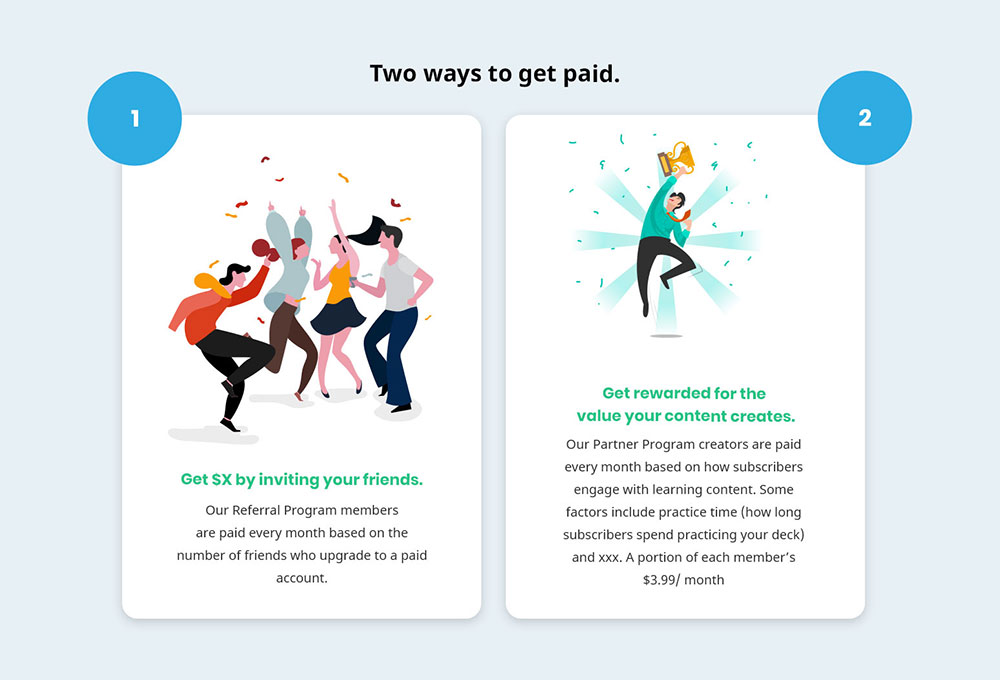 "Truth be told, we're not graphic designers. We focus on the learning material and we let Penji take the lead on the graphic design"
-Kim Ramirez, co-founder of Fact Sumo
After this project, Fact Sumo continued to use Penji for a variety of projects. They eventually began requesting marketing materials. They requested the landing page they were looking for before, as well as a variation of their logo for another part of their webpage. Fact Sumo continues to make waves in the area. In the last month, Fact Sumo teamed up with Philly Counts and the city of Philadelphia. The initiative supports the city by ensuring there is material available for citizens to understand why the census is important, as well as testing general knowledge of the process. Want to learn how Penji can help you with your business' graphic design needs? Schedule a demo with our team to learn more. Or if you want to learn about how Penji helped Red Queen create over 30 different advertisements in just 48 hours, read their story here.