Bringing in sales for agencies or startups is never easy. Cold emailing can be akin to trying to find a needle in a haystack. You need to reach out to your cold audience, catch their interest, and generate leads. But while in the process, you also have to avoid looking desperate or you'll put the company in a bad light. This is where a prospecting script comes in handy. By having an email template and by anticipating clients' reactions, you can up your chances of closing a deal.
If you're looking to boost the impact of your cold email template, check out Penji. Offering unlimited graphic design for a flat monthly rate, you can have expertly-designed email marketing templates and email newsletter templates. Whether you need a graphic designer to make creative images for your branding or make merch designs, Penji will provide value for your every buck.
Survey Script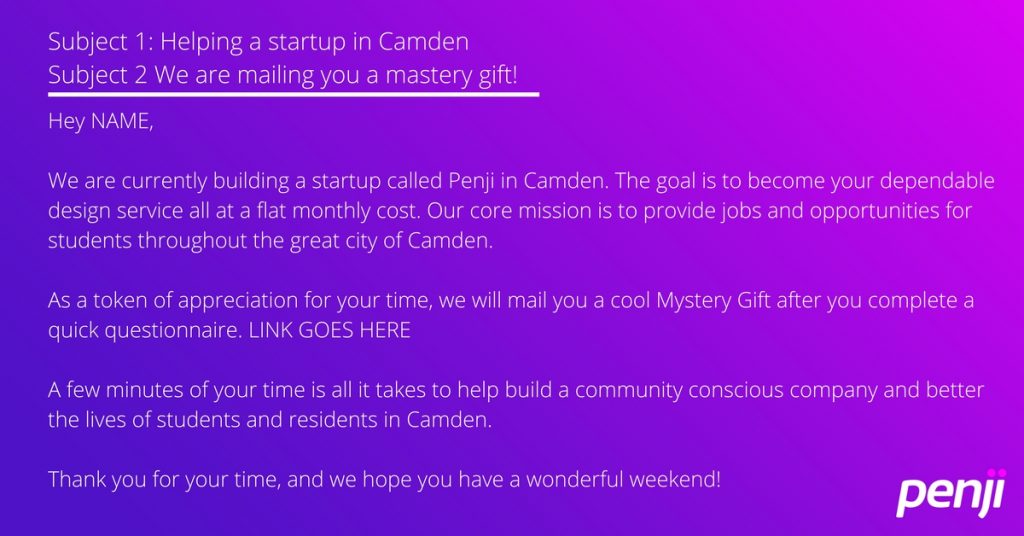 Subject 1: Helping a startup in Camden
Subject 2: We are mailing you a mastery gift!
Hey NAME,
We are currently building a startup called Penji in Camden. The goal is to become your dependable design service all at a flat monthly cost. Our core mission is to provide jobs and opportunities for students throughout the great city of Camden.
As a token of appreciation for your time, we will mail you a cool Mystery Gift after you complete a quick questionnaire. LINK GOES HERE
A few minutes of your time is all it takes to help build a community conscious company and better the lives of students and residents in Camden.
Thank you for your time, and we hope you have a wonderful weekend!
ANOTHER LINK TO THE SURVEY GOES HERE
Bulk Cold Email
This email is a great script to send massive emails out to a large list of people that know absolutely no idea who you are. Please note, results may vary and this email is geared towards Penji. However, we hope that this email gives you inspiration to write your own:
Cold Email 1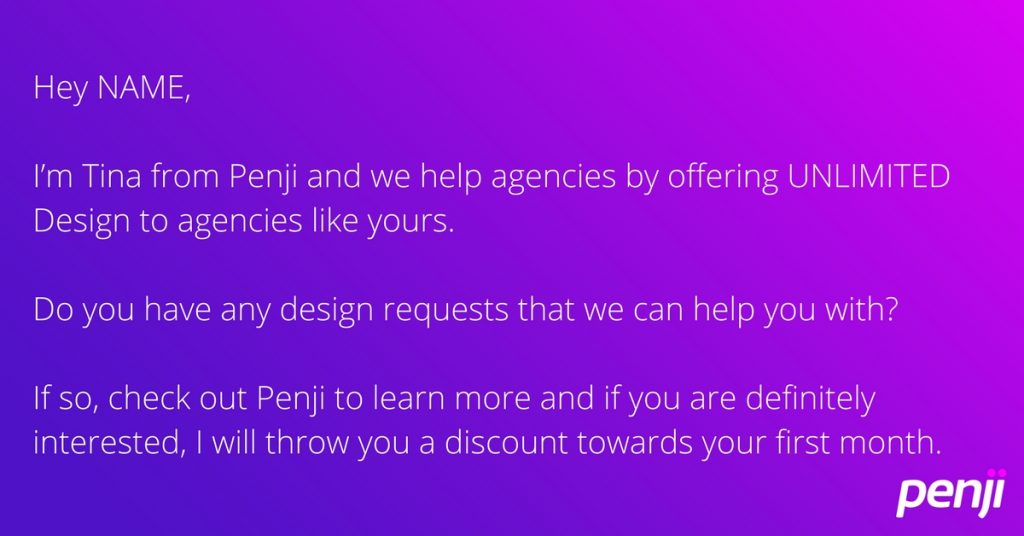 Hey NAME,
I'm Tina from Penji and we help agencies by offering UNLIMITED Design to agencies like yours.
Do you have any design requests that we can help you with?
If so, check out Penji to learn more and if you are definitely interested, I will throw you a discount towards your first month.
Cold Email 2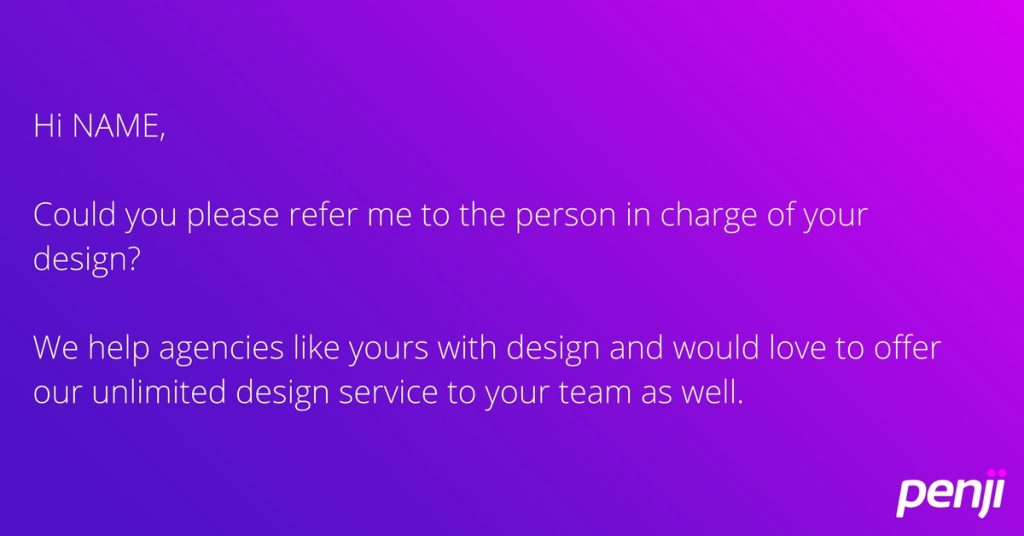 Hi NAME,
Could you please refer me to the person in charge of your design?
We help agencies like yours with design and would love to offer our unlimited design service to your team as well.
Cold Email 3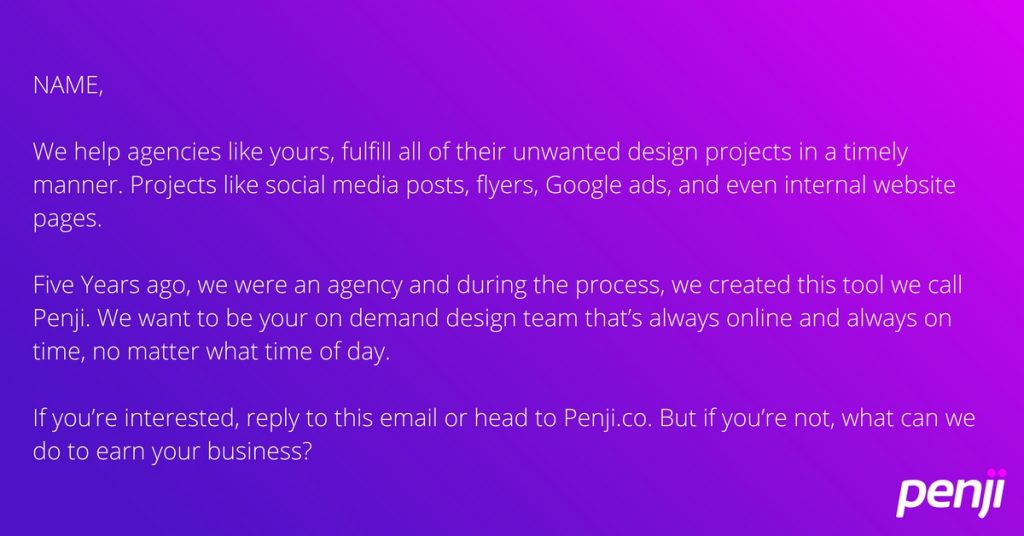 NAME,
We help agencies like yours, fulfill all of their unwanted design projects in a timely manner. Projects like social media posts, flyers, Google ads, and even internal website pages.
Five Years ago, we were an agency and during the process, we created this tool we call Penji. We want to be your on demand design team that's always online and always on time, no matter what time of day.
If you're interested, reply to this email or head to Penji.co. But if you're not, what can we do to earn your business?
Media Outreach Email
I'd like to give a special shoutout to Alex Berman who inspired the next clip. He has a ton of content about sales on his YouTube channel and runs great company called Experiment27. Check him out when you can. These are a list of prospecting emails that we used to get press and land podcast opportunities for our founders: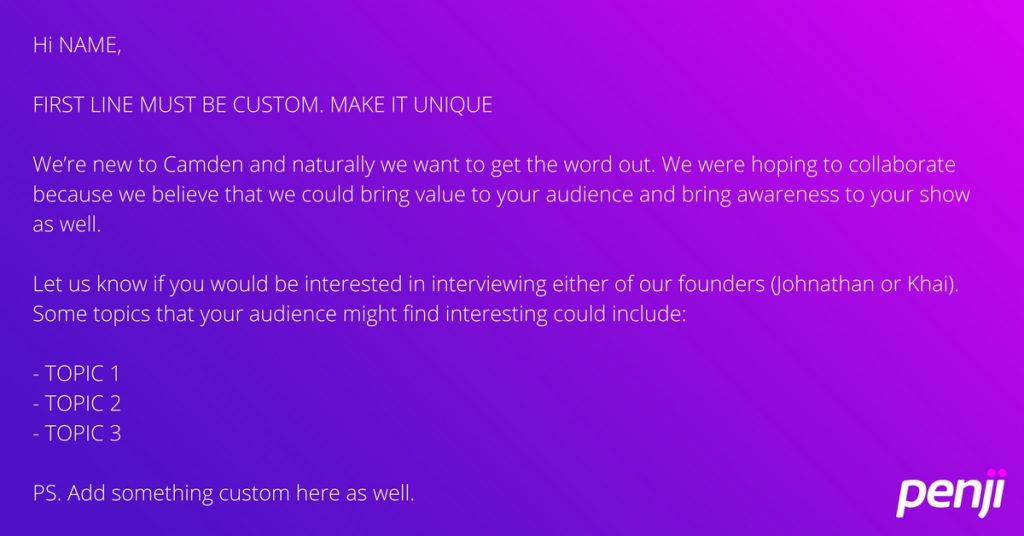 Hi NAME,
FIRST LINE MUST BE CUSTOM. MAKE IT UNIQUE
We're new to Camden and naturally we want to get the word out. So, we were hoping to collaborate because we believe that we could bring value to your audience and bring awareness to your show as well.
Let us know if you would be interested in interviewing either of our founders (Johnathan or Khai). Some topics that your audience might find interesting could include:
– TOPIC 1, 2, & 3
PS. Add something custom here as well.
Semi-Personalized Email
If generic email and newsletter templates don't make the cut, make your attempt to reach out more personal. You can do this by knowing more about the company and identifying pain points that you can help with. By directly addressing their concerns, there's a better chance of catching their interest. Though this approach might take a bit more research time, the stronger impact will be worth it.
One excellent step to take is to include the recipient's name in the subject. It can be as easy as putting their name before your intended heading. According to a report by Propeller, doing so can up the chances of your cold email being opened by 22.2%.
Semi-Personalized Cold Email 1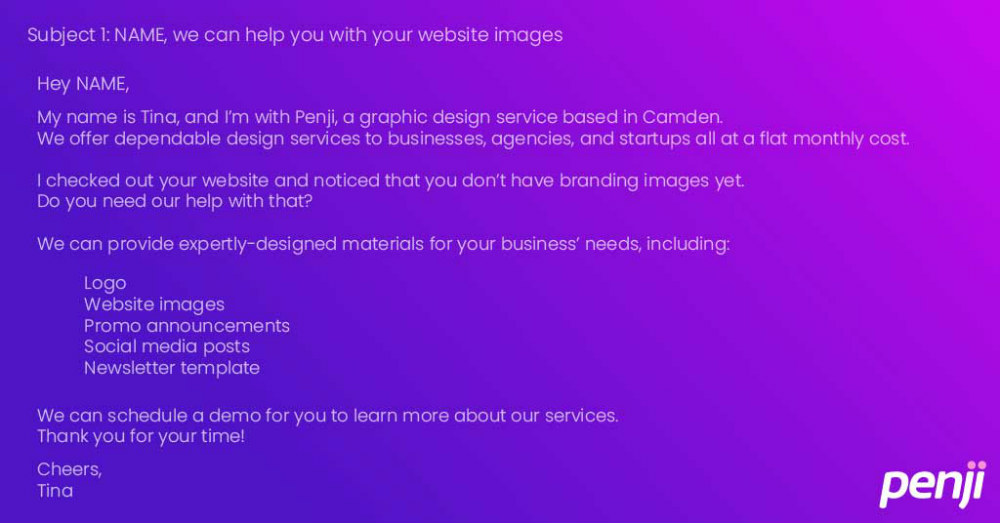 Subject 1: NAME, we can help you with your website images
Hey NAME,
My name is Tina, and I'm with Penji, a graphic design service based in Camden. We offer dependable design services to businesses, agencies, and startups all at a flat monthly cost.
I checked out your website and noticed that you don't have branding images yet. Do you need our help with that?
We can provide expertly-designed materials for your business' needs, including:
Logo

Website images

Promo announcements

Social media posts

Newsletter template
We can schedule a demo for you to learn more about our services. Thank you for your time!
Cheers,
Tina
Semi-Personalized Cold Email 2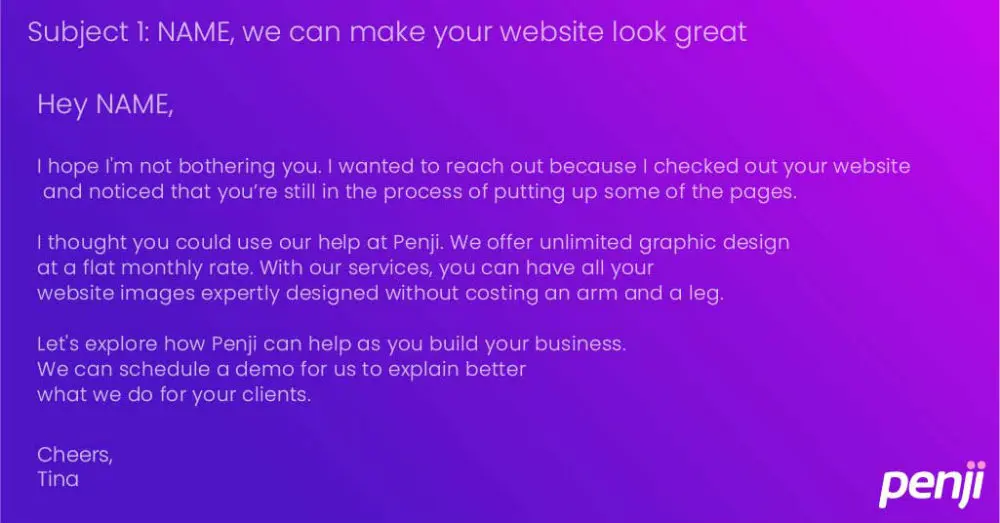 Subject 1: NAME, we can make your website look great
Hey NAME,
I hope I'm not bothering you. I wanted to reach out because I checked out your website and noticed that you're still in the process of putting up some of the pages.
I thought you could use our help at Penji. We offer unlimited graphic design at a flat monthly rate. With our services, you can have all your website images expertly designed without costing an arm and a leg.
Let's explore how Penji can help as you build your business. We can schedule a demo for us to explain better what we do for your clients.
Cheers,
Tina
Review these email templates and look out for the ones that might work on your audience. And remember, with preparation, keen planning, and a lot of patience, cold email can be a great tool in generating warm leads.