Think you've got the next great podcast? You want the highest-quality tools to bring it to life, whether it's promoting, editing, or recording.
Podcastle is an AI-powered recording tool that promises to deliver the best audio for pros and amateurs alike. Does it live up to the hype? Read this Podcastle review to find out.
What Is Podcastle?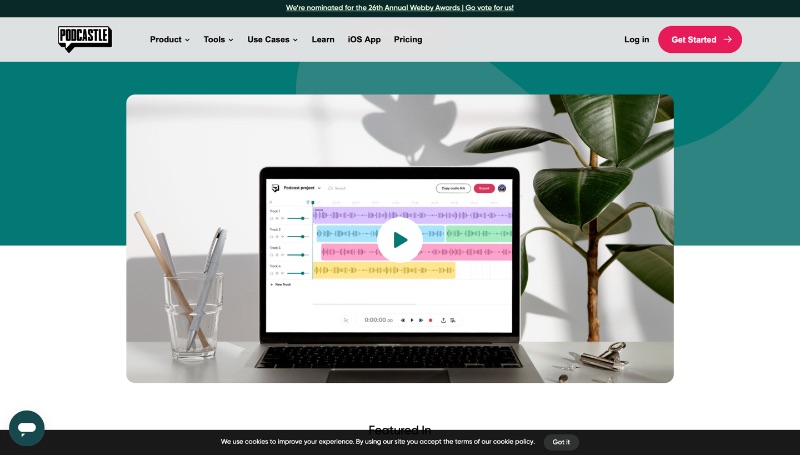 Podcastle.ai is a SaaS tool for recording and editing podcasts. It's not to be confused with the beloved fantasy fiction podcast of the same name.
What sets Podcastle apart from other recorders is its robust free version, which includes unlimited access to recording and editing features. It also touts its use of AI in features like audio-to-text transcription and removing background noise.
Need graphic design help?
Try Penji's Unlimited Graphic Design and get all your branding, digital, print, and UXUI designs done in one place.
Learn More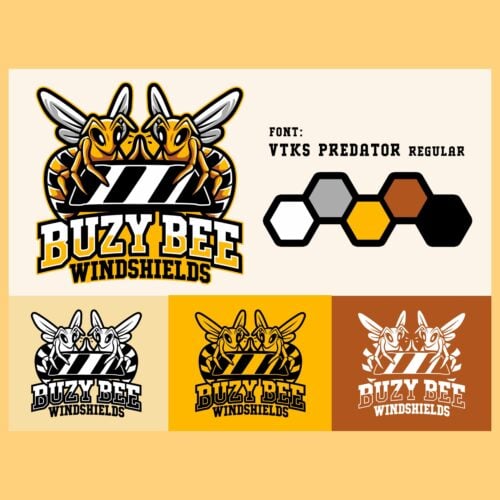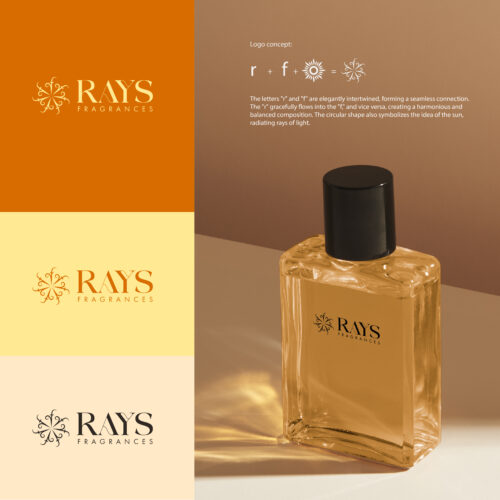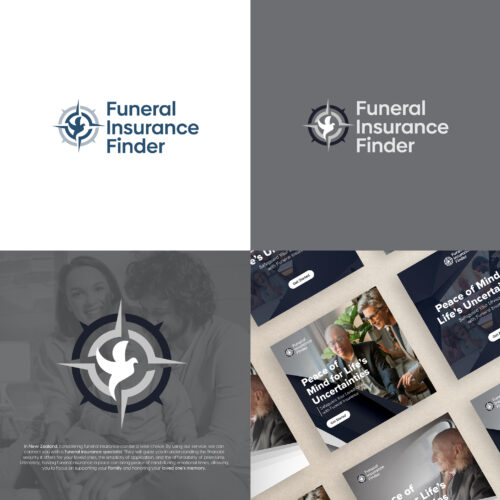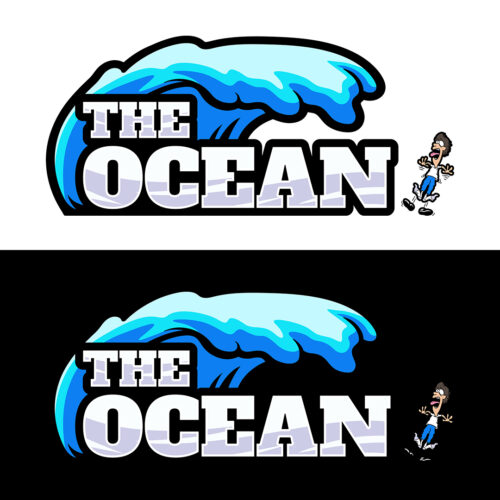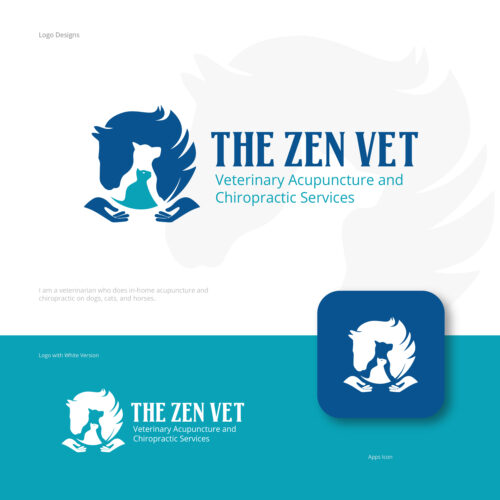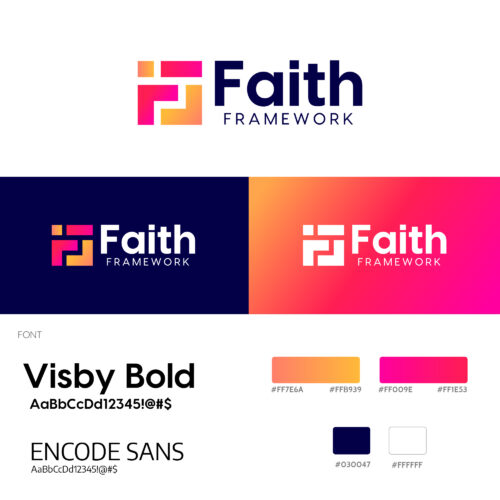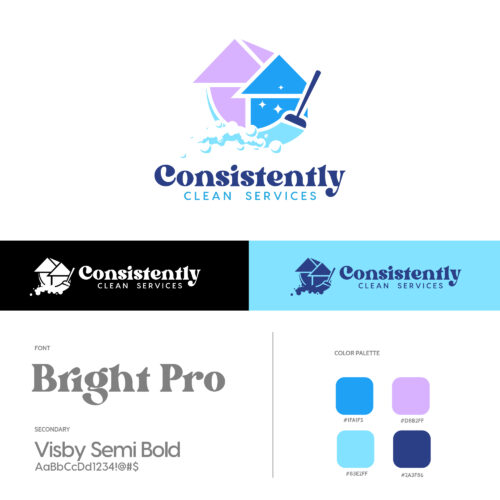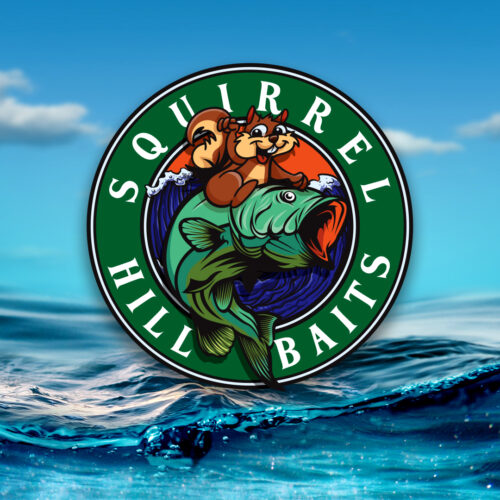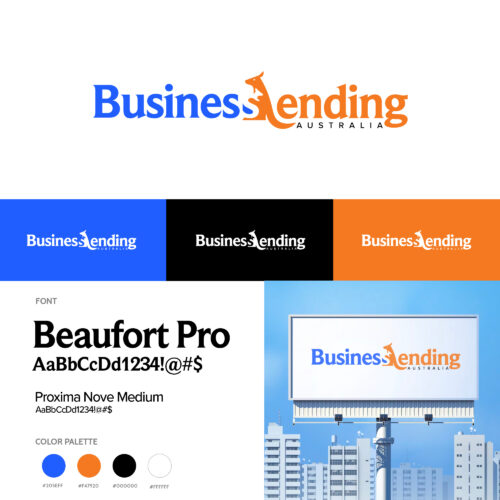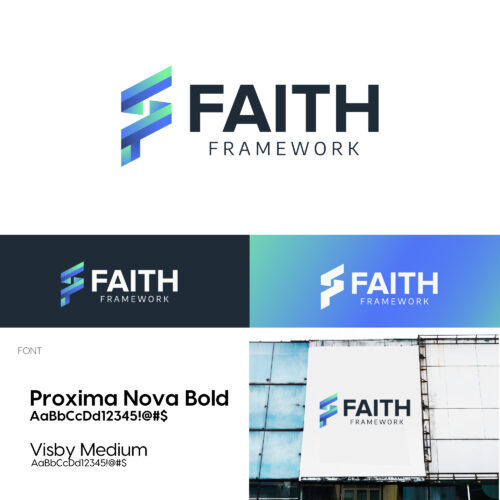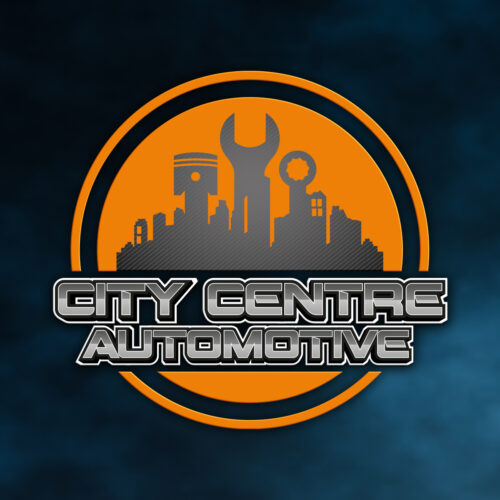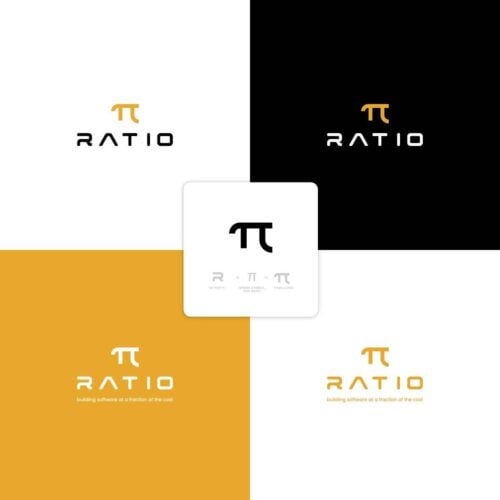 Podcastle Review
There are plenty of free DAWs and recording tools available. Many would say that you're better off investing in high-quality equipment, and the difference in what software you use is minimal. Is it worth investing in? Let's review Podcastle's features.
Podcastle Pricing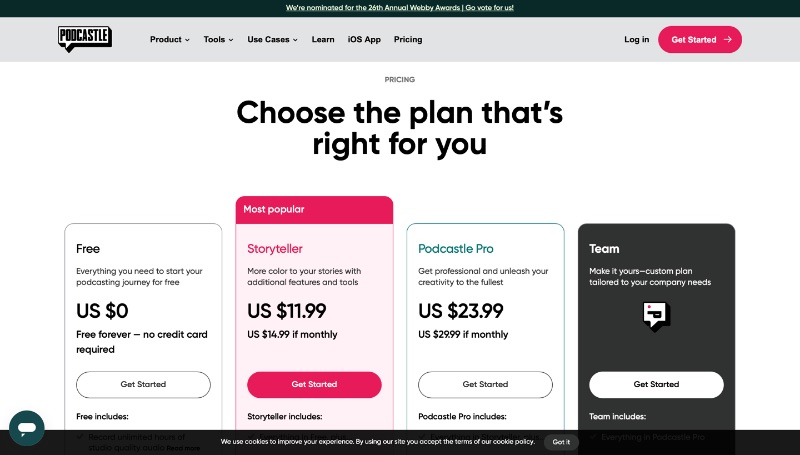 As previously mentioned, Podcastle has a stellar free package. Most users won't ever need to pay for any of their other pricing tiers, but they can be useful for larger podcasting teams and brands.
Podcastle pricing tiers
Free: $0/mo. Includes full recording and editing tools, 1 hour of transcription.
Storyteller: $11.99/mo annually, $14.99/mo monthly. Includes premium editing tools, music and sound effects, 10 hours of transcription, noise cancelation, and lossless downloads.
Podcastle Pro: $23.99/mo annually, $29.99/mo monthly. Includes 25 hours of transcription, early access to new features.
Enterprise users can also create their own bespoke plans.
Podcastle Review: Getting Started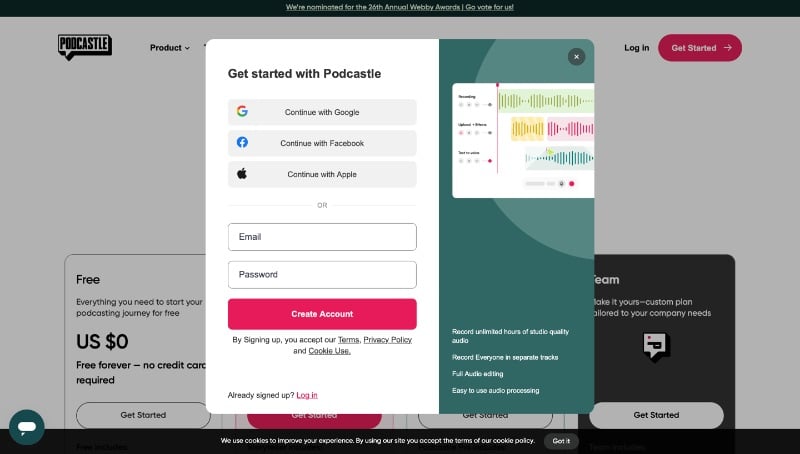 Getting started with Podcastle is as simple as inputting an email and password. You're taken to a handy welcome page, which asks you what you plan to use Podcastle for and recommends a plan for you.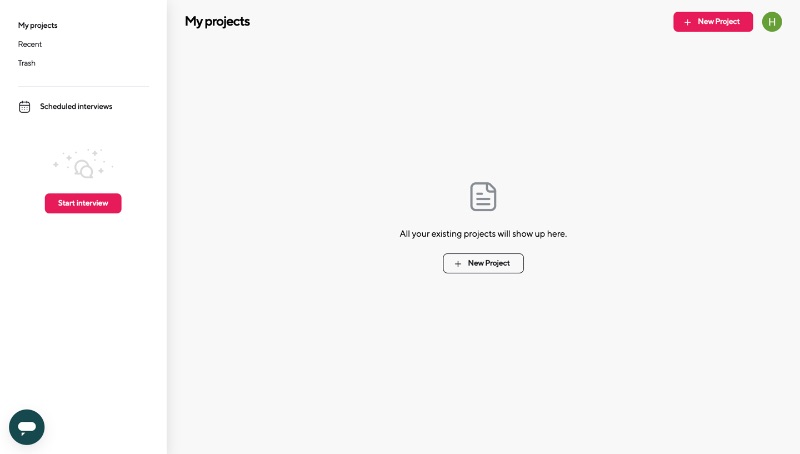 Next, you'll find yourself at your dashboard. Here, you can always find your projects, recordings, and schedule. Click the "New Project" button and you're taken to the editor screen, where you can upload files, record, use text-to-speech, or conduct a remote interview.
Podcastle Review: Features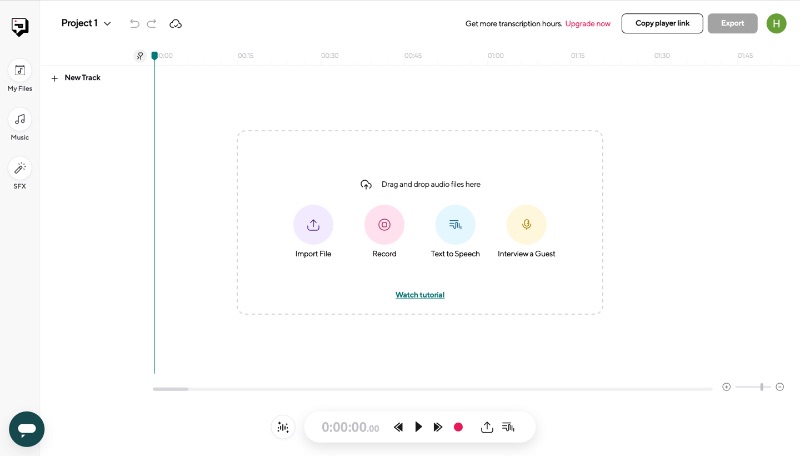 Similar to DAWs like Audacity and Garageband, recordings you make on Podcastle go directly into the editor.
For best results, I recommend using Podcastle on Chrome or mobile. I tried to use it in Safari and found that it was too laggy to function. The interview feature only works on Chrome and the mobile version.
Importing files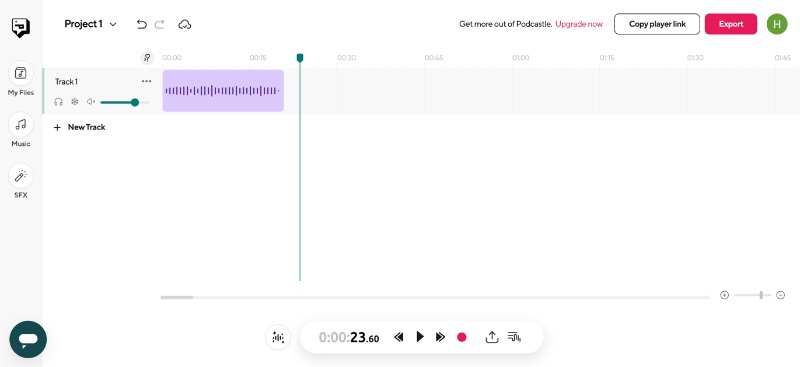 When you select "import," you can pick any audio file you have saved and it'll be dropped into the editor. Podcastle supports a range of audio types, including .mp3, .wav, .m4a, and .aiff. For exporting, however, free users can only save as .mp3.
Recording
When you select "record," you're prompted to pick which mic to record and test your audio. It's a simple, sleek interface that also lets you auto-download recordings to prevent loss from internet outages.
As you record, your audio appears in the editor. Once you're done, it only takes a short moment to process, and then you're free to edit.
The quality of the recording is, as always, dependent on the quality of your mic and recording environment. AI tools or not, you'll still hear an echo if you record in an echoey room. Still, it's a simple recorder with a quick turnaround.
Text to speech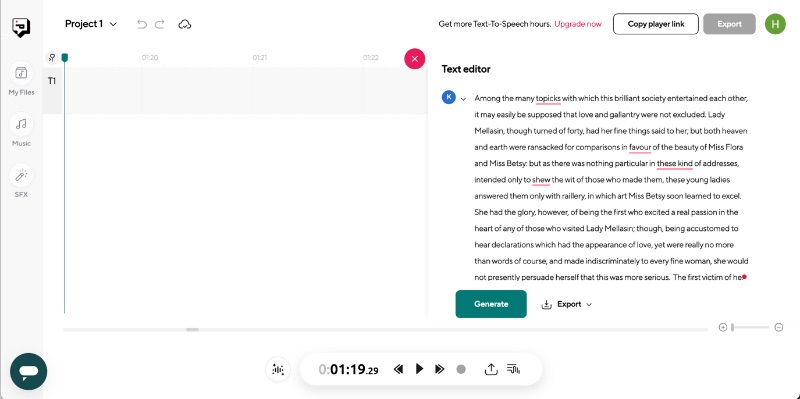 Text-to-speech lets you paste in text to be rendered by a robotic voice. You can't import text files, but you can save the text you've put in as a .pdf or .docx. This feature may be useful for education, accessibility, and fiction podcasts.
I was impressed with the relatively quick loading time on this feature: about a minute for three paragraphs of text. There's a decent variety of voices, ranging from robotic to vaguely lifelike. I wouldn't recommend it to narrate an entire story, but it's a fun and functional feature.
Interview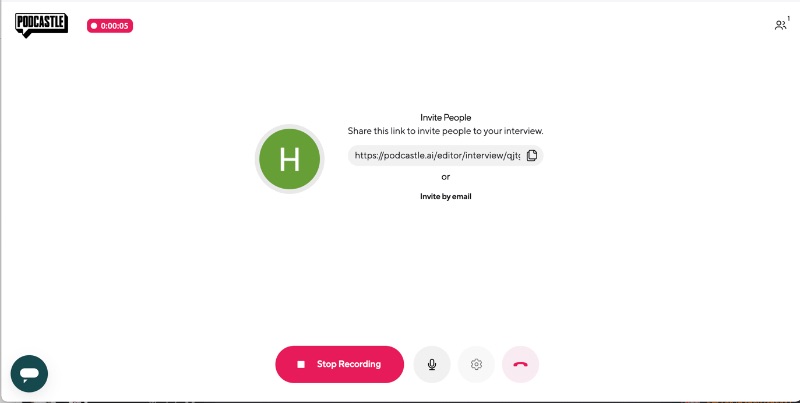 The "interview a guest" option takes you to a different interface. While you'll just see a plain white screen during the call, your files should be just about ready when you're done.
Hit "Stop Recording," hang up the call, and you're taken right back to the editor. Your separate audio tracks should already be waiting for you.
Editor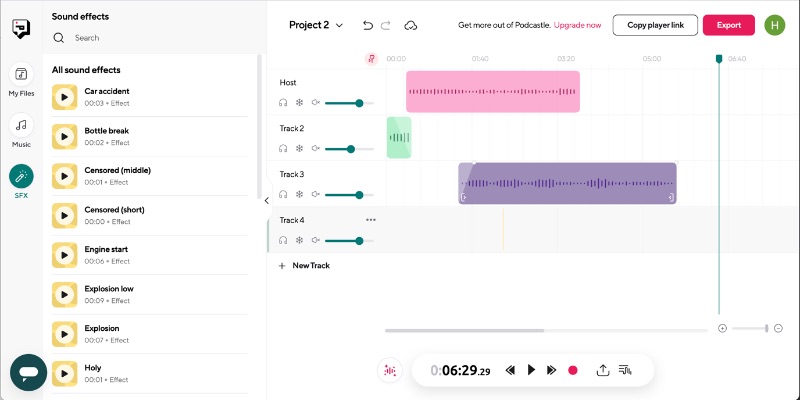 Once you have all your tracks together, you can head over to the editor. If you know your way around a DAW like Audacity or Pro Tools, you may find this editor lacking in features. Relative to other SaaS podcast tools like Riverside.fm, however, it's surprisingly functional.
You can easily split, shorten, fade, and adjust volume on clips with unlimited tracks. There are features to shorten silence and remove noise, plus a solid library of royalty-free music and sound effects.
If you prefer to use a more robust audio workspace, Podcastle makes it easy to download clips. Just right-click on a file and hit "download;" it'll save to your computer as a .wav and you can go nuts with it.
When you're done, just hit "Export" in the upper right corner to download your podcast. My five-minute clip took about 20 seconds to export, so you shouldn't have to wait too long. Importing and exporting take longer depending on the size of your file, but my hour-long clip was still ready to download within 2-3 minutes.
Podcastle Review: Closing thoughts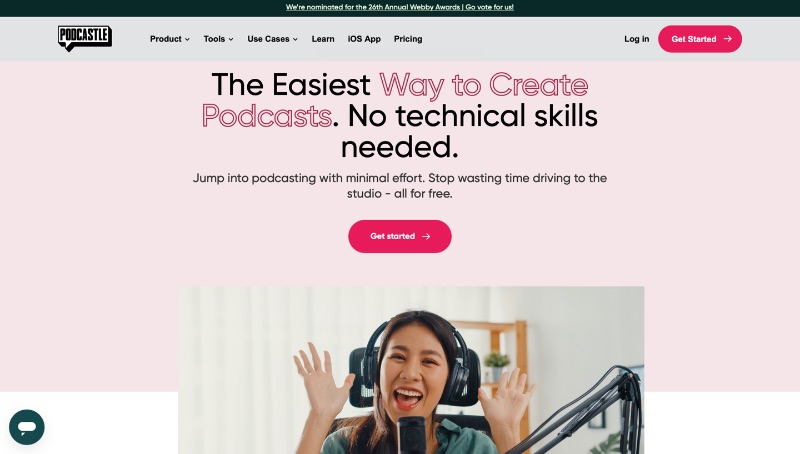 In general, I haven't been too impressed with the utility of podcast recorders. Everyone's computer and phone have built-in recorders, and if you have a good mic and acoustic setup, they'll do the trick.
In doing this Podcastle review, however, I might finally be won over. The golden goose for every would-be podcaster is a free remote chat tool that also produces good audio. While Podcastle's lack of video may be annoying, it's the closest anything has come to checking all those boxes.
Podcastle has surprisingly quick loading times. While it's hardly usable on anything other than Chrome, it's still refreshingly simple and functional. It's basic, but it's got all the meat and potatoes for recording and editing a great podcast.
As a podcaster, I intend to give Podcastle a try. It's got the most robust and easy-to-use tools of any podcast recording SaaS I've seen. I still think DAWs are the best way to record and edit, but for the low price of free, why not give it a go?
Rating: 9/10 🏆
Build Your Brand on Great Designs
With Penji's unlimited graphic design subscription, you get direct help from pro designers so you can grow your audience and get more done with less effort.