Brochures are one of the cheapest marketing materials for modern businesses. They help promote the company and its products in a visually appealing way. Designing brochures has become easier because of the free online tools available in just a few clicks. So, If you plan to create your brochure, check out the 10 online brochure makers we will feature below.
1. Designhill
Designhill is a one-stop solution for the graphic design needs of businesses and individuals. It has online brochure maker features where anyone can make brochures in a few minutes. This AI-powered software makes brochure design fun and straightforward. With Designhill, even non-professional brochure designers can create stunning brochures in minutes.
2. Marq (formerly Lucidpress)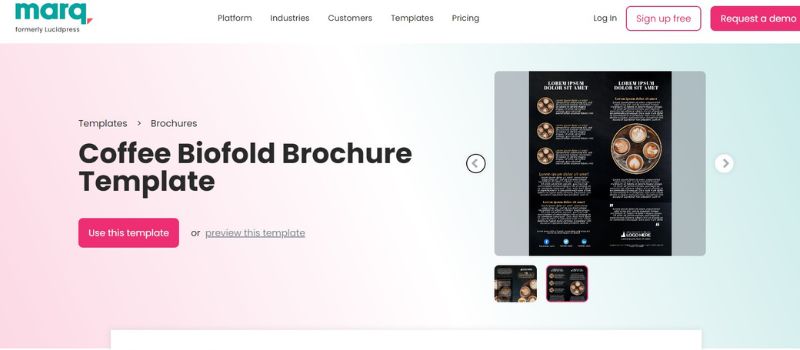 Marq is a web-based desktop publishing software app. It helps you to design professional brochures for free. You can use the tool to create professional brochures per your needs in just a few easy steps.
This versatile tool consists of text and images for various categories and a drag-and-drop interface that makes it a user-friendly tool that anyone can use. You can download the final brochure in multiple formats like JPG, PNG, or PDF for online or printing purposes.
3. Brother Creative Centre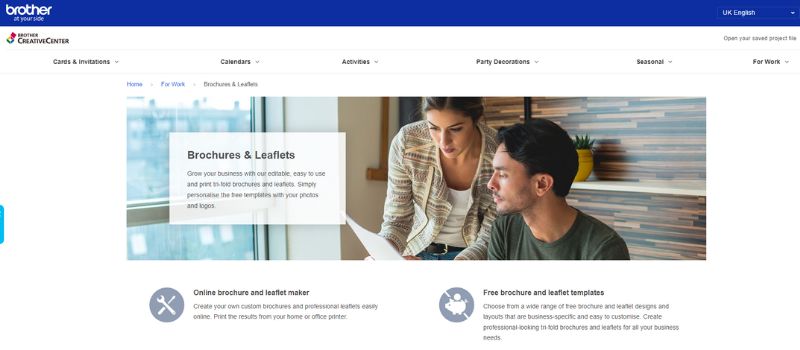 Grow your business with editable, easy-to-use, and print tri-fold brochures and leaflets. It is another website where you can create brochures to attractively showcase your products and services. Brother Creative Centre allows you to design brochures for numerous industries, including education, healthcare, and hospitality. Brother Creative Center offers various free templates for design projects, including brochures, business cards, invitations, certificates, and more.
4. Vistaprint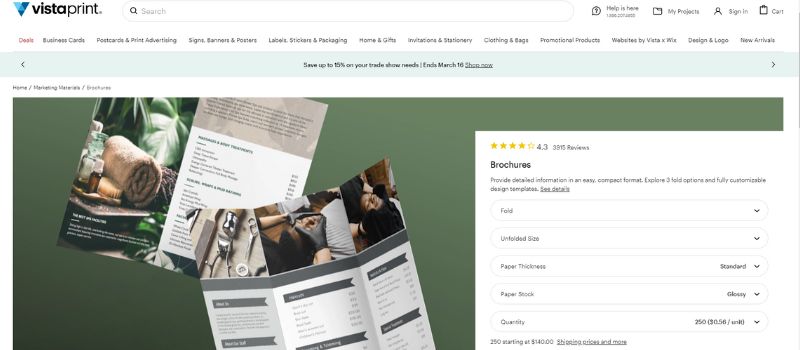 Here's another popular online printing and marketing service that offers an online brochure maker. As Vistaprint, you can find perfect template designs for your brochure here. There are plenty of techniques available that enable you to promote your products and services in front of potential customers. In addition, Vistaprint allows users to customize every aspect of their brochure, including layout, fonts, colors, and images.
5. My Creative Shop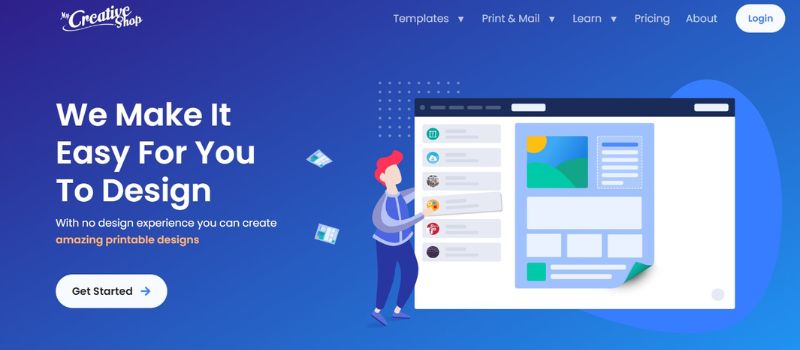 MyCreativeShop is an online brochure maker that offers a variety of customizable templates. The tool consists of drag-and-drop tools for creating professional-looking brochures. With My Creative Shop, you can design brochures in five easy steps. You can use your image and text. Once satisfied with the result, you can download or save it in PDF format for printing purposes. You will have to pay to get high-quality prints directly through this website.
6. Venngage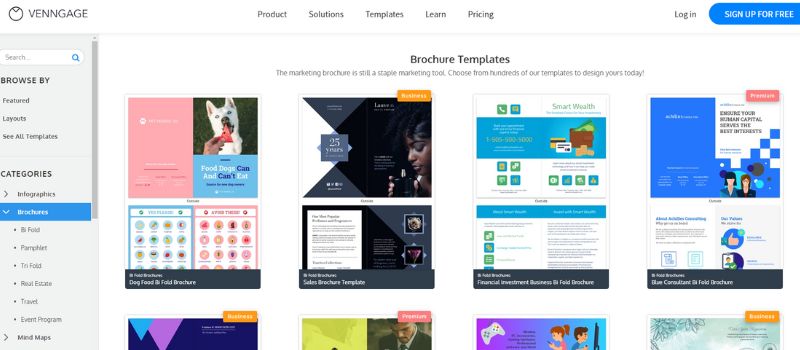 If you're looking for a user-friendly and intuitive platform for creating brochures, Venngage is the place to go. This tool has hundreds of templates in different styles to choose from. And you can add your brand or image, custom content, maps, and illustrations from the gallery to your design to make it more attractive. You can preview your final design with the option to optimize it for print.
7. Canva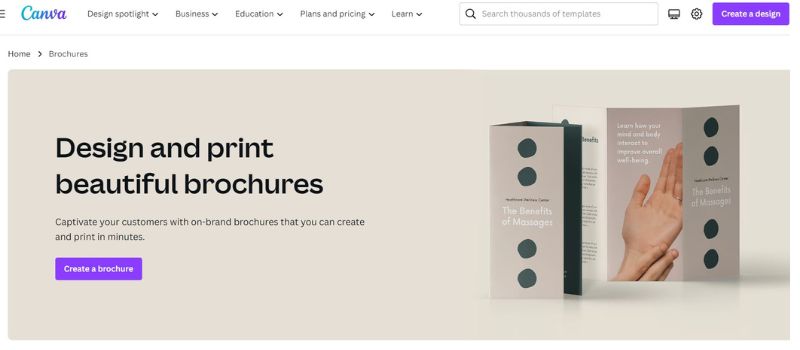 Canva is a popular graphic design tool. You can use this tool online to design visual design needs, including brochures. Whether education brochures, technology brochures, or any other designs, Canva brochure maker makes brochure designing hassle-free. You can design your brochure on your own with an easy drag-and-drop interface. You don't need to be a pro-designer or require specific skills to create a beautiful brochure for your business.
8. FlippingBook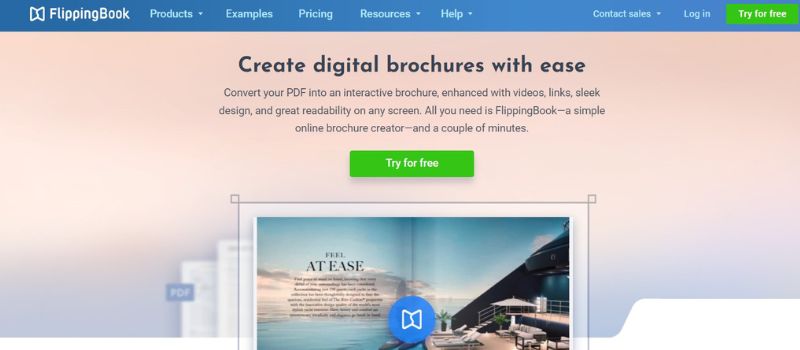 At Flipping book, you can design any brochure with attractive features. It offers easy customization, importing options, and easy upload of photos. It has free templates for customization to give a personal touch to your digital brochure designs. This features a user-friendly and versatile platform for creating engaging digital publications that can be shared and distributed online.
9. Designbold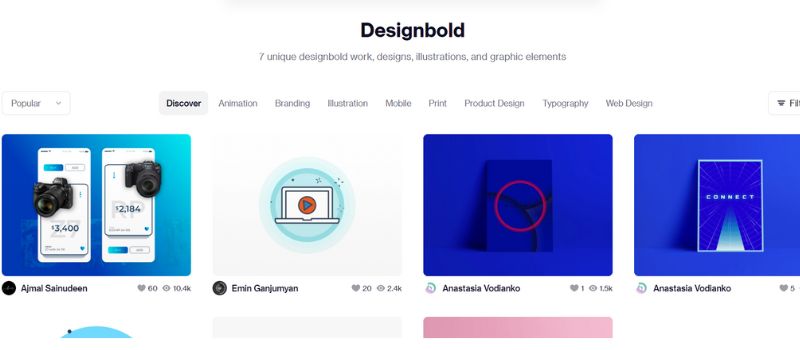 DesignBold is an online graphic design tool offering various customizable templates and drag-and-drop tools for creating brochures, flyers, and other marketing materials. It also allows you to collaborate with others on your designs. You can share your creations with team members, receive feedback, and work together to make changes.
10. Visme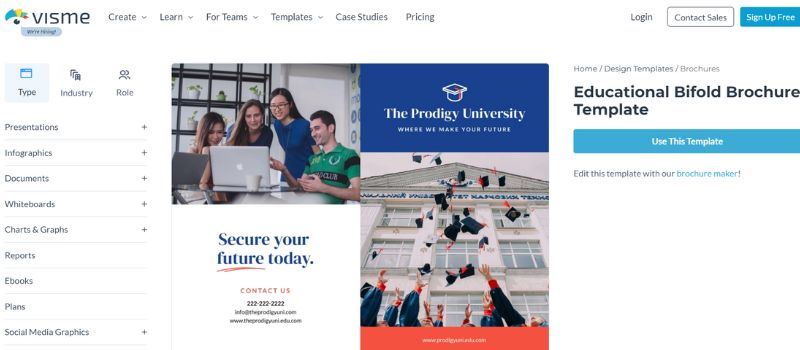 Visme is a versatile online design tool that offers a range of customizable templates for creating brochures, flyers, and other marketing materials. This cloud-based visual creation is a powerful design assistant for non-designers and designers, focusing on customization and collaboration.
Common Types of Brochures
Brochures have unique characteristics based on their folding options. Each layout is suitable for certain types of content.
Half Fold Brochure. Also called a bi-fold brochure, this type comprises a single sheet of paper folded twice. This fold is best for simple product presentations, like one or two product features.
Tri-fold Brochure. As the name suggests, the trifold brochure divides a single sheet of paper into three. Tri-fold type is perfect for general-purpose brochures.
Z-Fold Brochure. This brochure also divides a single sheet of paper into three. The Z-fold is also ideal for general product presentations.
Gate Fold Brochure. This brochure fold works excellently with single-product presentations or graphic-heavy designs.
French Fold Brochure. Graphic-heavy designs, invitations to sales and events, and maps are great applications for the French fold.
Accordion Fold Brochure. The accordion fold is suitable for creating a step-by-step tutorial for your customers.
Double Parallel Fold Brochure. This fold is great for a reference material that customers could use for your products and services
Parallel Map Fold Brochure. This type looks similar to the double parallel fold. The parallel map fold is ideal for information-heavy content, especially if you want to detail a wide range of products and services.
Conclusion
In today's digital world, creating well-designed brochures for branding is a must! The online brochure maker tools will help you design brochures quickly and with minimal effort. Plus, you can use these tools even with no graphic design experience.
Do you want more options? Then you can also try Penji's unlimited design service for your brochures and other marketing assets. Try out Penji for 30 days—risk-free and with no long-term commitment. Check out the pricing plans to learn more.