ChatGPT has become the internet's darling. People have used it to chat with the AI for random things or troll it. One of its main benefits is for marketers or business owners looking for content to post on their websites, blogs, or social media accounts. Even though ChatGPT can generate text from scratch, is it original, or is it committing plagiarism? You might wonder, is using ChatGPT plagiarism? We explore this question below.
Can ChatGPT be Detected for Plagiarism?
Yes, ChatGPT can be detected for plagiarism. We submitted a prompt for ChatGPT to write a blog about social media marketing trends for 2024. Its generated content is impressive. But we needed to check if it committed plagiarism. So, we took three plagiarism checkers to the test: Grammarly, Duplichecker, and SmallSEOTools.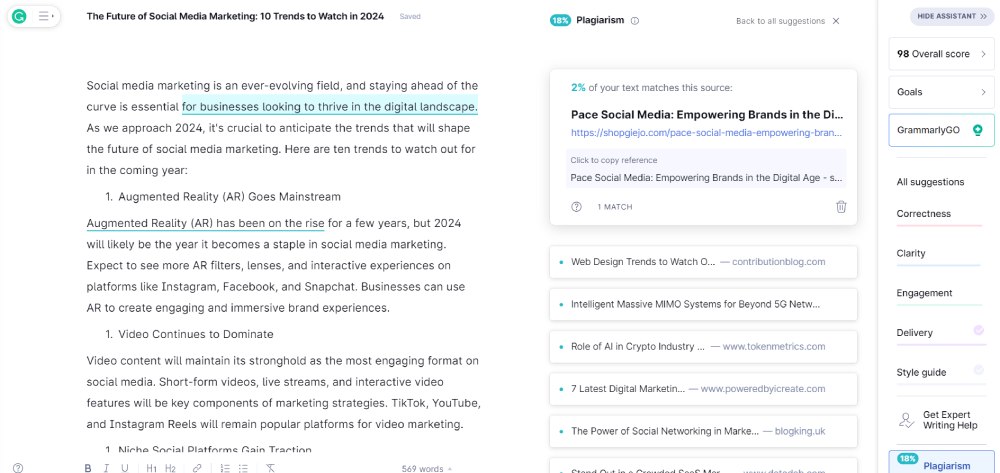 We ran the blog post on Grammarly. It turns out that 18% of its content is plagiarized. That is a high number; you don't want to learn that your blog is 18% plagiarized. Fortunately, Grammarly points out plagiarized phrases or sentences, allowing users to edit before posting.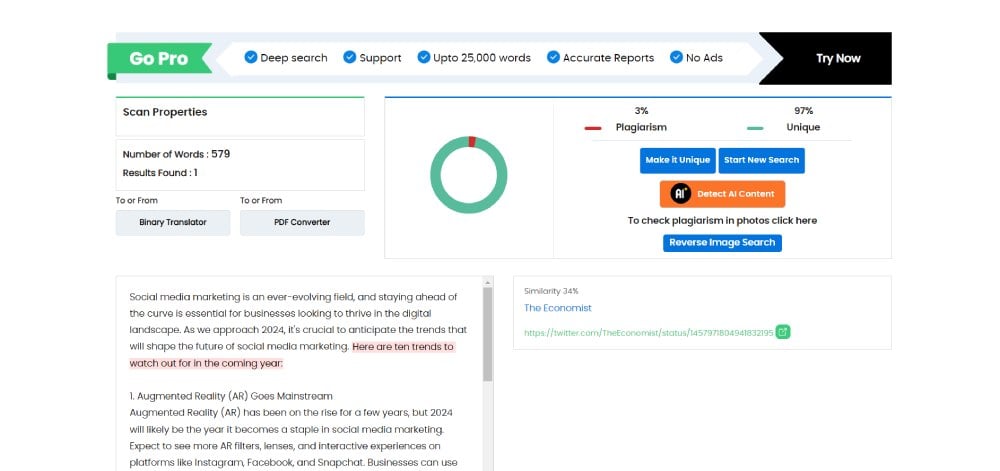 Meanwhile, Duplichecker found that only 3% of the text was plagiarized. However, you should know that as a free plagiarism checker, it doesn't do a deep check unless you're subscribed.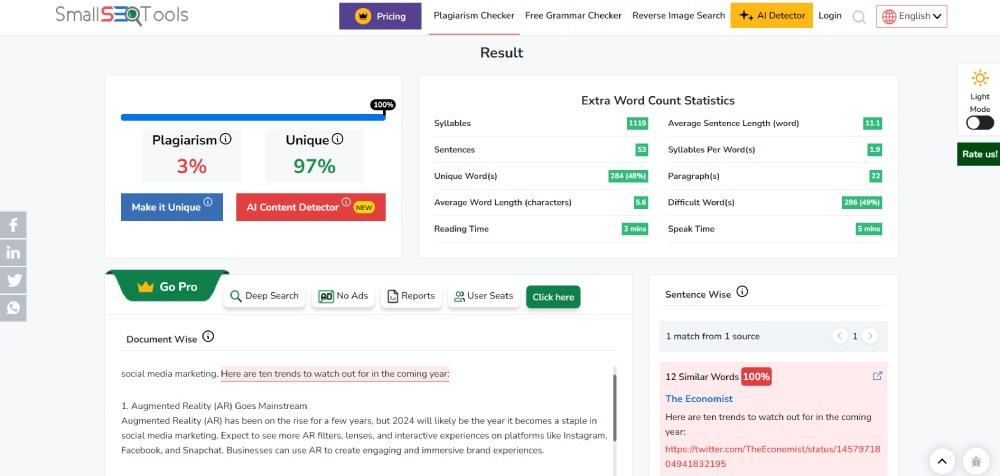 Finally, our last plagiarism checker, SmallSEOTools, revealed the same percentage from Duplichecker. Once again, you need a subscription to run a deep scan.
ChatGPT's Response Regarding Plagiarism
We asked ChatGPT if it plagiarized content. Here's its response:

Google's Stance on Plagiarized Content
According to the Search Engine Roundtable, Google has the tech and algorithms to detect plagiarized content. They consider it "scraped content," which could affect your site's rankings.
How Do I Avoid Plagiarism on ChatGPT?
1. Use Plagiarism Checkers
Your best arsenal against plagiarism is plagiarism checkers. This ensures that ChatGPT-generated content is checked thoroughly. Most plagiarism checkers will detect if an AI or human wrote the text. Some generators will flag your text if it has similar phrasing to other blog posts or written content.
2. Partner with A Content Editor
Your other defense against plagiarism is an actual human-checking ChatGPT-generated content. Even though the content editor isn't trained to detect plagiarism, at least they can edit awkward or cringy phrasing or wording. After that, your content editor can run the article or copy on a plagiarism checker.
3. Hire a Writer
If you want to avoid any plagiarism coming from ChatGPT, your best bet is to hire a writer. Having a writer by your side can eliminate the stress of having plagiarized content. Most content writers will thoroughly research your topic of interest and will use tools to ensure they publish original posts.
Is Using ChatGPT Plagiarism?
Well, using it is not plagiarism. But if you don't check the generated text using a plagiarism checker, it counts as such. Even though ChatGPT is an advanced artificial intelligence system, it can still make mistakes.
AI Plagiarism Checkers
If you're adamant about using ChatGPT for your content marketing efforts, it's good to prepare a handy AI plagiarism checker by your side. Here are our top picks!
1. Grammarly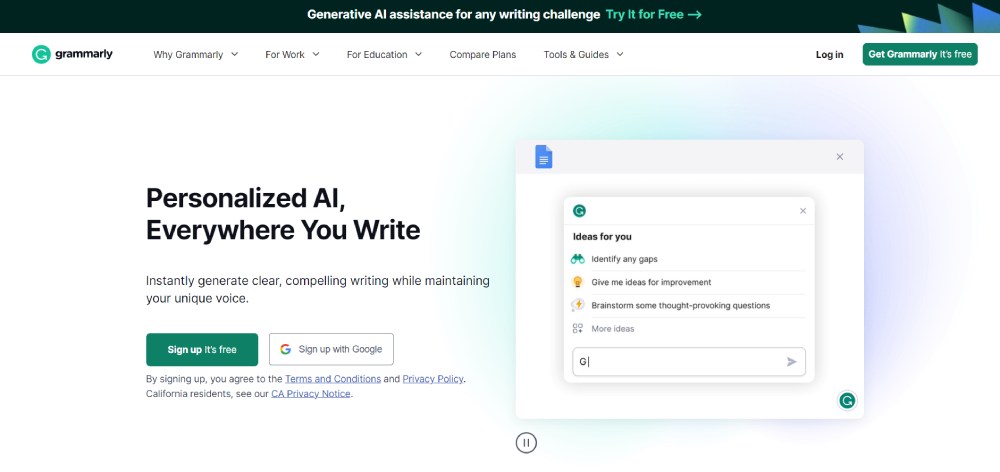 As you can see from the Grammarly plagiarism result above, Grammarly helps you identify content that could be plagiarized by ChatGPT. Its sources come from billions of web pages and databases. With this, you can edit similar sentence structures or phrasings and post your blogs or other text content with confidence.
Unfortunately, you have to subscribe to the Premium and Business plans to unlock the plagiarism checker feature.
Pricing:
Free
Premium – $12/mo
Business – $15/mo
2. Copyscape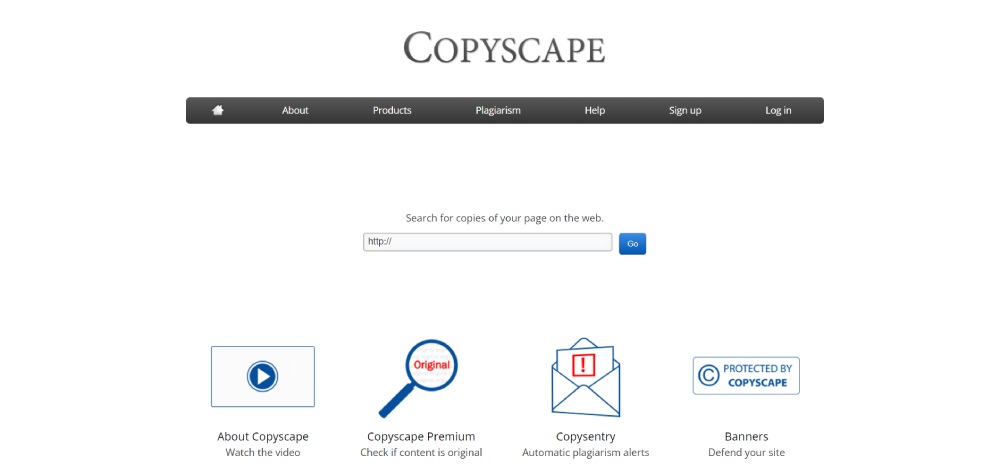 Another well-known plagiarism checker to try is Copyscape. Aside from detecting plagiarism, you can check text against your previous posts! Plus, if you want to show off that your site uses this plagiarism detector, you can use a banner indicating you don't want anyone copying your content.
Additionally, they also offer Copysentry, which will run checks daily or weekly. Plus, your content will be protected.
Pricing:
$0.03 per search (up to 200 words)
Additional $0.01 for an extra 100 words
Standard Copysentry – $4.95/mo (10 pages) + $0.25 per additional page
Professional Copysentry – $19.95/mo (10 pages) + $1.00 per additional page
3. Quetext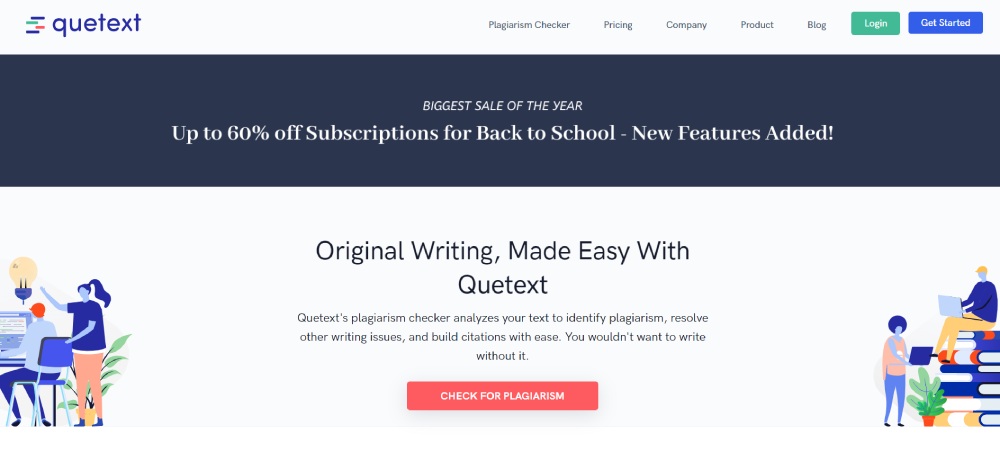 Although it's meant for academic use, businesses and other professionals can benefit from using Quetext when reviewing text for plagiarism. Like Grammarly, it identifies sentences or paragraphs that are similar to a published paper or web page. Plus, you'll also know your plagiarism score!
Quetext has a free option, but it's limited to one page or 500 words.
Pricing:
Free – 500 words
Premium – $8.80/mo/user
Enterprise – $8.00/mo/user
4. SmallSEOTools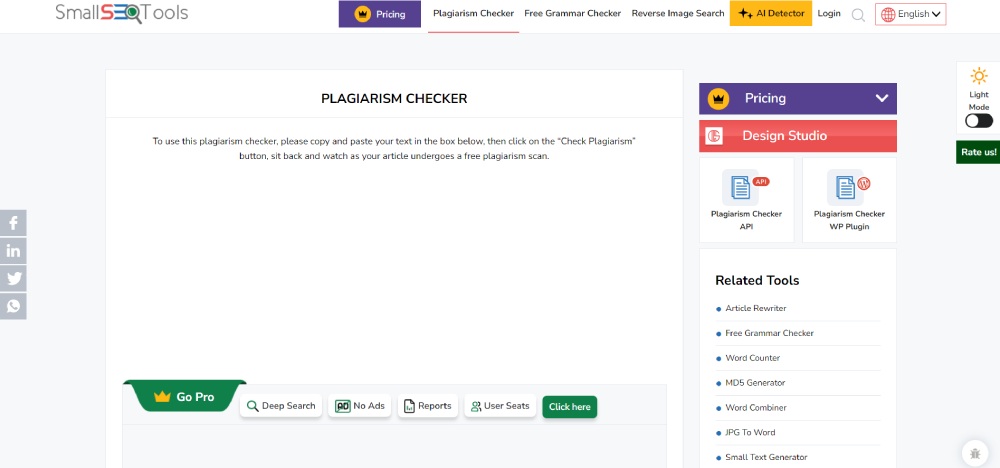 If you want a dedicated plagiarism checker for blogs, SmallSEOTools is one of the best choices! Each search is limited to 1,000 words only on the free plan. But it's still worthwhile to know how to avoid any plagiarism accusations. It cross-checks billions of pages to ensure that you'll have original content after running the app.
Pricing (starts at 90,000 words/mo):
Basic I – $9.80/mo
Basic II – $19.80/mo
Basic III – $29.80/mo
5. Copyleaks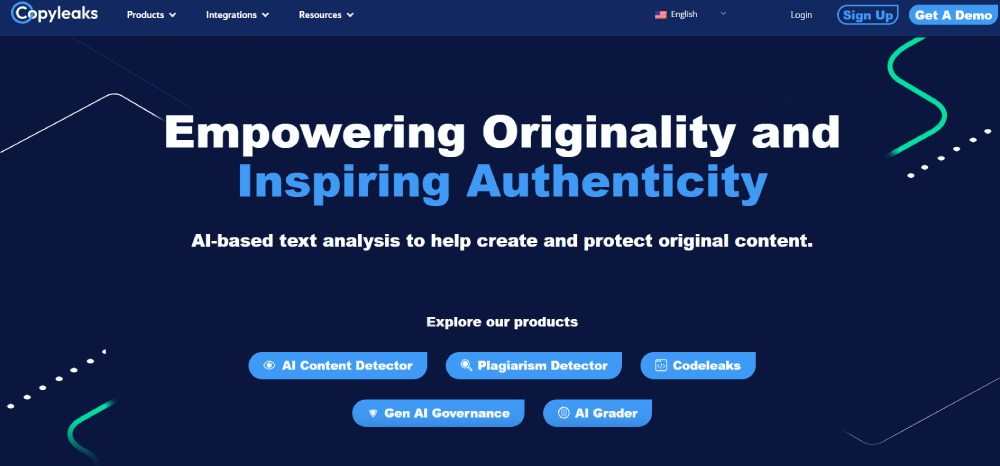 If you want an all-in-one AI content and plagiarism detector, Copyleaks should be at the top of your list. It goes one step further from its competitors even detecting paraphrased sentences. Finally, it can also detect plagiarism if it is translated into other languages!
Pricing: Starts at 100 pages – $10.99/mo
6. ProWritingAid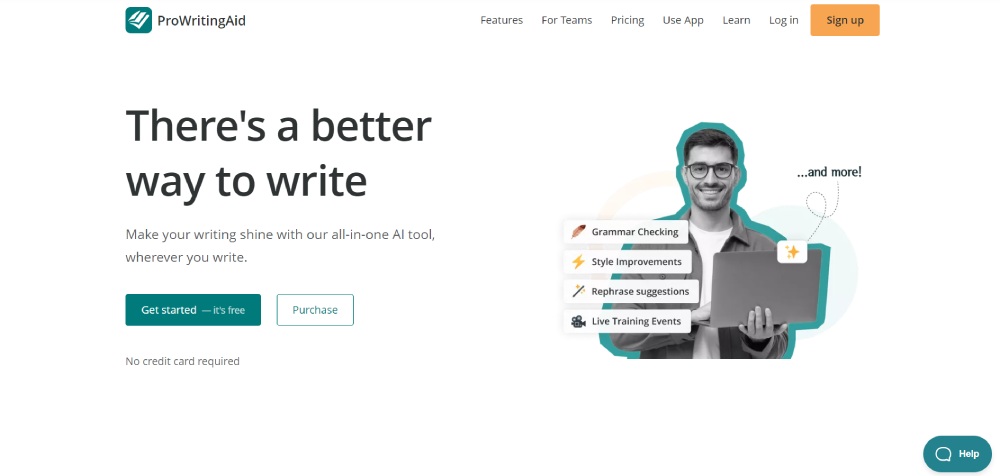 ProWritingAid is one of Grammarly's main competitors. Like Grammarly, ProWritingAid lets you check if your written content is plagiarized. They guarantee that they won't sell your text to outside users. You can have 2,000 words of text per check.
Pricing:
10 checks – $10.00
100 checks – $40.00
500 checks – $120.00
1000 checks – $200.00
7. Duplichecker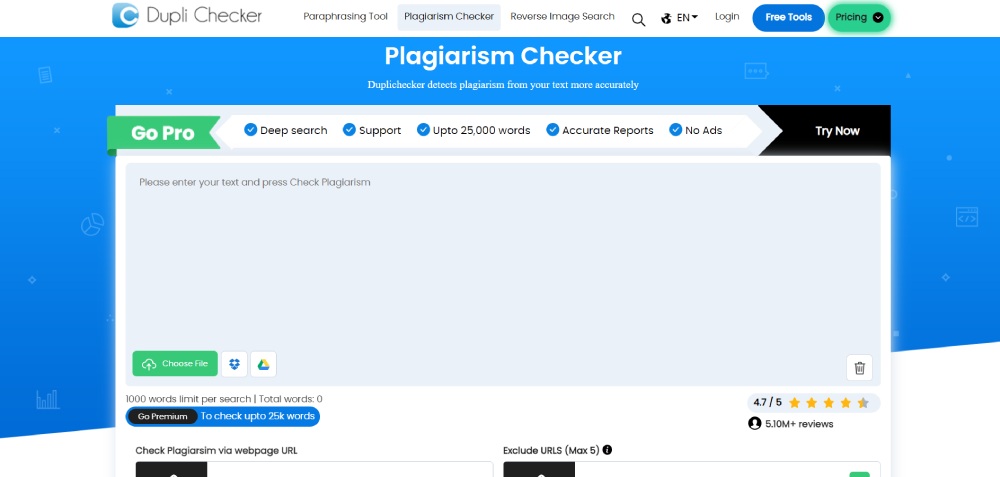 The final plagiarism checker on our list is Duplichecker! Aside from identifying which sentences or phrases are flagged as plagiarized, they have a "Make it Unique" to eliminate plagiarized text. It can also detect plagiarism in various languages and paraphrased sentences or words.
Pricing: Starts at 93,000 words per month – $25/mo
However, you can customize your plan here.