With millions of users engaging daily across various social media platforms, harnessing the power of these channels has become paramount to ventures and individuals alike.
Enter Sprout Social, a comprehensive and versatile social media management tool designed to streamline and elevate your online presence.
If you want to learn how to use Sprout Social for beginners, you've come to the right place! In this Sprout Social user guide, we'll discuss the steps you need to take to use the platform.
Step 1: Sign Up and Log In
Visit the Sprout Social website and click on the "Start Your Free Trial" or "Sign Up" button. You can choose between Standard, Professional, Advanced, and Enterprise.
Provide your email address and create a password to register for an account.
Follow the verification steps sent to your email and log in to your new Sprout Social account.
Step 2: Connect Your Social Media Accounts
After logging in, you'll be prompted to connect your social media accounts. Click on "Add Profile" or a similar option.
Select the social media platforms you want to manage using Sprout Social (e.g., Facebook, Twitter, Instagram, LinkedIn).
Follow the authentication steps for each platform to grant Sprout Social access to manage your accounts.
Step 3: Set Up Your Dashboard
Once your accounts are connected, you'll be taken to your Sprout Social dashboard.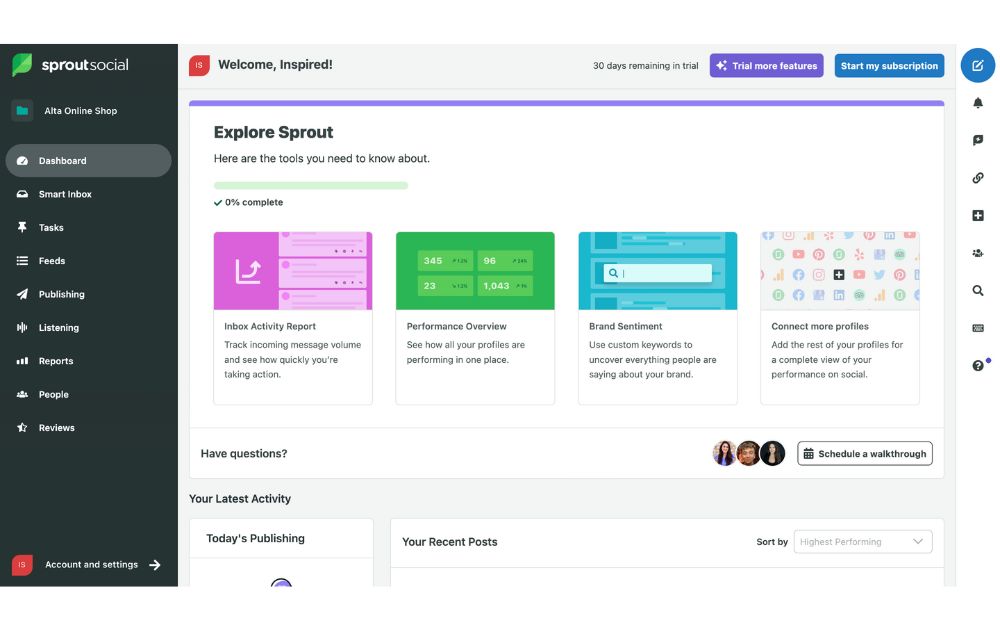 Customize your dashboard by arranging widgets and sections according to your preferences. You can add streams for monitoring mentions, messages, and more.
Step 4: Schedule and Publish Posts
Click on the "Publishing" tab in the navigation menu.
Choose the social profiles you want to post to and click the "Compose" or "Create Post" button.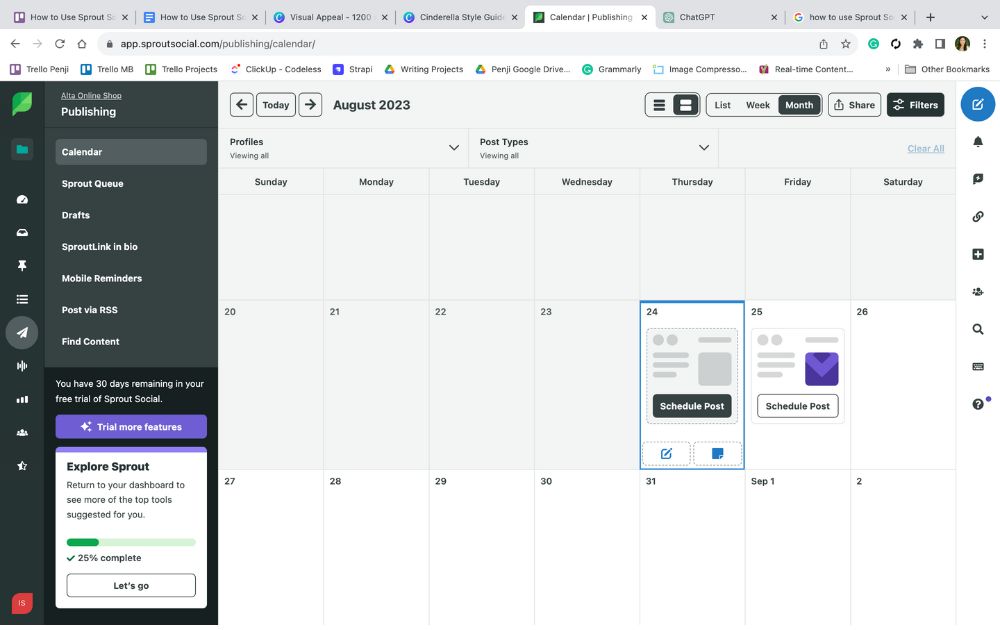 Write your post content, attach media if needed, and select the date and time you want the post to go live.
Preview your post, and if everything looks good, click "Schedule" or "Publish."
Step 5: "Listen" to Your Audience
Sprout Social features a tool that allows users to gain insights about conversations related to keywords related to their brand.
Go to the "Listening" tab in the navigation menu. Here, you can identify what your audience cares about most.
You can specify relevant keywords, hashtags, and phrases pertinent to your brand, industry, or target audience. Utilize filters to narrow down results based on language, location, and sentiment.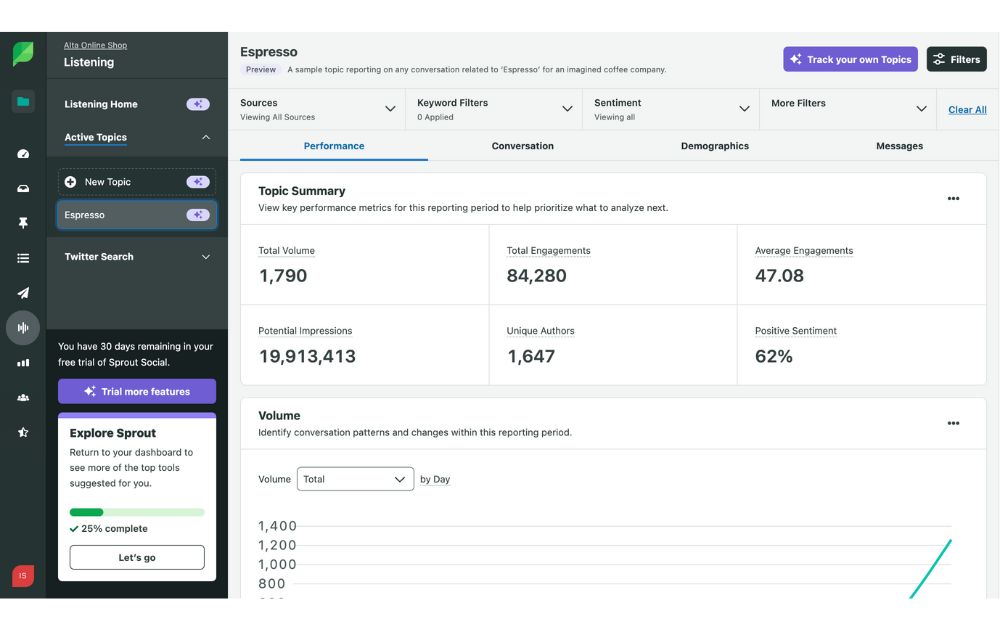 For instance, the default sample keyword on Sprout Social is "espresso." At the upper part of the dashboard, you can see filters, which will allow you to focus on specific conversations. You can choose the sources, keyword filters, and sentiments. You can filter data according to content type, message type, technology, and mobile OS.
Below the topic summary, you can see key performance metrics, such as total volume, engagements, impressions, unique authors, and sentiment.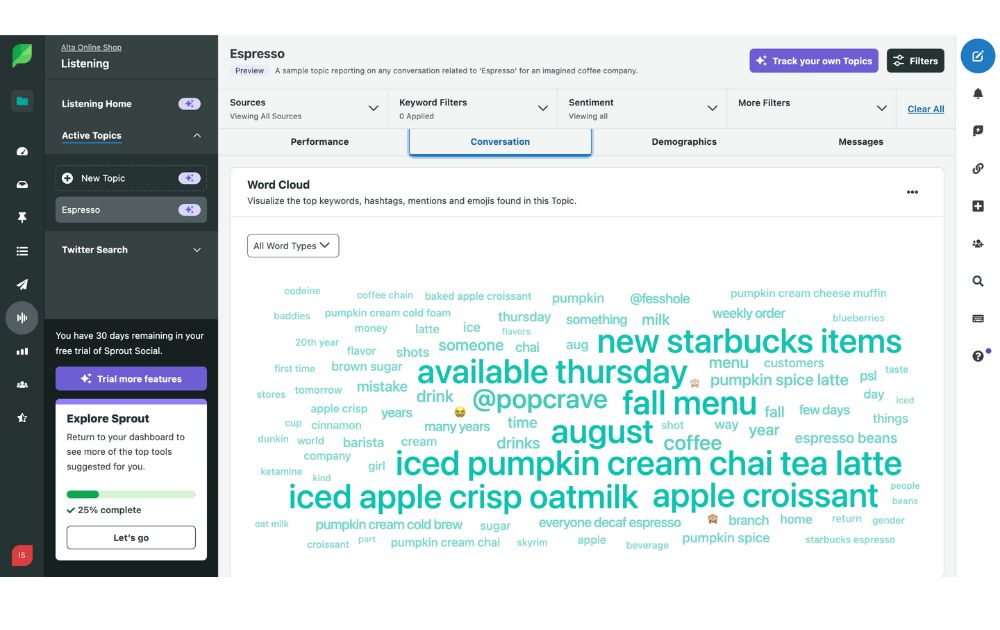 Under the "Conversation" tab, you can view a Word Cloud that allows you to visualize the topic's top keywords, mentions, hashtags, and emojis. For instance, the top words associated with "espresso" include "new Starbucks items," "iced pumpkin cream chai tea latte," and "fall menu."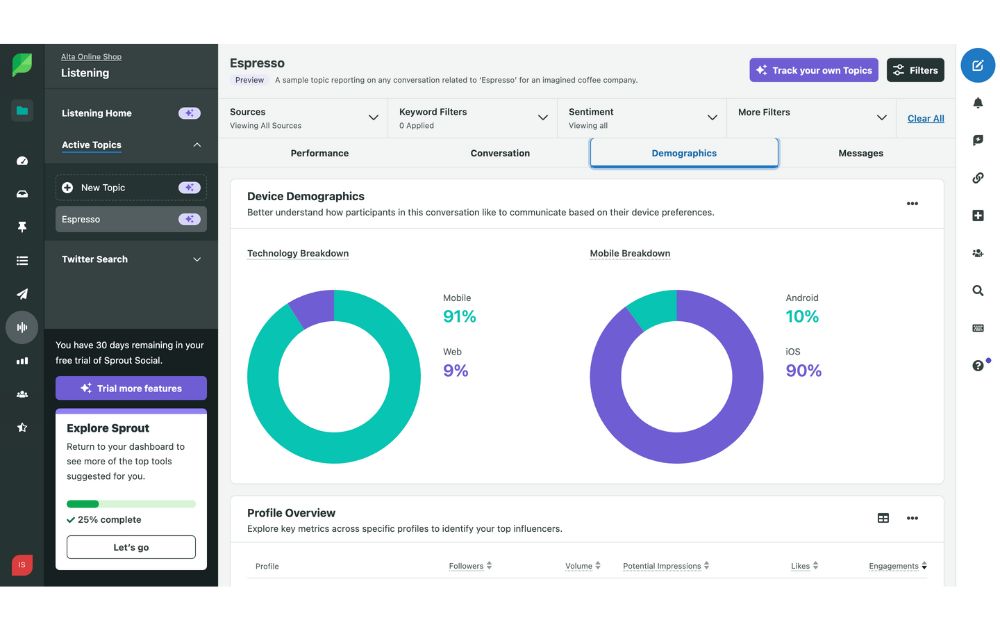 You can also explore the "Demographics" tab. Here, you'll see the percentage of audiences using mobile or web. You can also monitor the percentage of people using iOS and Android. This tab also offers insights into the top influencers in the conversation and the locations of people participating.
Step 6: Analyze Performance
Click on the "Reports" tab to access your social media analytics.
In the Strategy & Insights tab, you can evaluate the degree of audience interaction with your content and discover possibilities, patterns, and topics to enhance your approach. The Competitive Analysis feature, on the other hand, allows you to contrast your profiles with those of competitors to gauge your standing.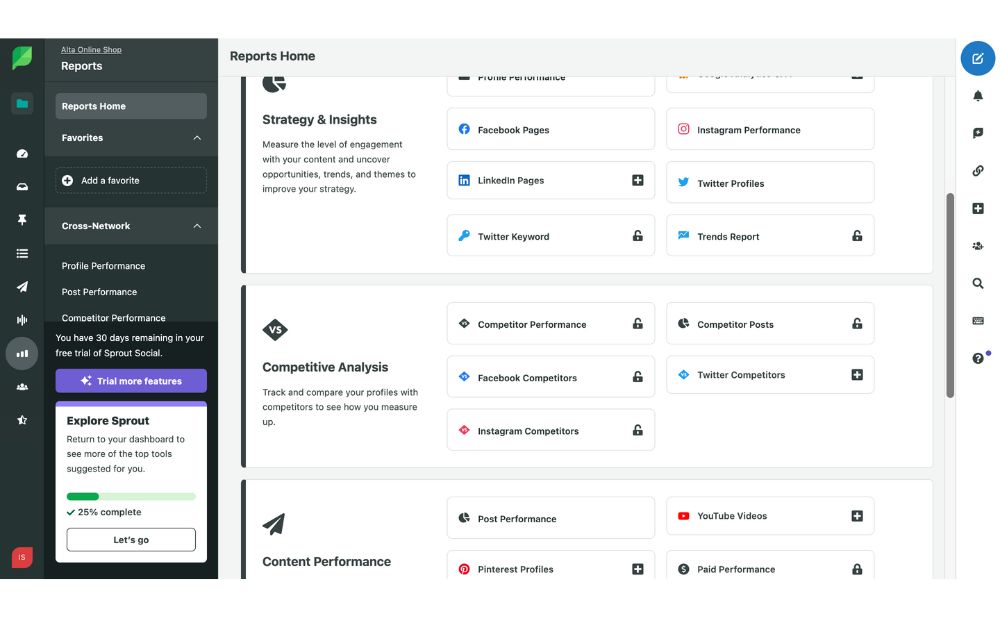 If you want to observe the performance of your previous content on various platforms, you can use the Content Performance feature. Lastly, the Customer Care & Team Performance tab generates reports on how effectively your team responded to critical brand messages across multiple channels.
You can use all of these insights to refine your social media design strategy.
Step 7: Learn and Improve
Continuously learn and adapt your strategy based on the insights and recommendations provided by Sprout Social.
The platform offers resources like the Sprout Social learning portal and Sprout Social pdf user guide, available in the Sprout Social Help Center. You can also request a Sprout Social demo to
Step 8: Make the Most Out Of the Platform
Make the most out of the platform by setting up Sprout Social integrations, which include all major social media channels as well as Apple App Store, Bitly, Dropbox, and more.
Here's another tip to maximize the benefits of Sprout Social: use professionally crafted visuals like the ones made by our expert designers here at Penji.
By leveraging Penji's expertise in design, you can elevate your social media presence to new heights and leave a lasting impact on your audience. Sign up with Penji now and have your social media designs made by the world's top talent.