Ahrefs is known for its comprehensive suite of SEO tools for growing search traffic and optimizing websites. While it offers premium subscription plans to access the advanced features, there are several ways to use its tools without spending a dime. Learn how to use Ahrefs specifically tailored for keyword research through this easy-to-follow guide.
How to use Ahrefs for free for keyword research
The next step in the SEO process is keyword research to maximize your website performance. Whether you're a small business owner, a content creator, or an SEO specialist, these tools can propel your digital efforts forward. These free keyword research features can provide you with valuable insights, ideas, and strategies to make keyword research easier and more accessible.
Discover how you can benefit from Ahrefs' free keyword research tools that include the following:
Keyword Generator
Keyword Difficulty Checker
Search Engine Results Page (SERP) Checker
Website Traffic Checker
1. Keyword Generator

Ahrefs free keyword generator can help you discover keyword ideas for almost any keyword. For example, type in a broad keyword like "digital marketing," hit "Find keywords," and you'll see the top 100 most popular keywords. And the top 50 related questions.
This tool also shows keyword-related metrics, including search volume and keyword difficulty (KD), which can help you choose the most relevant topic. The beauty of this tool is that you can search keywords for other popular search engines besides Google, like YouTube, Amazon, and Bing.
2. Ahrefs' Free Keyword Difficulty Checker
Now that you've decided on your keywords, it's time to assess how difficult it would be to rank for them.l
Even though the previous tool also does this, our free keyword difficulty checker does exactly that. It estimates how hard it will be to rank in the top 10 on a scale of 1 to 100, with the latter being the hardest.
For example, "digital marketing" has a KD score of 93 out of 100, which means it's super hard to rank for it.

On the other hand, "freelance digital marketing services" has a KD score of 22 out of 100 or medium keyword difficulty.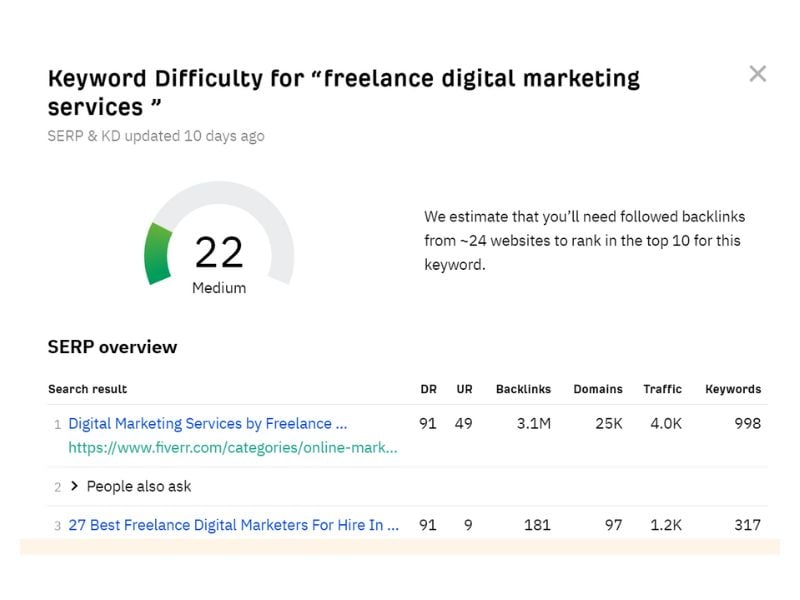 3. Ahrefs' Free SERP Checker
The next tool will help you understand the Search Engine Results Page or SERP for any keyword. It also evaluates its traffic potential.
For example, "freelance digital marketing services" has a search volume of just 20 in the U.S.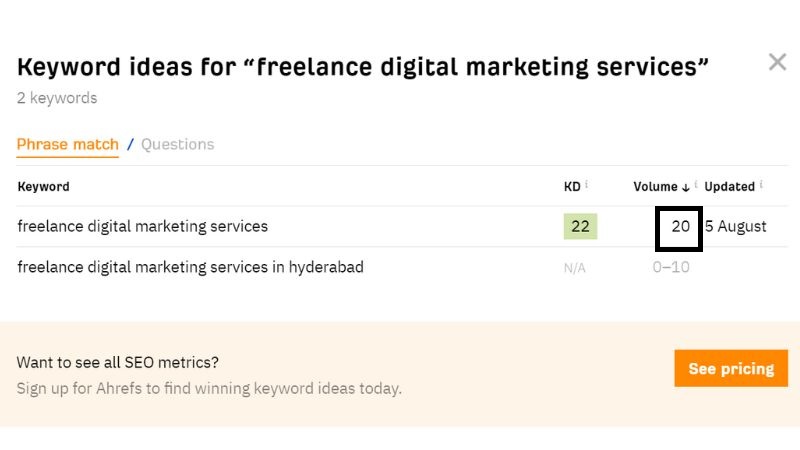 But if you plug it into the free SERP checker, the top search results get between 1.2K and 4.0K estimated monthly traffic or search visits. This occurs due to the fact that pages at the top of search rankings seldom target just a single keyword. Therefore, relying on the estimated search traffic of the top-ranking page provides a more effective means of assessing potential traffic compared to relying solely on search volume.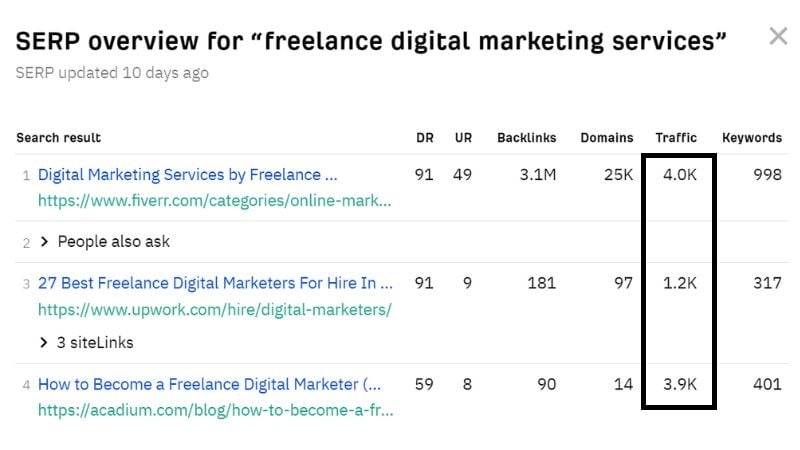 4. Ahrefs' Free Website Traffic Checker
If you're still looking for inspiration, the best place is to check your competitors via Ahrefs free website traffic checker.
Copy and paste the first search result from the previous tool in "Exact URL" mode and hit "Check traffic."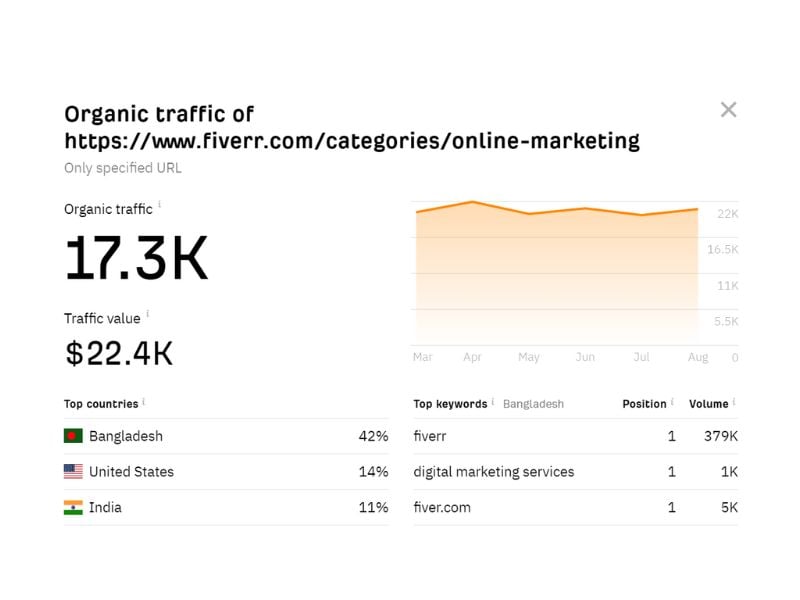 The page is getting 17.3K search visits a month, which means the topic could be worth replicating. After all, you can search the "top 5 keywords" table and check other topics that will help find a more interesting topic to write about.
Following the simple steps in using these four features will help you trim down a broad keyword idea into a more focused, targeted keyword. So, next time you plan your content, make sure to maximize the power of Ahrefs' free keyword research tools.
6 More Free SEO Tools from Ahrefs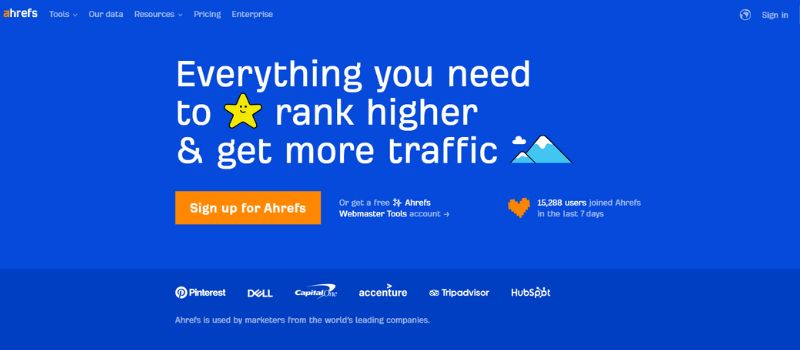 Ahrefs also offers valuable tools for SEO audit, link building, and content optimization. Let's have a rundown to give you a glimpse of how to use Ahrefs for free to optimize your website.
For SEO Audit
1. Ahrefs Webmaster Tools
This tool allows you to keep a close watch on the overall health of your website. It identifies potential issues such as broken links, server errors, and other technical glitches that might impact your site's performance and user experience.
For Link Building
2. Ahrefs Free Backlink Checker
This tool empowers website owners, marketers, and SEO enthusiasts to gain valuable insights into the backlinks pointing to their websites
3. Ahrefs Free Broken Link Checker
This is a popular link-building tactic where you find a dead page with lots of links to it, replicate it, then ask those linking to the dead page to link to yours instead.
4. Ahrefs SEO Toolbar
This Chrome and Firefox extension empowers marketers, SEO professionals, and website owners to gather key information about the websites they visit.
For Content Optimization
5. Ahrefs' Free Rank Checker
Since SEO is a never-ending adventure, Ahrefs introduced a tool that lets you monitor how well your website ranks for your target keywords.
6. Ahrefs' Free SEO WordPress Plugin
This plugin automates content audits to help you spot under and well-performing pages across your website and understand your overall content health score.
Ahrefs FAQs
1. What is Ahrefs?
Ahrefs is an all-in-one SEO solution for growing search traffic and optimizing websites. It crawls the web and stores a multitude of data through a simple, easy-to-follow interface.
2. What makes Ahrefs different from similar services?
Some of the unique features of Ahrefs include the following:
Ahrefs collects and organizes all data without using a third-party service.
Ahrefs builds tools that allow users to use data to reach marketing and SEO goals.
Ahrefs' crawler can index a maximum of 6 billion pages per 24 hours, making AheftsBot the second most active crawler after Googlebot.
3. What are organic keywords?
An organic keyword is the search query entered where a target website appears in the search results. Users can find your website even without clicking on an advertisement if you use an organic keyword. It means they are utilized in search engine optimization (SEO) to garner organic traffic.
4. What does KD mean in Keyword Explorer?
KD stands for Keyword Difficulty, which estimates how hard it would be to get on the 1st page of Google or the Top 10 search results for a given keyword.
5. How accurate is keyword search volume in Ahrefs?
Ahrefs is relatively accurate compared to "Impressions" in Google Search Console. Based on a study, Ahrefs' Search Volume estimates are accurate by 60% of the analyzed keywords compared to Impressions from Google Search Console.
Conclusion
Now that you've learned how to use Ahrefs for free, your knowledge, strategy, and consistent effort will help you achieve your goals. By combining free resources and your own creativity, you can harness Ahrefs' power to improve your online visibility. This will also guide you in proper keyword targeting that contributes to your overall digital marketing success.