The holidays are fast approaching and brands must start whipping up the best holiday greeting cards for customers. Aside from the cards' copy, visuals play a major role in invoking emotions. And if you need help with holiday greeting card designs, subscribe to Penji. They are an on-demand graphic design service that offers unlimited designs at a fraction of the cost. We won't tell you how good our designs are. Instead, we'll give you free holiday-themed images and illustrations you can use for emails, social media, and all marketing campaigns you can think of. Download all holiday designs for FREE now!
However, if you're still in a spin on what designs to consider, here are 15 beautiful holiday greeting card designs even a grinch will love.
Paperbag Pouch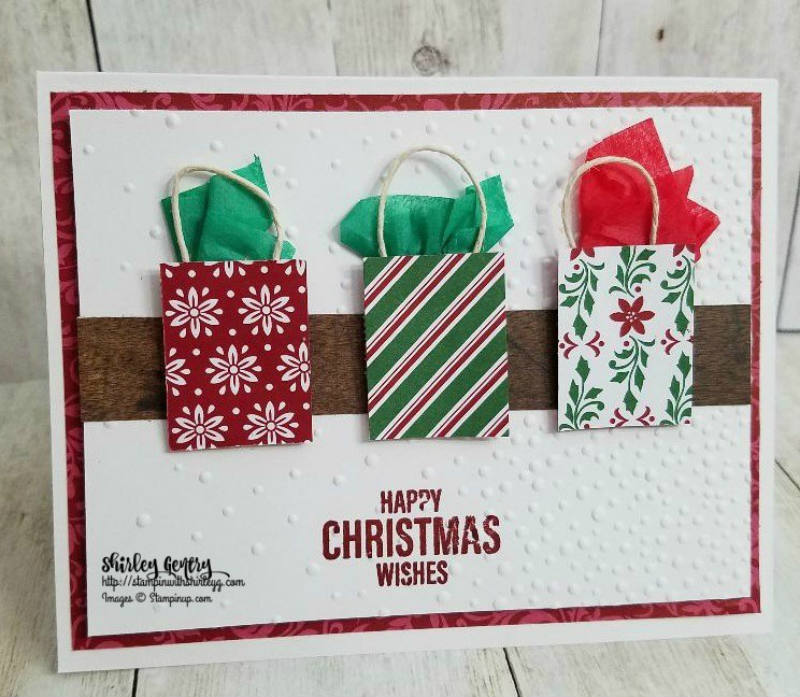 Unleash your creative juices this season and create Christmas greeting cards that aren't like all the rest. Personalized greeting cards always add a special touch to the entire gift-giving tradition.
This card with mini paper bag designs is one of a kind. It resembles the real ones complete with paper gift wraps and strings.
You may also use other realistic Christmas elements like a Christmas tree with mini baubles.
Embossed Reindeer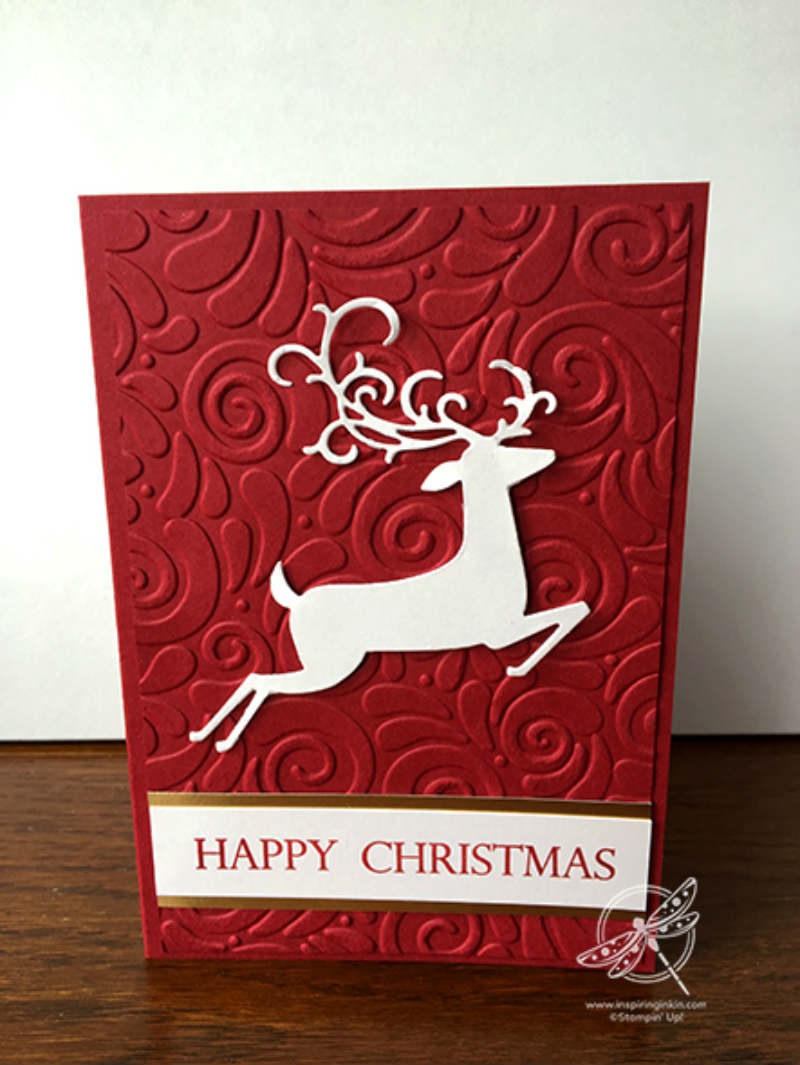 Take holiday greeting card design-making a notch higher by making an embossed design.
This example from Inspiring Inkin' is both elegant and fun. The reindeer sticks out from the red embossed base — literally and figuratively.
To remake this, you may use any plain embossed card as a base — just make sure the colors are fit for the occasion. Then cut out any Christmas symbols your heart desires.
Snow Perfection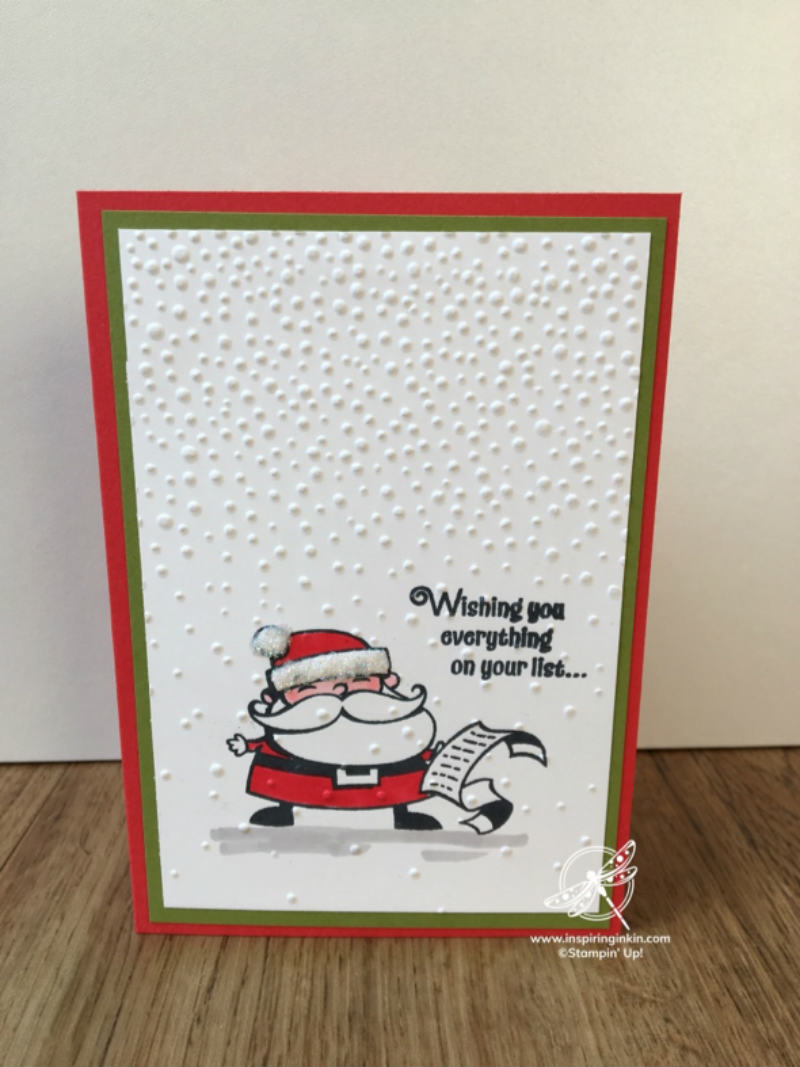 Going the extra mile in making your Christmas greeting cards will always make them more meaningful.
This particular card has a gazillion snow crystals pouring down on a stout and happy Santa. You may also do it differently by setting another background.
Snow would also look good on a darker color like black or blue. And instead of a green border, you can ornate it with elegant sparkling gold lines.
Family Picture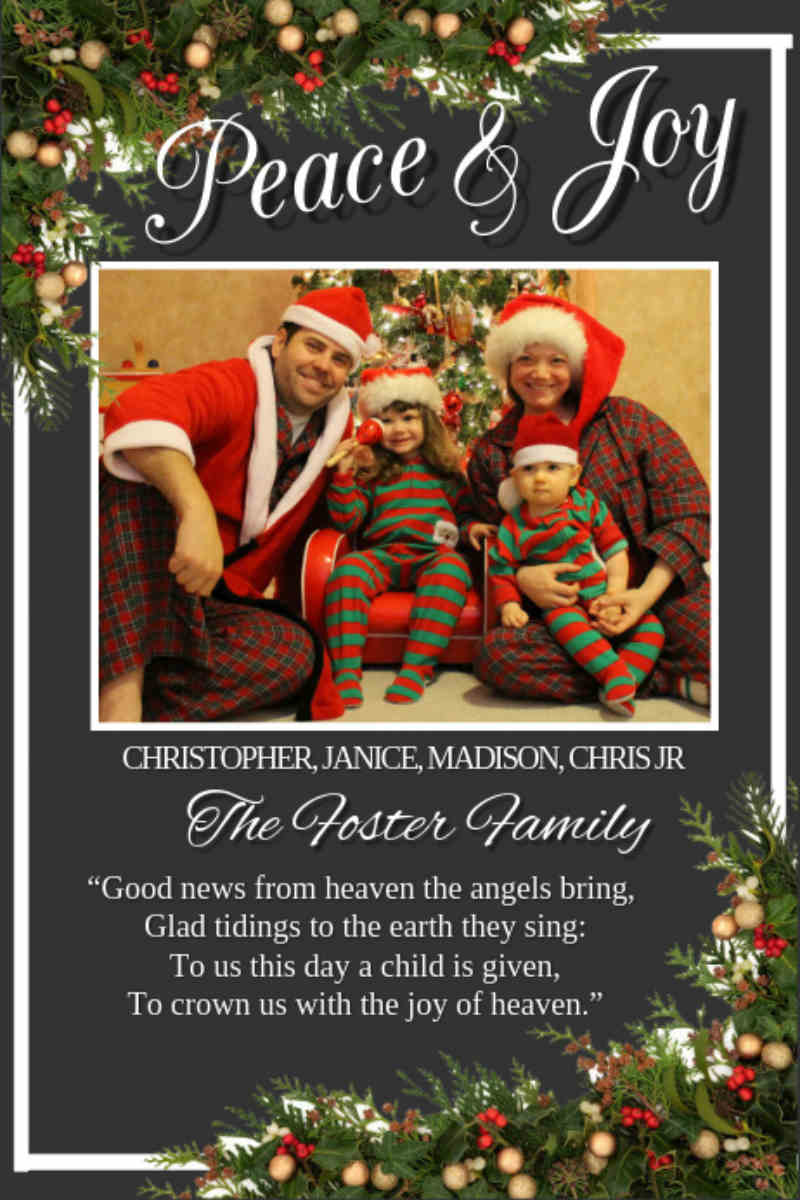 Nothing beats the old family-picture-in-Christmas-greeting-cards design. This is appropriate if you want to send out the cards to close friends and family or those who've met your family for that matter.
If you're in the business sector, instead of a family photo, you can put a fun group picture of your employees.
Minimalist Wreath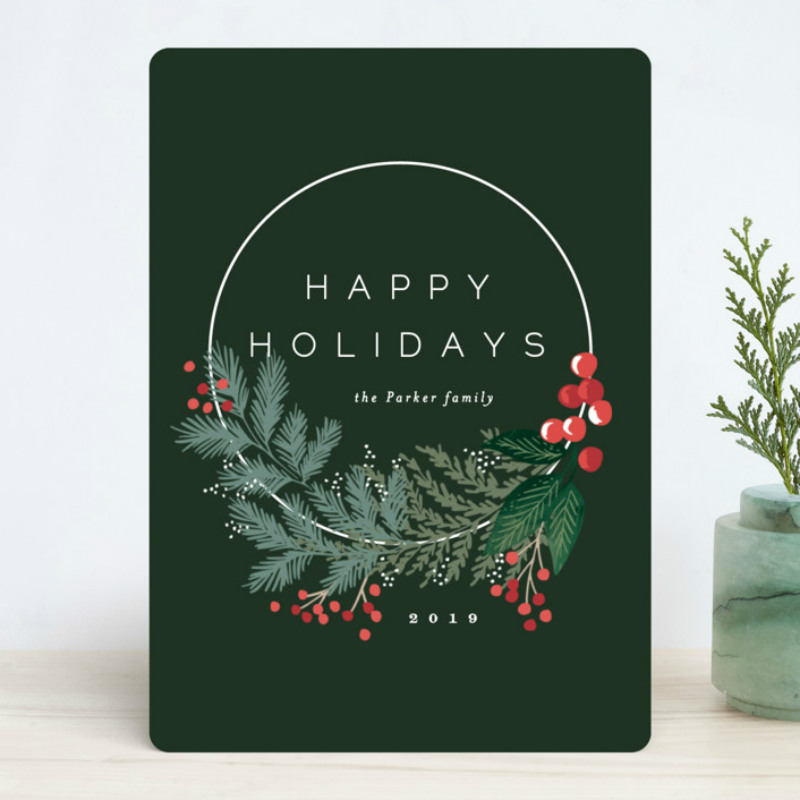 You may also keep the holiday greeting card designs simple and the messages short and sweet like this example.
Although the entire ensemble might seem rudimentary, the classy half wreath makes up for the basic background. The splashes of red also give the whole look an extra oomph.
You can either choose the same color palettes or pick more vivid ones to ride the festivity wave.
Artistic Simplicity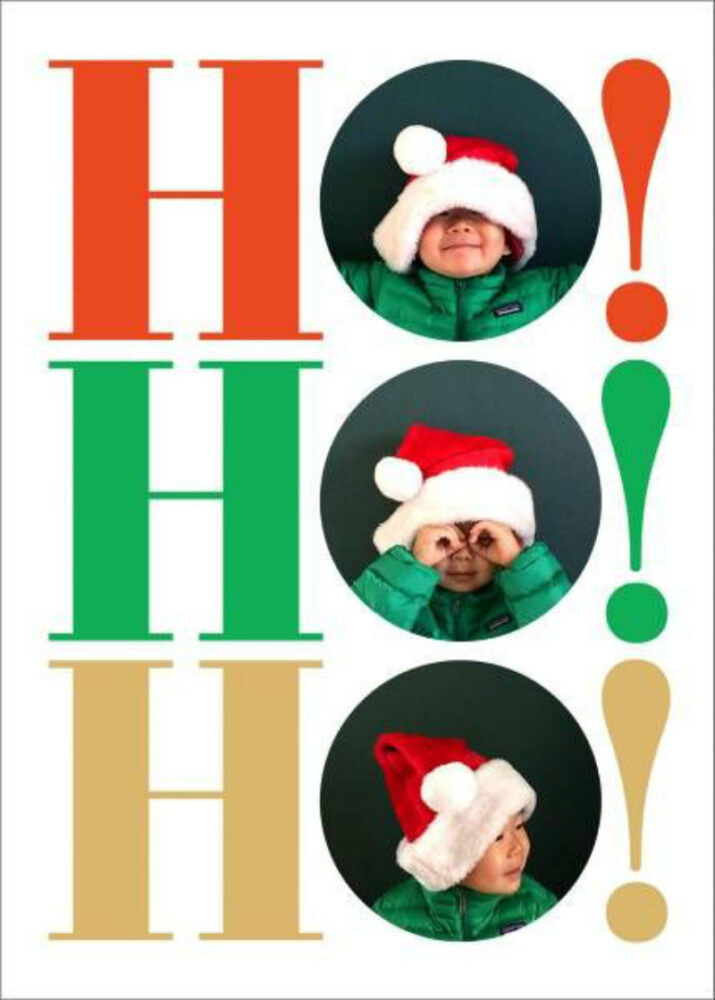 Everything about this Christmas greeting card design deserves praise. It has the Christmas jargon, 'HOHOHO,' on it with a different take on its presentation.
There is a clever symmetry in the vertical layout, with the letters having different colors of Christmas. Then the letter 'O' encapsulates fun poses of the child. Lastly, the exclamation points bring everything together.
I would personally glamorize the letters with a shimmery design without losing the Christmas colors.
Christmas Tree Elegance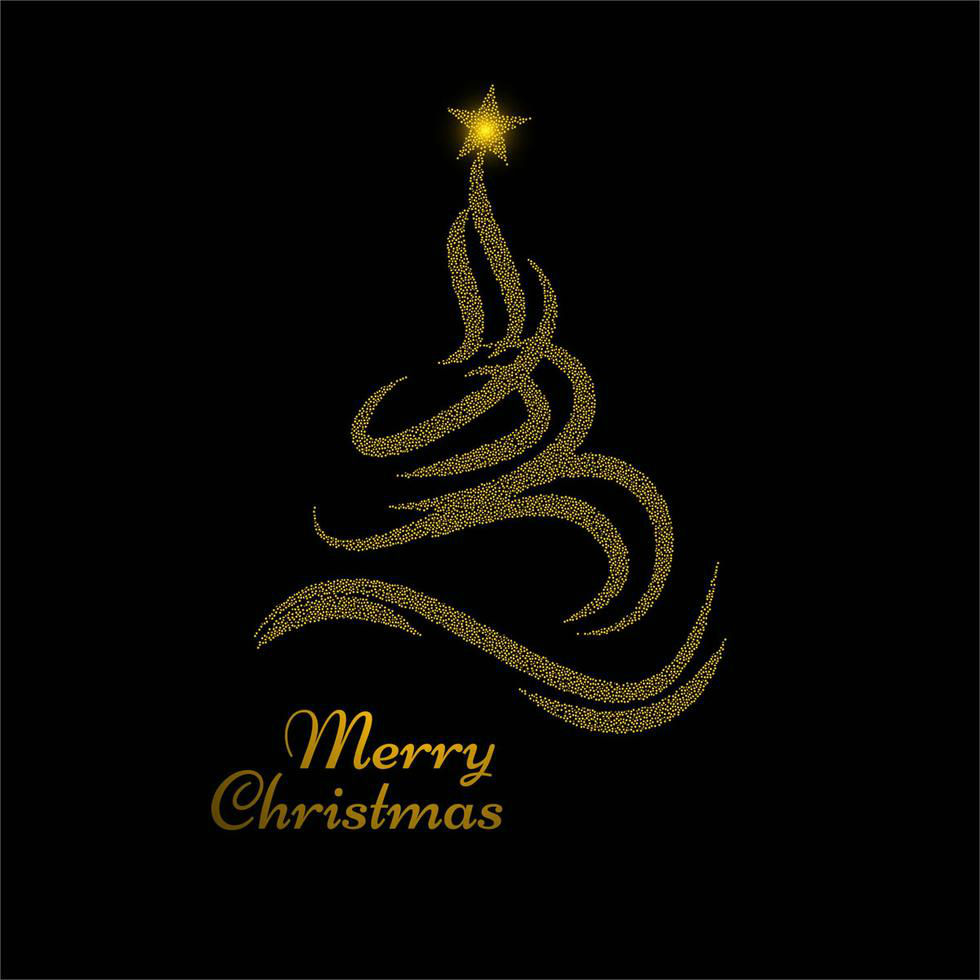 For those who see the beauty in elegant minimalist designs, this tasteful tree against a black base is a perfect choice.
The curvature of the Christmas tree is delicately done with a lifelike tree-topper. The typeface and nice ombre on the words 'Merry Christmas' is also a brilliant choice.
However, if you want to gee things up a bit, you may make the tree bigger and bolder with more lines and curlicues. Plus, instead of a simple greeting, put in a touching message to make for a more significant greeting card.
Clean and Crisp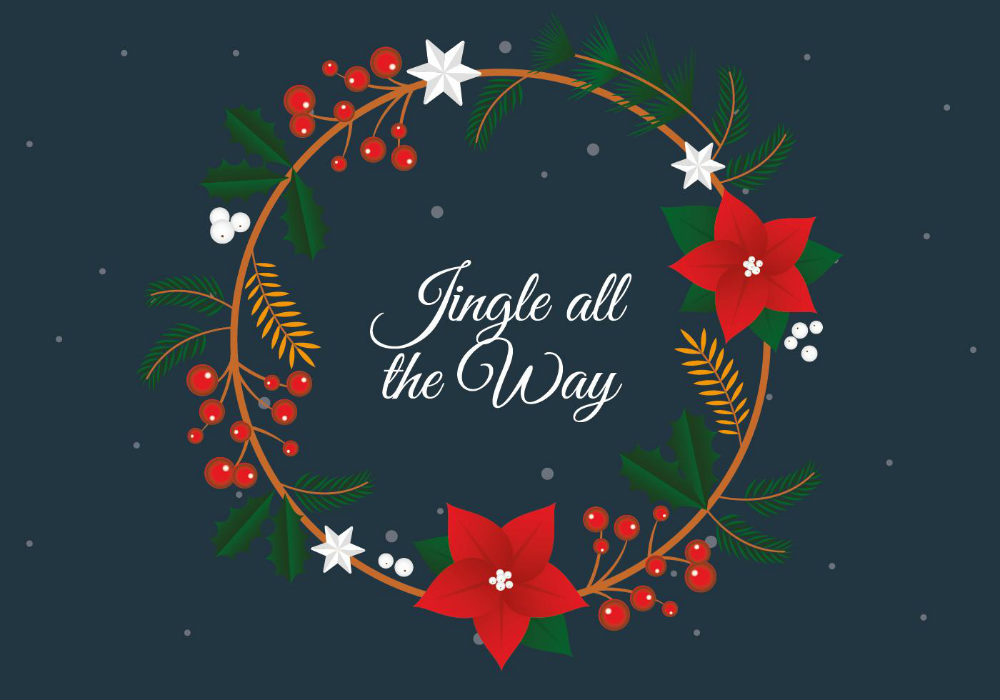 If you're thinking of sending out Christmas holiday greeting cards to your colleagues and acquaintances, playing the safe side might do you right.
You may use this clean and crisp design of a simple wreath on a background with opaque snow crystals. The graphics is modern and fresh, which screams 'Christmas' with all the festive colors all brought together cohesively.
The message is quite mundane, and you can certainly amp it up by putting a heartwarming message in the center.
Playful Illustration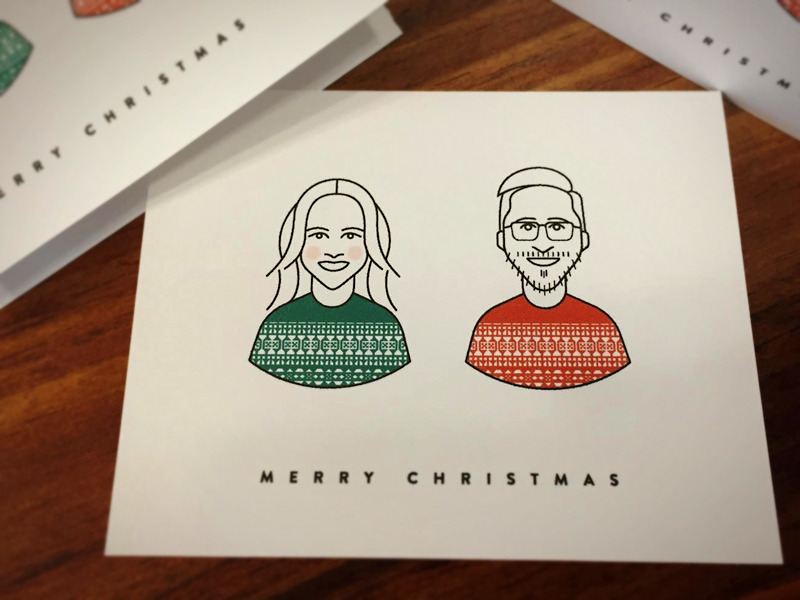 No holiday greeting cards will ever go wrong with a playful illustration. This particular Christmas greeting card example is for all the couples who might want to send out warm wishes to those they've tapped.
It's a straightforward illustration of a man and woman donning the same sweater style. A bold, inferior 'Merry Christmas' greeting is sitting just below the drawings without dominating the entire idea.
The main star of this whole concept is the different colored sweaters that give life to the illustration.
Christmas greeting cards don't have to be rigid. You can always play with your imagination by adding a couple of touches here and there. You may even add a drawing of your dog wearing the same sweater in a different color.
Black and White Letterpress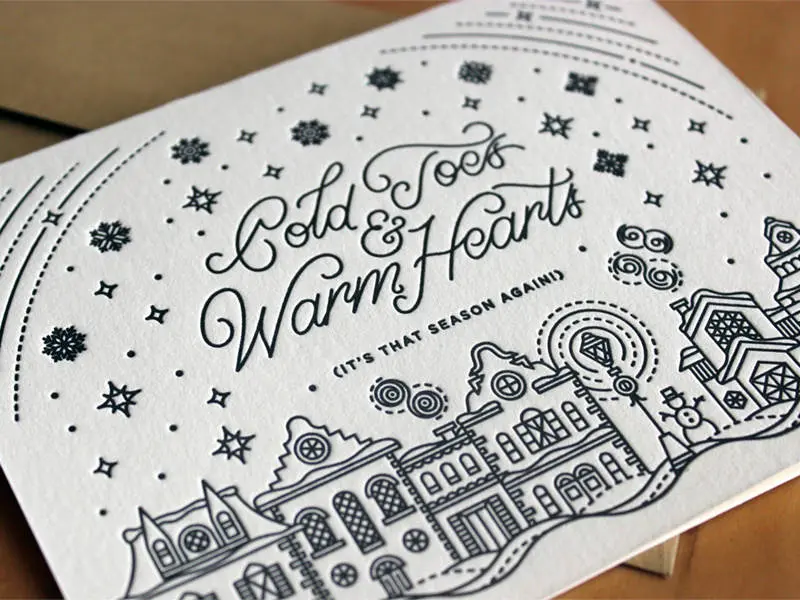 Letterpressed holiday greeting card designs make card giving a tad bit special. Take this letterpressed Christmas greeting card by Emily Zalla, for example.
The intricacy in all the elements like the lines, dashes, snowflakes, and the little town is charming. Plus, the exquisite lettering by Nicholas Moegly completes the overall look.
Black and white are the perfect color choices without cluttering the card with different design elements. You may use another concept like a mountain and trees, beach, or Santa and reindeers backdrop. The possibilities are endless!
Doodle Style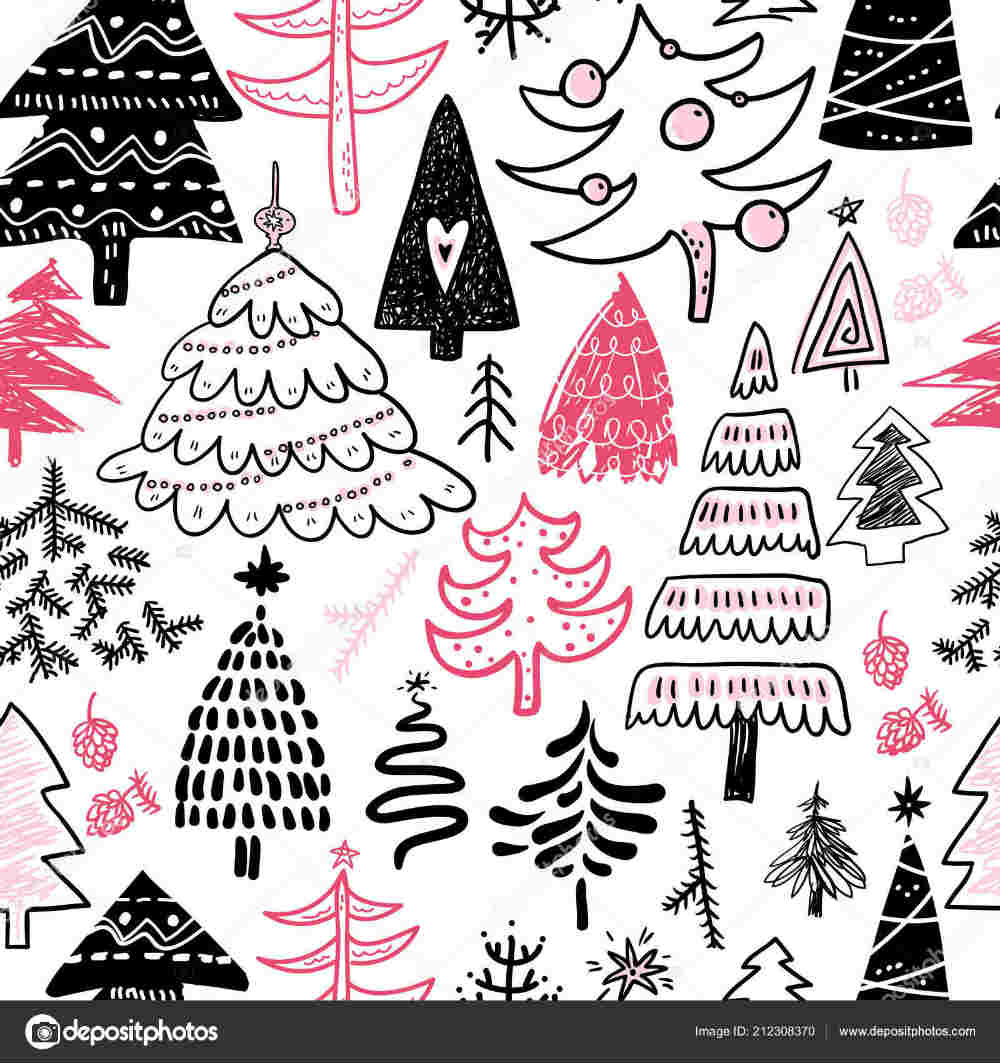 Christmas greeting cards should exude the sender's personality. Choose this doodle style design for a different flair in greeting everyone this Christmas season.
The different Christmas tree doodles with black and various hues of pink will genuinely make anyone smile. If you're not too keen on the Christmas trees, you may choose other representations of Christmas like mistletoes, reindeer or gift boxes.
Caricature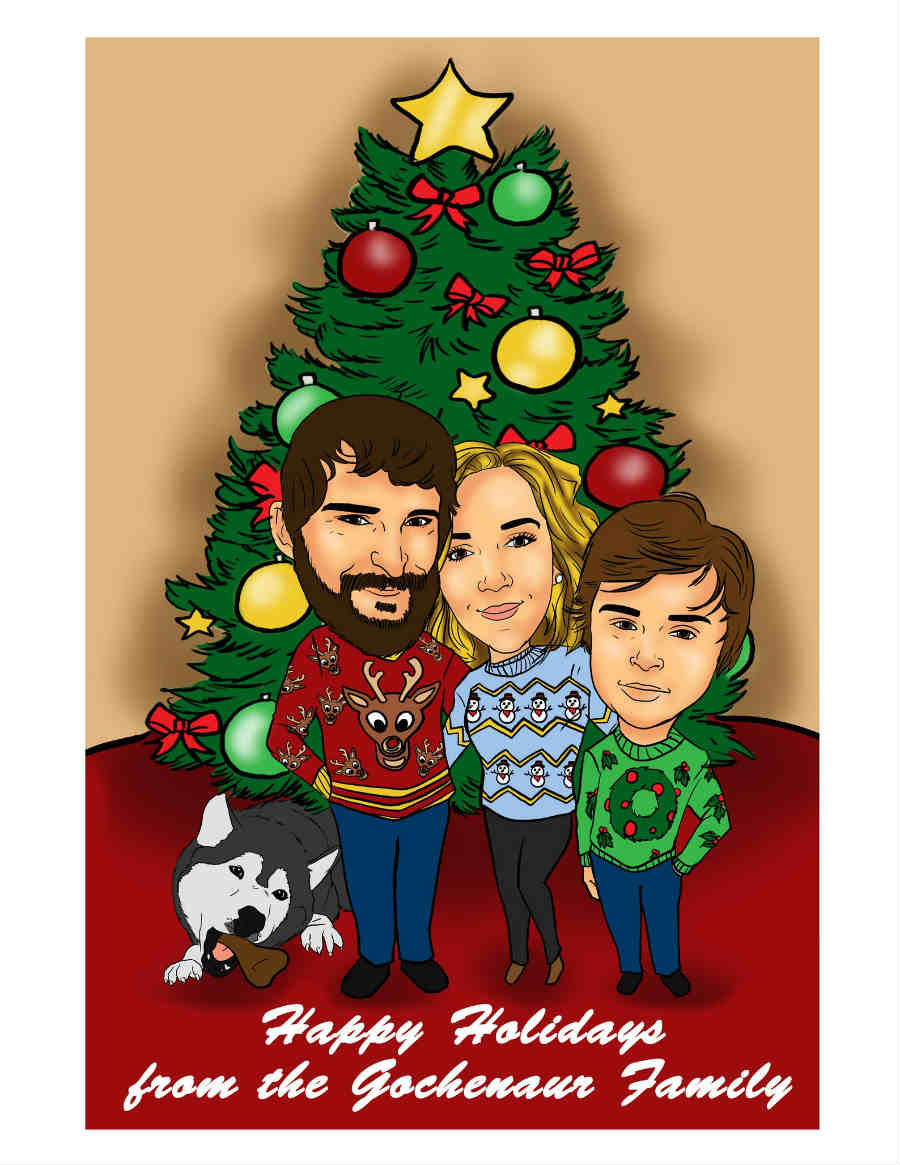 Holiday greeting cards boasting classic caricature work every time. This particular example is of a family, wearing Christmas sweaters, in an obligatory pose in front of the Christmas tree.
The message is an exemplary way to seal the deal and add a personal touch. However, you can also try a different concept. A family caricature in Santa's toy factory? Or what about a fun caricature as elves in the North Pole?
The most important thing is to let your imagination play. Put in a dash of your personality, and sprinkle a little Christmas spirit to make Christmas greeting cards extra special.
Use Penji for Your Unique Holiday Greeting Cards
If you are running out of ideas and time, you can always hire the services of professional graphic designers. The Penji team is one of the best in the industry today not just because of their final output, but because of their efficiency. They have their own app where you can request unlimited projects. Here's how you can use the platform.
Request for a Holiday Greeting Card Design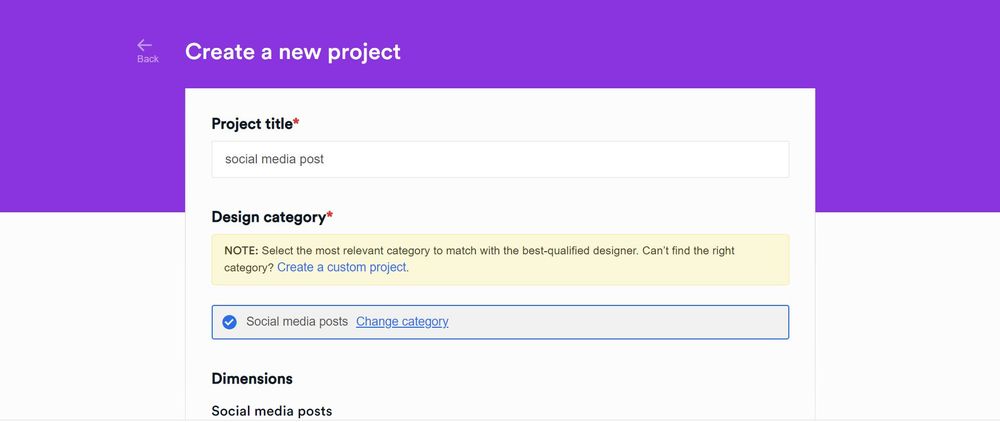 Once you get your access to their app, you can start requesting for projects. The platform is too straightforward, we doubt you'd need technical help.
From the dashboard, you will find the New Project button where it will take you to a different page. This page will now require you to supply information about your design request. Include everything you think might help the designer. But if you're not familiar with it, don't worry. The team created a set of questions that could help you.
Review and Send Back for Revision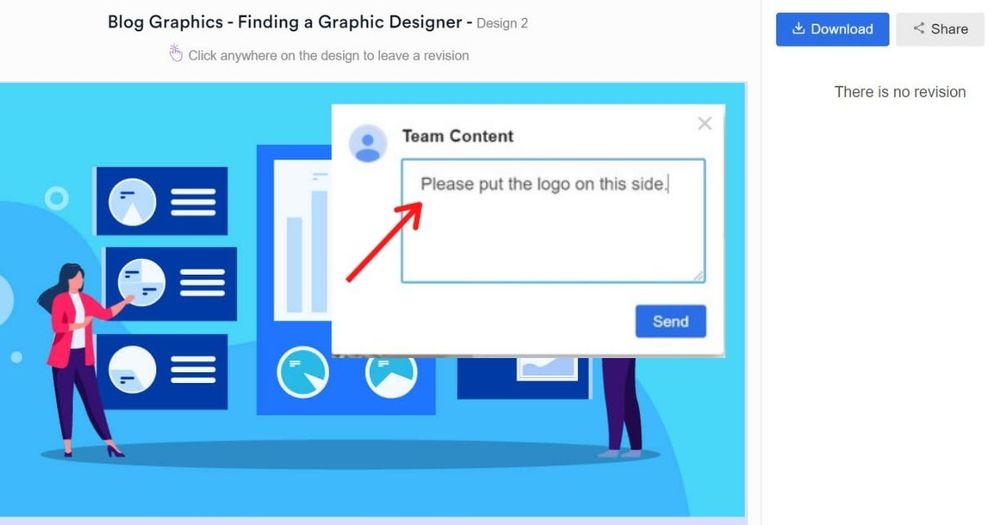 Wait for 24 – 48 hours to get the initial draft. The waiting time depends on the specifications of your request. The simple ones are apparently faster, while the detailed requests will generally take longer. The designer will send you updates as necessary.
Upon receiving the first draft, you can now take a closer look by enlarging the photo. From there, you can hover your cursor and click areas where you think change is needed. Type your comments and send it back to the designer.
Download the Design and Print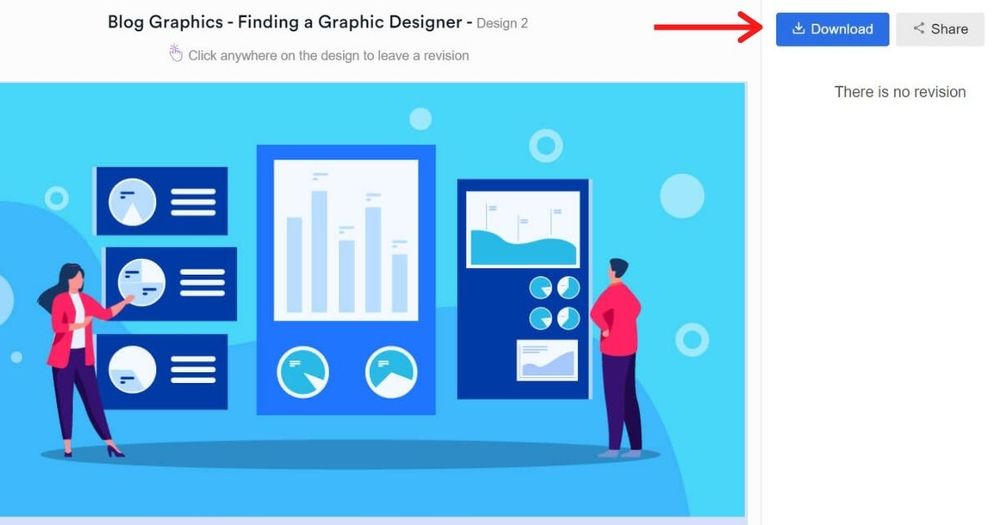 You're done! If you are already satisfied with your Holiday Greetings design, you may now print it and start sending it to your family, friends, or clients. And you can download it anytime. There's no need to wait for the designer to send the raw files. These are always available for you.
Easy, isn't it? This is the reason why a lot of small businesses use Penji's services. It's affordable and fast! Sign up now and enjoy unlimited design.
Updated November 11, 2021