If you're promoting or starting a podcast, a Headliner audiogram can take your show to the next level. The handy web app lets you turn your audio into dynamic clips and share them on social media.
Interested in Headliner, but not sure where to start? This handy guide will walk you through how to make a Headliner audiogram.
What is an audiogram?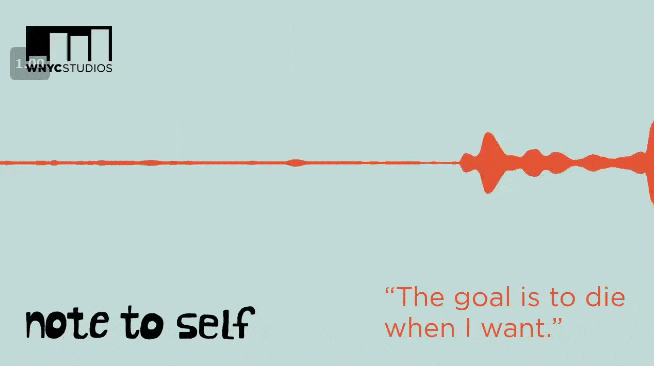 If you follow podcasts at all, you've probably seen an audiogram. They're short videos with a waveform and subtitles used to promote podcasts. They're a great way to show off your unique brand image and introduce video content to the audio space.
Video marketing is a great way to promote your podcast. You can upload your full audio as a video on YouTube, or share short clips on social media. Take out a funny or interesting clip from your podcast, make it an audiogram, and you can find a lot of new listeners.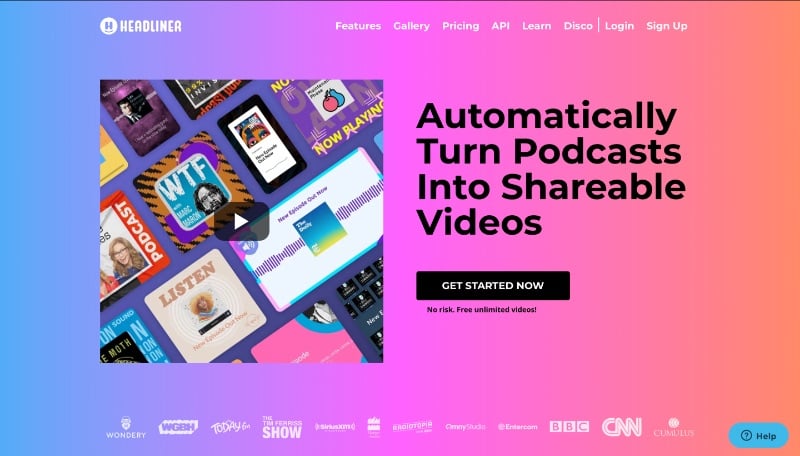 If you're dedicated, you can make an audiogram from scratch, but it's not an easy skill to master. Luckily, there are a number of online services you can use to quickly generate audiograms.
Outside of Headliner, other audiogram services include Audiogram, Recast, Wavve, and Wofox. Many podcast platforms—including Buzzsprout, Anchor, and Podcast.co—have their own built-in audiogram feature.
Still, Headliner's free, convenient features make it tough to beat. They're trusted by big names like BBC, CNN, and SiriusXM.
Headliner Tutorial: How to Make a Headliner Audiogram
Pricing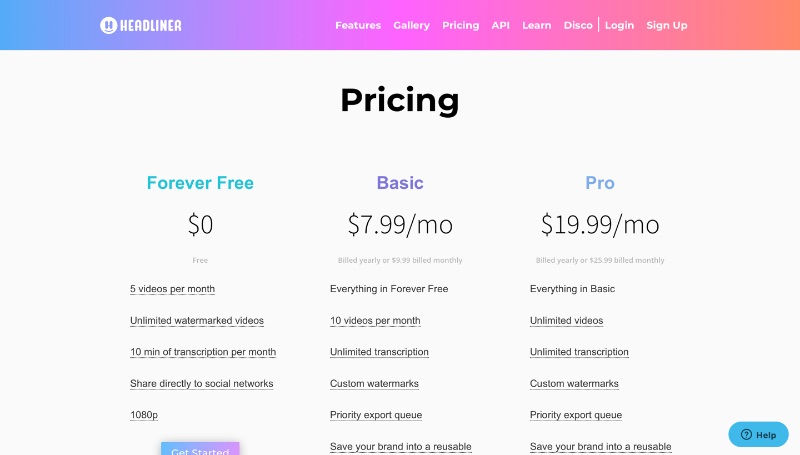 One of Headliner's most attractive features is its unlimited free version. It lets you create unlimited videos (5 unwatermarked videos per month), transcribe 10 minutes of audio per month, use templates and easily share to social media.
Beyond that, they have two paid tiers:
Basic: $7.99/mo. 10 unwatermarked videos per month, unlimited transcription, custom intros and outros. Incorporate your podcast's brand with your own fonts and custom watermarks.
Pro: $19.99/mo. Unlimited unwatermarked videos.
They also offer custom solutions for enterprise customers and upgrades to the free plan for education and nonprofit customers.
Need graphic design help?
Try Penji's Unlimited Graphic Design and get all your branding, digital, print, and UXUI designs done in one place.
Learn More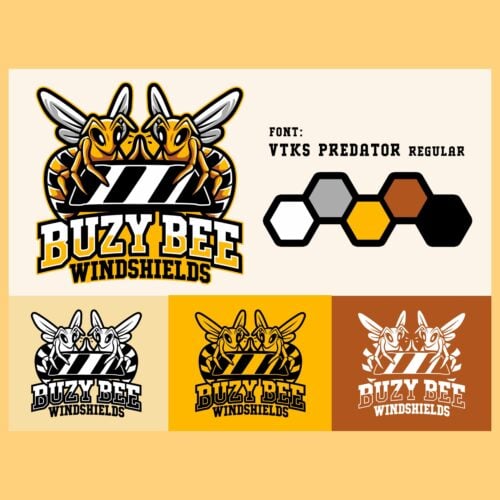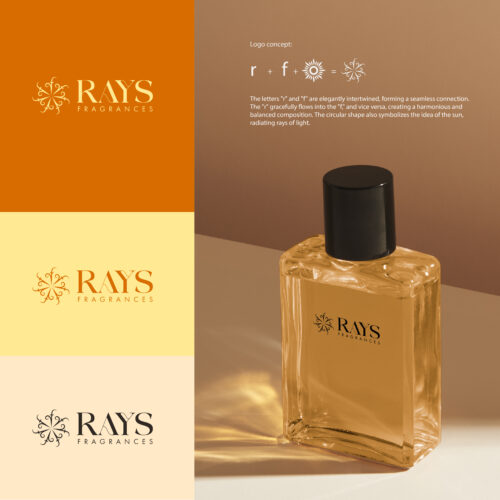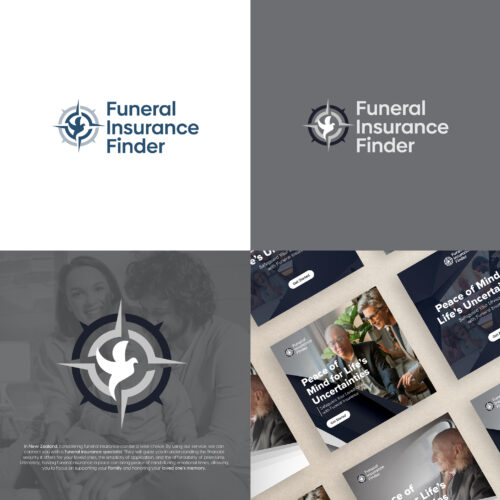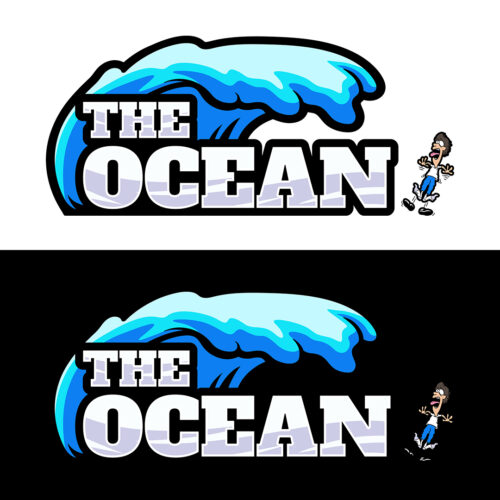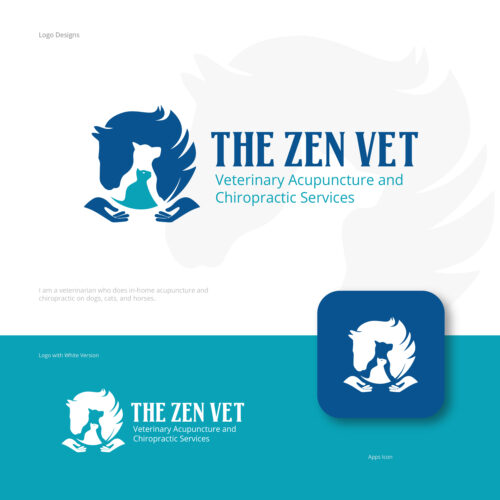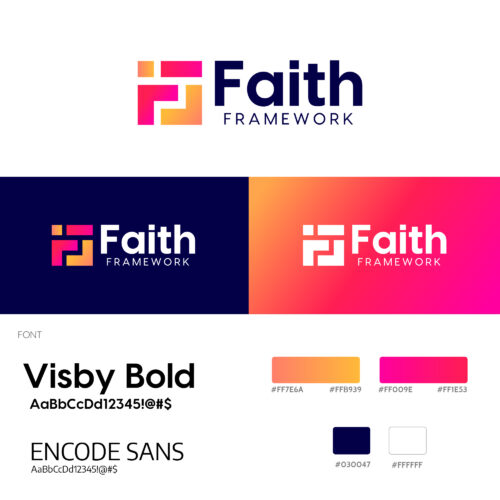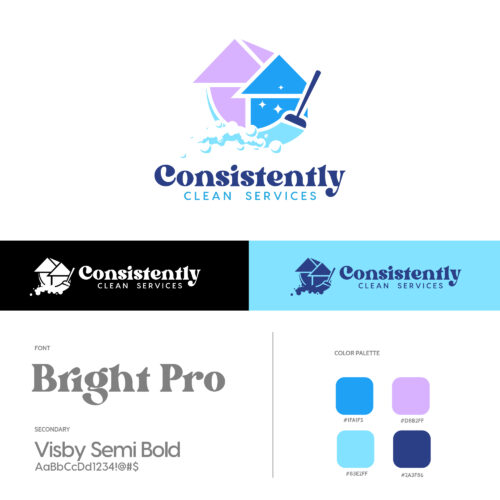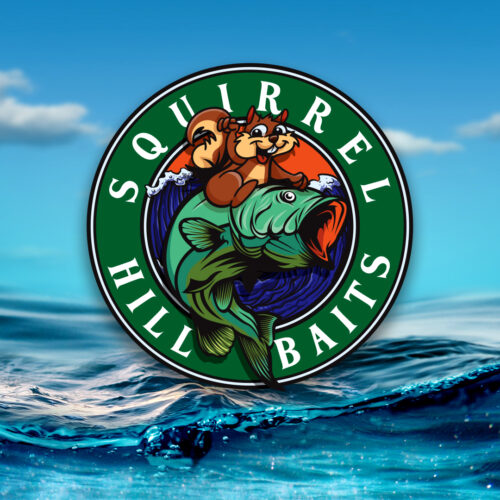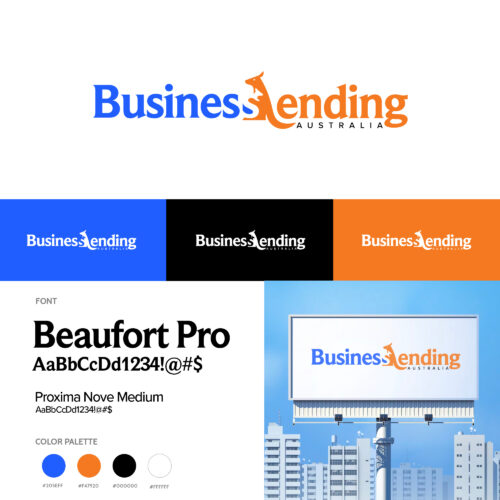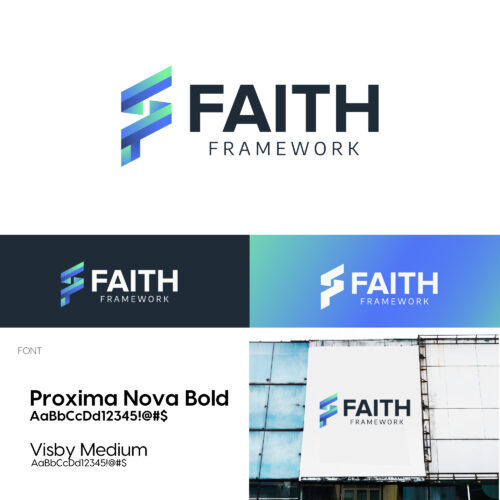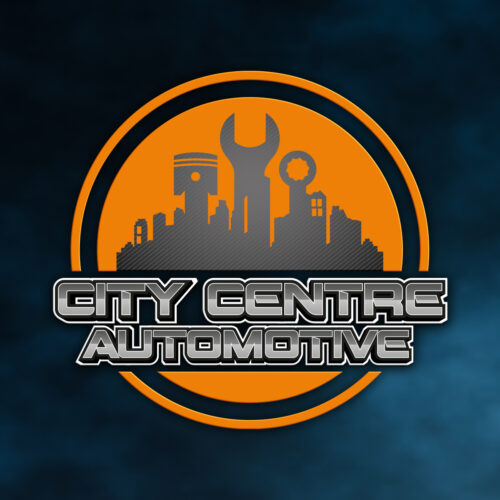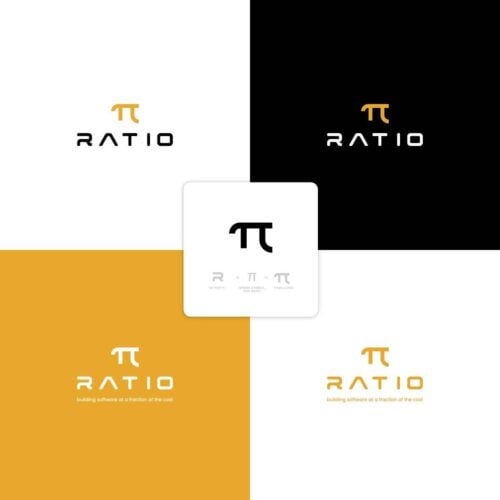 Getting started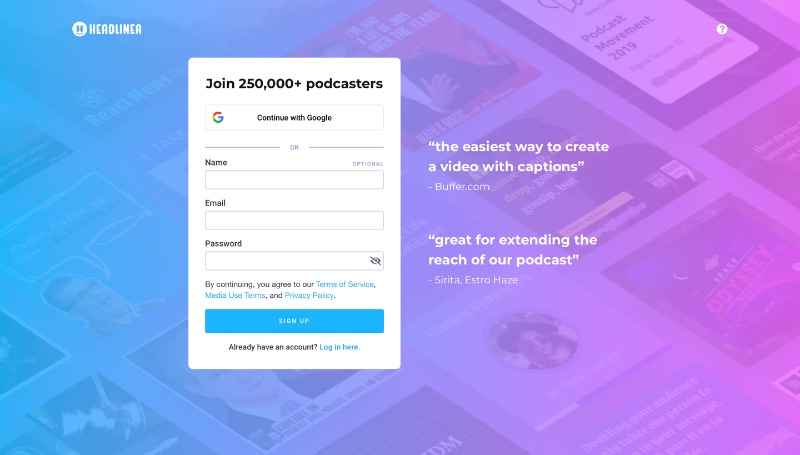 Getting started with Headliner is as simple as putting in your name and email (or connecting directly to your Google account). After going through a short survey about how you found Headliner (feel free to say Penji!) and how you plan to use it, you're prompted to add your podcast.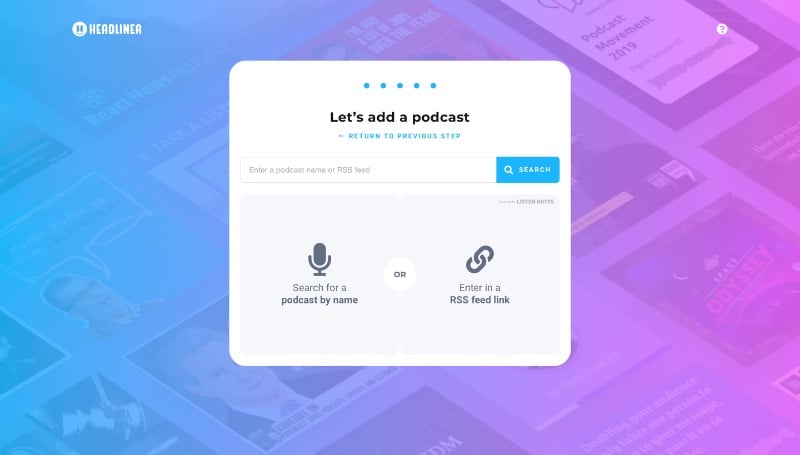 If this makes you tense up, don't worry. You don't need an RSS feed or a streaming podcast to make a Headliner audiogram. Just click the Headliner logo in the corner to skip to your dashboard.
Headliner dashboard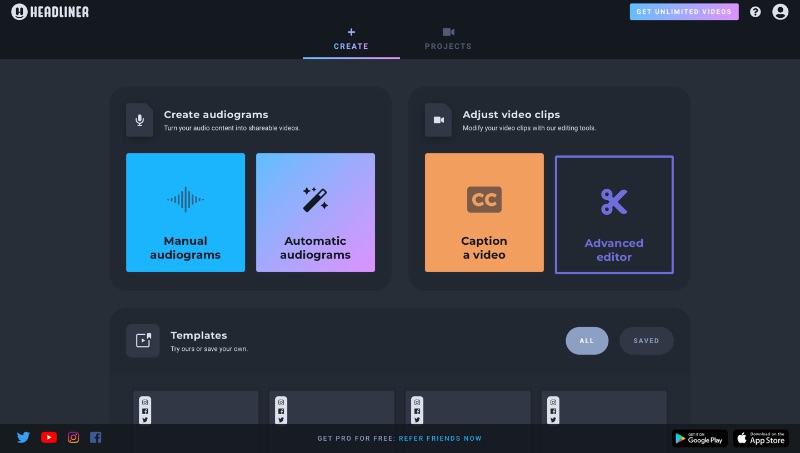 Headliner's dashboard has two tabs: Projects, where you can see your previous audiograms, and Create, where you make a new one.
For creating an audiogram, you have five templates to choose from on the free version. In addition to audiogram creation, you can use Headliner to edit and caption any video. Their automated captions aren't perfect, but they can be a great jumping-off point.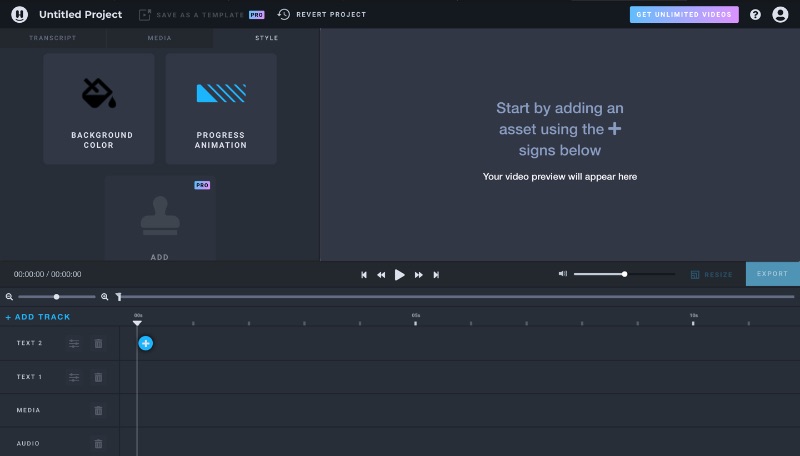 When you click on "Advanced Editor," you're taken here. You'll get a chance to use this feature when you create an audiogram. When you go straight to it, you can edit and add elements to any video, or create one from scratch.
Making a Headliner audiogram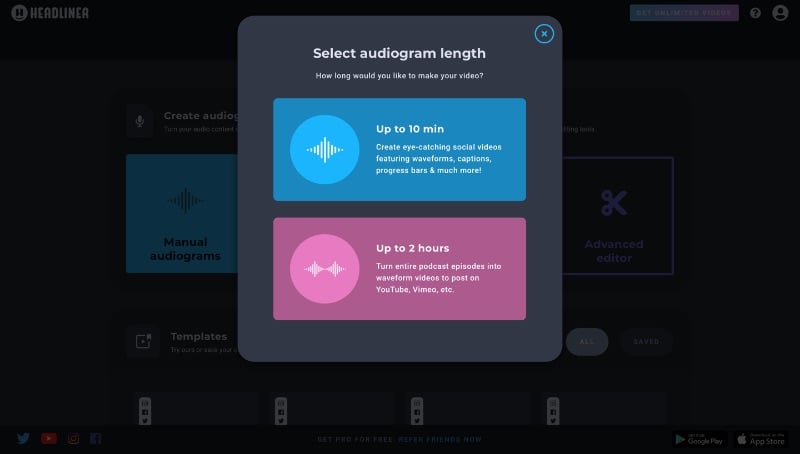 When you click "Manual audiograms," you can make two types of videos: a short clip (up to 10 minutes) or an entire episode (up to 2 hours).
Whether you choose "Manual audiograms" or "Automatic audiograms," the next step is selecting your audio. Either choose an episode of your show, find it through search, enter its RSS link, or upload an audio file. Headliner accepts MP3, WAV, and M4A files for upload, up to two hours and 500MB.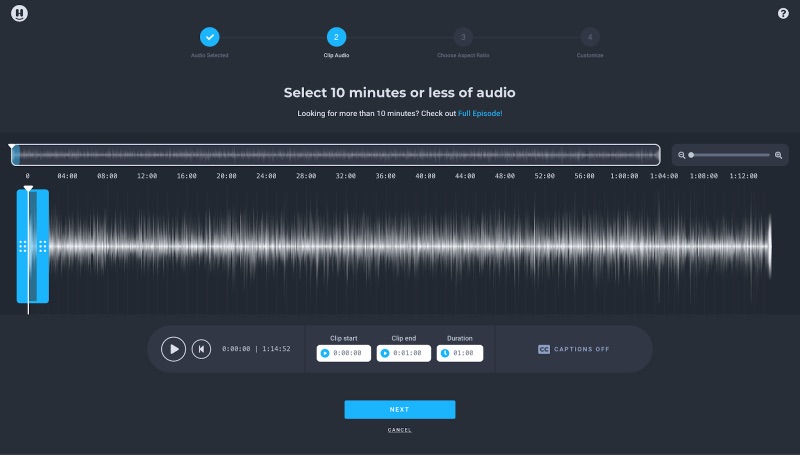 If you choose to make a clip, your next step is selecting which part of your audio to use. This selector can be a little janky. It's occasionally off by a second or two, so you may have to go back and forth fine-tuning your audio clip.
This window also gives you the option to turn on auto-captions. You'll probably have to edit them, but they make the process of captioning your video a lot easier.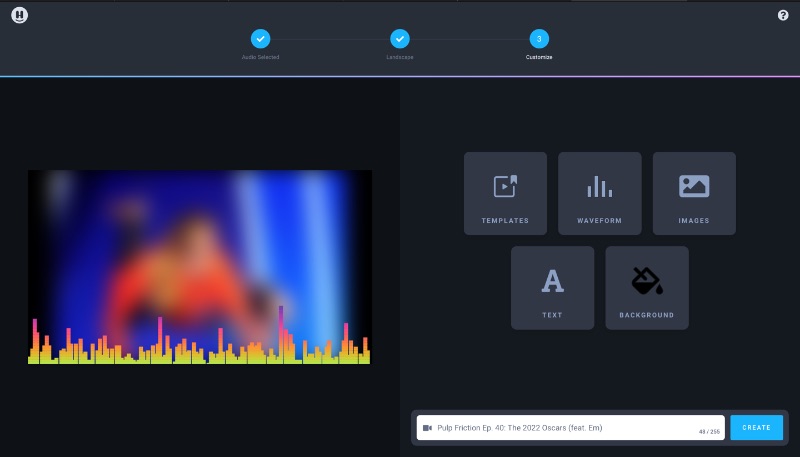 Here comes the fun part! After picking a video size (square, portrait, or landscape), you arrive at the custom editor. It lets you add and move around all your elements, such as your podcast logo, waveform, images, and text.
This editor has plenty of features, including a wide variety of waveform options, but it's not as all-around as a video editor. For example, there's no easy way to move images to different layers.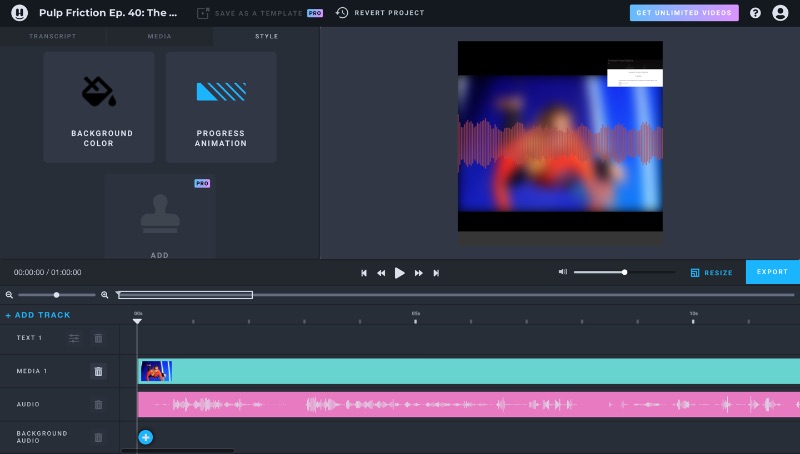 After that, you can export your video right away. However, I always recommend using the advanced editor. You can check the audio and text to make sure everything's looking right, or add timing and animations.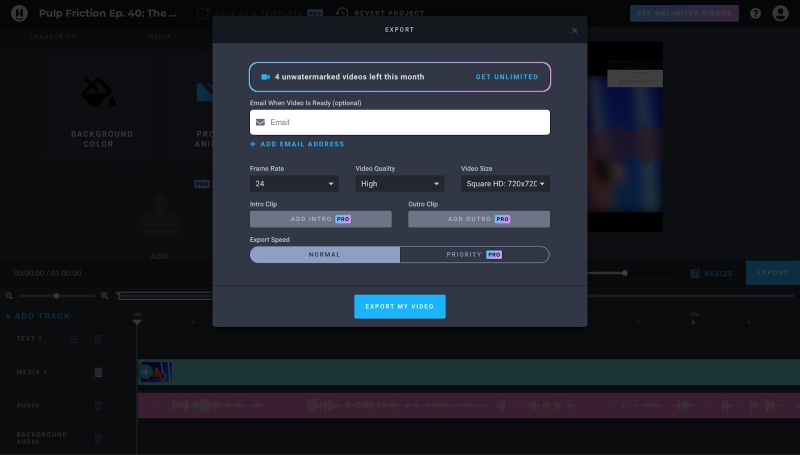 Once you're all done, just hit the "Export" button on the middle right. This pop-up lets you make adjustments to the file and put in your email to receive when it's finished.
After that, just export your video! You'll get an email when it's ready, or you can find it when you return to your Headliner dashboard.
Final thoughts: Is a Headliner audiogram worth it?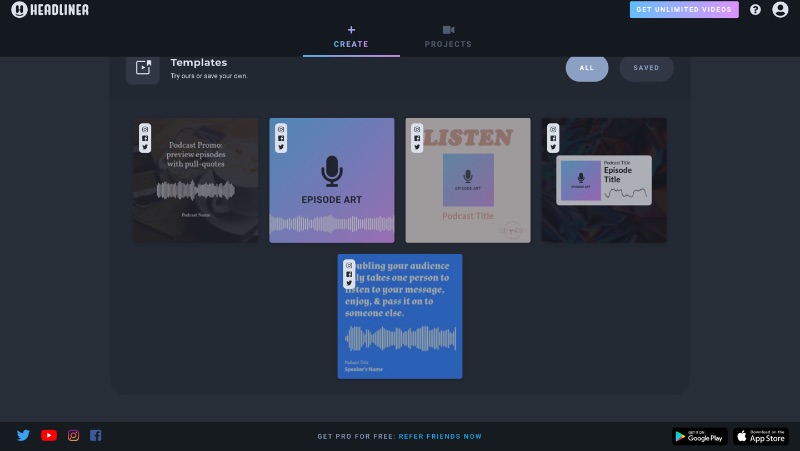 Should you invest in Headliner audiograms? Absolutely. Despite a few limited features, you're not gonna find a better place to make pro-quality free audiograms for your podcast.
Be aware of Headliner's limits: you can only transcribe up to 10 minutes of audio per month in the free version, and if you make more than 5 videos in a month, your audiograms will start to feature a Headliner watermark.
In spite of these, Headliner has a leg up on every other free audiogram maker I've tried. It's a great marketing tool to help create a successful podcast. Rating: 8.9/10 🎙️🔥
Say Goodbye to DIY Design
See how Penji can help your brand simplify and scale with unlimited graphic design.