This generation's business strategies often involve digital branding and marketing graphic designs. It's no wonder why many graphic design online tools soared to popularity along with the growing eCommerce due to the pandemic's effect. If you're looking for one of the best design tools created for the non-designer, then this article is just for you! Say hello to user-friendly tools that can be found on the internet. Let's discuss them one by one.
Canva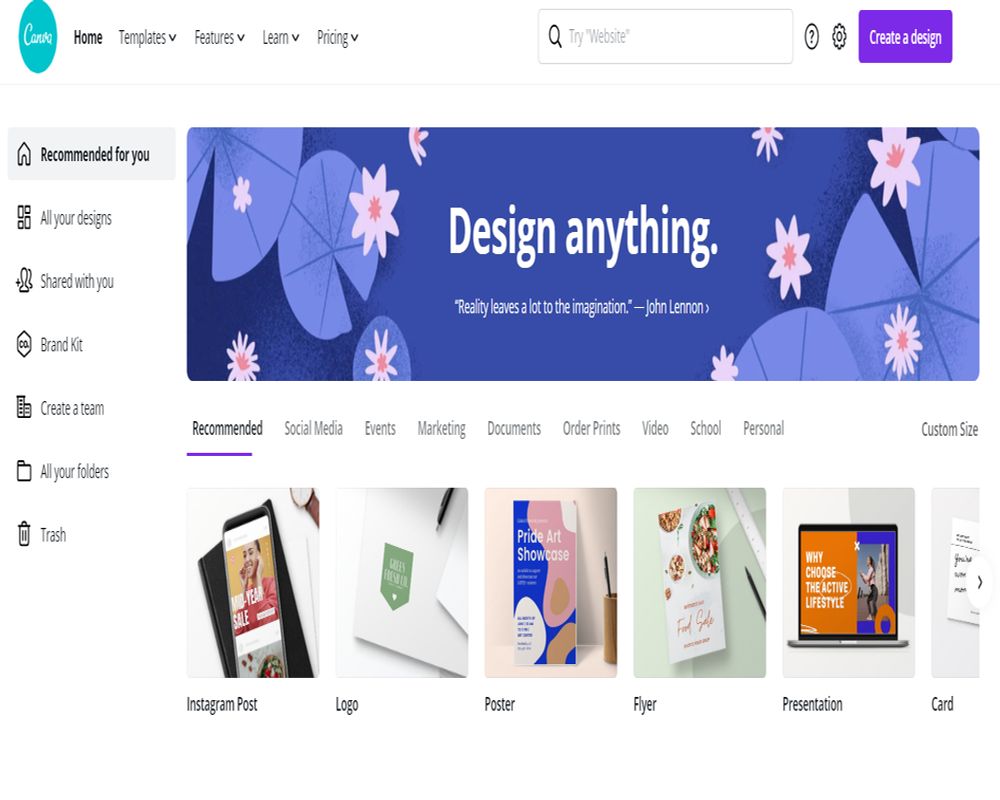 Canva is one of the most popular graphic design online tools available. By now, everyone must've heard about the software. It's the usual go-to online tool for non-designers, especially those who curate social media such as Pinterest or Instagram. Also, it's becoming the go-to software of designers who need to produce immediate outputs. Yes, guilty.
This online tool provides ready-made templates for social media, events, marketing, and more. Canva doesn't require its user to sign up to use its design tool. However, if you want your drafts to be saved and easily accessible, it's best to sign up.
Features:
Drag and drop
Basic and animated elements (line, shapes, stickers)
Add text, choosing from hundreds of typefaces and typography.
Add background music from a variety of free and premium clips.
Free and premium snippets of video such as aerial shots, background, etc.
Allows integrations from stock photo websites such as Pexels and Pixabay.
Add backgrounds with solid color, texture, or pattern.
Monthly Pricing:
Free with limited features
Canva Pro at $12.95 per team member
Canva Enterprise at $30 per team member
BeFunky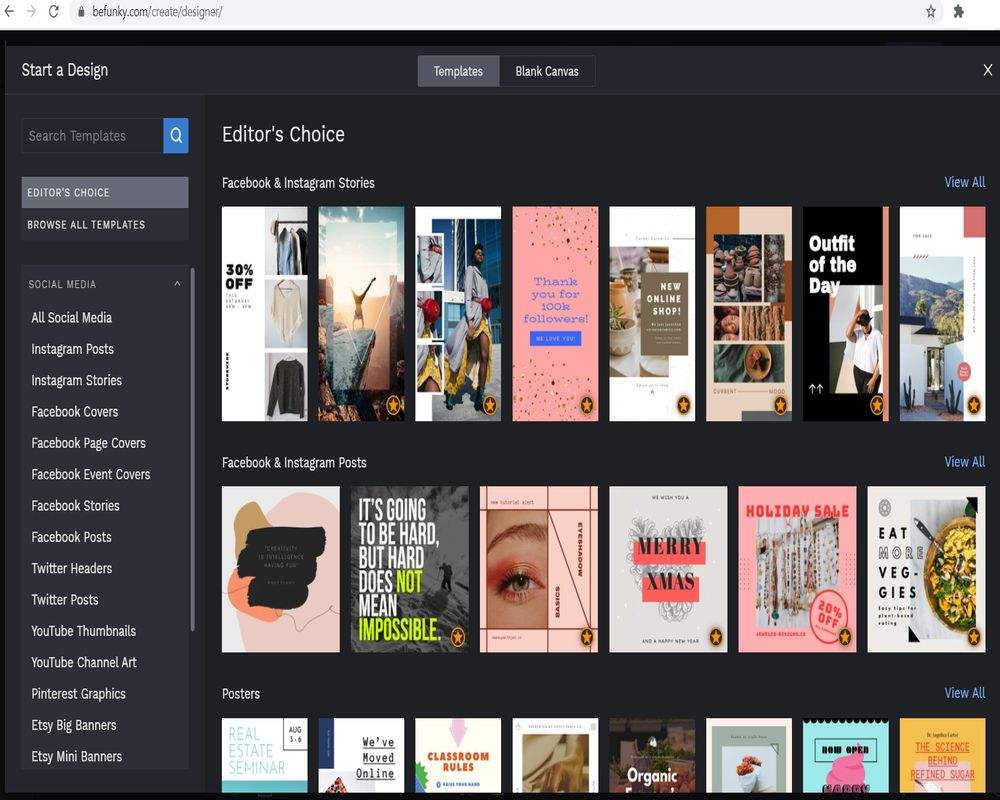 Besides being a graphic design online tool, BeFunky also has a collage maker and photo editor software to bring your product or service images to life. It's like a one-stop-shop with simple user software. Like Canva, BeFunky does not require users to sign up just to use its design tool. BeFunky offers templates for social media, business marketing, online advertising, events, and cards.
Features:
Drag and drop
Basic shapes
Simple free and premium graphics
Add text with different typefaces.
Solid color background
Integrated stock photos from Pexels, Pixabay, and Unsplash.
Monthly Pricing:
Free with limited features.
BeFunky Plus plans at $6.99.
Visme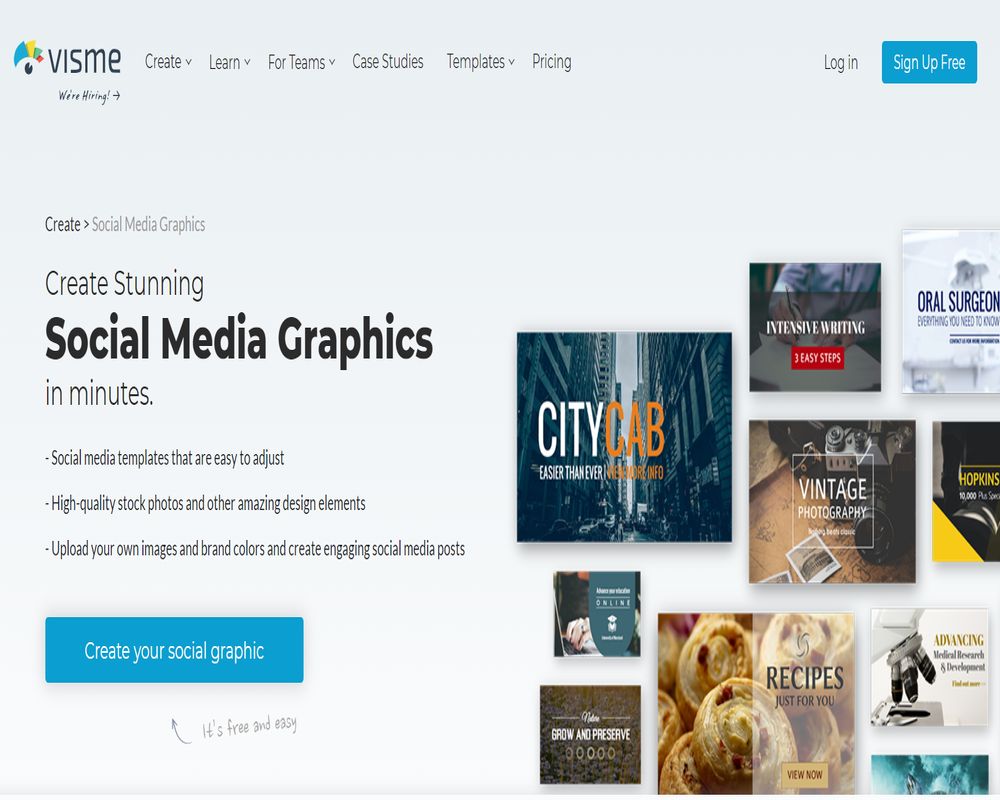 Visme is also an online design tool that requires a sign-up before you could use its features. Its design software includes templates for presentations, infographics, social graphics, video, and poster templates.
Features:
Basic graphics and shape. (Mostly for stat & diagrams).
Animated and infographic icons.
Embed online content, or add video and audio.
Theme color schemes.
Application integrations such as Youtube, Google Drive, etc.
Monthly Pricing Plans:
Free with limited features.
Standard plan at $15.
Business plan at $29.
Create your own custom plan.
Adobe Spark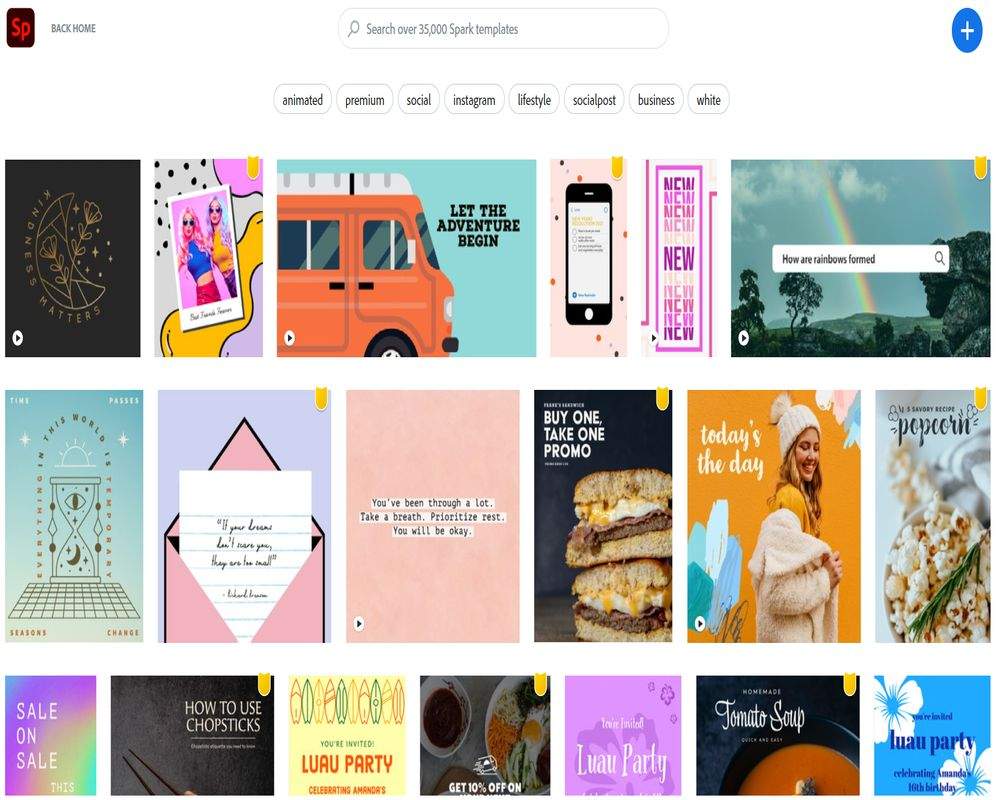 Adobe Spark is a graphic design online tool for users who create posts for social media. It has a more straightforward approach compared to Adobe Photoshop or Illustrator. You don't have to worry about getting bombarded by a complicated-looking screen. However, this tool also requires the user to sign up before allowing customization. After signing up, pre-made social media templates are available for you to choose from. Also, Adobe Spark is used to create short videos and web pages. It's the perfect software for small enterprises or educational institutions.
Features:
Add various typography.
Simple icons
Design assets
Different types of background, such as holographic, bokeh, etc.
Add branding by using your company's logo.
Pre-made color schemes or add your brand's scheme.
Text animation such as color shuffle, fade, slide, etc.
Design Variations
Monthly Pricing:
Free with limited features.
Individual Plan at $9.99.
Team Plan at $19.99.
The downside to Adobe Spark's free version—all outputs include the Adobe Spark logo and is not removable.
Easil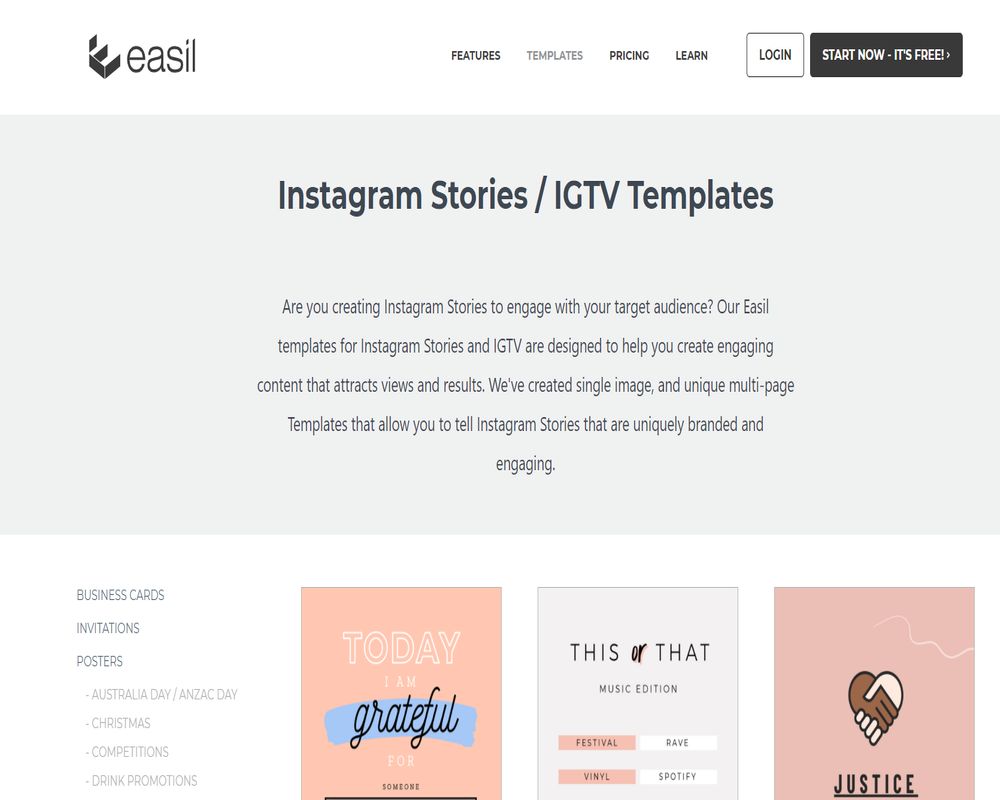 Easil is a drag and drop graphic design tool with a user-friendly interface. Also, the platform requires signing up before you can explore and customize their templates. There are various templates to choose from, such as, but not limited to, social media posts, Instagram stories, posters, banners, AD, and menus.
Features:
Drag and drop
Upload brand fonts.
Integrated stock photo images.
Basic shapes and borders,
Icons and illustrations
Software and social logo library. (Ex. Youtube, Vimeo, etc.)
Shape Masks
Add patterns and tables.
Monthly Pricing:
Free with limited features.
Easil Plus at $7.50.
Easil Edge at $59.00.
The downside of this tool— it only allows the typeface that is set with your preferred template. However, you could upload your brand's typeface or a royalty-free font licensed for commercial use.
Stencil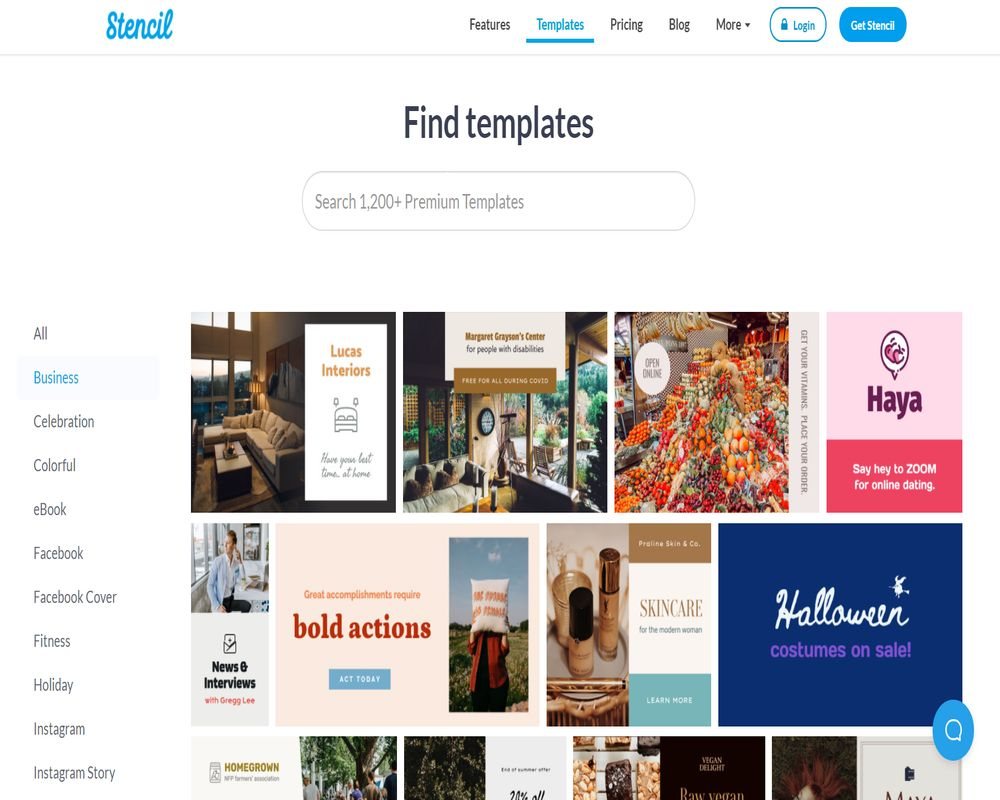 Stencil's online design tools allow its users to navigate the application to choose and customize plans. However, once you are done with your design, the download button is disabled unless you save and sign up on its platform. Stencil also has various pre-made templates to choose from, such as business, eBook, social media, promotional, and other awesome stuff.
Features:
Integrated stock photos.
Simple icons.
100, 000+ quotes available.
Add typeface.
Monthly Pricing:
Free with limited features.
Pro Plan at $9.
Unlimited Plan at $12.
PicMonkey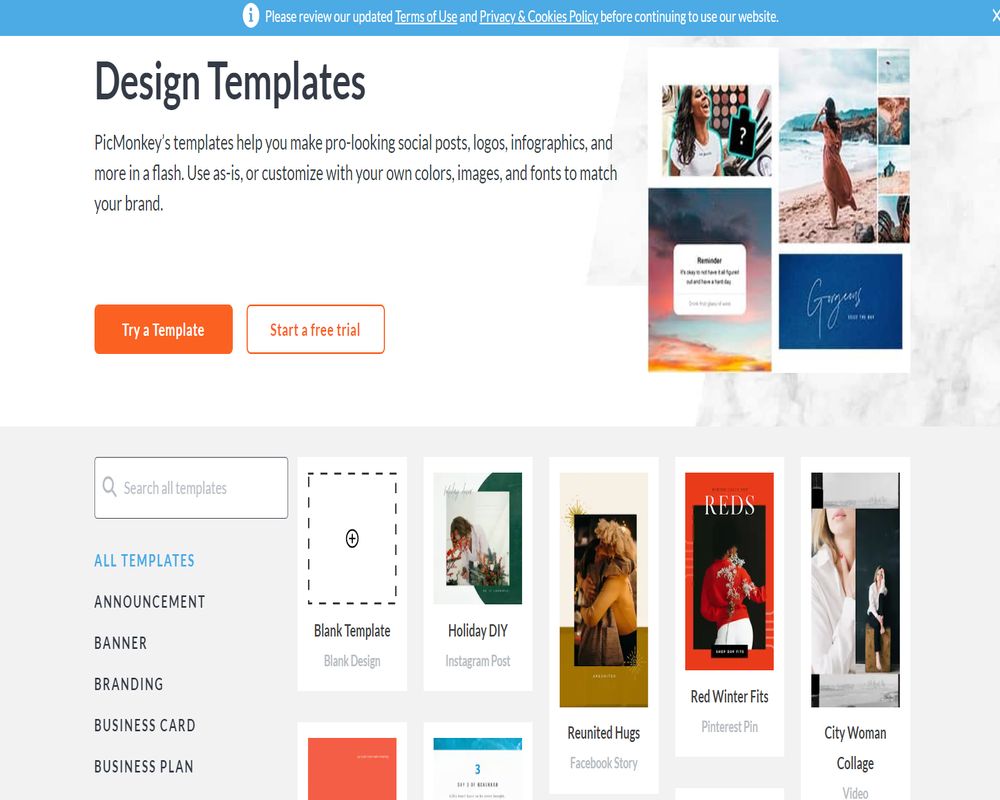 Picmonkey is a photo editing software as well as a graphic design online tool. As most of the online design tools mentioned, PicMonkey also requires the user to sign up before custom templates. It also has various pre-made templates for your perusal, such as business, logo, branding, mood board, social media, and more!
Features:
Animated templates
Add typography and typefaces.
Basic to animated graphics
A "draw" feature that allows you to scribble on the images.
Basic and advanced edit settings.
Template pack per theme.
Touchup for photos
Effects
Textures
Frames
Monthly Pricing:
Basic Plan at $7.99.
Pro Plan at $12.99.
Team Plan at $33.88.
Although PicMonkey has stellar features, the design tool does not have a free plan. It only allows the user to customize the templates, but it will require you to try a free trial to download your output.
Crello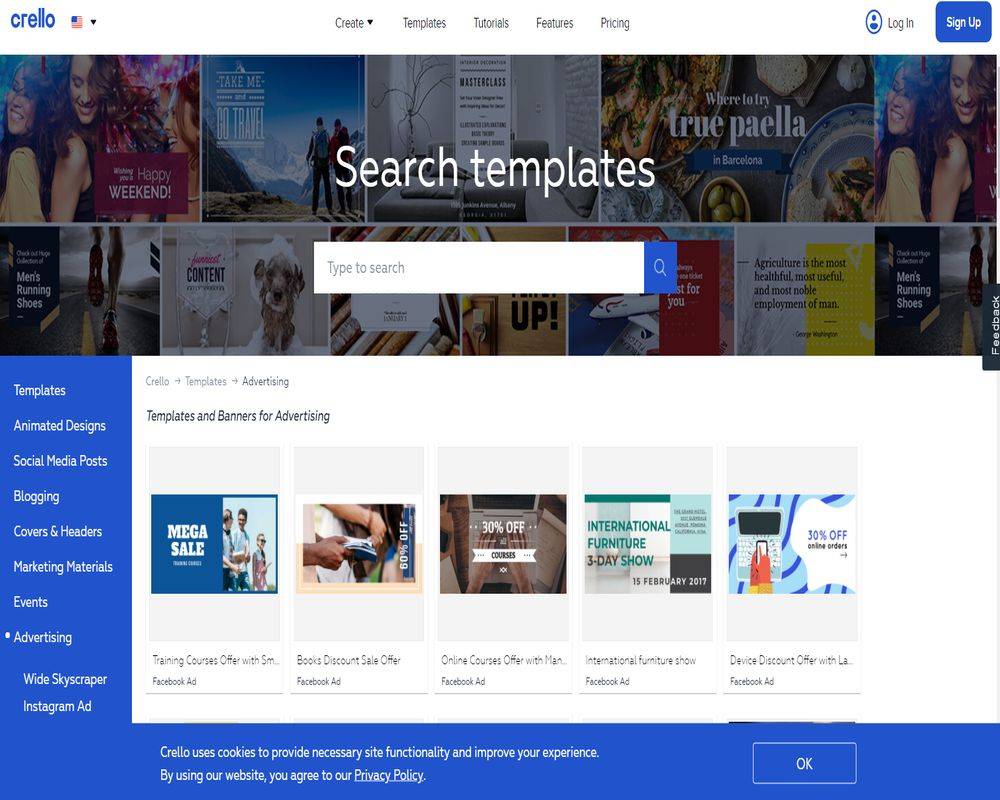 Crello lets you navigate and customize their software, downloading the output prompts to a signup window. It has 30 000 professionally designed templates available such as social media, video & animation, website graphics, covers, headers, marketing materials, and more!
Features:
Integrated stock photos.
Short videos.
Adds music.
Animated graphic icons.
Basic objects.
Pattern, color, and photo background.
Add typography and typeface.
Monthly Pricing:
Free starter plan with limited features.
Pro plan at $9.99.
Snappa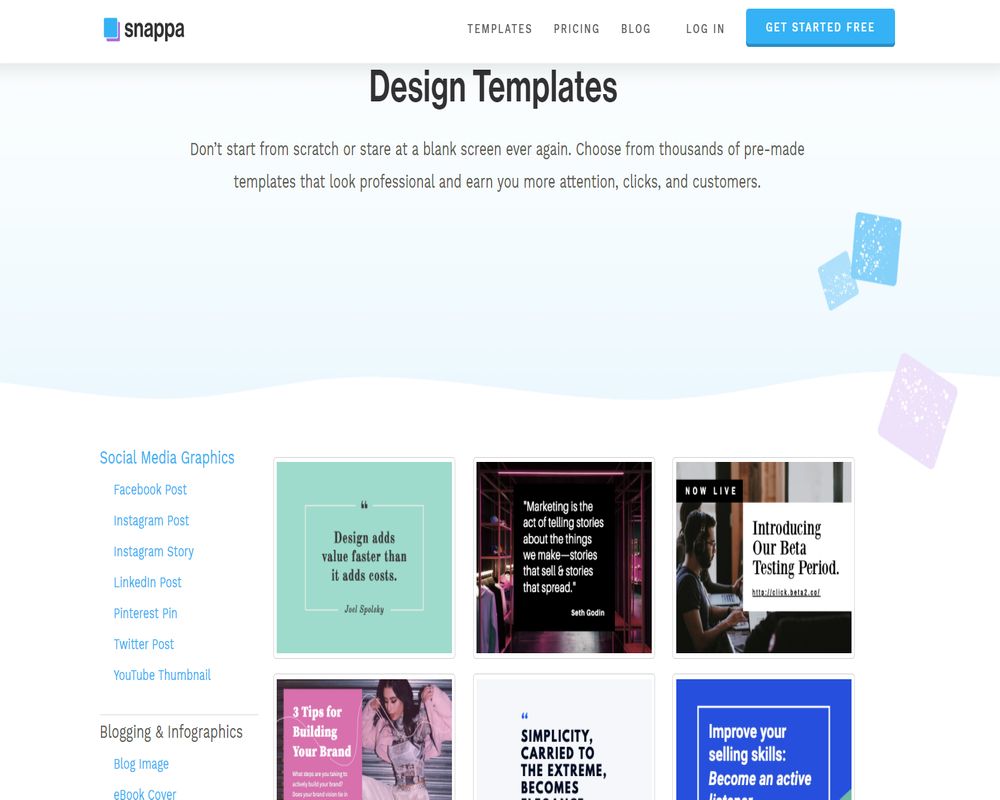 Snappa's design tool function is mostly aimed at social media posts, ads, banners, blogging, infographics, and more. First, it will let you choose an appropriate size for your output. Next, it will direct you to a page you could create from scratch or use the templates.
Features:
Photo, pattern, and color background. It will also allow you to upload an image of your own.
Basic image effects
Add typefaces
Icon, vectors, and stock photos available.
Basic shapes
Monthly Pricing:
Free with limited features.
Pro Plan at $10.
Team Plan at $20.
PiktoChart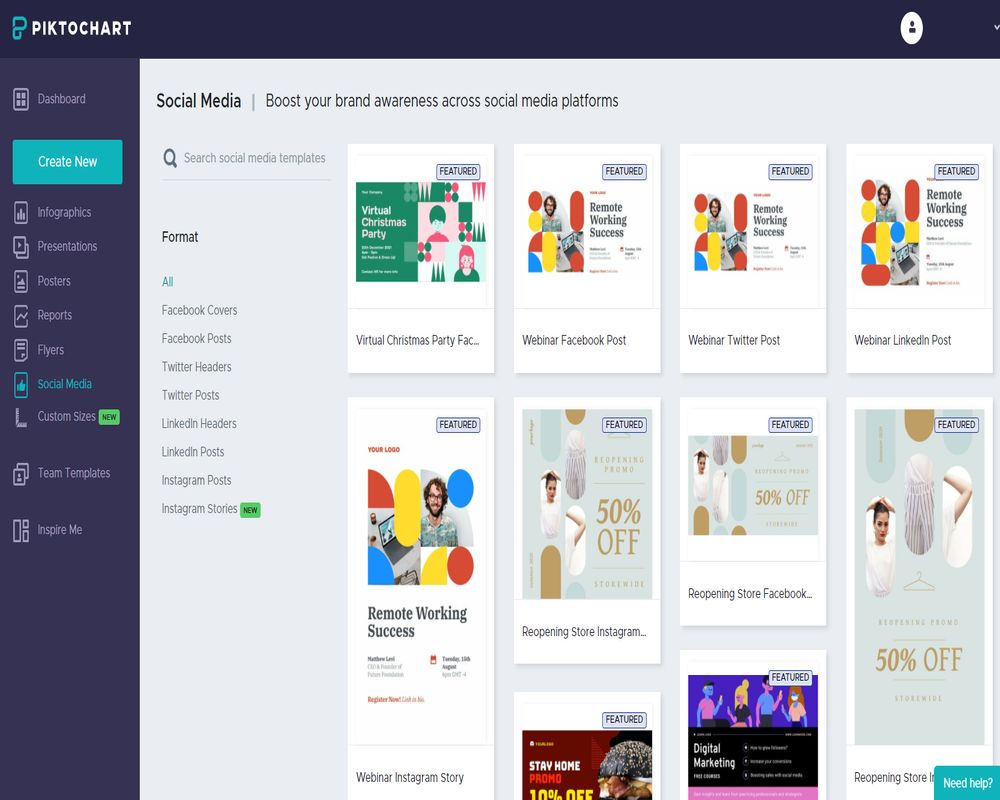 Last but not least, PiktoChart's graphic design online tool. It also requires a sign-up before customizing the template. PiktoChart offers templates such as social media, flyers, reports, posters, presentations, and infographics.
Features:
Shapes, icons, and lines
Illustrations, stock photos from Unsplash, and photo frame.
Design components, such as lists, timelines, and comparison illustrations.
Pattern, texture, and solid color backgrounds.
Add typefaces.
Variety of text frame designs.
Built-in color scheme options depending on the template chosen.
Monthly Pricing:
Free plan with limited features.
Pro plan at $29.
Team plan at $99.
Pros and Cons
The selling edge of most online graphic design software is their templates by their professional graphic design team. However, let's weigh the pros and cons of using online design tools.
Pros
Templates available are convenient and serve as a guide.
Easily accessible online graphic design tool.
Encourages do-it-yourself design outputs.
It gives a full hands-on experience.
Definitely non-designer friendly.
An addition to your skill sets.
Cons
There will be instances where your design outputs will look generic, as other brands will also use almost the same templates as yours.
Producing daily content for social media posts will be time-consuming.
Templates will not establish a brand identity.
The plans have limited features.
Although using a graphic design online tool has its pros, branding weighs a massive deal for business, especially if you want a lasting impression on your clients. The downside of using icons, graphics, and templates— it's available to everyone! It really doesn't help you make an edge for yourself and your brand. The online design tools are great to use if you already established your brand identity and have the essentials such as logo, color scheme, etc.
Don't Want to Design it Yourself? Here's a Solution to That!
At Penji, we can customize your every graphic need as long as it's available in our design categories. Say goodbye to generic icons, templates, typography, and wow your clients with a design that's made, especially for your brand. We have to admit that a brand's overall look always piques our curiosity. It's a double plus if they deliver an excellent product or service.
First, choose the plan that works best for your needs and create an account on Penji's site. After that, creating a design project is as easy as 1-2-3. All you need to do is fill out the form provided. Just list down the things you want to happen in the design, and attach any inspiration photo to help deliver your idea. Once you hit send, it's up to Penji's designers to do their magic!
With Penji, you're only four steps away from the perfect brand identity for your business. Don't worry. There are no complicated strings attached. You'll get to enjoy UNLIMITED designs per month with a designer primarily assigned for your account, depending on the membership you choose. No sweat, you can always cancel anytime. Sign up with Penji now.