Are you planning to start an online business but need help determining what ecommerce platform to use? If so, the two popular options are GoDaddy and Shopify, each offering unique features. Learn more as we compare GoDaddy vs Shopify to help you determine which best suits your ecommerce needs.
In a nutshell:
GoDaddy is known for novice web designers who want to build professional-looking websites. On the other hand, Shopify is best for starting an online store with ecommerce features.
Features
Even though it has more functionality than GoDaddy, designing your Shopify store is easy, even for beginners. Its drag-and-drop editor gives you plenty of flexibility for customizing your theme. The step-by-step guide and pop-up tutorials are also helpful in setting up an online store.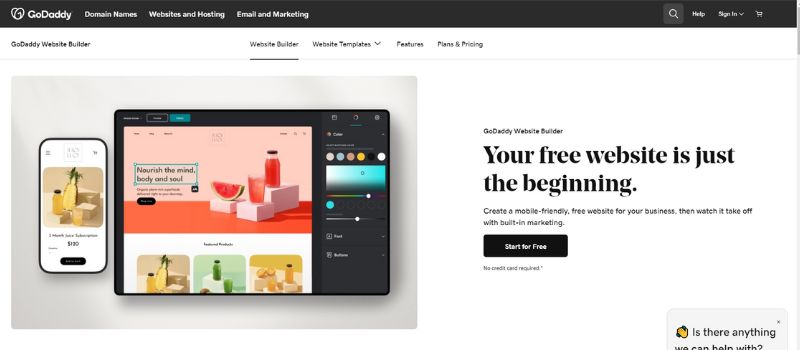 GoDaddy's Website Builder is designed with simplicity in mind. It's best if you need a professional-looking website but want to avoid delving into customization. However, GoDaddy needs to catch up with Shopify regarding sales features and tools.
There are two ways to build your store with GoDaddy. You can choose a template and use GoDaddy's drag-and-drop editor to make it your own or have the GoDaddy AI builder design it. You'll answer some questions about your business and website goals. Based on your responses, AI selects a suitable template, creates a color palette, and preloads the template with stock photos for your website.
Setting up a store on Shopify may take longer than GoDaddy, but that's because it offers more.
Apps and Integrations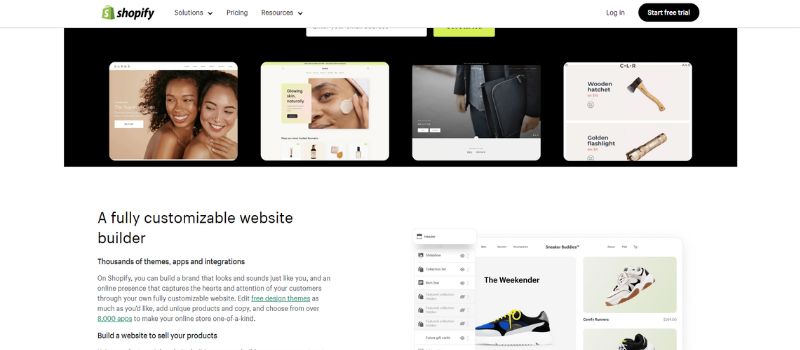 The beauty of Shopify is that it has over 8,000 apps, many of which are free. Apps are categorized by function so you can quickly find what you're looking for.
If you want to stock your store without paying for inventory or handling shipping and fulfillment,
Shopify offers many apps for dropshipping. You'll find dropshippers that take whatever type of product you want to sell, from fashion to home goods and more.
GoDaddy has a limited selection of proprietary and third-party integrations you can use to expand your online store. Notable integrations are GoDaddy's appointment booking and video and social media content creation tools.
Both GoDaddy and Shopify have native payment processors. But Shopify also offers 100 third-party payment providers, while GoDaddy has only three: Stripe, PayPal, and Square.
While Shopify charges a transaction fee if you use a third-party processor rather than Shopify Payments, GoDaddy doesn't charge transaction fees. That can mean substantial savings for your small business.
GoDaddy can't match Shopify regarding add-ons that enhance your store's shopping experience or functionality.
Ease of Use
GoDaddy is the better option for business owners who want to get their websites up and running quickly. Business owners looking for the easiest way to get online can use GoDaddy's Artificial Design Intelligence feature to create a website soon. All they need to do is answer a few questions, and GoDaddy's artificial intelligence will create a website that is up and running in a matter of minutes. Users can always edit the AI-designed website to customize it to their needs further.
Shopify offers an intuitive drag-and-drop feature, making Shopify online stores more customizable. However, it does not match GoDaddy's overall ease of use.
Pricing
It's a close fight, but Shopify offers more variety and features with its three plans, starting from $25 per month, making it a better choice for those wanting to start a larger store.
On the other hand, GoDaddy begins at a cheaper $19.99 per month with fewer ecommerce features. Likewise, it only has two dedicated ecommerce plans. That's why we recommend Shopify as the better option for online stores.
When building an ecommerce store, it's essential to think about the running costs of the platform. Do Shopify's price plans stay within your budget? Or will GoDaddy suit your business needs? Let's find out.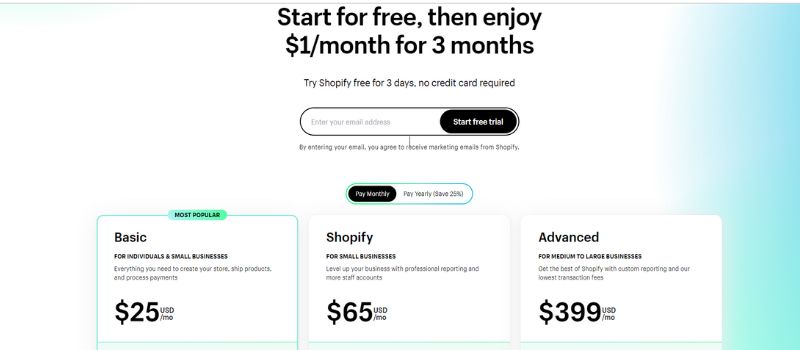 Shopify has three main price plans, and we've listed the monthly fees below:
Basic: $25 per month
Shopify: $65 per month
Shopify Advanced: $399 per month
While Shopify doesn't offer a free plan, you can enjoy its three-day free trial, which then rolls into $1 monthly for three months if you choose the Basic plan.
Shopify represents relatively good value for money. Its plans offer the best ecommerce features on the market, so keep this in mind when considering Shopify's prices. It's also worth noting that there's a tailored plan option called Shopify Plus, which is only available via quote.
GoDaddy is more straightforward in the pricing department than Shopify but needs more scalability and power.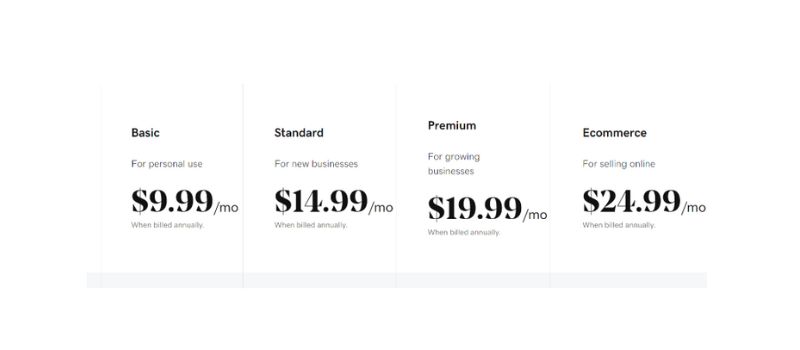 You can choose between GoDaddy's two ecommerce plans:
Premium: $19.99 per month
ECommerce: $24.99 per month
While these plans are considerably more affordable than Shopify's, there aren't enough sales-specific features – such as mass product importation– to make it as cost-effective as Shopify. And, you'll have a limit of 5,000 products on the Commerce plan, meaning it's more suitable for small businesses.
That being said, GoDaddy offers an impressive 30-day free trial, so you can try it out for yourself before you decide.
Conclusion
Both platforms offer valuable tools and capabilities for building successful online stores.
Shopify may be your best bet if you're seeking a user-friendly, all-in-one solution with a strong focus on e-commerce features. Its extensive range of templates, payment options, and scalability make it the best choice for businesses of all sizes.
On the other hand, GoDaddy is a versatile platform that combines website building with hosting and domain services. It's an excellent choice if you're looking for a simple website builder, particularly for smaller businesses or individuals just starting in ecommerce.
It is best to carefully assess your needs, budget, and long-term growth plans before deciding. This way, you'll be better equipped to select the platform that best aligns with your vision.