You might be thinking of changing your brand image in anticipation of the fall season as early as now. Whether launching a new brand or giving your existing one a fresher look, a fall-theme material can benefit you. Autumn is the time for layers, pumpkin spice, and golden red leaves. Check out the top ten color palettes to guide you in incorporating the season into your brand image and other infographics.
What are fall colors and their meaning?
The colors of fall foliage can include shades of red, orange, yellow, brown, and sometimes purple or pink. These are inspired by the changing pigments in the leaves of trees and other plants as the temperature drops.
Fall colors are often associated with the changing seasons and the natural cycle of life, death, and rebirth. They can also symbolize warmth, comfort, harvest, and abundance. In some cultures, fall colors are associated with spiritual themes such as gratitude, letting go, and embracing change. Fall colors are generally celebrated for their beauty and the sense of wonder and awe they inspire.
Take your marketing and advertising materials to the next level by taking a cue from these fall color palettes.
1. Midnight Green + Ruby Red + Dark Orange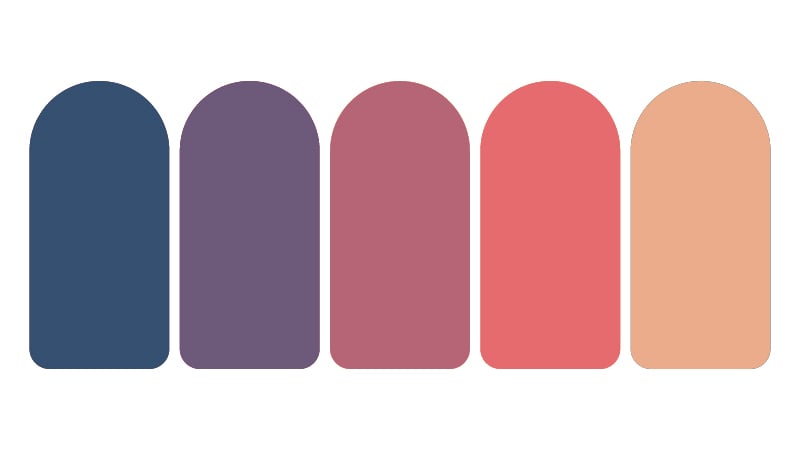 Draw inspiration from this warm color palette with a richness of jewel tones. Pai them together to create a warm saturation level perfect for your brand assets. This color combination is suitable for a beauty, fashion, or home furnishings brand.
2. Cornsilk + Fawn + Kombu Green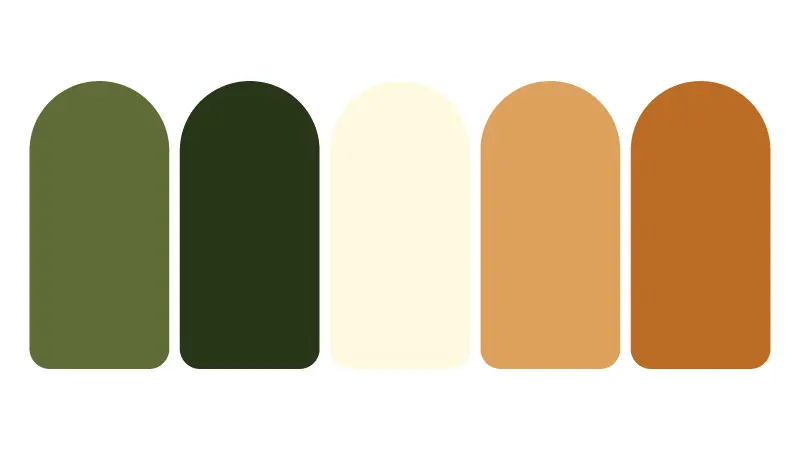 Level up your aesthetics with this refreshing fall color palette. An early-fall hike inspires the colors of the woods, where you can see a lot of trees that still have deep green-colored leaves. Match the deep, dark green with the lighter tones to achieve beautiful contrast.
3. Tan + Brown Sugar + Almond Brown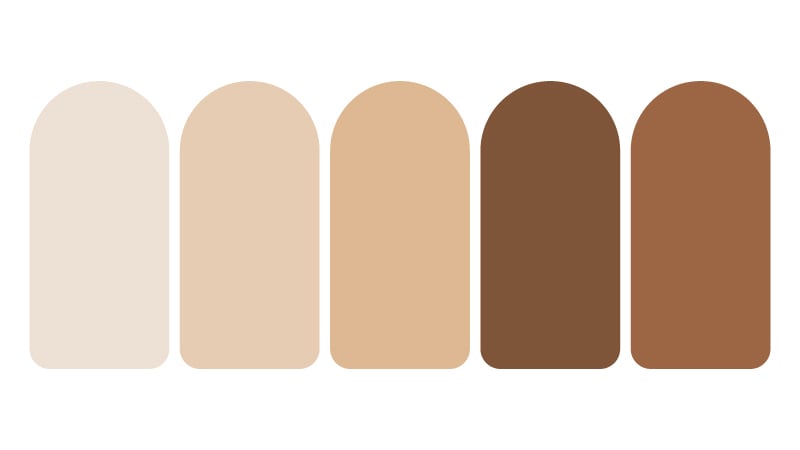 Feel the vibe of the crisp fall air just by using this monochromatic brown fall color combination. You can pair similar shades for a sophisticated effect. Or go bold by choosing the two intense shades. This color palette is perfect for websites or landing page templates.
4. Ash Gray + Dark Slate + Dark Sea Green
Red and orange are the typical color of fall. But the deep green or other evergreen trees can inspire as well. Explore all things green in your design with this lush fall color palette. This color combination will make your brand look reliable and works particularly well for tourists and medical or health-related fields.
5. Rose Dust + Tumbleweed + Mn Blue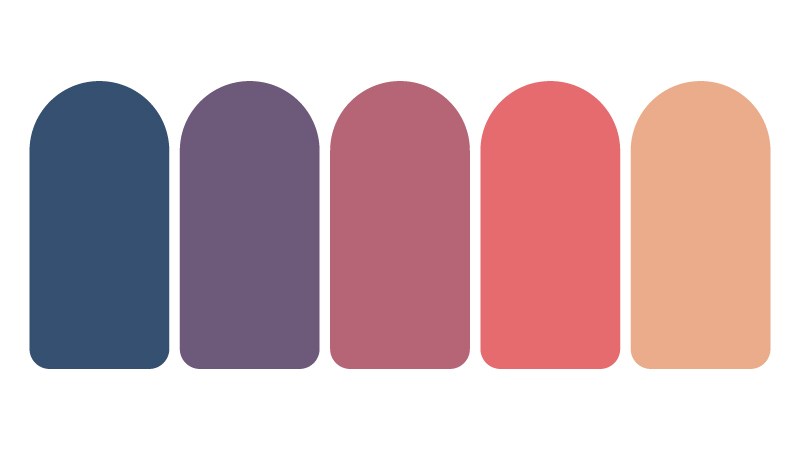 From green, let's move on to the rose dust color scheme. This fall color palette enhances the warmth level by pairing slightly desaturated shades. It brings a sense of calm and warmth because of its easy-on-the-eye colors.
6. Deep Space + Auburn + Indian Yellow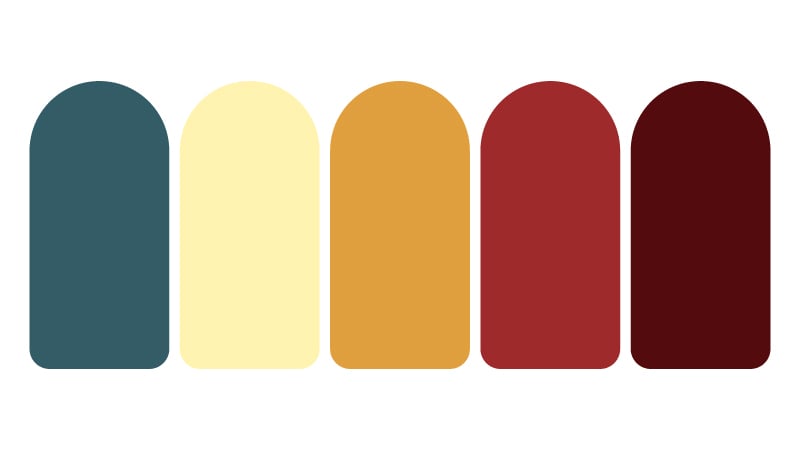 Upgrade your visual communication with this color palette inspired by every family of the autumn spectrum. This color scheme immediately draws your audience's eye to the center of the logo. A color pairing like this would be perfect for your social media assets to celebrate the season.
7. Antique Brass + Desert Sand + Ash Gray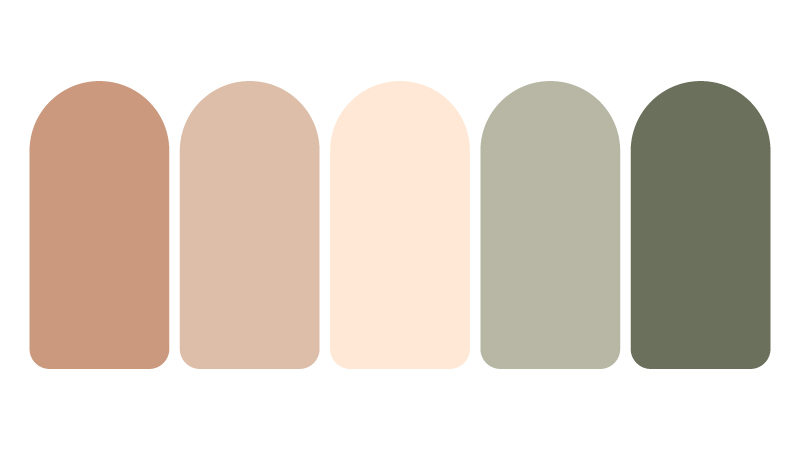 If you're looking for an earthy fall color palette, this antique brass, desert sand, and ash gray combination is a good choice. This scheme pairs dusky brown shades with desaturated greens, creating an excellent balance. Plus, the shades are neutral and match well with all the others.
8. Dark Sienna + Rust + Blood Red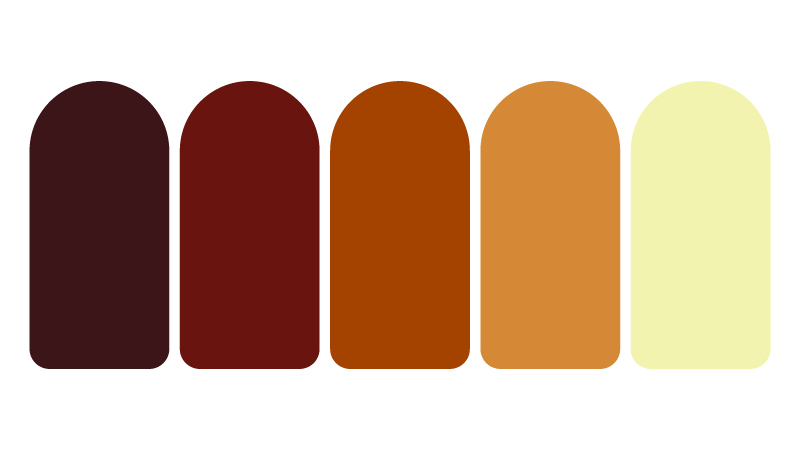 Now, go for one of the most iconic fall colors. This color combination is more of darker earth tones from the red-orange-yellow family. And all other color pairs well with rust, one of the most traditional fall colors. This fall color scheme evokes energy, stability, and excitement, making it a mainstay in sports marketing assets.
9. Peach + Tumbleweed + Charleston Green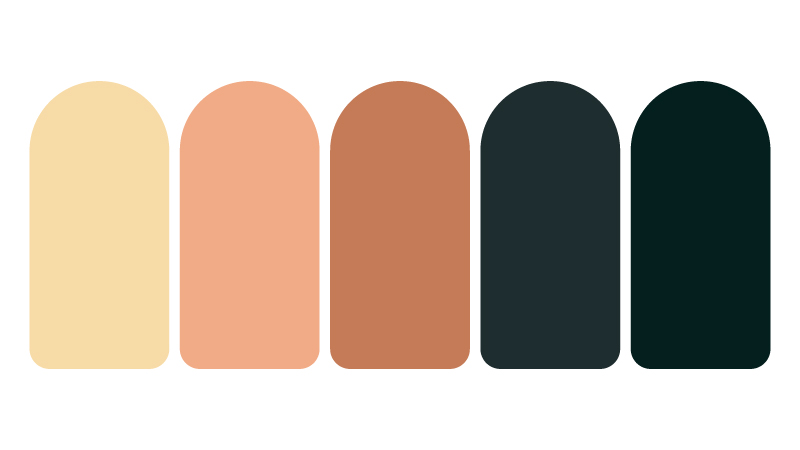 Peach is probably not your first thought when you consider fall color palettes. Surprisingly, the dusky tone is an ideal counterbalance to a more conventional brown and nearly-black green. This color pair works well because it maintains a balance between the techniques.
10. Melon + New York Pink + Persian Orange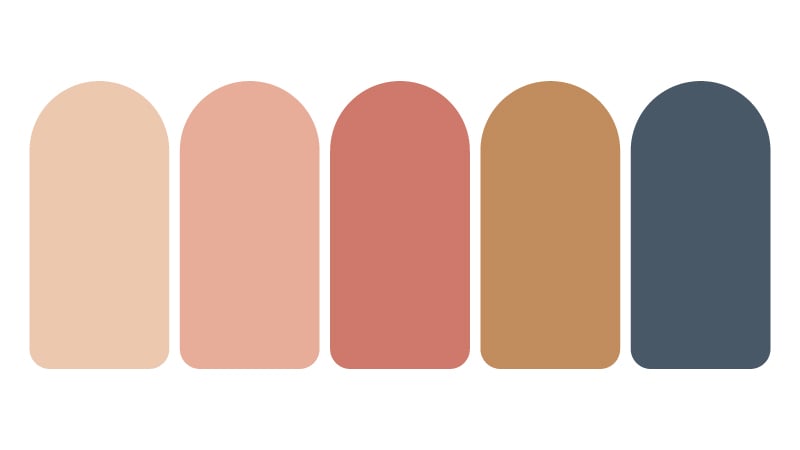 Here's a color palette with multiple shades in the brown family. Most colors here are neutral, making them easy to pair with any color. Pick a palette like this when you want to bring a comfortable feel to your designs.
Choosing the right color combination
Color theory plays a huge role in our lives. Every day, we subconsciously make assumptions that trigger positive or negative emotions. Take note of this when creating your logo or any design. The color scheme you choose tells a story, and you want that story to reflect your brand while resonating with your target audience.
Here are some insights to help you select the perfect color scheme:
Consider the context.
Use a color wheel and color palette generators
Use a limited color palette.
Consider color psychology
Think about contrast
Test your color combinations.
It is best to remember that color is subjective. There's no "right" or "wrong" color scheme. Ultimately, your color choices should align with your brand or project's goals and resonate with your intended audience.
Let Penji pro designers work on your fall-inspired designs.
It's hard to go wrong with a fall color palette when adding seasonally appropriate visual assets to your creative strategy. With that said, working with professional designers can be highly beneficial. Graphic design professionals can help you if you want to achieve a high-quality, effective design for your project.
Now that you know the best fall color palettes, it's time to work only with the best designers in town. Entrust this job to professional designers at Penji. They know what to do with designs inspired by the changing seasons. Worry no more and subscribe now. You can choose from our three pricing plans and avail of a 30-day-money back guarantee.