Pharmaceutical marketing efforts can be challenging due to regulations and restrictions. You have to be careful, and your plans need to be well thought out. Otherwise, you risk attracting lawsuits. That's why it's best to hire design experts like Penji. That way, you can avoid common design pitfalls when marketing Pharmaceutical brands and products. Sign up now and get unlimited graphic design for a fixed fee every month.
Meanwhile, we've put together a list of some of the most commonly used pharmaceutical digital marketing strategies that are safe and effective. Take note that we're not reinventing the wheel, and you'll likely see some very obvious and down-right un-innovative strategies on this list. Nevertheless, it will never hurt to be reminded.
1. Update Your Website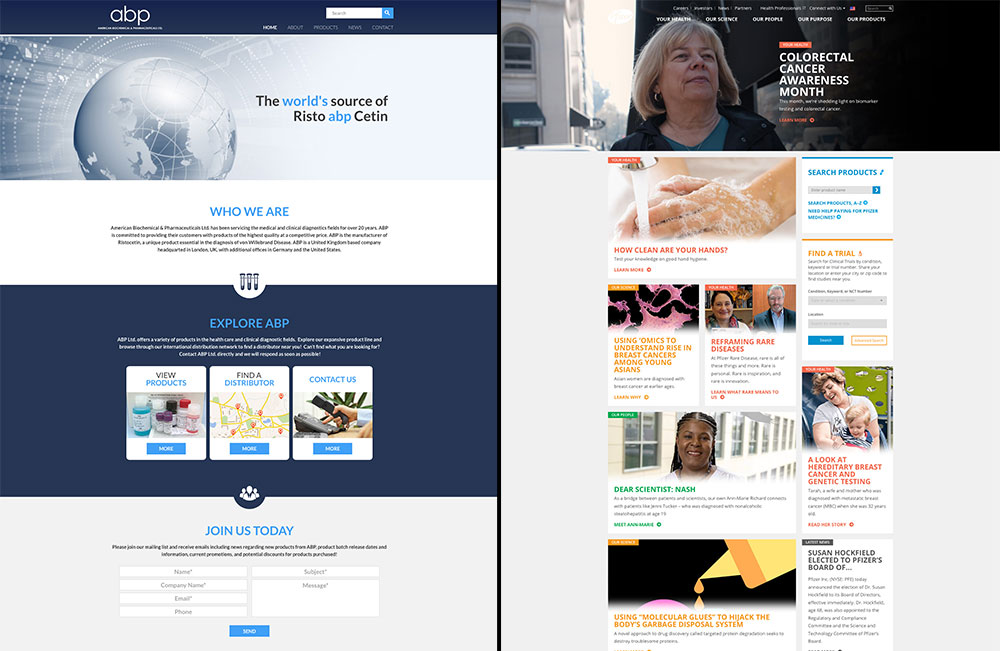 Before we dive into pharma marketing in the digital world, we need to update the most important aspect of your online efforts – your website. This is likely where most of your visitors, doctors, and potential clients will land. Most pharma websites haven't been updated in years and it shows.
Regardless of how big or small your company is, you can afford a quality website design. A good website will do wonders for you. Take a look at your own website and see if it checks off the following:
There are images of "People" on your website. This is very important for Pharma because your audience needs to relate to your company. Pictures of pills and generic "globes" won't impress anyone.
The colors look modern and attractive
The Hero section (top section) of the website reflects your brand and isn't generic
Texts are easy to read on your website
Navigation is clear
The website looks recent and updated
Take a look at the image above and you can compare the two websites. The one on the left belongs to ABP and it's dull looking, lacks any images of people, texts are hard to read, and overall looks like it hasn't been updated in a decade.
The website on the right belongs to Pfizer and it's significantly more bright and attractive. There are pictures of people and the site looks like it's constantly being updated.
2. Create Useful InfoGraphics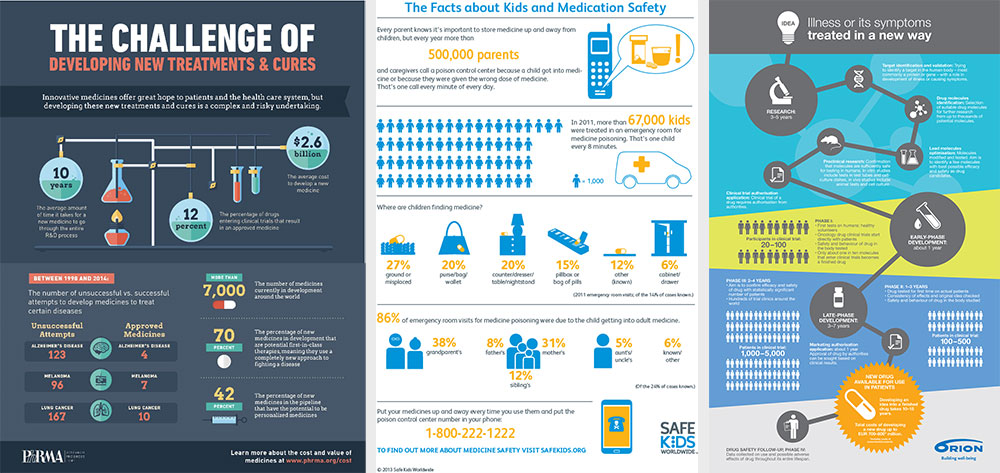 Pharmaceutical marketing can be physical and visual. You already know doctors love hanging stuff up in their office. They're more likely to hang up an infographic that's useful either for them, their staff, or their patients. A poster of your product probably isn't as appealing as an infographic that breaks down the COVID-19 virus.
If you already have a sales team on the ground pitching to doctors, having free infographics to give them is a great way to leave your name, contact, and product information inside their office. If it's informative and well designed, then it will more likely end up on their wall than in their trash bin.
If you're not familiar with designing an infographic or don't have anyone in-house to help, then consider hiring Penji. We offer unlimited online graphic design help for pharmaceutical marketers for a flat monthly rate. Get all your infographic, packaging, branding, advertising, and marketing materials designed by Penji.
3. Get Registered On Local Directories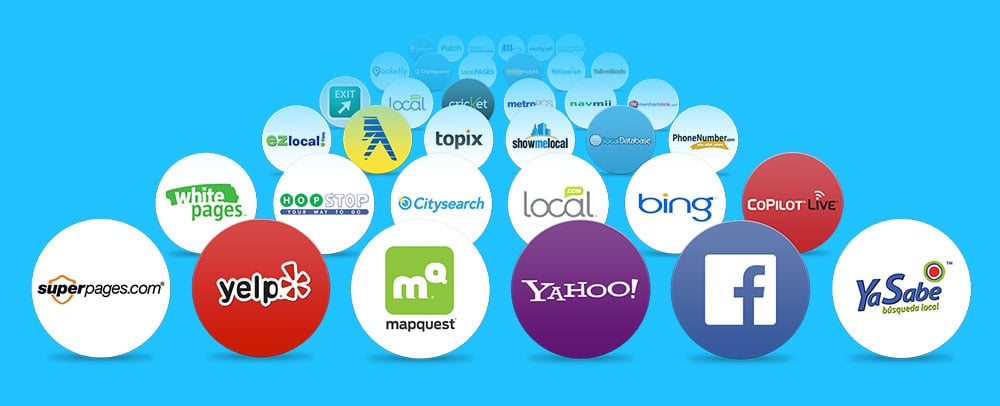 As a pharmaceutical company, you're constantly trying to promote your latest products. You're probably spending a lot of money on advertising to get your products in front of doctors. They'll see it and likely recall it later. That's when they will turn to Google to try to find you. And that's when you NEED to be searchable, otherwise, you miss a business opportunity.
Local SEO is important for pharmaceutical marketing. You can hire a local SEO company or have someone at the office spend a few hours each week to manually list your company on directories. This is a low investment and high return strategy that will make it significantly easier for potential buyers, doctors, and clinics to find you.
There are hundreds of local directories you can manually list your business in. This strategy just takes a bit of time and patience as you'll need to manually register for each directory. The good news is you'll only need to do it once and never have to worry about it again.
4. Be On Social Media

Your online pharmaceutical marketing budget might go to waste if you don't have a strong social media presence. And by strong social media presence, we don't mean you need to have millions of followers.
Make sure you're on at least Facebook, Twitter, and Linkedin. You don't need a lot of followers, but your social profile does need to be filled out and complete. And you need to have at least 1 post each month for all platforms you have accounts on. Even if your posts get 0 likes/comments/engagements, it's still worthwhile.
Just having an active social profile gives your customers the confidence that you're active and that you're easily accessible to them.
5. Create Different Content For Each Social Media Platforms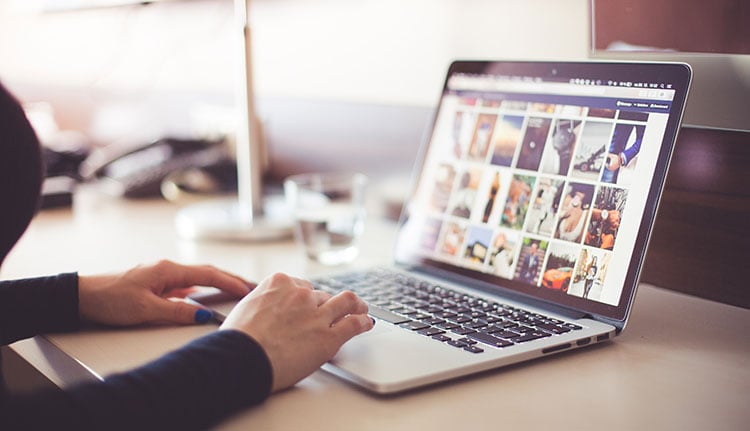 If you're advertising on Facebook, make sure your Facebook page is polished and is constantly being updated with new posts. If you're advertising on Linkedin, also make sure your business page speaks to your audience on LinkedIn.
Never try to copy/paste your posts and designs from one social media account to another. Each social media platform has its own looks, feel, and tone. Users on each platform will expect brands (even pharmaceutical companies) to respect the platform enough to produce original content for it.
Having your social media platform regularly updated gives doctors and consumers the confidence that you're still in business and that you're available and responsive to their needs.
6. Multi-Channel Engagement For Target Audience and Patients
Social media is fun but complex toy to understand. Each social media platform has a different audience and purpose. So, you have to carefully evaluate which channel is the best fit for their content and audience.
For example, Facebook users tend to be older and have a very distinct sense of humor. While Twitter users tend to have a younger crowd and a totally different and progressive personality (the majority).
So, this goes to the pharmaceutical industry as well. The industry must evaluate and access which social media channel to use. Depending on what the service is for, they have to avoid certain platforms, use all of them, or even just one channel. Engagement on social media creates a very personalize digital marketing experience for patients and audiences.
7. Explainer Videos
Many people thrive for deep conversations in order to feel a sense of connection. But due to the digital age, a majority of relationships are online. People connect through different means of communication, whether it's from text messages, audio, or even videos.
Many marketers in the pharmaceutical industry should invest their time in explainer videos for a lot of reasons. It stays within the branding, it is good content and is a great means of communication between patient and doctor.
Explainer videos are essentially educational videos. It's intended to inform a certain audience. So, for the pharmaceutical industry, it stays within its brand on promoting health and wellness if the video is teaching a specific lesson.
For example, the pharmaceutical industry can create an explainer video on how to be sanitized in order to prevent the spread of an illness. Not only is the content important, but it's also easily shareable. Explainer videos are a great way to personalize a patient or an audience's digital marketing experience. It connects the patients with their doctors on demand.

8. SEO and Content Marketing
SEO has become an essential feature in marketing on Google. Due to Google's fancy algorithms, marketers are able to rank their content and avoid traditional marketing means such as pay per click or pay per lead. Doing content marketing is perceived to have the highest return on investment.
It essentially costs absolutely nothing (besides labor) to market a name. By doing content marketing and focus on SEO, businesses can attract consumers onto their page and that will lead to sale conversions.
The pharmaceutical industry would greatly benefit from content marketing. There is a lot of information and content that can be shared with patients. Not only would it boost the reputation and dependability of the industry, but it would also personalize the digital marketing experience for patients.
By giving people access to what it seems like vital content, it boosts the patient experience by a ton.

9. Chatbots
When visiting a website, some users may have a lot of questions wandering their minds. Perhaps like "what are the hours available for days like.." or "how to do I.." and etc. So, it would be a great idea to have someone there for viewers to ask questions to.
The only problem here is that it would be a waste of time and labor for someone to spend time on a computer answering redundant questions. Instead, create or get a chatbot where a machine can do the work for you.
This will make the website appear to look personalized for the patient's digital marketing experience. It will also favor users by answering a lot of their questions directly and on time.
Use Penji for Pharmaceutical Marketing
When you use our services for your pharmaceutical design needs, it lessens the burden and you can focus more on other important tasks for the business. Plus, you only need to pay a fixed fee every month to get guaranteed unlimited graphic designs. We have our own user-friendly app where you can request marketing visuals. This is easy to use and we'll share with you our process.
Request Design for Your Marketing Needs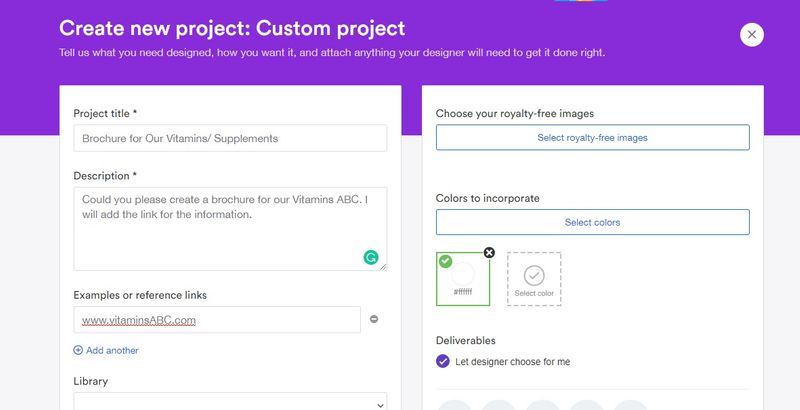 Once you sign up with our team, you will be given your own access to our app. It's intuitive and we're sure you won't need assistance as you navigate through it. But just in case you need it, our team will gladly help you.
After logging in, you will be taken directly to the dashboard where you can find a New Project button. This button is impossible to miss and is located at the top right corner of your screen. Just click that and you will be taken to the next page.
On this new page, you can provide all your design specifications. Include the brand color, the concept itself, the images you need to include in the design, and even the texts. Don't worry about forgetting important information about your project. Our app has guide questions and a checklist so that you can provide the right details that our designer will need.
Upon submitting your project request, a new thread will open. This thread is dedicated only to that project alone. That way, you can organize it easier if you have multiple requests. You can also directly send messages from here.
Revise and Send Feedback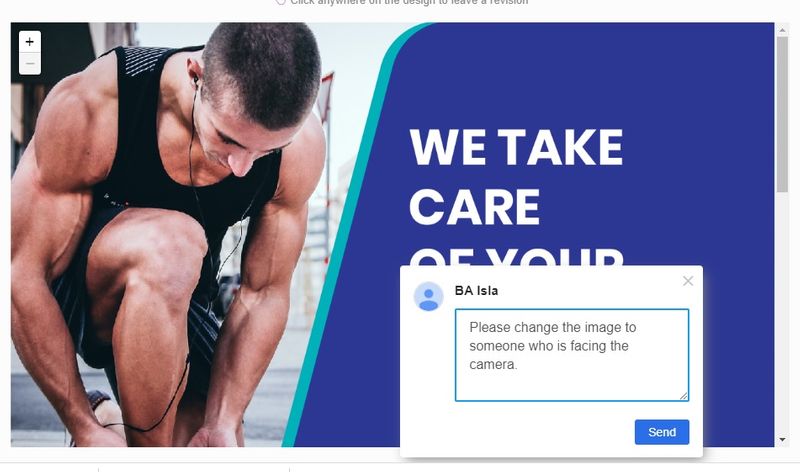 Within 24 to 48 hours, you will receive the initial design where you can take a closer look at the output. Just click to enlarge the image and check all the details. When you see that there are areas where the designer will have to revise, click it directly. You will then see a comment box appear. Type your feedback directly and send it to the designer.
The designer will keep you updated about the progress. Wait for the revised design before going to the next step.
We always want our clients to be happy and fully satisfied. If you believe your assigned designer is not able to match your requirements, you can freely ask for a replacement. And you can do so without incurring a cost.
Download the Pharmaceutical Marketing Materials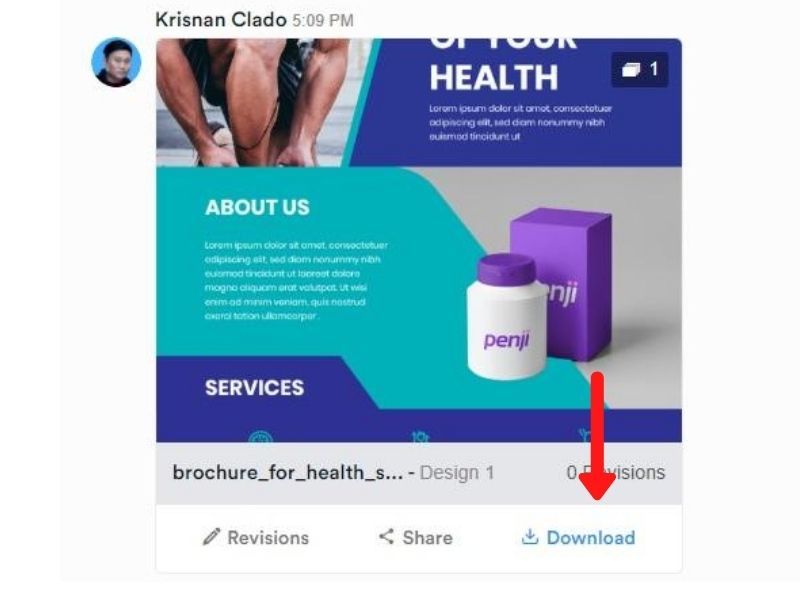 Downloading your marketing materials from the app is easy to do. Every time that your designer sends a version of your project, you will find a download button. That way, you can get the designs whenever you want. This eliminates the unnecessary step of sending a separate email to request source files.
At Penji, we always want to make our process easy for our clients. This is one of the reasons why our pool of clientele gets bigger every month. If you want to use our services and promote your pharmaceutical company or brands, sign up right away! It will only take you a few minutes to complete the steps, and you are good to go.