When done right, branding can evoke nostalgia, spark instant recognition, and bring a satisfying sense of identity to your business. That's why more and more industries are ditching the DIY approach and turning to professional graphic designers. And guess what? It's paying off big time! Hiring a pro to handle the logo workload is like hitting the jackpot in terms of return on investment.
So, here's the deal: don't roll the dice with your business by attempting to design your own logo. Trust me, it's not worth the gamble. Instead, let me introduce you to a game-changing solution that will save you time and headaches. Enter Penji, the ultimate logo subscription service that many brands have already fallen head over heels for. You can check out our unlimited graphic design services or one-off logo designs.
Unique logos for your brand
Have your brand logo designed by the world's top 2% creatives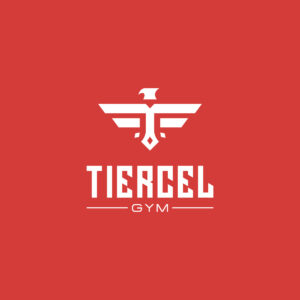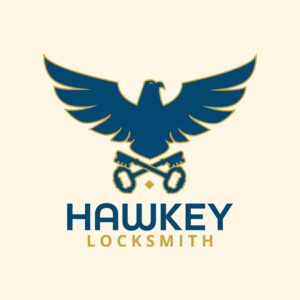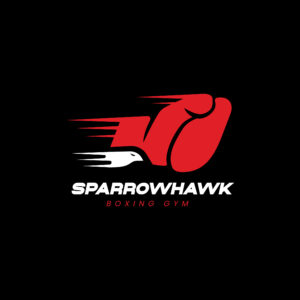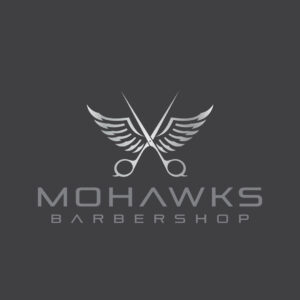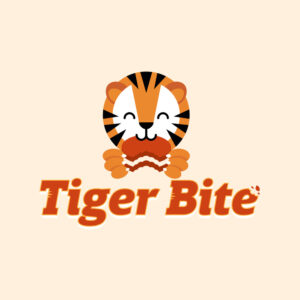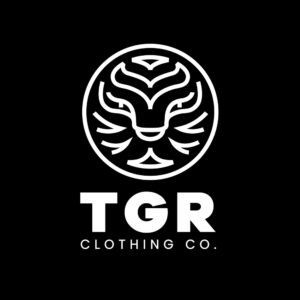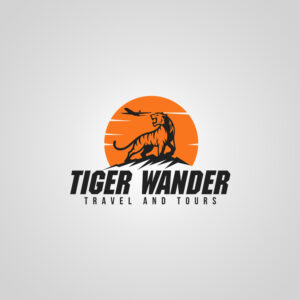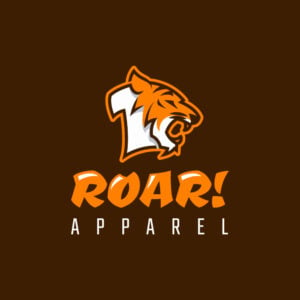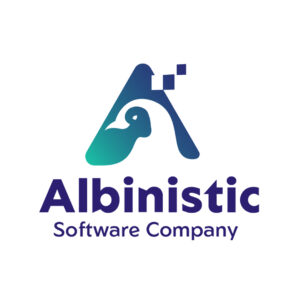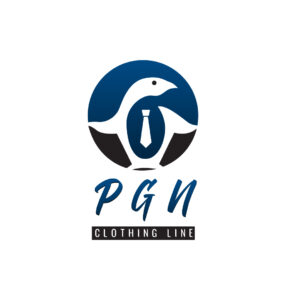 You Don't Have The Right Tools
There are many different software types to play around with if you design your own logo. But, the fact of the matter is, you won't be any good at design. An amateur's work can not amount to a designer with professional training.
Access to professional software types like Photoshop and InDesign are hard to obtain and use. These tools are difficult to navigate around. So, no amount of tutorials will defeat the work of a professional Graphic Designer in Photoshop.
74% of websites are created by professionals and only 3% are from amateurs who use the DIY method. Leads heavily rely on an interactive landing page. Designers will take into account the user experience aspect of the projects and make your site engaging. So, it will be hard to imitate the work and strategy of professionals who have been trained for years.
Amateurs use templates while professional designers have creative freedom. There are more creative options with having little to no restrictions.
Amateurs have a low success rate of only 2%.
You Will Mess Up Your Branding
Branding is the most important feature of marketing in a business. A company's brand tells the audience about its core values and goals. Your logo should be used as a quick communicator to explain your brand.
Your logo has to communicate the five components of branding: mission, vision, personality, and values. If these features aren't effectively established, then your design efforts have gone to waste.
Use consistent text stylization on your logo. Branding will direct how all future designs will look. Consistency is key, it's how consumers will remember your brand. So, keep the same text style throughout your marketing and design projects. Do not design your own logo to avoid messing up your branding.
Specify your company's color scheme in your logo. Every company has a trademarked color that is used to represent them. So, don't design your own logo if you don't know how to take advantage of the most important branding element.
Your logo should summarize what you make and do. Besides the design aspect, there are much-needed marketing strategies to implement as well. So, show your audience the good side of your business and how you can help them.
Focus On Sales, Not Design
Your product or service is what creates revenue. Without sales, you can't invest in design. So, play the role that you started with and let the professionals handle the design aspects. So, take on the position that you're good at. Don't waste time trying to design your own logo. Focus on selling your business.
80% of your revenue comes from your product lines.
Encourage customer feedback to boost credibility for your business. There is no one better to answer to clients than the person in charge themselves. Play your own role.
Spend time attracting new leads – Focus on what you're good at. Everyone is specialized in one certain trait, that's why there are work titles. Content writers are focused on content, developers do coding, and designers should handle that portion of the company work.
The money invested in your website or business card will be wasted if there are no sales. Take care of making revenue, not design.
No Understanding Of Color Theory
Every graphic designer understands the fundamentals of design through color theory. The psychology of color is a tricky concept that only some professionals master in design.
Each color has a different meaning in marketing. Color theory is a concept that is often utilized in design. The theory promotes the understanding and representation of a brand. Each color is used to express a brand's personality, core values, and promises.
Between 62% and 90% of assessments are influenced by color alone. Aesthetics play a large role in marketing. Consumers tend to be attracted to features that radiate positivity. So, basically, anything that can be proven beneficial to them.
80% of consumers believe that color enhances brand recognition. You can start to build a community once enough people remember your brand. That's how a successful company is able to mold customer loyalty. When consumers do more than simply buy your product or service, then they're dedicated to following you.
Color can help improve on 68% of learning, 73% of understanding, and 40% of reading. Color can be used as a tool to remember a concept, or even organize a certain section.
84% of consumers say color is the main reason that influences them from buying a product. Everyone has favoritism towards a specific shade or color. Each color promotes a certain message that draws consumers in. So, take advantage of this design feature.
Logo Formats – Make It Versatile
Your logo design will not be versatile if it's personally created. Only professional graphic designers will understand how to identify a file by its extension. When you design your own logo, you won't take into consideration the different formats and platforms to display the logo on.
There needs to be a file for each scenario and have it labeled as logo.png, logo.eps, etc. The first design draft won't be the final production. So, the organization is an important skill to maintain when designing.
The logo format on a business card will be different than a logo on a Facebook cover photo. Each platform has a different requirement for sizes and formats.
Your logo must be visible on both print and digital formats (business cards, website, banners, videos, small, big, etc.). There are a lot of formats to remember and maintain. So, don't design your own logo for this distinct purpose. Most people who use the DIY method, don't take into account the sizes and proportion. This can severely mess up your marketing campaigns.
List minimum size and their proper segment.
Common logo formats are:
If these are not familiar to you already, then it's a sign to hire a professional designer. Or you can rely on a design service with vetted designers like Penji to produce a stunning logo for your business.
How Can Penji Help You Design Your Logo?
One of the best things about subscribing to Penji is it eliminates the hiring process. You no longer have to search for a logo designer or even post a job advertisement online. All you need to do is sign up for a Penji account, select a plan that works for your business, and submit a logo design request. We know your time is precious, so leave the designs to us while you manage your business.
Here's how you can request a logo design through Penji.
1: Submit a Design Request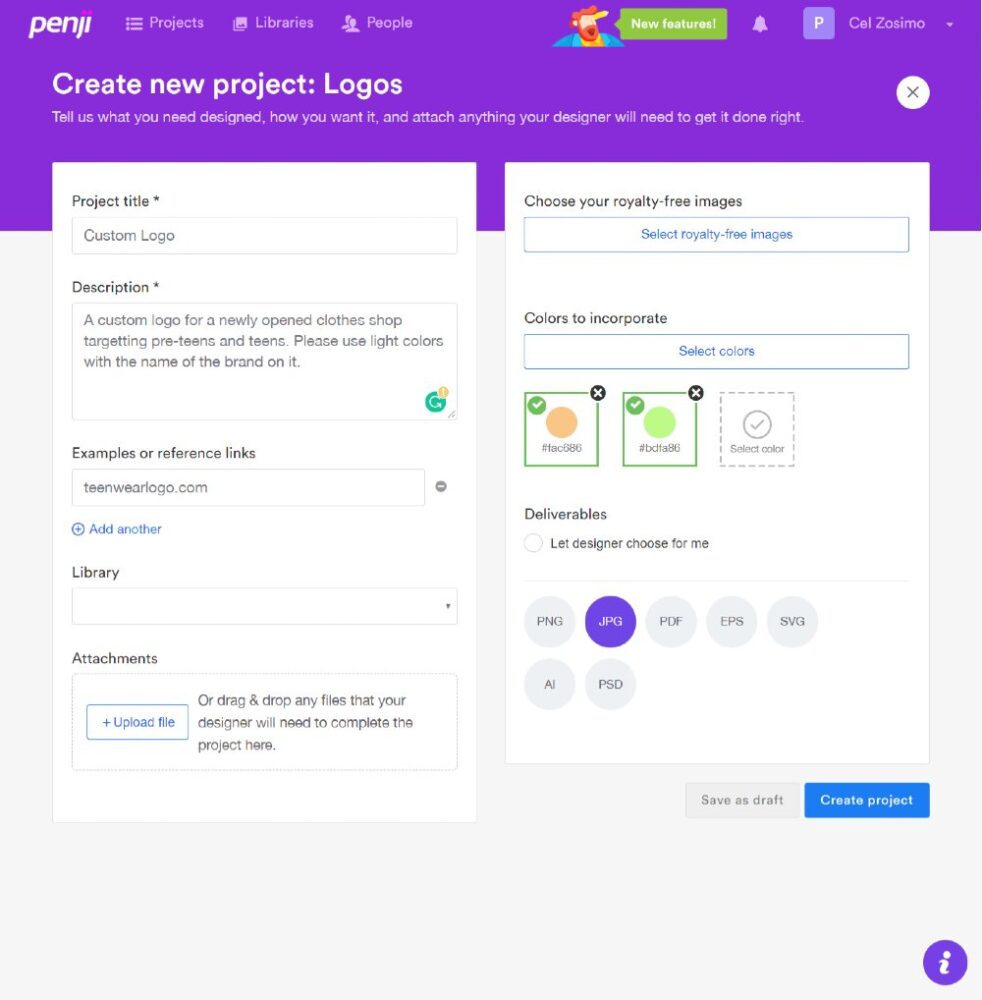 Once you subscribe to a Penji plan, you can immediately use the Penji platform to submit your first request. To do this, you can follow these steps:
First, you need to click the "+New Project" button. Then, you have to provide a title and select a Design category.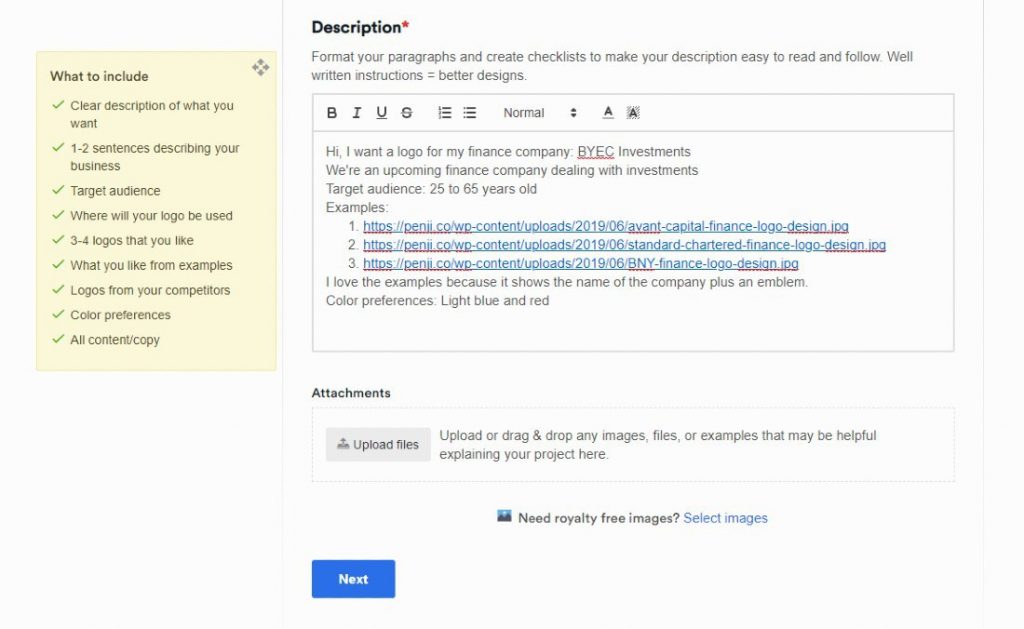 On the search bar of the Design category section, type logo, and then click on it. You'll then see a new section appear called Description. Here is where you can provide more details about your project.
See the What to Include box on your left? You can use that guide to help you create a description. This way, you can make a more detailed description of your design request. Plus, your designer can certainly follow what you indicated.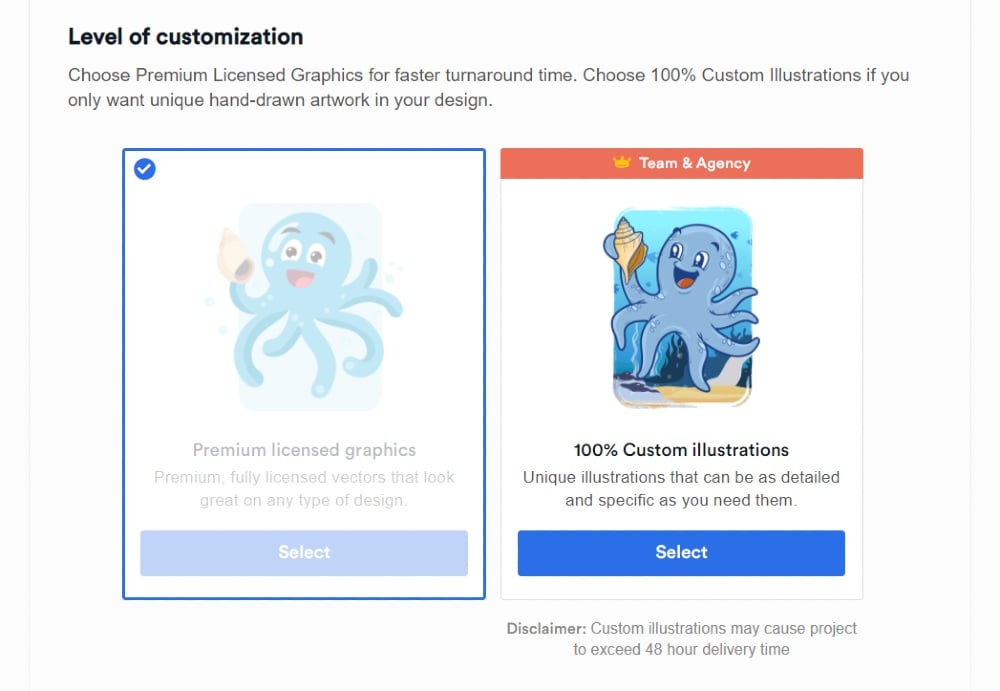 After this, click Next, then choose the Level of customization, File deliverables, and Associated brand.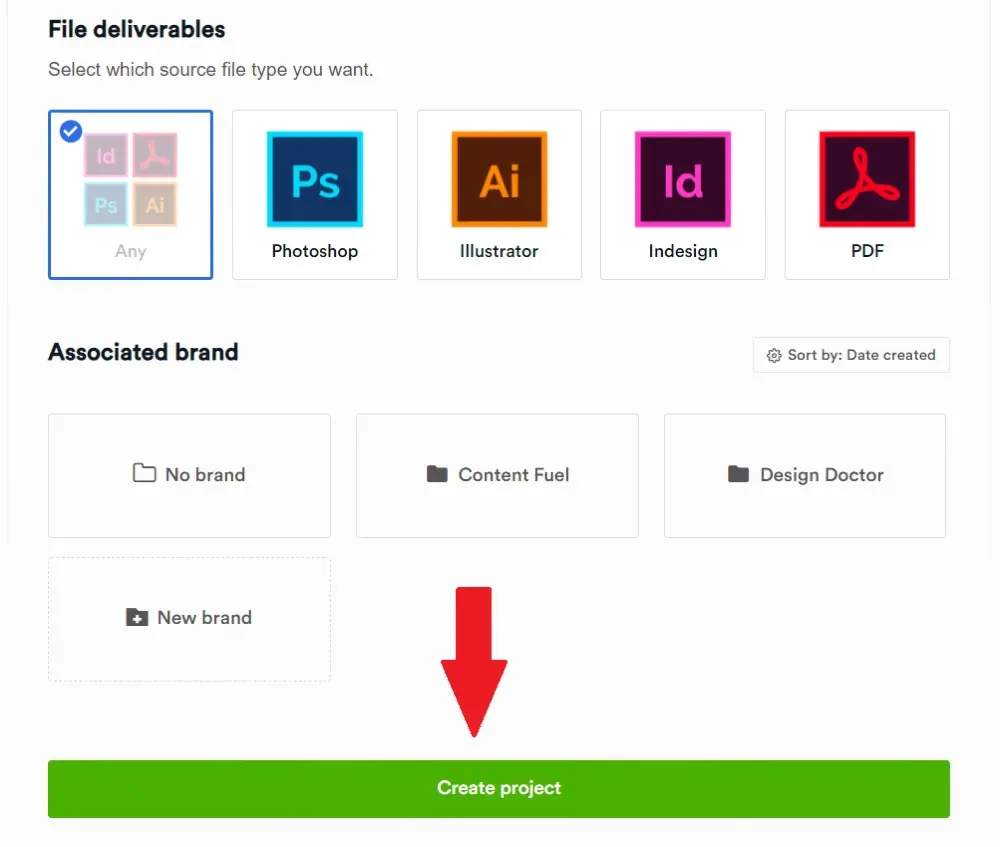 Once done, click Create Project, and you finally have your first active design request up on the Penji platform.
Upon submission of your design request, Penji will assign a designer to produce your logo, and they'll acknowledge the details of your project. All you have to do now is wait. Your designer will submit their first draft within 24 to 48 hours. After this, review the design.
2: Review the Design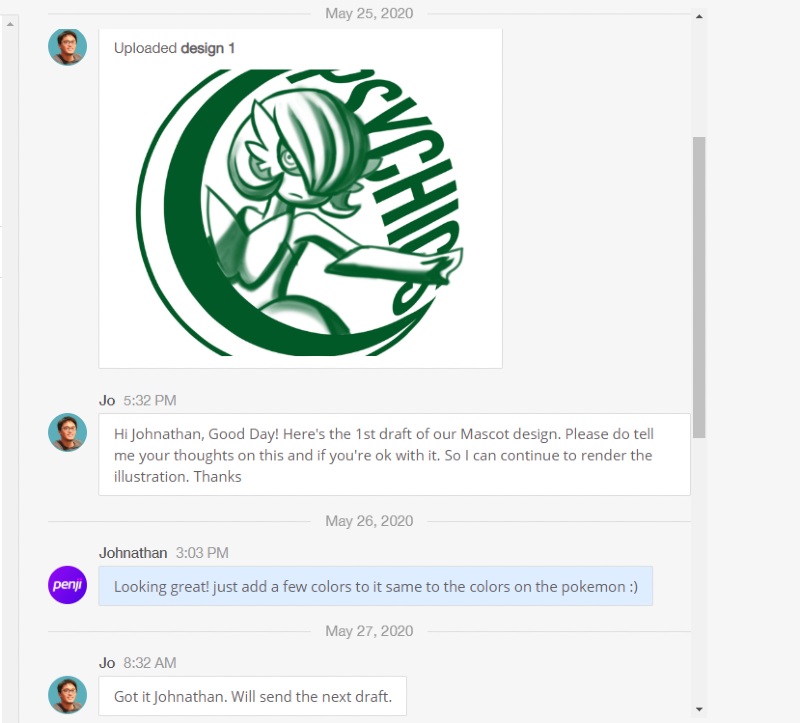 When you finally receive the first draft, you can review it and assess if it needs more improvement. One of the great things about Penji is you can revise until you're 100% satisfied. So, you can have a design that's up to your standards.
Plus, one of the benefits of using the Penji platform is that you can use the built-in revision tool. This allows you to point and click on the design and let your designer know how to enhance it. Some design services don't offer this perk.
3: Download the Design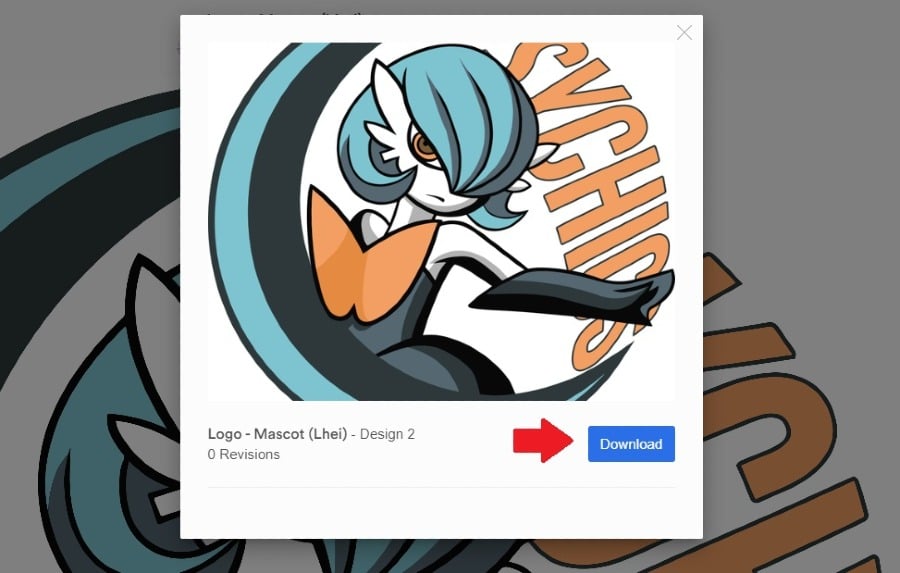 If the design meets your standards and you're 100% happy with it, you can finally download it. Click on the blue Download button, and the files will be saved to your computer. Once you receive all the files, you have complete ownership of the files too. And Penji stores your files in a cloud, so you won't have to worry about losing files. You can log in again and download the project files if you need them once more.

If these are not familiar to you already, then it's a sign to hire a professional designer. Sign up now, and get unlimited graphic design services or one-off logo designs.