A mundane Christmas social media post will not cut it this season as competition is fierce. You need to have something that will literally have your market stop scrolling through their feed. And the best solution for that is to hire the services of a professional graphic designer like Penji. Your designers will know how to make your Christmas social media visuals stand out — just like these examples.
But if you want social media designs to get your brand ready this Christmas season, don't fret. Penji has your back. We're giving away these Christmas images and illustrations for FREE. Download now.
Just How Crucial is a Christmas Online Marketing Strategy?
According to statistics, 8 out of 10 shoppers during the holidays is influenced by what they see online when it comes to purchasing decisions.
That said, having a solid social media marketing strategy in place is vital if a venture wants to take a slice of Holiday shopping profits.
Previous data tells us that most consumers start looking for Holiday items as early as September or October. And though the few last weeks before Christmas typically becomes the busiest time for gift buyers, prospective sales after the 25th can not be taken for granted.
In fact, records show that the day after Christmas is as one of the busiest days for shopping-related Google searches, along with Black Friday and Thanksgiving.
This data only shows how critical it is to be consistent with your online marketing strategy even after the Holiday shopping crunch time.
Popular Christmas Social Media Post Ideas
Here are some of the most popular Holiday social media post ideas these past few years. Let these creative tactics inspire you as you brainstorm for your online marketing plan for the season. Feel free to tweak these ideas to tailor-fit the personality of your target audience!
Stop using templates

Custom social media posts get more shares than overused design templates.

Design this for me!
Incorporate Holiday Characters
There's nothing like classic Christmas characters to wake up your followers' holiday spirit.
But don't worry, you wouldn't need to hire a Santa Claus actor or rent a Rudolph mascot to create engaging content.
For their previous Yuletide Instagram post, Starbucks uploaded a photo of one of their colorful holiday drink amid what looked like a yard of Christmas trees. The hand that held the frappucino cup looked a lot like Santa Claus — with white gloves and red sleeves.
The photo came with the caption, "Strap it to the car, let's go. #ChristmasTreeFrappuccino available now through Monday, 12/11!"
User-Generated Photos
Show your followers how other customers or clients are incorporating their brand in their holiday cheer by posting user-generated photos.
If your business is food-related, it's an excellent idea to encourage your community to post photos of dishes they whip up using your product as an ingredient.
This tactic also works for other industries. Disney World, for example, posted a photo taken by a photographer showing the majestic light-studded Sleeping Beauty Castle with a festive Christmas tree in the foreground.
If you're thinking of using this social media post idea, don't forget to ask for permission and credit the photo owner to avoid copyright issues.
Incorporate Holiday Humor

Your followers will appreciate a good laugh amid the stress of gift shopping and party preparations.
You'll never go wrong with injecting the right amount of humor into your social media posts.
Kate Spade previously released a humorous ad series called #missadventures. One of their Holiday 2015 episodes featured a funny skit featuring Anna Kendrick (Pitch Perfect) and Zosia Mamet (Girls).
The ad series was fun to watch, almost like a mini-comedy show set in New York. Aside from entertaining viewers, the videos also featured the apparel company's latest seasonal offerings. That's hitting two birds with one stone!
Holiday Giveaway
A Christmas social media post giveaway will surely be in order during the season of giving.
Launch a giveaway featuring seasonal offerings or items that winners could use during holiday festivities.
A couple of years ago, Forever 21 sponsored a giveaway featuring nine of their Christmas sweaters.
Instead of a regular giveaway, however, the clothing company made it a bit more challenging for joiners. IG followers were asked to find the Christmas tree emoji in the image posted. Then, they had to leave a comment about where they found it. One winner was chosen at random to receive the sweater bunch. Check out this article on 5 Things to Consider When Starting Up a Clothing Business
Christmas Colors
The complimentary combo of green and red are the traditional hues of holiday festivities. However, many other color palettes have found their way into Christmas marketing visuals throughout the years.
Metallic colors like silver, gold, and rose gold have been effective in invoking a festive feel apt for the season. Just as well as some pastel color combinations.
Despite its identity as a youthful cosmetic line, Kylie Cosmetics took advantage of the classic holiday spirit inspired by their red lip color.
On Christmas day last year, the cosmetics company founded by the Keeping Up With The Kardashians star posted a photo of three tubes of rouge lip tint with white cap and their iconic drip design.
The photo was uploaded with the caption, "Merry Christmas! What festive lip shade are you wearing today? #RedVelvet." Check out this article on How a Graphic Designer Can Revolutionize a Cosmetic Brand
Heartfelt Greetings
Sometimes, nothing beats a sincere holiday greeting from the company to its community of supporters.
Known as the company that painted the image of modern-day Santa Claus through an ad campaign, Coca-Cola is well-versed in delivering touching holiday greetings.
Last year, their official Instagram account posted a genuine but straightforward Christmas message. "It's the love that counts." The quote comes in a cute red and white calligraphy featuring an image of a gift and heart and spiral accents. It's simple, profound, and warms the heart.
Pun-derful Quotations
Tickle your followers' funny bones with witty and "punny" Christmas social media post ideas.
Online wedding resource Style Me Pretty Living previously posted a hilarious holiday pun: I'm dreaming of a white Christmas. But if the white runs out, I'll drink the red."
It's funny, attention-grabbing and is meant to stop your social media followers from scrolling and have a good laugh.
Use Penji for Your Christmas Social Media Post
Let's cut the chase. We know you are busy with your business and we would want your life to be easier. Outsource your graphic design needs from the Penji team, where you can get outstanding designs perfect for your Christmas promotions. Here's how easy it is to use their platform.
Subscribing to Penji means you'll have access to its user-friendly design platform. Here's a rundown of how it works:
Request for Design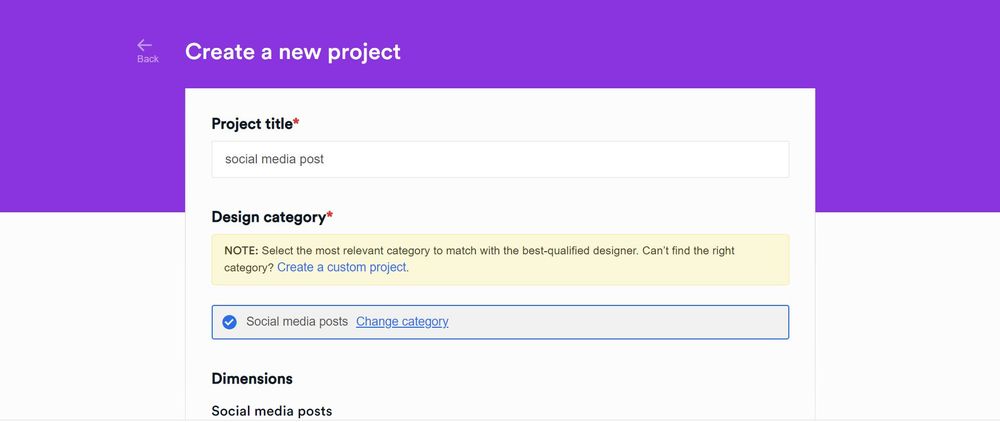 Once you are in the app's dashboard, you will see a New Project button located at the top right corner of the screen. It should be easy to find and you just need to click it.
You will then be directed to a new page where you can already send your request. But of course, you need to know the details and specifications. For example, what is the design for? What colors should the designer use? Are there images that they can serve as an inspiration?
Don't worry, you don't have to memorize all these. The page has a checklist of the important details you need to include.
Wait for the Draft and Send Back for Revision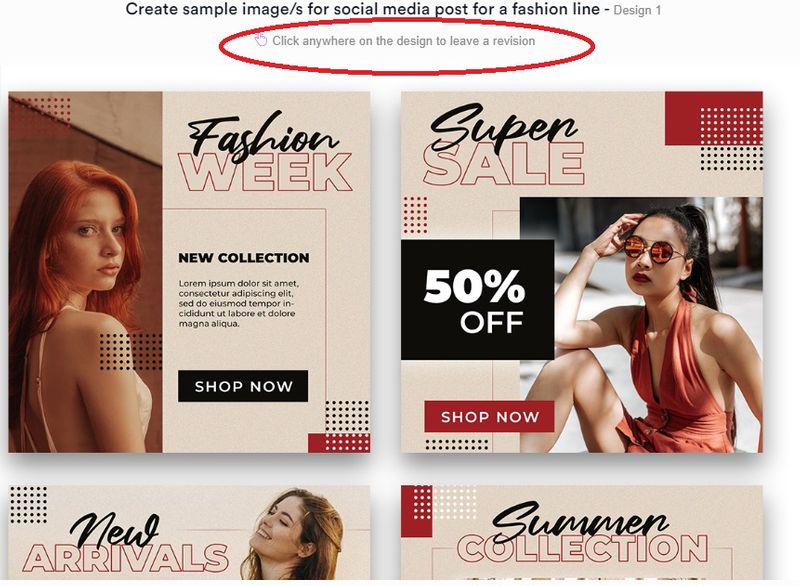 If the designer has the complete details, they can already work on your project right away. Expect to receive the first draft within 24 – 48 hours.
Once you have the initial output, enlarge the image and check for details that the designer may have missed. Click these specific areas from the design and you will see a comment box. From there, type your feedback and send it to the designer.
Download the Design and Post it on Your Social Media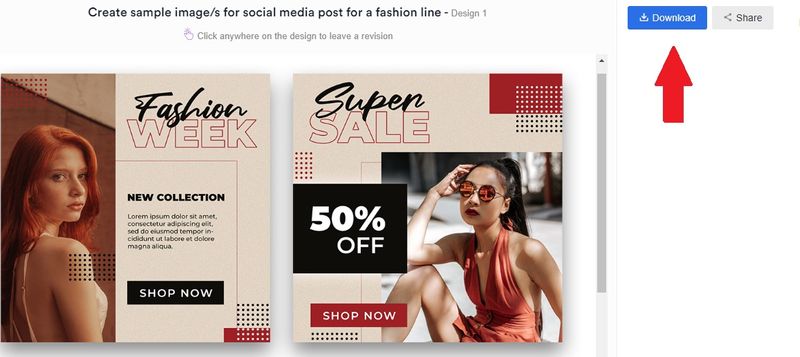 Whenever you are fully satisfied, you can now download the designs and start posting it on your social media. Yes, you don't have to send an email to the designer to request the files. You can instantly get it from the app, making the entire process efficient.
Interested? Subscribe to any of Penji's affordable plans and start uploading those compelling Christmas social media visuals!