With the growing discussion of mental health over the years, more people have been caring for their mental well-being. One way to look after themselves and improve their mental health is using apps. But which apps should you use? Here's the list of the best mental health apps.
1. TalkSpace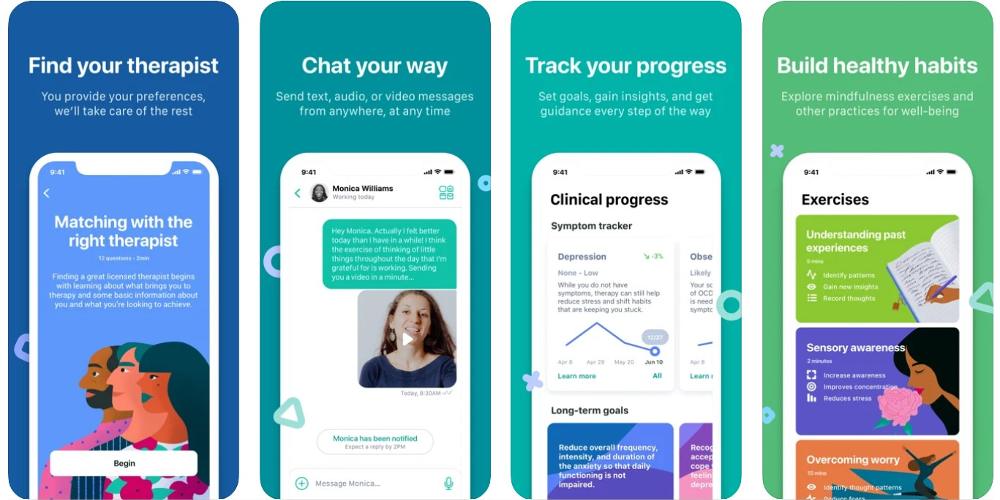 If you need to talk to a therapist and don't want to search on Google, TalkSpace is the mental health app for you. It takes three steps for a patient to match with a therapist. First, the patient will answer an assessment, then TalkSpace provides options for you, then you can start therapy soon. Therapists cover a wide range of topics, such as depression, anxiety, relationships, OCD, mood disorders, anger, trauma, etc.
Pros:
Therapy sessions available for individuals, couples, and teens
Businesses can also use TalkSpace for employees
Cons:
Therapy can be pricey, especially for those without health insurance
No pricing info is available immediately
2. eMoods Classic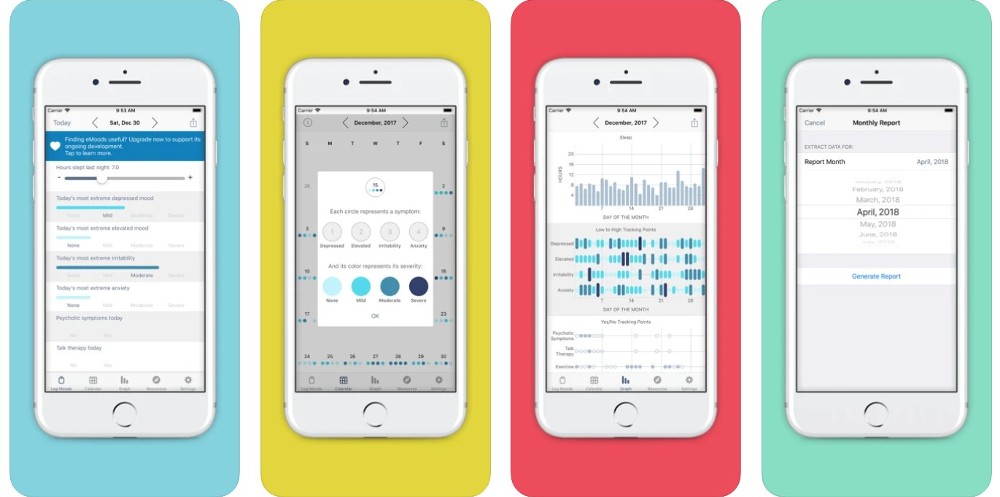 For people diagnosed with bipolar disorder, it's important they track their moods. eMoods Classic is one of the best mental health apps for that purpose. Once users track their moods for the day, it's inputted into the graph to observe one's moods during the week or even month. The app also has a Resources page to find crisis hotlines, refer you to a therapist via BetterHelp, and set up a safety plan if things go south.
Pros:
No account is necessary – you can start recording your moods immediately
Free to use
Cons:
Users cannot talk to a therapist on the app
3. Moodfit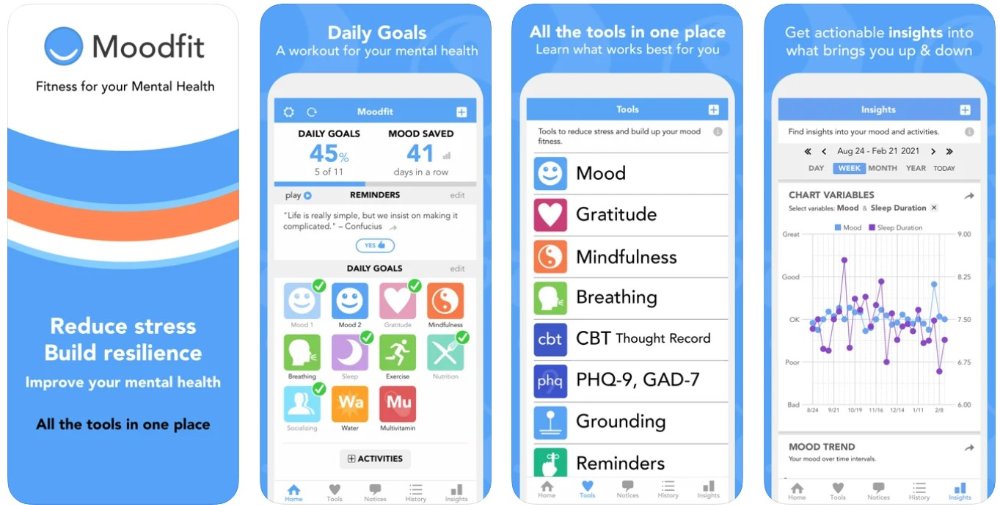 Moodfit is a jam-packed mental health app. It is like a fitness app, but for your mental health. You can set goals, keep a mood and gratitude journal, meditate, track sleep and medication, and synchronize this app with your therapist.
Pros:
Notifications and reports help you fulfill your goals
Customize goals and tools you will need to use every day
Cons:
You can't connect to therapists on the app
4. Sanvello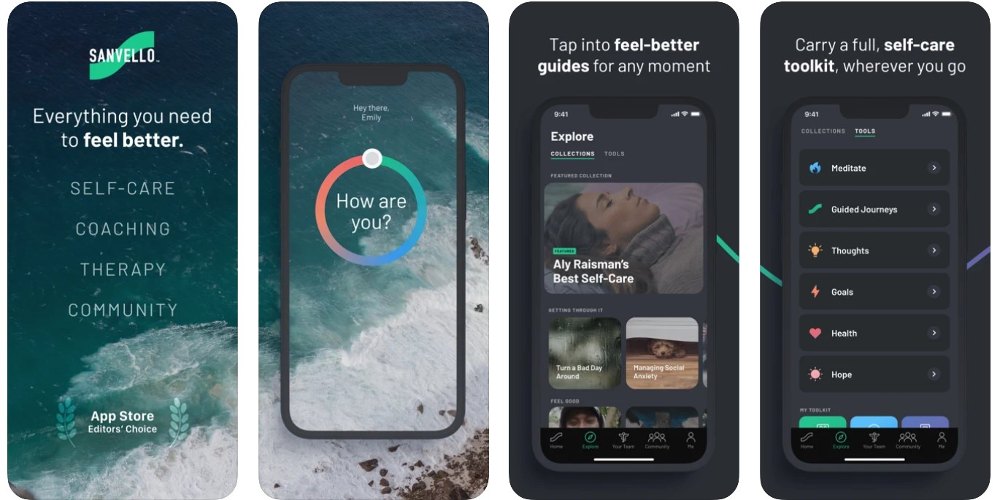 Sanvello is considered one of the best mental health apps of all time, and for a good reason. This app helps patients with their mental well-being through collections of resources. Plus, users can track their moods and even talk to a community of other Sanvello users. It even gamifies your meditation sessions, thought entries, goals, and health habits.
Pros:
Most CBT and mindfulness-based resources are available for free
Great if you want to start journaling your journey
Cons:
Insurance options are limited
Several therapists may not respond immediately
5. Recovery Record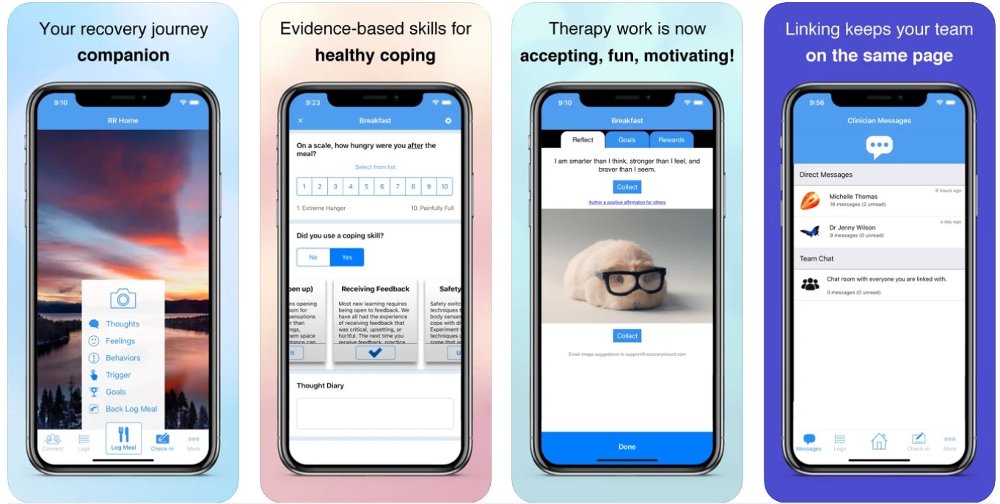 Anyone who has a diagnosed eating disorder or someone who may exhibit symptoms of disordered eating can add Recovery Record to their smartphone. It will log a patient's meals and provide meal plans too. The app rewards users when they accomplish milestones, can customize user journeys, and helps coordinate patients with a treatment team.
Pros:
Patients can connect with clinicians
The app doesn't focus on body image but encourages users/patients to track their food and mood and develop better eating patterns
Cons:
Some users have reported problems with navigating the interface and notification reminders
6. Happify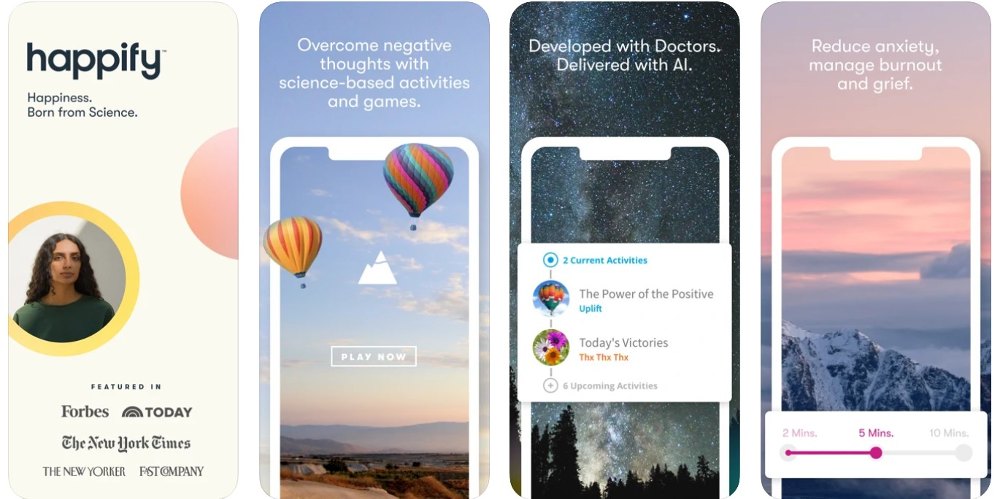 Get a more positive mindset with Happify. Using evidence-based and science-backed research for a positive mindset, Happify has you complete an assessment. From there, they will assign a track based on what you filled out on your assessment. The app also helps you with the following:
Savoring moments
Gratitude
Aspiration
Giving back
Empathizing
Reviving
Pros:
Access to most tracks to help you develop a happier mindset
Accessibility options available for the visually impaired
Cons:
Some tracks are unavailable on the free subscription, and users must pay for some tracks
Some tracks aren't organized or have no structure
7. nOCD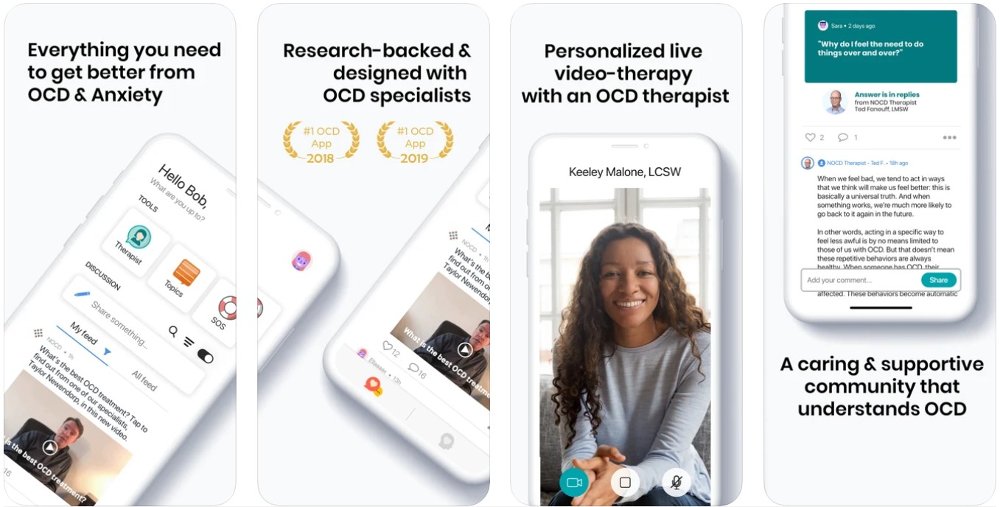 Here's another mental health app that gives patients access to therapists. nOCD is an app for those with obsessive-compulsive disorder. The first step to getting treatment is calling nOCD. From there, patients will be connected to licensed therapists, and they will get treatment plans and talk to therapists via video appointments.
Pros:
Users/patients can talk to therapists anytime via messaging
Users can connect with others in the community
Cons:
Some users have reported that they're not matching with the right therapist
Too pricey for most users
8. Medito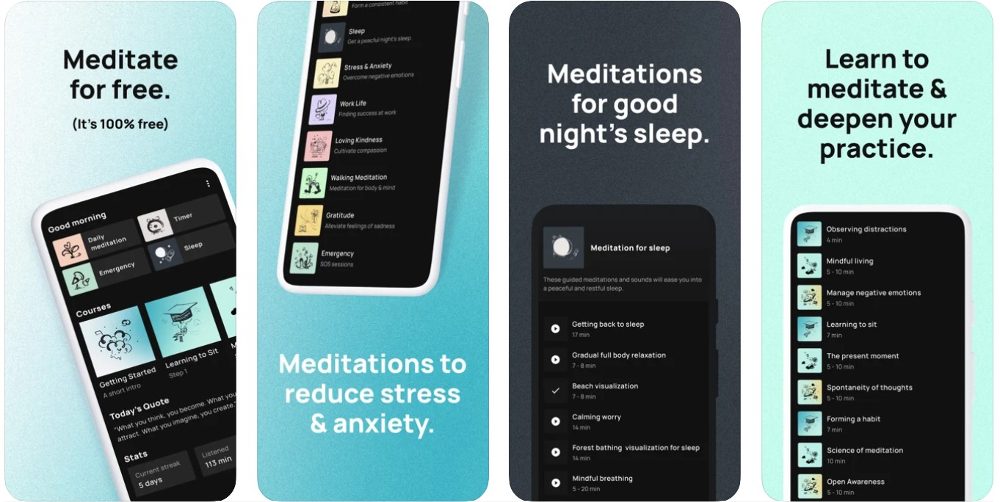 When we think of meditation apps, Headspace and Calm come to mind. But there is a better meditation app alternative to improve your mental well-being. Medito is one of the best mindfulness apps out there. Aside from it being free, there are beginner courses, daily meditation packs, and so much more. Plus, it keeps track of how many sessions you've done.
Pros:
You can download a meditation session
Different packs for every mood or situation
Cons:
Users encounter downloading and offline issues
9. Rootd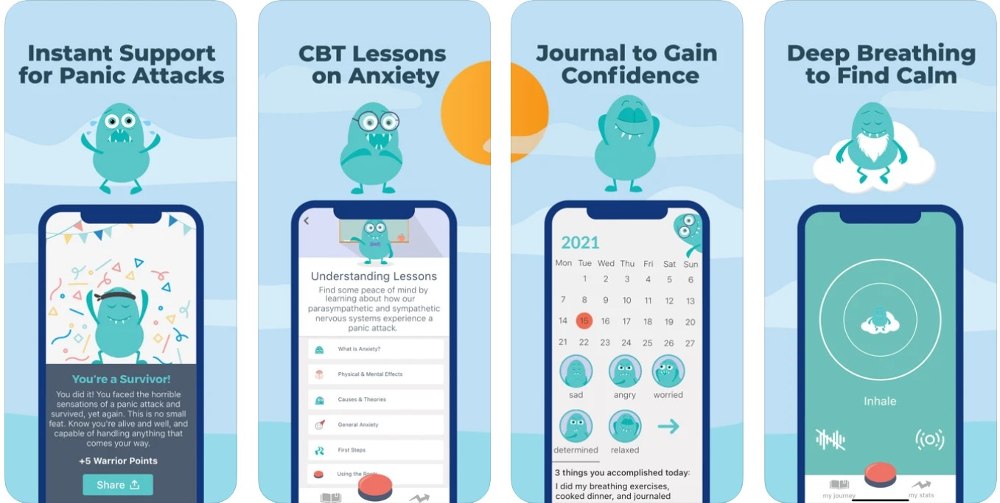 Rootd is one of the best mental health apps for anyone with anxiety or experiencing a panic attack. Once a user launches the app, it prompts the Rootr button, and the user will pick what they're feeling. Besides that, users can meditate, visualize, journal, and read about anxiety.
Pros:
It helps users feel grounded with a push of a button
Can help users feel calm during a panic attack through affirmations
Cons:
Rootr button isn't available upon installation – if you have frequent panic attacks, you need to sign up first and have an account to access the Rootr button
To unlock resources, you need to subscribe
10. Hearme.app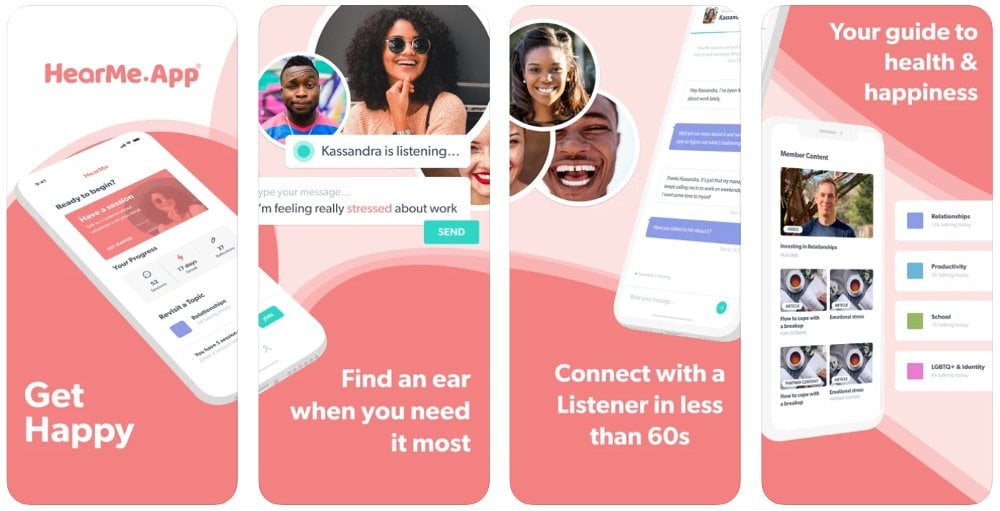 If you're not comfortable talking to a professional but want to listen to someone about what's bothering you, download the Hearme.app. When users need a listener, they start by choosing a topic from the app. It then connects a user to an expert listener on that topic, and they start chatting. Businesses can also benefit from using the Hearme.app to help employees connect with listeners.
Pros:
Available 24/7
Waiting time to connect with a listener is less than a minute
Cons:
Users can only talk to experienced listeners; it's not guaranteed you will speak to a medical or mental health professional
Final Thoughts
Mental health apps can help patients get by every day without the help of a therapist. Most apps allow patients to track moods and thoughts, meditate, make new habits, and find resources on their own. In addition, this will help patients better understand themselves and improve their mental well-being in the long run.