Probably the biggest and most popular video platform, YouTube has been around since 2005. For these same reasons, it has become saturated. However, video marketing is a huge part of boosting your business leaving you no choice but to leverage it. To make your life easier, here are ten of the best AI YouTube video makers you need to know about now:
Wisecut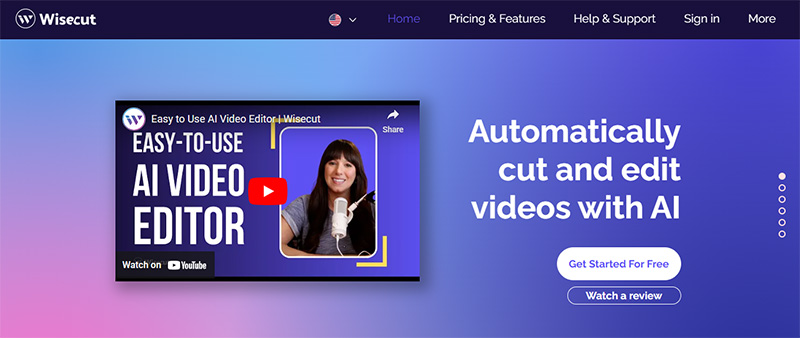 An AI video editing tool, Wisecut is an excellent option for businesses looking to create high-quality videos. It removes long pauses, adds background music, and subtitles, among its many features. It has an auto-translation feature if you want to go global with your brand.
Wisecut has an extensive library of templates and music you can use. It offers a forever-free plan and four premium ones with prices that start at $15 per month.
Synthesia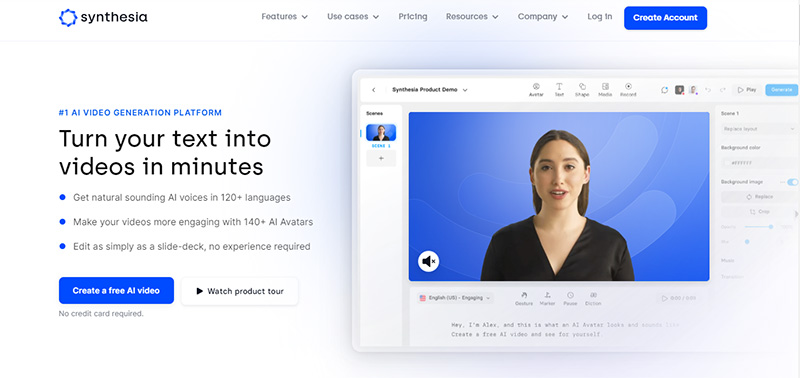 If you're into avatars, then Synthesia is the AI YouTube video maker you need. It allows you to create videos with realistic talking avatars. Thanks to artificial intelligence, you can create realistic facial expressions and lip movements. This is perfect if you need to produce explainer videos, product demos, tutorials, and educational videos.
Synthesia has a user-friendly interface, making it ideal for beginners and those without technical skills. With it, you can create professional quality videos at the starting subscription fee of $30 per month.
Pictory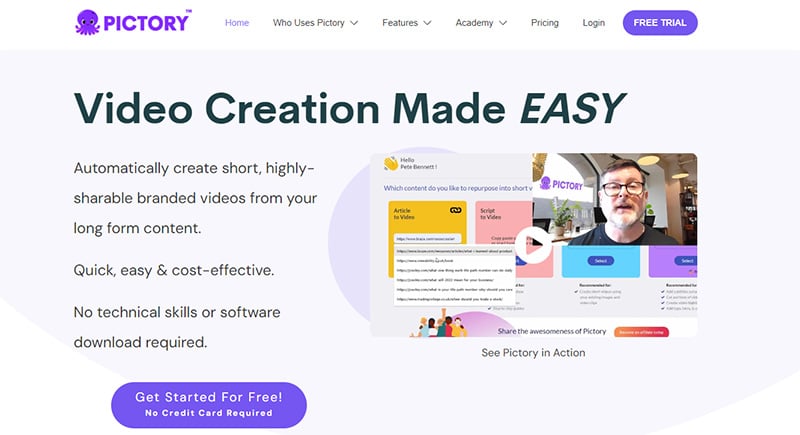 Using AI to generate videos automatically, Pictory does this by using the content description that you enter. It has a drag-and-drop interface, making the design process simple, easy, and enjoyable. It offers a library of templates and themes that you can use to create videos that match your brand.
Pictory integrates with ChatGPT to complete your content production tasks. It offers a free trial, but if you want to use its amazing features, it has three paid plans you can choose from with fees that start at $23 per month.
DeepBrain AI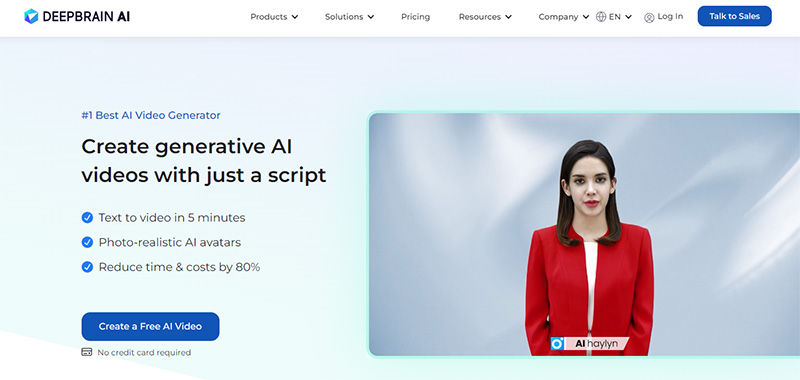 A powerful AI YouTube video maker, DeepBrain AI can create realistic avatars for all your video marketing needs. It lets you customize your videos using your brand colors, fonts, and images. This makes for more personalized video content that will truly identify your brand.
DeepBrain AI converts your text into videos in five minutes, saving you time and resources. And, it's one of the most affordable with subscription fees that start at $30 per month.
Lumen5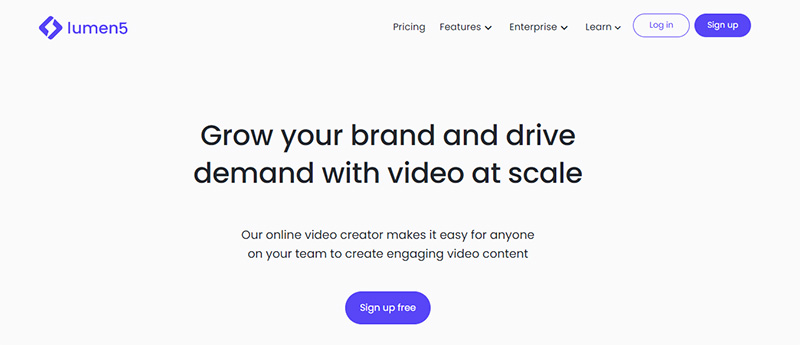 If you have no video editing and creation experience, you can still create quality videos quickly and easily. Lumen5 is the AI YouTube video maker for you. It has collaboration tools that are great for bigger teams. Its analytics tools can also help you track and monitor the performance of your content.
For people on the go, you'll enjoy Lumen5's portability with its mobile app. You can create and edit videos anywhere you are. Pricing starts at $29 per month.
FlexClip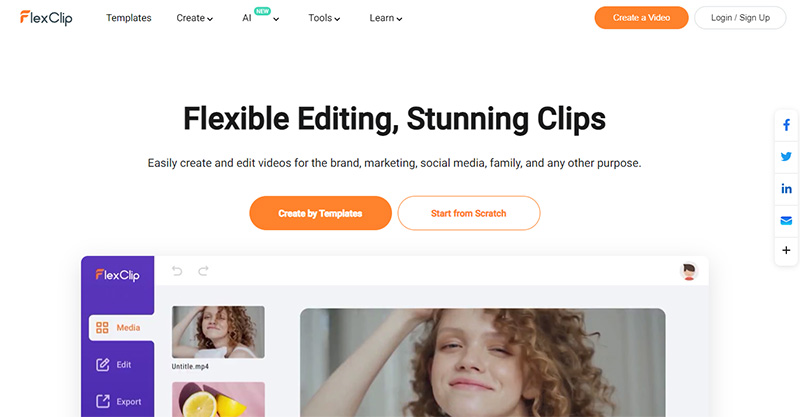 If you're looking to create a multitude of videos, FlexClip is the AI YouTube video maker you need. It offers a variety of tools such as AI text-to-speech, background removal, motion graphics, and many others. It also has a movie maker, screen recorder, and slideshow maker for all your video content marketing needs.
Flexclip offers unlimited plans making it ideal for those with bulk video requirements. It has a free plan and two premium ones with monthly subscription fees that start at $19.99.
VEED.io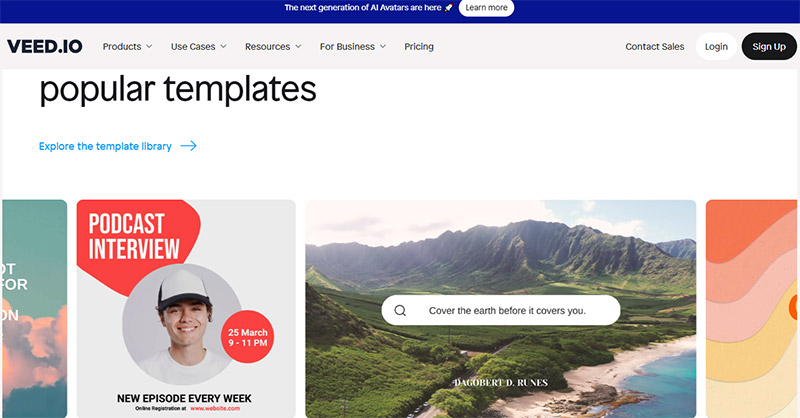 As it says on its website, "Anyone can make a great video," VEED.io proves this to be true. It is packed with features that let you create professional-looking videos in minutes. Its key features include a speech to subtitles transcription, annotations, auto-resizing, and live collaboration, to name a few.
VEED.io also has a mobile app that allows you to create and edit while on the go. You can try it for free, but its premium plans offer unlimited possibilities with fees that start at $18 per user, per month.
HeyGen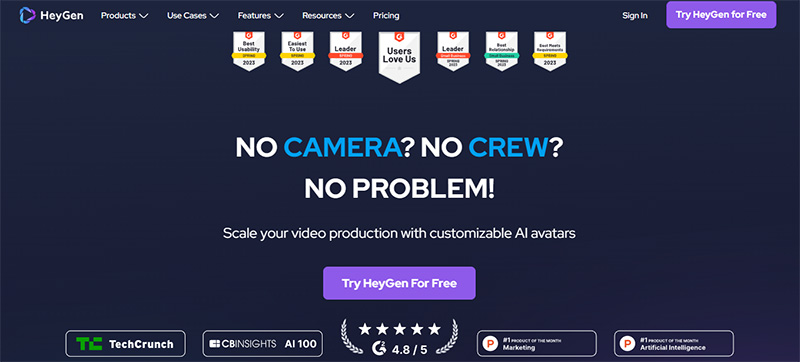 A video creation platform, HeyGen uses generative AI to help you create engaging videos in minutes. It offers more than a hundred customizable avatars using lip-sync with over 300 voices and 40 languages. It also gives you the option to record and upload your own voice for a more personalized avatar.
You can see for yourself what HeyGen can do with its free plan. Once you understand how powerful it is, you can get any of its paid plans with monthly fees that start at $29.
Colossyan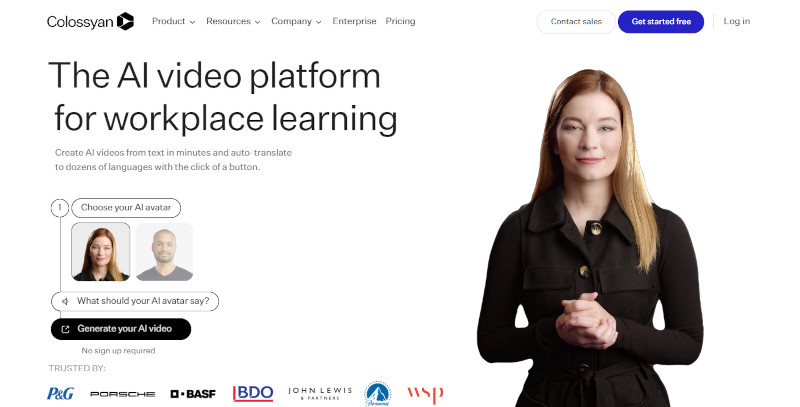 Another video generator that's worth checking out is Colossyan. You can use it to create videos with AI actors or presenters that can be hard to distinguish from humans. It has more than 30 avatar templates with various emotions and ages speaking in over 70 languages.
Colossyan integrates with ChatGPT to take care of writing content for you, among its many features. It also offers free images, texts, and music you can use. Its pricing plans range between $35 to $120 per month.
Animoto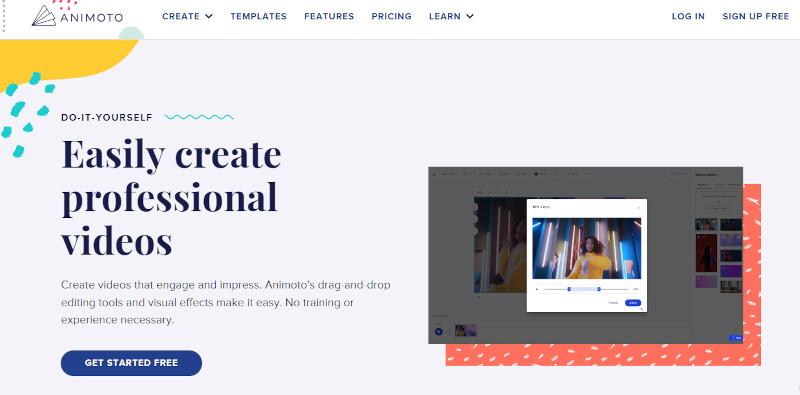 In a few simple steps, Animoto can get you high-quality videos instantly. You can simply upload your images, select your theme, add a few text frames, then you're ready to publish. It has tons of customization features to help you create videos that are exclusive to your brand.
Animoto is a cost-effective solution for creating videos for YouTube. Its forever-free plan lets you use it but with a watermark. To get the most out of the tool, a paid plan is recommended. Pricing starts at $16 per month.
Final Thoughts
AI YouTube video makers are a game-changer as it helps you do more for less. These tools can save you time, energy, and resources without sacrificing quality. However, do note that AI is an ever-evolving technology and can be prone to mistakes. While they offer many benefits, nothing can still compare to what the human mind can do.
For all your graphic design needs, there's Penji. Our team of pro designers can craft the best visual assets you'll need for your business. Watch our demo video here to learn more. You can also get us working by clicking on this link.