Looking to try either Manypixels or Penji's unlimited graphic design service but not sure which is right for you? In this analysis, we'll be comparing both companies side by side showing you the quicks, features, and benefits of each.
Here's the TL;DR.
Want to give Penji a try? Sign up and get 25% off your first month by using promo code PIXEL25.
What is Unlimited Graphic Design?
Unlimited graphic design is a new innovation in the creative space that's disrupting the current model of hiring a designer. Traditionally, you'd need to hire a designer in-house, an agency, or a freelancer to help with your graphic needs. Each choice comes with its pros and cons, however, all are relatively expensive and time-consuming at the expense of the consumer.
Enter Unlimited Graphic Design. A new breed of design subscription services that allows you to pay a fixed monthly rate to get as much design work done as your heart desires.
Unlimited Graphic Design vs Agency vs Freelancer?
Graphic design is essential to any business' growth. Any option is better than not investing at all. Hiring an agency or in-house designer will give you the fastest turnaround and highest quality, however will cost a premium.
Freelancers are great if you're willing to spend time managing projects, following up, and staying up late since most freelancers won't be in your time zone.
Unlimited graphic design typically offers the flexibility of an in-house team, high-grade delivery of an agency, while costing even less than hiring freelancers. Most even come with a trial period so there's no risk to you. Here is our analysis of Penji vs ManyPixels to help you see which will do the best work for you.
Manypixels vs Penji Pricing
Penji was the first company to offer a 3-tier plan—the Pro, Team, and Agency, at $399, $499, and $899 per month, respectively. Although not mentioned on their pricing page, Penji also offers free stock assets, and native source files for download.
ManyPixels recently follow suit and updated their pricing to also offer Essentials, Advanced, and Business, which costs $449, $549, and $899 per month, respectively.
Penji's Pro
$399/m
1 Designer assigned
Add unlimited users to account
Logos & branding
Unlimited designs
Unlimited revisions
Unlimited brands
Free photos & stock assets
Source files download
MP's Essentials
$449/m
1 Daily Output
Unlimited designs
Unlimited revisions
Unlimited brands
Free photos & stock assets
Source files download
---
Penji's Team
$499/m
Everything in Pro
Web & App design
Custom illustrations
Infographics
Animated GIFS
Logos & branding
Presentations & Google Slides
MP's Advanced
$549/m
Everything in Essential
Web design
Custom illustrations
Animated GIFs
Logos & branding
PPT & Google Slide Deck
---
Penji's Agency
$899/m
Everything in Team
2 designers
Prioritized support
MP's Business
$899/m
Everything in Advanced
2 Daily Output
Prioritized support
Differences: Penji offers a 15-day money-back guarantee vs ManyPixels' 14 days. Manypixels' lower and mid tier packages are $50 more expensive than Penji's.
Overall, Penji's plans offer more value at a slightly lesser cost than Manypixels.
Scope of Design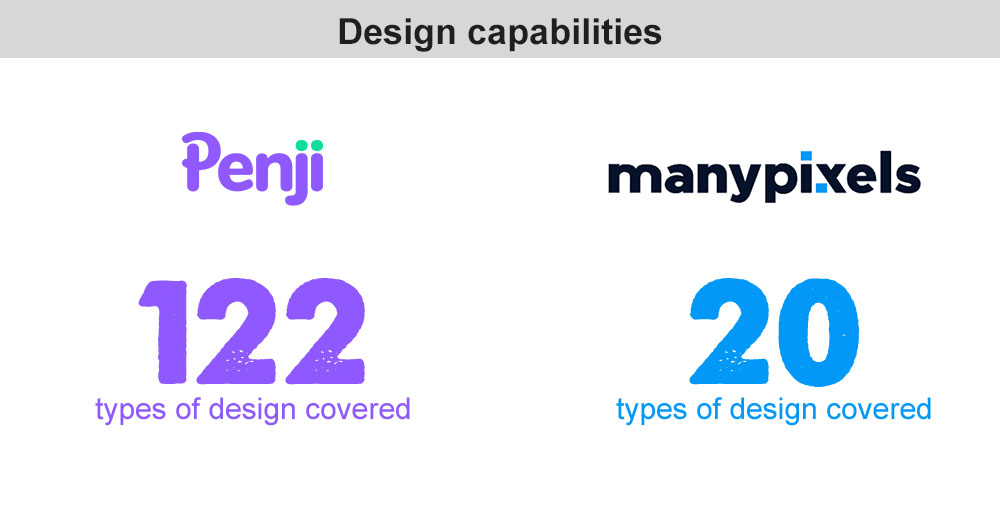 Both Penji and Manypixels offer an extensive array of design options. Both companies are capable of simple to complex graphic design tasks such as illustrations, branding, and UX/UI.
As of this writing, Manypixels offer 23 design categories where you can create projects. Penji currently offers 122 design categories total (only listed 40 below).
Album covers
Android apps
Animated GIFS
Annual reports
Awards/certificates
Billboards
Brand style guides
Business cards/ letterheads
Car wraps
Caricatures
Catalogs/brochures
Facebook and Google ads
Hats, hoodies, mugs, leggings
Icons
Illustrations
Infographics
Invitations/stationeries
Landing pages
Logos
Magazine, book/ebook covers/layouts
Mascots
Patterns
Photo edits
Pitch decks
Popsockets
Print ads
Product Packaging
Restaurant menus
Retail bags
Rollup banners
Social media graphics
Stickers/ sticker labels
Tattoos
T-shirts
Twitch banner/header
UX/UI
Web applications
Websites
Wireframing
And more…
Animated GIFs
Banner ads
Banners
Billboards
Booklets
Brand guides
Brochures
Business cards
Business reports
Display ads
Emails
Flyers
Icons
Illustrations
Infographics
Invitations
Landing pages
Logos
Newsletters
Posters
Presentations
Social media graphics
Stationeries
Turnaround Time
Both Penji and Manypixels offer a 1-2 day turnaround time depending on the complexity of the design. Both companies are also relatively speedy with revisions. This is a tie.
Communication
Communicating with a Penji designer is straightforward. When you create a project, the dashboard already has an option to send them a message. This is where you will communicate with them so you won't have to worry about mixing up instructions for each design request.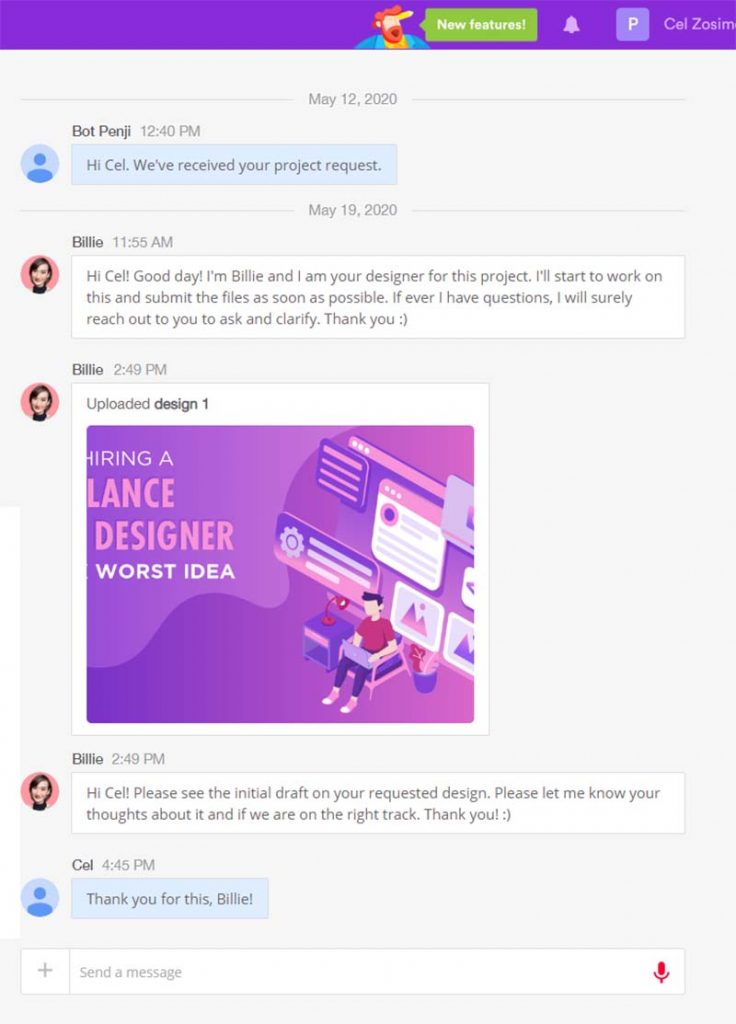 ManyPixels offers communication through their dashboard without the option for you to call or chat with their designers.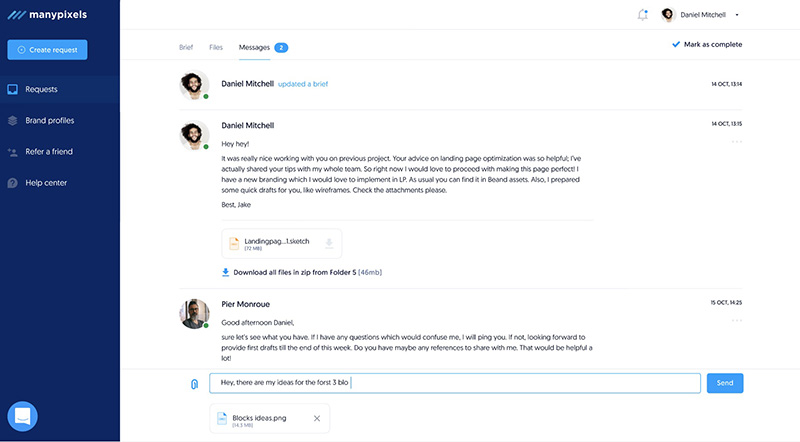 What Makes Penji Stand Out
After pointing out what makes Penji a better choice, here's one more reason to love us. We are a community-driven company. We take care of our team members as well as those who help others.
Right from the start, we involved ourselves in our community. We hired students from nearby universities to work as interns. This gives them enough on-the-job experience to get them a heads up in their career. And today, we hire team members from around the world to form a tight-knit bond that makes working for you our pleasure.
We also gave subscription to deserving nonprofits for $1 a month. This year, we introduced a few more of our services to causes that are close to our hearts. These are:
Penji Against Hate
Supplies For Change
Penji Partners
Penji Champions
Final Thoughts
Clearly, Penji's dashboard is more user-friendly than that of ManyPixels. This makes a huge difference, especially when you have to make numerous requests. As for the pricing, Penji has the most affordable lower plans between the two.
Penji boasts of vetting their designers to be on the top 2% in the industry, while ManyPixels claims theirs to be battle-tested. Look closely at the portfolio to see who can do as promised. It's obvious, Penji has more design categories under its belt and provides high-quality work that's unsurpassed in the industry.
Overall, Penji vs ManyPixels seems an easy question to answer. It's evident that Penji has an advantage when it comes to being cost-effective.
Watch our demo video today to see what it is to experience great graphic design for less. Or sign up and get 25% off your first month by using promo code PIXEL25.