The holidays are the busiest time of year for businesses of all sizes. Holiday marketing is when you can show off your products and services while maintaining the perfect brand balance. This is when your brand voice meets the warm glow of holiday visuals. Welcome to Penji's strategist gift guide.
It's easy to find tips on how to connect with your target audience. However, if you are a large marketing agency or a small business, you may be asking yourself what items you really need. Custom graphics are certainly in order during this time, and the #1 source for absolutely unlimited graphic design is here to help with your holiday marketing.
Here, you can discover important marketing materials that will make your holiday marketing easier. Remember, it is the "most wonderful time of year". So, holiday your way and let Penji help you make it perfect.
Marketing Materials
Whether you are a small business owner or a marketer looking to assist your customers, Penji can help. We have compiled a list of 6 marketing resources that will build your brand this holiday season. This way, your strategy can be perfectly targeted – and of course, fun.
Digital Marketing Items
Custom Social Media Graphics
Posting consistently on your company's social media is always important. Creating a feed that is both visually appealing and represents your brand is the goal. However, you need to adjust your vision to meet the needs of your consumers during the holiday season.
Custom social media graphics are the answer to your prayers. While design platforms such as Canva offer pre-made design templates, they don't offer uniqueness. Companies everywhere are going to be holiday marketing. Therefore, it's essential to have social media graphics that stand out.
Penji is the perfect place to get personalized social media posts. By creating something custom, you are guaranteed that your graphic will represent your brand while also exuding the holiday spirit. With our unlimited revisions, you can keep creating until your design is just right.
Check out some examples of our social media posts!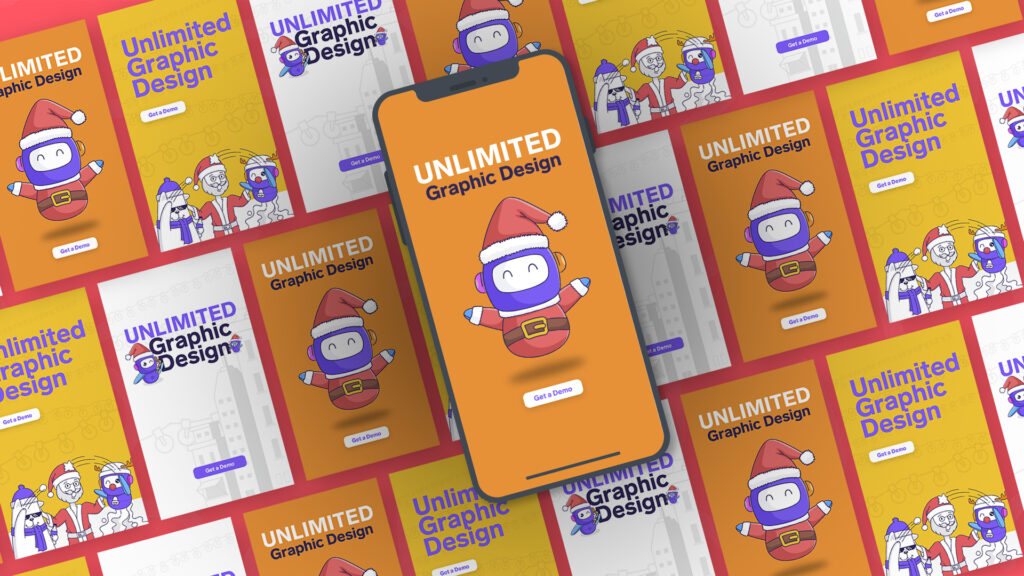 Product Shots for Websites
Product shots are absolutely essential. This is content that allows you to tell a story with your brand. Developing your brand's personality and vibe is a huge part of building your brand and connecting with your target audience.
Product shots and graphics are much more than just an image of the item. This photo is meant to exude how you want your product to be used or viewed in a consumer's lifestyle. Make sure that your product shots are creative and unique.
Penji's graphic designers have the ability to take your products and services to the next level. By adding animation and visual elements, we can accentuate your website layout. Incorporating holiday marketing into your storytelling will make your products and promos more appealing to potential customers.
Check out some examples below!
Custom Email Templates
Email marketing is a great way to inform your customers about deals and exclusive offers. Using this resource will allow your brand to keep your audience engaged. In addition, it makes your brand look active.
Consumers are going to soon be in a holiday frenzy to get the perfect gifts. Be a resource for your customers! Show them that your products and services are the must-have gifts of the season.
Outside of promoting your brand, this is a great way to show customer appreciation. By dividing your emails into groups, you can be sure to thank returning customers. An appreciated customer is a happy customer. This will increase customer retention.
Sometimes it can be hard to capture audience attention with email marketing. A custom email marketing template is a great way to both capture and hold audience attention. With a festive design and a call to action (links, deals, etc.), you can drive much more traffic to your website.
Printed Marketing Materials
Printed marketing materials are still excellent tools for any marketing campaign. Certain items simply never go out of style. Even in the digital age, a printed item can be seen as more sentimental and personal.
As a marketer, it is important to approach your clients with that personal touch. This way, you can help them replicate it with their own clients. When business owners advertise their products and services, their approach will be received better when it feels genuine. Customers want to give their loved ones something heartfelt, so they seek out businesses with a heartfelt sensibility.
Digital items will help with reach, visibility and brand voice. On the other hand, print items help solidify a connection. Keep this in mind for product packaging and product design.
Custom Flyers and Brochures
Flyers and brochures are a traditional way to market. They allow business owners to perform canvassing and condense their business information into one resource. During the holiday season, they are perfect for presenting both brand voice and specialized products.
These items can work digitally as well. Having these in both print and digital can help increase their audience. Make sure to put your best foot forward when compiling information.
You want to express what you care about and how you can help your potential customers. This can include your holiday deals, community outreach, products and services, and your company's mission statement.
This may seem like too much information for a single flyer or brochure. However, Penji's graphic designers can assist with organizing the information. Integrating visual hierarchy with aesthetic images will accentuate your design.
Custom Product Packaging
Creating a personalized experience for your target audience is key. This strategy highlights the value of your product. Something customers look for in a brand is how the shopping experience makes them feel. You want your customers to associate your brand with positive, fun, and friendly experiences.
Custom product packaging is a great tool to develop this. Taking the time to invest in your customer's feelings will always pay off. With Penji's unlimited graphic design service, we've got you covered.
Your product packaging should have your brand personality wrapped all over it. Meaning, the boxing has branded cardboard, tape, or paper, as well as your logo. Additionally, consider including tissue paper that utilizes your brand colors.
With the holidays, adding that festive touch to your holiday packages is the perfect addition. You can use your typical brand colors and visuals in your design, but you should also consider spicing it up with seasonal elements. For instance, Penji can remake your logo to look more festive. This way, you can balance brand voice and holiday marketing.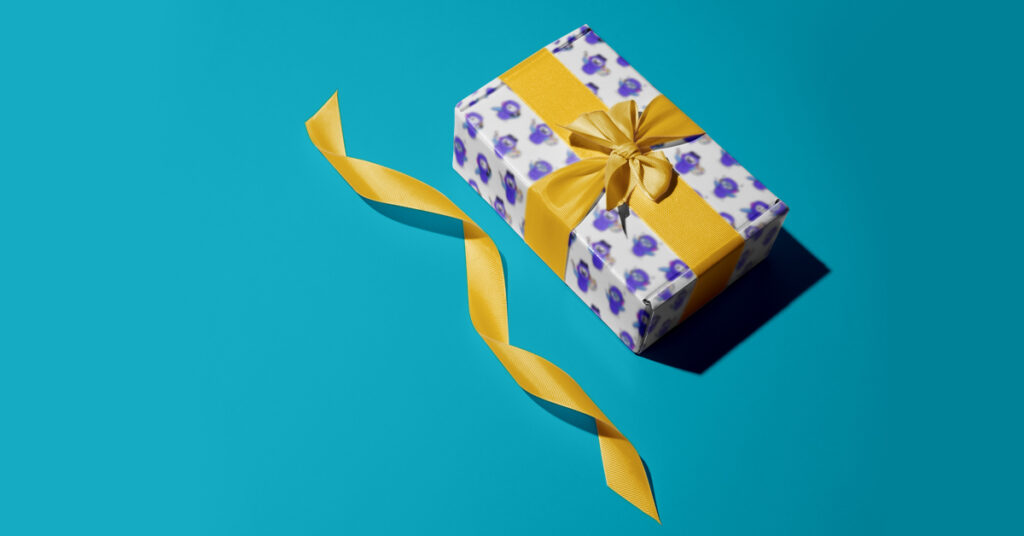 Designs for Specialized Products
Part of the appeal of shopping is how it is presented. Your product could be beautiful, delicious, or useful, but still not be eye-catching. Without this key marketing strategy, you are missing an important part of customer connection.
To reiterate, customers want an amazing user experience. Delivering branded, personalized products offer them that. If you are consistent in your design delivery, you will begin to develop brand loyalty due to brand trust.
With deals and promotions everywhere, this is your chance to spotlight your product. Specialized designs make your product feel unique and like it's part of a coveted lifestyle. No matter what your product is, you can brand it.
Penji's expert designers can understand your vision and bring it to life.. Even if your design desire is more abstract, we can give your products the aesthetic that you envision. To tie it all together, we would be happy to incorporate seasonal elements into your branding.
For instance, we deliver designs for books (coupon books, comics, magazines), bottles, bags, and so much more. Penji can even create shopping tag designs for in-store products! You worked hard to market a product. Let us help give it the platform it deserves.
Stocking Stuffers to Guide You Through the Season
This is a strategist's gift guide and a business owner's gift guide alike. Holiday marketing can be stressful. Make it easy for your clients and customers to find you through the festive frenzy. Marketing resources are everywhere, but only the best offer the best results.
Refer back to our gift guide throughout the holiday season for marketing tips and tools. This can help you develop efficient marketing strategies. Remember to implement your strategies both digitally and in print.
Penji makes it easy. All of your marketing tools can be found and created in one place. This includes vetted designers, brand folders, and multiple design projects. This is, of course, with our unlimited graphic design service.
What's a better gift than peace of mind? Your business and clients deserve the absolute best this season—and all year long. Holiday the easy way, and give the gift of peace with Penji.