It's the time for trick-or-treats, spooky costume parties, and horror flick marathons. But for business owners, the only scary thing about the Halloween season is the lack of practical Halloween promotional ideas that rake in earnings.
How important is Halloween for commerce in general, and how can ventures make the most out of the season? Read on to find out.
The Importance of Halloween Promotional Campaigns for Businesses
Halloween is undoubtedly one of the occasions that businesses prepare for every year.
According to the National Retail Federation's report last year, over 175 million Americans planned to spend an estimated average of $86.79 for Halloween Festivities. All adding up to a total of $9 billion estimated spend for the season.
Of all the respondents last year, 95% said they would spend on candy, 74% stated they would shell out money for decorations, while 68% said they would budget money for costumes.
US Census Bureau's report supports NRF's numbers. According to the bureau, there was an estimated number of 41.1 million potential trick-or-treaters in 2017, ages 5 to 14.
With a vast number of Americans willing to exhaust big bucks on food, parties, and everything else in between, Halloween opens up unique publicity and income opportunities for any business aiming to ride the wave.
What Makes a Halloween Campaign Effective
Despite the excellent chance for business growth, riding the Halloween wave isn't as simple as it seems.
Just like the need for efficient paddling in surfing, Halloween promotional ideas require sufficient and creative campaign planning backed up by data and research.
Just as wave riders aim for a smooth and unobtrusive pop-up from the surfboard, businesses must strive to launch up a campaign that could hold up on its own.
And just like in surfing, launching a Halloween campaign needs strategic timing. Too early, and you'll tumble, too late, and you'll miss the wave. According to a report, 28% of consumers start Halloween shopping in September while 41% buy what they need for the creepy celebrations during the first two weeks of October.
Businesses who join the game during the last two weeks of October can still get a slice of the 25% of consumer purchases. But failing to launch the campaign just a few weeks earlier could result in a terrifying wasted opportunity.
Top 5 Halloween Promotional Ideas That Turned Heads
Here are some of the top Halloween promotional ideas that turned heads these past few years. Take note of how the brands executed these campaigns and how graphic design was maximized to spark interest among consumers.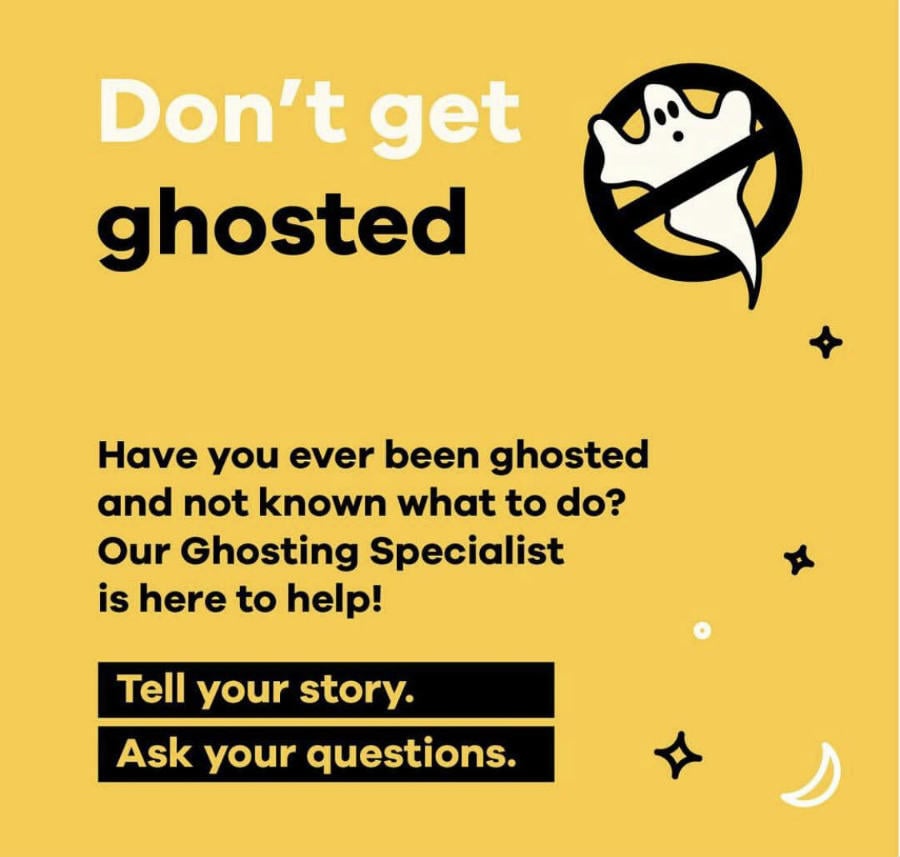 Ghosting or the practice of ignoring a person after talking or having a date with them is often a reason for dating app users to delete their accounts.
Because of this, dating apps encourage users not to ghost potential partners to sustain and even grow their user population.
Bumble, a popular dating app, urged users to reduce the practice of neglecting their fellow users. The system sent notices to people who haven't replied to messages. The system asks them to either end the conversation politely or responds to it.
The image in the poster is aptly reminiscent of fantasy comedy franchise, Ghostbusters. After all, Bumble is trying to come after users who ghost.
The golden yellow background with black accents and a touch of white offers a simple visual that gets the message across without complications. Check out this article about Best Halloween Social Media Campaigns for 2019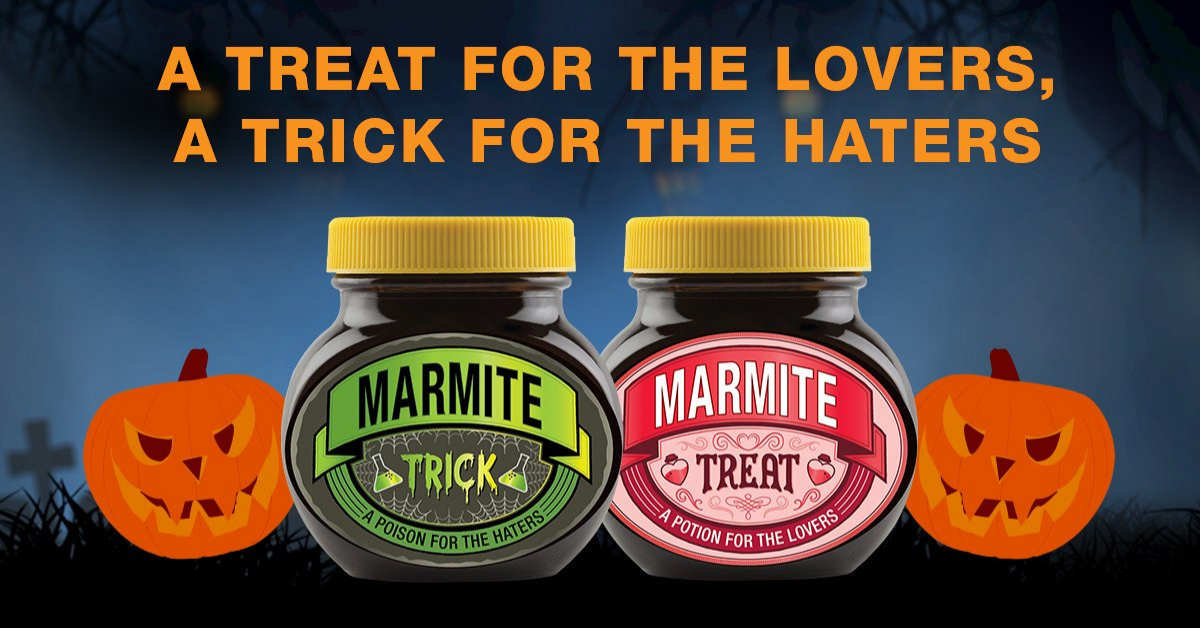 Marmite – either you love it or hate it.
The producers of this British cupboard staple know how polarized foodies are when it comes to consuming this yeast extract-based spread. And they incorporated it in their Halloween campaign.
Marmite released limited-edition Halloween collectible temporary jars. A jar labeled "Halloween Trick" meant to horrify a hater, and a pot named "Halloween Treat" meant to satisfy a Marmite lover.
The graphics of both labels are appropriately designed to express the goal of the campaign. The "trick" jar is colored gray and slimy green, decorated with spider webs and laboratory flasks.
The "treat" jar, on the other hand, features delicious shades of pink nostalgic of delectably sweet pastries like macarons and cupcake frosting. Cute swirls and heart-shaped potion bottles adorn the label.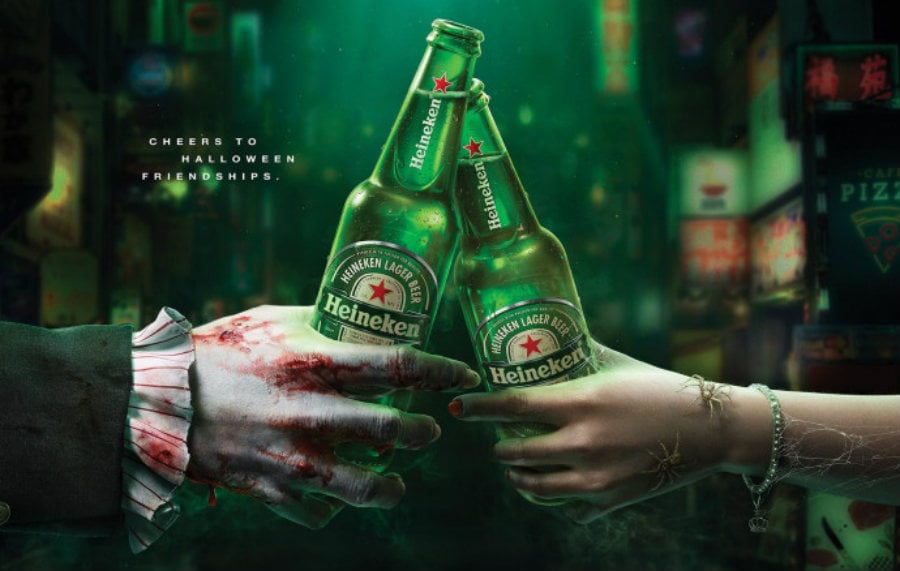 Heineken's Cheers to Halloween Friendship launched in 2018 is both creepy and touching.
The poster features a photo of two hands. A male one with splotches of blood donning a sleeve reminiscent of Count Dracula and a female hand covered in webs and crawling spiders. Both holding bottles of the Dutch lager on a toast.
The color palette of the poster is generally emerald green, complementing the pale complexion of both hands and the garnet accents of his blood smudges and her nail polish. Check out this article about Scary Good Halloween Event Ideas Your Team Will Love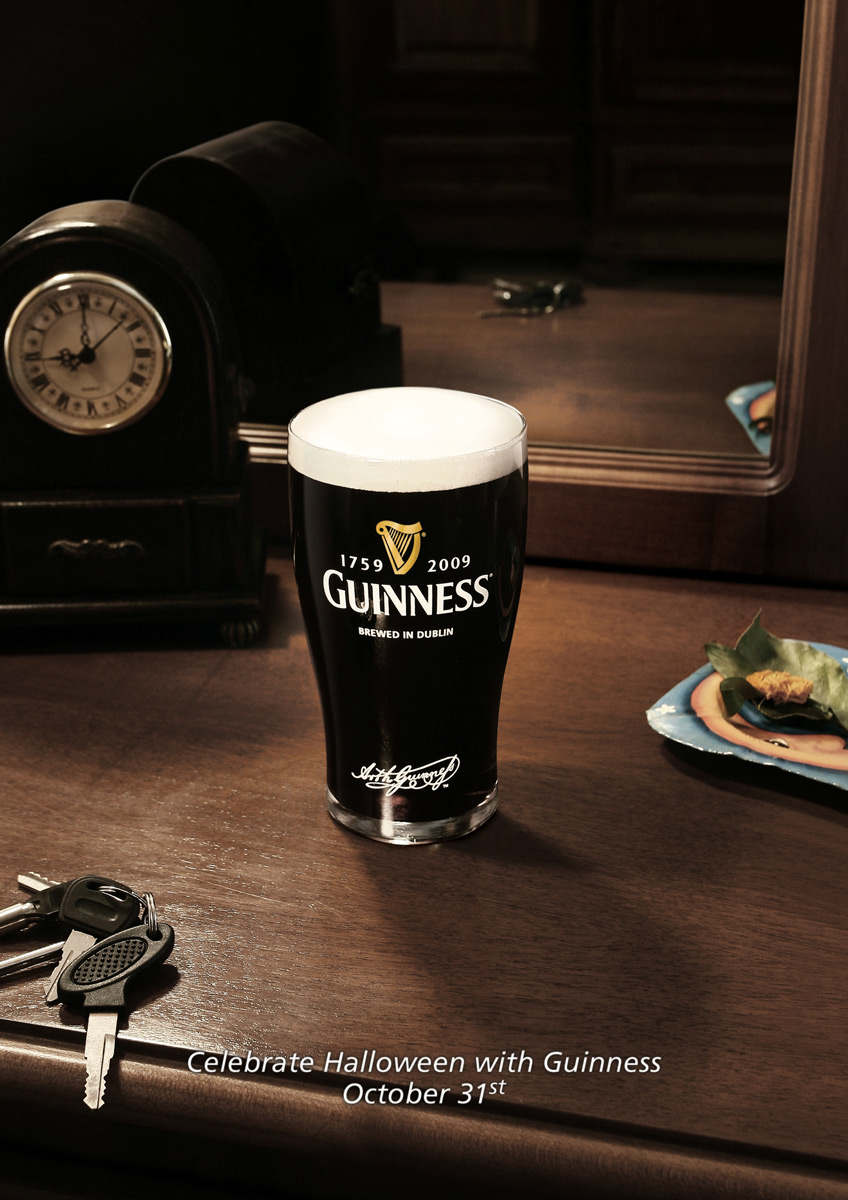 This previous campaign by Guinness' is elegantly classy and appropriately eerie at the same time.
The image features a glass of the dark Irish dry stout with a set of keys on the foreground and an old-looking clock in the background. The mirror behind shows a reflection of all the things on the vanity except the glass of beer.
The color palette of wood colors along with the silver and cream accents complements the dark hickory color of the stout. The white color of the beer foam that sits on top of the glass and the white typography on the glass highlights brand identity. Check out this article about How To Make An Ecommerce Landing Page Work For You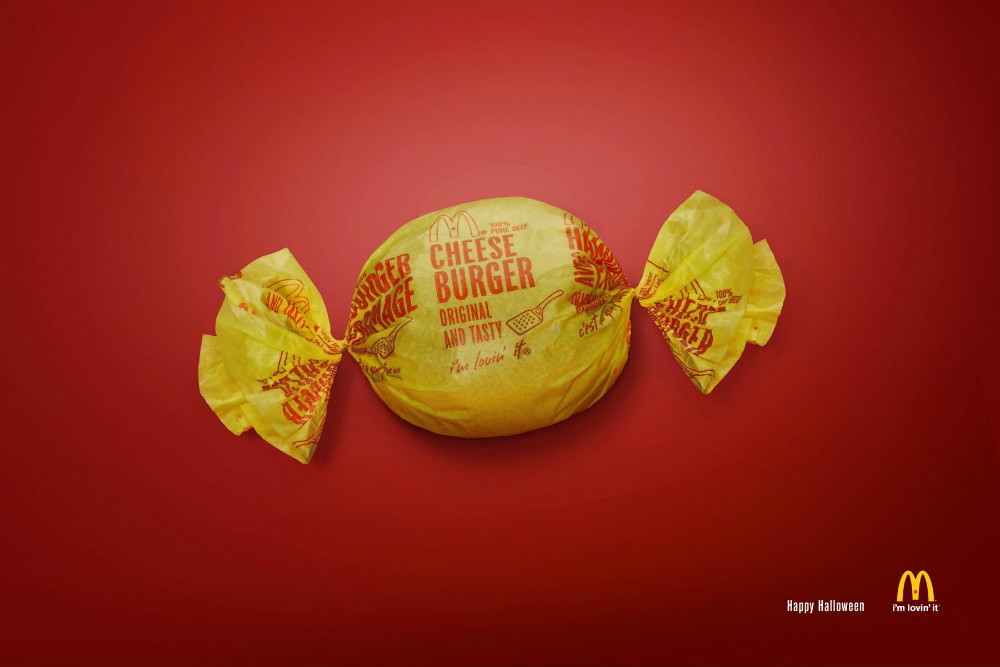 Treats shared during Halloween are usually sweet, with obligatory candies filling trick-or-treaters' sacks and pumpkin baskets.
This Halloween campaign launched by McDonald's Canada a few years back featured an unconventional savory treat. A cheeseburger wrapped to look like a piece of candy.
The yellow cheeseburger wrapper goes well with McD's brand-identifying bright red as background.
The resulting promotional poster is simple yet effective, making people see the fast-food chain's best selling burger as a sumptuous indulgence even in – or especially during – a season of candies.