Unlimited graphic design comes in many forms. Penji and Flocksy are both in the unlimited graphic design space, however, will help you in very different ways. (Special promo code at the end!)
Here is an analysis of Penji vs Flocksy to help you see the differences between the two services.
Is unlimited graphic design right for me?
With the growth of the design industry, companies like Penji and Flocksy are innovating the space, providing results through a fixed price subscription business model. Admittingly, unlimited graphic design is not for everyone. However, startups, marketers, and agencies have found great success in using unlimited graphic design.
Consider an unlimited graphic design service if you:
Are frustrated with vetting, hiring, and firing freelancers
Need extra help but not looking to commit to a full-time team member
Need multiple designs monthly
Live a fast-paced lifestyle and need a quick turnaround for your designs
Prefer the ease of interacting digitally rather than in-person
What sets these services apart is that you get a full team of designers with your subscription rather than just one designer when you hire a freelancer. Also, you have the freedom to select from a wide range of design categories, so you won't be held back by skill deficiency. These services usually promise a 24-48 turnaround time. This allows you to do more without compromising your other projects.
Penji vs Flocksy
Penji and Flocksy are both alternative design solutions. But what makes them different?
Both services offer design at a fixed price, so what's the difference?
The service that you choose will depend on what your goals are. Companies like Penji prefer to stick to one specialty, design, while others like Flocksy branches off into non-design categories such as web development, copywriting, and video. Because of this, who you are and what you need will ultimately help you decide which is the best service for you.
Penji is overall great for marketers and agencies because of the core focus on design. However, Flocksy may work better for those looking to replace agencies because of their selection of offerings.
Market Awareness
Flocksy and Penji are both private companies which makes it hard to accurately determine market share. However, by taking a look at each companies' monthly traffic we can determine each company's authority in the unlimited graphic design industry. Let's take a look.
A brief search on UberSuggest shows that while Flocksy's traffic averages a low 237/month, Penji averages a 101,717/month. There's a significant difference in website visitors between the two companies. It's safe to say that Penji beats Flocksy by a long shot when it comes to dominating the industry. Overall, whether by superiority in product or brand awareness, Penji is the consumer favorite.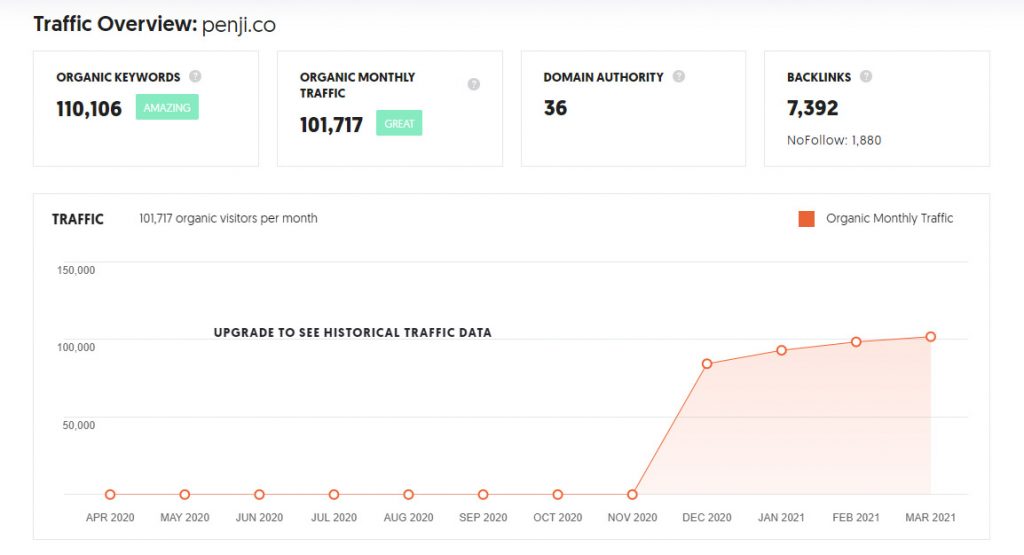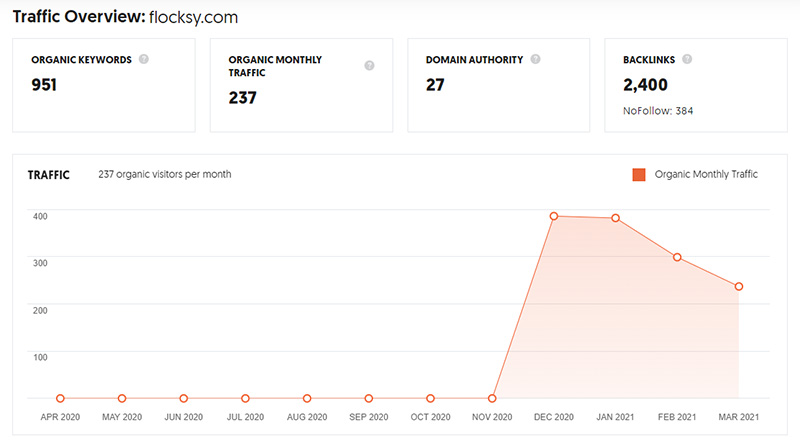 A brief search on UberSuggest shows that while Flocksy's traffic averages a low 299/month, Penji averages a 59,153/month. There's a significant difference in website visitors between the two companies. It's safe to say that Penji beats Flocksy by a long shot when it comes to dominating the industry. Overall, whether by superiority in product or brand awareness, Penji is the consumer favorite.
Software interface overview
Unlike working with freelance/agency graphic designers, top unlimited graphic design services make emailing back and forth obsolete. An intuitive web software interface takes its place so you'll no longer be confused by where your project is along the process. Both Penji and Flocksy have their own web software to achieve the same goal for you as a consumer, however, they operate differently.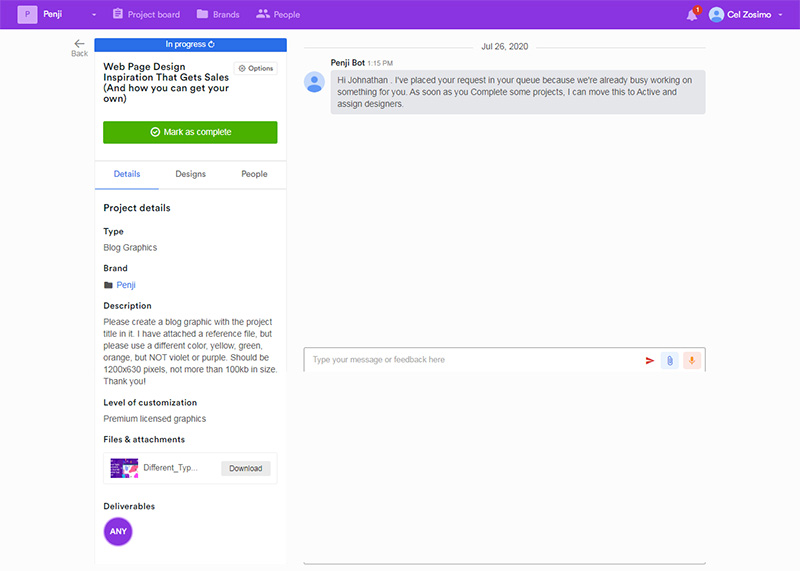 Penji's interactive platform centralizes all your communication into one place. Making a request can take as little time as one minute, depending on the complexity of your project. The form generates on one screen as you fill it out and you will only be asked questions that are definitely needed by the designers, saving you time and unnecessary clicks. All project requests are submitted through the software interface and revisions can be requested there as well.
On Flocksy's platform, you'll get a different experience. You'll be taken through 10 steps as you make a request. Each step is a separate screen. Though some questions are necessary, the questions are unskippable, which slows down the request process and may cause confusion for the designers working on your project if you fill in unnecessary information. Once your project is started, a timer counts down to the time when you will receive your draft, which may provide peace of mind for meeting deadlines.
Price comparison
The cost of unlimited graphic design varies depending on the service you choose. But, what you can count on is the consistent subscription business model. Whether you need it for 3 years or 3 months, you're not tied to any contracts, giving you the freedom to sign up and cancel anytime. Here is a package comparison of Penji vs Flocksy.
Penji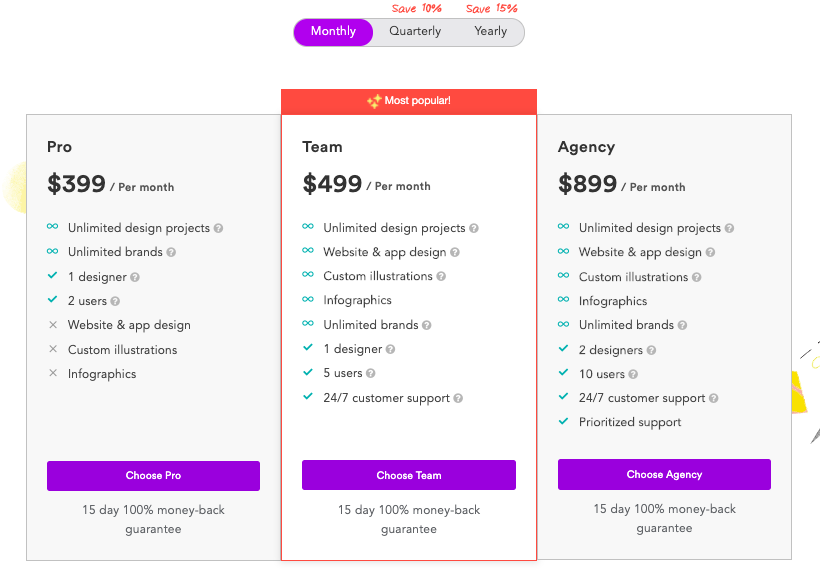 At Penji there are three packages to choose from: Pro, Team, and Agency. Since Penji focuses solely on graphic design, you get a wide selection of design categories to choose from and specialized offerings per package. This is perfect for marketers who need graphic design for their campaigns and agencies who need design work completed for their clients.
Flocksy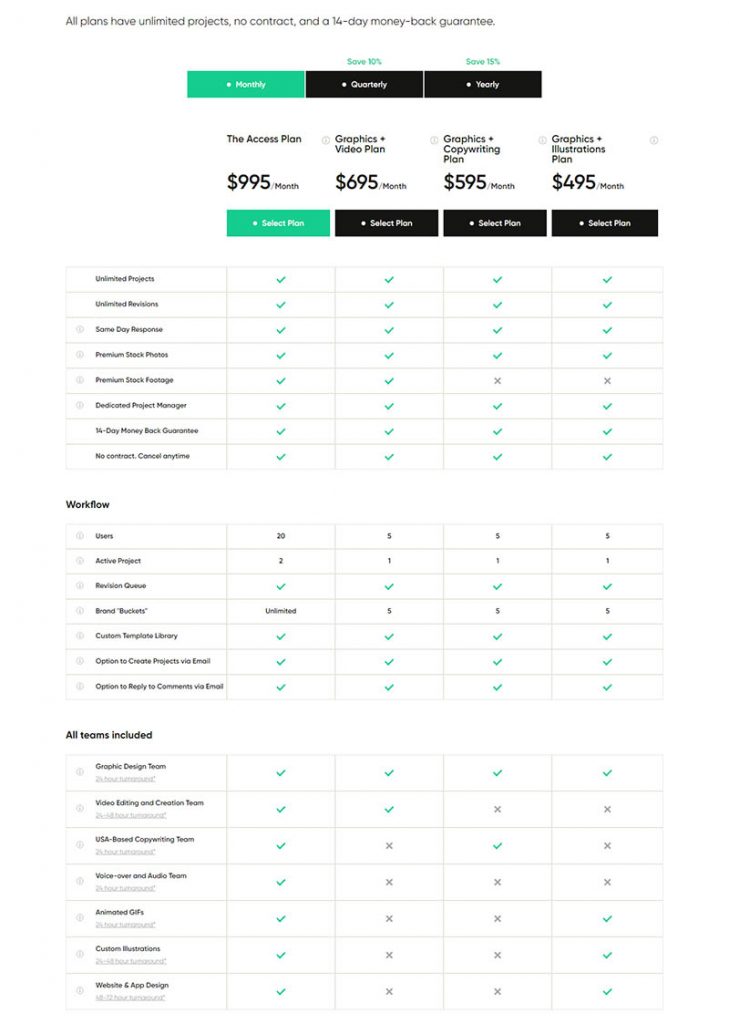 Flocksy has four packages: The Access Plan, Graphics + Video Plan, Graphics + Copywriting Plan, and The Graphics + Illustrations Plan. The starting package is slightly higher than Penji's, however, it's up to you to decide if that is worth it depending on what you are looking for. If you need web development and copy along with graphic design, the cost may seem more worth it.
Design offerings
Though Penji and Flocksy are both in the unlimited graphic design category, they offer different services under a similar business model. Penji has a hard focus in providing the highest quality graphic design whereas Flocksy ventures into categories such as web development, copywriting, and video. Here is the list of categories at Penji vs Flocksy: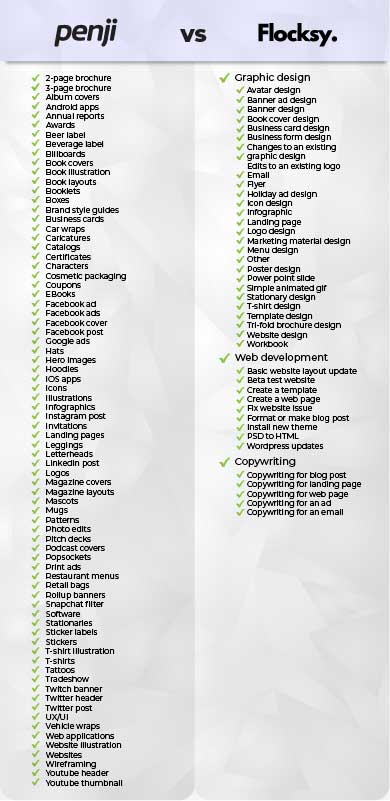 Design workflow
The steps to get from your design request to the finished product may vary with Penji vs Flocksy. The speed in which you receive your first draft to the actual final design will determine if you renew your subscription. So, here is a rundown of how Penji and Flocksy's design process works.
Penji's workflow
Onboarding
Once you've chosen a plan and signed up, you're immediately directed to sign in to your dashboard. From there you fill in a short questionnaire about yourself, your brand(s), and you're ready to get started! It's a simple process that takes minutes to complete.
Requesting a design
To create a project on Penji, you only have to follow four simple steps.
Create
Connect
Revise
Download
On the dashboard, you'll be asked to input all the information your designer needs to create your design request.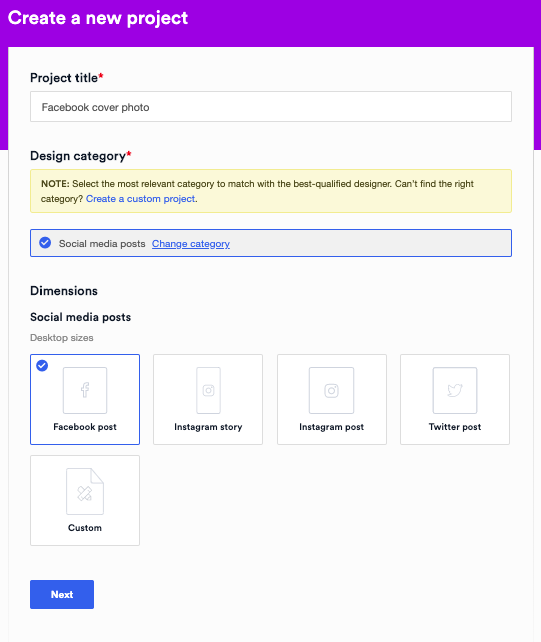 Create your request by filling out a short form to let your designers know what you're looking for. This can be as simple or as detailed as you wish, with the option to upload any files and attachments that you want the designer to reference.
Connect with your designated graphic designer for the project. Over time, you'll work with different designers depending on your request. Penji will assign your projects to designers with the highest aptitude for that type to ensure higher quality results.
Submit revisions easily by clicking directly on the design image on your dashboard. This step is optional, but is available to you as many times as necessary. Make comments like "change font to Sans Serif" or "make logo bigger". You may also request more variations of a design or swap your designer for a different style. Revisions are completed within 24 hours.
Download your design when you are 100% satisfied with what you received. This is sent to you in a zip file. All your requested files will be inside, including the source file should you want to make any edits yourself or just keep stored through your own method. Your completed files will be available to redownload as many times as you like during the duration of your membership.
And, that's it! Four easy steps to getting your completed design with Penji. Through this process, you can be confident that what you receive is accurate to your request.
Flocksy's workflow
Onboarding process
Once you choose one of their two packages, you can log in by clicking the "Login" button on their website. You'll be taken to your sign-in page, then your dashboard.
The onboarding process does not include introductory emails or calls.
Requesting a design
You'll then be taken through their 10 step project creation process. As discussed above, the process is long and questions cannot be skipped, even if you don't have an answer for it. What is really helpful, though, is the summary that is provided at the end of the request process. You have the opportunity to look over all the information provided to ensure that it is correct.
The 24-hour countdown timer begins immediately after your request is put in. If revisions are needed, Flocksy delivers a 24-hour turnaround, weekends not included.
Communication with support
With any new service, you may have questions or issues that need to be addressed.
Penji
Getting in contact with Penji's support team is easy. On the bottom right corner of your dashboard, you'll see a Help button. Click on it and fill out the short form to get in touch with your Account Manager.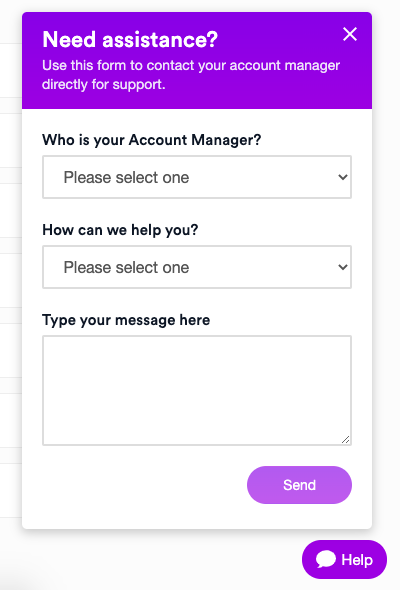 You'll receive an email reply from your Account Manager shortly after submitting your support ticket. From there, they will take care of your issue and keep you updated on the resolution.
Quality of Work
While it's true that beauty is in the eye of the beholder, we still need to see how Penji and Flocksy compare by looking at their portfolios.
Penji
Penji hires only the top 2% of graphic designers in the industry. Our designers go through strict recruitment and training processes. Here are some of Penji's previous works to show you what we mean: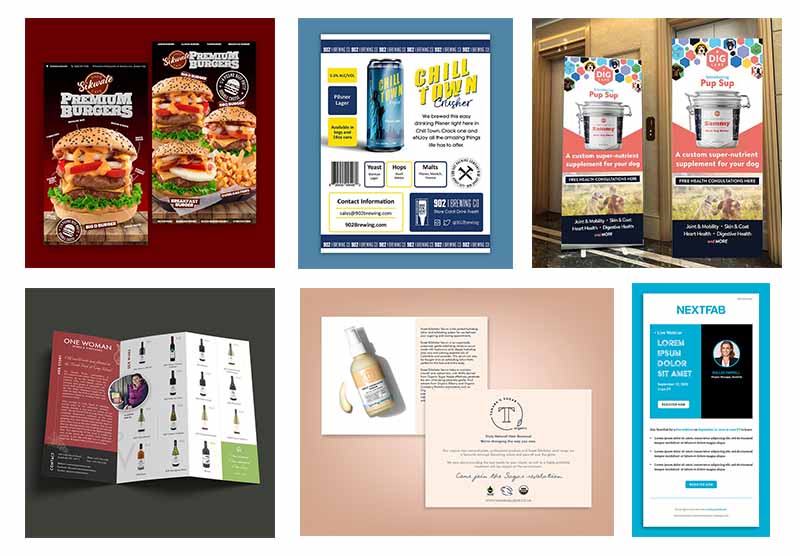 Flocksy
As with Penji, Flocksy has graphic designers from all over the globe. However, there is no mention on their website on how they hire their designers. Let's look at what they have to offer: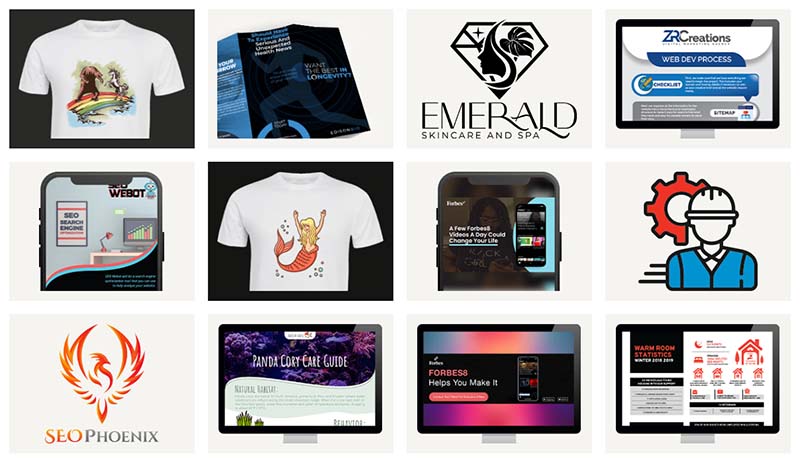 Customer testimonials
On Facebook, Penji has an average rating of 4.8 out of 5 based on 81 reviews and Flocksy has 4.5 out of 5 based on 15 reviews.
Penji

"Working with the Penji team on my agency's graphic design needs has been amazing. Fast turnaround on first drafts and revision and they always are responsive to my needs and request." – Sean David Laughlin, July 31, 2020

"Better price, better quality, and much better communication than using most outsourced designers. Penji is an asset for any company." – Brian Scruggs, June 16, 2020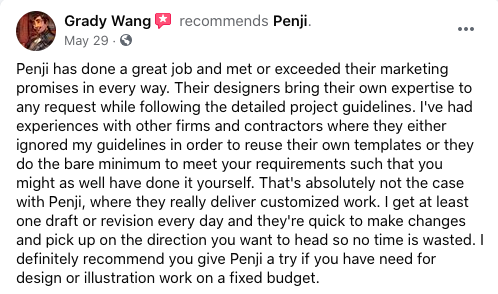 "Penji has done a great job and met or exceeded their marketing promises in every way. Their designers bring their own expertise to any request while following the detailed project guidelines. I've had experiences with other firms and contractors where they either ignored my guidelines in order to reuse their own templates or they do the bare minimum to meet your requirements such that you might as well have done it yourself. That's absolutely not the case with Penji, where they really deliver customized work. I get at least one draft or revision every day and they're quick to make changes and pick up on the direction you want to head so no time is wasted. I definitely recommend you give Penji a try if you have a need for design or illustration work on a fixed budget." – Grady Wang, May 29, 2020
Flocksy

"Flocksy is a great source for any business, especially startup to small, to start building out content and graphics for print and digital media. The designers are really talented and from my experience work hard to provide the best quality of work for you. Since using them, I've freed up a lot of time and worry and the price point is worth it." – Chris Coleman, September 19, 2019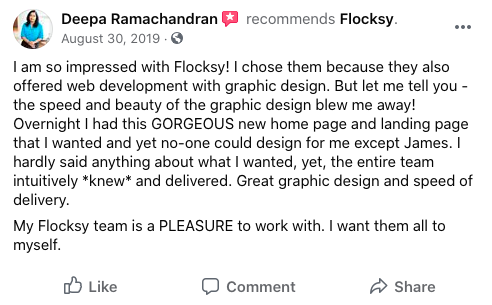 "I am so impressed with Flocksy! I chose them because they also offered web development with graphic design. But let me tell you – the speed and beauty of the graphic design blew me away! Overnight I had this GORGEOUS new home page and landing page that I wanted and yet no-one could design for me except James. I hardly said anything about what I wanted, yet, the entire team intuitively *knew* and delivered. Great graphic design and speed of delivery.
My Flocksy team is a PLEASURE to work with. I want them all to myself." – Deepa Ramachandran, August 30, 2019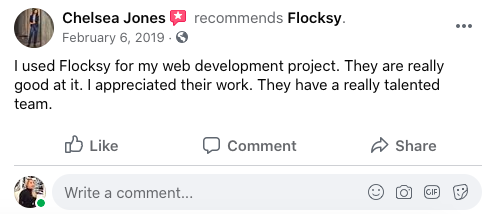 "I used Flocksy for my web development project. They are really good at it. I appreciated their work. They have a really talented team." – Chelsea Jones, February 6, 2019
What Makes Penji Stand Out?
When you read about Penji's story, you'll realize why we stand out. We are a community-driven company and have been so from the get-go. We care for our community that's why we pledge 10% of our monthly income to help those who are helping others.
In addition, we offer our full service to deserving nonprofits and social impact startups through our Unlimited programs at discounted rates. This is in line with what our core values are which are to love our customers, be generous and dependable, be true to oneself, and quality above all else.
This year, we launched a few more programs to add to our growing list of advocacies. Here is a list of the programs that we hold close to our hearts. These are, we believe, what makes Penji different from our competition.
Penji Against Hate
Supplies For Change
Penji Partners
Penji Champions
Penji for nonprofits
Startups Unlimited
Final verdict
Your decision depends on what you need to be done. Flocksy may be a great option for those who are looking to replace an agency because of the wide selection of offerings like design, web development, copywriting, and video. With the quick turnaround time, you'll be able to get more without committing to a contract.
If you're a marketer or agency looking to expand your design work, Penji is the best option. Penji aims to provide high-quality graphic design for individuals and teams. Designers are specialized in specific areas of design so you get the best results. That means fewer revisions, quicker completion time, and overall more polished work.
On the surface, Penji and Flocksy may seem similar, but because of their separate list of offerings, your decision may waiver depending on who you are and what you need.
Special offer
Want to give Penji a shot? Use code D15COVER for 15% off 3 months of Penji. Get started on your membership today!
Updated May 3, 2021