As an online store owner, it would be best if you prepared to grow to take advantage of positive prospects in the industry. However, scaling up an ecommerce business requires additional investment. Fortunately, there are several financing options to support your business expansion. Gone are the days when banks and investors were the options for external funding. Today, online platforms have become accessible resources for cash. Continue reading to learn more about the best platforms to access ecommerce business loans.
1. 8fig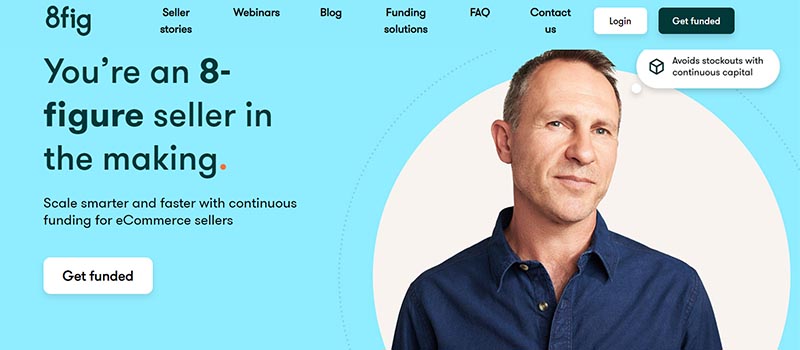 The first on our list is a firm believer that online sellers can achieve an 8-figure revenue. Founded in 2020, 8fig provides development planning and funding solutions for ecommerce businesses to accelerate their growth potential.
The platform integrates with your ecommerce platform and uses AI to analyze your sales performance, expenditures, and other financial data to determine the best funding options. Currently, 8fig supports private label and wholesale sellers on Amazon, Shopify, BigCommerce, WooCommerce, eBay, and Wix.
Apart from funding assistance, 8fig also helps ecommerce businesses become sustainable. Ecommerce businesses get them in a steady stream instead of a lump sum release of funds.
To qualify for 8Fig funding assistance, your business must have a monthly revenue of over $8,000 for three months or an annual income of $100,000.
2. Payability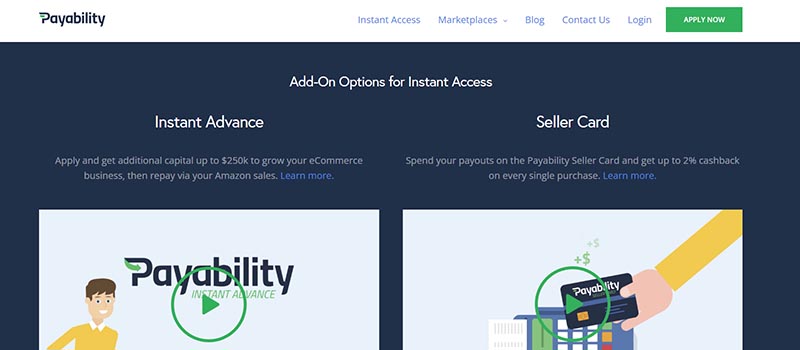 Payability is a company that offers ecommerce business loans to Amazon, Shopify, and Walmart sellers. The platform understands that sellers on these marketplaces may have daily cash flow concerns. It provides funding options that are merchant cash advances and invoice factoring.
Through its Instant Access option, merchants can avail a daily advance of 80% of their previous day's sales. Likewise, Payability can purchase future receivables through the Instant Advance option. You'll get 75% to 150% of your monthly income in the Instant Advance option. Then, you must remit a fixed percentage, ranging from 2% to 25%) of your sales until the advance has been settled.
To qualify for Instant Access, you need a minimum of $10,000 in monthly sales for at least three months. For Instant Advance, you must meet $50,000 in average monthly sales for nine months.
3. Wayflyer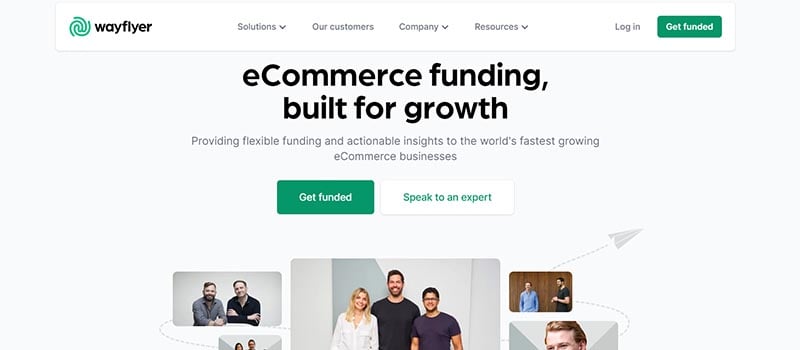 Get funded with Wayflyer's revenue-based financing. The platform provides flexible funding options for marketing, inventory, and other business needs. First, you must link your marketplace, like Amazon, Shopify, or WooCommerce to Wayflyer. It will then analyze the available information and provide you with funding offers. You can avail of funding worth $10,000 up to $20 million based on your business type.
Your business must be operational for at least six months with an average of $20,000 a monthly revenue to qualify for a loan. Currently, Wayflyer only serves firms set up in selected territories, such as the United States, Canada, and the United Kingdom.
4. Shopify Capital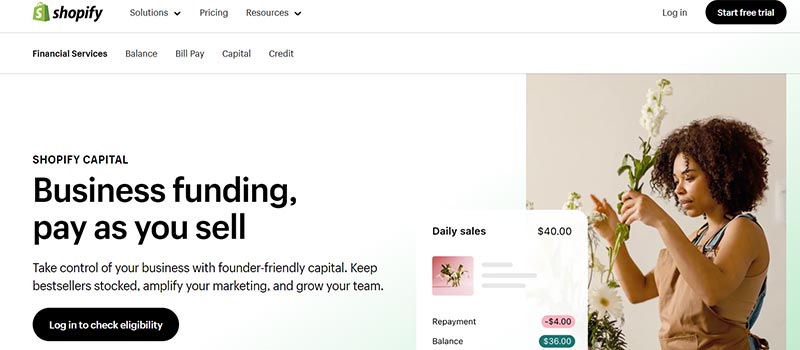 Ecommerce platform Shopify developed a funding program specifically for its sellers. This in-house financing program is available to stores with solid sales histories. Shopify has yet to go public regarding how the program works, but if you qualify, you get notifications containing funding offers.
Shopify Capital offers merchant cash advances amounting to $200 up to $2 million. The platform also provides revenue-based financing, where you can get a lump sum. The loan proceeds can be spent on your online store's inventory, payroll, and marketing needs. For easier loan repayment, Shopify Capital deducts part of your daily sales until the amount is paid.
5. PayPal Working Capital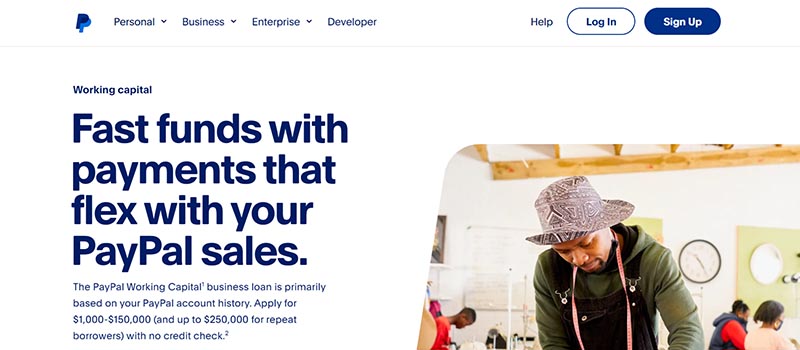 Did you know that PayPal's online payment platform also offers ecommerce business loans? The short answer is yes. PayPal Working Capital provides capital assistance to business account users. Eligible users can avail of loans equivalent to 25% of the previous year's sales via the Paypal Working Capital website. However, the actual amount will depend on your sales volume, account history, and previous Working Capital transactions.
The platform charges a fixed fee and gets a percentage of each sale as part of the loan repayment terms. You must meet a minimum repayment total every 90 days, depending on your loan amount.
To qualify for capital assistance, you must have had a PayPal business account for three months. In addition, you must hit total transactions amounting $15,000 within the past year and no outstanding PayPal Working Capital loans.
6. Payoneer Capital Advance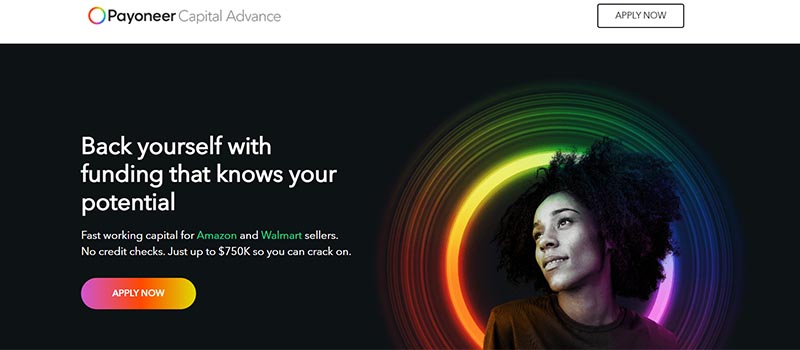 Payoneer is another payment solutions gateway that has entered the ecommerce business loan services through its Capital Advance program. Capital Advance is currently accessible to Amazon, Walmart, and Wayfair merchants.
Ecommerce merchants can avail up to 140% of their monthly marketplace payouts, equivalent to $750,000. To start, you should link your marketplace account to Payoneer. Then, it will check your store's sales performance, and Payoneer will generate your funding offers.
7. SellersFi (formerly Sellers Funding)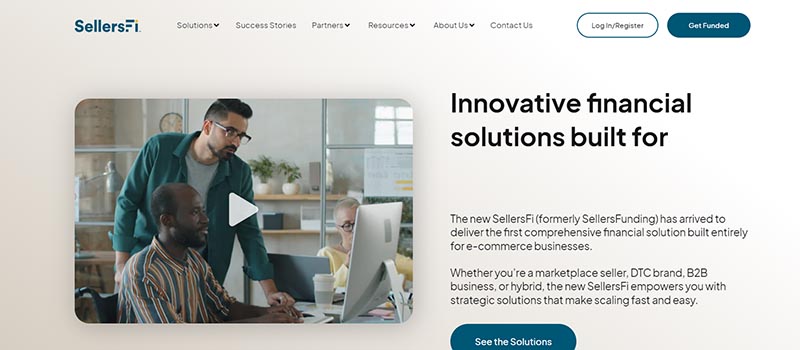 SellersFI assists online businesses with flexible funding options, including Daily Advance and Working Capital. You must link your marketplace account to the platform to enable their system to confirm your eligibility. Below are the key features of the two SellersFi funding options:
Daily Advance
As a loan applicant, you can avail a maximum of 90% of the previous day's sales with a simple rate of about 1.5%.
You need three months of active sales with at least $1,500 monthly net sales.
Working Capital
Avail loans ranging from $5,000 to $5 million
Payment terms are 3-24 months, with an option to settle in 4 months of interest-only payments.
You need a record of at least six months of sales history with $20,000 of net monthly sales.
Conclusion
These e-commerce-focused platforms have a positive outlook toward the businesses they support. With a clear understanding of what ecommerce businesses go through, they can customize their offerings to address funding concerns. The requirements listed above can help you choose the best ecommerce business loan provider. But before closing your browser, read our comprehensive guide on writing an ecommerce business plan. A well-written business plan lets you introduce your business and present your growth prospects to these funding platforms.