What's the first thing you check in the morning with half-shut eyes?
I don't know about you, but I always turn to good old Facebook for some early morning entertainment. I sometimes breeze through some posts on my feed, but there are those extra special ones that will always make you stop dead on your tracks (or thumb) because it's just too compelling.
Facebook is a powerful social media platform with over 2.32 billion active users as of 2018. That's why startups and even established companies make Facebook their primary channel to engage with their existing customers and gain new ones.
Because where there's demand, there's an opportunity. It's all about what to post on Facebook! Here are some 12 effective tips and ideas on how to get a high engagement on Facebook.
Need Facebook content designed? Scroll to the bottom of the page for a special promo for Penji!
Ask Compelling Questions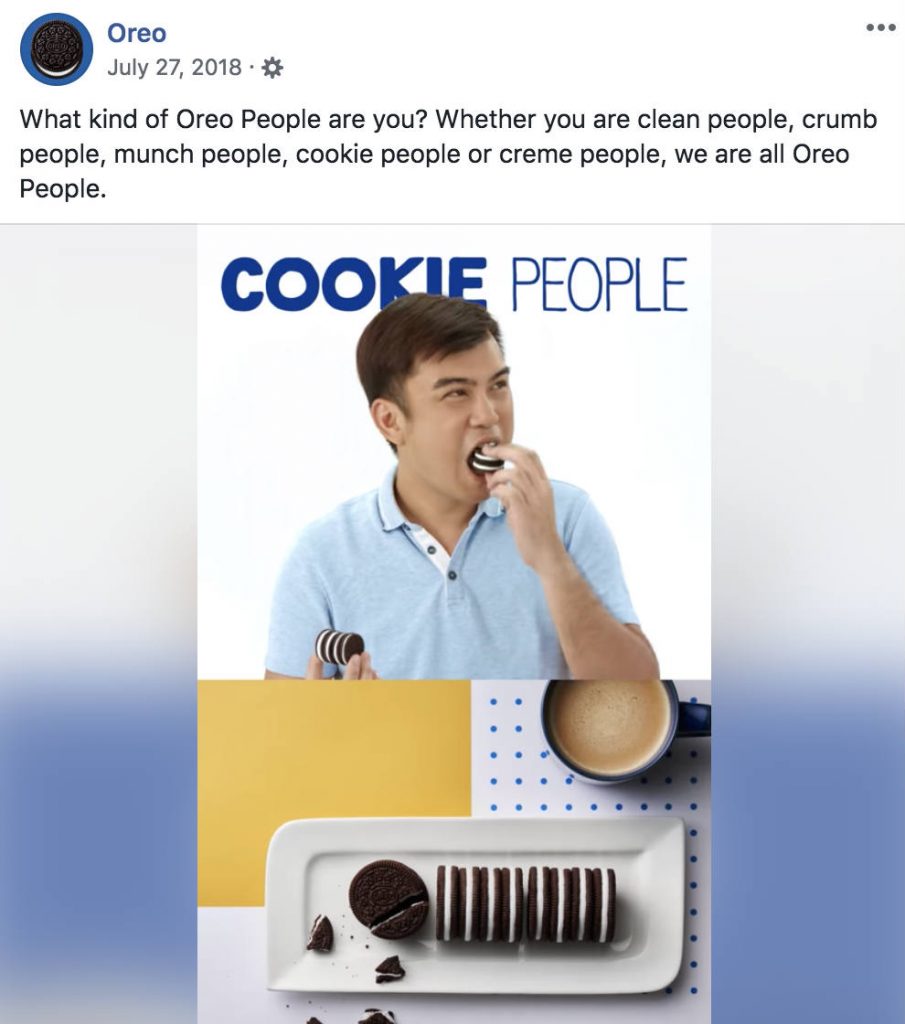 Whether your goal is to educate or engage, questions are always a great way to catch someone's attention. Asking your followers a thought-provoking question or asking them to choose between similar products creates a high engagement especially if you do it on a consistent basis.
Take a look at Oreo's post. They're merely asking whether you like the Oreo's cookie or cream more and surprisingly, it has received a high amount of reactions.
"Caption This" Posts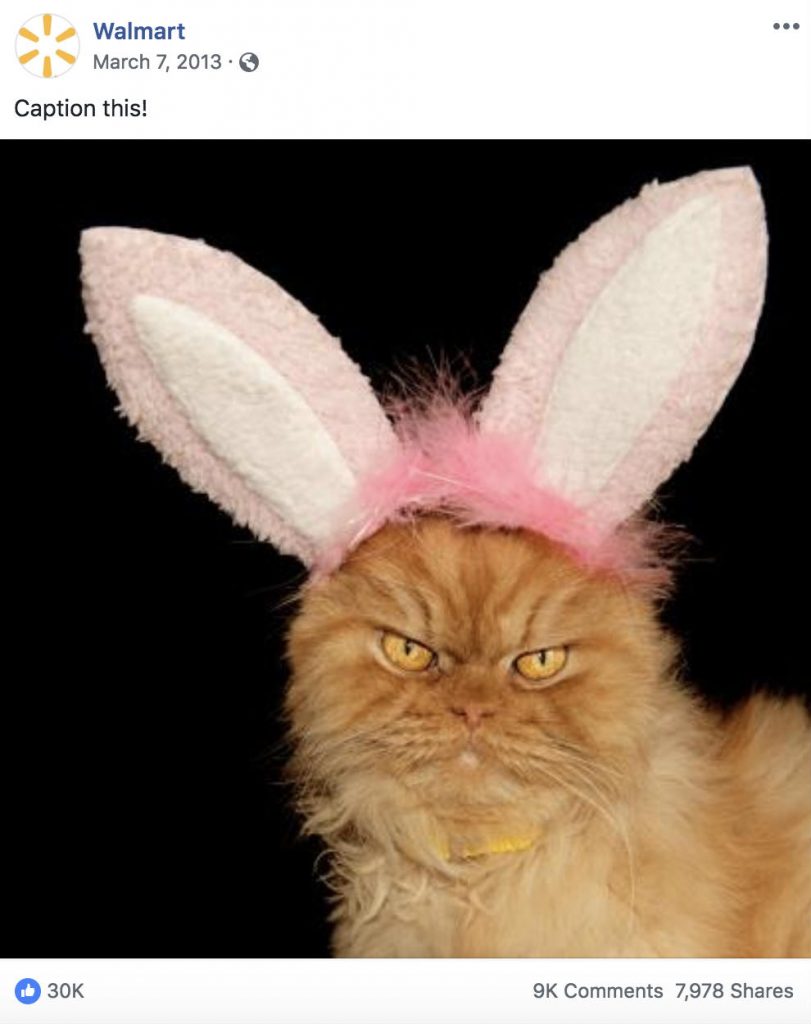 Visuals are critical in catching someone's attention. "Caption this" posts are posts where you upload an image and ask users to create a caption for it.
Short texts are essential to keep a user's focus, especially when browsing. This type of post is suitable because it only requires two words. When choosing the photos, make sure that they're high-quality and that they pique emotions.
The 'comments' section is a fun part to scroll through on Facebook. And trust me, you'd be surprised at how people can get so creative!
Here's Walmart's take on a "Caption This" post:
Competitions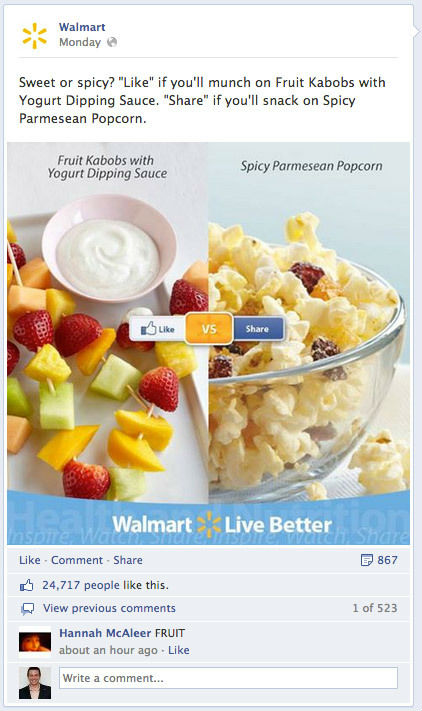 People are innately competitive. Create a "Like vs. Share" post with images or videos to engage visitors. This is also an excellent way to gather opinions or information for market research if you want to launch a new product or service.
Walmart upped its social media game as they found a 650 percent increase in followers' likes. Take a look at this example:
Fill in the Blanks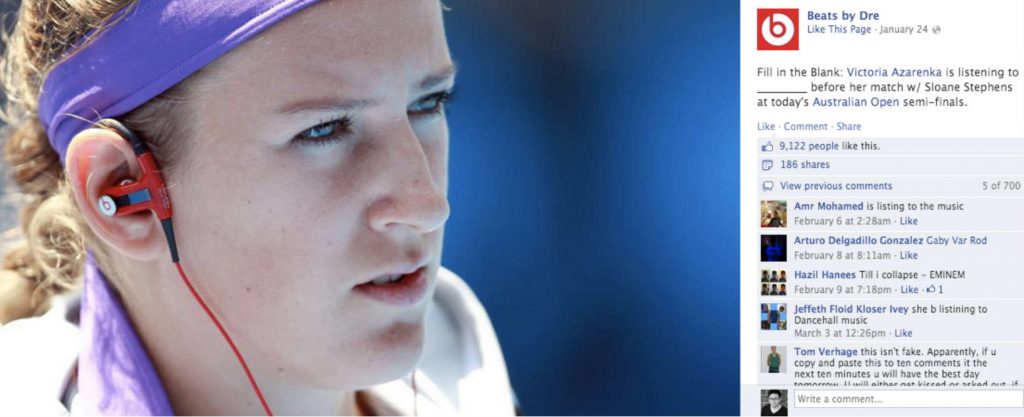 This is a perfect way to get people to think about what they're doing right in that moment or to make them think about future plans by asking the right question.
Their answers are also great for categorizing what type of audience your Facebook page gets the most following from.
Here's an example by the one and only Beats by Dre. You can ask celebrities to promote your product like this famous tennis player using their headphones. This not only creates a high engagement but is also an excellent marketing strategy.
Cute and Funny Pet Posts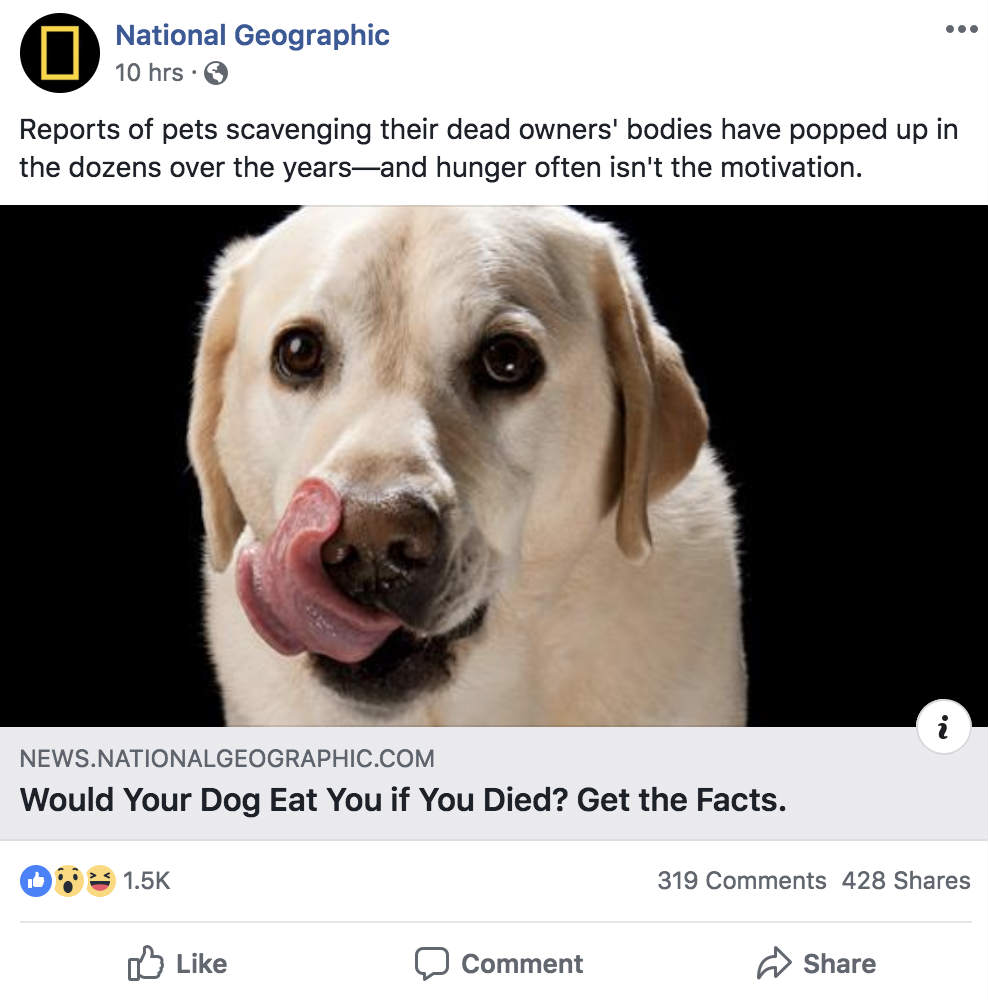 Pets trigger emotions. Everybody loves all things fluffy save for the few special ones. It's incredible how pet accounts are increasing by the day. Users can relate to this because it touches their emotions.
National Geographic posted a link about dogs and got a massive number of reactions from their audience. When people relate to the post, that's what makes them click the "follow" button.
Influencers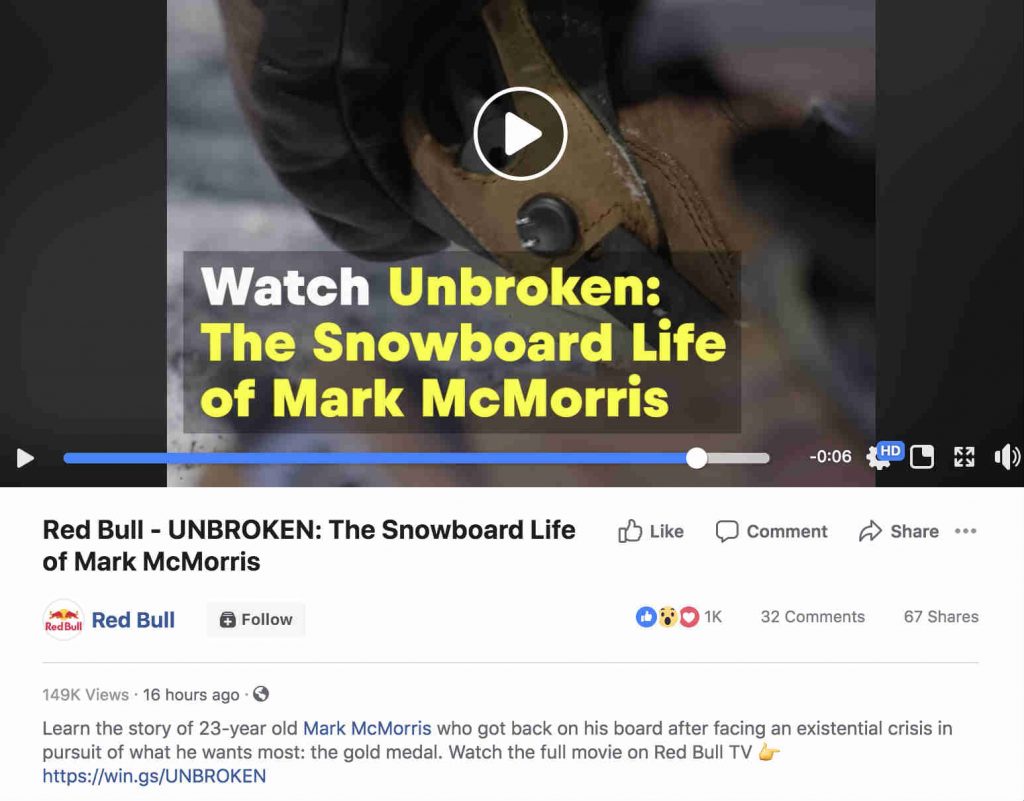 Influencers can bring traffic to your site and engage other people with the same values and hobbies. You can collaborate with influencers, or you can post about their inspiring story on your page. Trust me, you'll have a high success rate of them reposting.
This is Red Bull's story about a top athlete who almost came to terms with death but regained strength after a lot of training and determination. Users who follow these influencers will likely follow your page because they look forward to similar posts.
Videos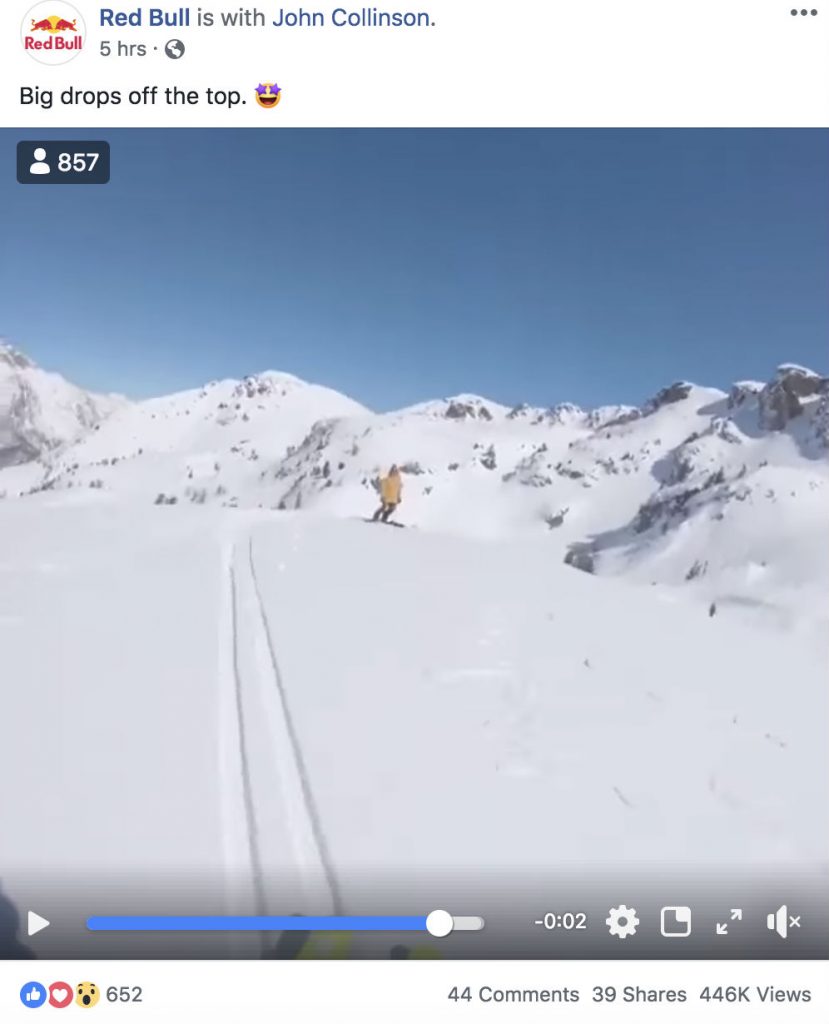 Some users prefer videos or live posts instead of reading an article. We're not talking about crappy videos with subpar quality. Posting cool, emotion-driven, unique videos will end up getting shared.
Red Bull, once again, wins in this category. Here's a cool video which will make your heart skip a beat!
Polls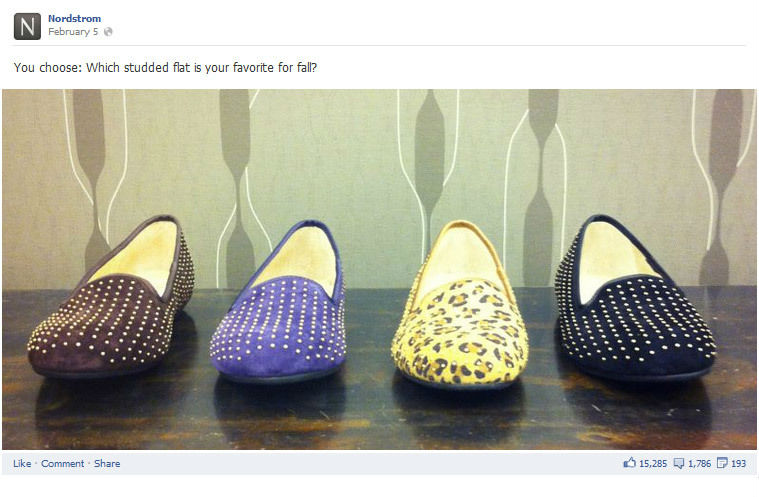 A smart way to gain users' opinions is through polls. Aside from encouraging competition between people, this will also make them feel like their opinions are valued.
Here's an eye-catching Nordstrom post. Almost anyone who loves ballet flats will likely stop and comment.
Comment Responses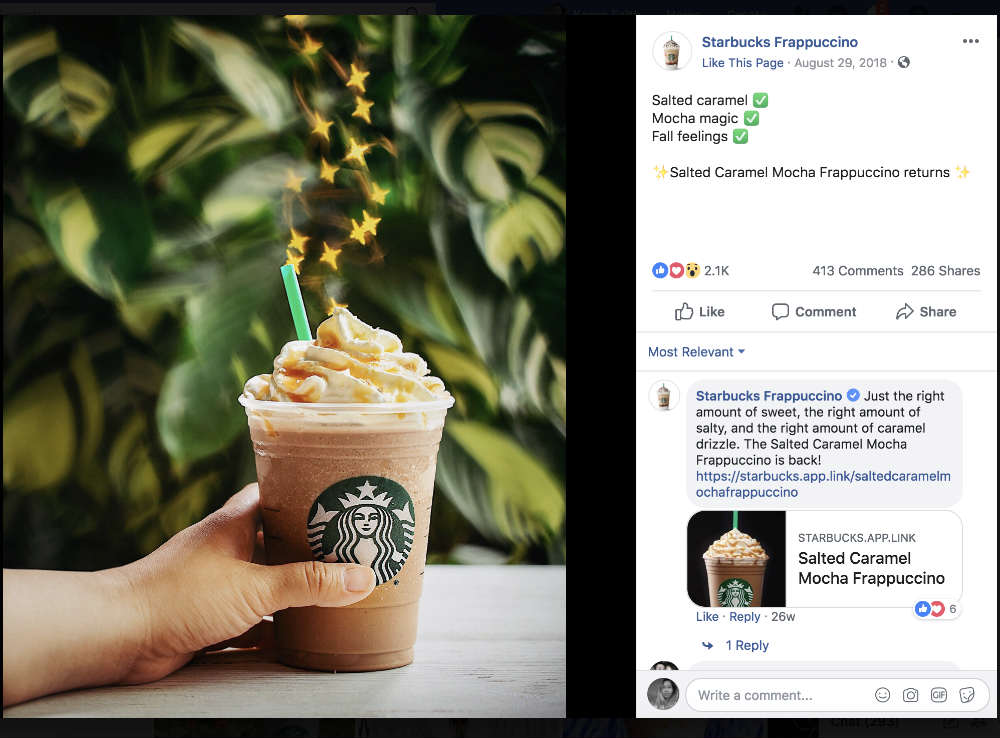 One way to win the hearts of your audience is when you genuinely engage with them through Facebook comment responses. I mean, why would you ask a question and not respond after, right? You want to make sure your followers know they're important to you. I'm not saying to respond to all 15,000 comments but at least show your audience that they're following a "real team" behind the company's Facebook page.
Learn from Starbucks' responses that elicited more responses from their audience. Not only because their frappuccinos are amazing but because they're fun and playful.
Motivational Quotes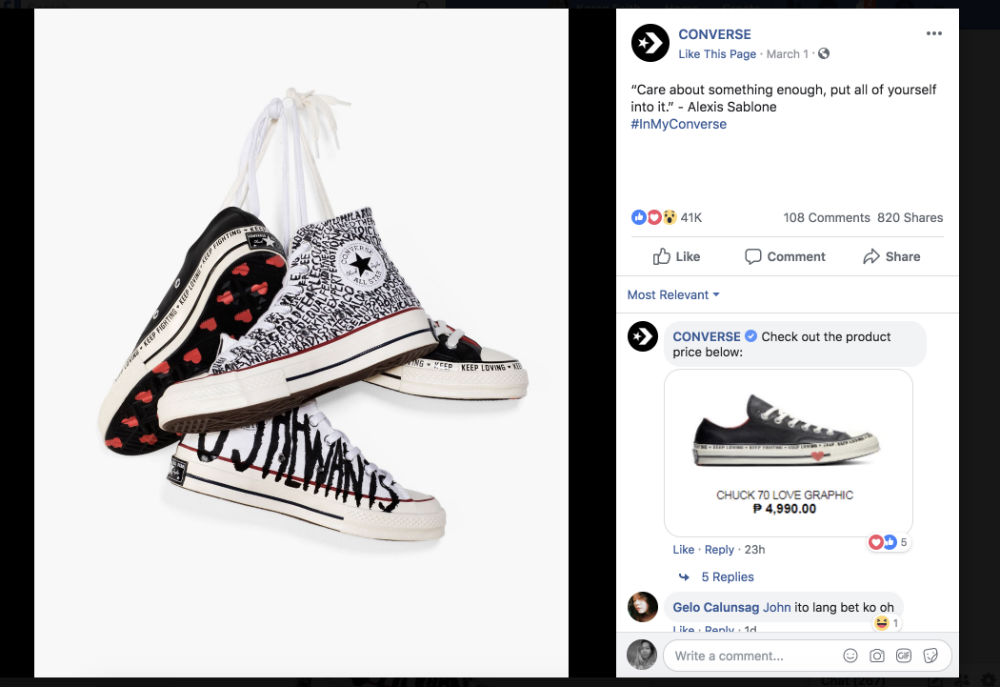 People share Facebook posts when they're entertained, enlightened, or inspired because they want their network to feel the same. You want to keep it short and sweet with motivational quotes and appealing images.
Converse does a lot of these inspiring quotes on their page and here's a personal favorite:
Corporate Social Responsibility Content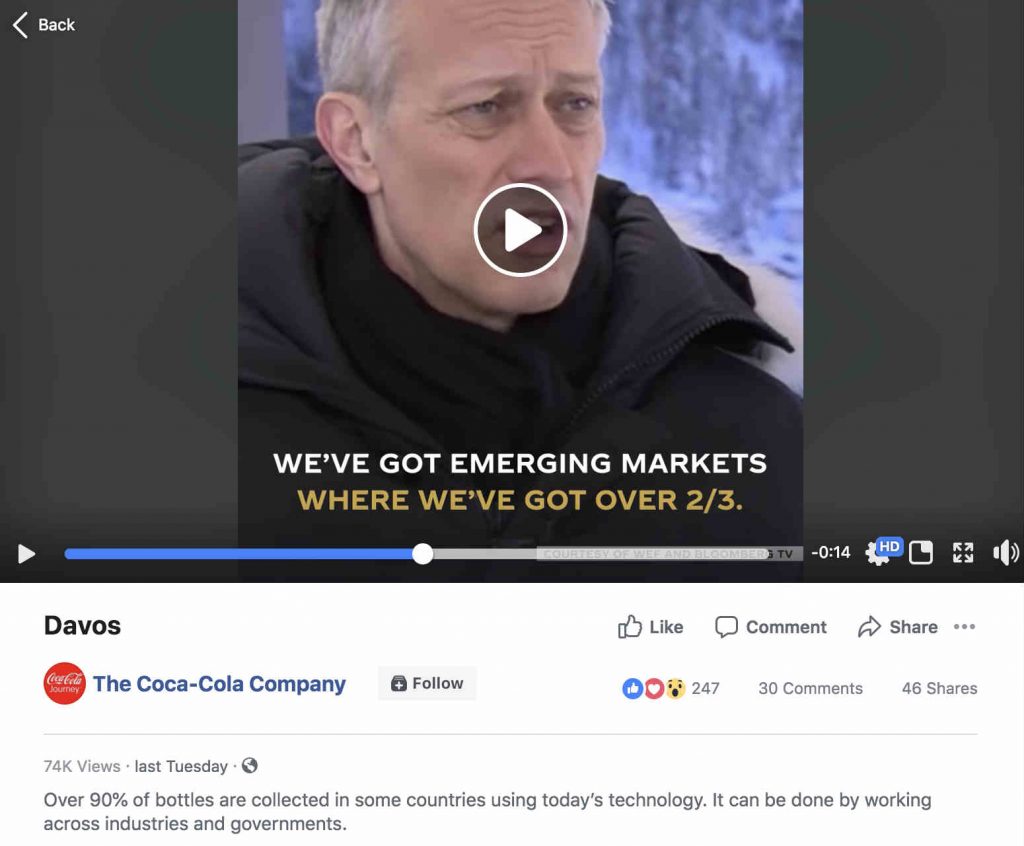 Posting your CSR content and updates will attract more followers and also create high engagement. People will see how awesome your organization is and they'll most likely even share this with their friends which is a perfect way to grow your audience.
Established businesses sometimes tend to create a barrier with their audience, but if you show your followers that your organization has compassion for the environment, local community, and people in general, you'll get instant brownie points.
Check out Coca-Cola's campaign on collecting all their sold cans, glasses, and bottles back from customers.
Awesome Products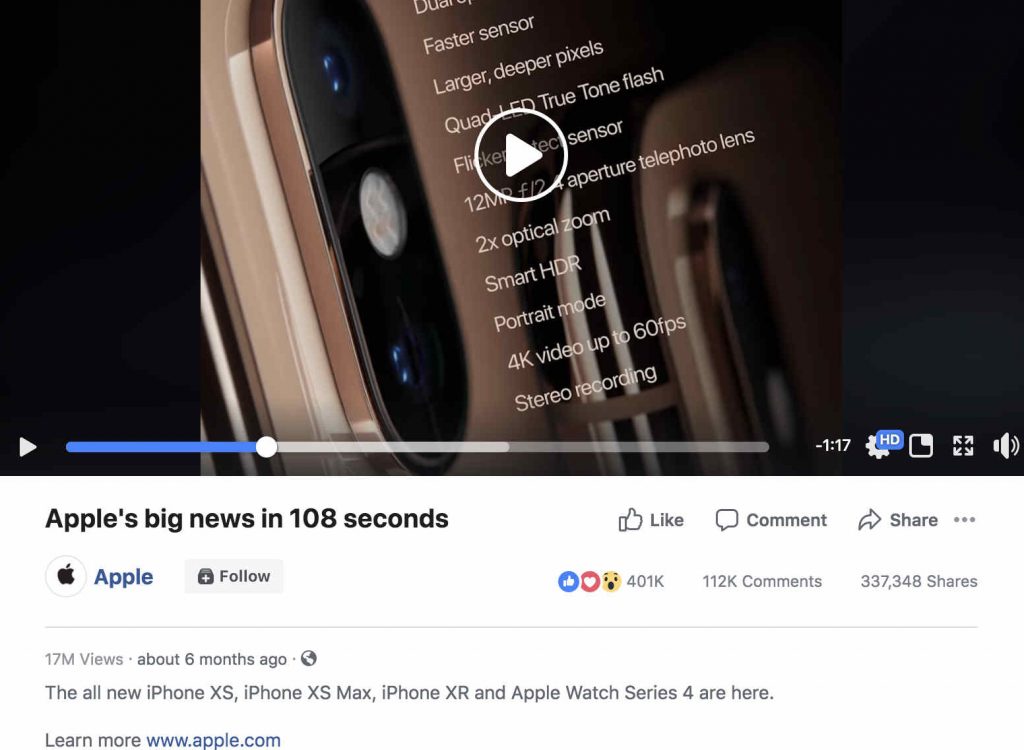 Of course, as a business owner, you can't ignore telling visitors how excellent your product or service is. Isn't that the whole point of setting up social media platforms in the first place?
Apple always has a way of presenting their amazing products in first-rate videos and images that will leave customers scurrying down to the nearest iPhone store. Don't you just want to buy a new iPhone after seeing this Apple ad?
Pro Tip:
Growing your Facebook channel might be easier than you think. As long as you keep a steady flow of engaging and entertaining posts, your followers can multiply in numbers in no time.
Although there's no one-size-fits-all rule on what to post on Facebook, posting varieties, posting at the right times, and adding call-to-action buttons will definitely spike those numbers fast.
The key is to have your designs stand out. To streamline your social media strategy, try Penji. Use promo code "FBENG" for 25% off your first month!
Updated March 7, 2019