Show some love to your customers or clients by giving them a Valentine's Day card. Whether it's a digital or physical Valentine's Day card, you can tug at your customer's heartstrings with a heartfelt card. But if any heartwarming ideas haven't come up yet, here are some Valentine's card design inspirations to check out. And if something here has caught your eye and you want to get your own version, subscribe to Penji and request a Valentine's card design for your business.
Say It in Your Company Colors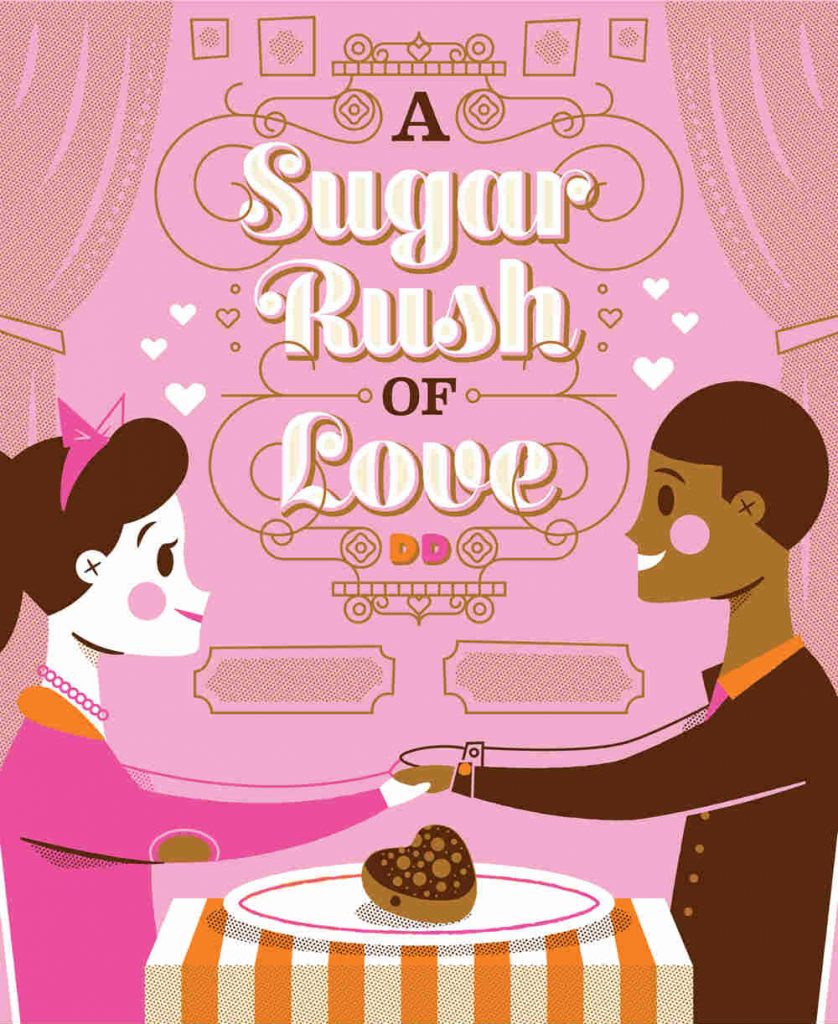 Crafted primarily to promote their heart-shaped donuts, Dunkin' Donuts released this card design for Valentine's Day. The overall design uses the colors pink and orange, the company's colors, quite well. It makes the card easily identifiable to the brand identity.
Although the design has an illustration of a couple holding hands, it still exudes love that goes beyond lovers. It is light, fun, and captures the spirit of love and romance perfectly.
A Different Kind of Card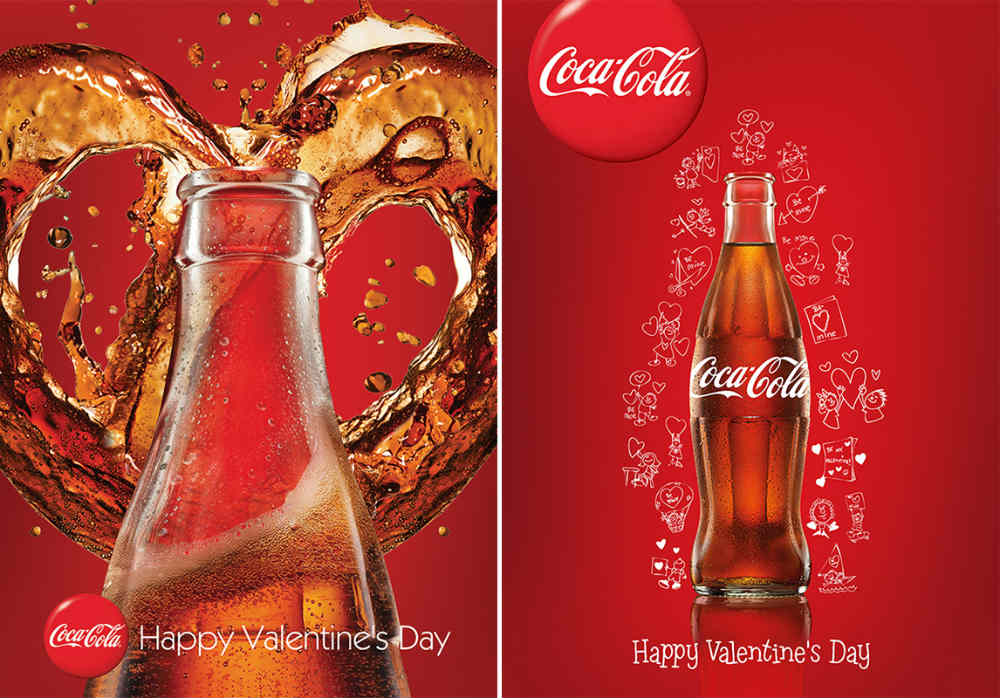 Coca-Cola in the US released these posters to send their greetings on Valentine's. As expected, their product is the star, but the theme is about love with a simple Happy Valentine's Day message. More than enough to send us, the consumers, their love on that special day.
Valentine's cards can come in different shapes and sizes. In Coke's case, it would be impossible to send each customer a card, so they did it the most accessible way—through posters and advertisements.
Share the Love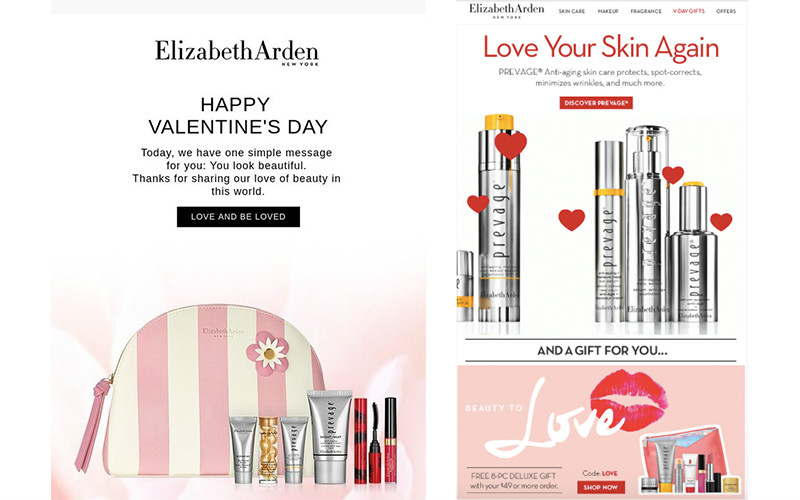 Treat your customers to something special on Valentine's Day with a discount or freebie. Elizabeth Arden shared these email cards with a greeting and some love by way of a sale and a gift. This is a good strategy to remind your customers about your brand while enticing them to shop from you.
What's good about their greetings is that they also keep their customers feeling loved. They encourage them to love themselves so that nobody will feel left out.
Make It Work-Appropriate
If you're undecided on what Valentine's card design to give your customers, there's always the trusted name in cards, Hallmark. Your card design need not be lovey-dovey; it can be appropriate for work. Send them your company's greetings and let them know that they're important to you with cards that are designed for that purpose.
Sending these work-appropriate cards can help strengthen your bond with your customers, especially today, that almost everything is done digitally.
Be Suggestive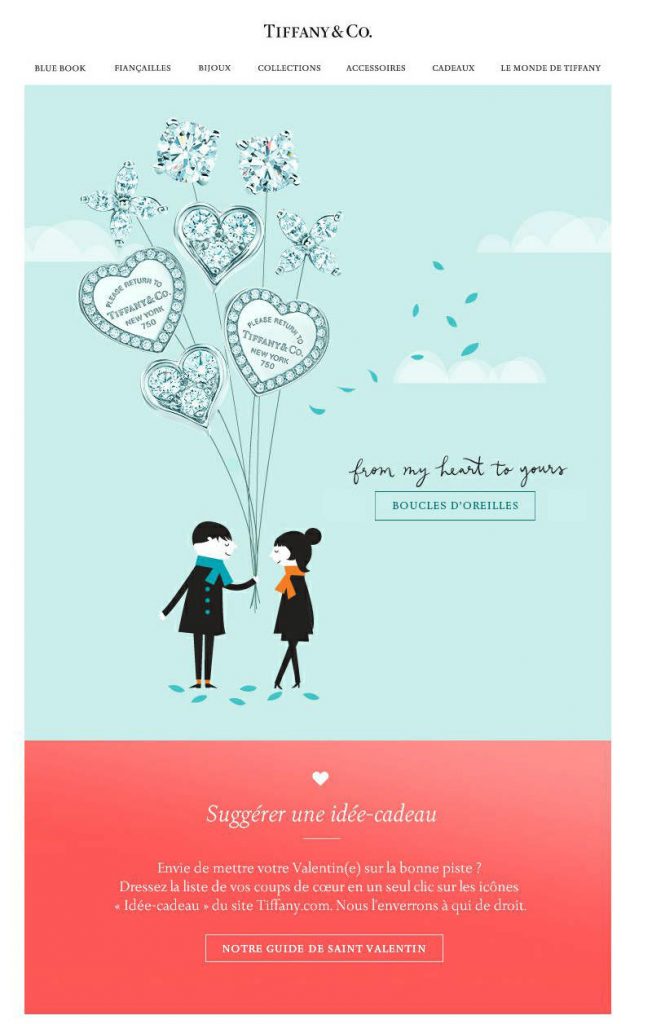 Greeting your customers on Valentine's is a wise marketing strategy. You're casually reminding them of your company's existence while giving them reasons to buy from you. This Tiffany & Co. Valentine's email displays hints of giving the gift of love with their products.
The design is easy on the eyes with its soft, pastel colors, while the jewelry is shown brightly and brilliantly. This is subtle advertising, urging the customers to shop without looking pushy.
Send Double Purpose Cards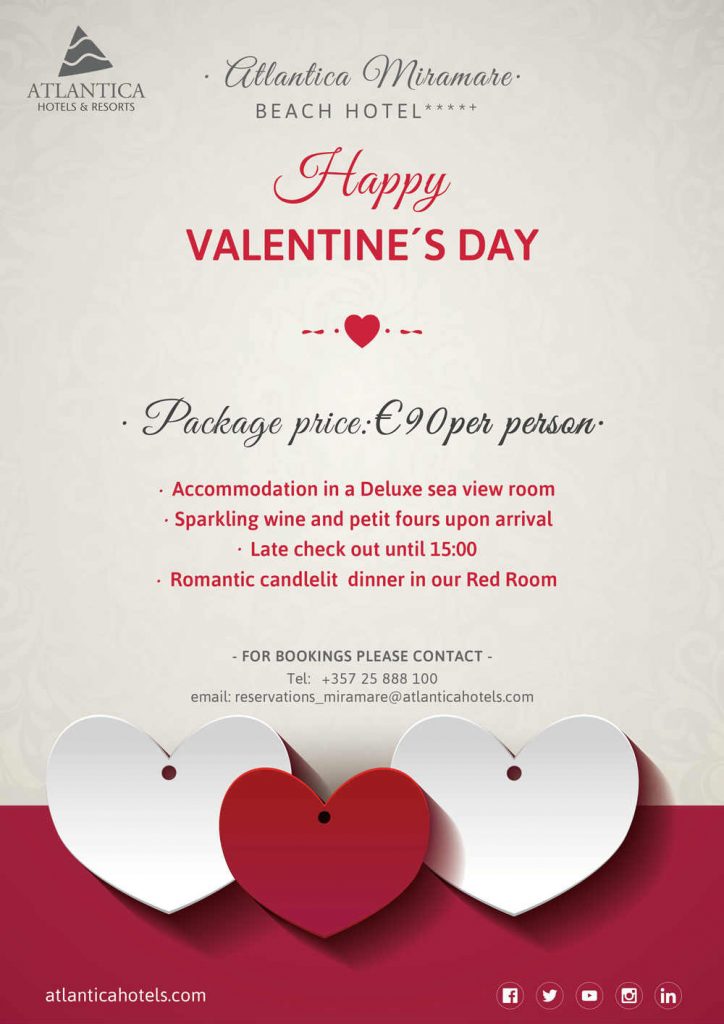 Wish your customers a Happy Valentine's Day with an ecard that greets and invites them at the same time. Atlantica Miramare Beach Hotel sent out these Valentine's cards/invites along with a package that's hard to resist. It offers a Valentine's day celebration that is romantic and affordable, too.
The design uses a different shade of red, which isn't the red that we usually associate Valentine's with. This is what makes it unique, classy, and elegant.
Add Humor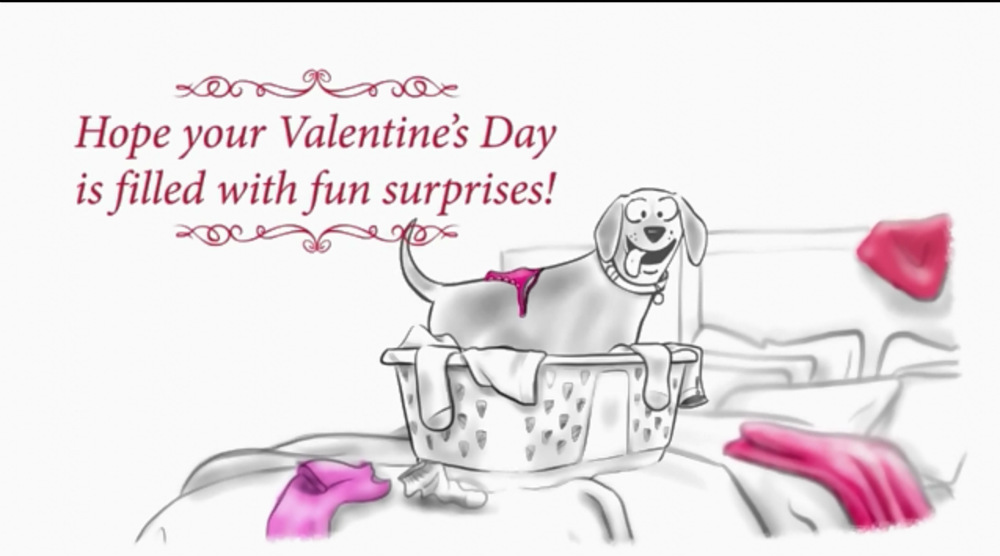 On Valentine's Day, make your customers smile by adding a bit of humor into your cards. American Greetings offers a variety of funny card designs for Valentine's Day. Their ecards vary in designs, and some have animations in them to add a special touch.
Adding humor to your cards can help you get noticed and remembered by your customers easily. It definitely adds that human touch to your greetings.
Learn From the Experts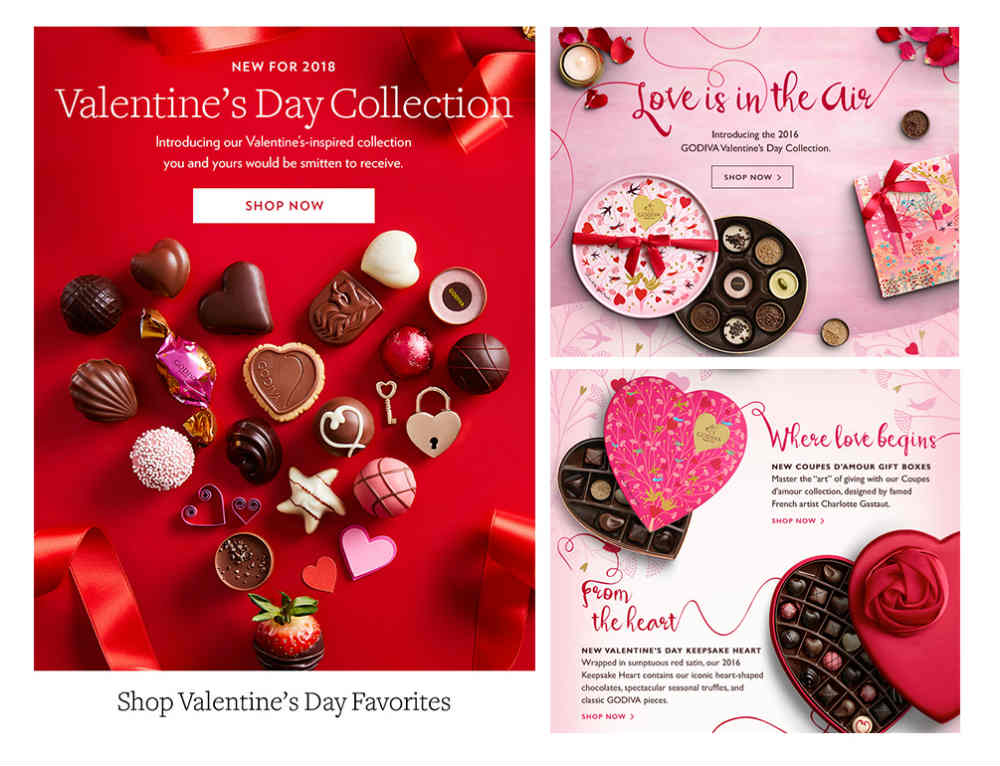 Having been in the industry for a long time, it seems that Godiva Chocolates has perfected the art of giving love on Valentine's Day. Their Valentine's greetings are beautiful and enticing. The pictures of the candies are so clear it would make anyone's mouth water, Valentine's or not.
These cards are so inspiring that you would understand how important the image and design is more than the message itself.
Not Just for Lovers

Make Valentine's Day a day for everyone to celebrate love, not just for lovers. This is what McDonald's seems to be saying with these posters and ads for Valentine's. It encourages their customers to celebrate the Day with them—nothing fancy, just good, old comfort food, and a family ambiance.
The design is unmistakably McDonald's as it never ventured away from all their other marketing campaign designs. Consistency is essential in marketing, and this company can be considered an expert on it.
Love Thyself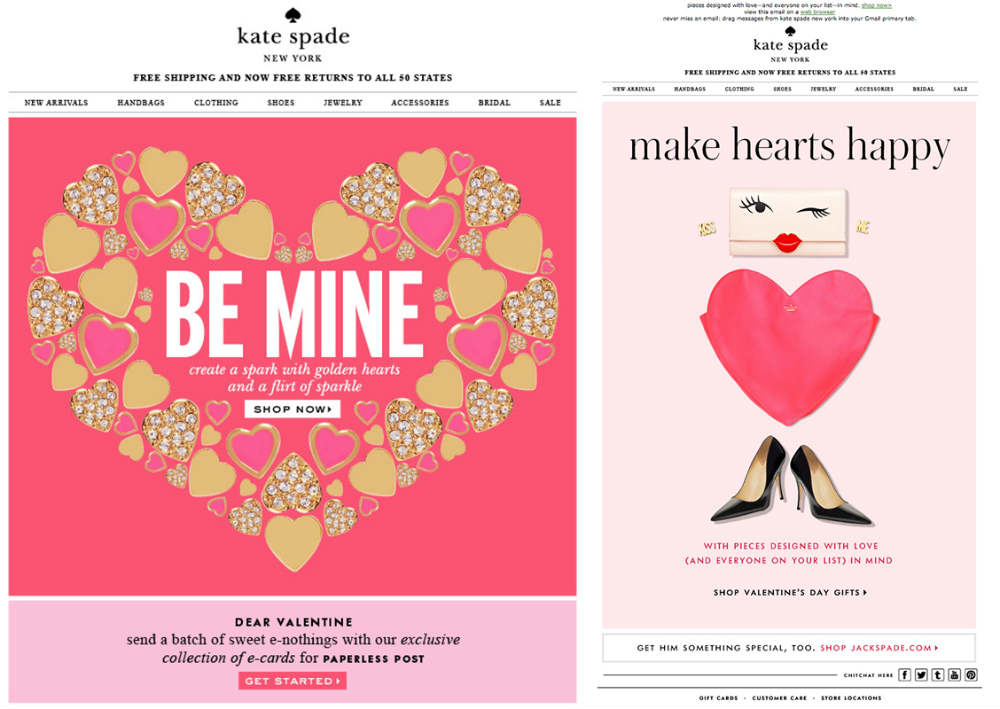 The beauty of these virtual Valentine's cards from Kate Spade is that they teach you to send love to everyone. It's all about checking out their products and sending them as gifts from the heart. The designs are merry and bright and tastefully show some of their items.
The company is in the design business, so it's only natural to send out emails and Valentine's cards that feature elegance and charm.
Why Graphic Design Plays a Major Role
The first thing a card recipient sees is the image or illustration on the card, so it's crucial to have designs that grab attention. Whether you're getting digital cards or paper cards, it's always recommended to choose designs that reflect your business image. You don't have to be a genius in writing the best message if the graphic design on your card can say it all beautifully.
For this, you need to get the help of professional graphic designers to create high-quality Valentine's card designs that represent your brand well. It will help you stand out when competing for your customers' attention. Remember, Valentine's is a big holiday for businesses, and you won't be the only one to send them greetings.