Love is all around when it's Valentine's Day. Even businesses are in it to celebrate the most romantic day of the year. Hence, many businesses capitalize on the holiday through well-thought-out marketing campaigns. You're probably thinking, what can I do for Valentine's Day? Read more below the best Valentine ideas and campaigns that have captured the hearts of many.
Dunkin'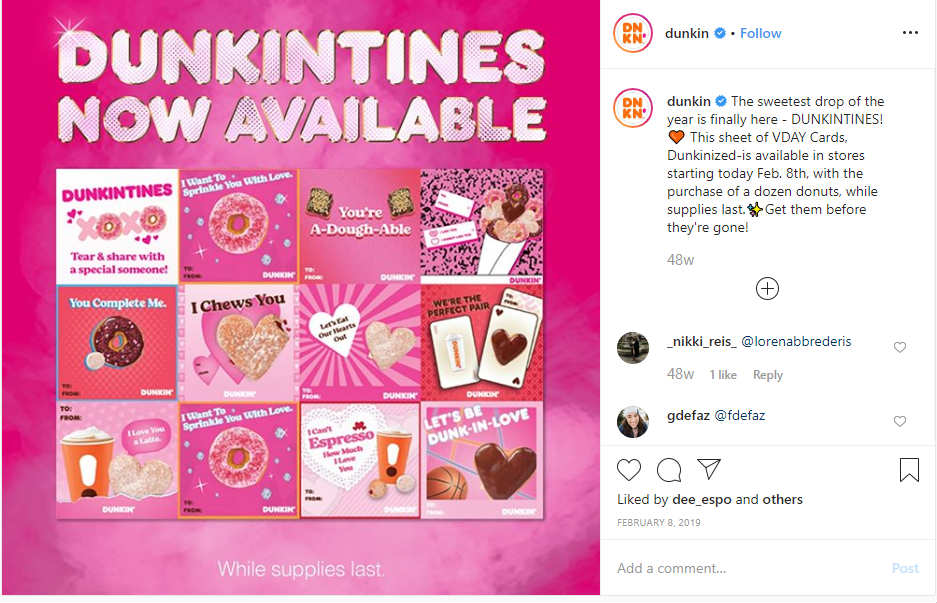 In 2019, Dunkin' ran its Valentine's Day campaign by letting customers buy a dozen donuts to receive "Dunkintines". Those who bought donuts during the campaign period may have received a Dunkintine to give to their loved one or themselves.

For those who may need a last-minute Valentine's Day gift for their loved one, they can just purchase a dozen from Dunkin' and receive the Dunkintine.

It's a good campaign because it enabled customers to buy more donuts and keep the Dunkintine as a souvenir or collect it from someone they love or themselves.
T-Mobile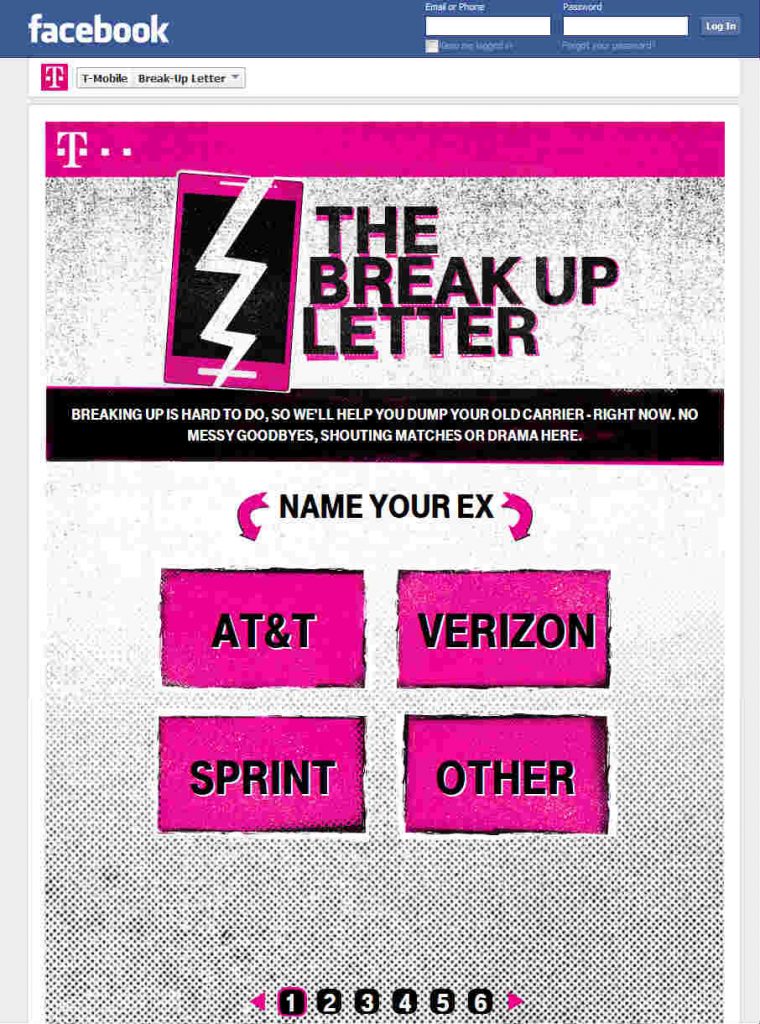 T-Mobile's Valentine idea is one of the best on the list because it helped raise more T-Mobile subscribers during the marketing campaign. They used Facebook for their marketing campaign and included T-Mobile's competitors, such as AT&T, Verizon, Sprint, and others.

Subscribers from those networks can click on their existing network and receive a break-up letter written by T-Mobile to their existing or former network. It's funny because T-Mobile directly addressed the competitor.

According to the Shorty Awards, T-Mobile garnered 67 million impressions and generated more than 113,000 letters.

Valentine ideas don't have to focus on love in marketing, businesses or brands can still benefit from using competitors to generate some waves and to let customers decide which brands suit them best.
Marks and Spencer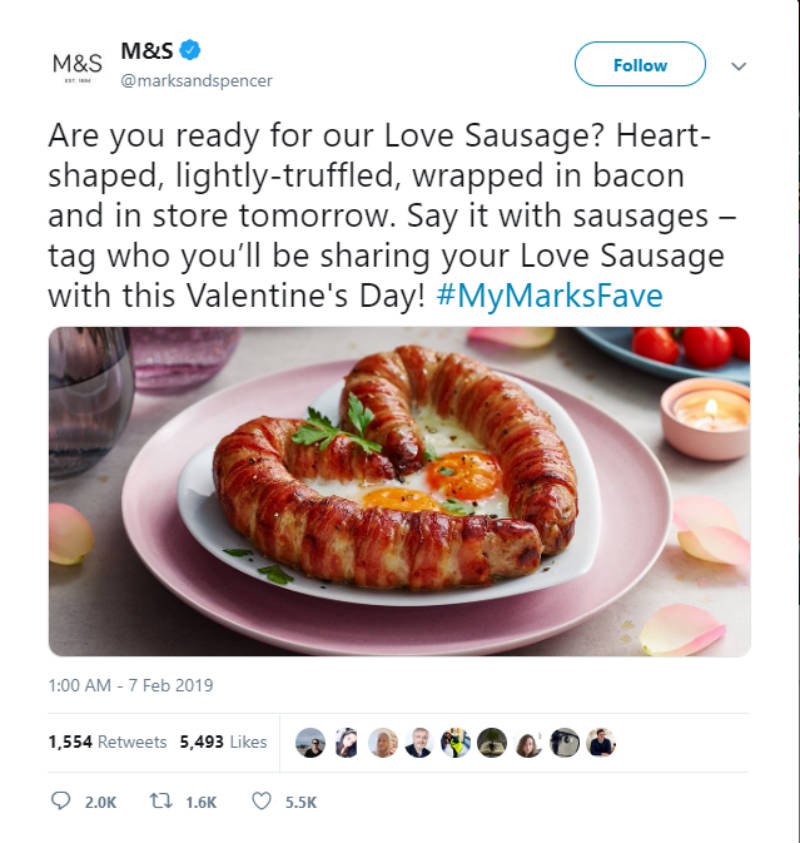 To attract more customers, Marks & Spencer, on Twitter, posted a "Love Sausage". The sausages are shaped in a heart, with two sunny-side-up eggs inside the sausages.

It may be high in cholesterol but Marks & Spencer still asked their customers with whom they'll share the "Love Sausage" and to tag that person. There wasn't as much tagging, but Marks & Spencers engaged with their audience on Twitter through replies.

Some were making fun of the innuendos by replying with memes or with double entendres, while some others who were interested asked if there was a vegan option. Marks & Spencer said they had, which brought delight to their vegan followers. Their campaign may be one of the most outrageous ideas for Valentine's Day, but it still clicked.
Lancome
One of the posts for Lancome's 2019 Valentine's Day campaign created a buzz by sharing a photo of their pink products. It's not much, but customers of the cosmetic brand seemed to like the products and some asked how much and where to get them. Lancome asked their followers to tag their friends to say "you" in response to their question in the caption.

Lancome also engaged with those that commented, which is a plus for the brand. It's a good tactic too because it shows that Lancome wants to make an effort in connecting with their followers. The post had many likes and almost a hundred comments from their loyal customers.

The cosmetic brand's campaign was solid and it garnered attention from its customers.
Aerie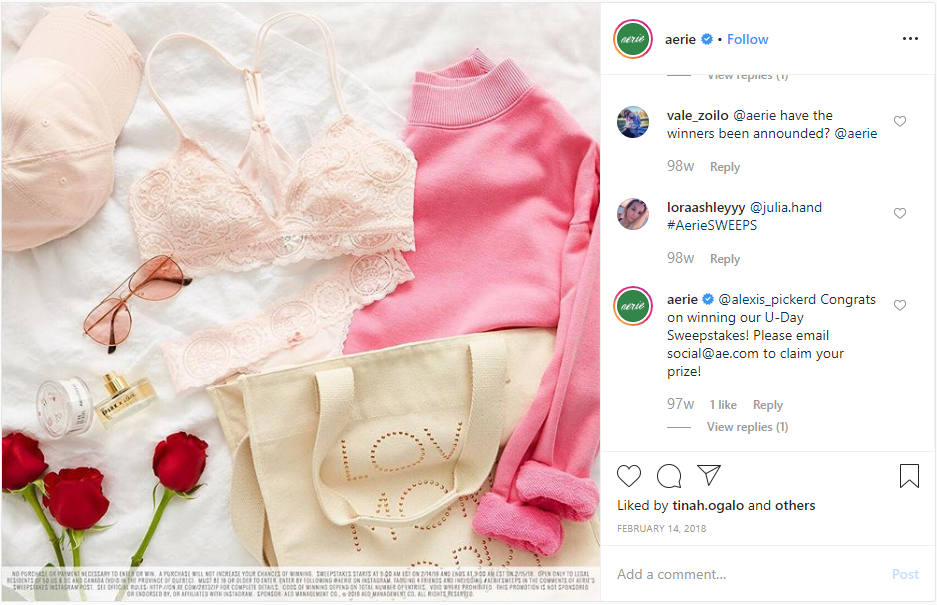 Aerie has a U-Day campaign for Valentine's Day. In one of their Instagram posts, Aerie posted their 2018 U-Day campaign, a post where one person can win $100 gift cards for her and her four friends.

It received 18,396 posts and got many comments with people tagging their friends. The post is one of the best Valentine ideas because not only does it entice a customer to comment to win something, but they're also inviting four other friends to buy clothing from the store.

It's a great way to make them shop and buy new products from the brand, not to mention a great word-of-mouth tactic.
The Body Shop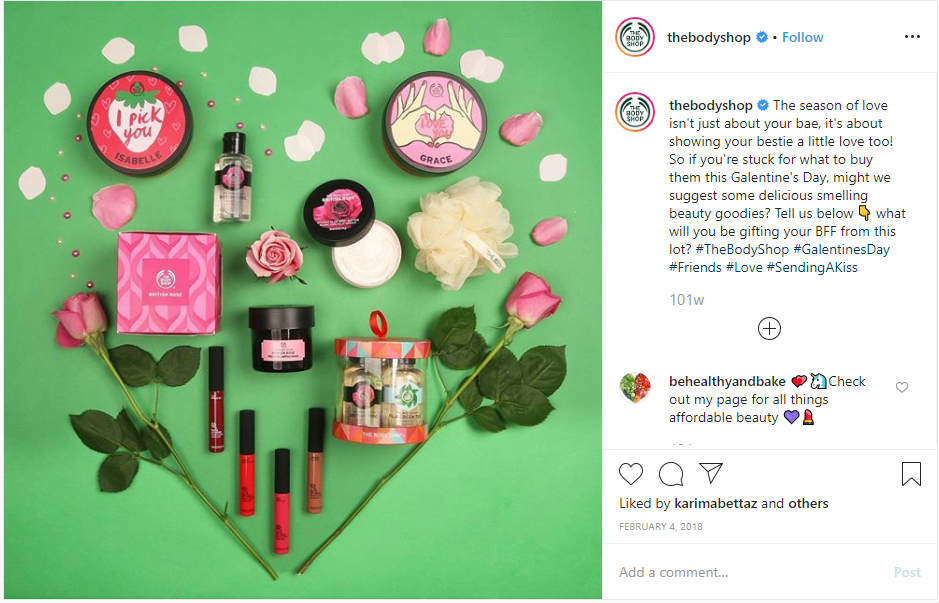 Valentine's Day campaigns don't only focus on significant others, and The Body Shop supports that. As part of their Valentine's Day marketing campaign, they celebrated "Galentine's Day", which is a day to celebrate female friendship.

As seen from some of their posts, they also empower women. It's consistent and they center their campaigns toward women because it's their major target audience. In one of their posts, they ask followers to tag their BFF, just like the Aerie campaign but without the prize.

Still, it's one of the most solid Valentine ideas because it allows people to tag each other and to get more brand recognition from those who aren't fans of The Body Shop yet.
Starbucks & Match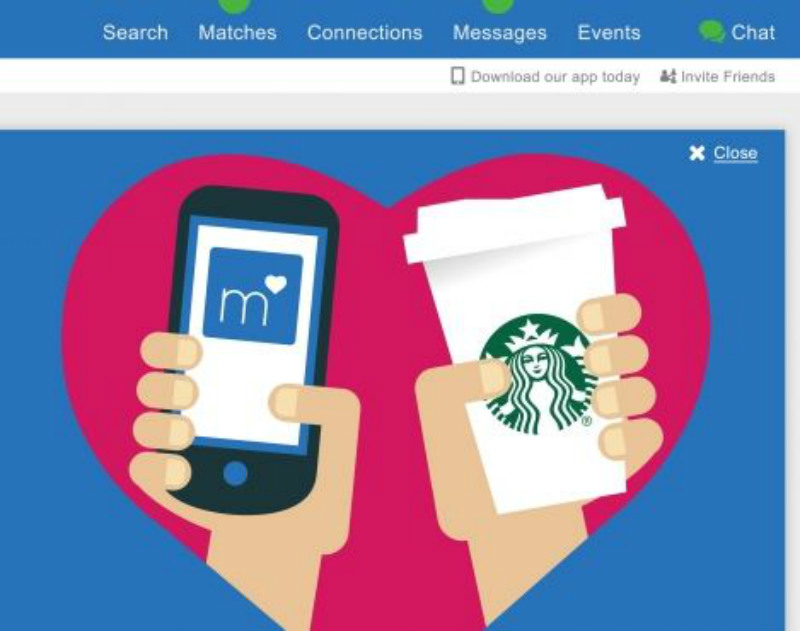 Starbucks and Match collaborated for their 2015 Valentine's Day campaigns. The companies wanted to set the record of hosting the largest number of Starbucks dates.

Starbucks wrote in a press release that Match users can click on the "Meet at Starbucks" feature to connect with someone and even have a date with them. The companies wanted to enhance connections through a nice first date activity: talking over coffee.

It's a great Valentine idea because it enabled brand partnerships based on research. Plus, it encouraged users to meet someone new through Starbucks, which was an added benefit for Starbucks.
Tinder & Postmates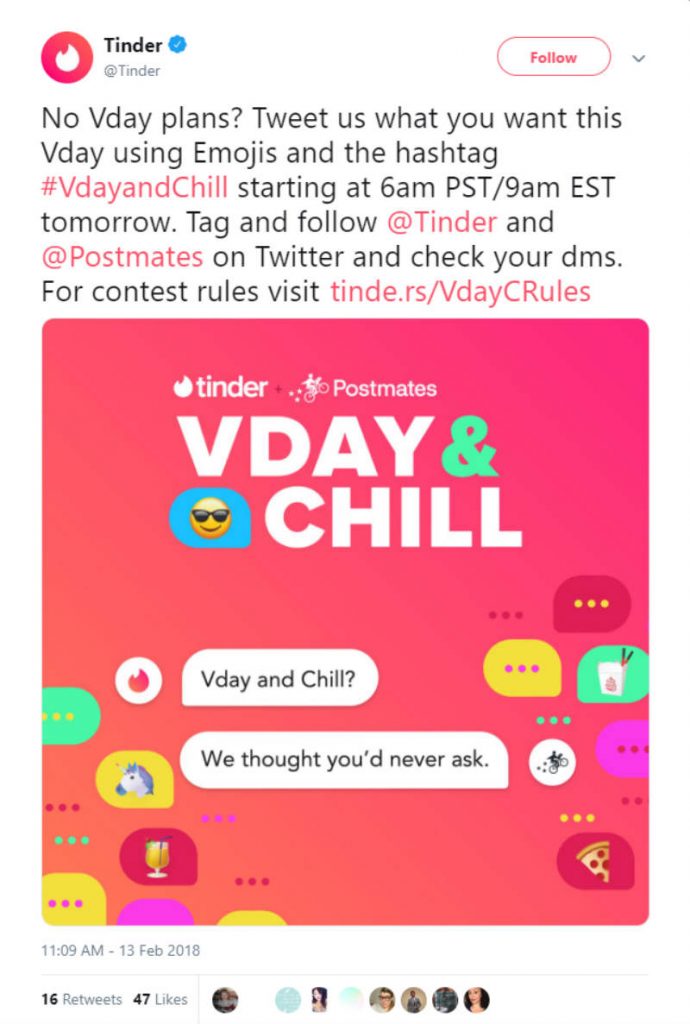 Just like Starbucks and Match, Tinder and Postmates collaborated for their #VDayandChill campaign. For interested users to join, they must tweet Tinder using the hashtag and an emoji. From there, Tinder will slide into the user's DMs and give them a prize.

They're eligible for the following prizes:

Hand-delivery prize
Monetary credit on Postmates
The marketing campaign was a good way for people to use the Postmates app to get food on Valentine's Day.
Tiffany & Co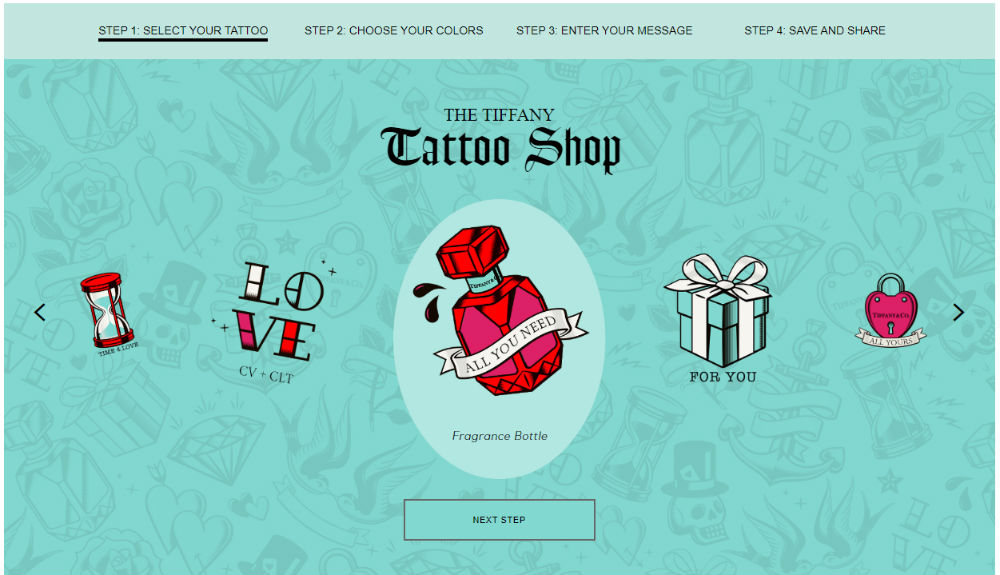 Tiffany & Co launched their Valentine's Day campaign through "The Tiffany Tattoo Shop". From there, visitors or customers can customize their tattoos. Once customized, they can share the post on social media with #BelieveinLove.

The campaign was a good example of allowing user-generated content leverage the hashtag. Once people spread the word and share more of it, more and more become aware and get to know it. User-generated content has that influence over a brand's marketing strategy, and Tiffany & Co and its followers executed it well to gain more brand awareness.
Travelex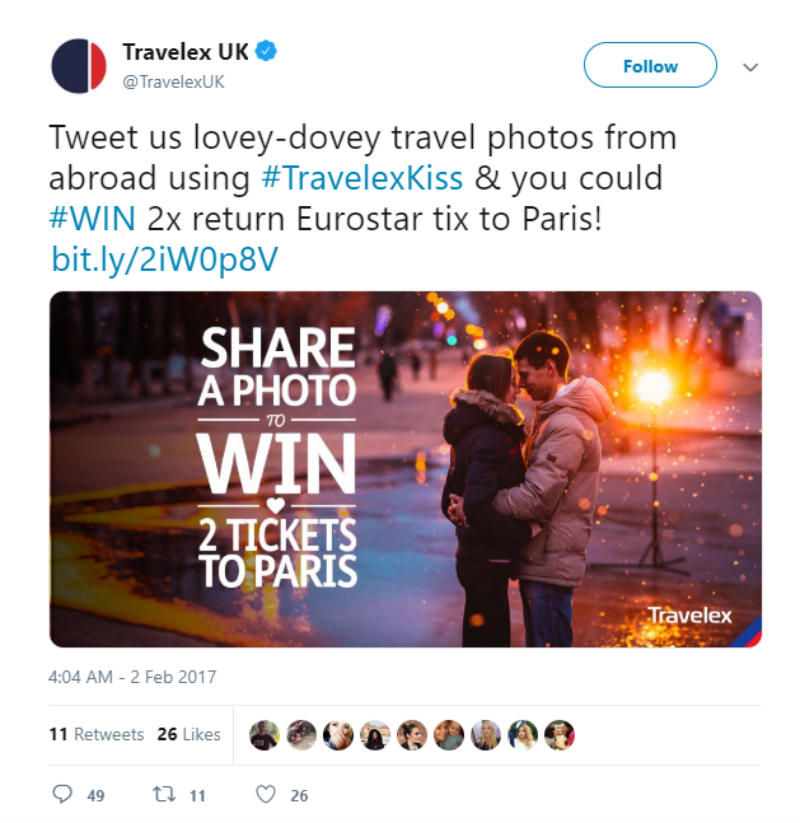 Travelex, a London-based foreign exchange company, ran its Valentine's Day campaign on Twitter in 2017. They asked their Twitter followers to use the #TravelexKiss hashtag for a chance to win two Eurostar tickets to Paris.

Soon after, the campaign received more than 40 responses from different couples. Travelex even took the time to reply to some of the users, which is a plus for the brand. While it didn't get much traction in the likes and retweets, it was still a success. Now, that's an excellent Valentine idea.
Uber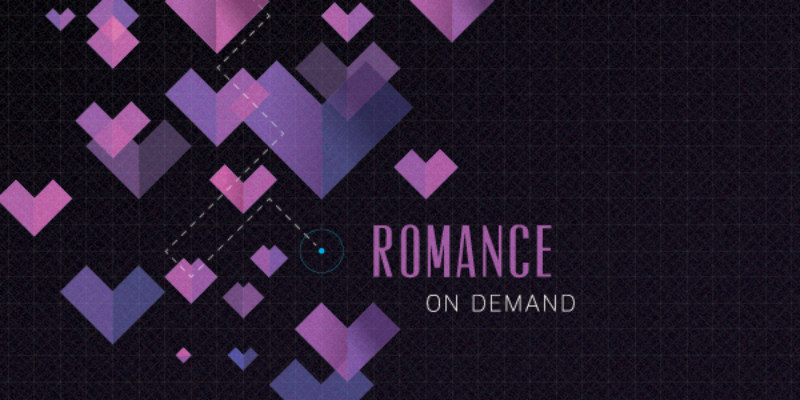 Uber ran their #RomanceOnDemand campaign for Valentine's Day in 2013. Only those in select cities (Washington D.C., NYC, LA, Chicago among others) could avail of the promo, which is a red rose delivery.

In Minneapolis/St. Paul, those who live in the city can receive roses and a Personalized Valentine's Day card delivered by an Uber driver. They could also get free round trip Uber rides and some other prizes. This promotion varies from city to city.

It's a great marketing strategy for Uber because it used drivers to do other tasks and it probably made the person at the receiving end of the rose delivery happy.
Snickers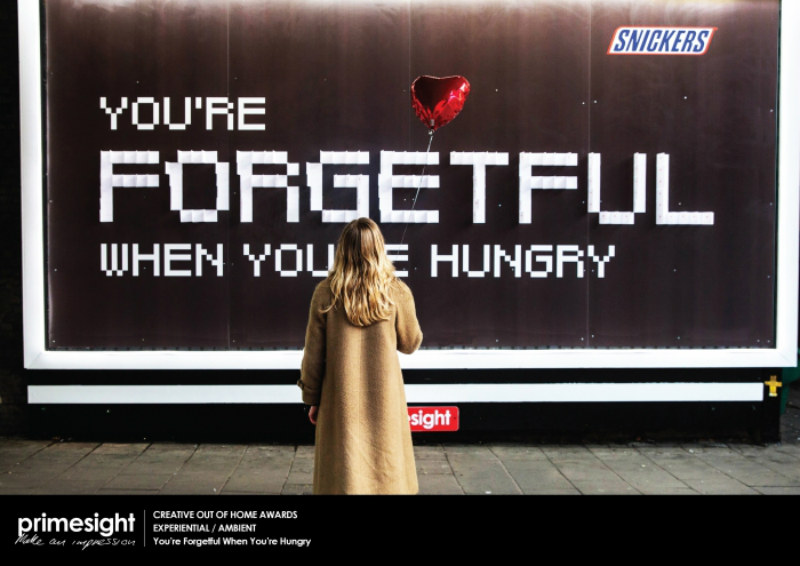 The Snickers outdoor advertisement and Valentine's Day marketing campaign is possibly one of the best Valentine ideas on this list.

Snickers is best known for one of their slogans, "you're not you when you're not hungry." It retains in people's minds, and Snickers went one step further with their "you're forgetful when you're hungry" campaign in London.

In a video, Snickers asked passersby what day it was and if they received or bought a card for their loved ones or significant others. Some forgot it was Valentine's Day and to buy a card. So, to solve that concern, Snickers aided passersby by putting up an ad with Valentine's Day cards stuck on the billboard. There, passersby can get a card.

It's one of the best ideas for Valentine's day because Snickers is helping people not to have angry significant others at the end of the day due to forgetfulness.
Final Thoughts
Marketers use holidays as a way to connect with their followers, and it shows for some brands. To stand out, brands try to create quirky or fun Valentine ideas so they can engage with their followers or customers. Tagging people and brands replying to followers or customers are plus points. As such, those in this list have shown that their ideas have given them an edge.

If your brand needs holiday marketing graphic designs for your brand or business, learn more about how you can spice up your holiday marketing campaigns through a demo with Penji.