Twitch panels are an excellent way to customize your channel and make your channel stand out from the millions of Twitch streamers out there. You can get Twitch panel templates anywhere, but you want to hire professionals to do it for you while you stream your favorite games. Fortunately, Penji has a team of experts that can create amazing designs but for relatively low rates. You can check our monthly flat rates here.
But if you're looking to create your own Twitch panels or you're searching for some inspiration to redesign your existing ones, read on to get your creative juices flowing. Take a look at some of the best and most creative we found. And see how you can adapt yours to make them as brilliant as these ideas and examples are.
1. Simple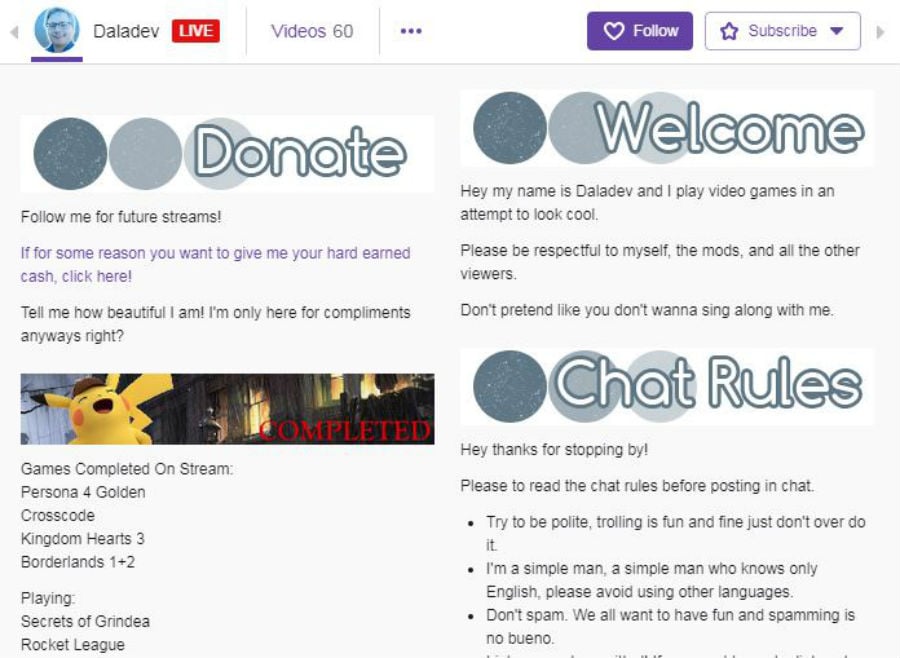 Let's start with a very basic Twitch panel idea. If you're not into anything elaborate or over the top, you can always go for the simple inspiration. Simple doesn't mean plain and boring. You can spice up your Twitch panels and have them come out as a stand out especially if your competition has all the bells and whistles on theirs.
Daladev's Twitch panel is a good example of a simple, yet clear and concise with all the information that it wants to show. It has white space all around that makes the text readable and easily understandable.
2. Caricature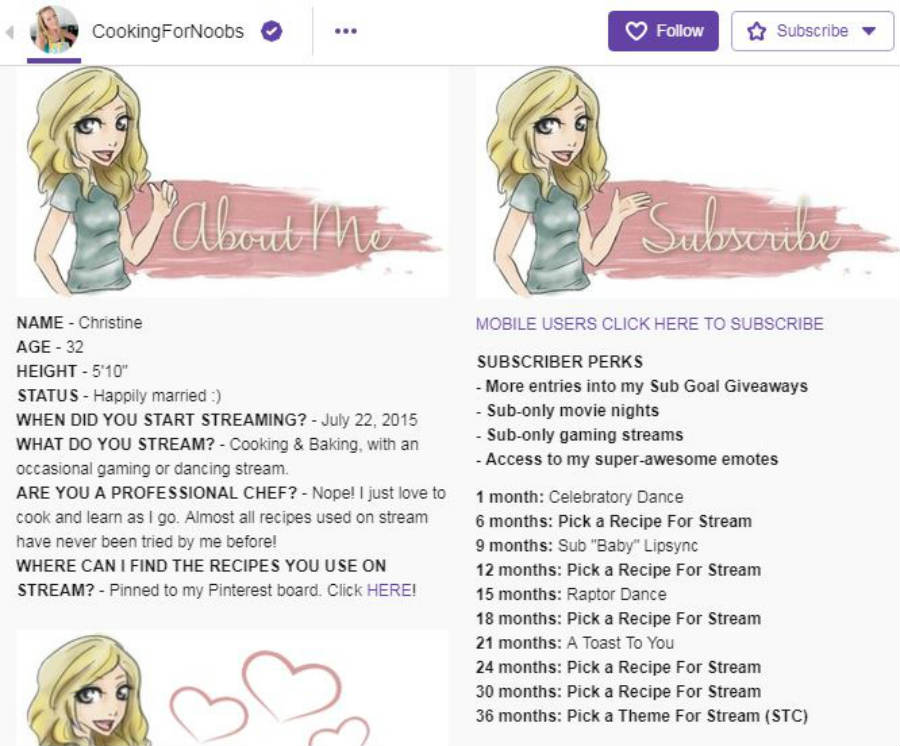 Cooking for Noobs' Twitch panel uses the owner's cartoon drawing of herself and captures her channel image so very well. The caricature portrait shows her with her hair hanging down to project an image of a carefree cooking tutorial. She is not a professional chef so you know you won't expect fancy schmancy cooking terms.
Using this idea can really personalize your channel and you can be sure no one will have the same panels as you do as long as you hire a professional or someone knowledgeable in creating a mirror image of yourself. The Penji team can help you create a caricature that will capture your real personality.
3. Shapes and Colors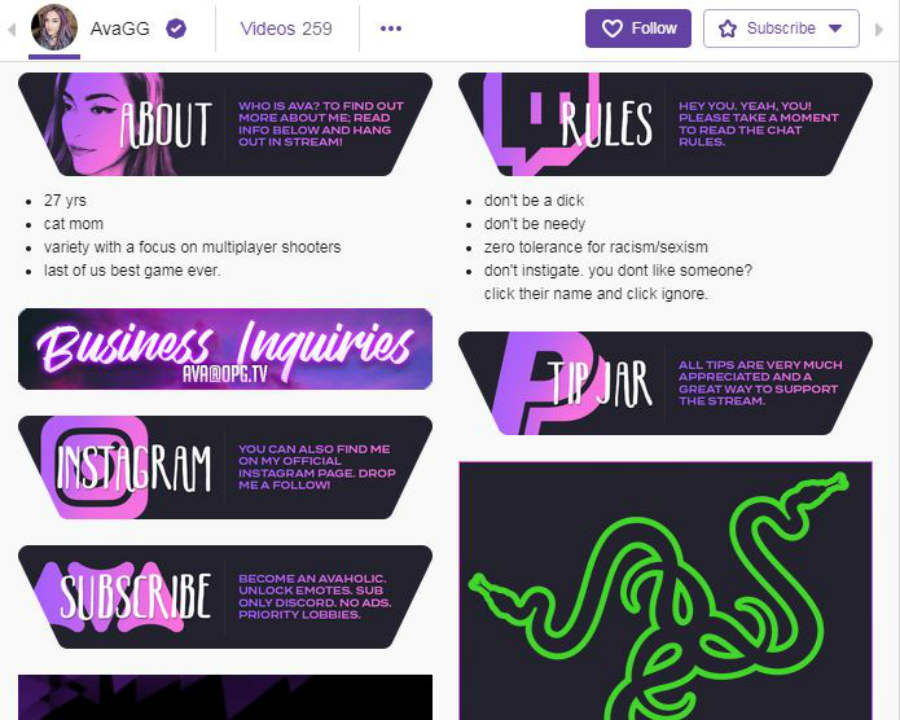 Most Twitch panels use rectangles for their design, but you can always choose to break the mold by using whatever shape that comes to mind. AvaGG uses rectangles with a twist. The rectangles are tapered on the lower part that is similar to a downward arrow to show the information per tab.
The colors used on the Twitch panels are dark and are contrasted by the white background. It has a somber appeal that works well as the broadcaster has indicated that the channel is for mature audiences.
4. No Text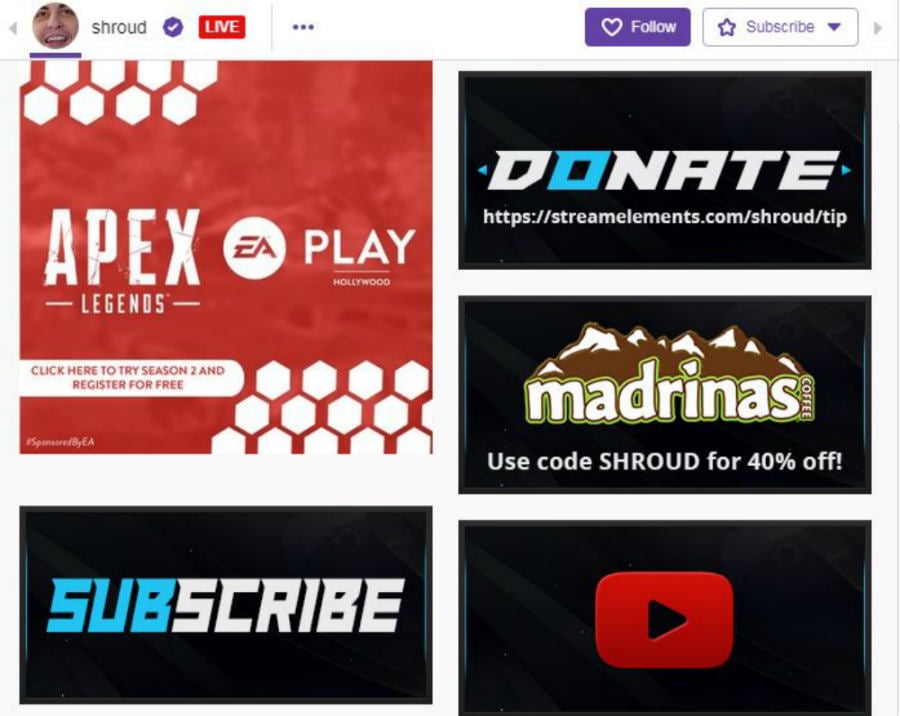 A Twitch panel without text? It does work, take a look at Shroud's and all you can see are boxes of their sponsors, donate, subscribe, and their social media platforms. They say content is king, but pictures paint a thousand words.
As long as you get the message across, it doesn't matter if you place images only without any hint of texts. After all, live streaming is your business and you can give out all the information you need to give out on your broadcasts, as simple as that.
5. Sleek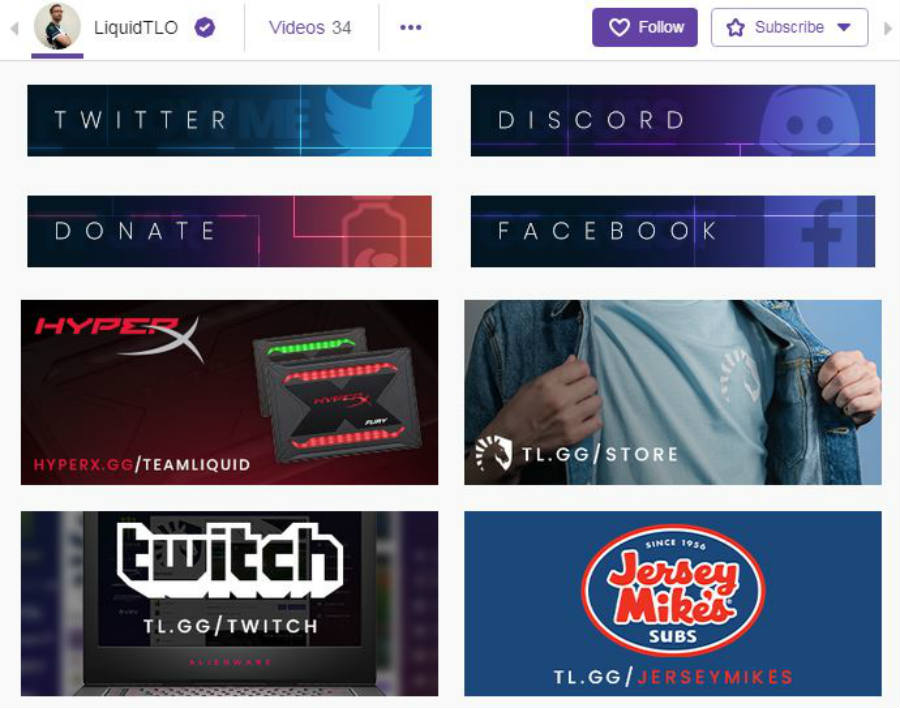 Sleek and modern are the best words to describe the Twitch panels of LiquidTLO. The broadcaster obviously paid attention to details and is illustrated quite well in the overall panel design. Each one is beautifully crafted with icons and the logos of the social media platforms carefully incorporated on them.
The design has a very minimalistic approach to it so it doesn't distract you away from the really important stuff. If you want to project the image of being an authority on your field, this is the way to go.
Stop using templates

Custom social media posts get more shares than overused design templates.

Design this for me!
6. Merged Info and Image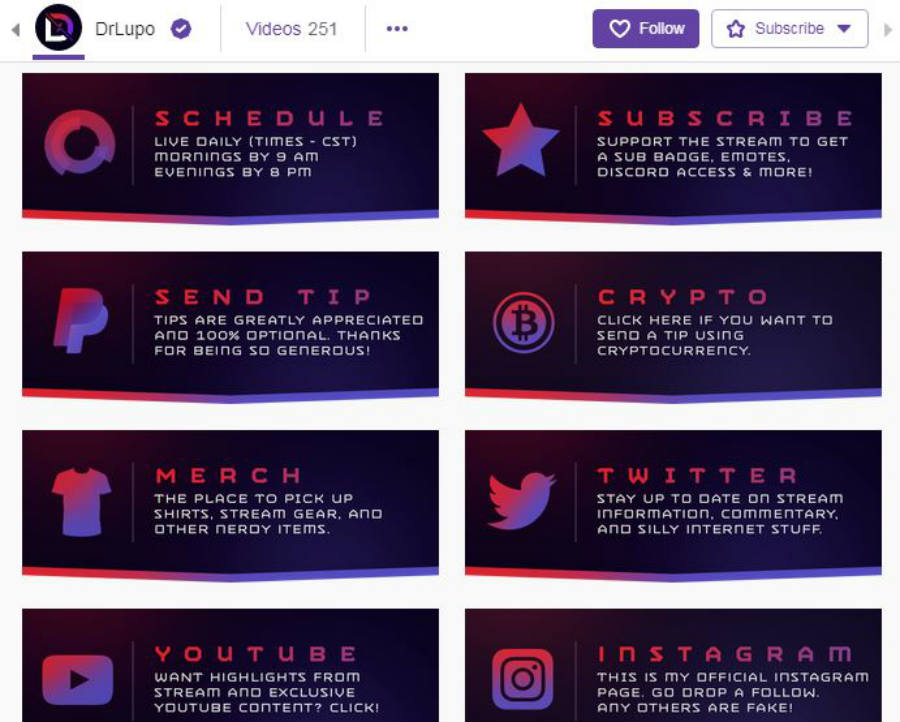 When creating Twitch panels, you are given the option to place a photo and add text underneath it. In DrLupo's panels, the image was created to have the text already in it so there's no need to add the text after placing the images on the panels anymore. It creates a harmonious layout and design and gives out an air of being together.
For this inspiration, there are tutorials on how you can create these images or you can hire professional graphic designers for this task. Either way, this will give your channel a clean and professional look.
7. Themed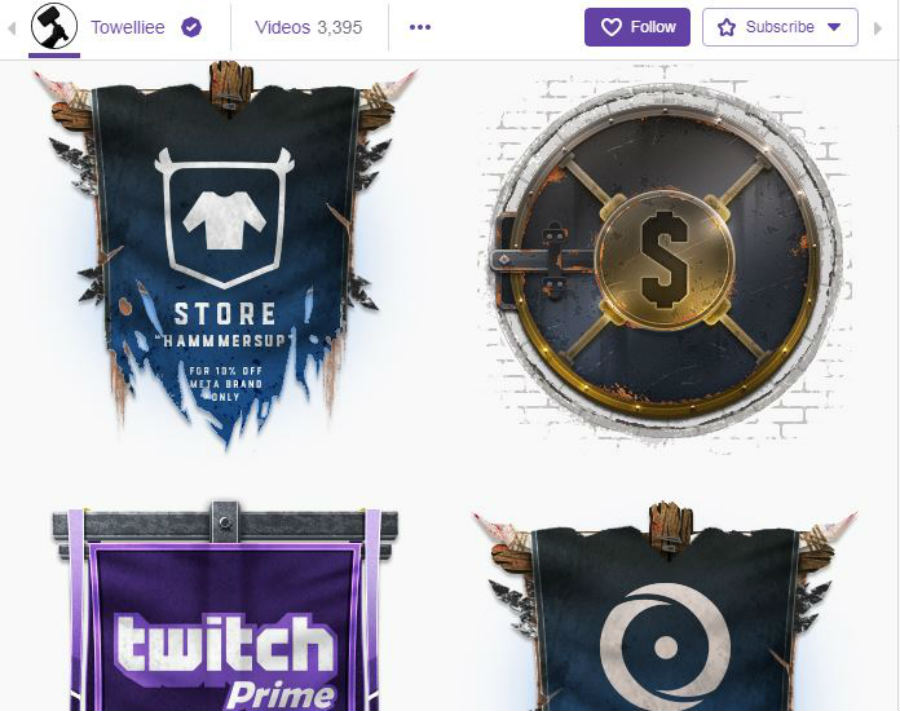 You can design your Twitch panels with themes depending on what your channel broadcasts. If you're into music, you can choose to create an orchestra themed design or as in the case of Towelliee, they have panels with a World of Warcraft theme. These panels are some of the most creative ones you can find anywhere.
With themed panels, it will be very clear to your viewers what you and your brand are all about. There are lots of ways you can go creative with them which can grab the attention of those still unfamiliar with your channel.
8. Cutesy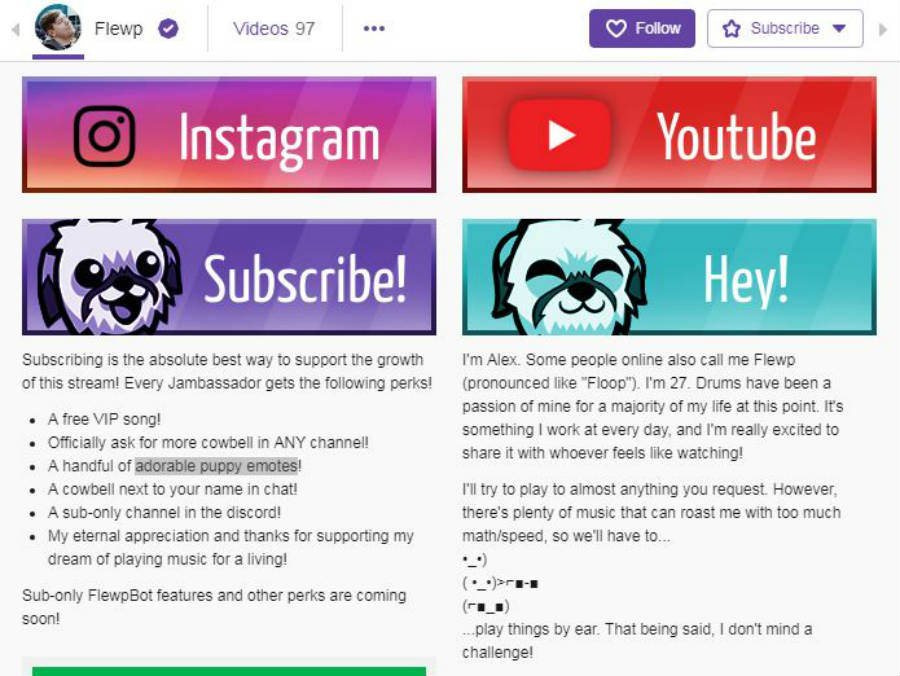 One look at Flewp's Twitch panels and you'll be reminded of a pet lover's channel. It's easy to think of the broadcaster as someone who's into pets with the cute image of a dog on them. But actually, Flewp is a music channel that plays pop, rock, alternative, and everything else requested by their viewers.
The design works for them as it shows the lightheartedness of the channel with them giving out adorable puppy emotes as well. The channel evokes so much cuteness and playfulness that you'd want to make a song request yourself.
9. Geometric
You don't have to stick with the rectangular or soft-edged panels to make your Twitch channel unique. Here's an example from RatedEpicz. The panels do follow the sizing convention, but it was customized to ensure that their style was incorporated.
It can be boring to stick with conventional designs, and you can get inspiration from this channel. Other than that, you can see the triangles on video thumbnails too, making the pattern consistent throughout the channel.
10. Neon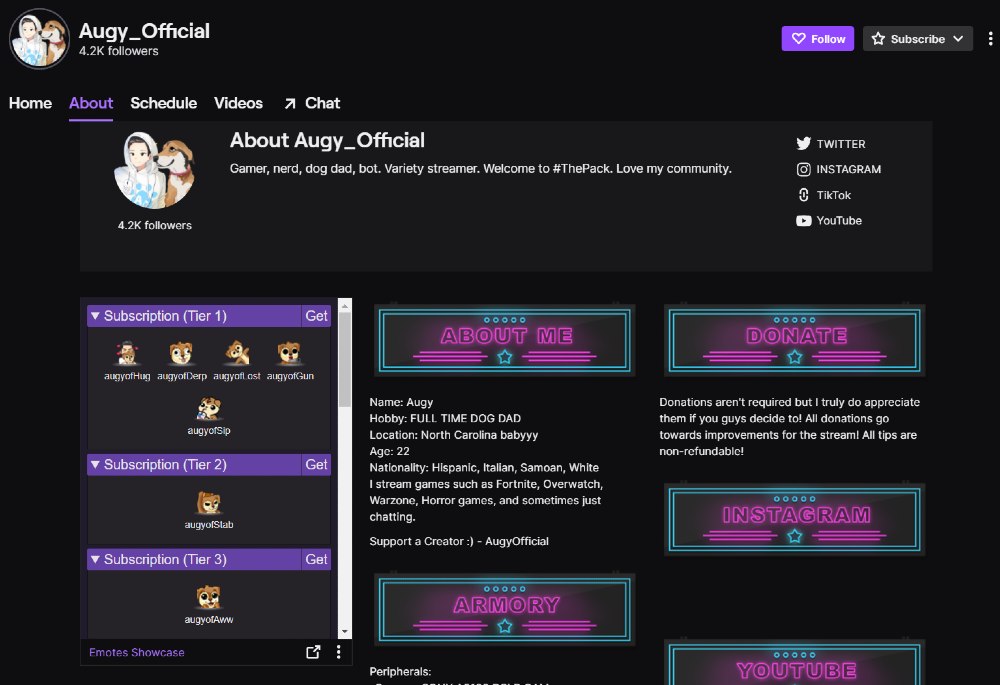 If shapes or themes aren't your thing, make your panels stand out by using neon. Here's one by Augy_Official, which has the same panel pattern but replaces only the text. It looks like a neon sign that you'll see in games or futuristic movies.
You can use something like this if you want to attract attention. Plus, you can customize it using icons and borders, making it unique to the Twitch streamer's panels.
11. 3D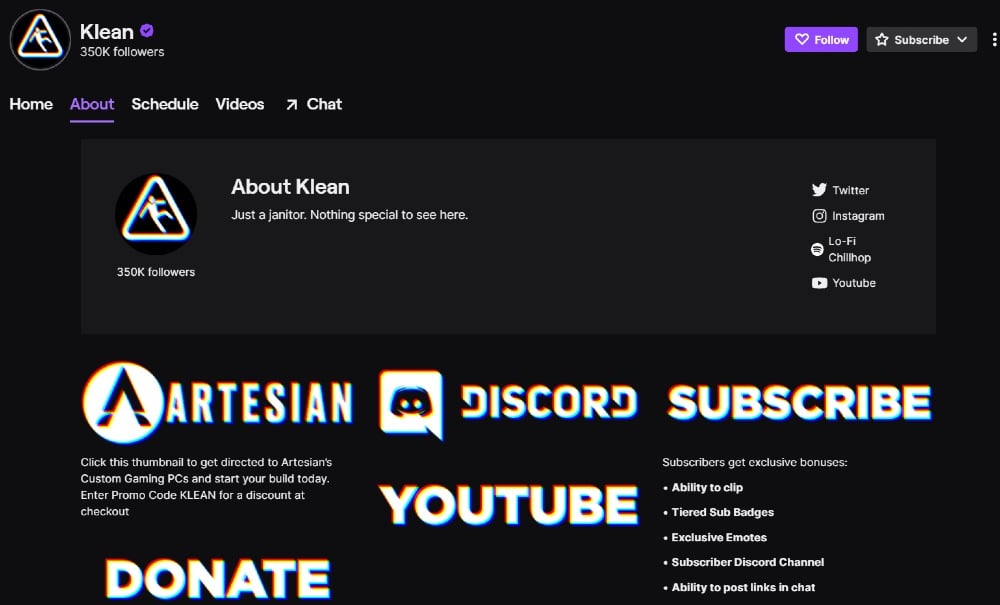 Create an illusion by using 3D elements on your Twitch panel design. Sure, it may take some time to get used to it as you view the panels, but it's something worth considering if you want to capture someone's attention.
This one by Klean will mess with your mind at first, as your eyes adjust to the text. But that's 3D text for you. Still, it's cool to have a 3D Twitch panel without it moving either. Plus, even their profile picture and Twitch banner are in the same 3D style, which is neat.
12. Illustrations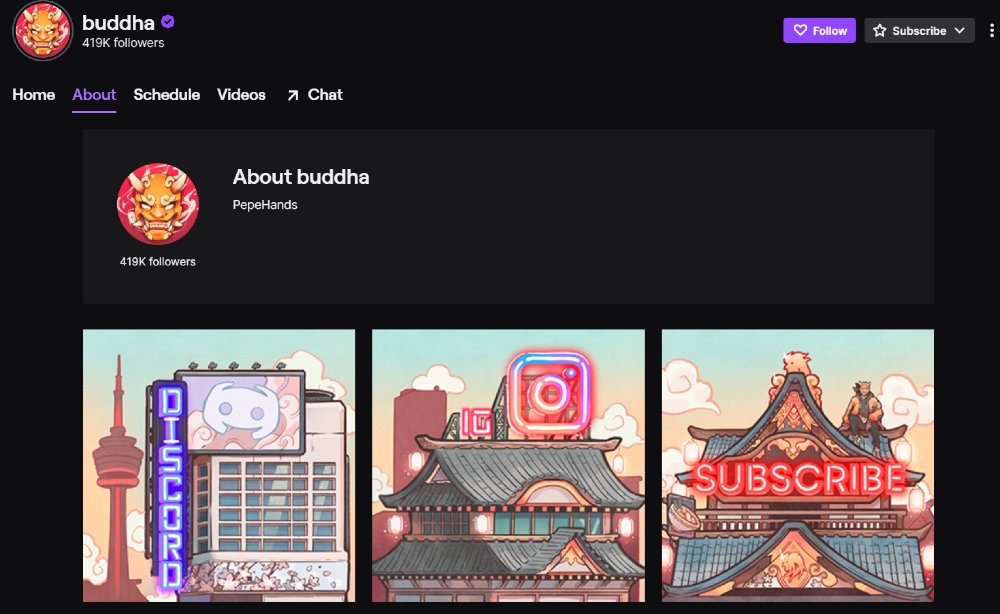 When it comes to illustrations, you'll see fan art on Twitch. Or if the gamer or streamer is an artist, they'll post their own. But rare would you see a Twitch panel that's fully illustrated. Some would have them as icons, while others would use them as headers. But not this one from buddha.
The illustration style on buddha's Twitch channel has East Asian influences, based on the art style. It's also cool they incorporated colors of social media sites like Instagram or Twitter on the buildings. Overall, it's one of the best Twitch panels ideas to consider for your channel.
13. Minimalist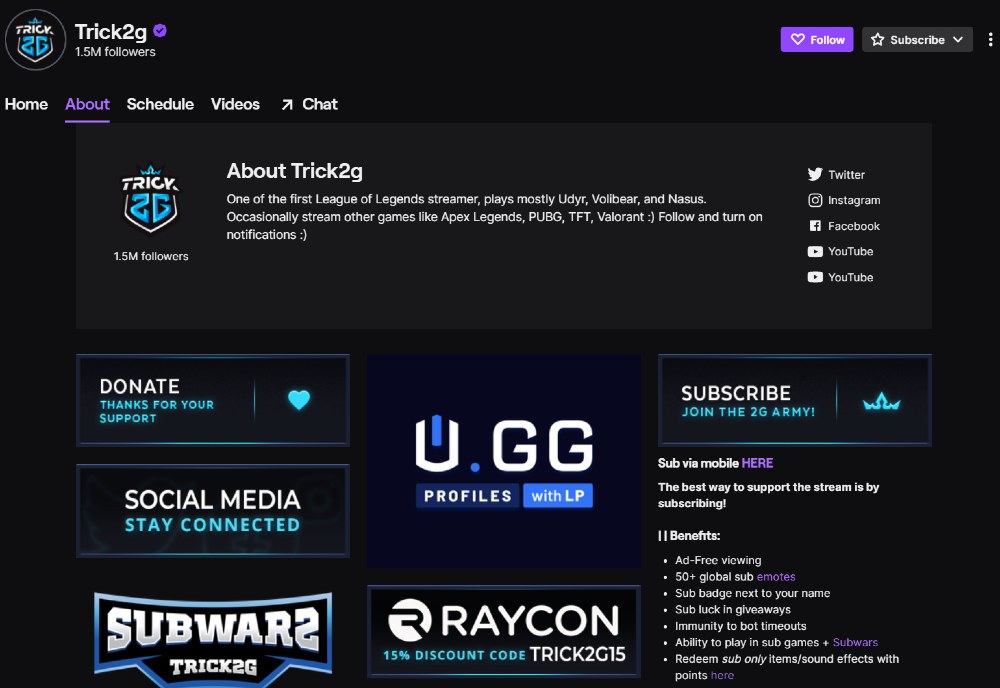 A minimalist approach can be the way to go if you haven't decided on your Twitch panel aesthetic yet. And if you want an example, take a look at this one from Trick2g. It looks futuristic and minimalist. Plus, it even looks sleek, and you know it's something tech-related.
As displayed on Trick2g's Twitch panel, minimalism doesn't have to be boring either. You can mix it up by making it game-like, like what they did on the Twitch panel.
14. Artistic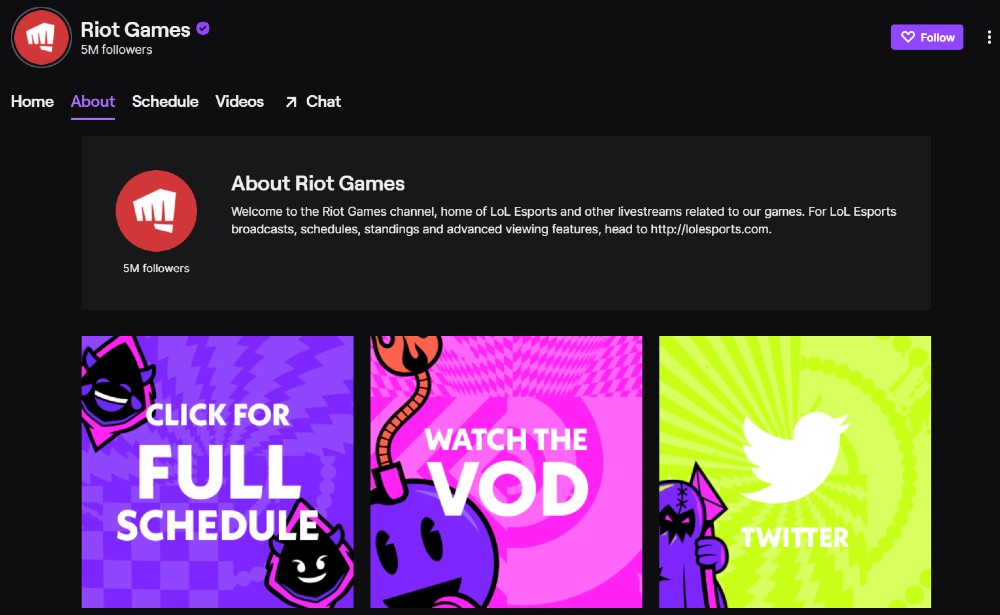 If you want to go for something artistic or creative, you can try this example from Riot Games. It also uses illustrations and different patterns. Not only that, they deviate from the rectangle panels, which allows them to have more room for creativity.
They might have used illustrations based on the games they even developed, which helps establish their branding. You can use this inspiration if you want to ensure that even on different platforms, your branding is present.
15. Customized Text
Photos or illustrations would be much easier to understand or process. However, you can go with text alone. You don't have to add avatars or drawings. And if you want to make the font "yours," you can take a look at this from Julien.
The crown and two lines on the font make the typography seem unique to them. You'll also see the crown on the profile photo, ensuring consistency across the channel.
Work with Penji for Your Twitch Panels
If you want to stand out, then have the best graphic designers from the Penji team help you. In just a matter of days, you have a new Twitch panel that can wow your subscribers. In fact, it can bring in more viewers. The next question now is, how does Penji's platform work?
Send Your Design Request
The beauty of using Penji's app is that you can browse and navigate through it with such ease. After signing up, you will have your own access to our platform. Here, you can directly send your design request.
Make sure that you include all the necessary information that can help our designer brainstorm the perfect design. Provide the texts, images, or even links that can serve as our inspiration. Once we receive your request, we will assign the right person to take on the project.
Ask for Revision
We encourage that you regularly check our platform for any messages and progress. As a standard, we send the first draft within 24 – 48 hours. And from there, you can already see if there is a need to revise it. If there's none, you may proceed to the last step. If there are slight changes, you can click the image, type your feedback, and send it back to our designer.
We will happily revise it until you are fully satisfied.
Showcase Your New Twitch Panels
Now, you can download the design and use it immediately. It's easy and hassle-free. This is exactly what you need if you wish to build your channel.
We have here some samples of our work. See how the Penji team can work on different designs from various industries.
Final Thoughts
Twitch hosts thousands of broadcasters and it's only a matter of time before more creative and more beautiful panels come out in the open. The competition will have to think of more ways to make themselves stand out and being creative with your panels isn't just about aesthetics anymore.
Your Twitch panels must effectively communicate your branding across while enticing viewers to check your channel out. And as always, you shouldn't be content with what you have designed today. Art is always evolving and you must not be left behind, always aim to get fresh ideas all the time.
Sign up now and get ahead of the eSports curve. Choose from these affordable Penji plans.