Gaming has become a new-school pastime. Even though the community has seen an upswing in size in the past few years, gamers still look far and wide for likeminded people and communities in the gaming space. A widely-used avenue that allows gamers to stream, communicate, and share their video game know-how is Twitch.
In this article, we're going to give you a few takeaways on why a well-executed Twitch design is monumental for Twitch streamers, followers, and subscribers — including the tools to make it possible.
Why a Good Twitch Design Stream is Vital
Twitch started as a channel for live video game streaming in 2011. Since the influx of users, the eCommerce juggernaut, Amazon, bought Twitch in 2014 and has since dominated the internet traffic in America.
After seeing the potential expansion, the company then decided to venture beyond video game streaming. Broadcasters and streamers can now enjoy their daily dose of streaming in the fields of music, talk shows, TV series, and arts and crafts.
There were around 100 million viewers tallied in 2015, and the number hasn't decreased since. The fact that Twitch has become a steady flow of income for a good number of users has created a competitive streaming market.
With millions of broadcasters competing for followers and subscribers, a good Twitch design stream will define your user base. Broadcasters need a design that entices millions of streamers. And with the help of the best online tools, you can earn your Twitch badge and beat the competition faster than others.
I've encapsulated the top five Twitch design elements you should include in your channel and the perfect tools to execute them.
Placeit for Twitch Logos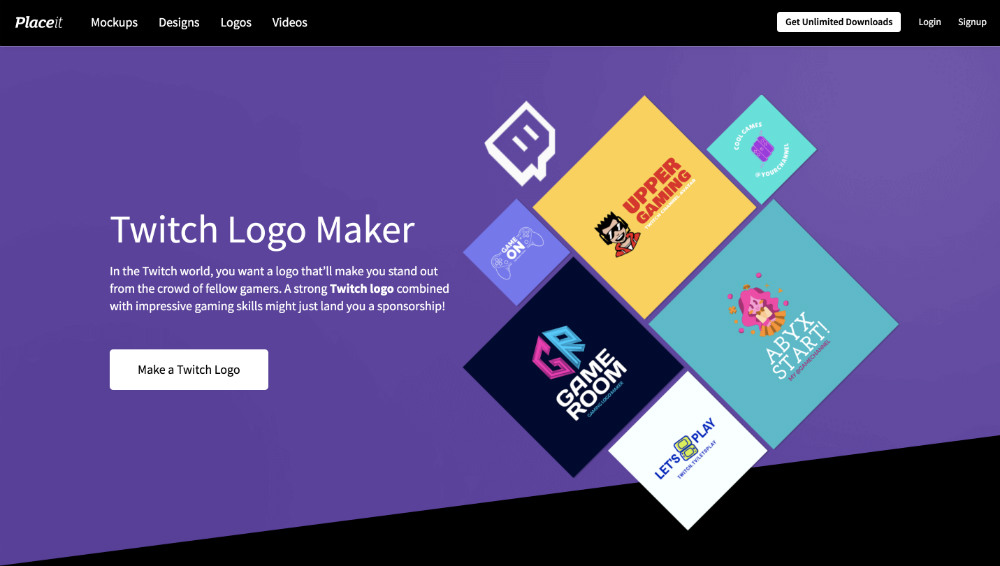 As with any other industry, logos are crucial for branding. The last thing you want is for viewers to skip your feed. You want to captivate them with consistent branding and a logo that stands out. Last but not least, the logo shouldn't only focus on aesthetic properties. It should be relatable to your audience as well.
The most recommended online tool for creating a Twitch logo is Placeit. The upper hand in using this tool is that you can create a logo in a matter of seconds. With hundreds of templates, unique characters, and peculiar animations to choose from, creating your logo is quick and easy, with only three steps:
Choose from the logo templates available or combine your favorite templates.

Customize the name, colors, fonts, graphics, and gaming brand type.

Click on the "download" button, and you're good to go.
Additionally, you can create unlimited logos for your Twitch design for a meager monthly fee of $29.
Strexm for Twitch overlays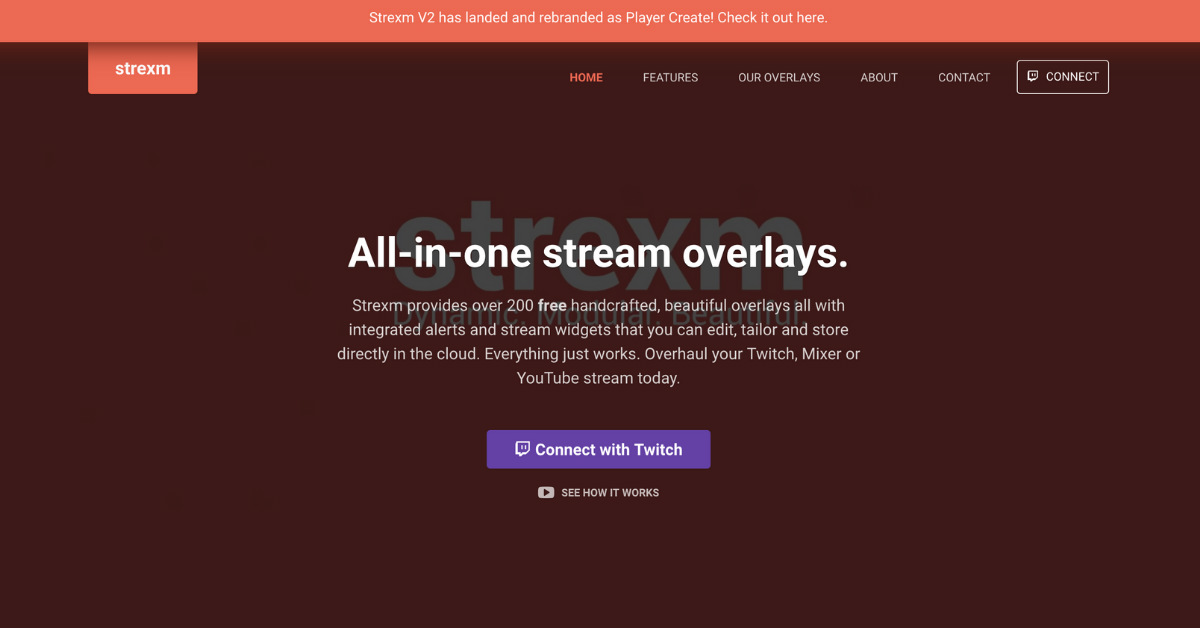 An outstanding Twitch design transcends the broadcasters' personality into their audience. Some viewers may have a shorter attention span compared to others. So in the video streaming world, keeping them riveted to their seats through creative overlays is essential.
Overlays allow streamers to place images, stickers, or any data on your streams. This is a smart tactic, especially for longer streams that might bore the heck out of viewers. Overlays can provide a fun and unique way of giving viewers additional information or just any creative strategy to keep them hooked until the end of the video.
For the best web-based overlays, Strexm is an affordable option with a simple online interface. It boasts free Twitch overlays to make your design outshine others.
This online tool has a myriad of generic as well as customized overlays for specific games and free for everyone to use. For instance, they have the Dark Matter generic overlay which dons playful fonts that are convenient to read.
A combination of a red and black color scheme with information such as the latest donations, new followers, and your social media networks are just a few of the features. Other than that, you can still customize the overlays to your heart's content.
Snappa for Twitch banners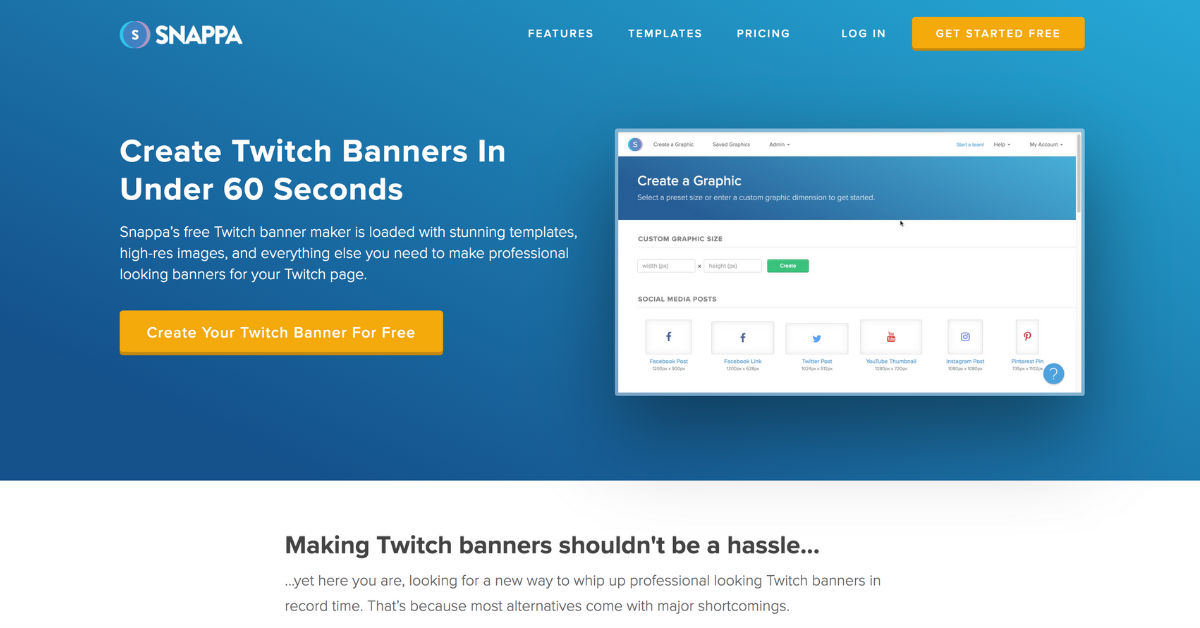 Banners are a quintessential way to make your personality shine as well as create branding consistency. The recommended Twitch banner width is 900 pixels with a height of 480 pixels.
For high-resolution Twitch banners, Snappa is an excellent option with stunning templates that make your Twitch design professional-looking. With a simple tool, Snappa lets you create banners within 60 seconds.
When making your Twitch banners, you must keep these three factors in mind:
Incorporate photos, colors, and icons that are relevant to your branding, especially if you belong in a team or organization.

Don't overload your banners with texts. Avoid fluff because it deviates your viewers from excellent graphics.

Always stay consistent with your banners by using the same colors, logos, fonts, and high-quality graphics.
Streamlabs for Twitch alerts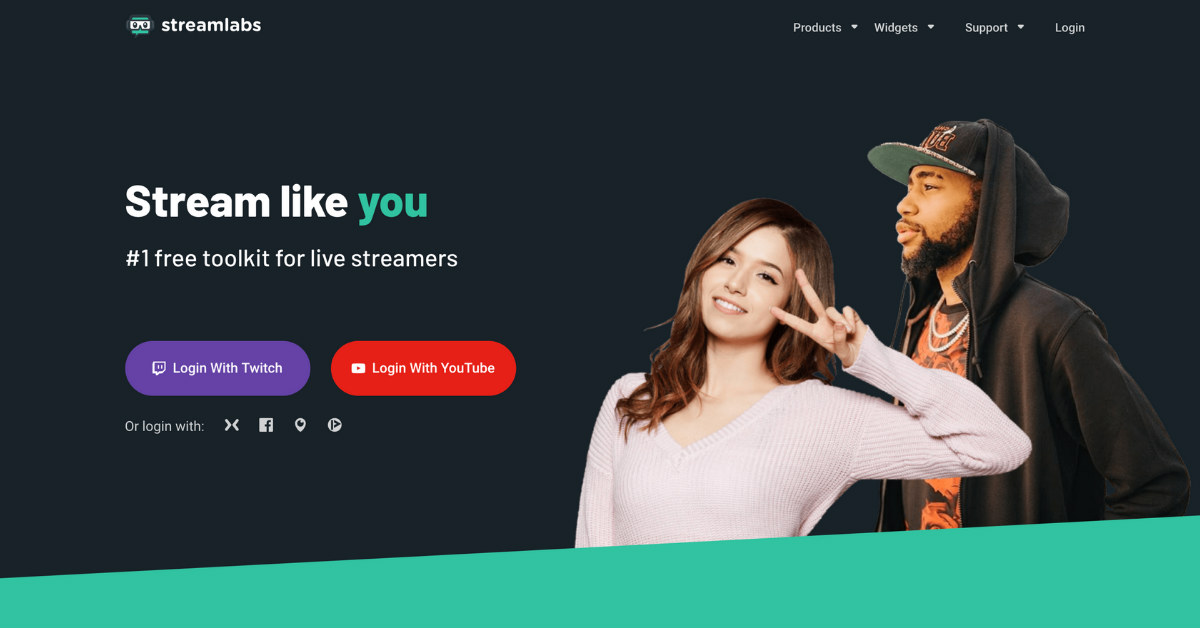 Alerts during video streams let you receive notifications for new followers, tips, and more. For example, when one subscribes to your channel, you can take the opportunity to thank every follower once alerted. This not only gives you extra brownie points but is also a simple retention tactic by making your subscribers feel special.
Streamlabs is the perfect online tool for your Twitch alerts. It lets you do four significant things with your audience: Acknowledge, Engage, Support, and Customize. Plus, Streamlabs also enables you to set up your alerts in three simple steps:
Download Streamlabs OBS to use features such as Alert Box, Goals, and Stream Boss

Open Streamlabs OBS and click the "Alert Box" tab under the "Widgets" category. Customize your alert according to your preference.

Turn the "Alert Box" on and hit save.
Pretzel.Rocks for Twitch music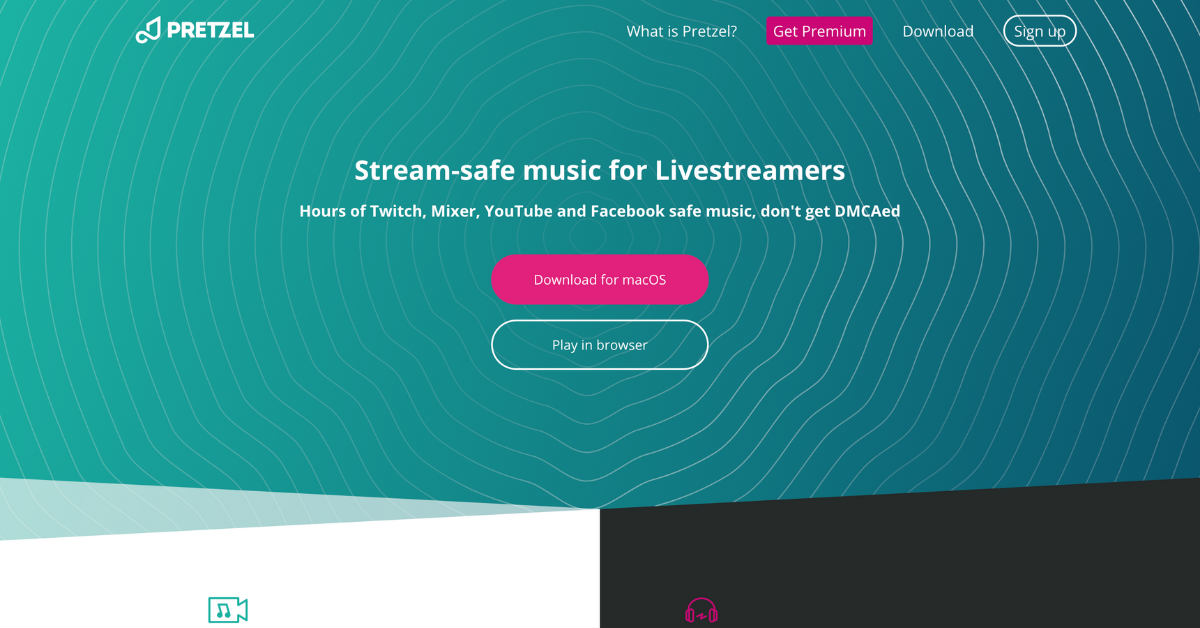 Playing music on your Twitch stream is a widely-debated topic due to the DMCA copyright claim. Simply put, streamers aren't allowed to play any kind of music. In fact, a lot of Twitch streamers have had their channels deactivated due to DMCA copyright violation.
While music can be a great way to enliven your stream, you can run into trouble with Twitch mods and regulators. But don't get your hopes down. Twitch is all for making every streaming experience enjoyable, so they are aiming to expand their music library with royalty-free music at music.twitch.tv.
Another Spotify playlist, 'twitchfm,' also has globally-cleared music which streamers can use. However, for an extensive copyright-free music channel, Pretzel.Rocks is your best bet.
Here are some of the features you'll get from Pretzel.Rocks:
Constantly updated music catalog

New artists are added frequently

Pretzel staff curates music for live streams

Simple toggling features

Use track info and cover art on your custom overlays

Easily integrates with other widely-used streamer tools
Wrap Up
Penji, an unlimited graphic design startup, is an expert in the field. This promising venture offers consistent high-quality graphics from professional graphic designers for a meager flat-rate fee monthly. They can help you create unlimited eye-catching and memorable Twitch logos, banners, panels, merchandise, and more.
Overall, a standout Twitch design shouldn't be limited to these tools only. With the convergence of technology, creating the best layout for your Twitch channel makes for infinite possibilities.