Have you ever had a health problem and turned to the internet for more information on how to get well? If your answer is yes, then you're no different from many people. Reports tell us that eight out of ten internet users in the US consult the internet for health-related concerns.
If you're in the healthcare industry, the statistics above only prove how important it is to get efficient healthcare creative agency services.
Take your marketing strategy to the next level through design. Penji is an unlimited graphic design service dedicated to providing compelling designs. Let Penji handle the designs of your marketing efforts. Increase patient visits or generate more sales by subscribing to any of our plans. Discover why many businesses and brands love using Penji.
Fortunately, there are competent firms that are stellar at what they do and could give your business a shot in the arm. Here are 12 marketing agencies in the healthcare industry. See what tactics you can learn from each to make your brand shine bright in 2020.
Based right here in local New Jersey, Arteric is a creative healthcare agency that you'll want to watch. Having copped the Mobile Web Award in 2017 for the Best Advertising Mobile Website and Best Interactive Services Mobile Website, it's no doubt that these guys are the real deal. To further showcase their prowess, they've helped many global healthcare brands such as Novartis and Teva Pharmaceutical Industries.
With Cyan, access to a healthcare brand is of their highest priority. They use strategic planning, customer engagement tactics, and specialized training to ensure that they deliver the utmost in their agency services. As a matter of fact, just ask their clients of Regeneron-Sanofi Genzyme, Braeburn Pharmaceuticals, and Sanofi.
Lyfe is all about marketing for firms in the healthcare industry. They know that it's constantly in a state of flux, and they've built tactics and products in place to help companies stand out and be more recognized. As a matter of fact, they've helped a nutritional facility grow their following and overall conversion rate by the thousands. And if they've been mentioned in The Huffington Post and Entrepreneur, then they're definitely doing something right.
You know, healthcare doesn't just extend to us. We also have to treat our furry friends to the best healthcare that we can provide for them, right? In this particular case, Excitant Healthcare Advertising really tends to shine – they've specialized in animal health advertising for quite a while now, and the niche catering is quite appreciated by many companies which include Zoetis and Merz North America. However, they don't just deal with animal health. Other paths include healthcare information technology, medical devices, and pharmaceuticals.
This agency, located in Southern California, as they put it "create digital experiences." They focus on creating ideal user experiences to connect brands to their intended audiences. And these guys have worked with clients of all types, but with regards to the healthcare industry, they've partnered primarily with pharmaceutical companies, such as Santaris and Avanir. What's also interesting is that these companies are all located in California – it looks like they prefer to keep things local. I can't blame them, though – California's great.
This one sounds self-explanatory, right? It's a business that does SEO for the healthcare sector. But there's a lot more to it than that. In fact, they've achieved over 70,000 first page search results for their clients. Healthcare's also quite aware of the fact that social media is basically second nature for businesses, so they've tailored their services around it as well. From websites to social media, they do it all. Lastly, what I really like about them is that they get straight to the point – no contracts or anything of that sort. Just results.
These guys are an interesting bunch, I find. I like how they take on the focus of finding the patients so that you as the healthcare provider can provide the care that you're known for. They see patients as actual people and treasure the interactions between them. It brings a sense of humanity to the marketing process that I just can't help but respect. It's also cool that they're located in the Sunshine State, as well as in the Big Apple.
Syneos is quite down-to-earth with their approach as a healthcare creative agency – they possess a clear view into the complexities that the industry usually presents. And as such, they build real ideas that resonate well within the industry. With offices all over the world, Syneos is quite a powerhouse, albeit a quiet one. And they have the portfolio to match – they've worked with Navicor, Chamberlain and Cadent Medical, to name a few.
Okay, this name I find rather…. interesting. But the company itself is nothing to laugh at. In fact, one can only admire what Dobies has done in the healthcare sector with their branding and advertising – it's all they do. And they're pretty good at it too. You'd have to be in order to win multiple awards, including the Best Digital Marketing Agency award for 2019 from DesignRush.com. Healthcare associations, hospitals, organ procurement organizations – Dobies does it all.
You know, for a healthcare creative agency with such a simple name, I was legitimately surprised at the things that Smith and Jones was able to accomplish. I mean, over 500 awards in their lifespan? 800% increase in appointments for their healthcare clients? 332% growth in new patients? Those are some pretty impressive numbers. I guess healthcare brands do go to Smith and Jones in order to get better.
REQ is a Digital Marketing Agency with headquarters in Washington, DC. Founded in 2008, this company has satellite offices in Boston, New York, San Diego, San Francisco, and Las Vegas. They offer a full suite of in-house brand management and digital marketing services. These services include advertising, SEO, online reputation management, and public relations, among many others.
One of the healthcare organizations they've worked with is Pharmaceutical Research and Manufacturers of America (PhRMA). REQ created and managed the group's Partnership for Prescription Assistance (PPA), which aims to give patients excellent service and provide their needs for free- and low-cost medicines. The project used all digital touchpoints, from online sources to social media, to improve the organization's health messaging.
Thiel prides itself in being an agency focused on brand and digital experience. It offers services related to brand identity, naming, advertising, campaign strategy, annual reports, corporate social responsibility, and other related business matters.
How to Request Designs on the Penji Platform
Penji makes it seamless to request designs on the platform. Follow these four steps in receiving high-quality and professional designs.
1: Create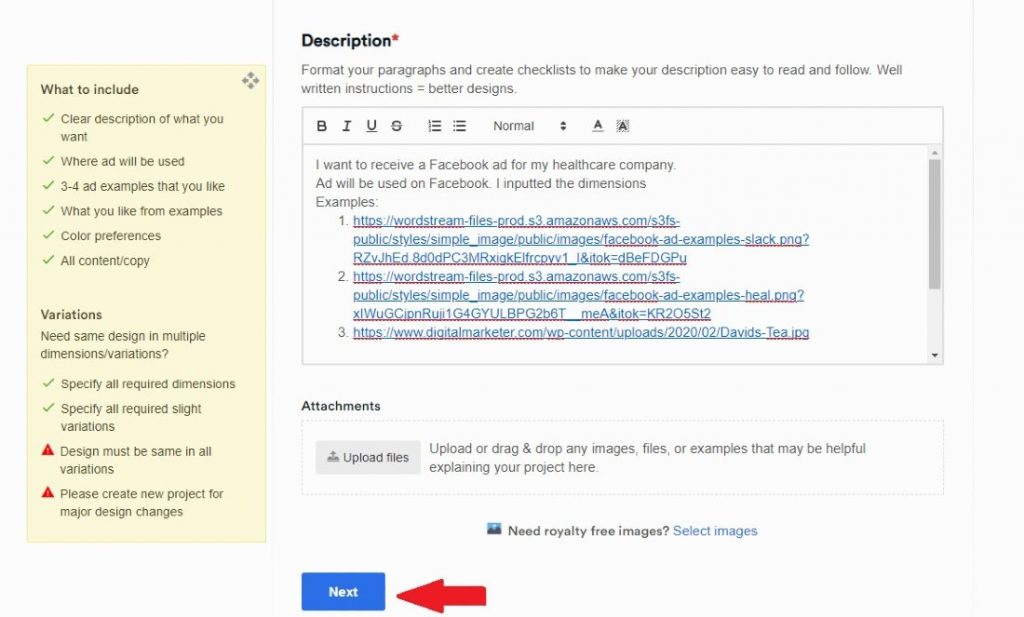 Upon subscription on the Penji platform, click login to go to the dashboard. Then, click the "New Project" button. After that, click on any design type. If you can't find the design type you're requesting, click on Create Custom Project. From there, provide details of your design brief.
Make sure to click Next to finish the Create process.
2: Connect

After this, we assign you to a designer who can carry out this project. They can provide you updates about your design. Plus, you can communicate with them anytime about project details.
3: Review

After 24 to 48 hours, the designer submits the first draft. Most first drafts may not be what you envisioned, and that's fine.
On the Penji platform, you could either provide feedback through the chat or leave revision notes on the designs. From here, your designer will know how to improve the design before you download it.
4: Download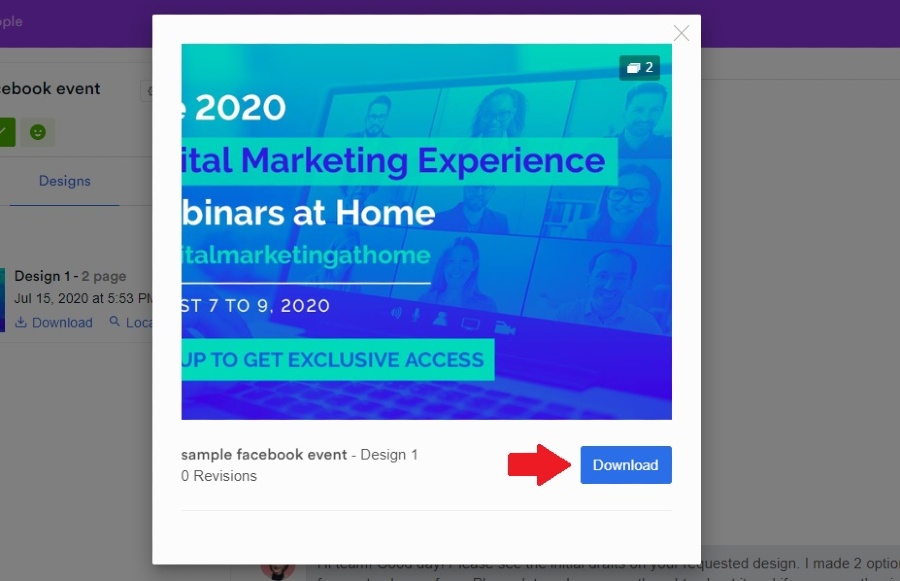 If you're happy with the design, you can finally download it. Click the blue Download button, and it's all yours! You get full ownership of your designs too. Use it right away for any of your campaigns, products, or projects.
Subscribe to a Penji Plan Today
Don't settle for boring designs that could cost you patients or customers. Receive graphic designs that will convey your message and engage with your patients or customers. Let Penji take care of designing while you help improve the quality of life through services or products.
For only $499/mo, receive any design you need. Not all graphic design services offer this bargain. Try it risk-free for the first 15 days when you sign up for Penji now.
Updated March 8, 2019