Tips To Sell Shirts On Amazon
by Ginny Nguyen, 08/28/18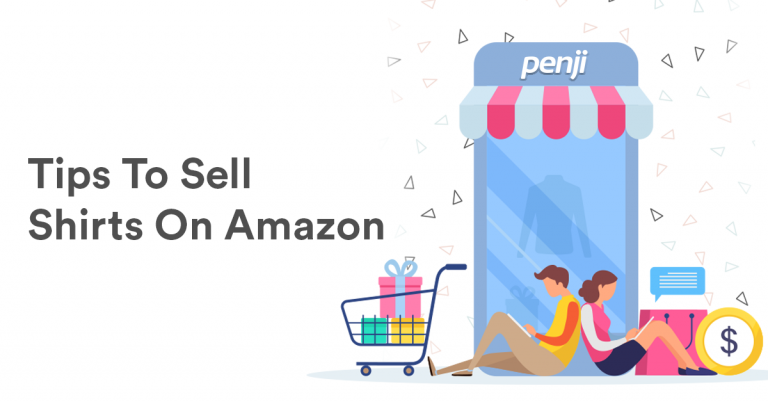 Amazon is America's most dominating e-commerce website for products. Consumers and businesses flood to Amazon for their convenient sales reputation. With the new feature of Merch by Amazon, people can now sell t-shirts, mugs and other merch online while Amazon takes care of the production process for your business when you sell shirts on Amazon.
There are low-risk benefits when signing up to Merch by Amazon. The tech innovative company is running the shirt design process for you. Amazon does the printing, screening, and shipping the merch for you. There are zero upfront costs and no customer service to deal with. However, Amazon merch is an invite only program. The average wait time to start is 9-10 months and you are first limited to 25 designs. In the waiting period, you can start to plan out your merch process for a successful business.
People who sell t-shirts on Amazon are getting a full package deal. Amazon is taking up the workload, warehousing, logistics, and other resources required to produce merch. Simply, upload your design, choose your product, pick the colors, set a price, and add a description.
The biggest challenge that most people face is that they have a problem with finding slots that sell. People struggle when they sell shirts on Amazon because they simply don't understand the platform. Merch by Amazon is not like other businesses, so some people struggle greatly with their sales.
What are some of the daily challenges you face within merch?
"There are more than enough videos, blogs, and facebook groups with thousands of posts from successful merch sellers that you don't need any golden nuggets or advice in this thread.

You have to put in the time to learn. You have to spend some money on the right tools and resources. Recognize your strengths and weaknesses. Overcome your weaknesses or pay for the tools and/or hire people to fill those gaps.

If you are a poor designer then take some courses or hire someone that is skilled at designing. I got myself to tier 1000 with my own designs and 80% of the designs that got me to tier 100 I don't even have listed anymore because my design skills improved over time. Now, I have hired 1 designer and about to hire another and I have sold more in the last month with those designs then I did in my frist 7 months on merch. I still do basic designs but I have professionals creating quality designs and they are selling". -Skip Shut
These are the tips to know when you sell shirts on Amazon:
Know The Basics
Dimensions
Before you start to sell shirts on Amazon, learn about Amazon's rules. Know the dimensions for your Amazon Merch picture. It should be 4500w x 5400h and it must be transparent PNG. The image specification requirements must be less than 25MB.
Amazon BSR (Best Sellers Rank)
Every product on the Amazon marketplace receives an Amazon best sellers rank. This is a good indication to how well your product is selling. Understand an Amazon BSR before you start to sell shirts on Amazon. A product's BSR can be found on the detail page and are listed in various categories. The BSR calculation is compared to other products in the same categories or subcategories.
An Amazon BSR number is the number of sales that an item is receiving. So, the lower the BSR goes, the more units you are selling. For example, a BSR of around #2000 means you are selling 25-50 units a day. These measurements are updated 2-3 hours on a recent sale.
Copyright Research
Copycats are common on Merch by Amazon. Learn how to identify them by comparing your designs to other merch when you sell shirts on Amazon. The most popular degree of copyright behavior is design modification. This is when the original work is changed slightly enough to be considered a new design. A recreation of a successful design can fall into copyright infringement with a huge penalty. If there is suspicion of design copyright, it should be reported to Amazon via their Infringement Report Form. In other cases, similarities could simply just mean competition, not copyright. Learn how to identify the two.
Keyword Research
Take advantage of the keyword field. The areas that you will need to fill up is your Brand Name, Title, Product Features and Product Description. When the competition is at large, either stand out with your designs or be easily accessible online. Use your main phrases as the search tag when you sell shirts on Amazon. Each field allows up to 50 characters for a description, so use it wisely
Brand Research
Trademark a color or symbol for your merch. If a product is successful, then you would want customers to remember where it came from. Branding is an important element to marketing, this is what motivates consumers to come back. There is a plethora of Amazon merch, consumers typically buy what they need and move on. However, if your merch design captures their interest, they will remember your brand and come back for new products. Brand retention is what separates you from your competitors.
Customer loyalty do not develop happen instantly. Gain their long-term trust and interest by keeping them interested in your brand.
Design Fast and Efficiently
Trends are ever changing, so you must stay on top of your merch. As soon as a new trend sparks up in the media, you must be quick to deliver the product before people lose interest. It may be difficult to produce an abundant amount of designs at once, so that's why most people use a graphic design service. By hiring a graphic design service, the stress of delivering slow merch designs will be gone. Merch by Amazon has a lot of competition, if you want success when you sell shirts on Amazon, then you must work in a fast pace. Consumers are constantly looking for new products, so be the first merch design to capture their eye.
Design What Is Already Selling
Meet your consumer's demand. A product that is popular is a product that sells. Trends are what consumers consider desirable at the moment. Take advantage of the new trends circling around when you sell shirts on Amazon. This gives you more design ideas to sell shirts on Amazon. Once a new trend starts, sales become more successful. It's like a domino effect, once one person is interested in a product, then their friends and family will want to buy it also. Word of mouth marketing is what enhances sales for new merch designs. Keep this in mind when designing your next merch. Consumers tend to focus on the present more often, so hold their attention with designs for the current trends. Short term success is actually good for Amazon merch at times.
Design For Holidays
Holidays are the time for gift exchanging. Amazon and other businesses tend to do extremely well in sales during holiday seasons. This is due to the gift giving culture that each country has. For the United States, Christmas season is the busiest time of the year for products. For example, the tradition of wearing ugly Christmas sweaters will be a great advantage for design merch. There will always be a reason to purchase merch during the holiday seasons. Due to the gift giving culture, businesses make sure they take advantage of the situation to create new products. For those who sell shirts on Amazon during the holiday seasons, make sure the design correlate with the season. Consumers are already searching for the product, so just make sure the design is good.
Price Low First
Customers love a good deal, especially if they are testing out a product. Consumers do not know if a certain product is worth it yet, so price low first and let them decide if your merch is good for it's price. No one wants to buy an expensive product that they haven't used before yet. Overtime, once more people get interested in your merch, you can raise the price. By pricing low first, you can also determine which product is successful.
It's more reasonable to start low since customers don't know if they like your merch yet. Once they test out your product and determine that they like your brand, you can then raise the price.
Customer loyalty does not happen instantly in most cases, so be gentle and welcoming in the beginning.
Market on Social Media
About 81% of the U.S. population have a social media networking profile. Researchers explain that there will be an estimated 3% growth in the number of users on social media. As a whole, there are about 2.3 billion social media users in the world, but will continue to grow even more. Soon enough, more people will begin to discover the opportunities online. This is an extreme advantage for new businesses. Marketing on social media have become more common in the world of business. Amazon merch will benefit from target marketing since consumers are already searching for your merch. There are people who are already interested in your merch, but haven't quite found your brand yet. By marketing on social media, your target audience will find you more efficiently.
Quality Design
A quality design is what distances your merch from other competitors. Customers will search for your content on Amazon, but they will make their ultimate decision based on the designs. Make sure the designs are up to standards when you sell shirts on Amazon. A shirt design that is aesthetically pleasing to look at will receive more sale conversions. People buy clothing based on how well it looks, so they will do the same with merch. Even if you create memes on your merch design, if it does not look good, then customers won't buy it. Looks do matter.
Stand Out From The Crowd
Merch by Amazon has many participants, so you have to stand out in order to get a sale. Merch can stand out with unique designs and content. Most people on the platform use a graphic design service to help the merch stand out from other competitors. Customers will be able to tell if the design was professionally made or if it was designed on Canva. Do not make the mistake of having poor merch designs. A poorly designed merch will definitely help you stand out, but not for the right reasons.
Trademark a unique symbol or color in order to stand out. Customers will use this as brand retention and make you stand out.
Keep Up With Current Events
Stay on top of the daily or weekly news. The impact of consumer demand is influenced by current events. If your merch is focused on a public figure or another brand, make sure that their reputation is in good condition. If anything were to happen to the reputation of the public figure or brand that your merch was created for, sales will plummet. Keep up with the news and understand what your customers like and dislike today. What was popular weeks ago will not be the same today. When you start to sell shirts on Amazon, be aware of what the majority is interested in. You can avoid backlash and poor sales by doing this.
Limit Your Design Options
As most people would say it, simplicity is key. Don't make the merch design complicated, just add the essential design elements and idea. Give as little choices to choose from as you can. So, limit the color and design options for your merch design. The paradox of choice is a recurring problem in business. There is a genuine problem of having too many choices to pick from.
An excess of choice leads to less satisfaction after a decision is made. This happens because of the idea of opportunity cost, which goes into the fear of picking the wrong choice. Don't allow consumers the chance to doubt or second guess their decision to buy your product. You should not make the process stressful, so be as simple as you can.
Do Merch by Amazon Keyword Research
Merch by Amazon is a large industry to try to navigate. There are many merch ideas to fulfill, but it's hard to know where to start. Find a merch tool that will help with your keyword research. Some merch tools to help sell shirts on Amazon include:
MerchInformer
This software uses Amazon's API to create data that will help you improve on design or sales. They collect information from product photos, product name, merchant, ASIN, price, key features, description and best sellers rank. Merchants use this service to do research on keyword choices. Merch Informer will give you the top 100 results for any keyword that you put in. The software will then organize the results by their best sellers rank. This service will help you look for keywords with a low best sellers rank so that you can help optimize the product.
MerchantWords
This software combines data science and keyword searching to find popular word phrases. The platform has over a billion keywords from Amazon shoppers around the world. The database is taken from consumers in North America, Europe, Australia and Asia. Merchant Words gives insight on consumer demand and on the new trends approaching. This is the most effective merch tool to create merch that will appeal to international consumers.
Attempt to Remove Negative Feedback
It may be sort of a gamble to try to appease a critic in removing their negative comment, but it's still worth the shot. Approach them in a more understanding position. Try to reach out to the upset customer and offer an apology. Do not directly ask them to remove their negative comment, instead, explain why there was an error in your product. Once you try to understand their situation, you then hint at the chances of them removing the negative comment.
You need at least a 95% review on your product, or else you will lose your featured seller status and your account may shut down.
Collaborate With Other Merch Sellers
There is no "I" in team. Although this is a standalone business, people within the same industry will be more likely to collaborate. Working together as a community increases the chances of succeeding even further. So, the easiest way to reach other merch sellers are by Facebook groups. Joining Amazon Merch Facebook groups will let you receive immediate feedback for your merch through polls. So, start conversations on how to improve and get tips from professional merch sellers. There is no better resource than the experts themselves.
Mark Zuckerberg, the creator of Facebook said in a post, "the social infrastructure for community — for supporting us, for keeping us safe, for informing us, for civic engagement, and for inclusion of all." So, take advantage of Facebook groups and use it for your own.
These tips have produced various successful sales. People who sell shirts on Amazon have discussed the reason for their success.
Why did your most successful t-shirt sale succeed?
"Because it was a trending saying (phrase) and I got their before most people". – Matthew Pate.
"I ran ads on Facebook and got a few sales, and two five star reviews for a shirt. The traffic / few sales combined with the reviews put the shirt on the front page for it's keywords and now sells over and over every month. I would recommend getting a few sales from friends and having them leave 5 star reviews. Also worth noting that I lost money initially with my ad campaign, the ads cost more than the sales they produced. Now that traction has paid for itself many times over". – Christopher Gardner.
"Because the design is perfect for the niche and age group" – Jati Kalingga Praja.
"Because people are desperate for gift ideas" – Nancy Boley O'Leary.
These tips to sell shirts on Amazon have proved themselves to be valuable. The market to sell shirts on Amazon is becoming more popular. Competition is higher than ever, so come up with a strategy and stick to it. A special thing about Merch by Amazon is that the whole printing and development process is covered for you. This leaves you extra time to create better designs and content.