Taking care of business doesn't stop at product development or crafting marketing strategies. Analyzing your business performance is also vital. That's what a SWOT analysis is for.
SWOT is short for Strengths, Weaknesses, Opportunities, and Threats. SWOT analysis is often used in presentations to synthesize how businesses and projects are doing. That's why these SWOT analysis PPT template examples can help your business.
What is SWOT analysis and why is it used in presentations?
A SWOT analysis is a technique companies use to assess four crucial aspects of managing their business. These are:
Strengths
These are what your organization does better than everyone else. Plus, these are what your customers and competitors see as your strength.
Weaknesses
These are what your company is doing that needs improvement. Looking at your weaknesses means finding out what the competition is doing better and what you're lacking.
Opportunities
These are the market trends that you can jump in on to increase revenues. You can use your strengths to take advantage of these and gain a heads up.
Threats
These are your competitors' advantages that you lack. Make sure that you use your strengths to avert those that can hurt your business.
Doing a SWOT analysis provides many benefits for your business. Here are a few of the best reasons to do it:
You'll get a better grasp of what your business' position is in your industry
You'll define areas where and how you can grow
Help you strategically develop strategies for promoting your business
You'll determine what is affecting your business internally and externally
Lets you find ways to progress and achieve growth
Why use SWOT analysis in PPT presentations?
Presenting your SWOT analysis to employees and stakeholders is made easy with a PowerPoint presentation template. It is the favored software when creating SWOT presentations as it's the most suitable for slideshows that best explain SWOT. They are straightforward to use and have templates that you can customize to fit your business' branding image.
30 SWOT analysis template PPT examples
1. Salmon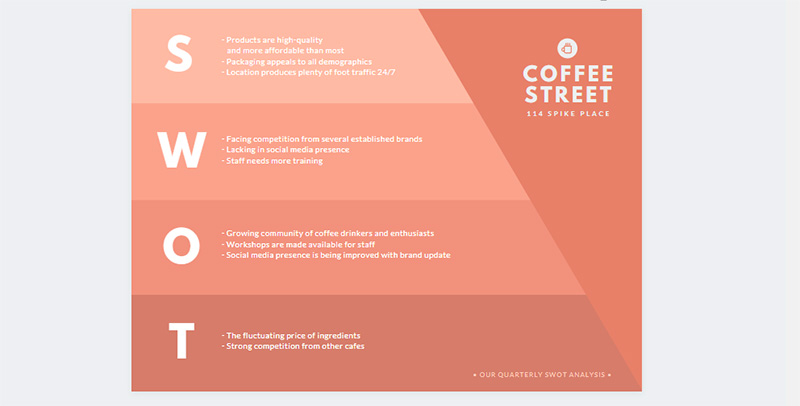 This SWOT template called Salmon from Canva uses a monochromatic approach. It has a great layout that is distinct, coherent, and can easily be seen from afar.
2. Envato SWOT analysis PPT template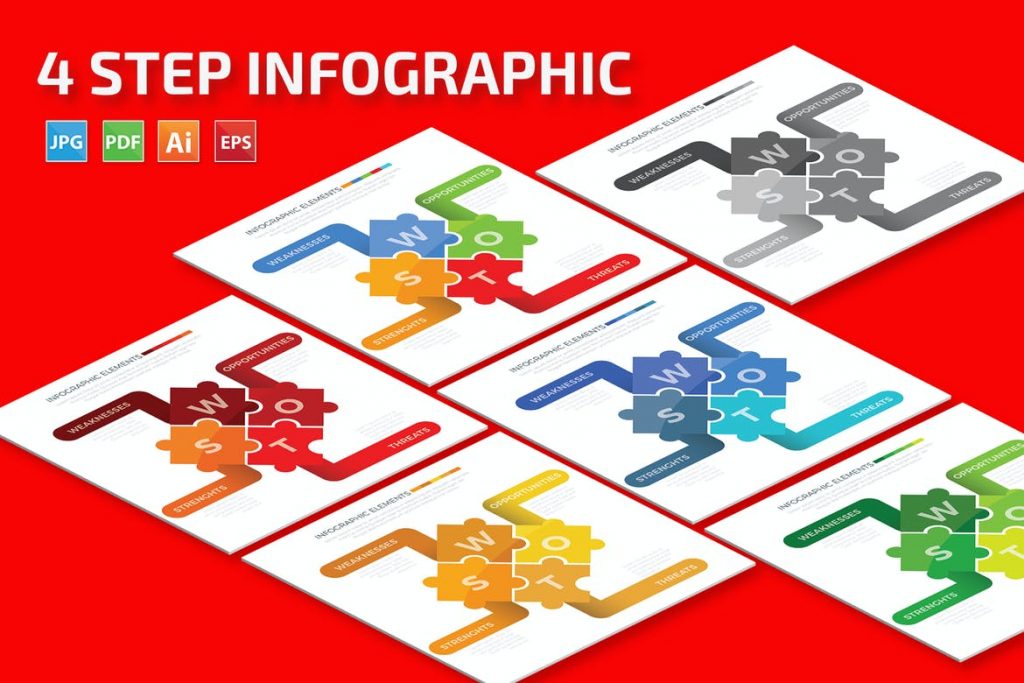 If you want to create a SWOT analysis presented in an infographic, this template from Envato is the one for you. It is colorful yet laid out clearly and convincingly.
3. Slidesgo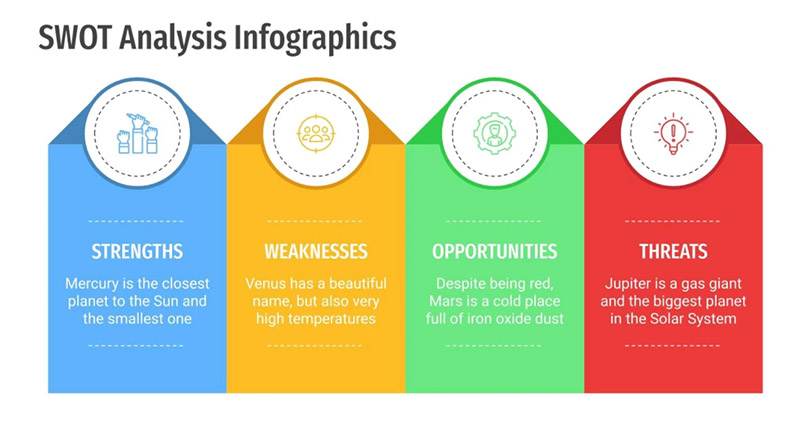 A simple, yet stunning SWOT analysis template, this one is from SlidesGo. It is straightforward with a lot of negative space around to keep the audience's focus on what matters.
4. Slidemodel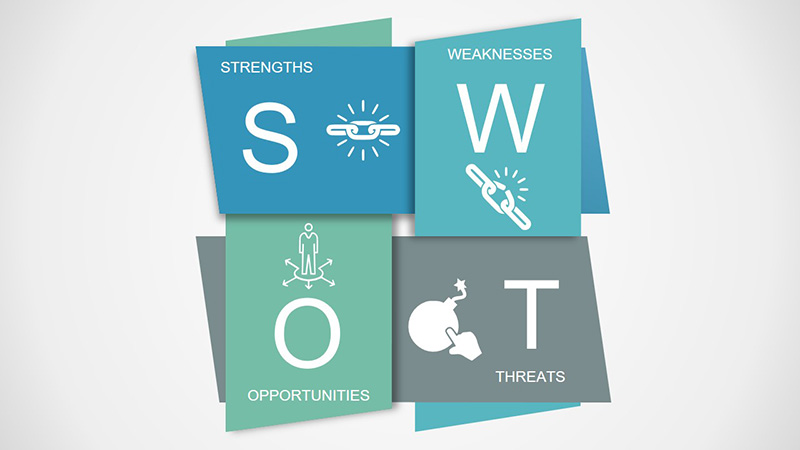 Another monochromatic SWOT analysis template ppt is this one from SlideModel. They named the one below Interlaced Polygon Design. It has icons and highlights for each analysis that get the message across better.
5. Canva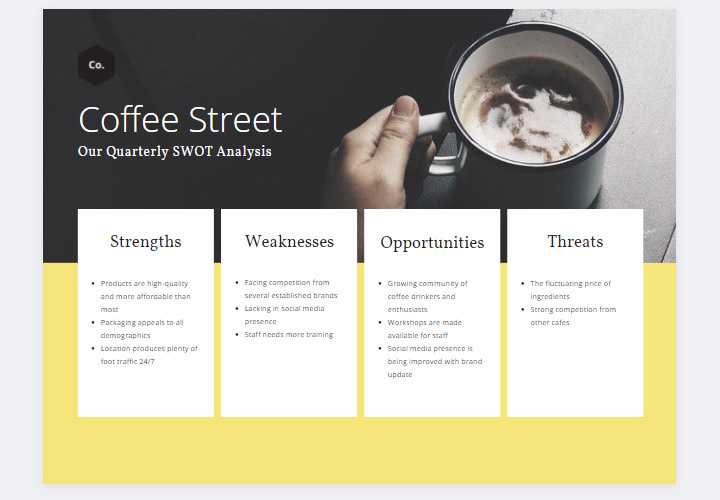 This "Black Yellow Photo SWOT Analysis Chart" from Canva is an excellent template if you have photos you want to use. It can add interest to your presentation and make it more engaging and eye-catching.
6. Powerslides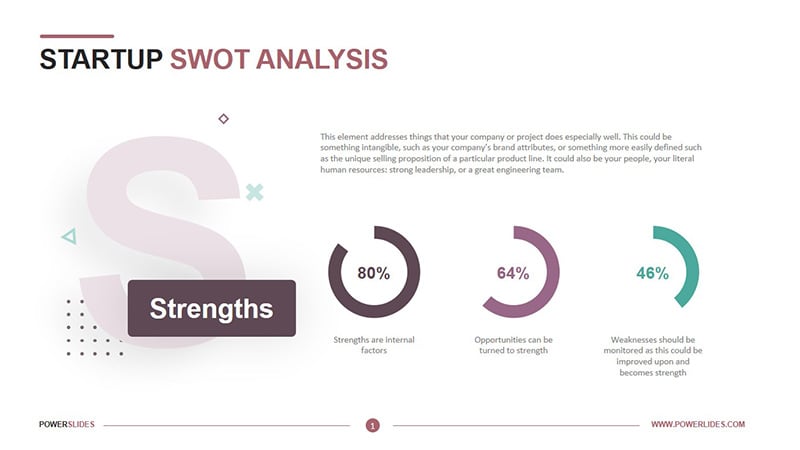 One thing you'll notice about these SWOT analysis templates is that they're always clear-cut and straightforward. This one from PowerSlides is just that, free from clutter, as this is the best way to present information that can sometimes lean on the heavy side.
7. Powerpoint School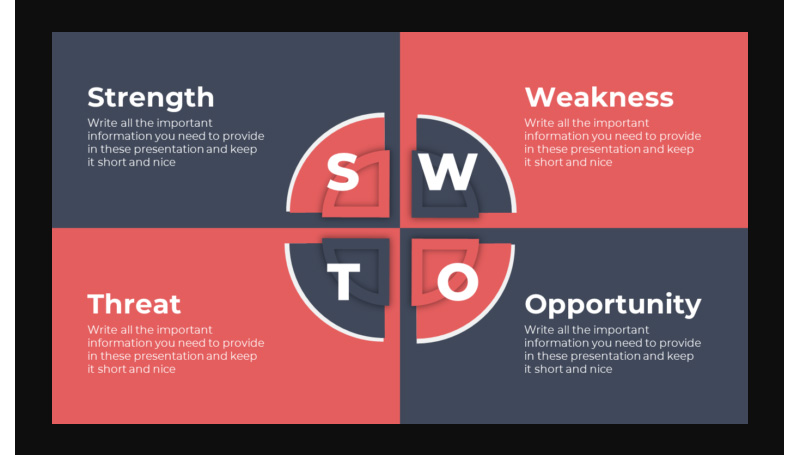 To make your SWOT analysis exciting, try using animation on it. The example below from PowerPoint School is what you'll need. This adds an extra punch to your presentation.
8. PresentationGo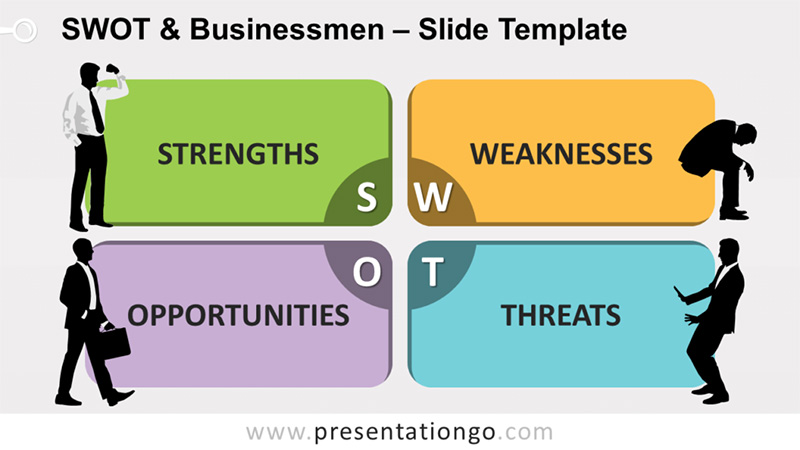 Illustrations can make any presentation come to life. This SWOT analysis template from PresentationGo is an excellent choice. It has a dark and light layout with completely editable shapes.
9. Canva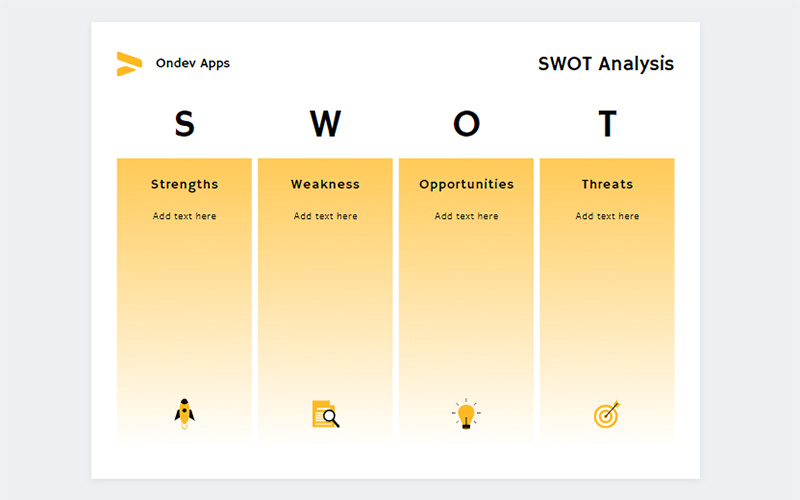 Using yellow as the primary color of this SWOT analysis template PPT from Canva, you can add a secondary color of your choice. It has a warm and welcoming spirit to it that is appealing. Plus, the use of icons adds to the charm of the presentation.
10. SlidesGo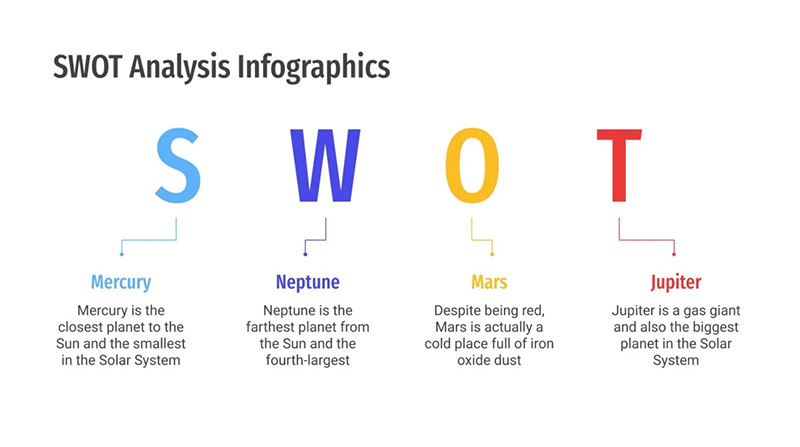 Another PowerPoint template from SlidesGo is this colorful choice that's simple and neat. The background is white, and with little to no distractions, this is a template that's easy on the eyes.
11. SlideModel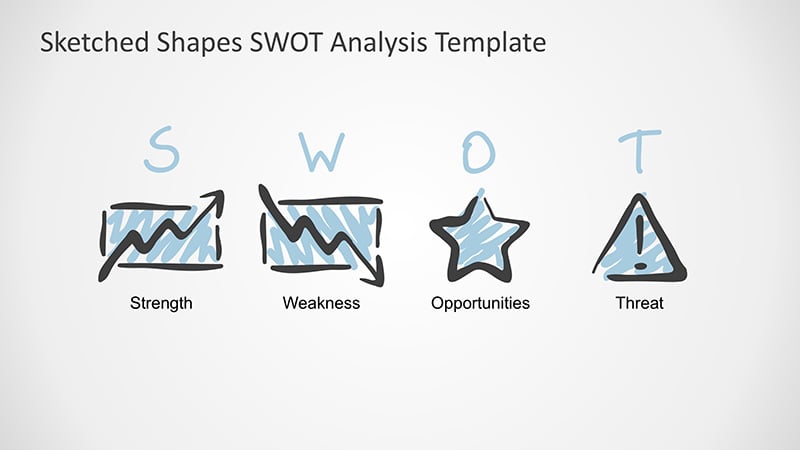 If you're looking for an informal template for your SWOT analysis, this one from SlideModel is your best bet. It uses pastel colors with a sketched design that's light, fun, and unique.
12. Envato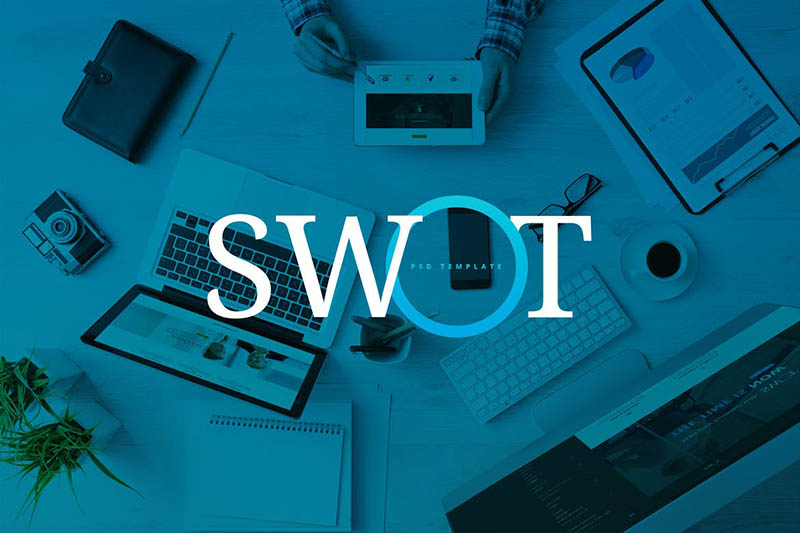 For an elegant and classy SWOT analysis template, this one from Envato is a great choice. It is ideal for any size company that wants a refined finish to their PowerPoint template.
13. PowerSlides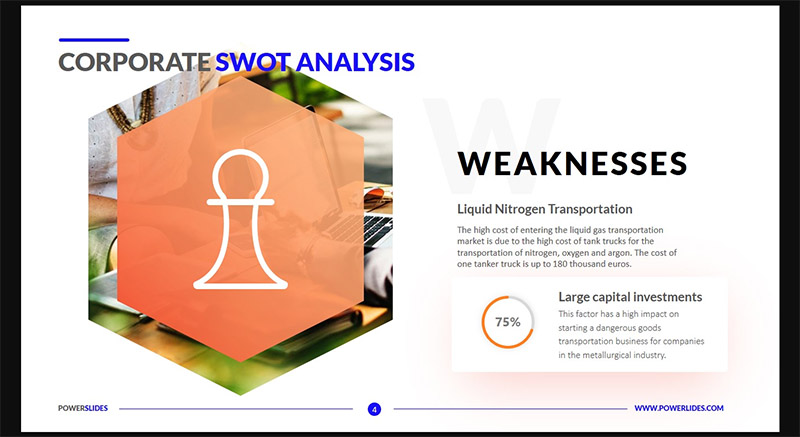 This PowerPoint SWOT analysis template from PowerSlides is unique, classy, and stylish. The green, orange, violet, and blue colors as the background give it extra appeal. The layout effectively relays information in a simple manner.
14. Slidestore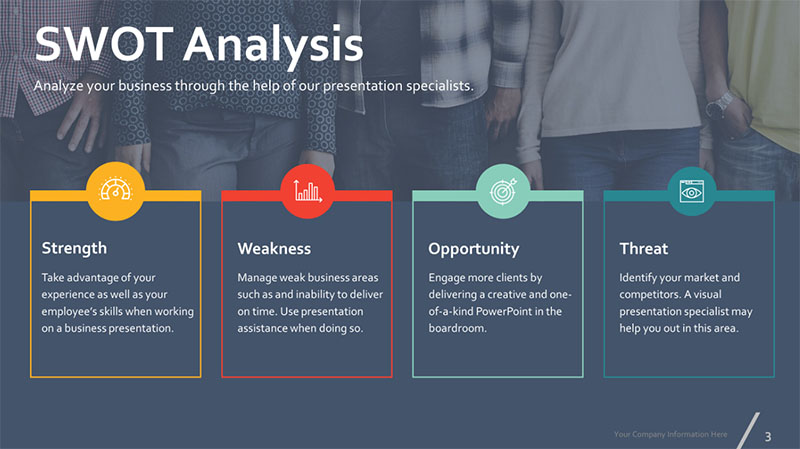 Sharp icons, beautiful imagery, and a clean layout make this SWOT template PPT from Slidestore one of the best we've seen. It's like viewing an entire website that's engaging and fascinating.
15. PresentationGo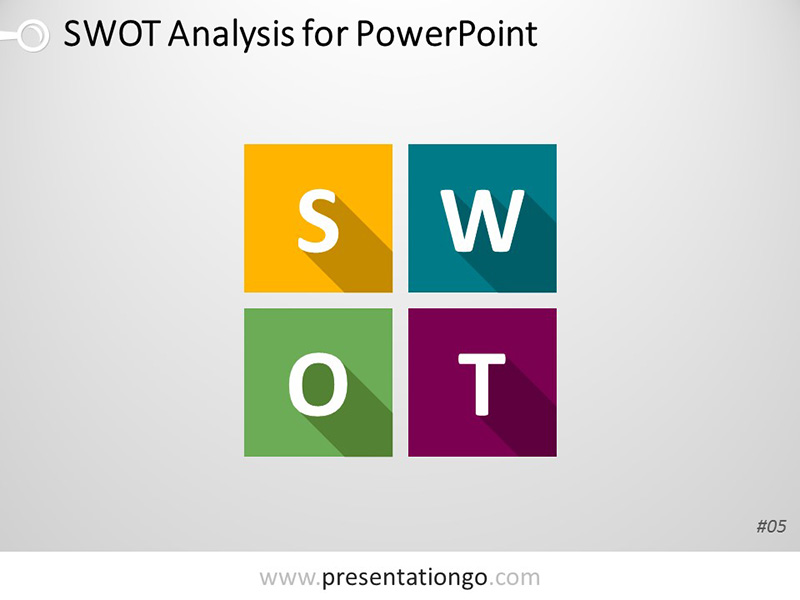 To give your SWOT analysis a modern, sleek, and clean design, this one from PresentationGo is a good option. Its flat design gives it a minimalistic touch that is genuinely readable.
16. SlideStore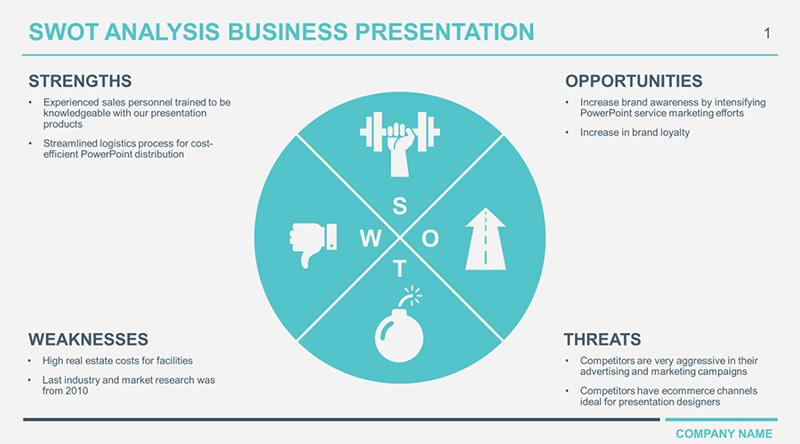 They say less is more and this PP template from SlideStore does just that. It is monochromatic, with some touches of darker colors here and there to act as accents.
17. Envato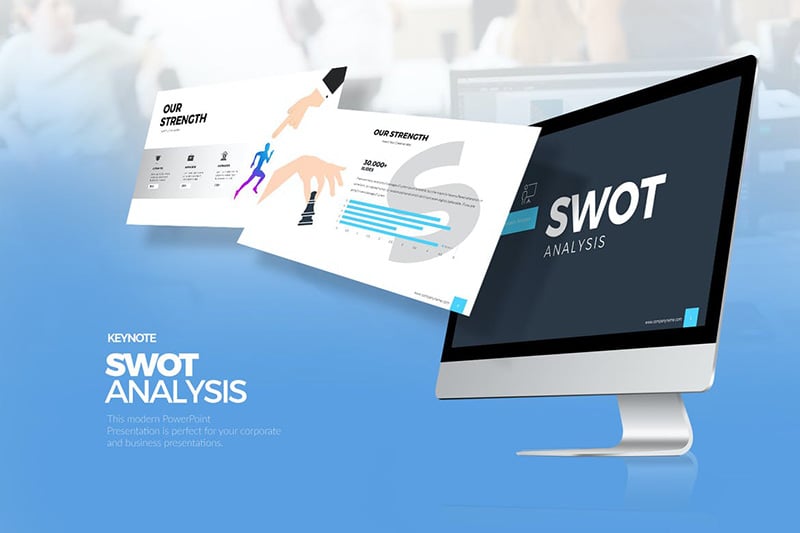 If you want an impressive SWOT Analysis PPT, this one from Envato is an excellent choice. It is creative, clean, and scalable. It is fully editable to suit whatever your needs may be.
18. Canva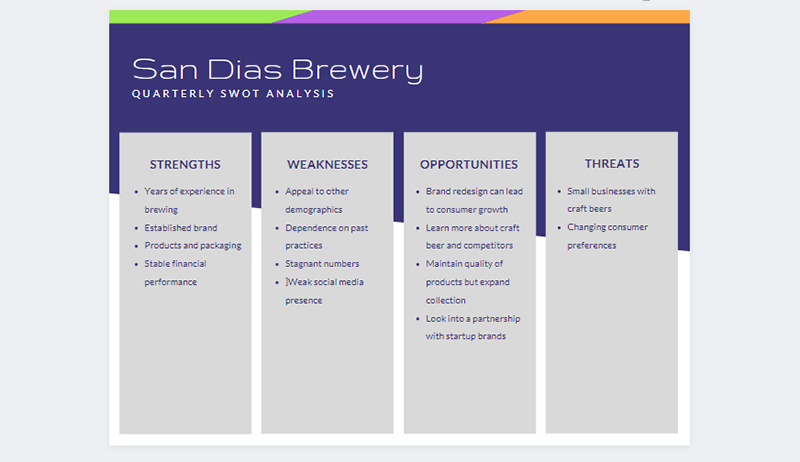 While most of the SWOT templates here are basically minimalistic in design, it doesn't mean you can't use generous splashes of colors. This one from Canva is colorful on a solid, square-based design.
19. SlideUpLift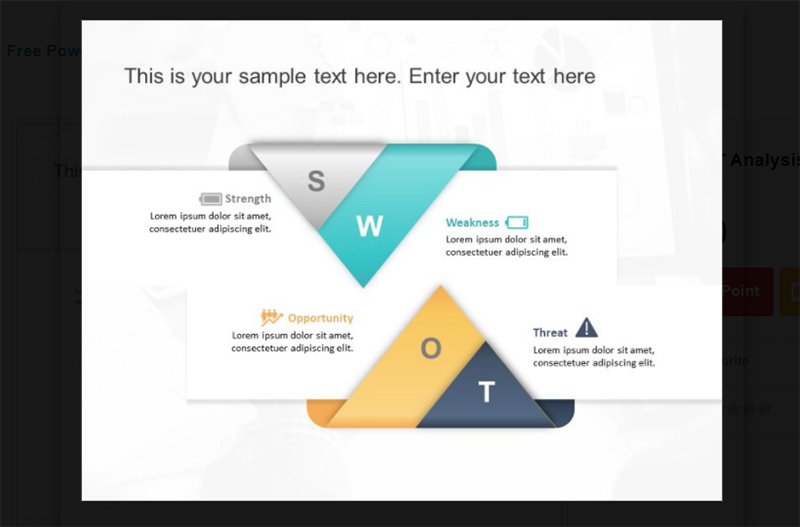 This SWOT analysis template PPT example from SlideUpLift is smooth, uncomplicated, but oozing with visual appeal. It has a 3D design and lots of negative space to help the audience focus on the information.
20. SlideTeam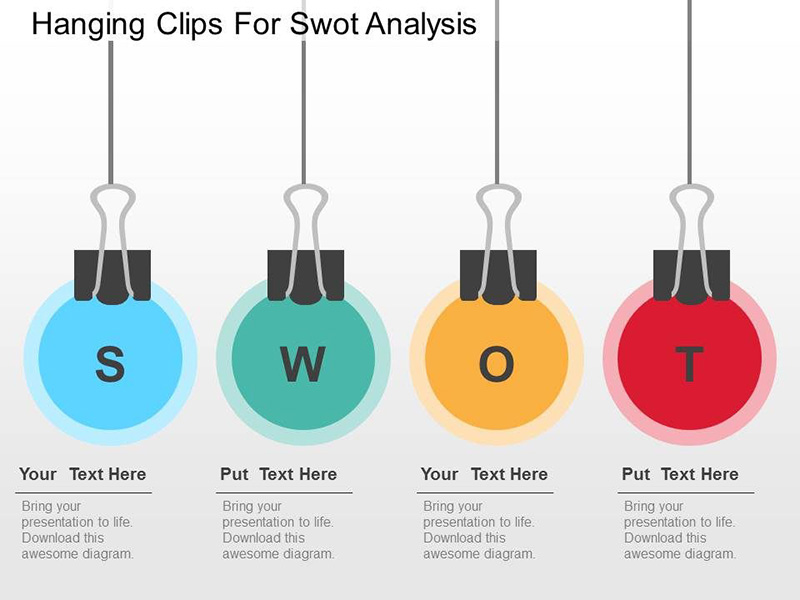 Beautiful graphics always keep SWOT analysis interesting. This example from SlideTeam is a great option if you're looking for simple yet straightforward designs.
21. SlideUpLift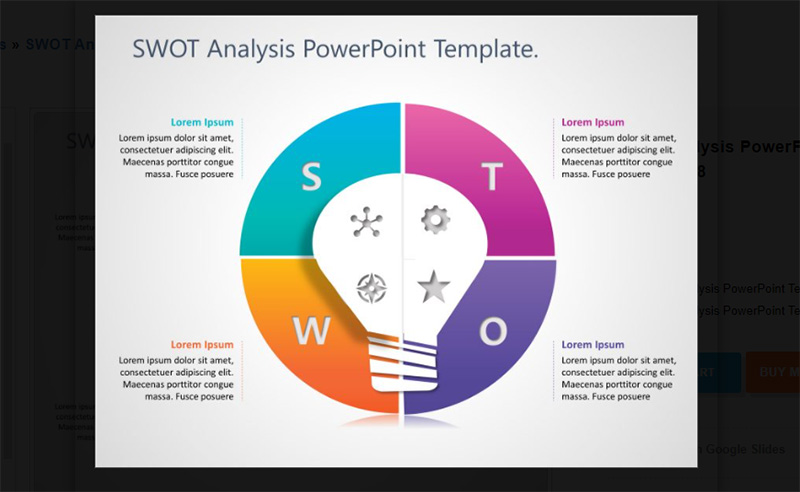 This PP template example uses a lightbulb as its central image. It looks stunning with its striking color scheme and use of an easily readable layout.
22. SlideTeam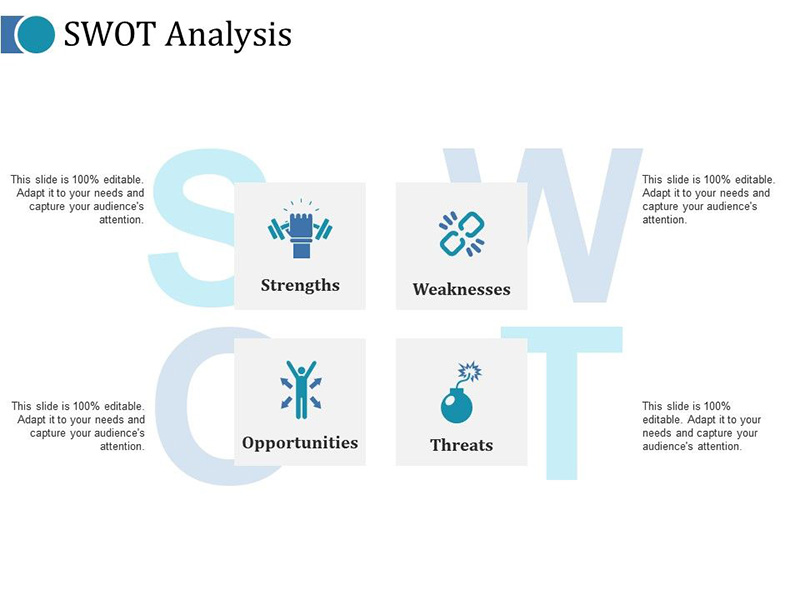 Initially designed for those in the health care industry, this SWOT analysis template PPT from SlideTeam can be used whatever your nature of business is. It's cohesive, clear, and easily understood.
23. Canva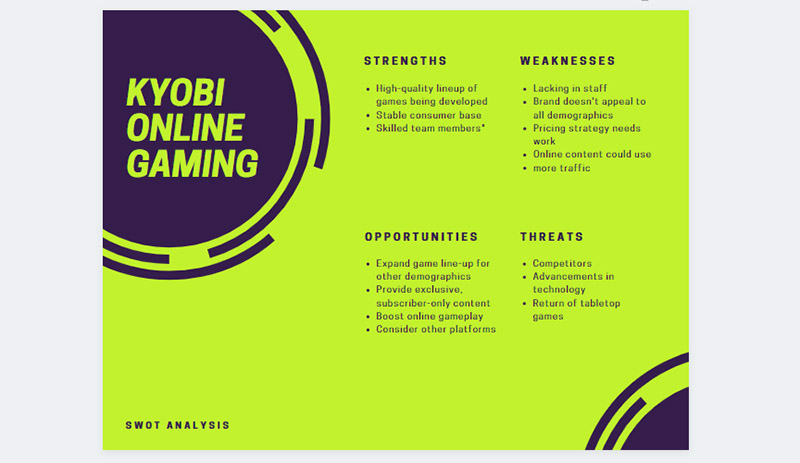 Your branding identity will help determine the type of template to use for your SWOT analysis. This example from Canva uses a bright green color, reflective of its business nature which is gaming.
24. SlideTeam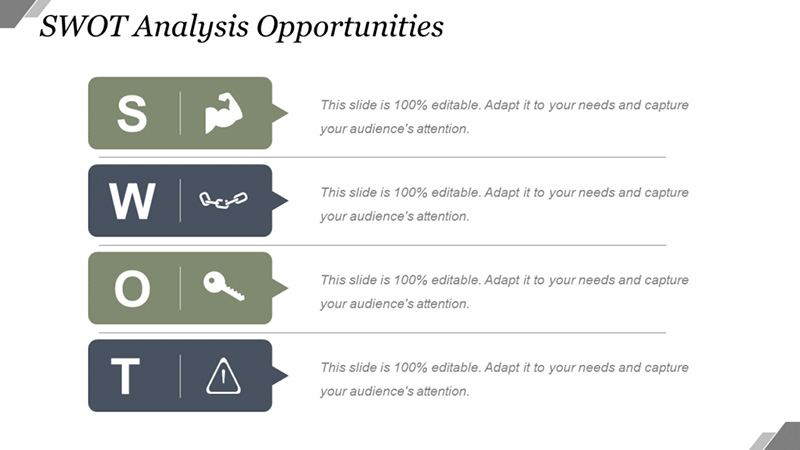 This professional-looking template is suitable for the finance industry or any business that needs to have that formal image. SlideTeam uses only two primary colors for this template and a few others as emphasis.
25. Canva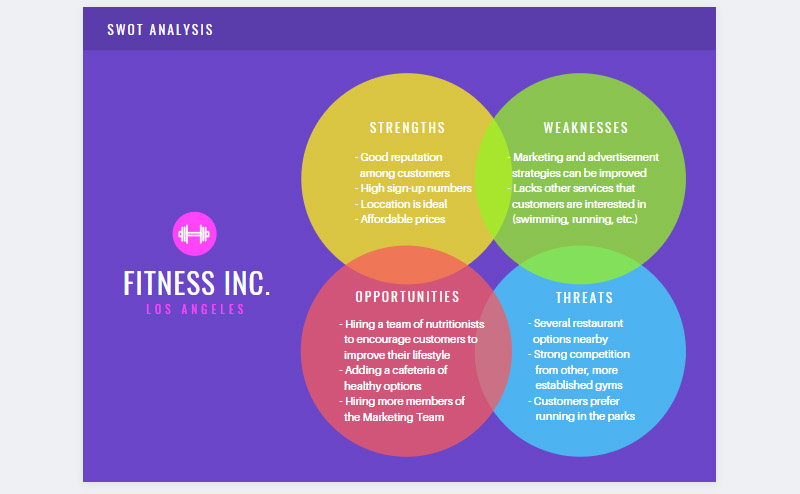 Another colorful example of a PP SWOT analysis template is this one from Canva. They labeled it for the fitness industry, but you can always use it if you want a vibrant air for your presentations.
26. SlidesGo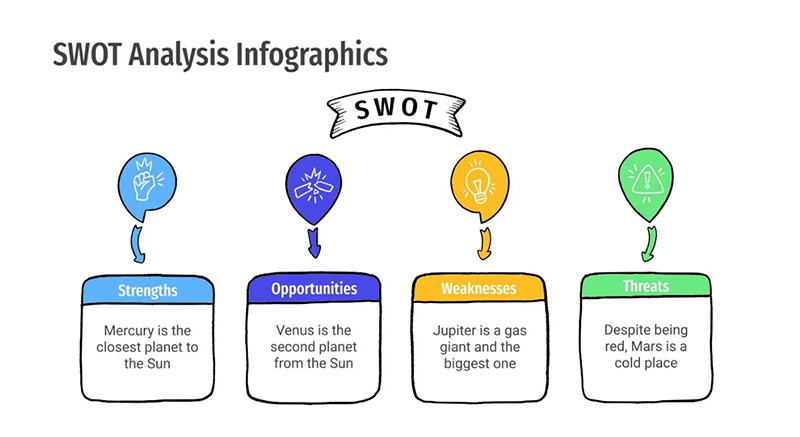 This SlidesGo SWOT analysis PPT is ideal if you want an informal presentation. It has a sketched design, vivid colors, and cute illustrations.
27. SlideUpLift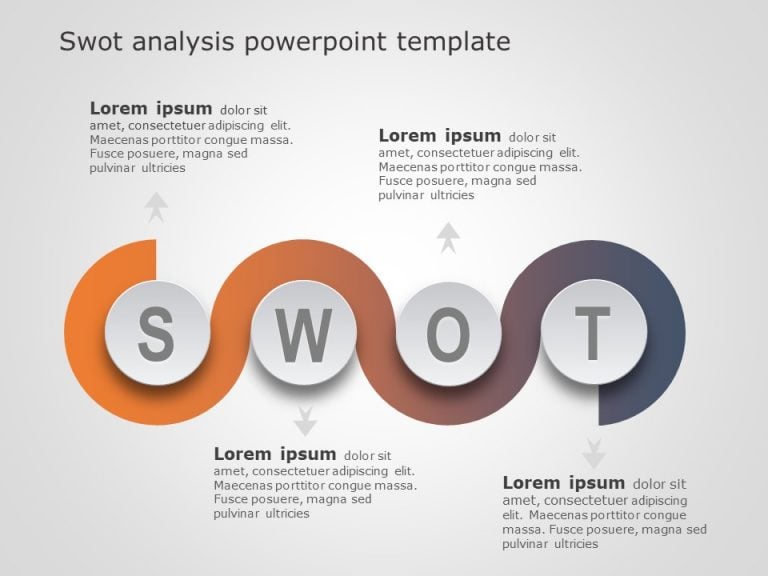 With a flowing design and subdued colors, this one from SlideUpLift is classy, stylish, yet cohesive and readable. If showing your professionalism is what you're going for, this is the template for you.
28. SlideModel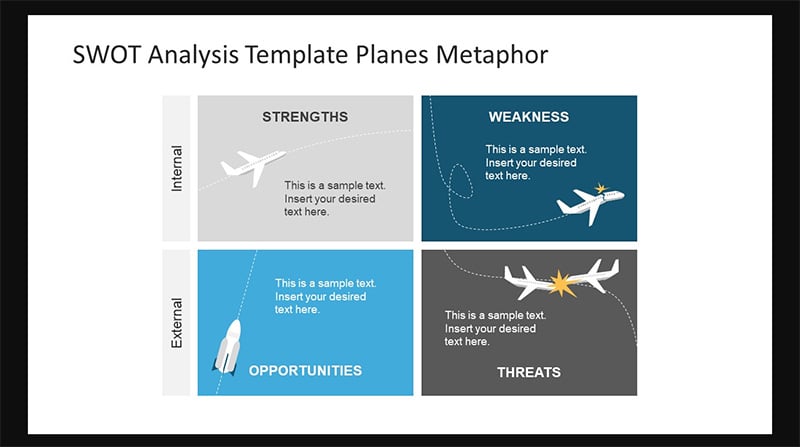 This "SWOT Analysis Planes Metaphor Template" from SlideModel uses several airplane images to explain the meaning of SWOT. It is practical, engaging, and appealing.
29. PresentationGo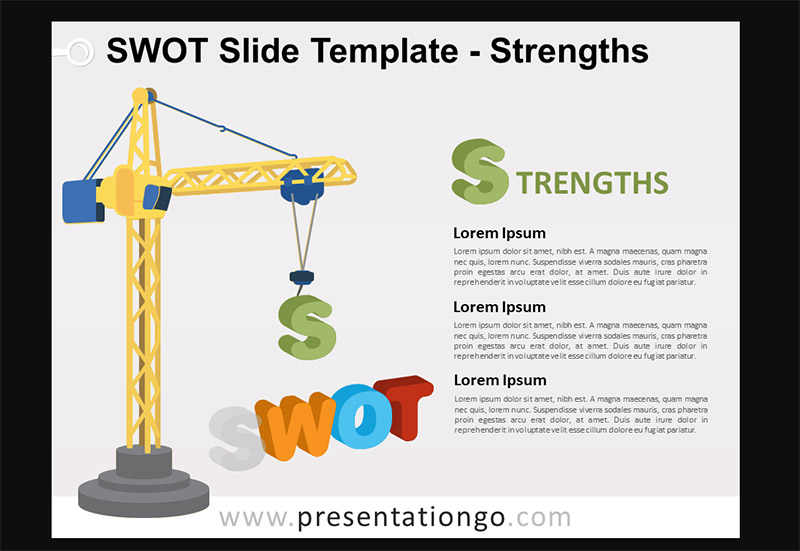 An illustrated crane, clean layout, and vibrant colors are what make this PP template from PresentationGo stand out. Use this template if you want to convey your SWOT analysis effectively.
30. SlideUpLift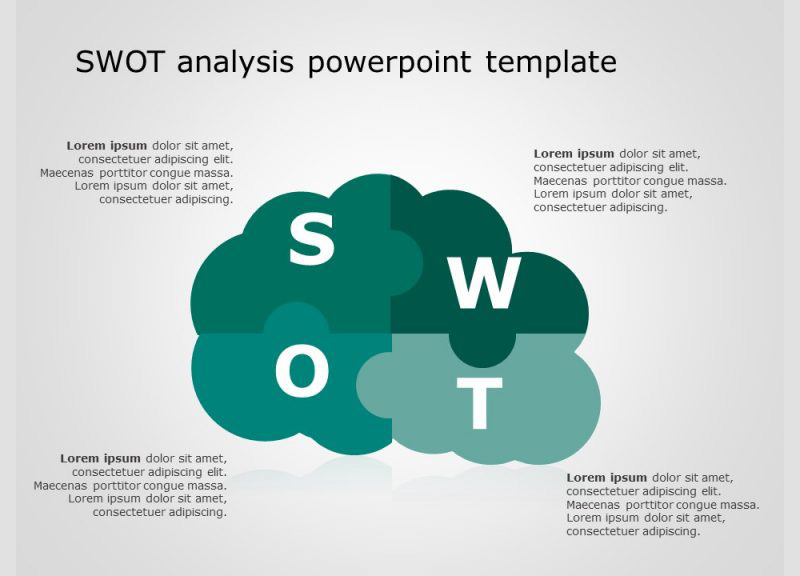 Last but not least is another SWOT analysis template PPT from SlideUpLift. It has a puzzle image that perfectly describes the correlation of each of the SWOT and why it's a business essential.
Final Thoughts
Managing a business can be a challenge. There are many insights you have to get to fully understand and do the best for your company. A SWOT analysis will help you improve your business and see it towards growth.
And this requires graphic design for your brand to stand out in a PowerPoint presentation. Get the help you need from Penji with affordable monthly rates and unlimited design requests. Watch our demo video here to know more about us, or better yet, sign up today and see your first designs tomorrow.