Small Business Perks Your Startup Can Offer
By Jie Kuang, 08/14/18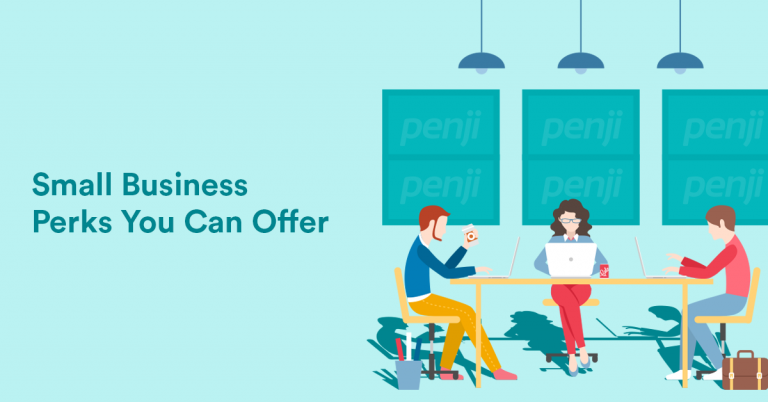 If you're wondering what small business perks you can offer your employees, you're in luck! There's more small business perks than you think. Whether you're strictly an online business or maybe you're a startup, there's still opportunity for you create a happy and productive work environment. Here's a few things you can offer to make your employees a little bit happier.
Free Stuff
Everything's better when it's free! Consider what you can offer your employees to make them happier in their workstation. This could mean anything from free office supplies to branded t-shirts. Remember that your employees chose to be where they are, so make sure their happiness is a priority.
Another way to offer free or discounted items is by partnering with your local stores. Your employees will receive cool perks just by working at your company. You will also get bonus points for supporting other businesses in the area. If there's a gym nearby, see if they will offer free or discounted classes. Or work with a local coffee shop to offer deals.
Food
You'd be surprised how free food will draw a crowd. Collaboration is best when your employees are happy and relaxed. And there's just something about pizza that can help you achieve those goals. Order a few pies and watch your employees' faces light up. Even if you're holding a meeting to discuss work topics, everyone will be more comfortable to include their input.
Having a "Bagel Day" once a week can boost morale. It gives something for employees to look forward to and enjoy. It's a great moment for your team to bond and engage in casual conversation for a few minutes before returning to work.
Work From Anywhere
As a small business, you may not have the biggest team or the biggest office space. Offer work from anywhere as a perk! For many positions, all you need is a laptop, wifi, and you're set. Unless there is a meeting, allowing your employees the freedom to work from anywhere allows them to be comfortable in whatever space they choose to work from.
Set down a firm set of rules and start a work from anywhere program.When you allow a work from anywhere option, your employees will be able to explore different spaces like coffee shops, co-working spaces, and even fly to a different state or country! The flexibility is great, especially if your employees have a desire to travel.
Training
Your employees are hardworking. Chances are, they're going to want to learn as much as they can in their current job, or even learn something new! Offer training sessions with managers and classes to learn new software. They will thank you for the opportunity to grow in their position and you'll be happy with the progress this brings to your business.
There are online courses you can offer as one of your small business perks. Websites like Udemy offer thousands of video courses across a large variety of categories including Photography, Marketing, Personal Development, IT and Software, Music, Language, and more. The classes are low cost to you, but will be a wealth of knowledge for your employees.
Birthday Parties
Celebrate your employees with birthday parties! Everyone will love that you're making their birthday truly special. It shows that you care about their well-being, not just what they can produce. Small business perks like birthday parties boosts morale and you'll have a closer team as a result.
Involve team members in the planning. You don't need much to have a really great office party. What matters is that your employees feel like they are important. Making a big deal about someone's birthday makes them feel included and provides great memories for your team.
Bring Your Dog To Work
We get it. Your dog is your best friend and you don't want to leave him or her at home alone. Offer the option to bring your dog to work as one of your small business perks. Everyone loves an office dog, and the dog enjoys the company.
Check with your building manager to make sure it's within their terms of the lease. Create guidelines of how the dogs must behave while in the office and where they go to do their business. No one wants to experience accidents, especially in an office environment.
Relaxed Work Environment
When you're a small business, there's no need to force your employees to wear full business attire everyday. Allow for a more relaxed work environment as one of your small business perks. It starts with how people dress. T-shirts and jeans are becoming the norm, even in larger companies. So, shoot for a more comfortable office lifestyle. It may bring out the creativity in your team members.
There's nothing worse than having a manager micromanaging their way into someone's life. Give your team room to breathe. Let them collaborate and brainstorm, because genius can happen at any time.
Flexible Schedules
Offering flexible schedules can help your employees be more productive. A typical 8 hour day does not have to necessarily be from 9AM-5PM. Give some room for employees to start earlier or later, but still getting in their full 8 hours. Everyone works differently, so they will appreciate the flexibility in scheduling.
In the summertime, the sunny weather is tempting. Offer summer hours as one of your small business perks. This means instead of working 8 hours Monday to Friday, they will work 9 or 10 hours Monday to Thursday and have Fridays be a half day or completely free. You'll receive the same amount of work, but your employees will be able to start their weekend early.
Team Outings
Your team will enjoy a trip together or a retreat. Offer an annual company wide trip as one of the small business perks. It gives something for your employees to look forward to, especially when the date gets close. Take them zip-lining or a beach trip. It doesn't have to be too exotic. They will appreciate the opportunity to step out of the office and get to know each other better.
If you want to do something more often, take your team out to lunch or dinner at a local restaurant. You'll get to see their personalities shine. Work out a budget for these small outings. You may even be able to find a networking event near you that provides not only business opportunities, but also food and fun. There's more networking events like this than ever before, so take advantage of the opportunities they provide.