You're probably wondering how you can make some extra cash on the side. Who isn't, right? You can start by selling t-shirts on Amazon. It's easy and Amazon takes care of all the technical tasks for you. All you have to do is request an invitation and submit a t-shirt design. Amazon does the rest.
Switch to Penji to ease up your design workload. Merch sellers can attest to the efficiency of Penji in assisting in the launch of new merchandise.
Penji is an on-demand graphic design service that can increase your efficiency. Grow your customer base by requesting different t-shirt designs. Plus, generate buzz by requesting marketing and advertising graphics. View the demo video to learn how Penji can streamline your options.
Searching for a legitimate side gig can be difficult. It can take a while and sometimes cost you money out of pocket just to set up. But with Merch by Amazon, you can sell t-shirts and earn money from each shirt that sells. Here's why you need to start selling t-shirts on Amazon and get in on the action.
Produced, Shipped, and Sold by Amazon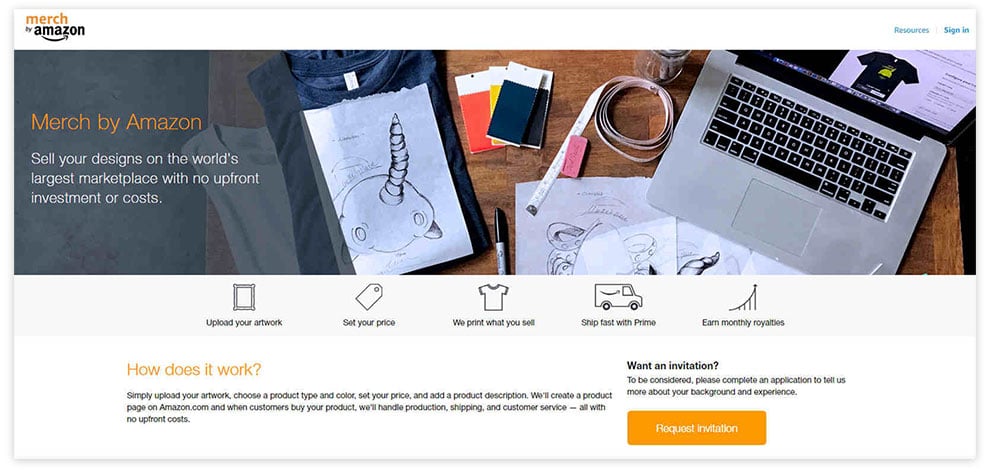 One of the best parts of using Merch by Amazon to sell t-shirts is they do 90% of the work for you. Production and shipping is no longer a concern. If you were to start your own apparel business, you normally would have to search for a manufacturer and find t-shirt blanks. This could cost hundreds and sometimes thousands of dollars depending on how many designs you have.
Amazon takes care of the technicalities and allows you to work on being creative with your designs. You no longer have to think about how many colors you should be using or the cost of a large design versus a smaller one. Merch by Amazon gives you the creative freedom that you crave without the hassle of worrying about production.
Your Shirt Is Available For Sale Worldwide On Amazon.com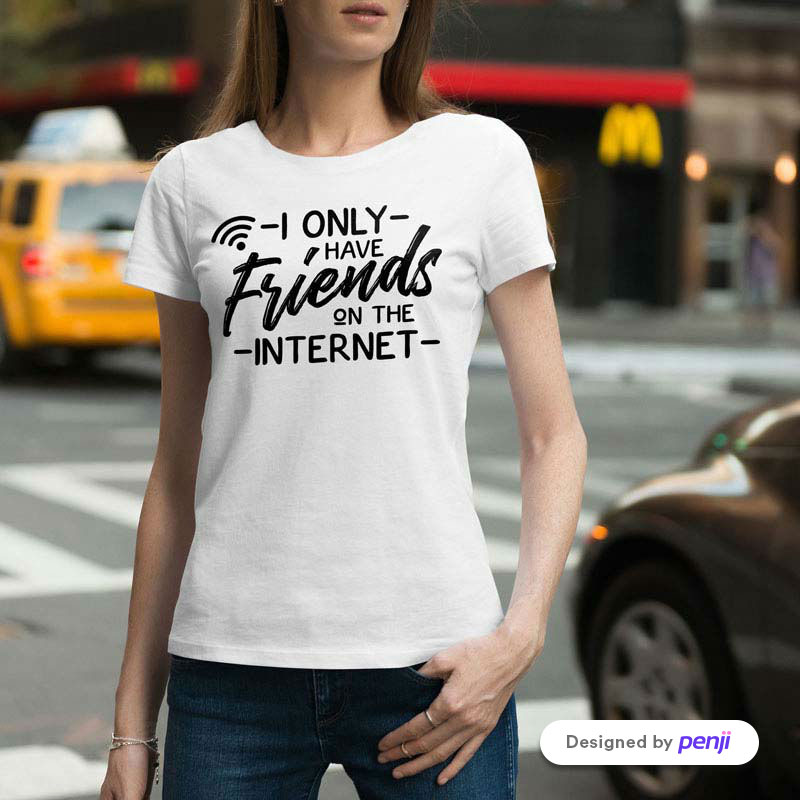 Getting traffic to your own website is hard. But Amazon already has that down. Millennials are buying more clothes off of Amazon than from any other website. As an Amazon Merchant, you can get in on the fun and earn money selling t-shirts on Amazon.
Think about how great it would be to have a thriving t-shirt business without worrying about designing and developing a website. With Amazon supporting your creative endeavors, it's much easier to sell almost immediately.
Some things to consider when listing your t-shirt is to know the exact dimensions that Amazon needs for your designs.
When you're posting the listing, use keywords in your title and description. Your listing will be easier to find and won't be lost within thousands of other designs. Customize each listing to rank for specific keywords that resonate with your audience.
Earn Royalties On Every Shirt Sold


You'll earn money for every shirt that you sell depending on how much you choose to list it for. Selling t-shirts on Amazon may start off slow since you have a cap on how many designs you can upload. However, the more you upload and sell, the higher the cap will be. Amazon doesn't release any insider info on how their system works, but sellers experience similarities with their tier increase per sale ratio.
When you start selling t-shirts on Amazon, it can take a little while before you see results. You'll probably get into the habit of refreshing your page a few times a day. But with time, a little bit of research, and a few good designs, the sales will come.
Before listing, you'll see the exact amount you'll receive per shirt based on how much you list it for. If you list it for a higher price, you'll receive a larger royalty. However, your design quality must match the cost, or else you won't see sales for a long time. Some sellers recommend listing low in the beginning to get some sales going. Sure, you won't earn as much this way, but it should pay off in the long run by allowing you to tier up.
Sell To Your Favorite Niche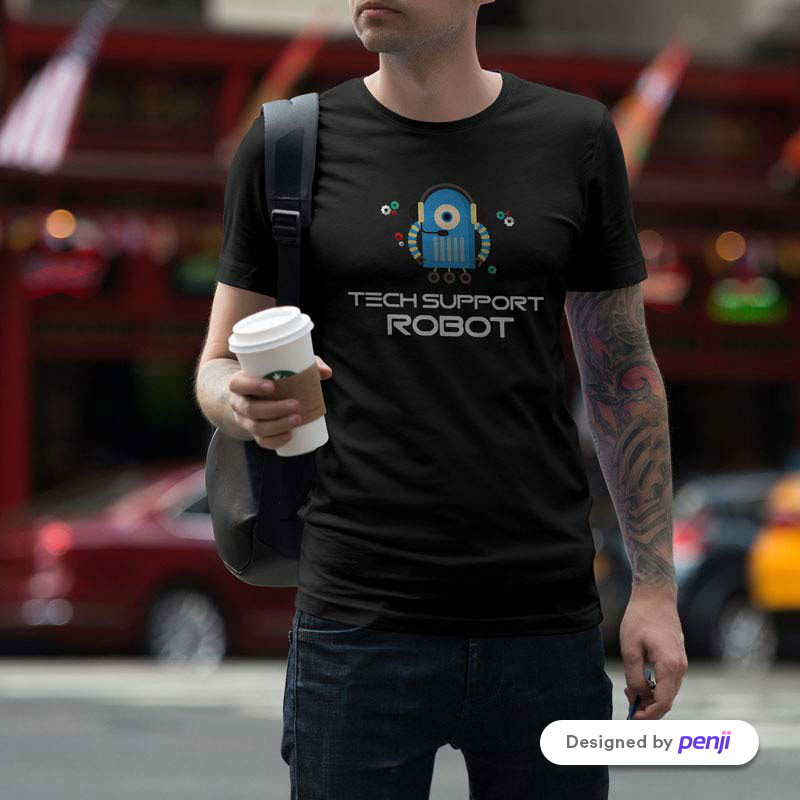 Do you have a hobby where you wish there was more merchandise for? This is your chance! If you are knowledgeable about a particular niche, design t-shirts based on that niche. For example, if you are passionate about corgis, design for an audience that shares that same passion. See what is already selling on Amazon related to your niche and design a t-shirt that is competitive enough to sell to your audience.
You probably have friends who love the same things you do, whether it's online or in real life. Once your t-shirt listing is live, share with those friends to purchase! If you're involved in forums or online groups, share your listing! Those people will be your immediate supporters when you sell. If you have a large following on social media, consider purchasing your own design and posting about it on Instagram, Pinterest, Facebook, Tumblr, and so on.
Find A Designer To Design Your T-Shirts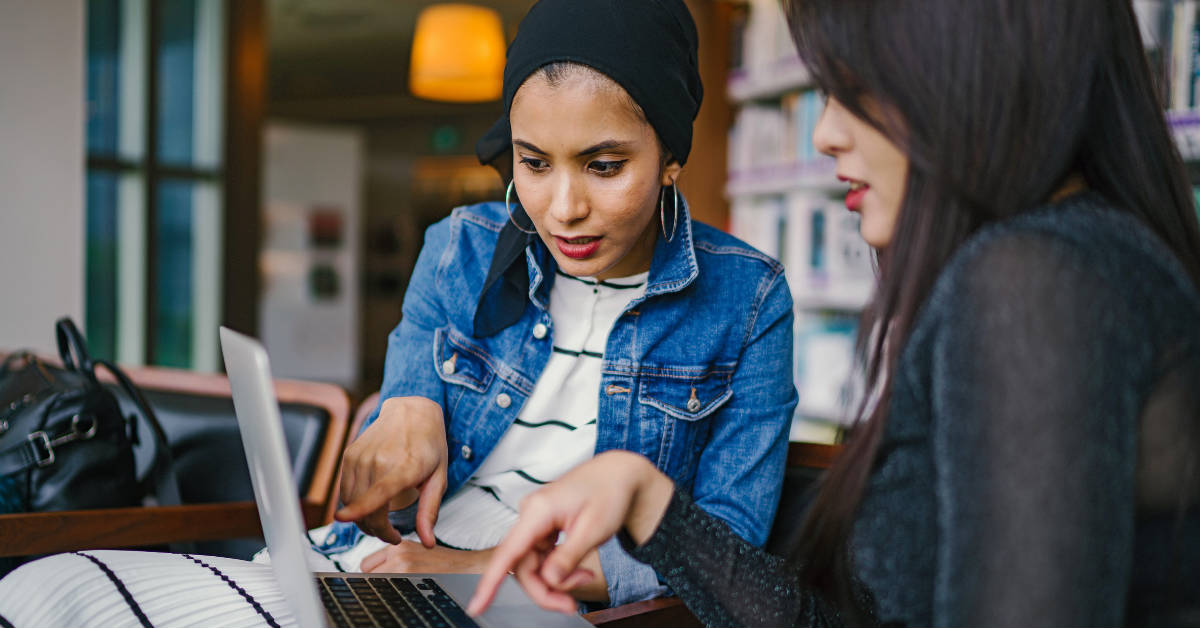 We get it. Not everyone is a designer. Or maybe you don't have time to knock out a few hundred t-shirt designs to meet Amazon's tier requirements. There are many sellers on Merch by Amazon that are just like you, who choose to outsource their design tasks. Selling t-shirts on Amazon doesn't have to be exclusively for graphic designers. Here are a few places that you can find customs designs, including the pros and cons of each.
Penji
Pros: You'll receive t-shirt designs for really cheap.

Cons: You don't know if the designs you receive are original. The designer may be using copyrighted or trademarked materials and you won't know until Amazon takes down your listing.
Pros: You can pick and choose the designer to design t-shirts at a cost that is comfortable for you.

Cons: You get what you pay for. If you choose a designer for cheap, they probably won't put out the quality of work that you want. This results in a lot of wasted time and money.
Freelancers
Pros: You can find freelancers anywhere from Craigslist to your friend's cousin who has Photoshop.

Cons: You don't know the quality and output one designer can give you at a time. Sometimes you'll receive something amazing, while other times you may have to wait days, even weeks, before seeing something of value.
Learn From Other Merch by Amazon Sellers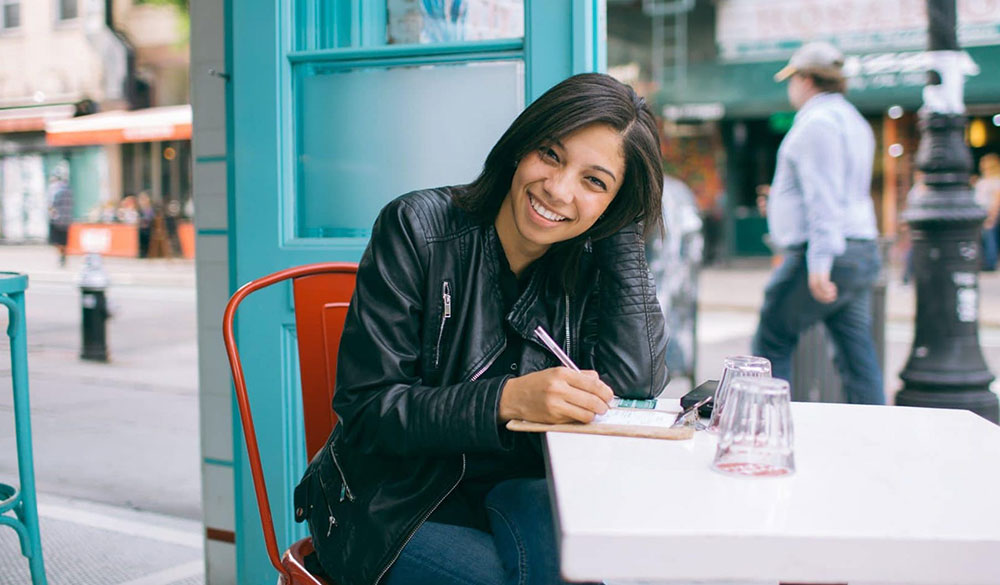 "There wasn't very many shirts in this niche and I did several different ones when the first one took off. Sold a ton of them in December and then it got discovered and now there are pages of them and I don't sell that many. They still sell but not like they did. It was a evergreen shirt and not a Christmas shirt." – Patricia Dowd

"I ran ads on facebook and got a few sales, and two five star reviews for a shirt. The traffic / few sales combined with the reviews put the shirt on the front page for it's keywords and now sells over and over every month. I would recommend getting a few sales from friends and having them leave 5 star reviews. Also worth noting that I lost money initially with my ad campaign, the ads cost more than the sales they produced. Now that traction has paid for itself many times over." – Christopher Gardner
Three-Step Process to Requesting Your New Amazon Shirt Designs
Penji makes it easy and quick for merch sellers to receive designs. You'll no longer undergo an onboarding process. Plus, we have fast turnaround times (24 to 48 hours). This way, you can launch new designs as soon as you can.
Become the go-to merch seller—request new designs in three easy steps.
Step 1: Create Your Project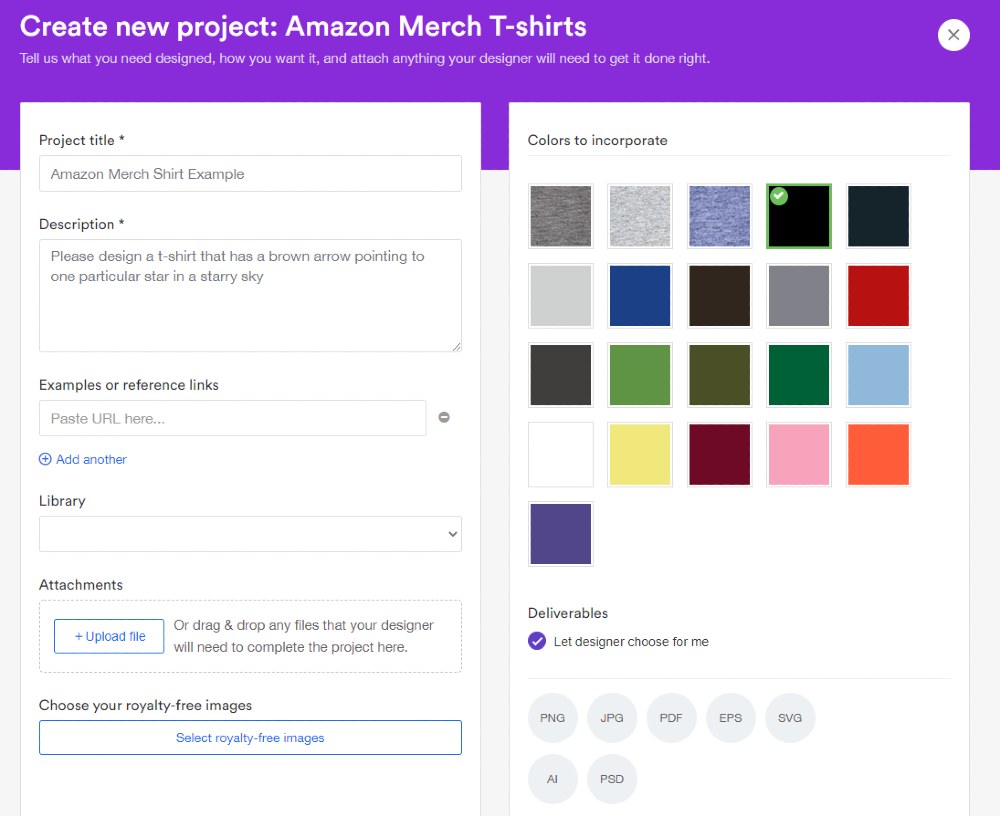 Once you sign up for a Penji account, get access to the Penji platform to request a t-shirt design. Scroll down to the Merch section and click Amazon Merch T-Shirts.
From there, you'll have to supply your design brief. Make sure to put specific details on the description. You can even choose the color of the shirt. This way, you can get a preview of how the shirt design would look on that color.
Don't forget to click Create Project to complete this process. This way, a designer will be assigned to your project, and they can start working on the design right away.
Step 2: Review and Provide Feedback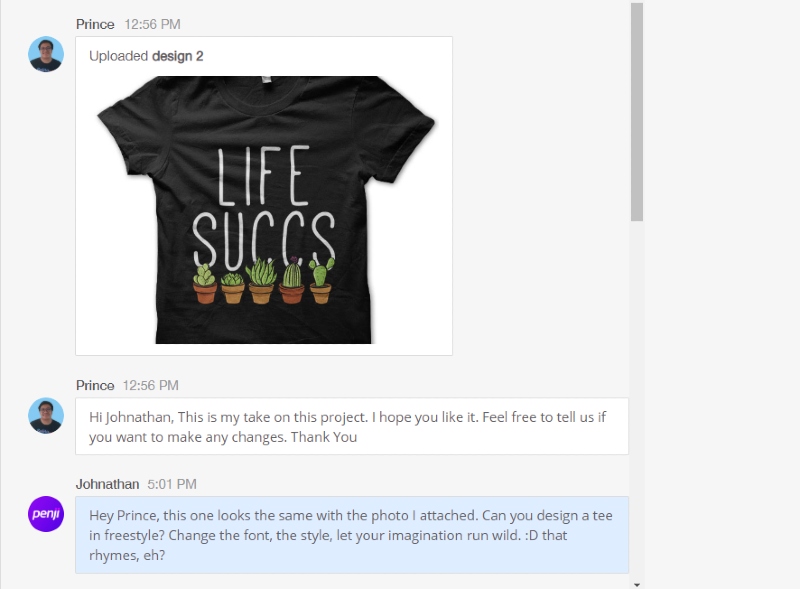 Penji designers ensure the fast turnaround promise. This means you'll get designs within 24 to 48 hours. Some graphic design services or freelancers take more than that to produce designs. That could delay the launch of your new t-shirt designs.
Once you receive the first draft, you can give your feedback to the designer. On any Penji plan, you have unlimited revisions. This way, you can download the design until you're 100% thrilled with it. Plus, it's at no cost to you! Some design services will have you paying extra for revisions. But not us. That's one of the things brands love about Penji.
Step 3: Download and Mark as Complete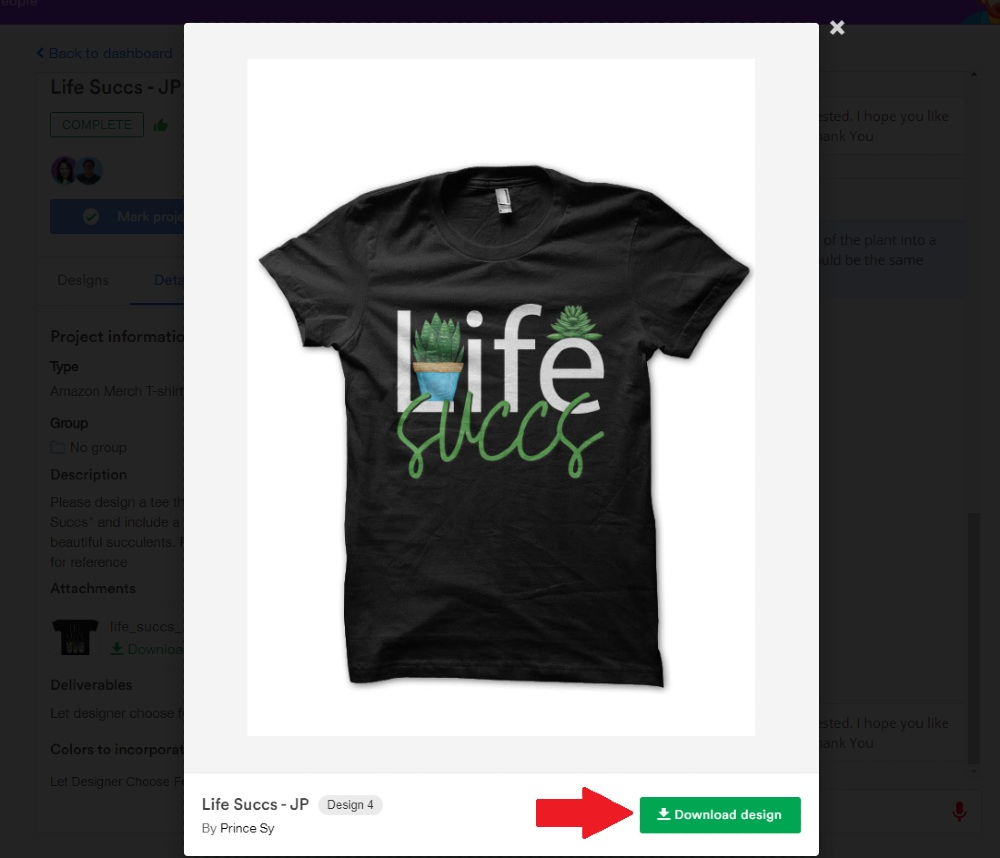 The final step is everybody's favorite step– downloading the file. You can finally use the design and sell it on Amazon! Click on View Design, then the download button, and voila, it's saved to your computer!
Make sure to mark your project complete. This way, you can ask for more design projects in selling and promoting your merch.
You Sell, We Design
Focus on what matters most. Increase your "Add to Cart" rates as Penji designers work hard on producing t-shirt designs that sell. Merch sellers and big brands have approached Penji before for all merch-related outputs. Don't settle for DIY solutions, freelancers, or expensive graphic design services.
Save more with Penji by subscribing to the Team Plan. For only $479/mo., get custom illustrations for your t-shirt designs. Plus, have your customers rave about how awesome it looks. Request for ads, UX/UI graphics, and more on your Penji plan. Make Penji your all-in-one graphic design solution for the visuals you need to get five-star reviews and surge in sales.