Newcomers to online advertising can find it intimidating and, at times, overwhelming. eMarketer projects an increase in global ad spending that can reach $389 billion in 2021. This means there's no way to move your business towards success and growth other than advertising online.
For this reason, we came up with this beginners' guide to effective online advertising. Penji has years of experience creating ad designs for both traditional and online advertising. We have a thorough understanding of what works and what doesn't. Watch our demo video here to know more.
Let's dive in!
Organic Marketing vs. Paid Advertising
Before we move forward, let's first make it clear that paid advertising is different from organic marketing. While you can find businesses that choose to reach their audiences organically, some are willing to spend money. The better strategy is to combine both.
Organic marketing is about content creation for the sole purpose of engaging prospects and building connections. It focuses on boosting traffic and increasing conversions, to name a few.
On the other hand, advertisers concern themselves with return on ad investments, cost-per-acquisition, and many other performance metrics.
As you can see, the two have entirely different goals. But as any successful entrepreneur will tell you, online advertising can significantly help your organic efforts. Here's how:
You'll expose your brand to audiences outside of your networks which can help increase brand awareness.
Ad platforms have tools that prove insightful analytics that can help you understand and target your audience better.
You'll gain a better understanding of what content and ads to create to optimize your advertising and marketing efforts.
To answer the question of whether to go organic or paid, the resounding answer is both!
Related Post: Advertising Costs You Need to Know Before Opening Your Wallet
The Different Types of Online Advertising
The ways you can advertise online are so diverse any newbie in the industry is sure to get confused. To make it straightforward for you, below is a list of the types of online advertising and how they work.
Social Media Advertising
In 2020, social media ad spend in the US alone reached $43 billion, according to eMarketer. It saw a 20% increase from the previous year and is expected to grow further. This comes as no surprise as more than half of the world's population is on it.
Datareportal reports that there are 4.20 billion social media users around the world at the start of 2021. Its broad reach, variety of ad formats, and targeting capabilities make social media advertising a wise business venture.
Here are the social media channels you should consider placing your online advertising:
Facebook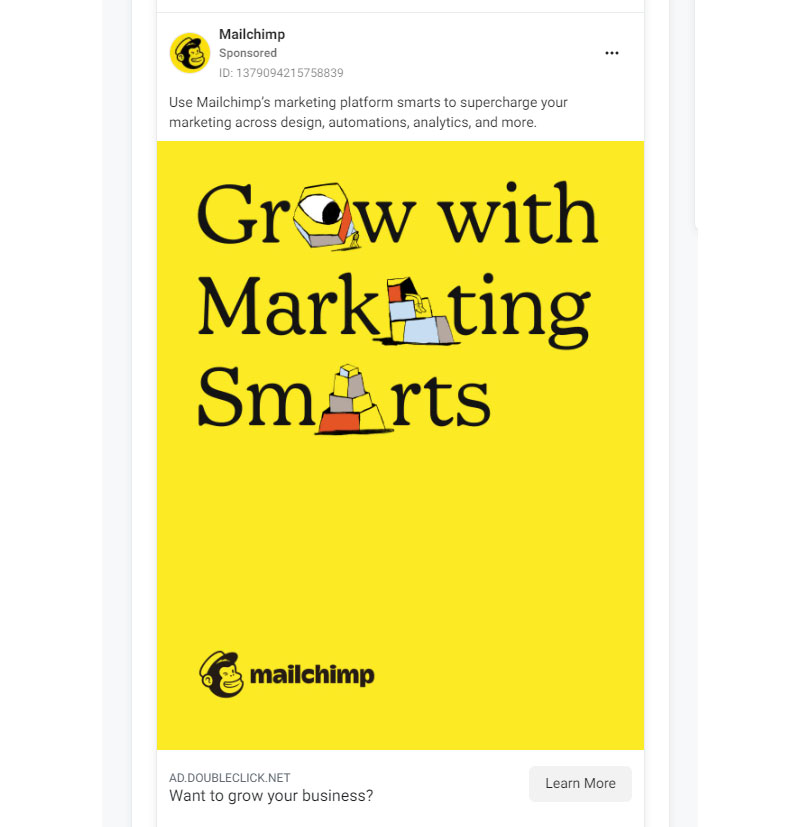 The most used network in the world, Facebook, is the king of all social media platforms. It has incredible targeting features. It would be crazy not to place your ads there. With 2.80 billion monthly active users, Facebook guarantees to put your brand in front of your target audience.
Here's how online advertising on Facebook works:
Choose your objective
Name your ad campaign
Set your budget and schedule
Target your audience
Choose your ad placements
Create your ad
To help you find the best type of Facebook ads to use, click here to learn about them.
Twitter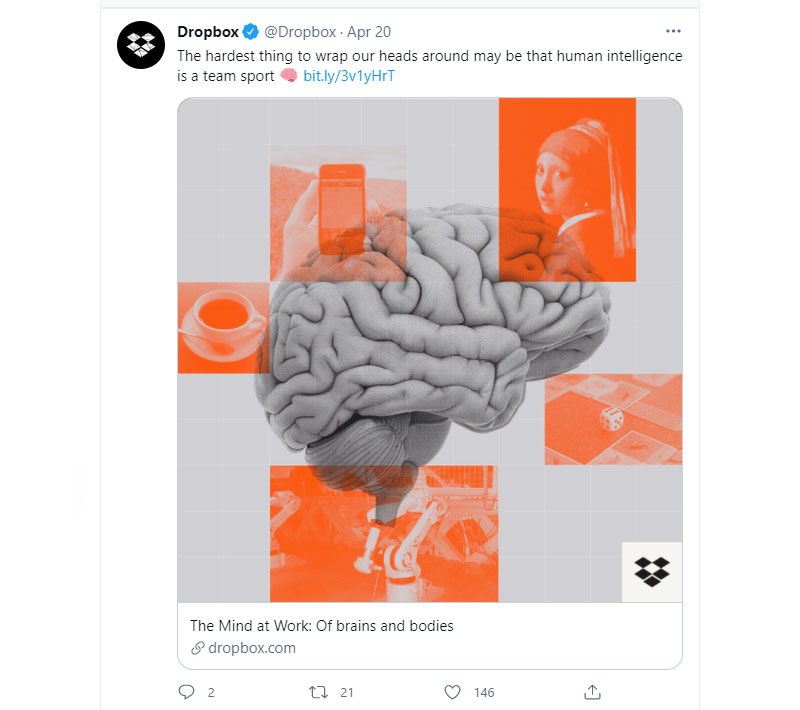 Another popular social media platform worthy of your ad placements is Twitter. Its more than 330 million monthly active users can help you gain strong results from your ad efforts. It is widely used by many B2B and e-Commerce businesses because of the high engagement opportunities in different niches.
Like Facebook, Twitter offers different types of ads. These are:
Image
Video
Carousel
Moments
Text
According to Nielsen Brand Effect, you can increase your campaign awareness by as much as 20% and purchase intent by 7% if you use three or more Twitter ad formats.
How to advertise on Twitter:
Choose your objective: Awareness, Consideration, Conversion
Set your ad group and bidding
Target your audience
Choose your ad placements
Launch your campaign
Instagram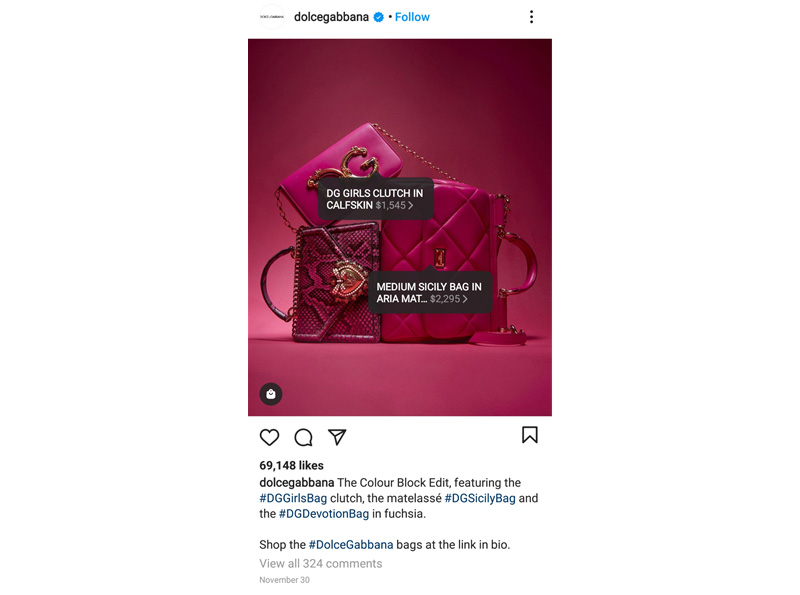 In 2012, Facebook bought Instagram. To create ads on this platform, you also have to go to the Facebook Ads manager. Advertising on this social media channel gives you a 4.21% engagement rate. That's sky-high compared to Facebook's 0.18%.
Here's how you can place an ad on Instagram using Facebook Ads Manager:
Choose your objective
Identify your audience
Choose your ad placements
Set up your budget and schedule
Create your ad
LinkedIn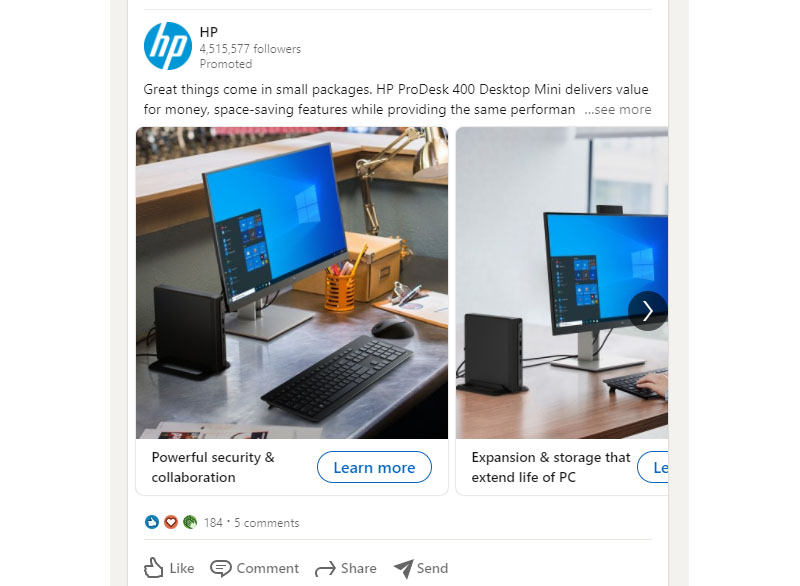 This platform comprises mainly of professionals making LinkedIn the best for business-to-business (B2B) advertising. It offers excellent targeting capabilities that you won't find anywhere else. You can filter targeting to include job titles and industries.
Follow the steps below to advertise on LinkedIn:
Choose your campaign
Select your ad format
Create your ads
Target your audience
Set your budget
Track your progress
Paid Search Advertising
Also known as PPC or pay-per-click advertising, paid search is one of the most common ways to advertise online. A study conducted by Unbounce states that PPC visitors are 50% more likely to buy than organic visitors.
Why Paid Search?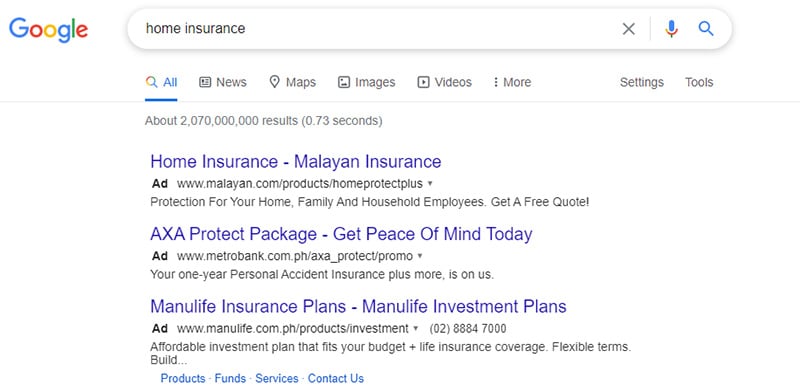 Paid search has a unique advantage over paid social advertising. People go to social media primarily to socialize. If they are in search of a specific product, service, or brand, they search for it on Google or Bing and not on Twitter.
These are the people that have a higher intention of purchasing. This is opposed to those on social media minding their own business. Then they suddenly stumble upon an ad for thick crust pizza. The decision to order or not will be there. The result depends on how persuasive that ad is.
What is PPC?
PPC is the advertising method where businesses pay an ad platform every time someone clicks on their ad. To get an ad spot on a search engine results page (SERP), you have to place a bid on relevant keywords.
For small businesses, this is gold as you get to play against the more prominent names. You can get the keyword you want even without the enormous budgets these huge players have. To know more about how Google Ad Auction works, check out this link.
Where to Get PPC?
Below is a list of the most popular platforms for PPC advertising:
Google Ads
Bing
YouTube
Facebook
Microsoft
Instagram
LinkedIn
Yahoo
Depending on which platform you want to advertise in, here's what you should do when creating a PPC campaign:
List your goals
Decide which platform to use and create your account
Choose the keywords you want to bid on
Set bids for different keywords
Choose your budget (daily or monthly)
Write your PPC ad copy
Related Post: Online Advertising: Facebook Ad vs Google Ad
Native Advertising
You may not be fully aware of it, but native advertising is all around you. In a nutshell, it is defined as paid content. You see it on websites and blogs such as Netflix, Buzzfeed, or even your favorite NFL team.
Native vs. Social & Paid Search
Native advertising differs from social media and paid search advertising in so many ways. The most significant is that native ads align with the platform's values, style, and tone. You won't see a soccer team brandishing a cosmetics brand on their uniforms.
This type of advertising is created in a way that it blends in well with the organic content. Native ads are well-integrated into content that makes them less intrusive, less disruptive, and less noticeable. While the primary goal of other types of advertising is to be blatantly seen by prospects, native ads are subtle.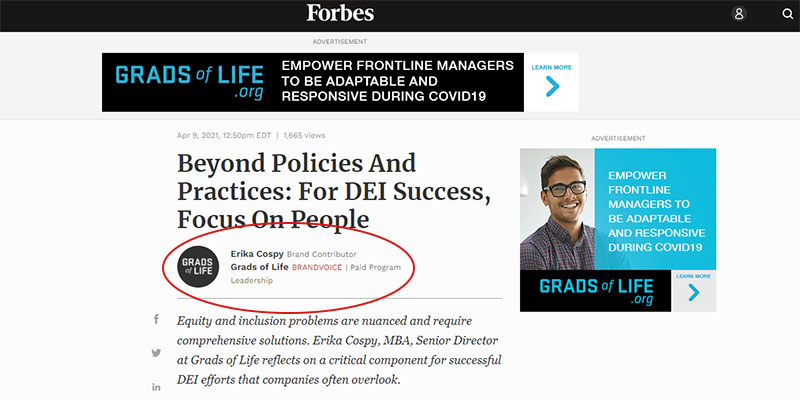 The article pictured above from Forbes is an excellent example of native advertising. They have a content marketing platform called BrandVoice created explicitly for this purpose. The article above is clearly paid content but offers substantial information that is valuable to their readers.
Open for Debates
In 2012, marketing agency Beeby Clark+Meyler created a native ads campaign. From this, they found out that native ads yield a higher click-through rate. Compared to other forms of online advertising, native ads produced 40 times more CTR.
Likewise, an IPG Media Lab study has shown similar results. About 71% of respondents say they personally identify with a brand after seeing its native ads. This is opposed to the 50% who only viewed display ads.
On the other hand, while businesses are in love with native marketing, some consumers aren't. Some readers will find content with native advertising misleading and deceptive. They will feel taken advantage of or, worse, lied to.
What You Can Do
While native advertising has its evil side, there is a workaround to it—create better content. When thinking about TV commercials, there is probably one that you liked so much you remember it so well. You wouldn't mind seeing it over and over again because it's that good.
In addition, if you create native ads that are transparent, honest, and show authenticity, you won't have a problem. Don't create advertising that disguises as content. People will distrust you, and this will have a damaging effect on your brand reputation.
When done right, native ads produce outstanding results.
How to Create a Native Advertising Campaign
Define your goals
Identify your target audience
Find your publishers
Create your content
Manage and track your campaigns
Display Advertising
Display advertisements are the form of advertising that is embedded into a website. These offer businesses more effective strategies to target and provide relevant ads to their audiences. We often see display advertising as an area on a website with texts, images, or videos.
When you click on a display advertising, you will be directed to the company's landing page. You will then be encouraged to take any action, preferable to make a purchase. Most of these are charged on a pay-per-click basis.
Aside from website and blogs, you can find display advertising on the following:
Emails
Mobile apps
In-game
Videos
The two leading platforms for display advertising are Google Display Network and Facebook Audience Network. Let's take a closer look at these two:
Facebook Audience Network
With Facebook Audience Network, you can go beyond the platform and advertise on different websites and apps. You can have the same targeting data that you have on your Facebook campaigns. It allows your ads to "follow" users that are perfect for your retargeting efforts.
It offers native ads letting you have all these types of online advertising in one place. According to Facebook, 80% of Facebook Audience Network ads are native ads. Furthermore, 40% of the top 500 apps are integrated here.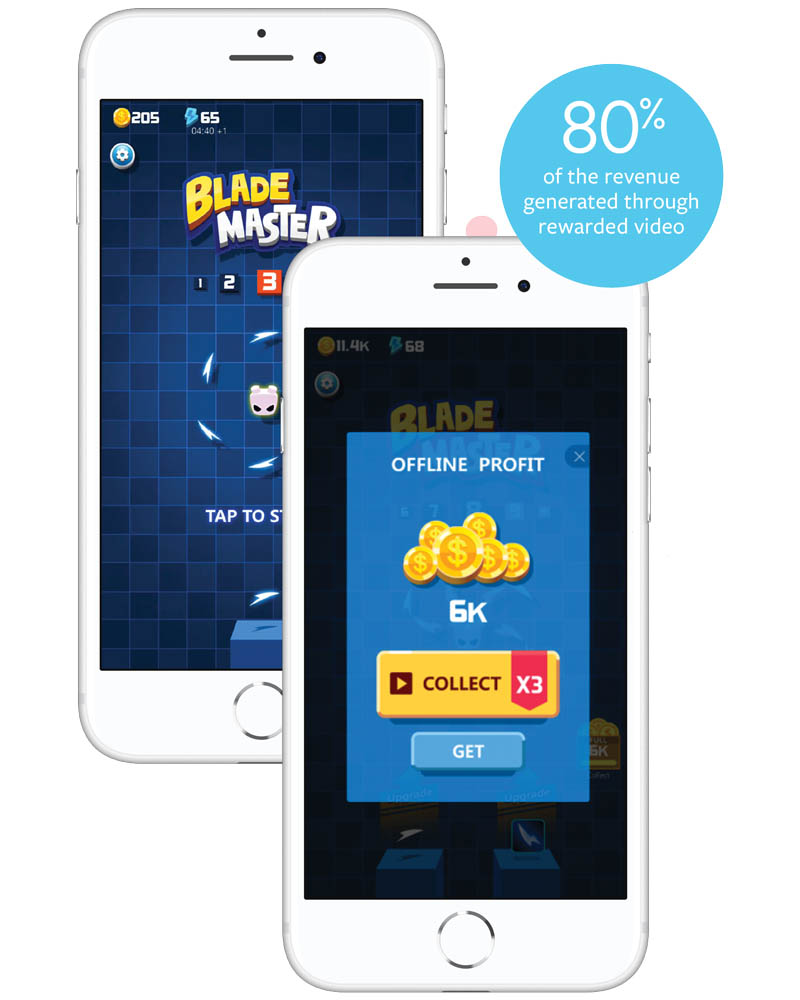 Image Source: Facebook Audience Network
Go to Ads Manager
Choose your objective
Add your target audience
Select your device type
Choose your ad placements
Set up your budget and schedule
Related Post: Is Facebook Audience Network Worth It?
Google Display Network
Being the top search engine in the world, Google offers some of the best in display advertising. You can place your ads on more than two million websites and apps. Plus, Google owns YouTube and Gmail, so you can put your ads there.
You can use the network to build your target audience and remarket to them. The platform offers automated targeting as well as automated bidding features. You won't have to worry about these as the platform will do them for you.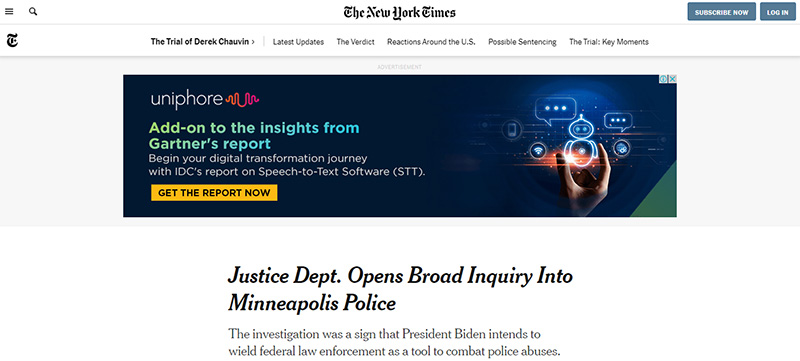 Advertising on Google Display Networks depends on the ad type you choose. These are as follows:
Responsive Display ads: semi-automated, you simply enter your text, images, and logo
Uploaded image ads: you can upload ads as images
Gmail ads: basically the same as above
Final Thoughts
Whether your goal is to build your brand or generate leads, online advertising is a good business move. Learning the ropes can be difficult at first. Once you identify which ones you need, everything will flow smoothly.
To make all your online advertising efforts produce optimum results, you need to get great graphic design. Let Penji help you create online ad designs that will pull in the prospects and make loyal customers out of existing ones.
Sign up here to get our professional designers working for all your online ads.